I've got a friend named Carl Rydquist I met a few years ago when Redline Time Attack was lively and popular here in the US. Carl has an extensive history and loads of experience in grip driving, and his results in time attack proved that, time and time again. Back then, I knew very little about Carl's experience in drifting. The more and more I became involved in the sport of sliding, the more I discovered about Mr. Rydquist's drift days. This year, Carl planned a comeback to Formula Drift on an extremely limited privateer budget. Ever since I heard that, I've been dying to hook up with him to ask some questions, and shoot some photos.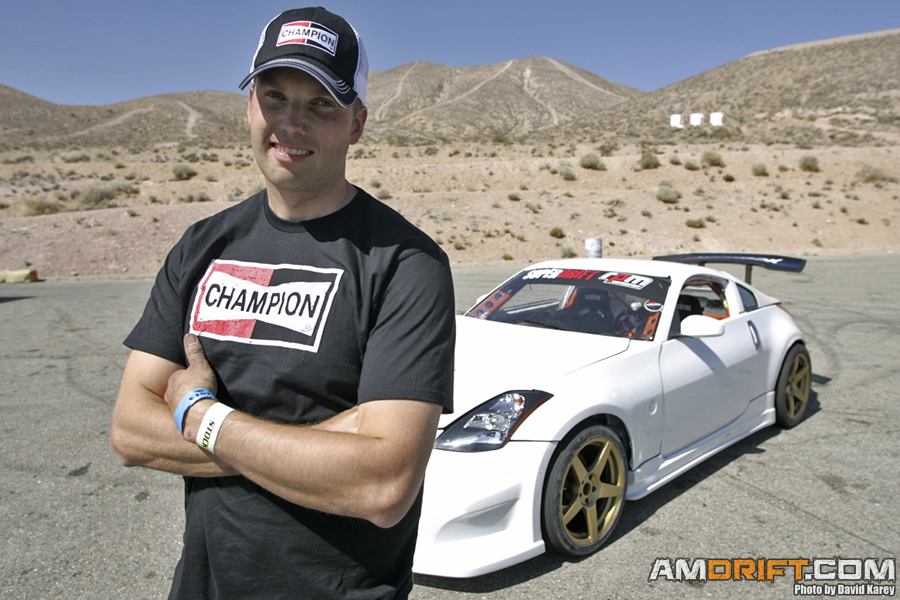 Hey Carl, its nice to get in touch with you. Lets start with you telling us a little about your racing and drifting history.
"I raced pedal cars as a kid. I raced RC controlled cars (never in a serious series though). I raced slotcars. I raced video games and simulators. I guess I learned something. I got into real cars in 1996 and have won a number of championships and races. (Have a look at my website.). I started drifting on sponsor days back in Sweden, as a more fun alternative for giving passenger ride vs hotlaps at speed. I got intrigued by the skill and commitment it takes to drift a car with high speed into a turn, and I simply wanted to get good at it. I bought a 350Z when I came to the US and went to Just Drift, Drift Day, and 626 Drift, then ended up doing Top Drift and Pro-AM in Tucson where I earned my FD license. The Just Drift organization and competitors really helped me out and were great all around helping me. I was pretty clueless about drifting and the car scene here, and I started out with my stock 350Z."
I understand that you originally planned on running ProAm events such as Top Drift to mark your return to drifting. Could you tell us a little about your decision to jump straight back in to Formula Drift?
"My motto is "live now", and I encourage people to love and live and seize the day. Life is short, and can change in a heartbeat, therefore, look on life from the bright side, every day is a gift. That said, my car got done sooner much earlier than expected, and since my goal was to go to FD as soon as possible and become really good at drifting over the next few seasons, I just decided to get right to where I need to be to start that climb. Beyond that, I love drifting fun courses, or areas, or wherever I may drift, and FD has some of the coolest courses. This is a pro series, but I'm not going to kid myself… to drift a place like the Streets of Long Beach, or the long bank of Irwindale "House of Drift" Speedway, is simply making something that is completely wild, cool and extremely fun, into a sustainable event setting, so that everyone can enjoy the action again and again and again."
Now that you've shared why you are jumping back into Formula Drift, could you tell us a little about your previous attempt at FD?
"I was stressing myself out a bit with high pressure on myself to perform top results right from the get go, since I had just arrived to the US and "needed to build a name". My entry in FD 2009 was a result of John Shin / City Tire Online building an entire program, and I would be nowhere if that didn't happen. I was able to make Top 32 from the start, and progressed fast to qualify 7th in my 3rd ever FD event. Things were going in the right direction, but I kept feeling that I needed to be in a league where I could win and build a name to secure US sponsors, especially as the global economy crashed and sponsorships were harder than ever to come by. Eventually I moved to familiar grounds, road racing in Time Attack where I could win right away. It did result in many wins and new records, and it helped me get to where I am today with a lot of great sponsorships. To be back in FD again though, as I was sitting on the grid and in the pits after the first practice at Long Beach, I just had this amazing feel inside, and I was just smiling. It was/is so good to be back, and it was so fun to drift the Long Beach course again. Much of the enjoyment also comes from a different frame of mind. What I have accepted now that I wasn't ready to accept in 2009, is that to get to the top in FD, I will have to be "brave" enough to accept that I cannot always be on the podium like it used to be in racing."
Which rounds do you plan on running, and how do you expect to perform this year?
"Originally I planned to run 4 events, but I am the kind of person who likes to do something properly, or not at all. Still got quite a big hole to fill when it comes to budget, but right now we are readying the car to go to the east coast. I feel ready to take a top 16 spot, and I want to do it asap. I am also very aware that it takes experience, and I need to optimize parts of the car. To just jump into FD and think you are going to reach the top just because you have car control skills, is like thinking "I have a great tennis serve, now I am going to go and beat Roger Federer". You need much more than that, since along with D1 in Japan, Formula Drift is the top level of drifting on the planet. It will take some time to reach the top among the world's best drifters. Personally, I am not close to my potential as a drifter, but when I have built experience and can tap into full potential, I will be going for the top. How soon I can develop the car and myself to top potential, only time can tell. Right now I am in a build-up phase of a new program with a new team, and I just have to keep my focus on systematic progress. Success will come when preparation is properly done."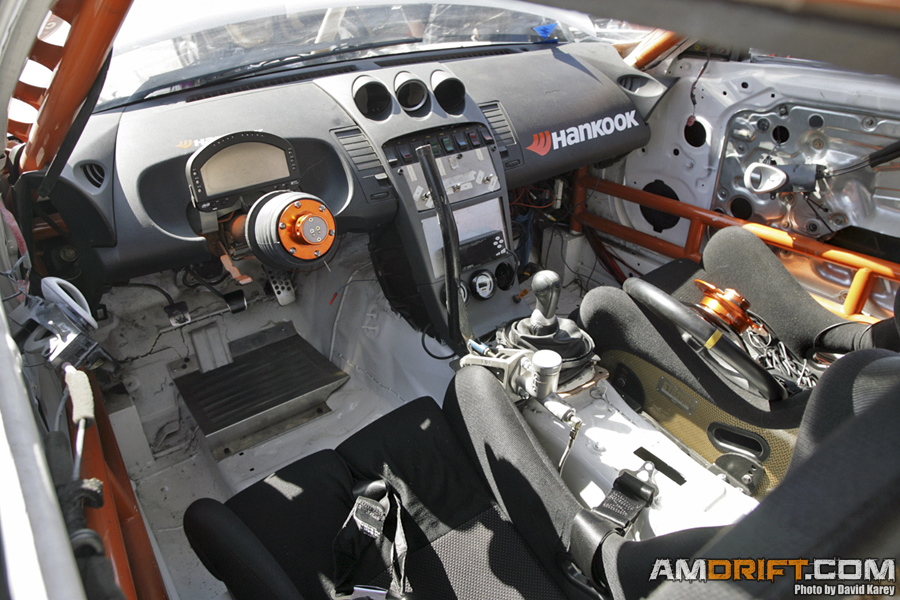 I understand you've acquired a car with quite a bit of history in Formula Drift. Wanna tell us about it?
"This is the Dynamics Autosport 350Z that ran in FD and some time attack during 07-09 with Robbie Nishida behind the wheel. In many people's opinion, it was retired when it was on the up and up and it was just about ready to battle for a championship title. The car had a notorious feature in DSPORT Sept 2008 with a lot of cool shots with up and coming model Lisa Fleming.
Could you give us details on your engine, transmission, suspension….basically the entire setup of the 350z?
I run a VQ35DE because it is a relatively light and very durable engine, and they are readily available when it is time to rebuild. At the time of this interview, Technosquare is preparing to build one for me with BC internals, to allow me to double the boost from the GTX3582R single turbo charger. Gone are the piggy back days. Now I run a full standalone AEM S2 that has such a great user interface that I can actually work with really well if I have to change any settings or troubleshoot a bad sensor or anything like that. The engine spins a ProLite flywheel from ACT, with a custom made pressure plate the clamps super hard on the 6-puck single plate race disc. The ACT clutch system has perfect feel when drifting and is surprisingly easy to drive around the pits and when loading the car onto trailers etc. The engine bolts to an OEM 6-speed gearbox, which really only has the downside of fast wearing synchros, revmatch or not. As they wear out, it gets more difficult to shift fast, and that's pretty much all. As with the motor, they are easy to replace, but it is high on my list to get a dog box soon. The rear is equipped with an ATS carbon differential. I run it 1.5way because I can carry higher entry speeds and then change direction. My suspension is from KW Suspension. I have always been a big fan because KW understands that a proper suspension needs compression and rebound separately adjustable. Without that separation, it really limits you as a driver to set the car up to win. I use Megan Racing arms in the rear suspension and Partshop MAX angle kit up front. The angle kit required a bit of spacing of the front wheels, and we are working on more, because the kit nearly doesn't run out of angle!"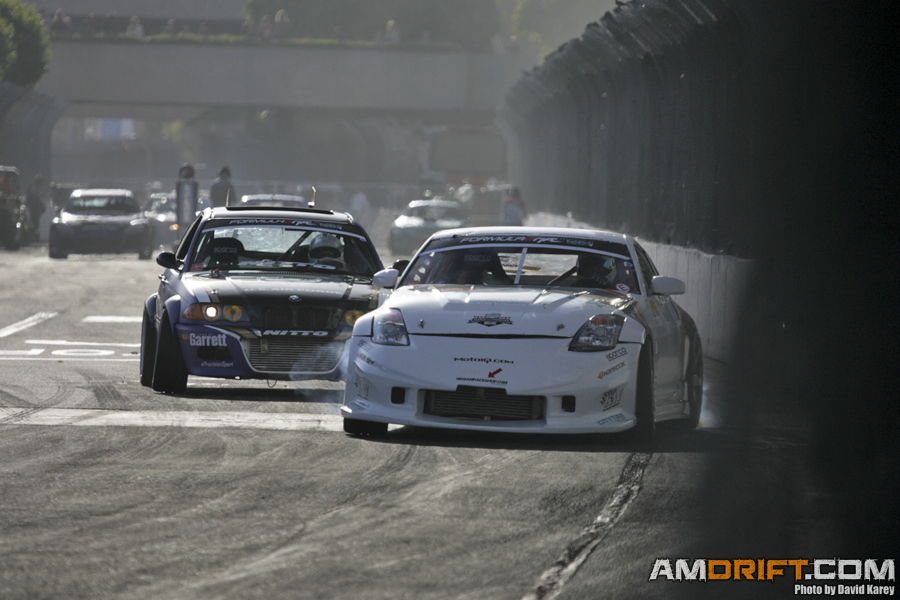 Surely as you have mentioned earlier, this sport wouldn't have been possible without the help of others. I'll give you a moment to thank everyone who helped make this sport possible for you.
My sponsors seem to have the same love for this car as I have, and before I knew it, the car was ready to run. Crazy! Garrett blessed me with their fast spooling turbocharger, and AEM took time to listen to me despite their crazy schedule and decided to help out. Without them, the car would still be sitting in the shop. Also Nissan Race Shop has always been a friendly bunch, and now they came aboard as a partner who has helped me get the car built in a short amount of time. Forgestar brought me the CF5 wheels I am running on the Z, and I am excited because I love the CF5 design, but never had a car to use them on before.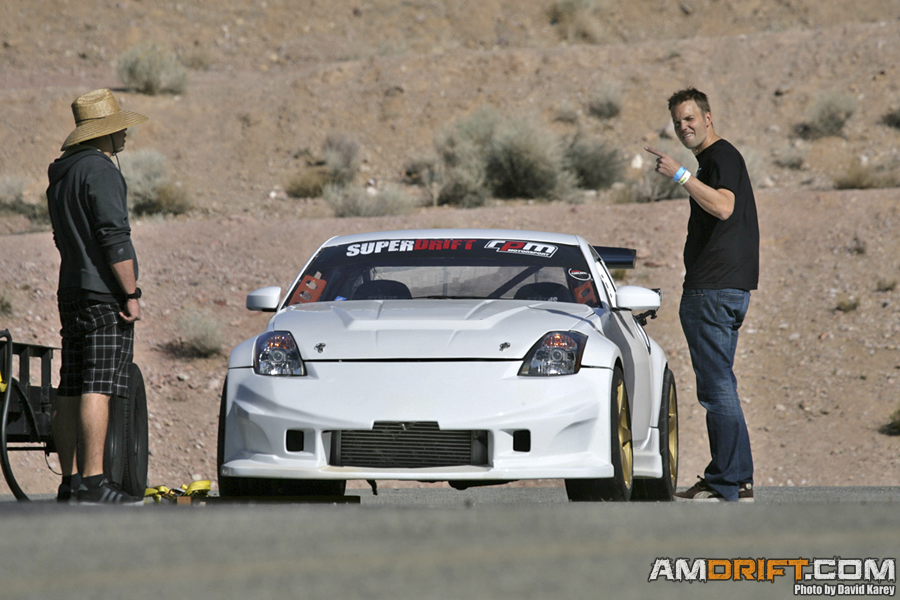 Surely there are more people you would like to thank. Let everybody reading this interview know who helps makes drifting possible for you!
"John and Ines at City Tire are my family, and I would not be where I am without them. Brian Wong was incredible to let me drive his 350Z in FD in 2009. Hankook Tire has also given incredible support through good times and bad. Looking back, I have done years of cool racing with them and used so many variants of their tires, from drifting, to time attack, to the 24 Hours of Nurburgring, and I really love the direction they are going with their tire development. Just Drift gave me a place to roam and learn. They are such a great group of guys, and their ways really inspired my progress. Taka Aono and Hiro Sumida helped me polish my driving with simple but efficient tricks. I will forever consider them my mentors. I also want to shout out to the friends at AE Performance who are such a great group to hang with, and of course, Berk Technology. With Berk Technology, it was a "like minds think alike" connection, and the team energy is always so positive. I call Bryan "Dr Min" because he is a genious when it comes to car prep and reliability. He is able to make the tough calls on the car when anyone else, like myself, would be wound up and want to change, improve, or not change something. Those are not the easy calls to make when the focus is the stars. The end result of this meticulous prep and decision making skill, is a car that will work and can win. We have won a lot of races together, and we made top 32 in Formula Drift with a newly rebuilt car with a team that has never done drifting before. That's the "Berk factor"."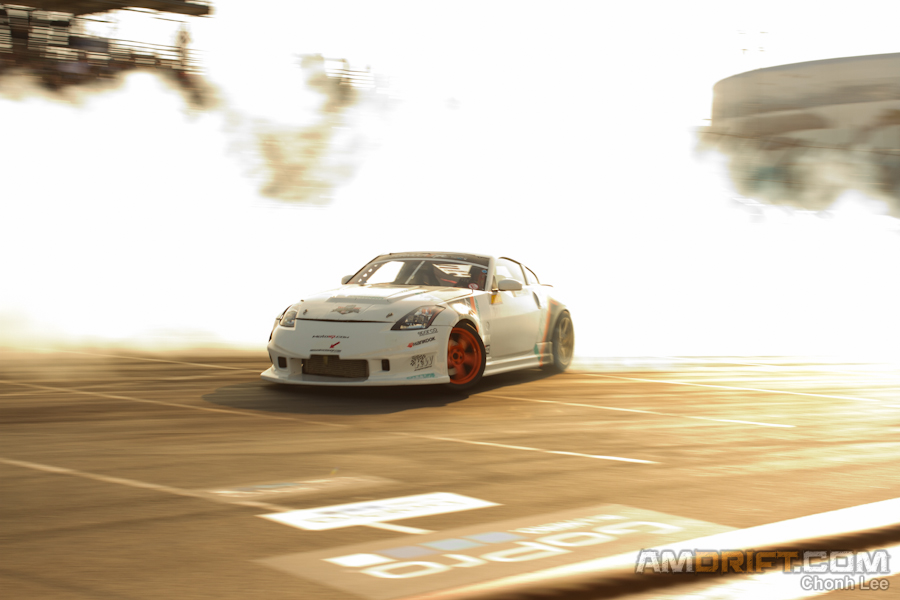 Carl, thank you for giving us the opportunity to learn more about you. Your spirit and drive is amazing, and we hope many aspiring drivers out there take note and strive to be as positive as you are toward the sport of drifting. We wish you the most success possible in the Formula Drift 2013 season.