Recently we had a chance to meet with Andy Hateley and talk with him a little bit about his new car and his return to Formula Drift for the 2014 season.
So why drifting? What made you decide you wanted to go in the direction of drifting over any other path?
I didn't really know what drifting was when I started doing it. This was around 2001-03. I just loved watching cars in WRC and in car chase scenes when they threw the car sideways. I never watched D1 or Initial D. I just loved driving and what happened at the limit of the tires and beyond.
Once I found out this was a legitimate motorsport, I was hooked. I traded my lowered Xterra for a 350z and went to Mulholland to learn to drive it. I went to a few track days and learned to drift a few corners on Mulholland, and attended a US Drift event in March of 2004. There was no turning back after that…
Tell us a little about your competition history. You used to compete in formula drift, correct?
Yes sir, I started competing before Formula Drift existed. Really the pinnacle of drifting at the time was D1. I went to my first D1 driver search at California Speedway and crashed the 350Z into a water barrier on my first run. Basically destroyed a brand new car. Option video was mad because they had not set up their cameras yet and missed the crash. The medic that looked over me asked if I was related to John Hateley, my uncle who is a flat track motorcycle racer and stuntman. I told him yes, and he told me he's carried my uncle out of a flat track area once and had to look over him a few times after spills at the flat track. Small world. Some guy even yelled "dumbass!" As I was leaving the track. I hope he was at Irwindale a few months later when I earned my D1 license in the still stock 350z. That was a much better day.
When Formula D started, I was still getting my 350z up to par with the pro cars of the day. I went to a few driver research events for FD and it rained on me twice, once in California and once in Texas. I was struggling to get used to the new turbo power and the rain didn't help. Finally I earned the license at Irwindale when they were shooting the Hogan reality show. I competed in 2006 and 2007, but started after Atlanta each year, so I still have never run a full season. I was very close to retaining my license in 2007, but missed it by one Top 32 qualification.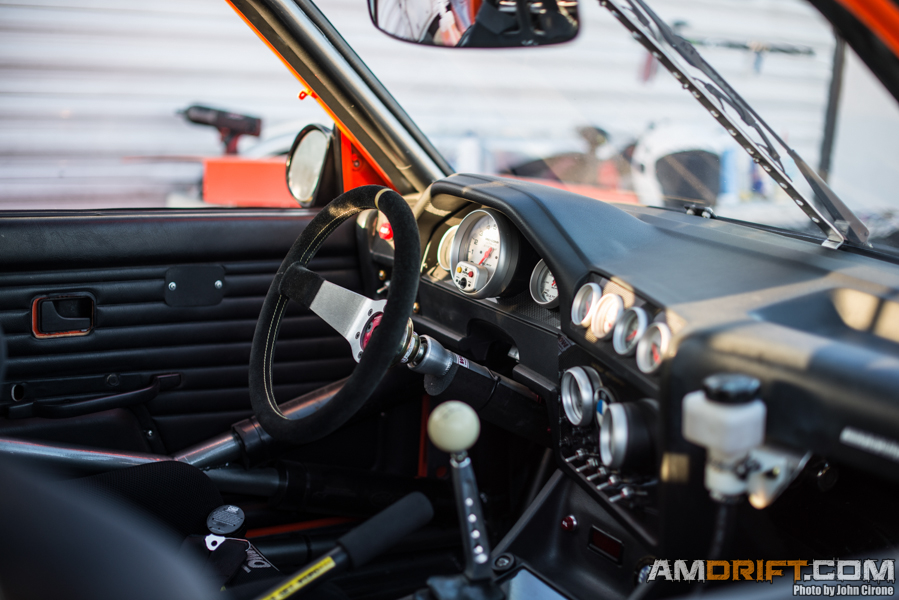 With team Retaks, we won the team drift championship that year. After that, my 350z was in shambles and I went through a few bad mechanics before it finally got figured out. I then started doing proam events again and getting back into the mix. I started the E30 build around this time too. Had to put the E30 on hold to get the 350z ready for proam events.
Tell us about this E30 and your plans for the 2014 season.
The e30, longest build ever. It all started with the idea of putting an LS1 in an E30 about 5 years ago. I bought a 4 door chassis and stripped it down and pulled the engine and trans in my parents garage. Then I came upon a great deal on an S54(E46 M3 engine) that I could not pass up. So plans changed and I prepared for an S54 to E30 swap.
Then I came across the Groma Fabrications E30 in an article in Sport Compact Car magazine. They relocated the brake booster under the dash with a 90 degree mount. I needed to do something like this to do my S54 swap as the air box would not clear the brake booster in its stock location. They were located in Duarte, CA, so I called them up. They asked me what I wanted to do with the car and told me to come down to talk to them. I came down and they offered me a pretty good deal. Buy their car, the one from the article with a supercharged 4.4 BMW V8. They would also let me use their shop space to work on it, get the cage up to FD specifications and teach me fabrication and welding. I couldn't pass this up, so plans changed again. I started heading to Groma Fab and working on the new chassis. I learned basic fabrication skills and eventually took the car and continued work in my ex-girlfriends garage.
I finally got my own place to work on the car in 2010 when I rented a hanger at the Van Nuys airport. At this point I was doing proam events in the 350z and work slowed on the e30. Work picked up again after the 2012 season, with the motivation of a newly earned FD license and when I relocated to a real shop and got a lift. My welding and fabrication skills had improved and I decided to tube frame the front and rear of the car. I did the rear first, and by this time it was November 2012 and the 2013 season was approaching. My engine builder was taking too long with the build and I needed time to make the 4.4 BMW V8 work with the Tex Racing SR-1 transmission.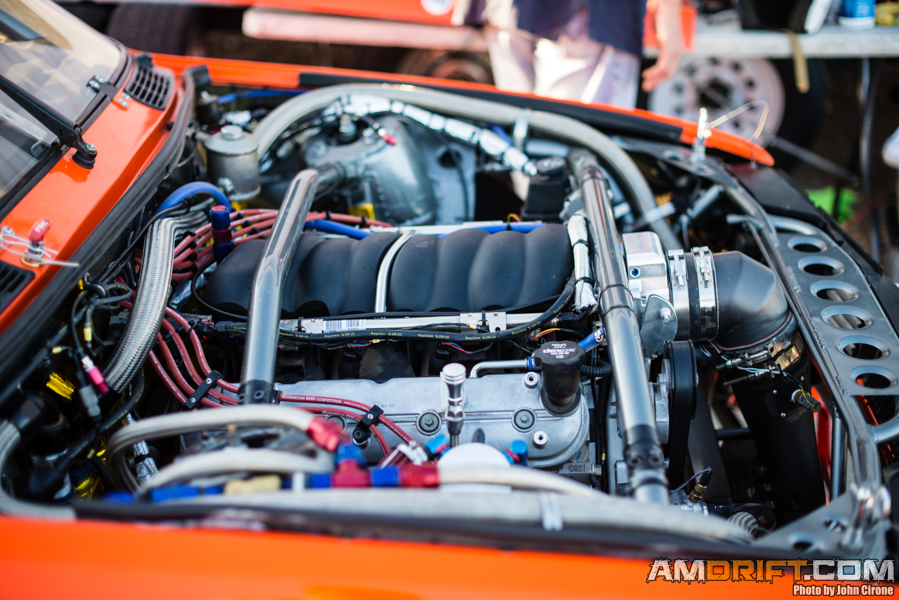 Late December I made the decision to purchase a crate LS3 from Jegs. The swap would be easier and the transmission I had would bolt right up. Once I got the engine, I got it in the car and started work on the tube front end. Then I made my first set of headers and exhaust I've ever done. After that, it was time for a lesson in plumbing. I plumbed the whole car in about 3 weeks and it was time for wiring. This is when things went bad. I was told by my wiring guy(not naming names here) that it would take 2 weeks to wire the car. I got him the car 2 weeks before Long Beach leaving enough time to at least get the car done for Atlanta. Long Beach was a loss at this point. I was promised that the car would be done for Atlanta, that didn't happen. I was promised the car would be done for Florida, didn't happen. At this point I gave up on the 2013 season and focused on next year. This was a huge weight off my shoulders, but I had already put so much effort into making the 2013 season it was a hard decision to make.
I literally worked 20 hour days for the months leading up to the 2013 season. I spent many nights at the shop and stayed a total of 4 days at one point. After dealing with my wiring guy working on the car on average of 5 to 10 days a month, I got a bit frustrated. I took the car back, most of the wiring was done and the car needed new pushrods at the right length. I took the car back and learned a few more things. I measured and installed the right pushrods, bought a PC, downloaded the software for my ECU, and tried to start the car. No crank signal, after chasing a few wires and locating the pin on the ECU for the crank signal, I found my problem. My wonderful wiring guy left me with both the crank and cam sensor with exposed wire less than a half an inch from the ECU plug and attached with only one filament of wire, wrapped in electrical tape. So, I proceeded with the most intense soldering job of my life under the dash of my car. And I got crank signal back. I increased starting enrichments incrementally and it finally started! I ran around my shop yelling and jumping around, it was a great sense of accomplishment after all the drama.
The car sounded great, and I had made a new connection with Tom Nelson of Nelson Racing Engines to tune the car. He is a tuning wizard and an LS specialist with reliable engine builds up to 2500hp. This guy is no joke, super cool guy too. Big thanks to him and everyone at their shop. We tuned the car with a mobile WIFI hotspot in the car, and Tom had full control over my computer with Teamviewer. I drove laps on Streets of Willow, and Tom tuned the car. I've been dialing it in ever since, with mostly cooling improvements and suspensions changes.
I can't wait to drive on the big tracks this year. I plan to run Long Beach and Atlanta. After that I will make a decision to continue the Pro series or compete in Pro 2. I know the car will be underpowered with a basically stock LS3, but I have confidence in the cornering speed of the car. I feel it is better to setup the car without extreme amounts of power as this is a new chassis that will need some adjustment to get right. Hopefully I can acquire a more powerful package soon. I hope to do well enough in the FD series and complete my first full season. Pro 2 is there if I feel I am not ready, or the car is just not competitive in FD. Retaining the FD license is the first goal. Hopefully I can reach that goal and further, I can't wait to get out there and find out.
Now correct me if I'm wrong, but you used to be an actor right?
Yes I did, started when I was 14. Some casting director was auditioning kids at my local skatepark. Two of my friends and myself all got the job, and the ball started rolling. I did around 30 commercials and few small movie and tv spots. Worked with a few cool people; Tony Hawk, James Brown and Jim Carrey. I was mostly cast as a skateboarder. Its an interesting job, there's a real person behind every played part.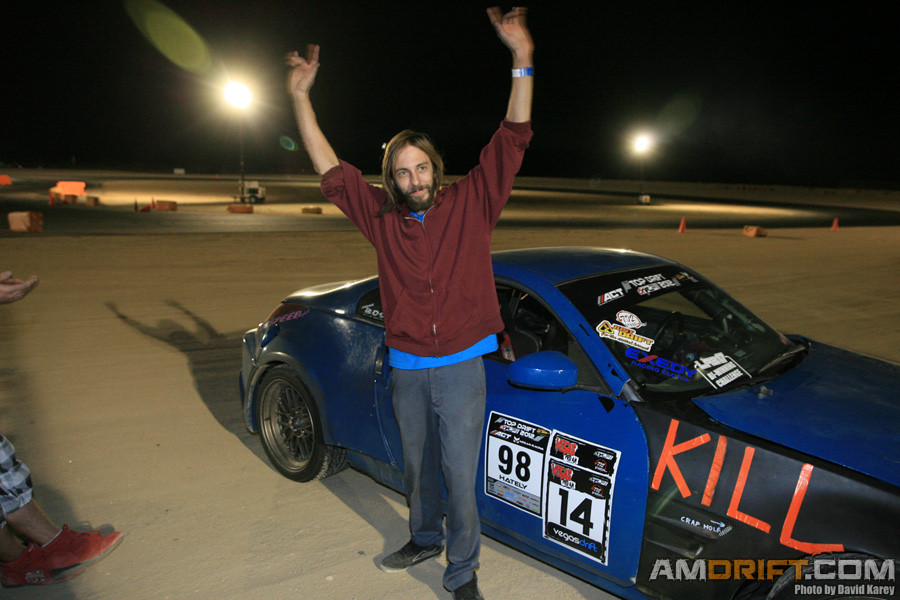 Alright Andy, thank you so much for your time and we are very, very excited to see you drive this season! Best of luck!