The 100+ degree heat didn't seem to affect the action out at Willow Springs International Raceway for the third round of Just Drift's FD licensing series, Top Drift, this past weekend. Braving the blazing sun until the evening brought cooler temperatures, the 2 day event was well attended by drivers, and enough spectators came out to make it a show.
Round 3 took us to our least favorite track of the season. Walt James Stadium is a 3/8 mile banked dirt oval with a 1/4 mile paved infield track. There are no walls, so drivers tend to go harder and let it all hang out, which often results in dirt drops and lots of zeros in qualifying.
When ran properly, the surface makes for one hell of a smoke show. High speeds could be carried through the course on the big sweepers, but it takes finesse and precise calculations to set the car up for the infield transition, and careful inputs to navigate through the finish without tossing it all away.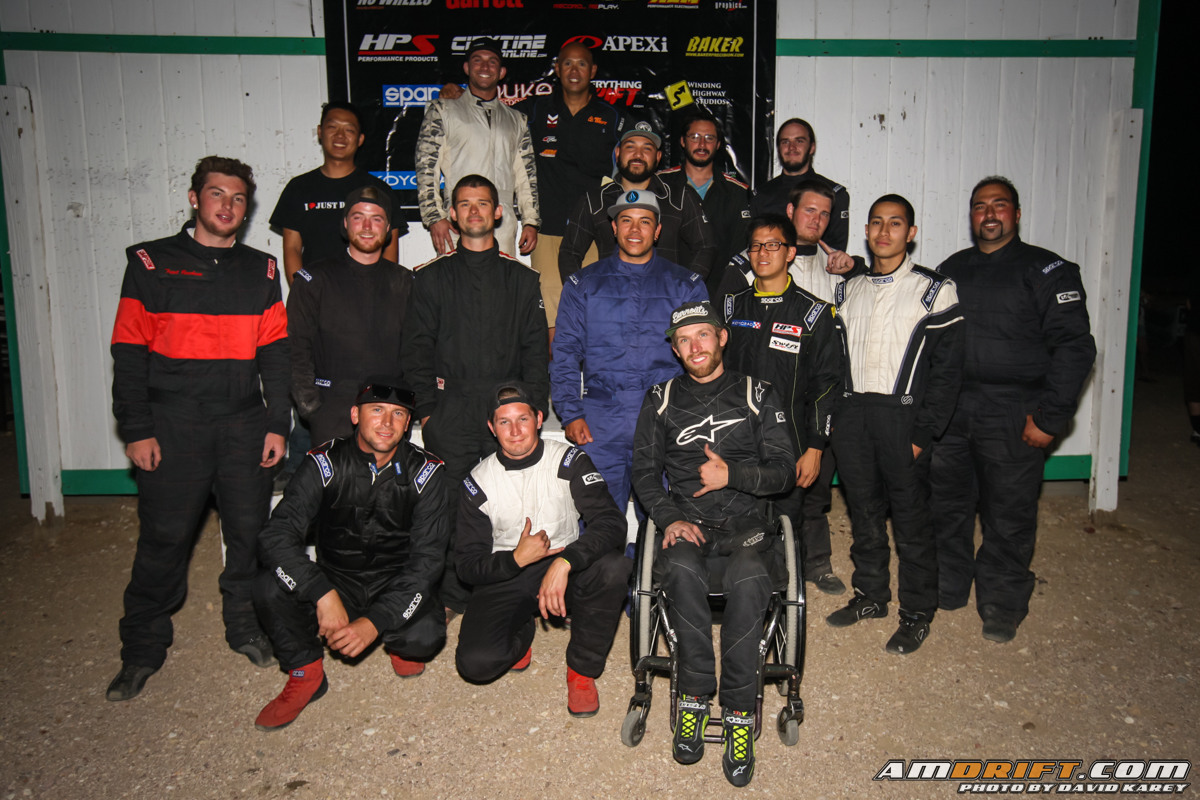 Qualifying ran its course toward the final hours of sunlight, setting up the best qualifiers for the evening's Top 16 comp. Trent Beechum connected all the dots and landed himself the most points to qualify himself in first, Matt Madrigali followed right behind in second, and Alfa Ramirez navigated his LT1 powered Nissan 200sx into the third place qualifying spot. Joe Tardiff, Adam Knapik, Brandon Contreras, Tim Cobb, Chris Jones, Zach MacGillivray, Kenny Chieu, George Kilada, Mac Cruz, Shaun Doom, Rob Parsons, Mikey Mendoza, and Jason Kim also earned their way into the show.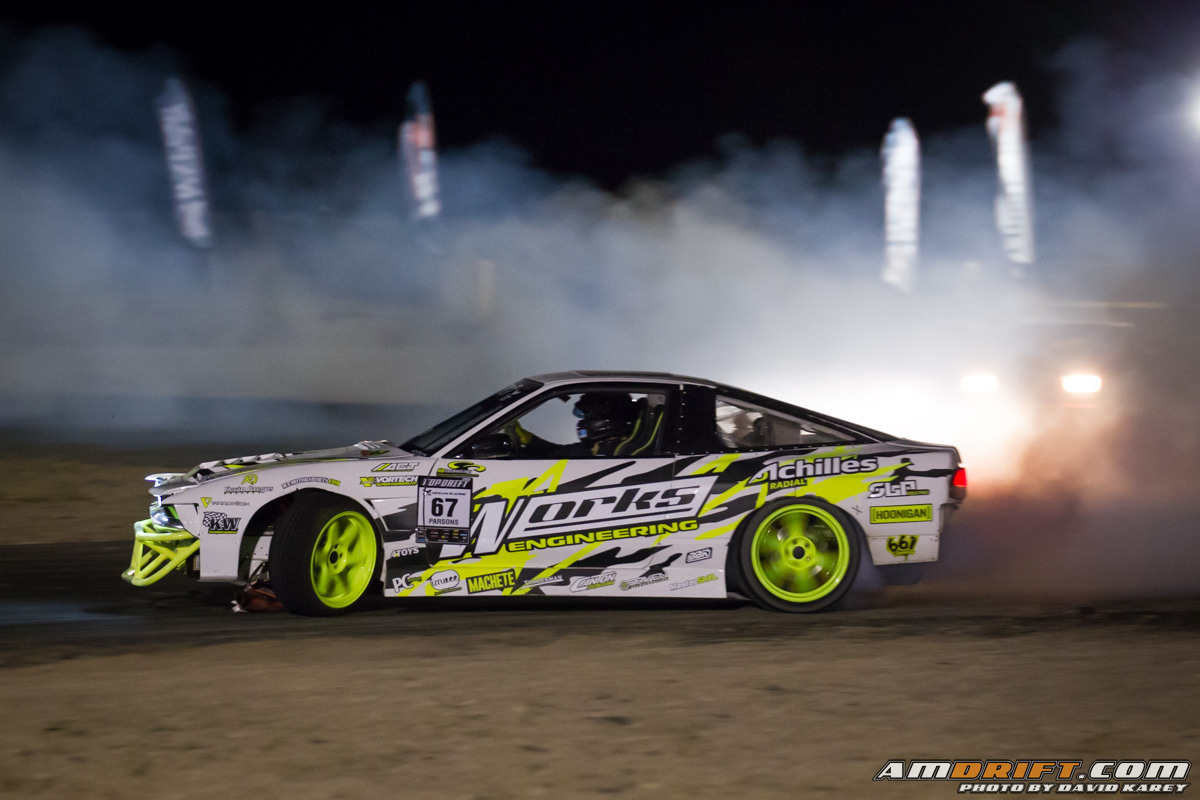 A few key battles made the first night event of the Top Drift season an interesting one. The most exciting battle of the night was between Rob Parsons and Alfa Ramirez. Parsons had made his first ever Top 16 since he built his hand control S13, and managed to put up one hell of a fight against Ramirez. Parsons and Ramirez went 3 One More Time battles before Parson's fuel pump sidelined him.
George Kilada has improved his S13 and driving skill this year, and managed to hang on and defeat the very strong and experienced Brandon Contreras, sliding him further into the competition against Matt Madrigali in the finals later in the evening.
If you asked us who we thought would see podium this night, we would have definitely had mentioned Trent Beechum and Matt Madrigali. Trent has been on fire this year with podium finishes in Top Drift and the Southwest Drift Series, and Matt has always been a strong competitor with high qualifying scores and a surgical but aggressive driving style. It wasnt surprising to see these two meet in the battle for first place. Both drivers engaged bad ass mode, but it was Beechum who laid it all out on his follow, leaving no doubt who the winner of Top Drift Round 3 would be.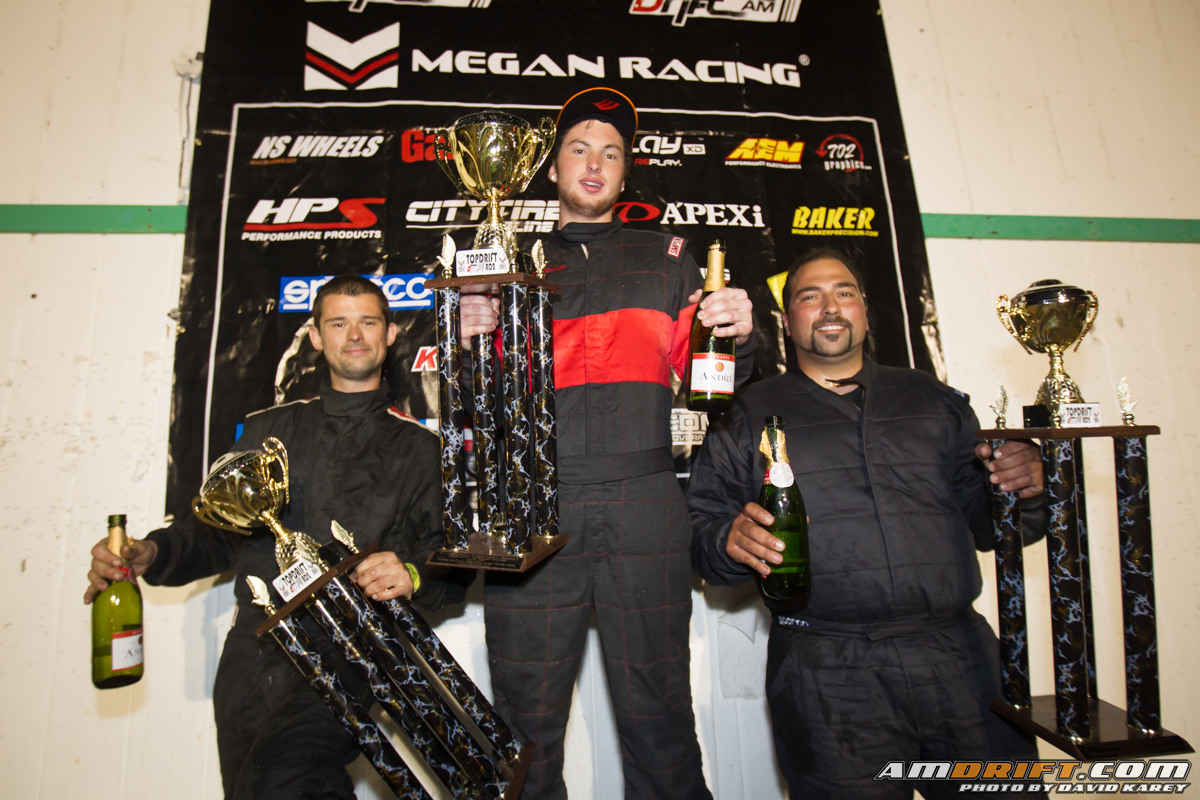 When all was said and done, Trent Beechum stood tall on podium in first place, Matt Madrigali next to him in 2nd, and George Kilada makes his very first podium appearance in his Top Drift career in 3rd!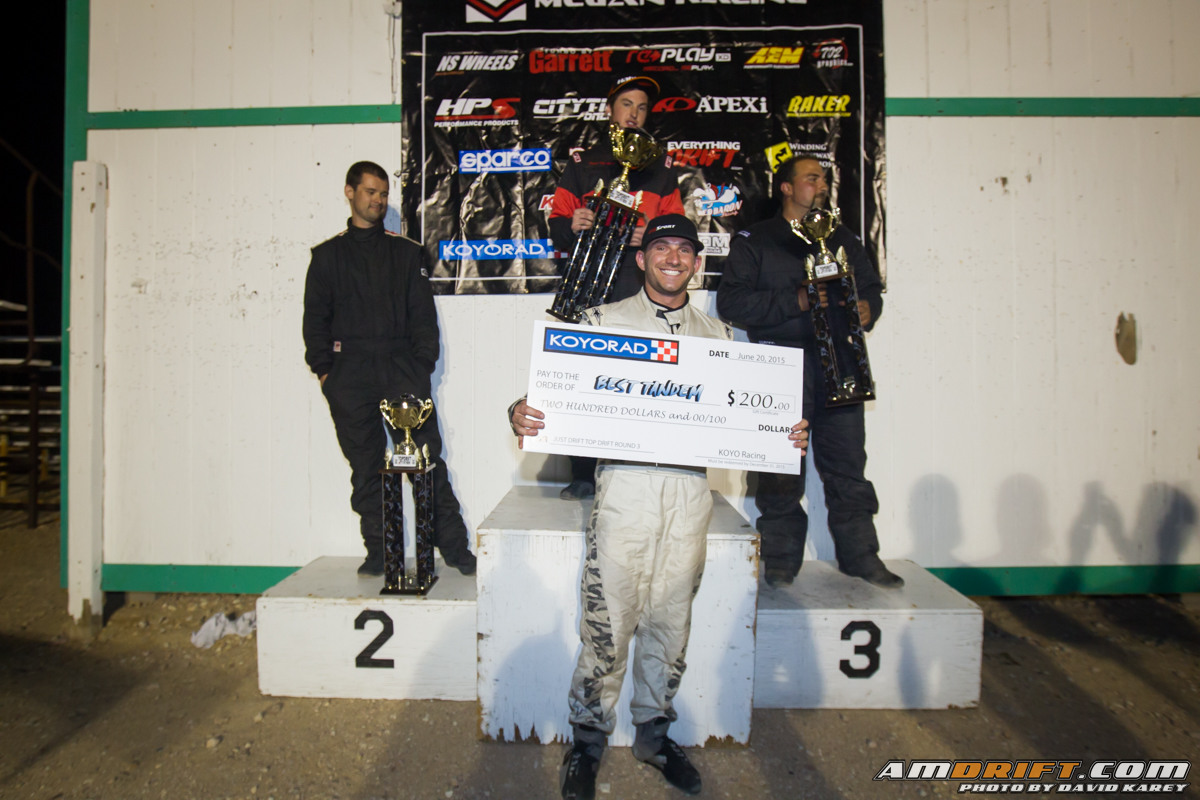 Adam Knapik earns the Koyorad Best Tandem award for his performance against Joe Tardiff in the Great 8.

Be sure to mark your calendars for Top Drift Round 4, the final round of the 2015 Top Drift season on August 28-29. Join us for another cooled down desert evening at Willow Springs International Raceway, this time at Walt James Speedway.