Ever since attending Formula Drift at Road Atlanta for the very first time in 2012, I made a promise to myself that I would be there in 2013, even if every penny came out of my own pocket (and this time every single penny did). This was before AmDrift.com was even thought of, so being able to go this year and get up close and personal with the rookies was an exciting change of plans, instead of doing the generic typical event coverage. At the track, we spent some time with the few rookies that were able to make it to Road Atlanta for Formula Drift Round 2 – Road to the Championship.
I wanted to have this article up a week after Atlanta, but we gave the rookies some time to re-energize before hitting them up. Some of them were more than glad to hook us up with some words, some of them still very busy. We hope this gets everyone in the mood to support ALL of the Formula Drift rookies at Palm Beach. Go visit them, take photos, tag them on every social networking website you belong to. They are the future of the sport. They are what pros are made of. They are the link between amateur drifting, and the dream of going big.
---
Will Parsons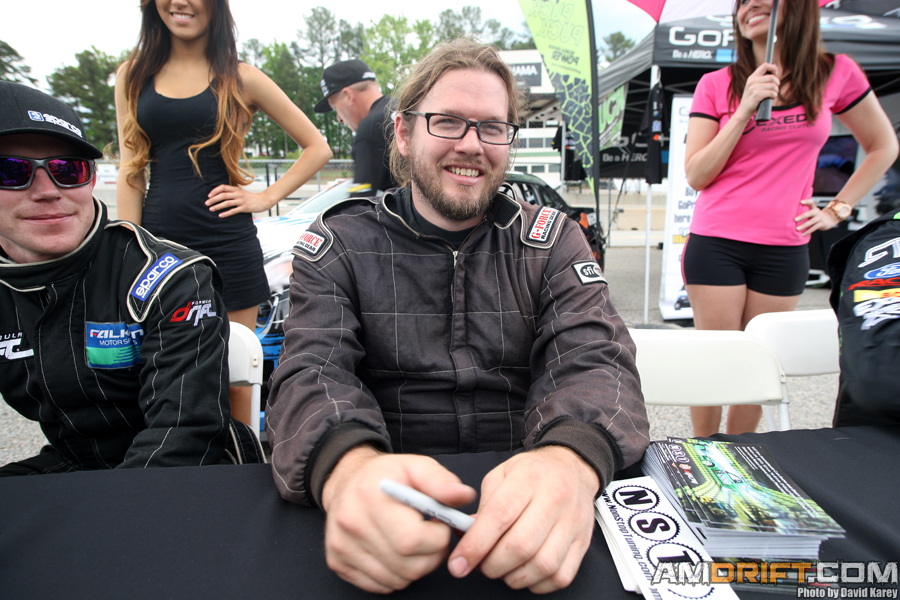 I didnt get the chance to meet Will Parsons in person in Long Beach, so I made up for it in Atlanta by introducing myself, and following him around like a puppy for the rest of the weekend.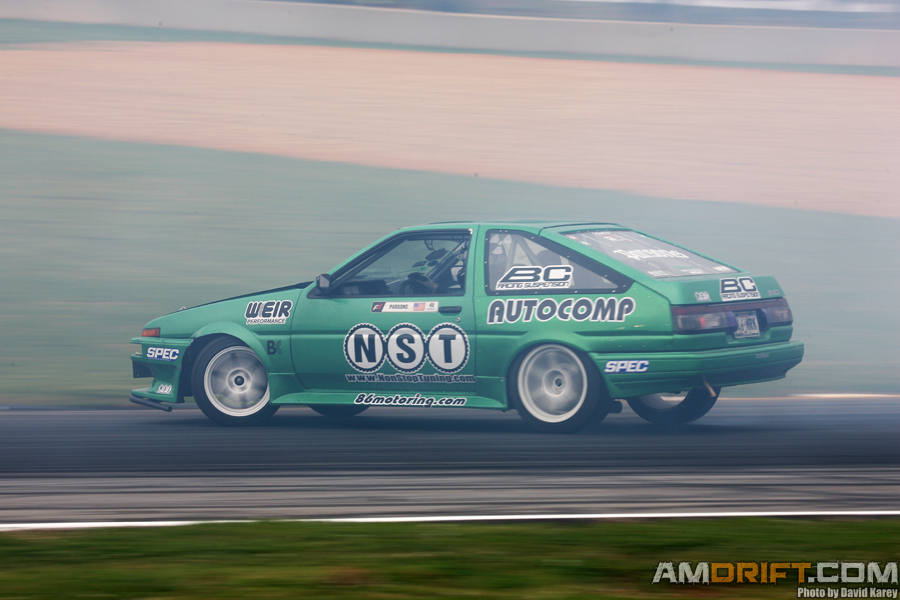 Will was able to qualify 26th with 69.8 points and earn the title of the highest qualifying rookie this season thus far. It would put him in the bracket to face Matt Powers in Top 32.
You could feel the tension while Will was waiting for Saturday's pre Top 32 driver's meeting to end.
One can only imagine what it feels like to have earned a spot in top 32 competition, and praying nothing goes wrong in the practice before.
Will made a couple of successful practice runs. Everything looked perfect and ready to rock.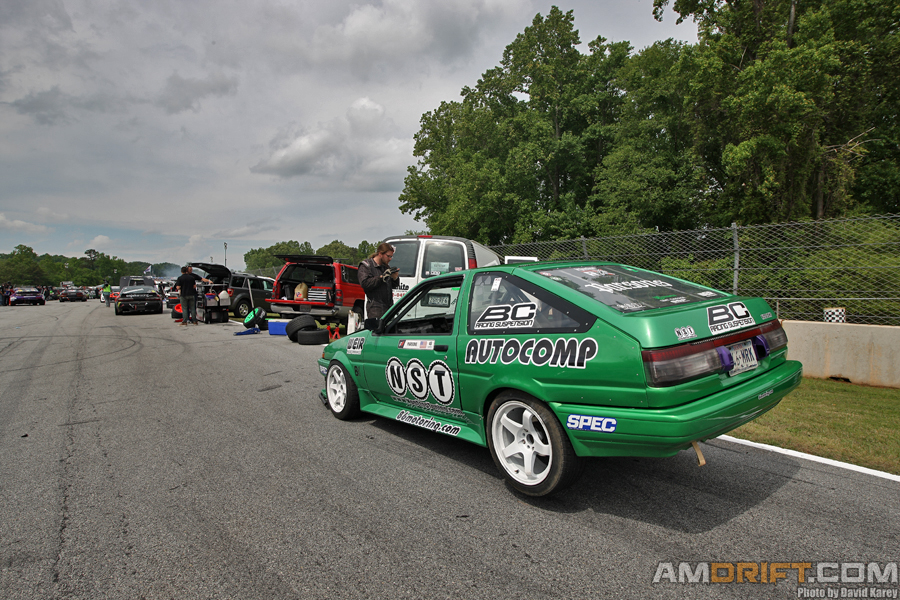 Making it back up the hill to share excitement with Will and see how his nerves were dealing with being so close to competition, I saw his car in the air. Finding out his team was just changing wheels/tires, was a huge relief.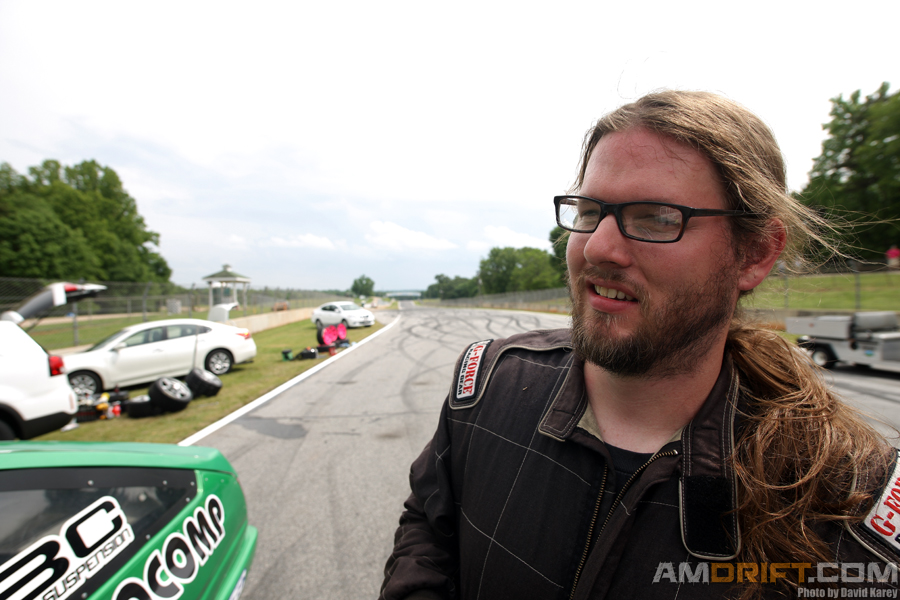 Feeling good, Will and his car were ready to rock.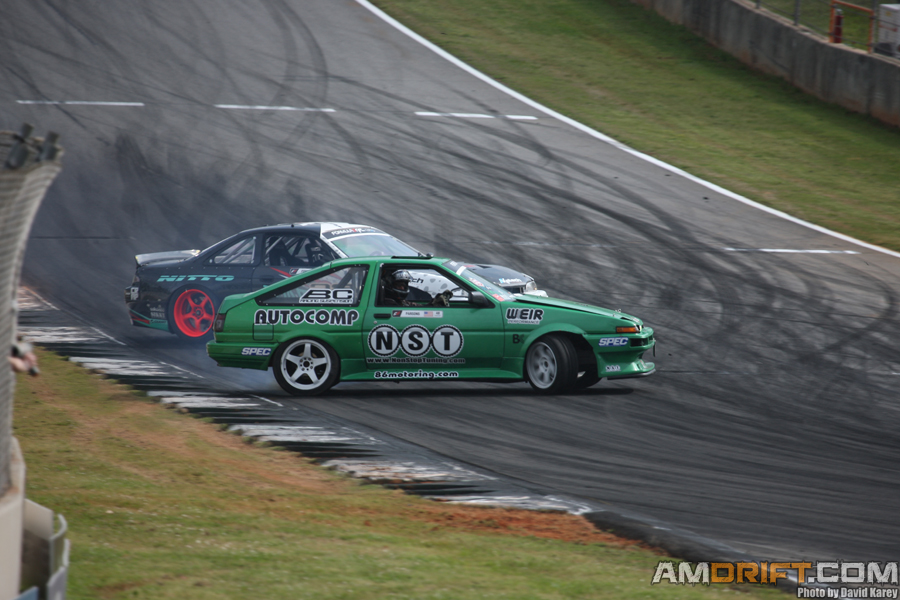 After making my way back to the spectator area to watch what could be history in the making……a real David Vs. Goliath moment, Will and Matt Powers were given the signal to go. Will knowing that his car was extremely underpowered compared to Matt's, knew he had to go crazy and throw his car in hard and hold on hoping Matt would have difficulty shadowing him. Unfortunately, Will wouldn't be able to hold angle himself, and corrected into the dirt at the bottom of the hill. After an amazing weekend of exciting ups, it was over.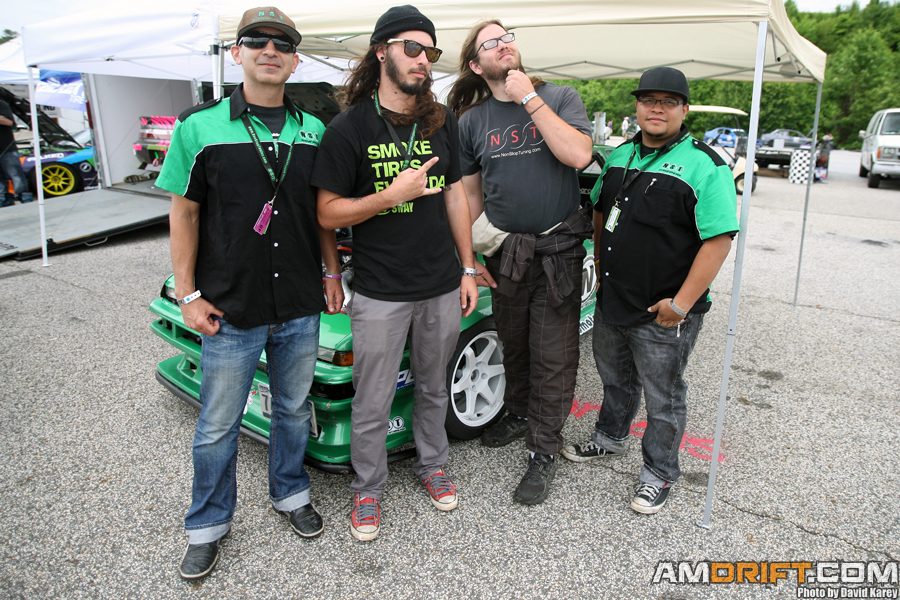 Will Parsons is bound to make waves in Formula Drift in the future, with the help of his amazing and friendly team. Pictured left to right: Mike Rahimi of Non Stop Tuning, Nelson Ayra of Culture Clash Media, Will Parsons himself, and crew chief Victor Correa.
---
Brandon Wicknick

"I came into round 2 with a lot of confidence. It was a new track for me, which is something I love. I like the challenge of adapting to new courses and I feel that I do well in those situations. Also, we had a new design on the car and had just made 600HP on the dyno. The car was running great and looking great as well. The only thing we saw that could fail was… me. My first few practice runs were spent adjusting to the track. The important thing to learn at Road Atlanta is where to initiate drift. Too early and you end up running over the inside clip. Too late and you end up in the gravel."
"The car was feeling good. I had never driven with that much horsepower and I was loving it. The only complaint I had was the gearing for this particular track. Second gear was too short and third gear required some clutch slipping to keep wheel speed around the horseshoe. I was figuring out pretty well how to make it work and I laid down some solid runs in practice. However things didn't continue well. We were called out at the line for some sort of leak. We checked and found that we were losing power steering fluid. It was coming from the front of the power steering pump. We had some good practice and testing and it was still paid practice so we shut it down, satisfied with the performance and went to change the pump."
"The following day we headed out for our hour of practice before qualifying. With new pump and fresh fluid, everything was feeling good. After a few good runs I had a problem. In the tight part of the horseshoe, I would loose power steering and the wheel would bind to the point I couldn't control it. It was causing me to lose my drift. After 2 more practice runs like this, I completely lost all my power steering. Back in the hot pits, we discovered the reservoir was empty. Joe got under the car in a hurry to find that our leak was from the line in the middle of the rack. The line had pulled out and being the lowest point in the system, had allowed all the fluid to leak out. We needed a rack and we didn't have much time."
"I ran through the hot pits asking everyone with an S chassis if they had a spare. The last person I came across was Forrest Wang. He had a rack. I ran to grab the rack from his trailer while Joe removed the line from the car. Ten minutes later, the car was fixed. I went out for one last practice run and the steering felt great however, the clutch began to slip. Coming through the horseshoe with all the pedal work on the clutch was just too much for the single plate to handle."
"On my first qualifying run, I charged hard up the hill. Jose (my spotter) had told me that I was struggling to fill the outside zone and I need to go deeper into the pocket. So on this run, I went a bit too deep sending me one tire off into the dirt and way off the inside clip of the horseshoe. Also as I transitioned to come down the hill with a slight clutch kick, I felt the clutch slipping."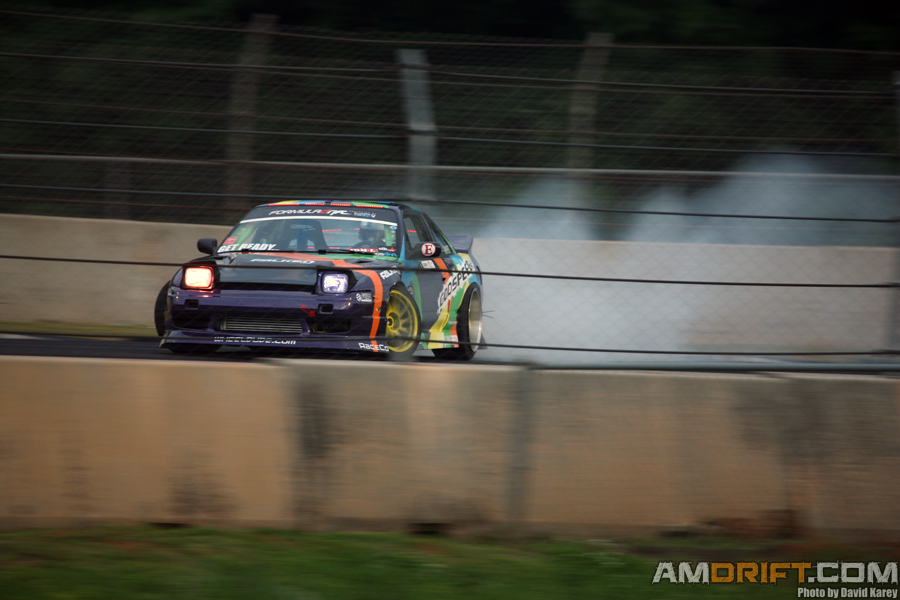 "So on my second run, I initiated a bit too early which affected my line, and though I was able to make it up the hill, I was a bit shallow on the outer zone. I still wasn't feeling it was a bad run at this point. As I tightened up on the clip, I had to work the clutch a bit and it started to slip. I was losing angle at a critical point. Sensing the importance of this qualifying run, I stabbed the clutch to get the wheels spinning but I got no traction. The car had not completely lost drift but at this shallow angle I was headed down the hill. One last attempt on the clutch to get some wheel speed proved to be unsuccessful and my run was over."
"Driftstream showed that I had qualified in 33rd position. When we attended the driver's meeting, I was announced 32nd qualifier. I was in shock but overjoyed at the same time. I couldn't believe that after hearing 33rd place that somehow that was a mistake and I had made it to 32nd. That paired me up against number 1 qualifier Frederic Aasbo. I wasn't too thrilled about the competition, because I knew my clutch was not up to the task, but I was excited to drive with Aasbo."
"As I made my way to the pits to get my car ready for tandem practice, I was met by FD staff, at which point I was informed there had been a mistake. Pat Mordaunt's score had somehow been missed, and once they found the mistake and entered his score, it bumped down the entire field knocking the 32nd qualifier to the 33rd spot. What a way to toy with my emotions. That was that. What could I do? My weekend was over. Lessons learned and time to look ahead to round 3."  Pictured left to right: Jose Mendes, Brandon Wicknick, and Joe Baclawski .
---
Joshua Steele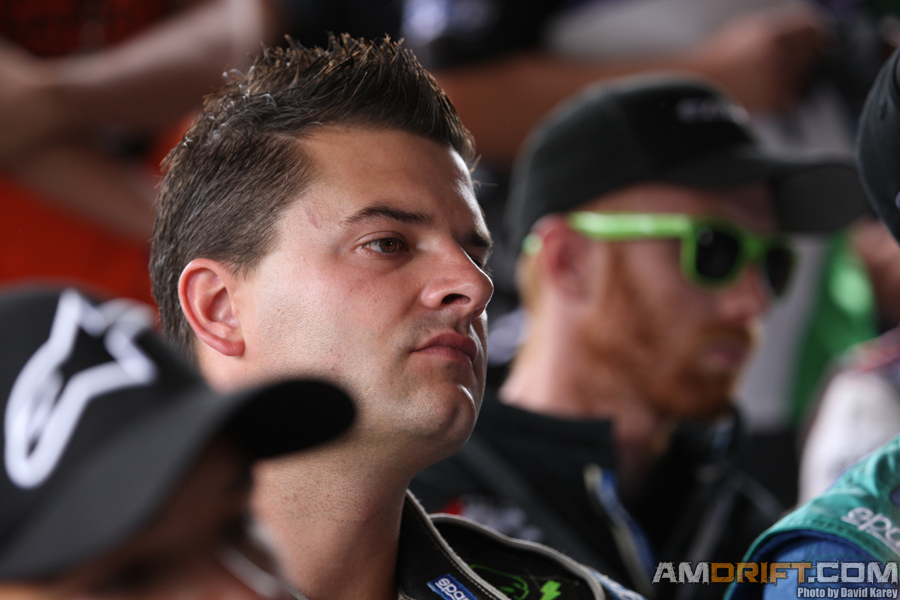 "First things first, the bro truck made it there with no problems. That's always a plus!!! Ok so lets go. Thursday's practice went good."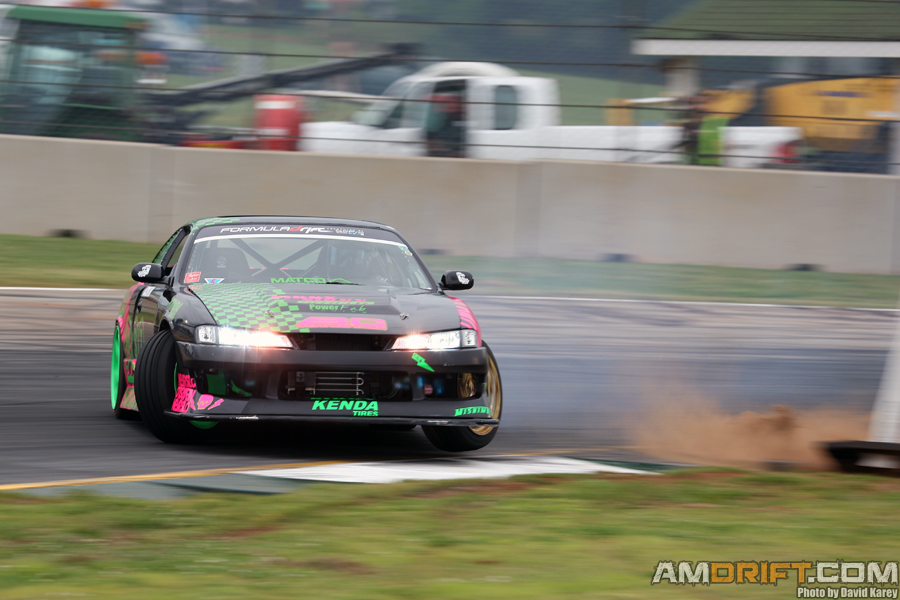 "Im sure every one would agree that the trickiest part of Road Atlanta is the 2nd clipping zone (top off the hill, closest to the judges). The hardest part is knowing when to let off so you don't drop it way into the dirt."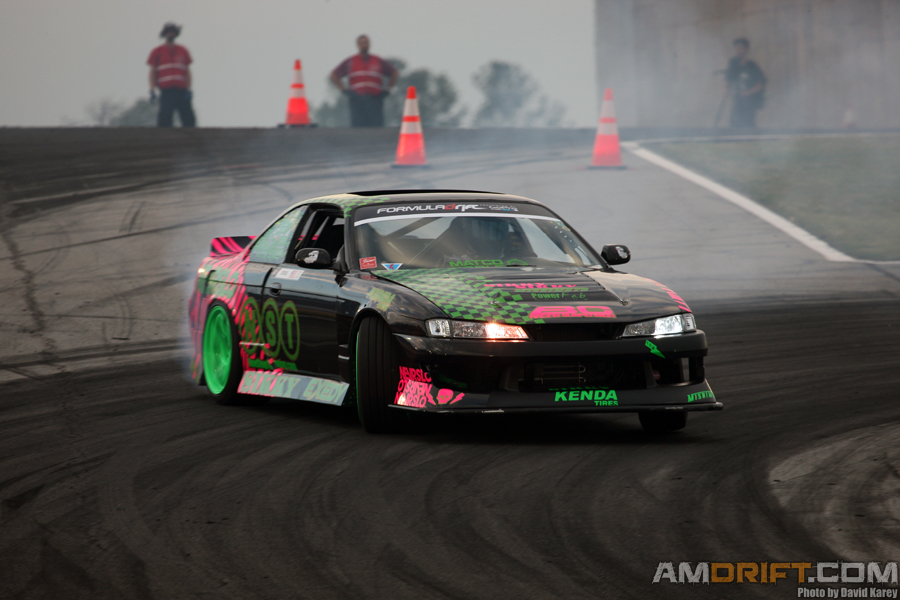 "So qualifying begins and the 1st run, the car had way to much angle into the first turn. Didn't spin, but lost a lot of speed which resulted in a low score."
"Now this might not affect other drivers, but for the crew and I it does… WAITING!!! Its a mood killer, just ask the Hot Girl at the bar, you snooze you loose!!! My point in all of this, is we were up to go, then they had to wait for something."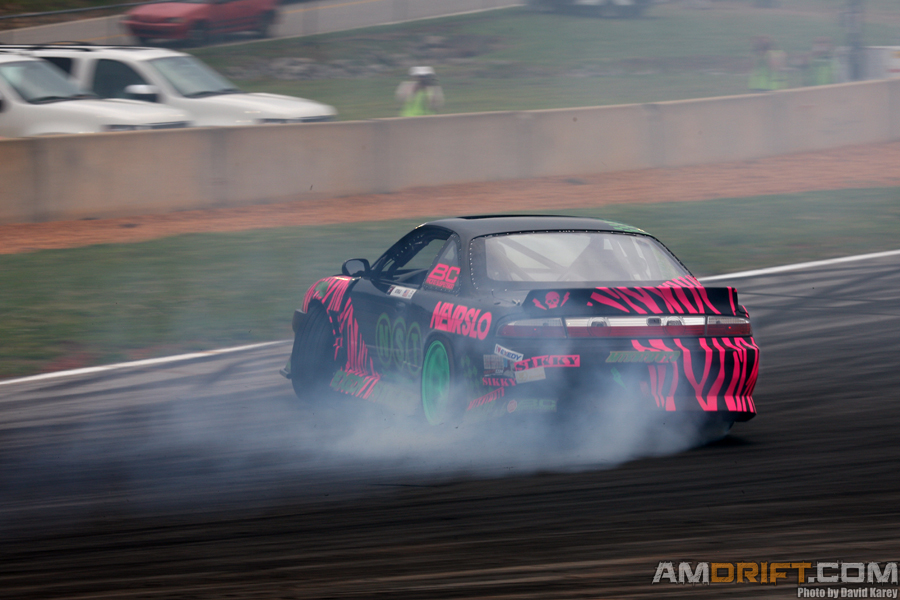 "Before that, the positive stud on the alternator came loose and the car died right after my first run! So we were scrambling to figure it out, damn I cant tell you how much that will stress out a crew and driver!!!!!!!! 1,000's of miles through out the year on tour, the last thing you want is your car not to work 10 minutes before you have to qualify!!! SOOO the 2nd run comes and goes, at that point I had lost my momentum and just didn't lay it down."
"But I can tell you, the drive to qualify and have a good round is burning in me hotter then a red heads fire crouch that's for damn sure!!! We are learning at every round, so we are pumped for Flo-ri-da!!!"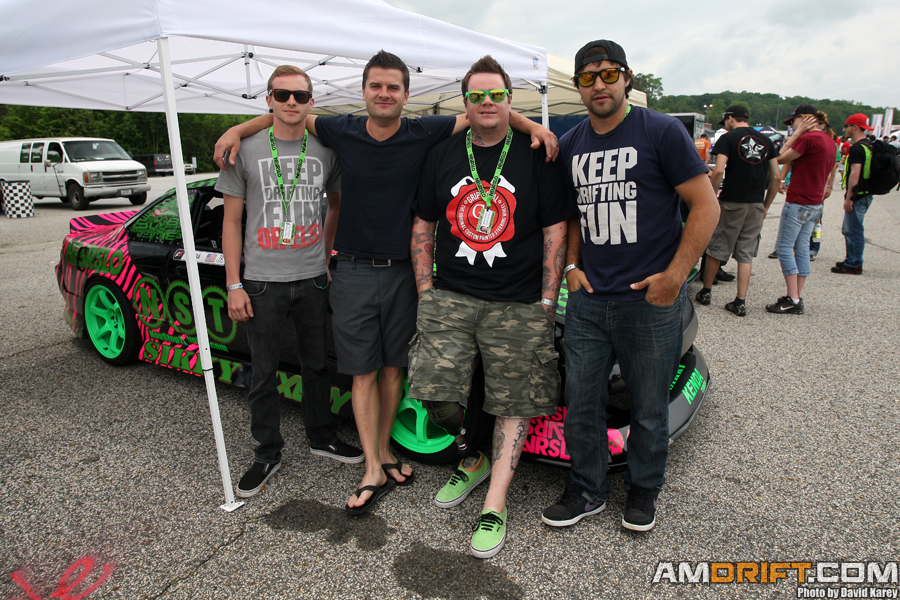 "Shout out to Sikky, Chase Bays, Mishimoto, Exedy, Nevrslo, BC, Power Fab Tuning, Matco Tools, Handi Cap Mafia, Kenda Tires, and Rays… Believe it or not, it takes a sh!!!!!!!!t ton of love and support to keep theses cars running!!!!" Pictured left to right: spotter Justin Garner, Joshua Steele, team manager Stephen Bayles, and mechanic Mario Gomez.
---
Mats Baribeau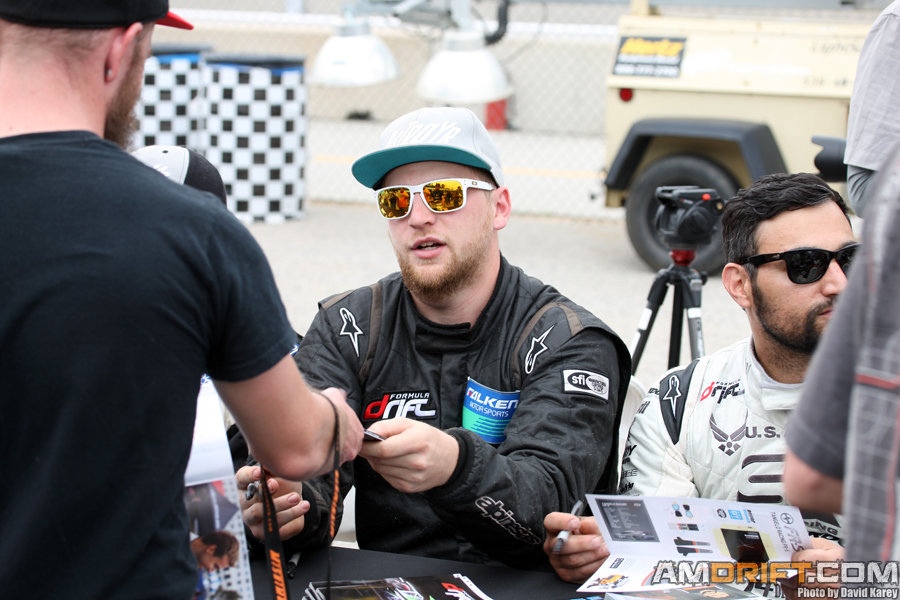 "Most race car drivers could relate to all the hard work, long nights leading up to their first event of the year. This year I decided to make several changes and upgrade to a dog box. To my knowledge we are the first in North America to have a dog box behind a 1JZ. There's been a great deal of time put into getting the right equipment for the upgrade."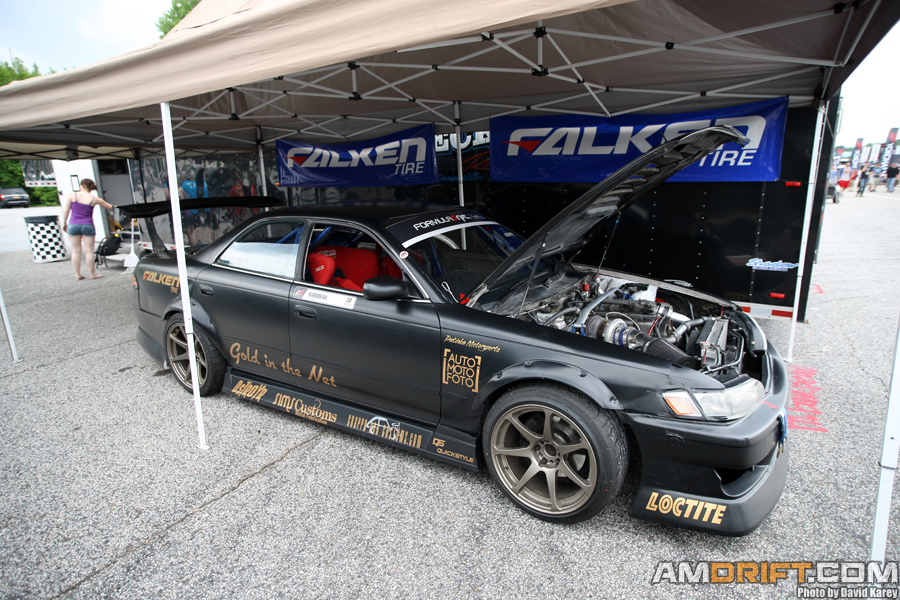 "Leading up to finally receiving our trans, we had ordered a custom twin plate clutch with specific specs and received the wrong one. Just our luck!!! We got the right clutch in on May 1st, but we were still waiting on our dog box. Early Thursday morning we got confirmation it had arrived. Time wasn't on our side, but we were determined to make it out for round 2 of Formula Drift Atlanta. The next 40+ hours really brought the crew together. They were in great spirits and the chemistry for a new team leading into our rookie season couldn't have been better. We worked all day and night Thursday to Saturday to get the JZX90 up and running."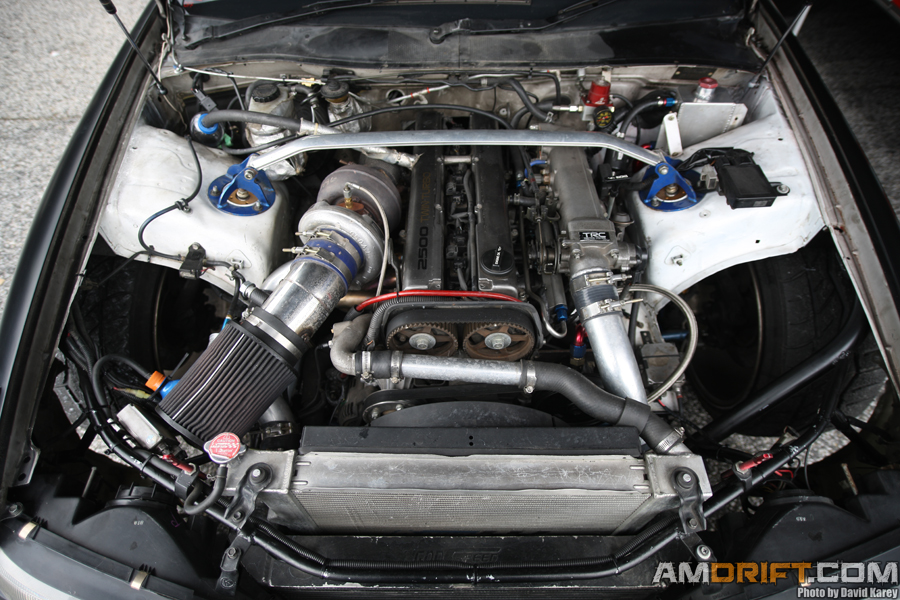 "Once the Toyota Mark II was up and running, we quickly loaded the car into the trailer and headed out for testing. The car ran great, just a few minor adjustments and we were ready to make our way down for our first ever Formula Drift Competition."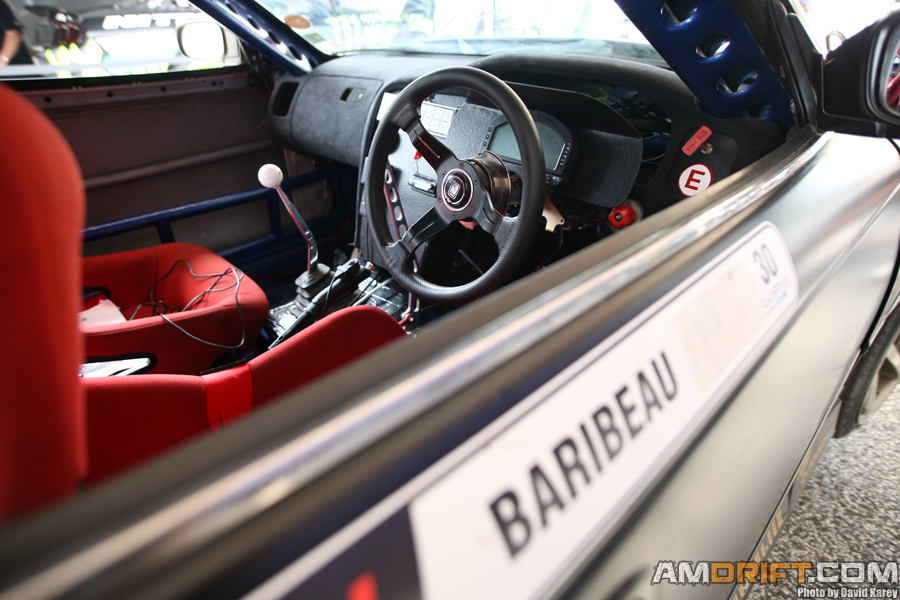 "Pulling up to the main gate of Road Atlanta will be a moment I'll never forget. It really sank in that we had made it, that I'd get the opportunity of a lifetime to run with the best drifters in the world. That being said we still have a long road ahead of us."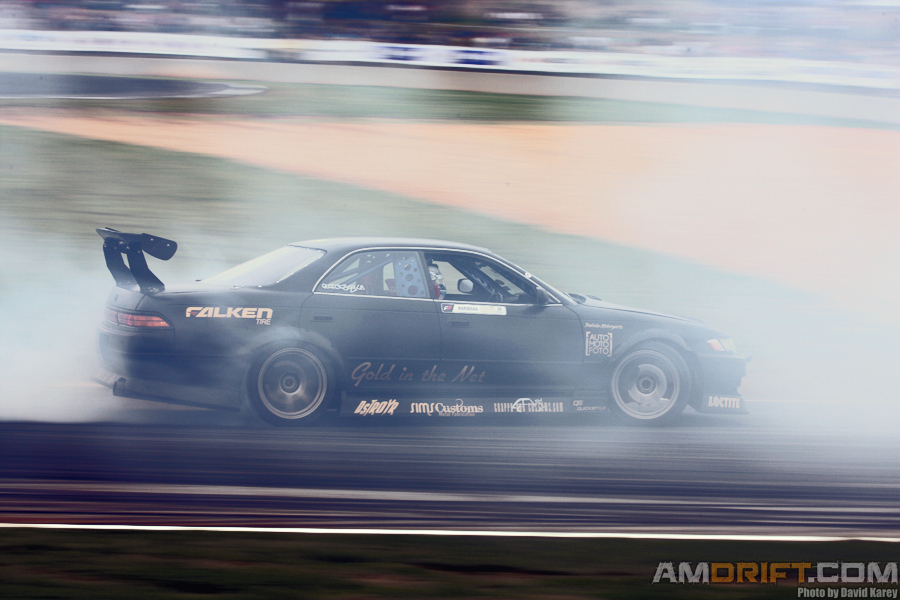 "Thursday practice we were ironing out minor bugs with the car and learning a new track. After practice we took a step back and went over our basics to make sure the car and team would be ready for Fridays practice and qualifying."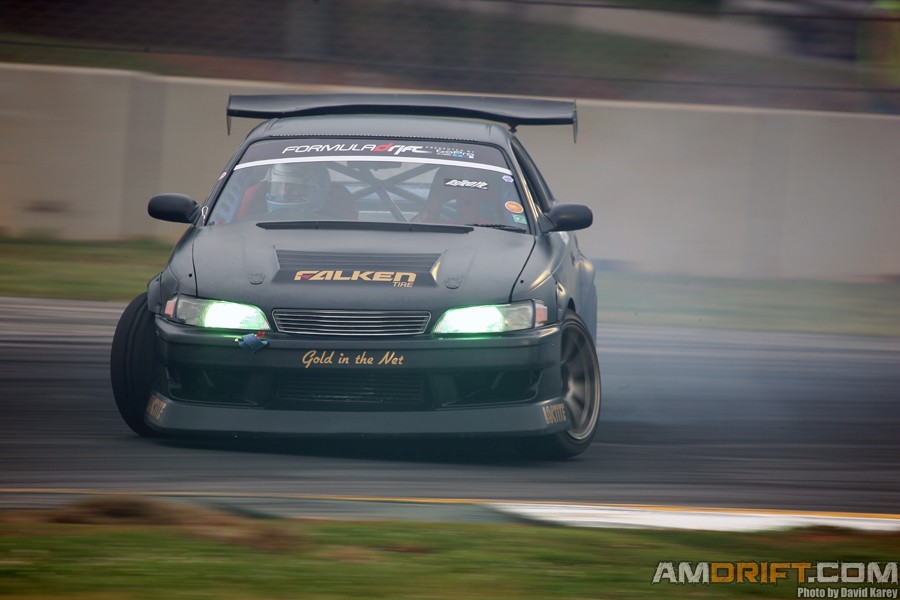 "The car was running great throughout Fridays practice. I was feeling more and more comfortable with the track and began to get down the line I had been aiming for. My last practice run, half way through the track, the car just went loose and I knew something was wrong. I got back up to the hot pits to find that my left rear tire had 40 degrees of camber. We had broken a spindle and didn't have any spares so the only thing we could do was weld it back together hoping it would last for qualifying. We missed our first qualifying run but still have time to make it out for our second run. Unfortunately as I was pulling up to the line for my first and only run for qualifying the spindle broke again putting an end to our weekend."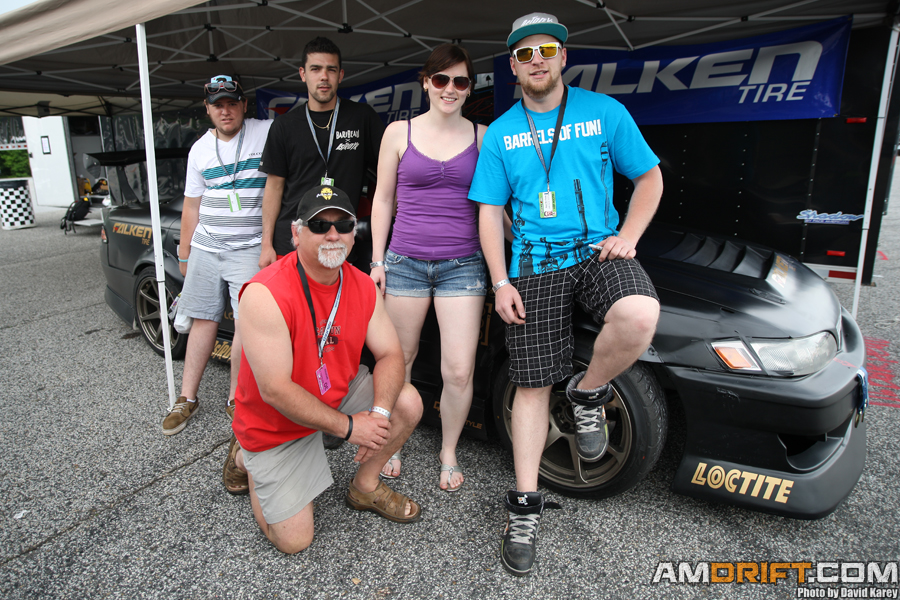 "Atlanta was a huge learning curve and I'm sure the rest of the season will shed more light to the table. Looking forward to round 3 of Formula Drift in Florida!!!!" Pictured from left to right: Taylor Warren, Korey Machado, Michaela Lafleur, Mats Baribeau, and father Norm Baribeau.
---
Karl Osaki

Karl Osaki has been struggling with mechanical issues since the beginning of the season. His LS powered S14 was not ready for Long Beach, so a temporary Nissan SR20 powered S13 was driven that round. Unfortunately the motor had catastrophic mechanical failure, so Karl did not get much seat time in Long Beach.
Still, the team ran into mechanical issues the moment the S14 came out of the trailer in Atlanta. Wasting no time, Karl and team got to work immediately.
Karl and team member Jairo Jaramillo made some final preparations to the car before Karl took it out for practice.
Karl took the S14 out for the first practice run on Friday afternoon. After coming down the hill, something went boom and bang, and the front air dam came loose, and right away I knew the car was down.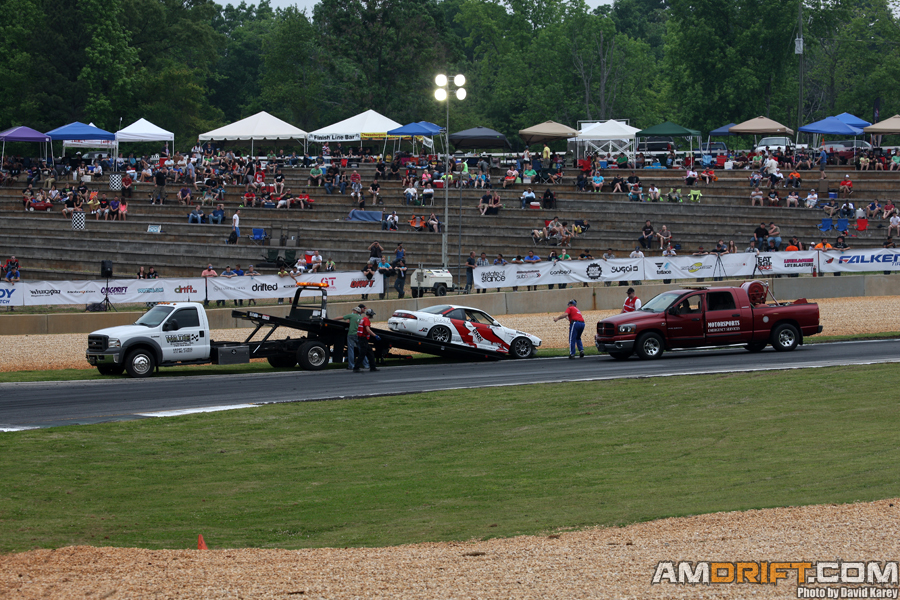 The motor had suffered internal damage. Karl's event had come to an end before he had a chance to make a complete run and shake down the car.
Hopefully these guys can get the car sorted out before their next event in Seattle. Pictured left to right: spotter Jairo Jaramillo, Karl Osaki, fabricator/mechanic Myles Licari, and mechanic Chaz Sanchez.
---
Nate Hamilton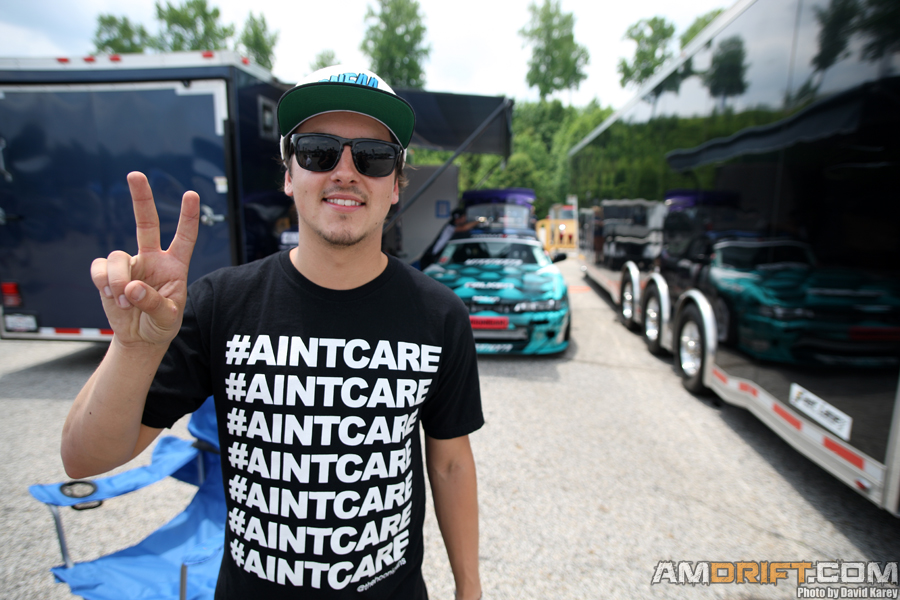 Nate Hamilton is a hard fella to get a hold of. If you catch him at an event, hes a great guy to speak to and spend a few moments with. If you try to catch him on the net, good luck, lol.
Luckily I was there to witness Nate and his team's struggles through the weekend.
Nate qualified right behind Will Parson's 16th spot, in 27th with 68.9 points, which would put him up against Darren McNamara.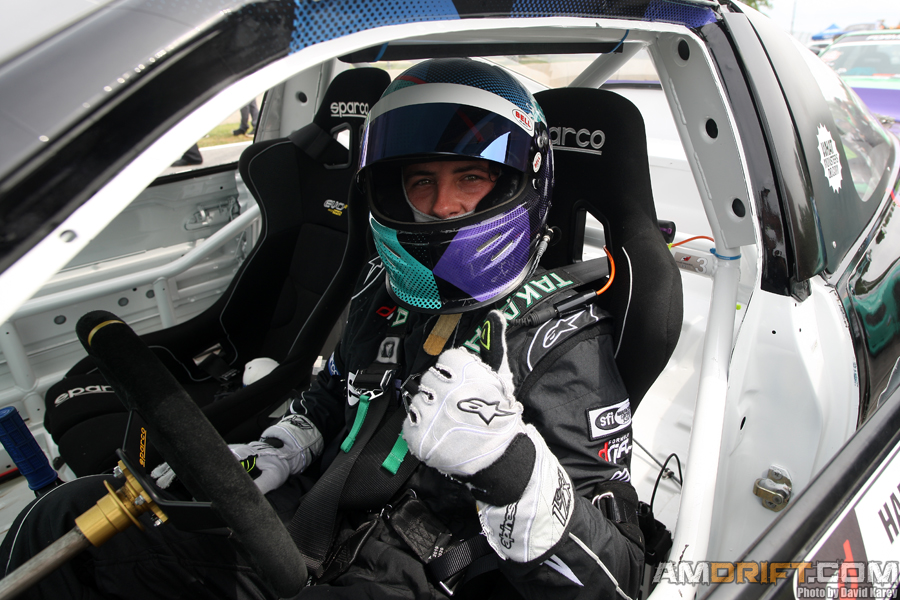 Nate was in good spirits, as he felt the car was getting to where he and the team wanted it to be.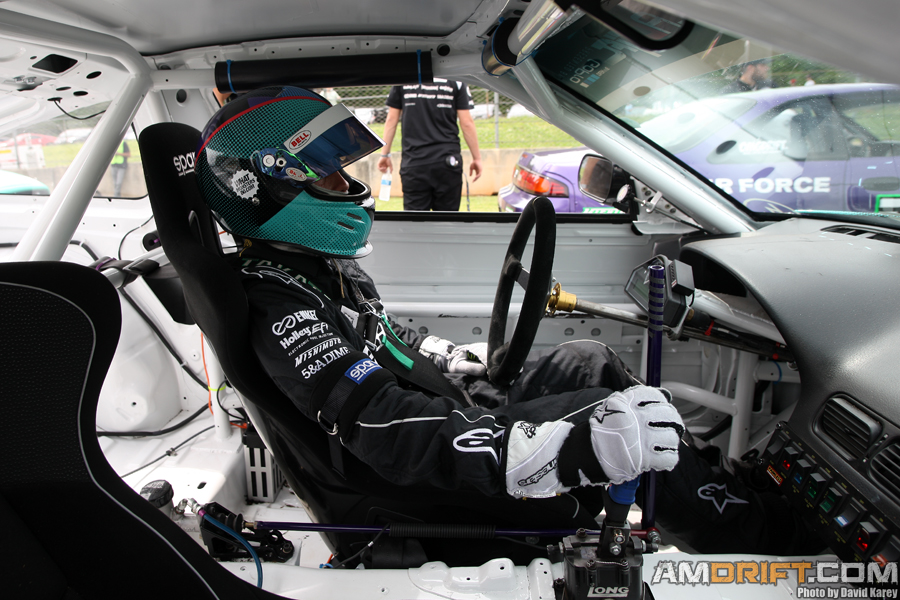 The team was at ease, the car was running good as Nate waited to make a few practice runs.
The car went out, and something did not seem right when it came back up the hill. Nate immediately drove to his team's hot pit, parked, and removed his helmet and belts while his crew jacked up the car and investigated.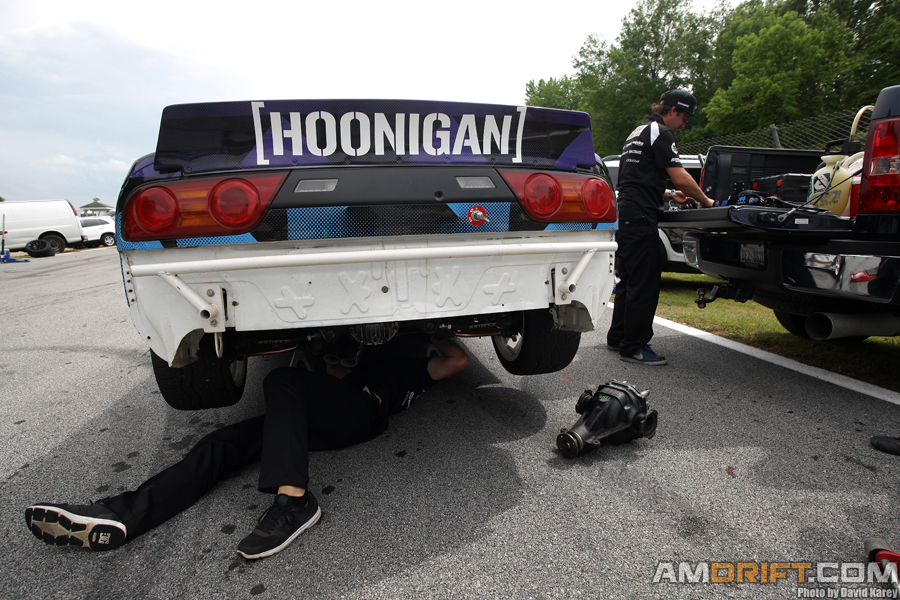 It turns out the differential had broken. Team members sprung into action to get the car back together. Unfortunately, not knowing the entire story of what happened to the car, we did not see Nate line up against Darren McNamara in Top 32.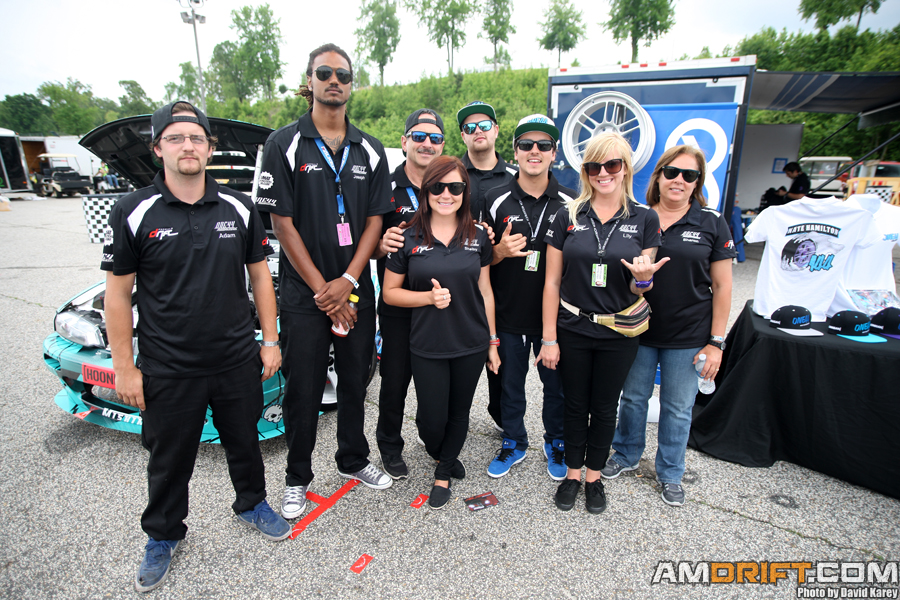 Hopefully Nate Hamilton and crew can have some luck in Florida and the car will stay together. With a positive team like this, success is in reach! Pictured left to right: Adam Green, Joseph Bell, Ray Hamilton, Shelby Hamilton, Jeff Lane, Nate Hamilton, Lillian Stewart, and Sharon Hamilton.
---
With the rookies knocked out of the show, our mission was over. We relaxed and joined all our media buddies for what would turn out to be one heck of a Top 16.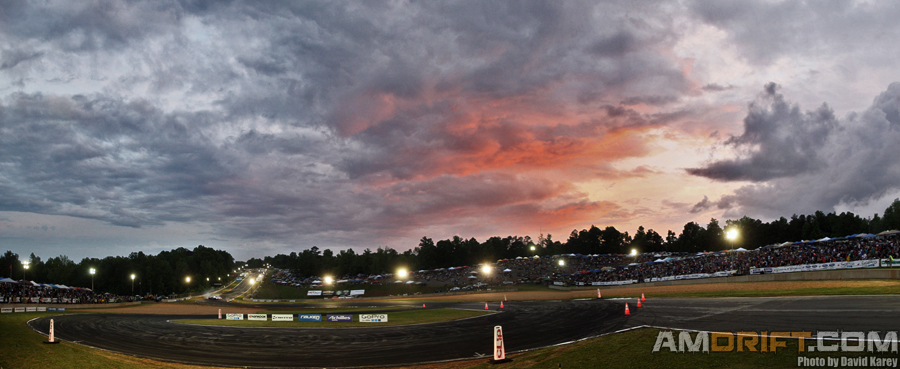 The skies opened up off and on, providing a tricky surface to drift on. Many drivers misjudged the track's grip, and knocked themselves out.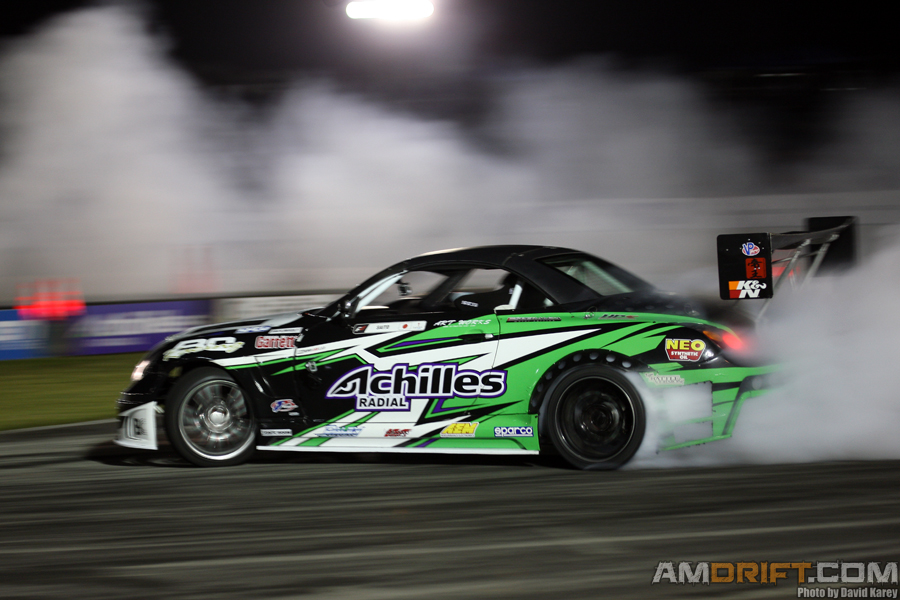 In the end, Daigo Saito would take first place from second place Darren McNamara, with Vaughn Gitten Jr in third.
If you are in Florida, make sure you head out to Palm Beach International Raceway for Formula Drift round 3 this weekend to support the rookies! As I mentioned at the beginning of this article, visit them, take photos, upload and tag them on social networking sites! Every little bit of spotlight helps these guys please and attract sponsors, which in turn help their programs to be successful. Without rookies, there would be no new faces in pro drifting. With no new faces in pro drifting, there wont be any drivers to fill the void when pros retire. Its important to have drivers that amateur drifters can look up to, and work to be successful in drifting some day. Support the rookies, it all comes back to grassroots one way or another!