I gotta admit, things get stressful around here at AmDrift, and sometimes we come up with crazy ideas to pass the time and keep things fun. One of my ideas was to spy on an amateur/proam/rookie driver, or DRIVERS with an S, during the course of their personal life. Little did I know that I would unexpectedly have the opportunity to do so in Atlanta, and what I came across would be a lot more than I bargained for.
This is Dan Brockett. I had the opportunity to meet Dan a few years back when he came from Albuquerque to Southern California to drive in a Top Drift event.
Recently hes taken advantage of the opportunity to spot for Danny George. Spotters can be fans too.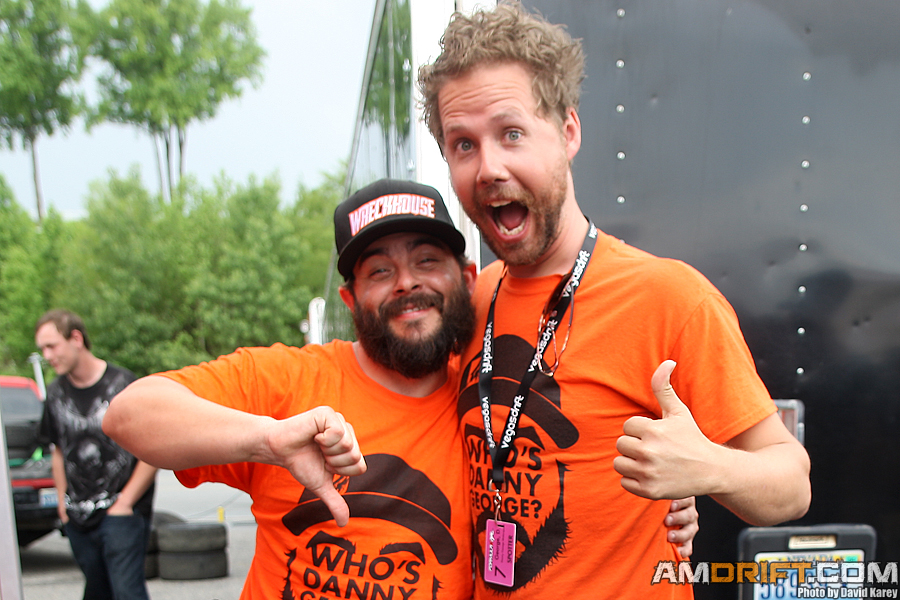 The relationship between driver and spotter is "complicated", as Dan Brockett puts it.
You see, in a driver/spotter relationship, both must share the same passion and knowledge for the sport of drifting. There must be absolute mutual understanding, communication… trust. One must trust the other with their most intimate thoughts, on and off track, and never be afraid to express it in any given situation.
When the situation calls for love, you must be prepared to give it unconditionally, no matter if people or cameras are looking. It is the one most basic things that will keep a driver and spotter together, and once that is broken, the whole program can come tumbling down. Lets continue.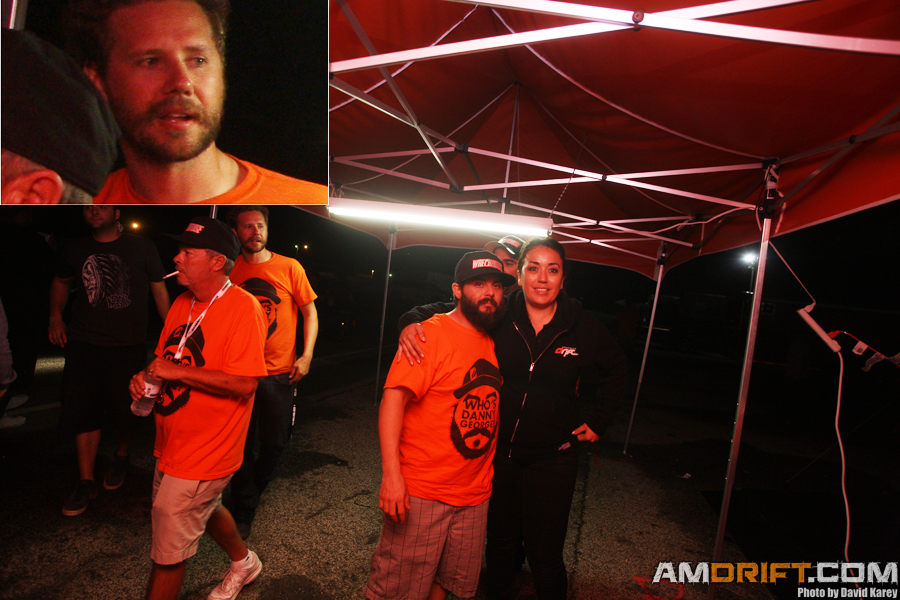 Later in the night, Danny George was seen getting fancy with a lady friend. Dan Brockett was furiously jealous, but withheld his rage in a professional manner, and vowed to have revenge when the time was right.
Fast forward to this past weekend of Top Drift round 2. This photo of what looks to be Dan Brockett engaging in a passionate kiss with an unnamed woman, made its rounds on the social networking site "Facebook", where Danny George spends a ton of time per day.
Found on Facebook, you can see at first Danny George was willing to give Dan Brockett the benefit of the doubt.

But Dan, obviously damaged and scarred from the groping event in Atlanta, put the ball in Danny's court and left it up to him to salvage the relationship.
But, as the night went on and there was no word from Danny to be found, Dan started feeling remorse for his actions.
It was obvious Dan Brockett was suffering and carrying lots of emotional baggage this weekend at Top Drift. Dan did not qualify, so I took him aside privately and gave him some time to vent. After speaking to him, I have a good understanding of went on in that hot tub, and I want to assure Danny George that it was just a peck on the cheek because she thought Dan reminded her of her grandson. The whole thing was blown out of proportion. Danny, if you are reading, Dan would like me to relay a message to you.
So Danny George, will you find it in your heart to take Dan Brockett back?