Many of us couldn't make it to Palm Beach, Florida for Formula Drift Round 3- Invasion, so with 4 days to plan, we came up with the idea to hold our own FD livestream viewing party right here in SoCal at Carlo's Pizza House in Downey. Partnering with OMGdrift, DTA Posse, MotoIQ Radio, Rival Auto Works, and Sonic Motor, our original attendance expectations of 50 were blown out of the water. At peak, we must have had about 70 people, give or take a few.
Early in Top 32, the most dedicated drift fans started to trickle in.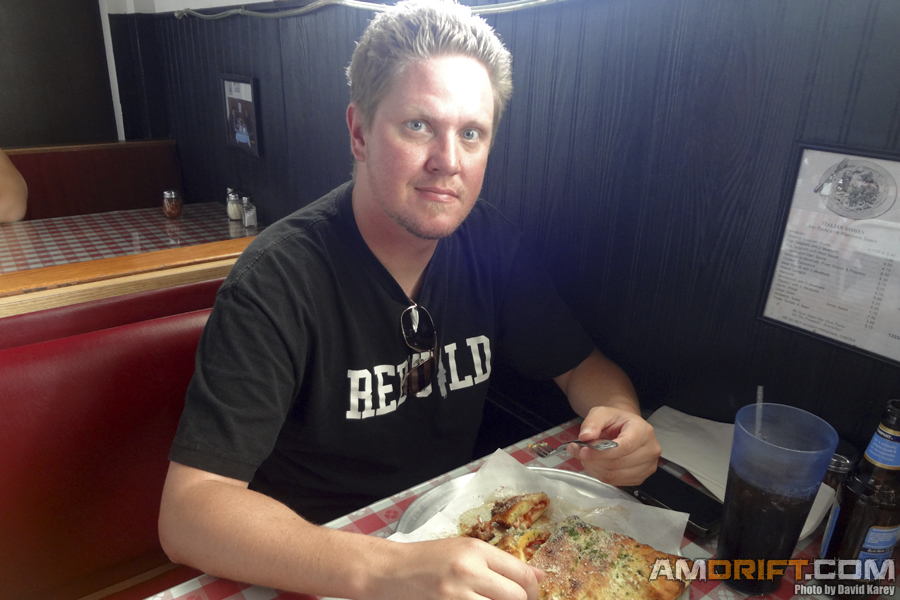 Our buddy William Nourse wasted no time digging in to the excellent Italian food that Carlo's had to offer.
Carlo and Dylan. They will keep you and your guests fed and happy. Carlo's parents moved from Italy to Cleveland, Ohio back in the days…don't know the exact date. They then moved to Downey, California, and opened Carlo's Pizza House in 1964, named after their son Carlo. To this day, Carlo's pizza is in the original location, and you can see the history through photos on the walls in the dining room. There is also a picture of Carlo at 5 years old pulling a pizza out of the oven, located near the counter. Both were super excited to host our drift party. In fact, while searching for an establishment to host our event, Carlo was the only owner/manager to welcome us with open arms.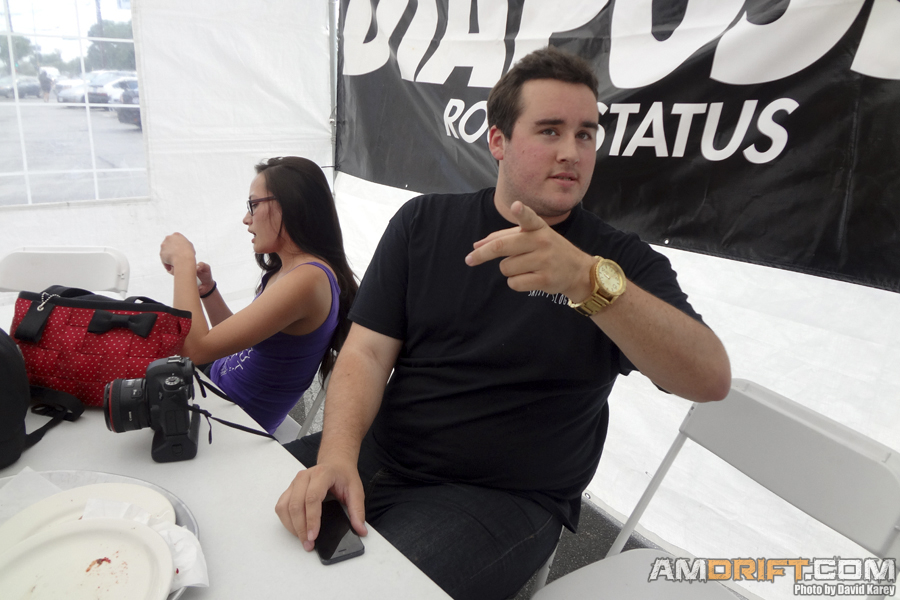 Drew Fishbein of OMGDrift brought a gangload of DTA Posse shirts, and some Rogue Status items for the free raffle.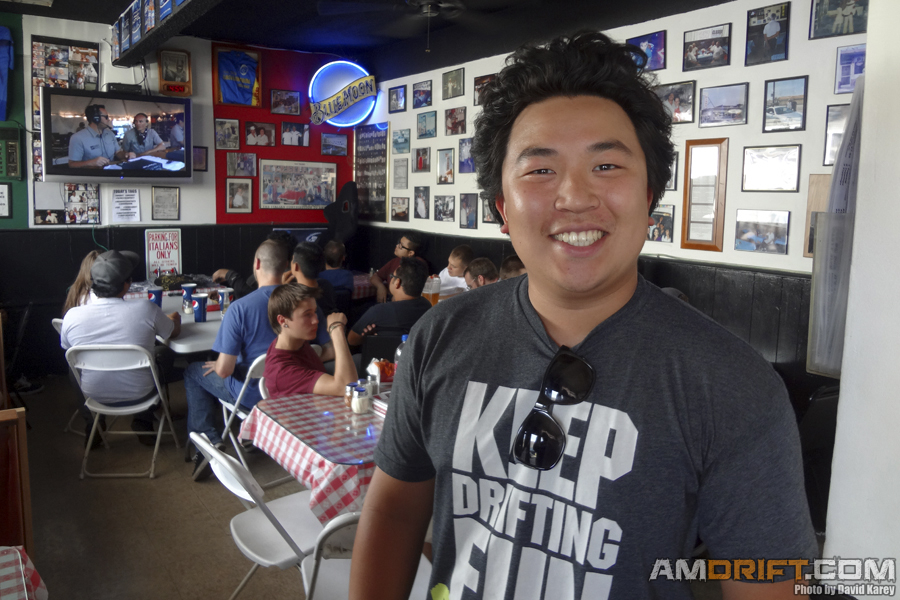 Karl Osaki of Sonic Motor generously brought a bucket seat for our raffle. Thank you Karl and Sonic Motor!!!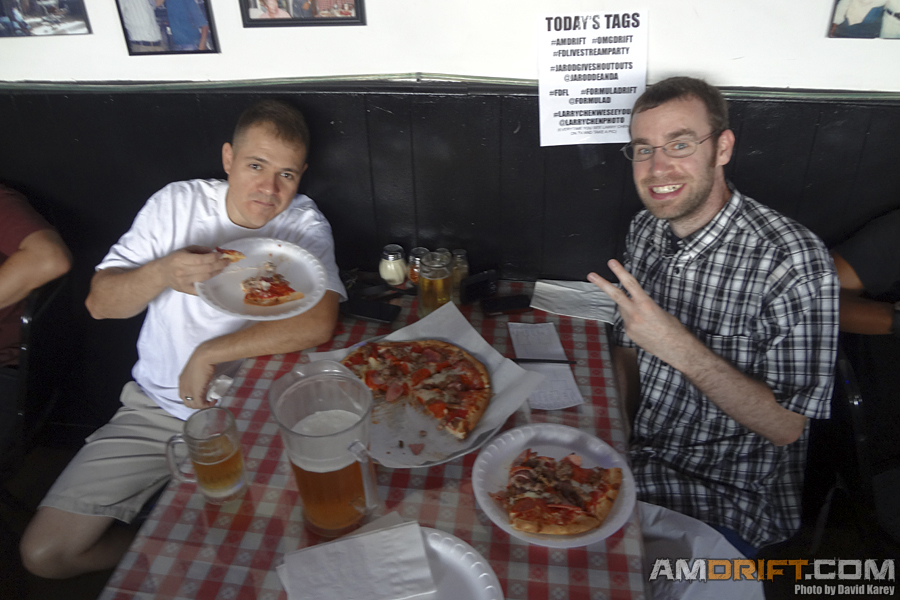 Ernie Fixmer and Jacob Leveton dropped in to watch the event and hang out.
Bob Hernandez parked it out under the canopy and enjoyed the company.
A very full inside full of drift fans that refused to stay at home and watch FD all by themselves.
Formula Drift rookies Karl Osaki and Luke Pakula were going through mid season woes with their programs, so they were able to join us, along with Luke's lovely wife Rachel.
Jason Kim of Rival Auto Works (left) donated a pair of S13 high angle knuckles for the raffle. Rodney Moenadi is a loyal friend and customer of Jason.
Kelvin Arreola even stopped by with his significant other, Citlaly.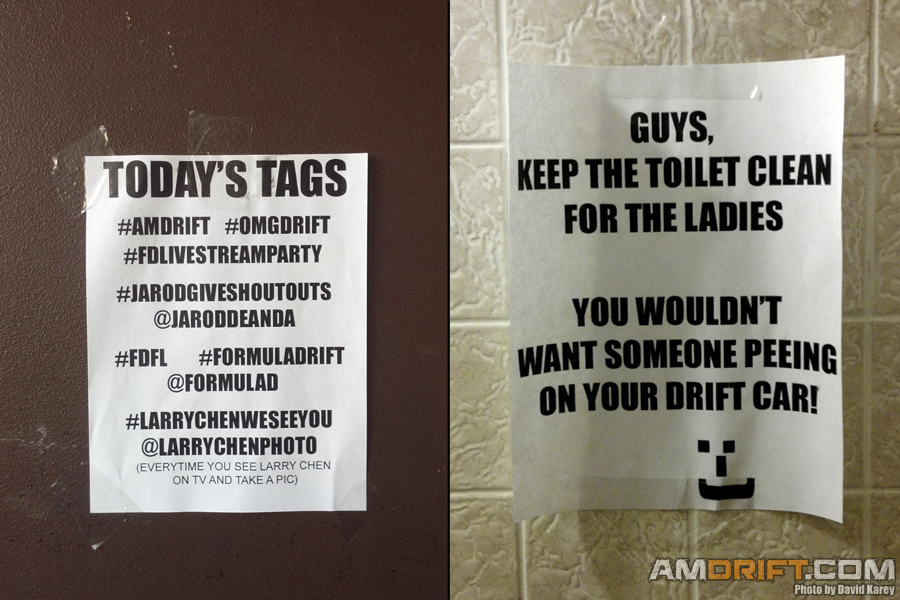 We wanted to show the world how much fun we were having, so these funny tags were posted all over the inside and outside for people to use. I think we may have exhausted Jarod DeAnda's shoutouts early in the event, lol. We also had to make sure the guys aimed properly 🙂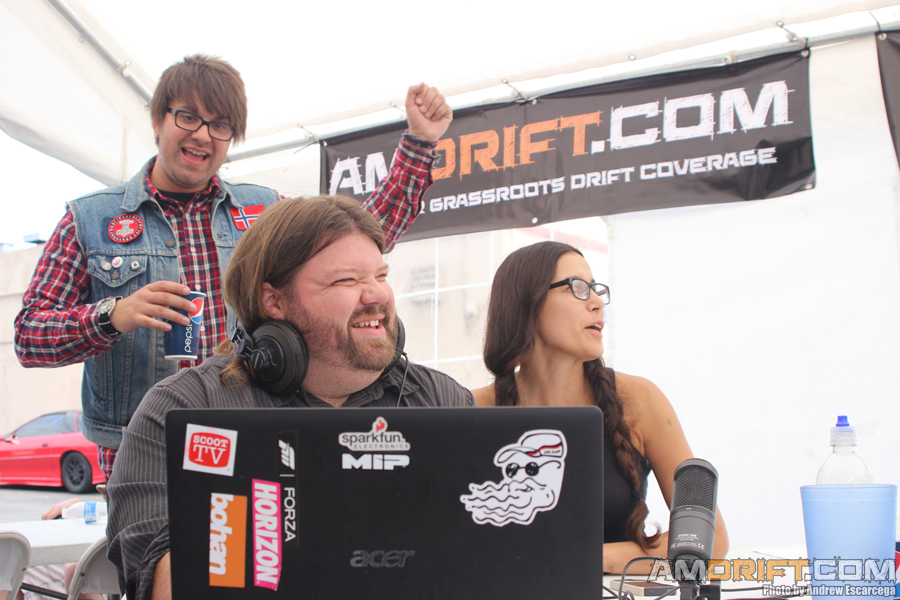 During the halftime break between Top 32 and Top 16, Justin Banner and Kerryann De La Cruz fired up the MotoIQ radio broadcast. This was a unique broadcast, given Justin always hosts from the calmness of a house. You can see the antics and the occasional serious conversations in the video below. Joon Maeng and Brandon Wicknick even called in to give us updates on their misfortune all of us witnessed on livestream.
As you can see, everyone was having fun. Do you expect anything less of drift fans?
We even threw the MotoIQ Radio broadcast on the inside tv for everyone to watch.
Meanwhile, Rodney Moenadi was participating in some horseplay in the parking lot.
The pizza kept rolling out, and the kitchen was busy until the very end. I personally did not hear one complaint about the food. In fact, everybody was raving about how great it was.
Chris Licup and his wife Jody, brought their handsome young drifter to spend time with close friends that were in attendance. The little guy stuck it out till the end.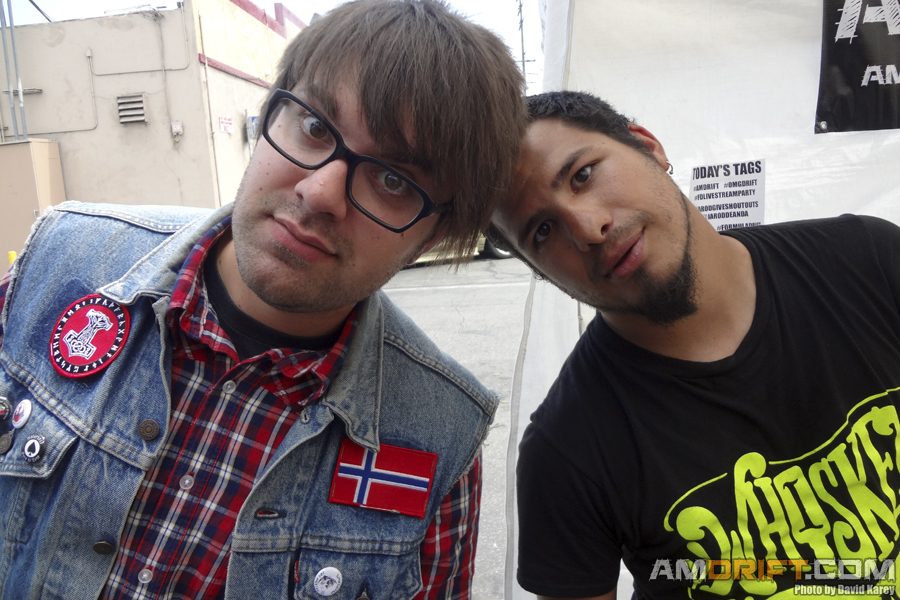 Bellies full and thirsts quenched, John Jimison and Ross Fairfield signaled it was time to relax and watch Top 16.
Everyone chose their seats and enjoyed some Top 16 drift action.
With the temperature starting to rise inside, the crowd outside got bigger and bigger. Man are we glad we rented that canopy lol.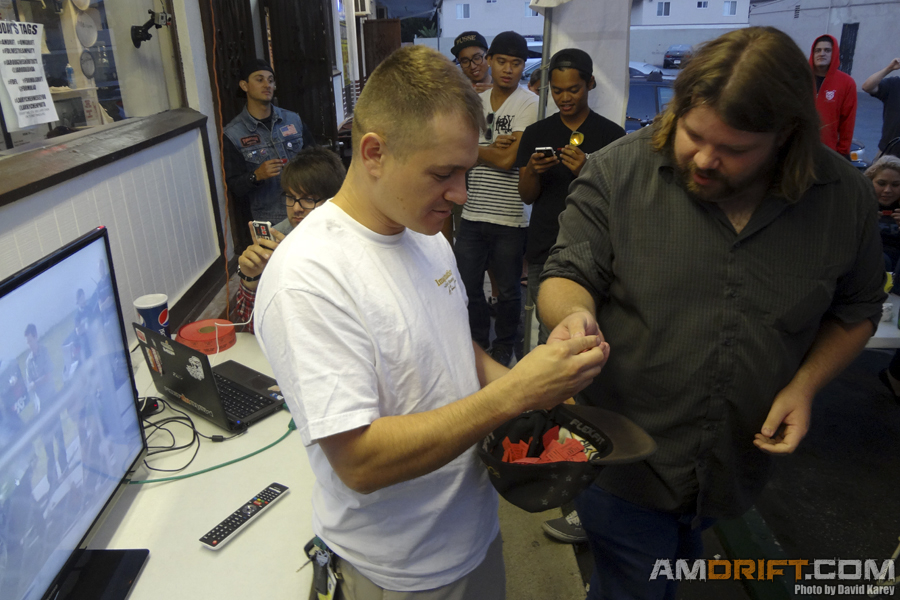 There was a long period of downtime for some technical issues involving competition cars, so we started the free raffle. Ernie Fixmer pulled raffle tickets out of a hat, while Justin Banner announced the winning number.
We raffled off DTA shirts, Rogue Status merchandise, Rival Auto Works drift knuckles, Sonic Motor bucket seat, and even some Whiskey Garage shirts!!! Always remember the Whiskey Garage motto, "If drink interferes with business, cut out the business".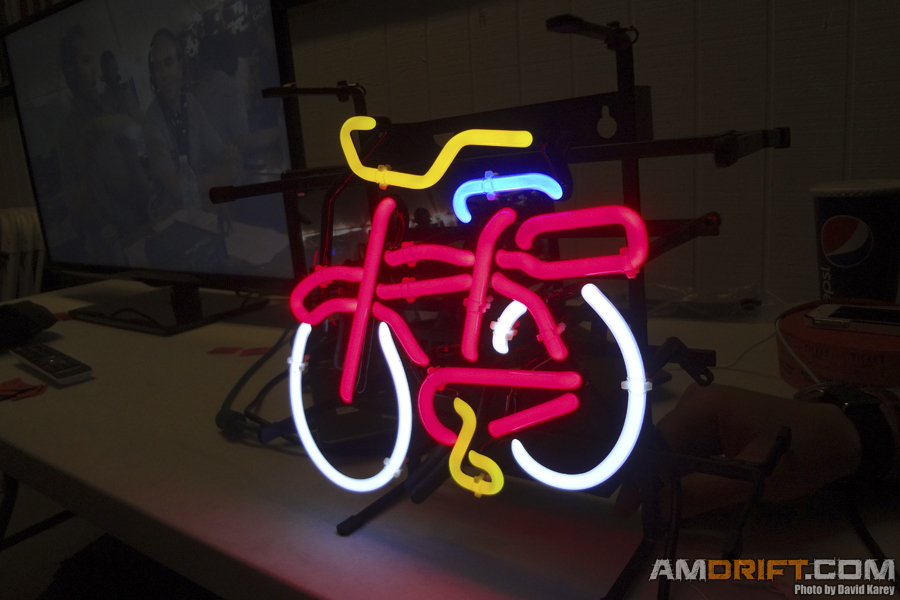 Carlo, the owner, even donated a Fat Tire beer neon sign for our raffle. Everyone was excited to have a chance at winning this.
Our friend Larry Chen joined Jarod DeAnda in the judges tower, but we couldn't hear what was being said because someone turned the tv volume down for the raffle. Good move, whoever 😛
Everyone enjoyed watching Formula Drift together. There is nothing like yelling and screaming and cheering with a group of people you share an interest with. There was plenty of all of that going on with all the drama and upsets Formula Drift was providing at this round. The Mike Essa crowd was large, with close friends of Mike and many fans cheering him on as he took first place. That was a very epic moment of joy and excitement for all of us.
It is always fun getting together with a group of people like this. If you don't come out and experience for yourself, you are truely missing out. I will honestly say we had more fun than if we were sitting in the stands at the actual event.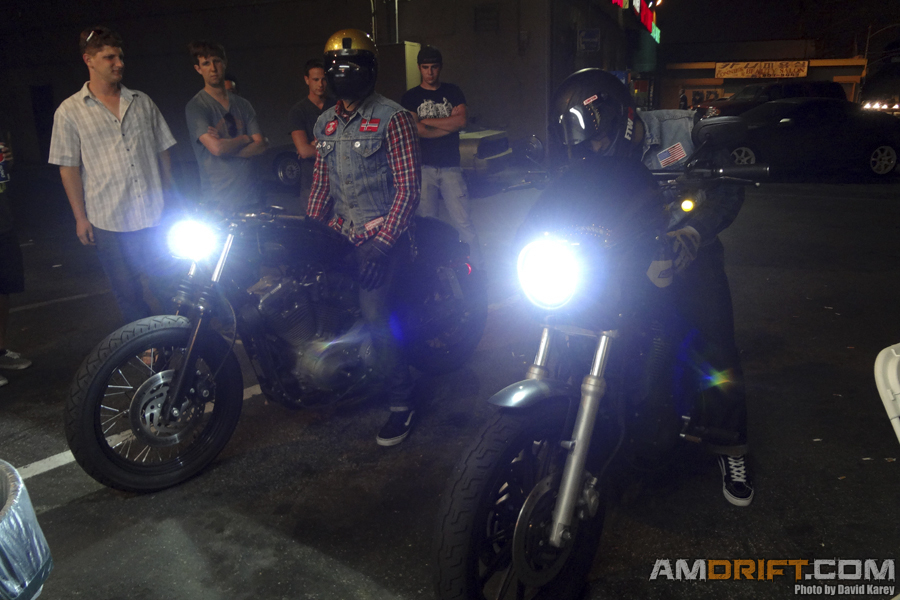 Thank you to EVERYONE who showed up! We are going to do it again for round 4 in New Jersey! Keep an the AmDrift and OMGDrift facebook pages for the flyer and more info! See you all there!!!
Don't forget to leave a good review for Carlo's Pizza House if you were there!!! Yelp