Man, we were excited to travel out to Willow Springs for Top Drift Round 2 just under a week ago. Seeing how the points were set coming out of Round 1, we were sure a couple of drivers would increase their points and lead for the championship, but, things would take an entirely different route this round.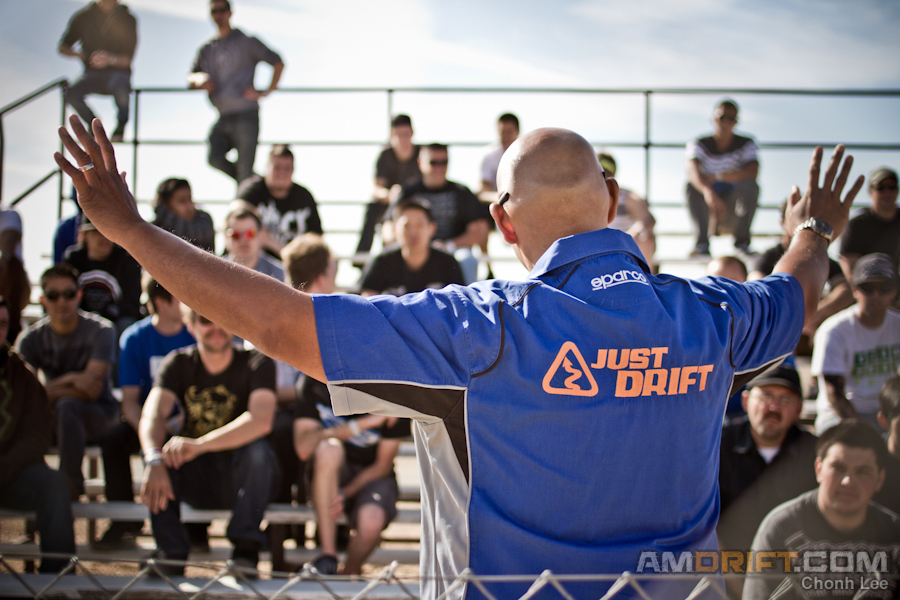 Round 2 also marked an exciting moment for us, as our friend Andrew Escarcega made his return into the world of drifting videography after taking some time off. Check out this video called "The Passion of Drifting" featuring Adam Levi, Jesse Vargas, and Bil "Santa" Baldwin., recorded exclusively at Top Drift Round 2.

On Sunday, many drivers watched themselves get knocked out of Top 16 qualifying spots as qualifying went on. The Top 16 who were able to hang on: Adam Knapik 248 points, Matthew Coffman 245 points, Jesse Vargas 244 points, Eric Hill 242 points, Dave Forman 236 points, Robert Airth 235 points, Tony Cisneros 234 points, Orlando Gamez 233 points, Ryan Litteral 232 points, Sean Guthrie 230 points, Jason Kim 229 points, Luke Pakula 228 points, Adam Levi 222 points, Steve Ramil 221 points, Jesse Augila 211 points, Daniel Giraldo 205 points.
When all said and done, Ryan Litteral would finish 1st, Jason Kim 2nd, Matthew Coffman 3rd.
We would like to congratulate Ryan Litteral from literally coming out from nowhere and taking the event by storm with a 1st place win. Literally, get it? Anyway. Ryan is a popular drift icon here in SoCal and has been honing his drift skills for years, so its not surprising to see him succeed in competition. For not driving in Top Drift Round 1, you could say Ryan is mixing up the points just a bit.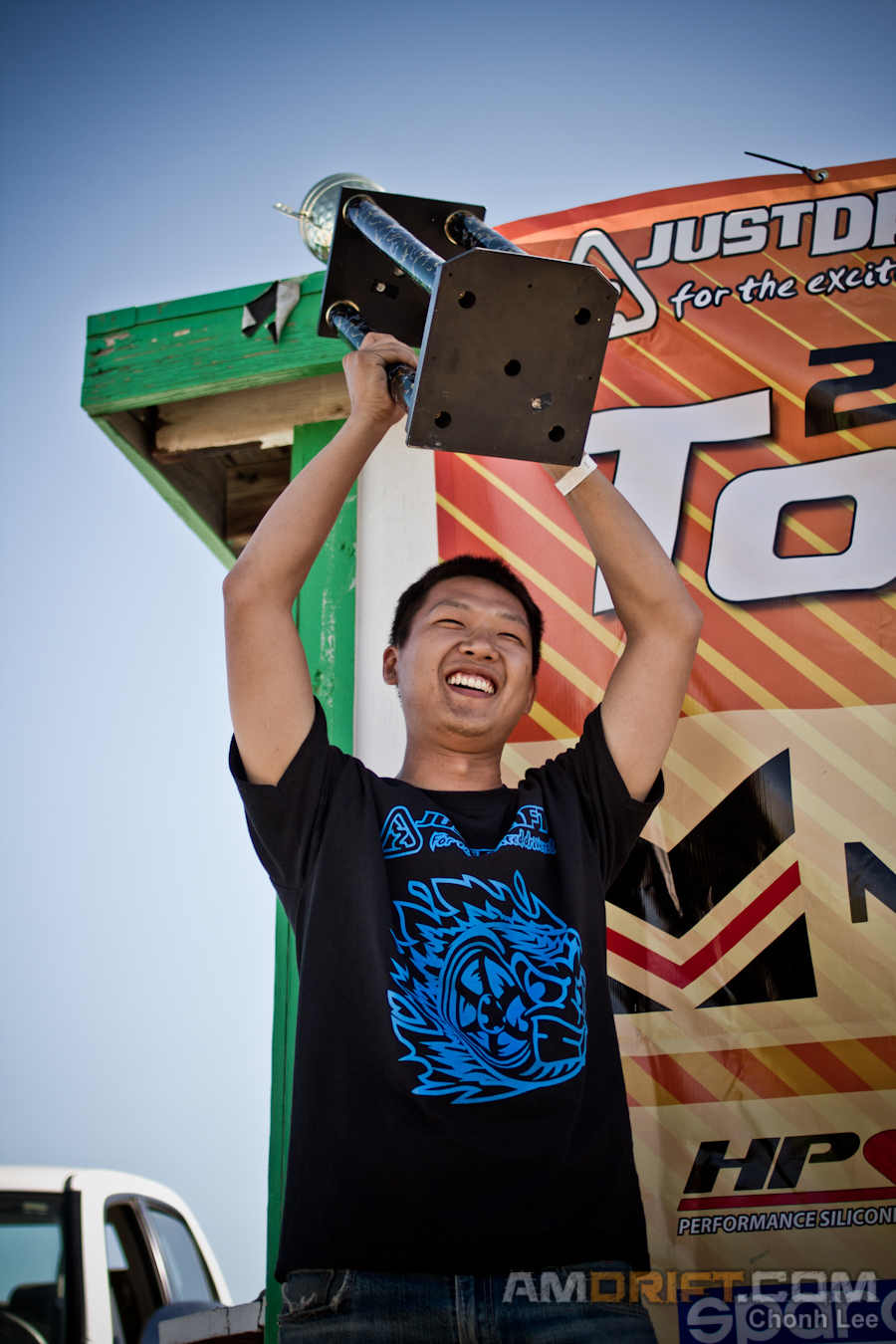 Long time AmDrift friend, Jason Kim, jumped on to the podium with a 2nd place finish. Jason is known for harassing on track rivals door to door and applying the pressure, but Ryan applied the pressure right back.
Matthew Coffman, a new friend to us we met at Golden Gate Drift Round 2, came down from Oregon to battle his way to a 3rd place finish.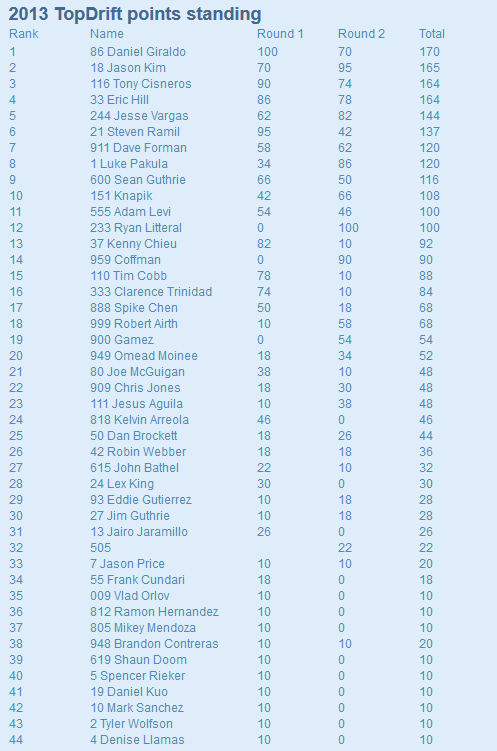 Valiant effort from all round 2 competitors. Here are the Top Drift 2013 season current standings.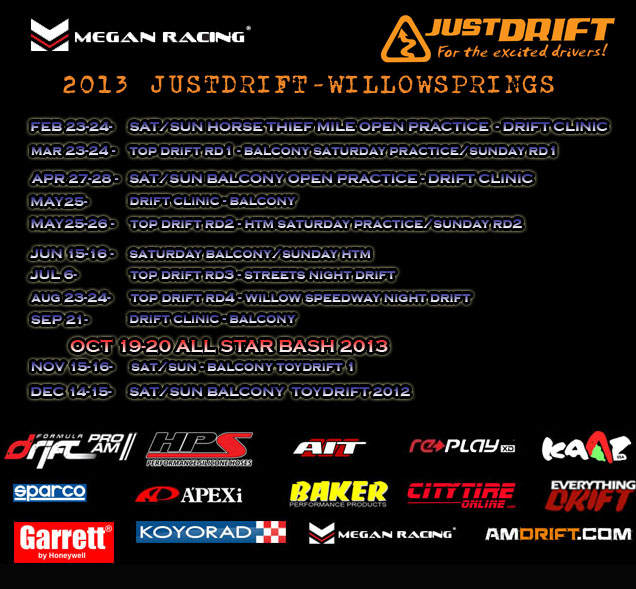 Top Drift Round 3 will be held July 6, 2013 on Streets of Willow at Willow Springs. This will be a NIGHT event!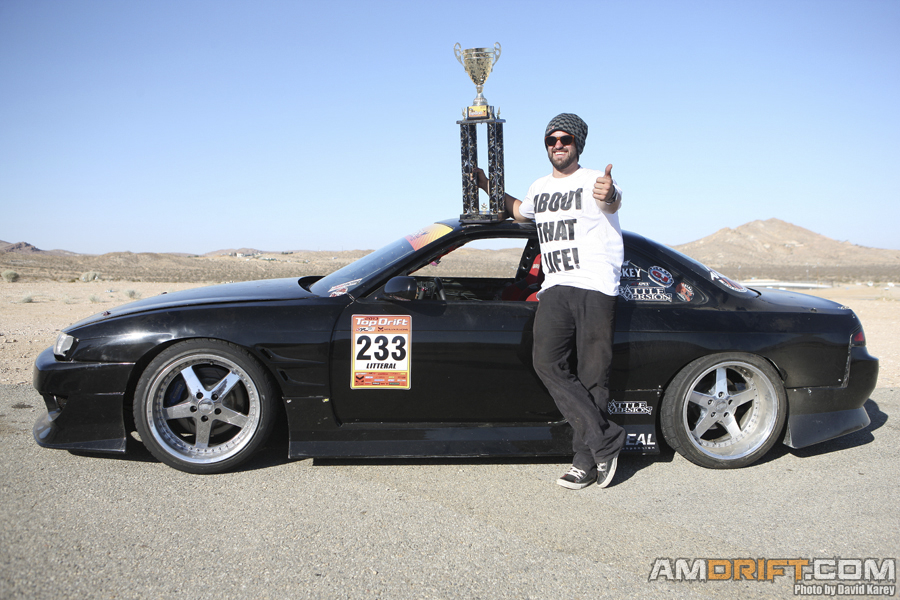 Until round 3, enjoy our 500 image gallery of round 2.