As we promised in our run by run coverage, we are going to talk about some of the funny and dramatic things that happened during Formula Drift Round 6 at Texas Motor Speedway. We were able to get with the drivers of the most talked about runs in Texas so we could share their point of view with their fans. We've got J.R. Hildebrand talking about his qualifying run in the rain, Will Parsons and Matt Field on their crash during Top 32, Chris Jeanneret and Fredric Aasbo reflecting on their runs together, Mats Baribeau and Miro Ovcharik giving some insight on their runs and contact, Rob Primo talking about his runs with Toshiki Yoshioka, Odi Bakchis giving us a little on his run and protest against Robbie Nishida, Mats Baribeau and Fredric Aasbo on running together, and Conrad Grunewald and Pat Mordaunt giving a little on their runs against Vaughn Gittin Jr. So without further delay, lets get into the good stuff.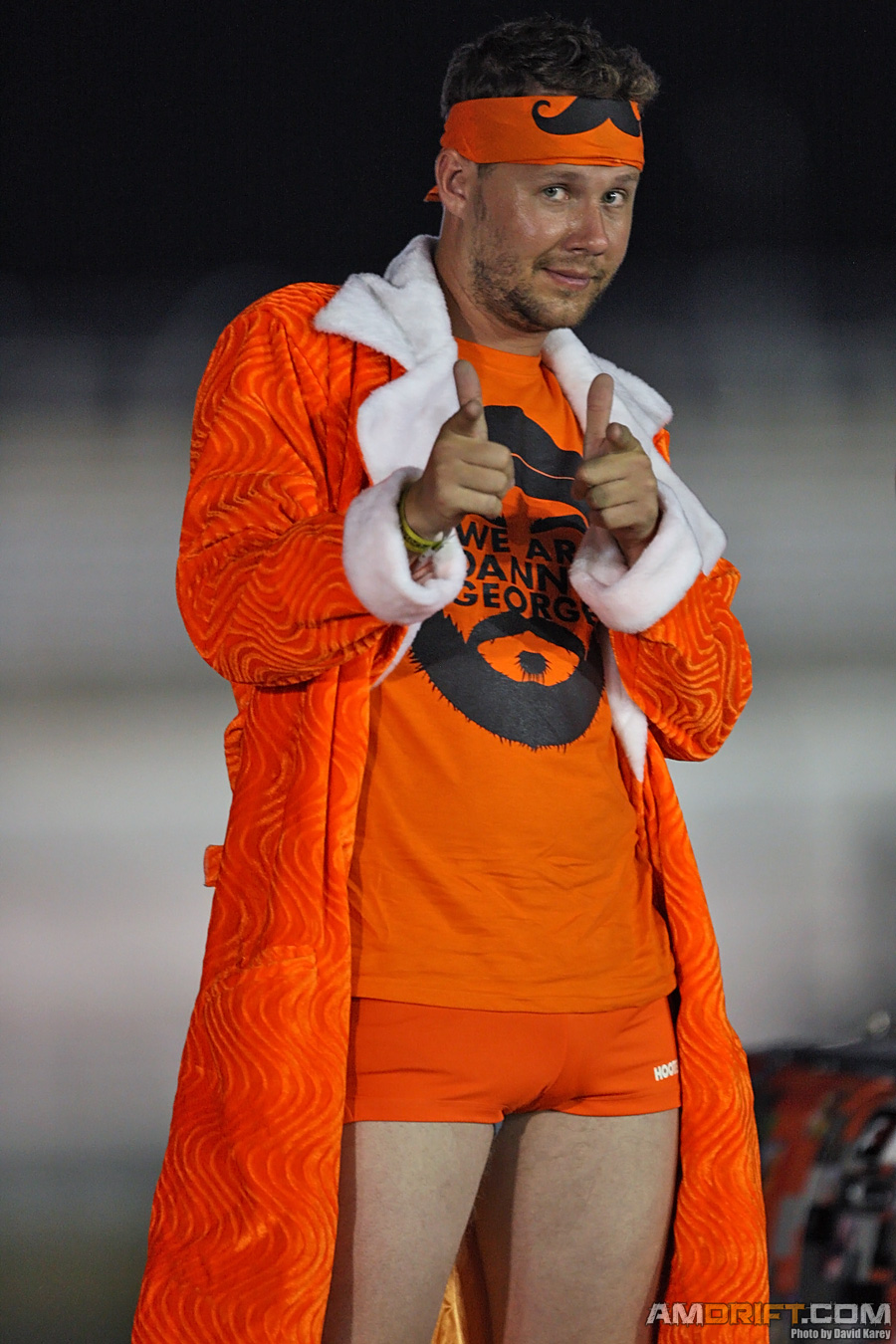 This article is Officer Dan approved.
---
J.R. Hildebrand on qualifying in the rain – Low score?
It was the first round of qualifying on Friday the 13th. All drivers other than J.R. had made their first passes and a nasty cloud and high winds moved in. As J.R. pulled up to the starting line, it started pouring rain. He took off and ran the course, being the only driver who had to make a wet pass. Surprisingly, he was able to make a really sweet pass considering there was absolutely no wet practice, but the judges still scored him low with not enough points to make it into the Top 32.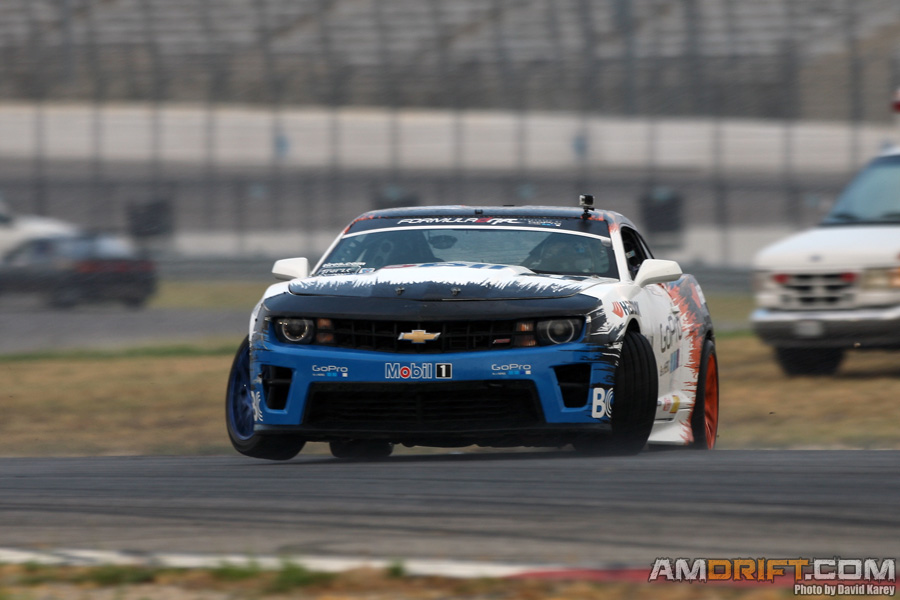 "Yeah it was definitely a MAJOR bummer! I was sitting there waiting to go and it started spitting down at the start line. I knew it was coming because the wind had picked up a ton, but was obviously hoping it would hold off for just another couple minutes. I've been in situations before when it's just sprinkling and because your tires are hot, it doesn't make as big of a difference as you think, so I decided just go after it until I was sure I needed to back it down. So I took off, and as soon as I initiated into the first corner, I could tell it was actually wet, and was actually getting wetter the more I went through the course. So, I just did everything I could to anticipate it and try not to fire the thing off the road. I dipped a wheel off, but actually thought I put a pretty solid run together and was kind of impressed that I kept it on the track!"
"When I got my score I was definitely surprised. It definitely wasn't as tidy of a run as the dry runs has been, and naturally it was slower through the judged speed section, but IT WAS RAINING! Haha. But there was nothing to compare it to since I was the last to go, and for sure there was no smoke, so I can definitely see where it would be tough for the judges to figure out."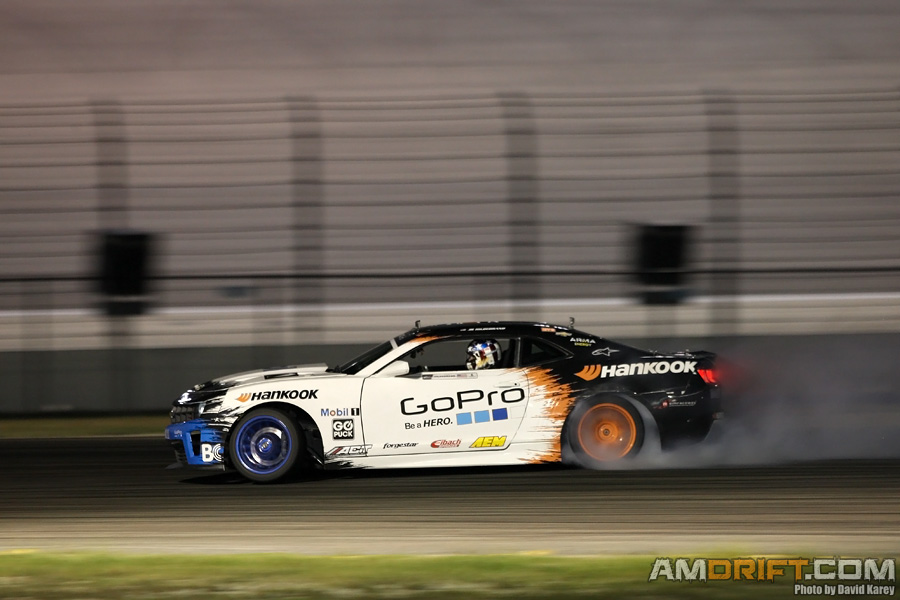 "As much of a bummer as it was, it was actually pretty cool. When I saw the replay, we were all stoked out on the run, and I actually had a bunch of the other drivers say how cool they thought it was, so that was pretty rad. Sometimes you're timing's great, sometimes it sucks, and that's just how it goes!"
Conrad Grunewald via Facebook comment: "Jr killed it on that run. No wet practice and owned it first try."
---
Will Parsons vs. Matt Field – Top 32 – The Crash.
Will Parsons, a 2013 Formula Drift rookie, had qualified 20th with 81.4 points. That meant he was to face Matt Field in Top 32, who had qualified in 13th with 81.8 points. Matt's car has a shit ton of power, so without surprise, he put a distance between him and Will on the first run of the match up, which he was lead car. On Will's lead, he pushed so hard that he dipped the rear tires off on the final sweeper, which caused him to lose control and spin in front of Matt. Matt Field tried to avoid contact, but momentum would have its way and force both cars together in spectacular crash fashion. Will Parsons lost that battle, while Matt Field moved on to podium in 2nd place at the end of the event.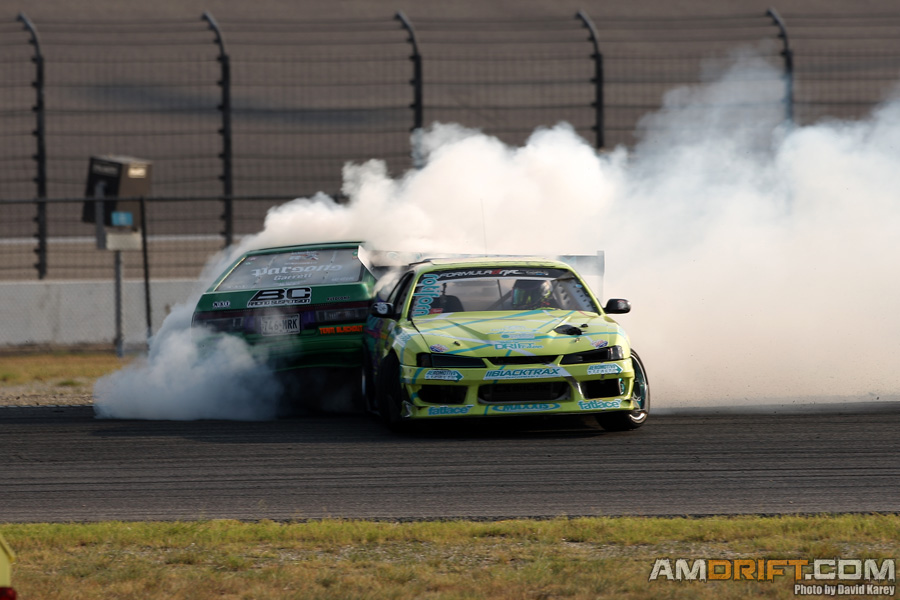 "He (Matt) led first and let me stay with him until the restart cone. From that point until the first turn, his car was so much faster that he was able to put quite a bit of distance between us. I tried to short cut the first turn to catch up and hit the second clipping point cone, giving me one strike. By the end of the track, I had started to catch up, but not nearly enough. I knew to win, I would have to have a very solid lead run and hope that he would make a mistake. On my lead lap, I drove as hard as I could putting the car on all the clipping points. He was able to stay pretty close to me going into the sweeper. I was riding the very outside of the sweeper and ended up dropping a tire off the track, which caused me to spin out almost instantly. Matt had no where to go and hit me in the rear quarter panel." – Will Parsons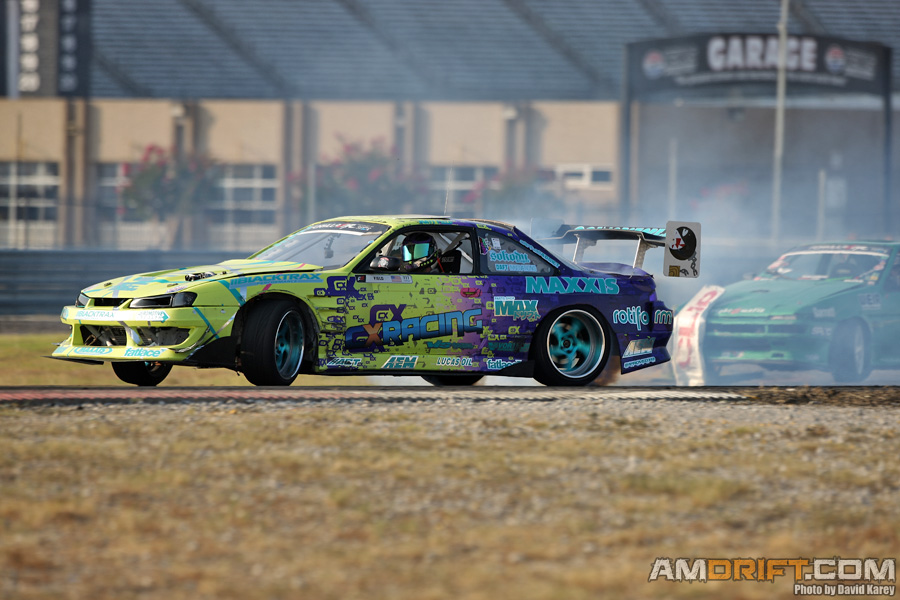 "In the top 32 battle, I went up against Will Parsons. He ended up spinning in front of me in the last corner when I was following. I was really not expecting him to spin like that. I think he got one tire just over the rumble strips and spun really quickly. I was a little bit upset, not because of the hit, but because I just got my car looking pretty again after Seattle, and in the first tandem battle I mess it up. I did some damage, all cosmetic of course, but still. 1/4 panel messed up, my new trunk, and my brand new bumper. But oh well, it is drifting!" – Matt Field
"…and finishing in 2nd place is good, but not good enough. I do feel a relief about getting my first podium. But all this means is now I know I can do it, so I should be up there, and I should be up there standing on the top."– Matt Field
---
Chris Jeanneret vs. Fredric Aasbo – Running with a legend.
31st position qualifier and 2013 rookie, Chris Jeanneret, was on schedule to face 2nd position qualifier, Fredric Aasbo, in Top 32. Chris followed as close as he could to Fredric at initiation, but brought it too close mid track, almost hit Fredric, and went off track to avoid contact. Chris was to lead next with Fredric following. Knowing Fredric was right behind him, he knew he had to go fast. Chris sacrificed angle for speed, and brought it in a little too shallow toward the end. Fredric stayed toward the outside of the sweeper, carefully adjusting throttle and brake to not pass Chris. In the end, it wasn't enough for Chris to move on, and Fredric got the pass to Top 16.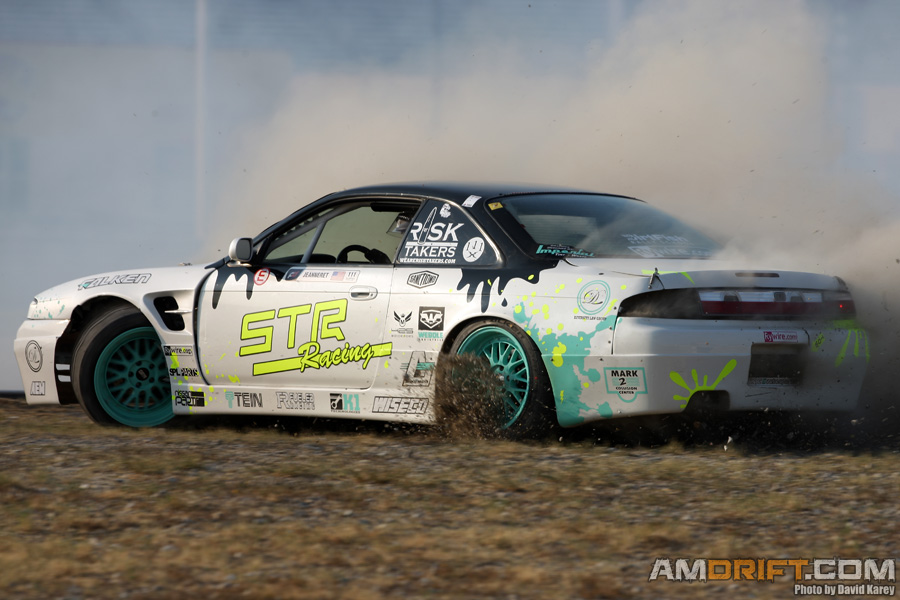 "My 31st position put me with the number 2 qualifier Fredric Aasbø, and we knew he was fast, so we dialed in more grip to the setup on the car to keep up on the straight away. The run didn't go as planned. We ended up staying with him all the way to the second clip where I almost hit him. I had to let off and that caused me to go off track. I later heard from my spotter that his entry speed was 15 mph slower then practice and qualifying. At this point, we were done for the day. I later asked Stephan Papadakis why he was so much slower then we planned. He told us that they had a crack in the intercooler and were way down on power. Right then and there I realized something. I can't be prepared for everything, but being able to adapt is something in this sport that will get you to the top. We will have some new ideas for our setup for Irwindale! Once again, thanks for all the support from fans friends family and sponsors. I wouldn't be able to be here with any of them. Cheers, see you in Irwindale!" – Chris Jeanneret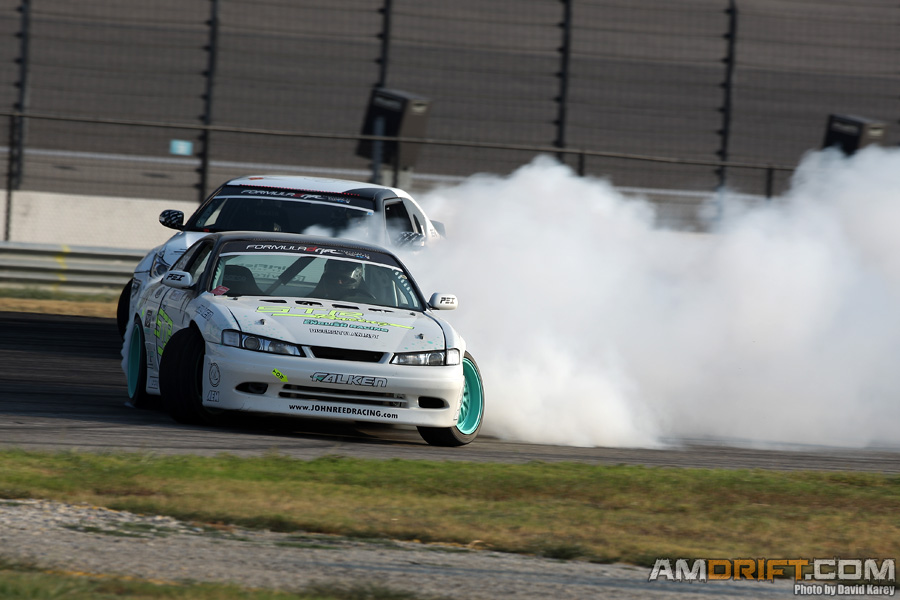 "We were actually down on power due to a boost issue for my Top 32 battle with Chris Jeanneret. Luckily there is so much margin in the tC, that even if we are down a couple hundred horsepower, it is still pretty powerful. We got to put down a decent, but not spectacular lead run against Chris, and unfortunately he spun behind us. I gave him a little bit of space for his lead run and he had two big mistakes that shot him in from the outer zone with a shallow line. A good example of why actual competition battles is the best practice you can get, because Chris had some stellar qualifying runs, but keeping your cool in the tandem battles can only come with practice." – Fredric Aasbo
---
Mats Baribeau vs. Miro Ovcharik – Sometimes a tap is too much.
Another 2013 rookie, 15th qualifier Mats Baribeau, was lined up against 18th qualifier Miro Ovcharik. On their very first run with Mats leading, Miro tried to suck up on Mats' rear bumper, but ended up tapping it and causing Mats to spin and himself to go off into the dirt. On the second run with Miro leading, Mats played it safe and completed the run. Since Miro made a pretty big error on the first run, Mats was able to secure advancement to Top 16 where he would end up facing Fredric Aasbo.
"We matched up with Miro Ovcharik for Top 32. Having faced Miro twice before in competition (Hold The Line and DMCC), I knew what to expect. We knew it wasn't going to be easy, as Miro is a great driver. Once we left the line, it was basically pedal to the floor for me going through the gear box trying to enter with as much speed as possible. I threw it into the first corner as aggressively as possible while keeping my foot to the floor to maintain as much speed as possible through inner clip 1 & 2. Once I got through there on the right line, it was just a matter of keeping as much speed and angle through the touch and go section and then locating the outer zone section at the start of the sweeper. The judges wanted us to throw it into the sweeper aggressively with as much angle as possible while holding the outside line of the track. We did just that with keeping our rear tires on the outside line, and as I started to get back on throttle, I felt a slight bump from Miro, which upset our suspension for a slight second which caused us to lose grip and spin. The judges reviewed the footage and made the call that Miro was at fault and gave us the advantage. We took a couple minutes to inspect the damage and ensure we didn't have any suspension or wheel damage. Luckily the impact was made on the rear quarter and rear bumper which did not touch our wheel/suspension. We knew that for our chase run, we needed to just run a clean run without mistakes and we should move onto top 16. We did just that and got the word from the judges that we had won!! For me, it took a bit to sink in that we were going to top 16, as I had to have my spotter (my father, Norm) repeat it to me a couple times!!!" – Mats Baribeau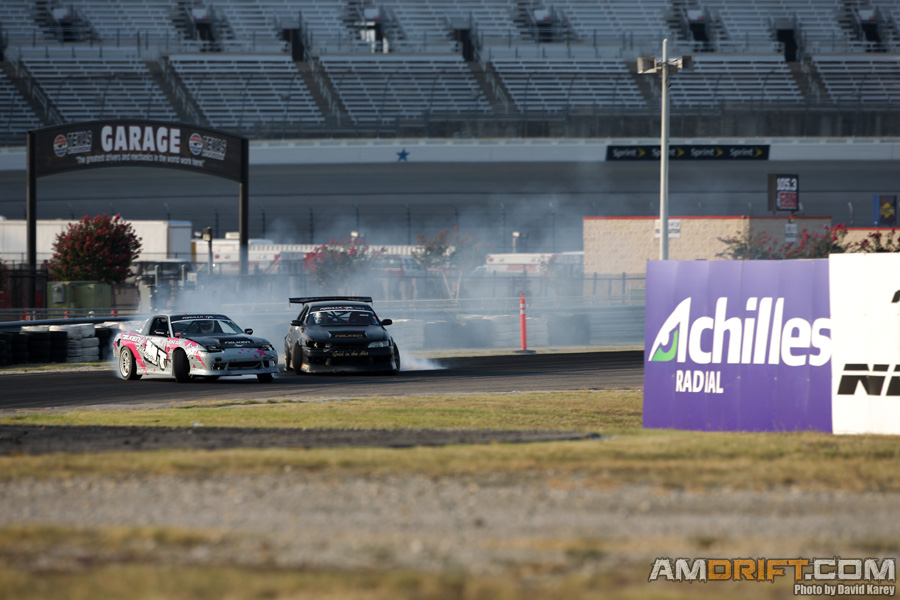 "After qualifying, I saw that I would be going against Mats in top 32, so I was pretty excited. I knew it would be a good battle since our cars are relatively evenly matched, and we've had close battles previously in amateur competitions and in DMCC. Unfortunately, we didn't get to line up together to practice, but my spotter was telling me that Mats' speeds were very similar to mine, generally 1-2mph slower." – Miro Ovcharik
"I chased Mats first in our battle. I knew he had more power than me and was running a wider tire, so I was focused on the start line to make sure he wouldn't pull a gap on the straightaway. I initiated into the first turn right behind him, but he waited a bit longer to get back on throttle than I expected, which messed up my timing. Mats managed to get a gap on me through the middle of the course, and I knew I needed to get on his door through the last turn to finish off the run strong. I went into the last turn and started closing on him, but I misjudged his speed and realized he wasn't getting back on throttle as soon as I expected. I tried to slow the car to give him a chance to get going, but I really needed to be on throttle at that point so my car could grip up and pull away from the outside of the course. Without being able to get on throttle, I ended up washing out wide and tapping Mats' left rear slightly. I went off course, and he spun out." – Miro Ovcharik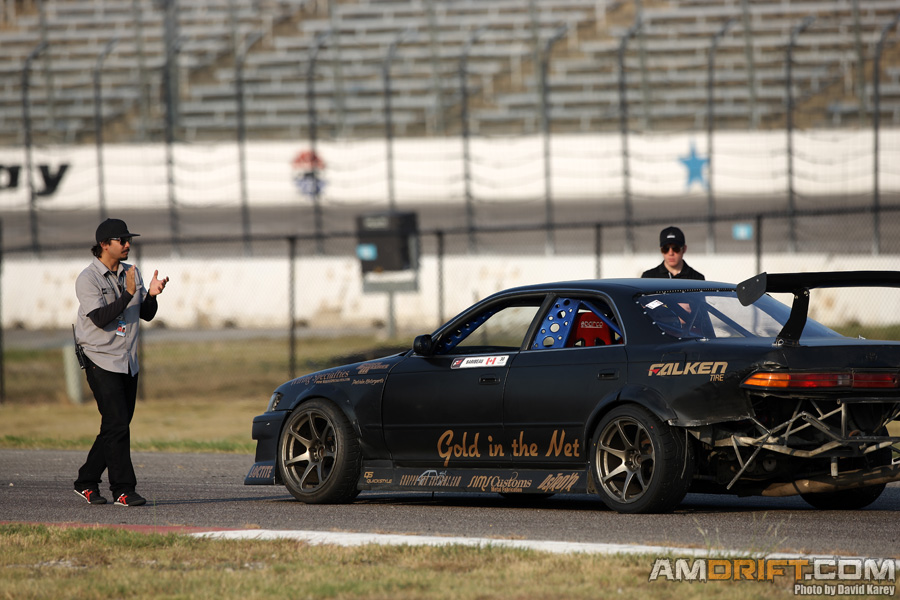 "There was a long wait until the second run, which I assume was the judges trying to figure out if I actually hit Mats or not. It was a very light tap, and it didn't even break the zipties on my bumper, so I can understand their confusion. At some point, I was informed by the starter that I was at fault for the contact, and Mats would line up for the second run after he looked over his car. Knowing I was at a big disadvantage, I went all out on my lead run. I went as fast as I could and tried to put up as much smoke as possible to get a gap on Mats and try to push him into making a mistake. While I did hold a pretty substantial gap on Mats throughout the course, it wasn't enough for the judges to call a OMT, so he went on to top 16. Overall, I think it was an exciting battle, but I just pushed too hard in my follow run and wasn't able to adjust to Mats driving without any practice runs behind him." – Miro Ovcharik
---
Rob Primo vs Toshiki Yoshioka – One more time one more time one more time omgwtfbbq?

Yet another 2013 rookie that made it to Top 32, Rob Primo, was set to run against long time Japanese drifter, Toshiki Yoshioka. Rob followed Yoshioka on the first run, but put 2 tires off giving him an automatic zero. At this point, all Yoshioka had to do was make a clean follow pass behind Rob, but made an inside pass on the outside clipping point known as "touch and go", and completely passed Rob. We were confused from the viewpoint we had in the middle of the outfield. There were no passing zones on the Texas track, so Rob and Yoshioka both received zero on their runs, which forced a one more time call by the judges.
Alright, so they go one more time, Rob Primo following Yoshioka again, but making some steering corrections that the judges did not like. He received a zero on his follow run. Rob would lead next, and layed it all out thinking it would be is last run of the event. Yoshioka went completely off course in front of the judging tower following Rob, and literally exploding the exterior of his car and sending dirt everywhere. It was such a grand off track excursion, that we were sure his car was done. Never assume things when it comes to a professional motorsports team and their ability to fix things under pressure. Yoshioka's team was able to fix the car enough to line up against Rob Primo one more time after the judges called for it.
On the second one more time, it looked like Rob had difficulty following Yoshioka through the initiation area and straightened out. On Rob's lead, Yoshioka was able to pull together a decent enough follow to grab the win and move on to the Top 16. We are super grateful that Rob Primo took time to explain this set of runs to us, as we were as confused as everyone else on what the heck happened.
"In my Top 32 battle, I would go against Toshiki Yoshioka who was driving a Subaru BRZ. Yoshioka has been in drifting for a very long time and I even used to watch him drive back in Japan within their drifting series. Now with that said, I knew I was the underdog but I didn't put it out of the realm that I could actually win and move onto the Top 16. Yoshioka and I both lined up at the start line. I would chase as he qualified 10th. After the last run chasing JTP (practice), I thought that I would be in good shape. As we launched, I kept it close. We entered together and as we transitioned, I put too much angle in, causing me to go off track and drop two tires. Automatic zero. Certainly not the way I wanted to start. I thought this was all but over. However I was going to go for it nonetheless and put down a good lead run. In my lead run, I went as hard as I could in the run up. I hit 102 mph on entry and as I transitioned into the touch and go portion of the track, Yoshioka shallowed up and passed me. The judges deemed that there was no passing portions on this track, so as soon as he did that, I knew we were going one more time."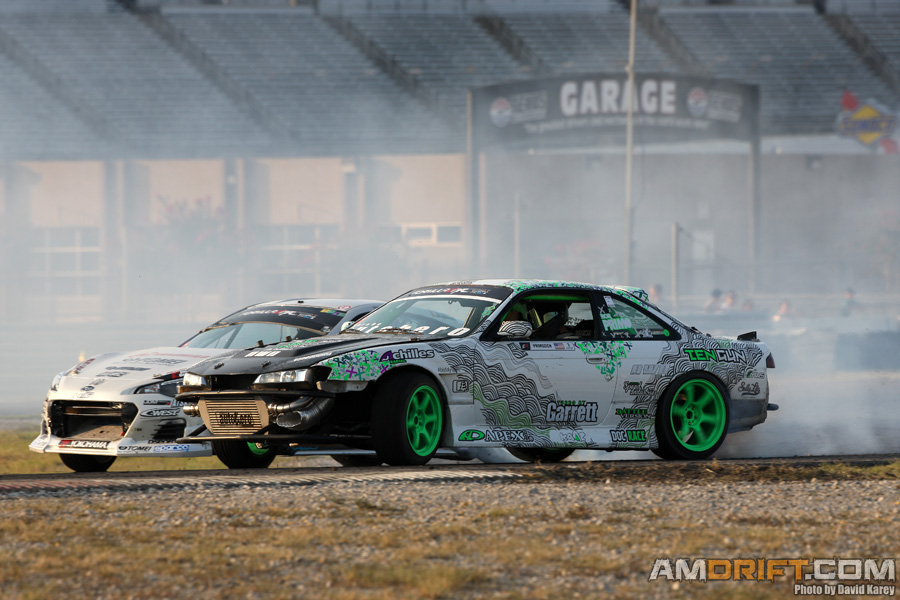 "In my chase run, I tried to keep it close. After the touch and go, I transitioned a bit early which caused me to not get out as far as I would have liked. I made a couple steering corrections and finished the run. The judges said I straightened my wheels, and therefore I would be awarded a zero. In my lead run, I knew I was behind (but didn't know I had a zero). I just went all out again. This time Yoshioka got right behind me and I think he got lost in the Achilles smoke. As we transitioned to the final sweeper with a bunch of angle he went flying off track when I navigated the rest of the course with a lot of smoke. I had no idea that he went off until I looked in my mirror at the end of the run and he was nowhere in sight. I saw his twisted rear wheel. I thought that I was either going to win due to him going off or that I might win due to him not being able to compete. The judges called one more time."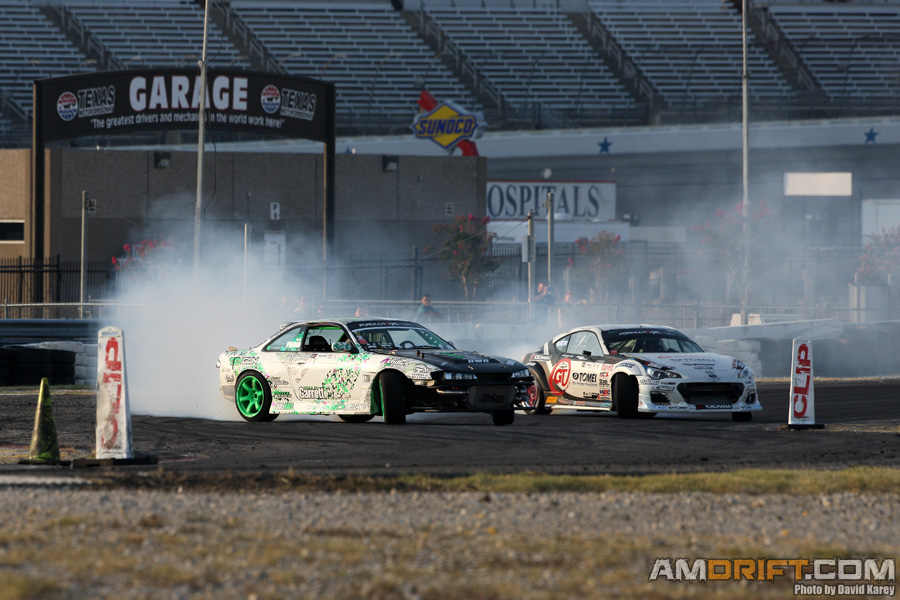 "However, Yoshioka and his team would have 5 minutes to fix their car. From my position it would be tough. However these top level teams are prepared for the worst. I had my team swap tires while I was in the car. Then I went and did a burnout, checked the tires again, and got to staging. I was waiting to see if they would do the impossible. Just as the 5 minutes were up, I saw Yoshioka get in the car and make his move for the starting line. We both lined up when the technical judges went and looked at Yoshioka's right rear wheel. Being on the left side of him, I couldn't see the wheel, but only assumed that things were back to normal. I saw the staff go up to Yoshioka and ask him if he was good and I saw him give the nod. Here we go again. They came over to me and said he was good to go."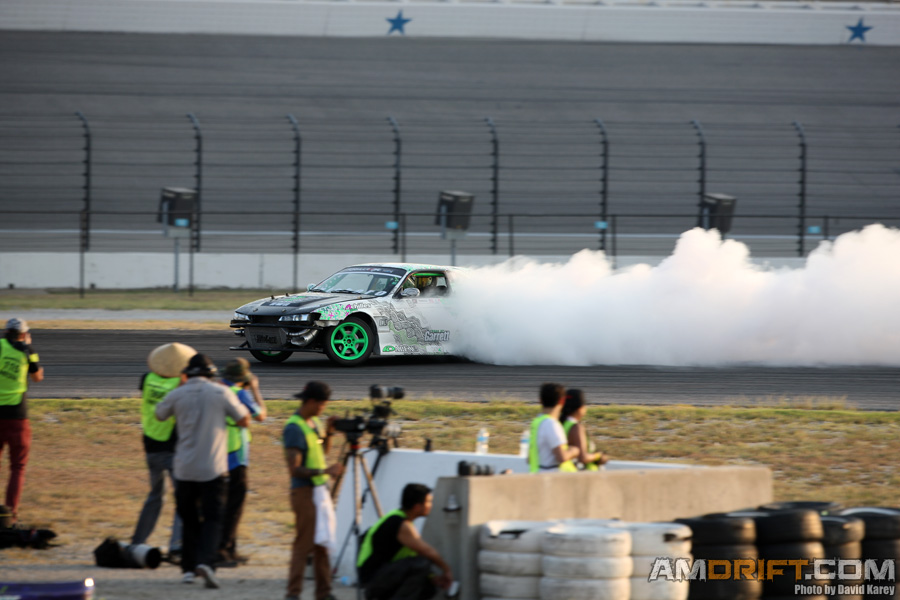 "So I got ready to launch. The lights came down and we took off. Now I will say in our first two battles, we were flat out to entry. So this time when Yoshioka shifted to 2nd, he immediately slowed. I then had to lift. He shifted to 3rd and sped up. I shifted to 3rd and floored it. He then slowed again. I was confused, and if I was able to stop by the restart cone I would have, but that was past. So I slowed again. He then shifted to 4th and floored it. I shifted to 4th and tried to catch up. We entered drift and got to the touch and go, then I made the crucial mistake of putting too much angle in again and I scrubbed too much speed causing me to straighten out. Advantage goes to Yoshioka. I didn't know if it was his car causing him to go slow and fast during run up, or if it was him messing with me. That was the only thing that has bothered me as I was always just going as fast as I could."
"We finished the run and I saw his right rear wheel. It was totally buckled. I couldn't help but point and at the wheel confused. I didn't think that was a safe situation for me to follow. The track is pretty fast and some bad things could happen if that was to fall off. But I wasn't going to stop. FD made their call and I wasn't going to make waves. We got to my lead run, and like the rest, I put down a solid run. However this time, Yoshioka didn't zero out his run therefore the judges awarded him the win. I gave him the nod and drove back to my pit area. Once in the pit I got out and went over to his pit and congratulated him for his win and wished him well in the Top 16."
---
Odi Bakchis vs. Robbie Nishida – The Top 32 battle that went into the Top 16…
Odi Bakchis qualified 5th, and Robbie Nishida qualified 28th, so they were paired together on the ladder in Top 32. During this run, Odi's team would see something that the judges did not. On the first run, Odi led while Robbie gave chase. Robbie put a tire off and hit a clipping point, which should have given him an automatic zero, but the judges did not see it. On the next run, Odi would follow Robbie, but dipped 2 wheels off in grand fashion, which resulted in a debeaded tire. Man, these 2 were running hard as f*ck, balls to the wall. Robbie was awarded the win, but Odi's team filed protest. After the judges reviewed the replay and saw that Robbie had knocked over a clipping point and had a tire off, they called one more time. Odi and Robbie would have to resume their Top 32 battle during the Top 16 time frame.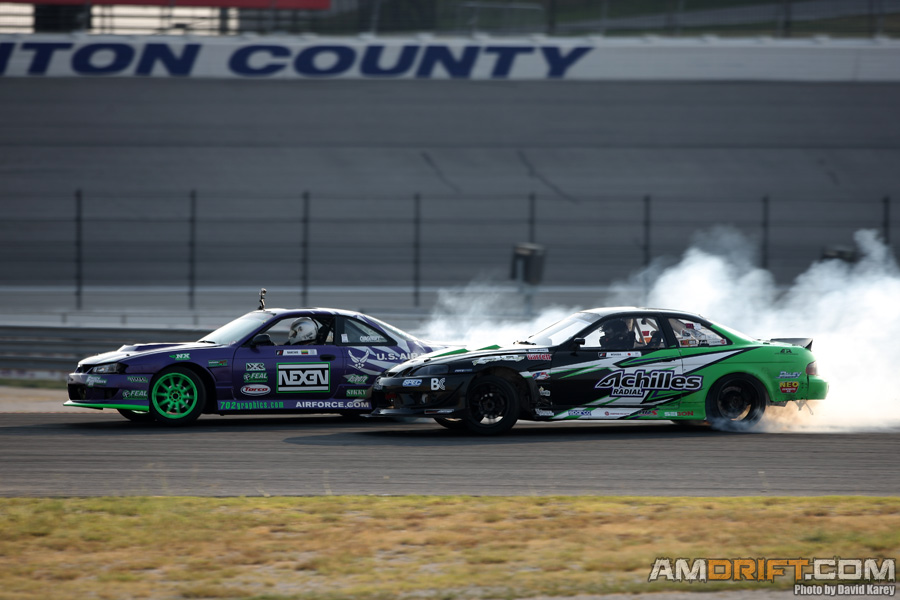 "Robbie put one wheel off the track and ran over a clipping point. One wheel off and hitting a clipping point constitutes a 0. The judges did not see that Robbie knocked down the clipping point, so initially he did not get a zero. I mirrored Robbie's line and got both rear wheels off, which is an automatic zero."
"We brought up that Robbie knocked down the clipping point, judges reviewed the replay, and sure enough called it a OMT since we both received a 0 in that battle."
"It was a clear cut objective ruling once the judges looked at the video footage. I am very pleased that Formula Drift had us battle one more time, even though it cut into the top 16 time."
Odi put up a good fight, but Robbie moved on to the Top 16.
---
Mats Baribeau vs. Fredric Aasbo – 2 Toyota guys with similar stories…
This battle means a lot to us here at Amdrift. Mats Baribeau moved on to the Top 16 after beating Miro Ovcharik in Top 32, and was paired with Fredric Aasbo. Fredric was a rookie in 2010, and performed so well that he won Rookie of the Year. After defeating Miro, Mats Baribeau was thrust into the same exact position to win Rookie of the Year, just like Fredric did. Mats drives a right hand drive Toyota, as did Fredric. This was just a super rad battle to be witness to.
"Our top 16 opponent was Fredric Aasbo. Fred is a former Formula Drift "Rookie of the Year" winner and an excellent driver which currently sits in the top 5 of the Championship. We knew this wouldnt be an easy battle, and we would need to drive at 100% to have a chance to move on. Fred led first and I tried my best to keep up to his Scion (which has couple hundred HP more than us) heading towards the first corner. Once initiated, the car went a bit off line where I had to left foot brake a split second to avoid hitting the second inner clip, which was definitely a noticeable correction. Having to correct there left a bit of a gap between myself and Aasbo, but I was able to close it back up heading into the sweeper where I came inches away from Aasbo's car, but again with his HP being a couple hundred over us, he was able to get on throttle for the sweeper and pull away from us again. Overall, I was pretty happy with my chase run. I know Aasbo had a slight advantage going into the second run. With that being said, I knew I had to give it 150% to get a chance at the possibility of a OMT. My lead run was hands down the fastest run ive had all weekend using the entire track. During my lead run vs Aasbo, I was able to get and maintain a good 1-2 car gap on him from the first inner clip to midway through the sweeper. I was happy to have run such a hard and fast lead lap but unfortunately for us, Aasbo didnt make any mistakes behind us and moved on to top 8." – Mats Baribeau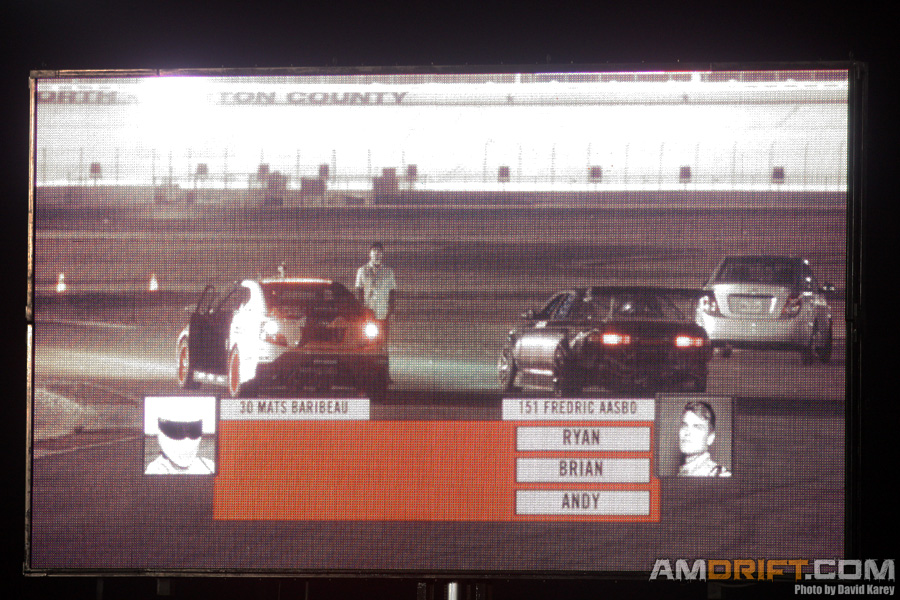 "I really love Mats' style and I'd love for him to take the Rookie of the Year title! I started noticing him when he got his Top 5 qualifying result this year (was it in Palm Beach?), and it really made me smile seeing him and his guys high fiving all the way back to their pits from the qualification drivers meeting. It reminded me of our first rookie achievements. His 4 door Toyota JZX90 just oozes cool, and with six cylinder turbo motors being back in vogue in Formula Drift, it's something I hope he can stick with for the future. Before our runs, we spoke about how we would do our runs. But similar to my Top 32 battles, I did not have very spectacular runs against Mats, which is down to us having focused on consistency over anything else this season. Mats unfortunately had a hickup which lost his battle, but he will come back, with a vengeance, and I wish him all the best for the finals at Irwindale!" Fredric Aasbo
---
Conrad Grunewald vs. Vaughn Gittin Jr. – The shot heard 'round the world.
We are revisiting this battle, not because there were any bad calls or protests filed, but because it was damn funny and awesome to see it go down. See, all year, Vaughn Gittin Jr. has had the unfortunate luck of colliding with other competitors during tandem. There is a crowd out there that was looking for someone to give him a taste of his own medicine, and Conrad Grunewald was the man that would do it in Texas. It would happen in Top 16.
First, check out Conrad's event recap, courtesy of Lifeblasters.com
"So Top 16 up against Vaughn Gittin Jr. in the Mustang, uh, Vaughn and I have a bit of a history, we had a bunch of one more times in palm Beach this year, um, where he drilled me in the door pretty good….and I told him he better keep his foot in it here otherwise im gonna drill him in the door…and sure enough on our very first run when I followed him, coming out of the last turn Vaughn knew I was really close and he started adding a lot of angle, and, um, from my perspective, he had so much angle he had to back out of the gas…and thats where youre supposed to be full throttle, and I kept my foot in it, and I drilled him…and I think the judges would see that he had too much angle where you shouldn't have that much angle trying to cut me…you know chop off the follow driver, which isn't the way we do stuff out here."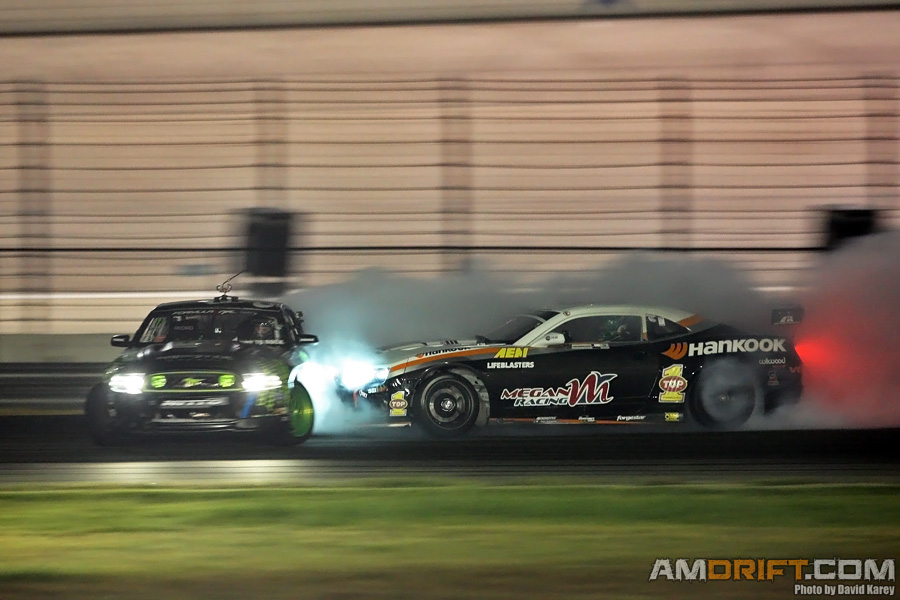 The battle went one more time. We asked Conrad what he thought of that. "I was not expecting a one more time, but as always, when you go into a run with a 0 on your first, you always push 100%. So I did."
When we asked him about the Camaro/Mustang rivalry, he responded, "I personally enjoy the Camaro/Mustang drama. I think drifting is the new version of Trans Am from 40 years ago. Being a part of those battles always puts a smile on my face. Even if JR didn't make any attempt to not spin from the contact. ;-)."
HAHAHA! We are loving us some Conrad right now.
---
Pat Mordaunt vs Vaughn Gittin Jr. – David vs. Goliath Round 2.
Our last drama filled battle (only because it happened at the end), but certainly not the least, comes in the form of a young man who often finds himself in a position to take it all, but always comes short, vs a guy who has won it all in the past, and is hungry for more. We are talking about Pat Mordaunt and Vaughn Gittin Jr. We dub this battle "David vs. Goliath Round 2", because if you remember back to 2012, Pat defeated and spoiled the championship for Vaughn at the very beginning of Top 16. Once again, Pat Mordaunt would stand between a potential season changing situation that could earn points for Vaughn Gittin's championship run, but not even a podium finish would happen for Jr. in Texas. During Pat's lead run, Pat's spotter felt that Jr. had straightened while following. Pat went on to finish his follow run, but sat in his car expecting at the most, a one more time call from the judges. To his surprise, the team had filed a successful protest against Vaughn Gittin Jr, and Pat moved further into competition, where he would face and be eliminated by Matt Field, earning himself an impressive 4th place finish and the best result he's ever had in Formula Drift.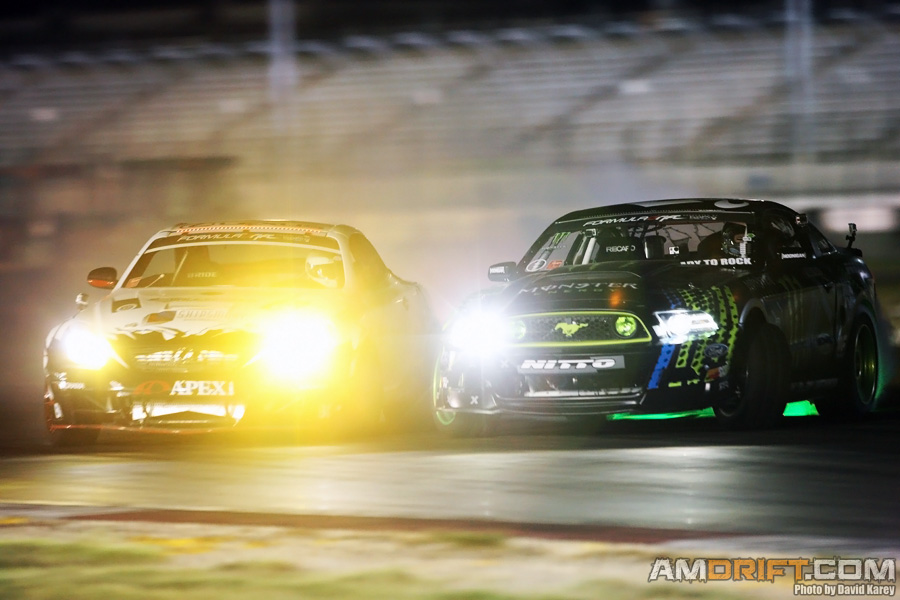 "Okay. So basically I finished my lead run and after a few seconds my spotter came on the radio and told me he believed Vaughn straightened out behind me for a split second. He then told me he was going to protest the call and to make sure the car was ready to run. I was expecting a OMT to be honest."
"We changed tires and got everything ready to go, proceeded to stay in the car for the 20 mins it took for the decision. Before they made the call, I went on the hot grid and starting warming the car up just in case, and thats when all of a sudden I got word they overturned the call. I was kinda shocked honestly."
Congrats on the bad ass driving, Pat!
---
That's it for Part 2 of our coverage from Formula Drift Texas. We cant wait to get all up in the guts of Irwindale for round 7. Keep an eye out for our rookie article coming up soon.
We would like to give a big thank you to all the drivers who took the time to give us some content for this article.