Streetwise Drift officially started their Pro-Am season at Gresham Motorsports Park just one day after the completion of Formula Drift Round 2 at Road Atlanta.
Gresham is a 1/2 mile banked oval located about 20 minute from Road Atlanta. The course is setup similar to what you would see at Irwindale within the Pro Series minus the final long inner oval at the end. It's the perfect training grounds for those who aspire to earn their pro license.
Top 16
There are plenty of returning driver's this season and some new faces. Below is how the points standings stack up after the event.

1. Claude Poirier hopes to join the Canadian invasion of Formula Drift. Claude got off to a good start by winning this round, which of course means he is now also leading in points. Just the drive to rural Georgia all the way from Canada is enough proof that he's very serious about earning his spot in the pro ranks.

2. Zoltan Hadju was likely the most consistent competitor, laying down great runs all day. During the final battle though, he made a slight mistake and tapped the wall allowing Claude to take the win. Zoltan seemed to be hyped up all day and excited to get the season started. There is no doubt he'll be a contender all year.

3. Tommy Van Cleef just barely missed out on earning his pro license last year. With his goal just barely out of his reach, he has come back more determined than ever. Tommy earned the last podium spot and a good points position for the remaining three events.

4. Adahma Williams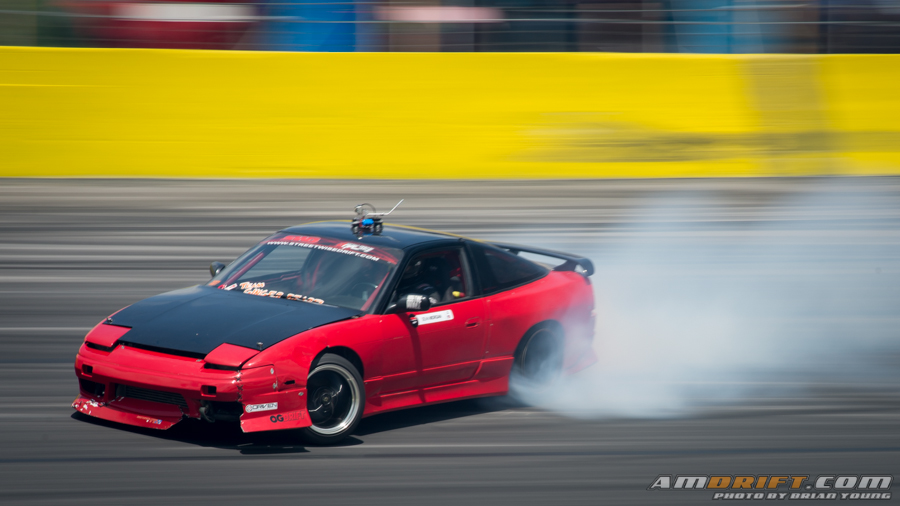 5. Sean Morgan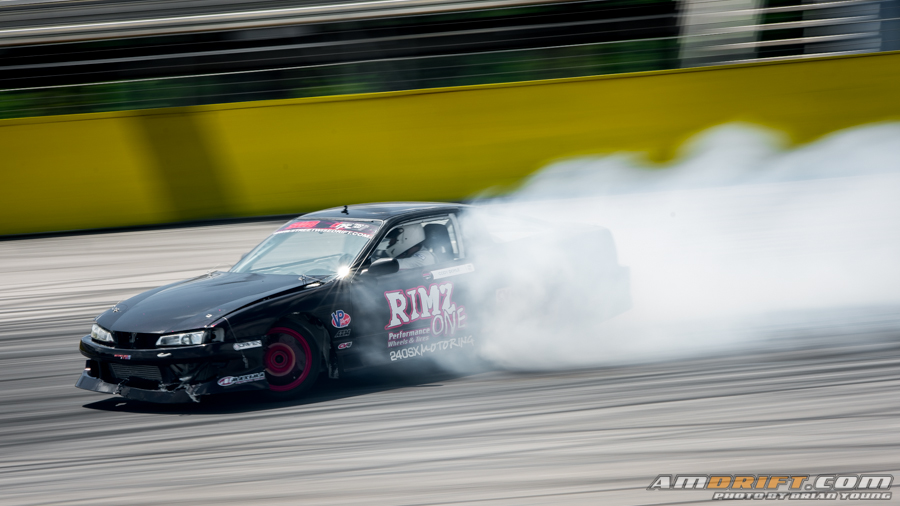 6. Cody Doyle

7. Hooman Rahimi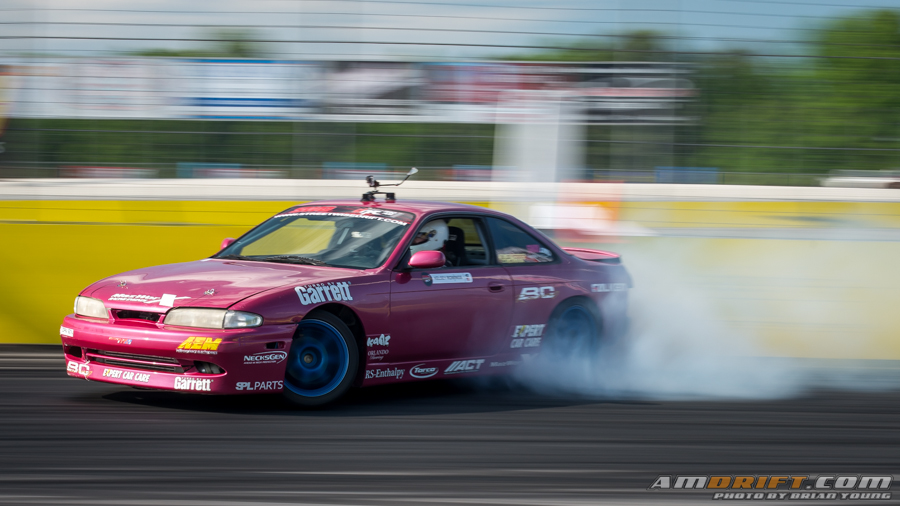 8. Kelsey Rowlings

9. Alex Youe

10. Taylor Hull

11. Eric Loomis

12. Austin Wolff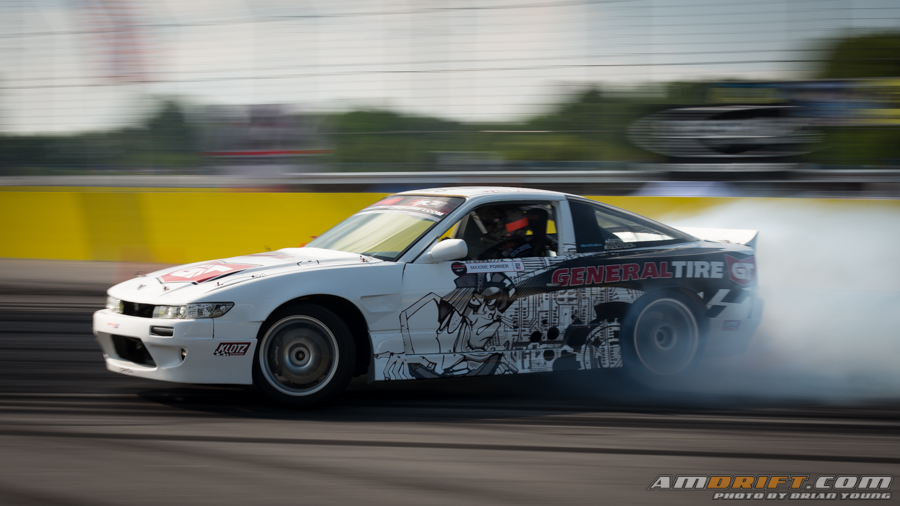 13. Max Poirier

14. Sammy Tiger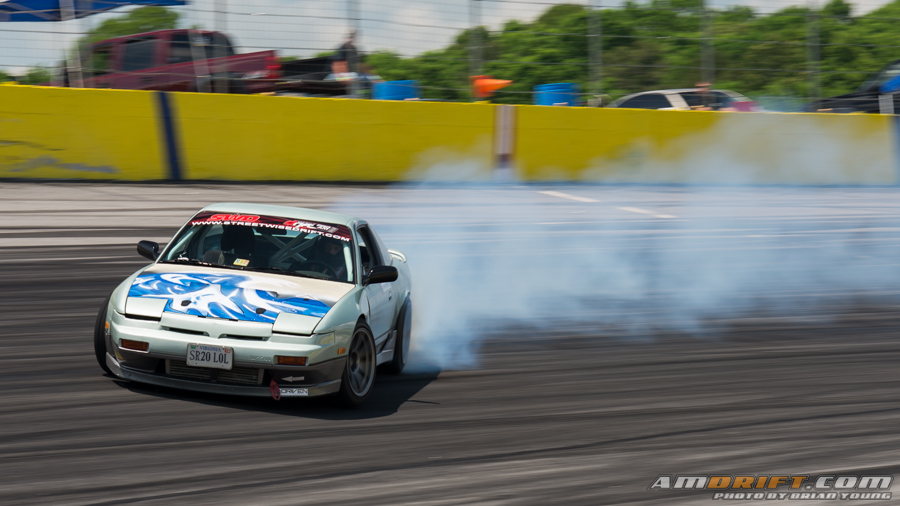 15. Chris Cotrupi

16. Fello Ambivero
The Walls
Gresham has some very hard walls. Small oval tracks like Irwindale are known for claiming a few cars every event within the Pro Series, and the same applies to Gresham within the Pro-Am ranks.

Jonathan Nerran was also close to earning his pro license last year and is definitely one of the most talented drivers in the series. During practice, he was constantly putting the rear of his S-chassis right up against the wall. Unfortunately during one of final practice runs, he got a little too close, and the wall snatched the car around and did some significant damage. His team worked feverishly to get the car back together and just barely missed out due to a broken axle. Vaughn Gittin Jr., who just the previous night won Round 2 of the pro championship, even chipped in to help, prompting to crowd to briefly chant "Vaughn's a good guy".

There were also no shortage of close calls. Kelsey Rowlings was just inches away from disaster on this run, but she was able bring the car back down off the bank and avoid painting the wall pink.

The next stop on Streetwise Drift's Pro-Am schedule is a two day event at Orlando Speed World in central Florida June 27th – 28th . A lot of drivers in this series call Florida home, so it will be interesting to see how they do on their home turf. Click on the flyer for this year's entire schedule