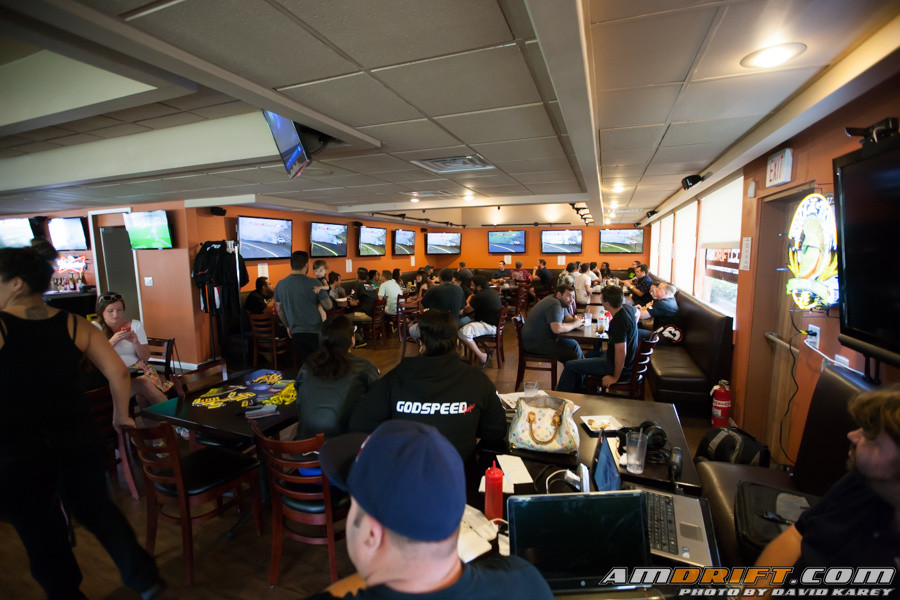 Our Formula Drift Round 4 Livestream Party was amazing. Since 2013, we've been gathering with friends within the drifting community to watch live drifting action from events we weren't able to attend, and we have just as much fun as being there.
Many companies and individuals who support drifting and the idea of keeping it fun, send us cool gifts to give away during our free raffle. Everybody who walks through the door gets a ticket! We would like to thank those who support our idea of having fun!
Formula Drift
Website | Facebook
Larry Chen – Speedhunters.com
Website | Facebook
NST- Non Stop Tuning
Website | Facebook
Falken Tire
Website | Facebook
Motegi Racing
Website | Facebook
Parts Shop Max
Website | Facebook
Edo Stepanyan – Sav-On Driving and Traffic School
Website | Facebook
HPS Silicone Hoses
Website | Facebook
Mackin Industries
Website | Facebook
Get Nuts Labs
Website | Facebook
Godspeed Project
Website | Facebook
Scott Vanderheid and Kerryann Nissan Race Shop
Website | Facebook
Big huge thanks to the above for supporting our events!!! Thank you to Drew Fishbein and Caitlin Ting of OMGDrift.com, and Justin Banner and Kerryann De La Cruz of MotoIQ Radio for their help and support in growing and running the events!
Our next FD Livestream Party will be on July 19th, viewing Formula Drift live from Round 5 in Seattle. The round 5 party will be a scaled down version of what we normally run, due to staff being on the road with FD. Come join us at Carlo's Pizza in Downey, CA for the fun! Schedule to be announced.
https://www.facebook.com/events/795759137122902
Enjoy our FD Livestream Party Round 5 gallery!