We've gotta admit, packing our gear to cover Top Drift round 4 was depressing, knowing it would be the last time we shot competition at Willow Springs until 2015. That being said, we were also super excited to cover some drifting on a track that's been known to have some epic drift battles in the previous years. We were also eager to see who would kick everyone's butt and podium, and also witness who would be moving on to Formula Drift by earning an FD license.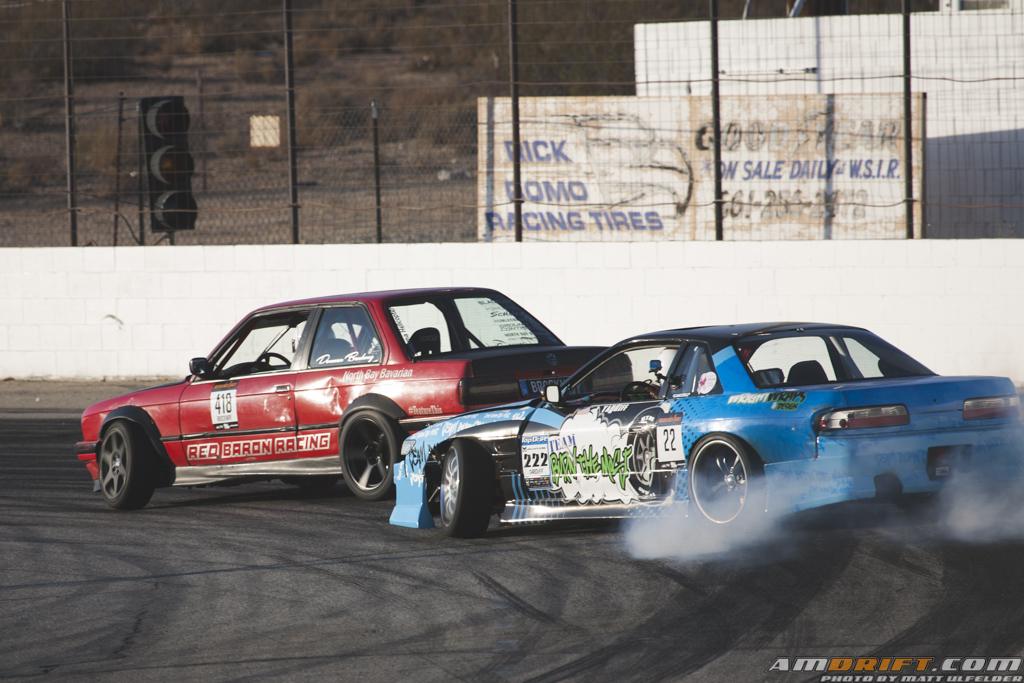 Most of the AmDrift team couldn't make it for practice day on Friday the 22nd, but we were lucky to have team member Matt Ulfelder there for some sweet pre-comp photos.
The drivers showed up to the walled oval were in not give a crap mode, knowing they can go all out and ride the wall because the season would shortly be over. If you don't put it all on the line here, you don't make it past qualifying. The fans were looking forward to it.
Those who did qualify, were the ones who came out swinging. Upper row, left to right: Brandon Contreras 13th, Chris Jones 15th, Matt Madrigali 4th, Jason Kim 5th, Donovan Brockway 2nd, Aaron Sly 14th, Jef Groff 9th, Joe Tardiff 1st. Lower Row, left to right: Kenny Chieu 3rd, Danny Giraldo 8th, Cody Sarem 11th, Joey Dawson 12th, Spike Chen 7th, Alex Heilbrunn 6th, Dan Burkett 10th, Pablo Cabrera 16th.
Qualifying 1st is a big deal, and Joe Tardiff is a bigger deal than that. Coming from the NorCal drift scene, Joe has been making waves all year long in the SoCal series.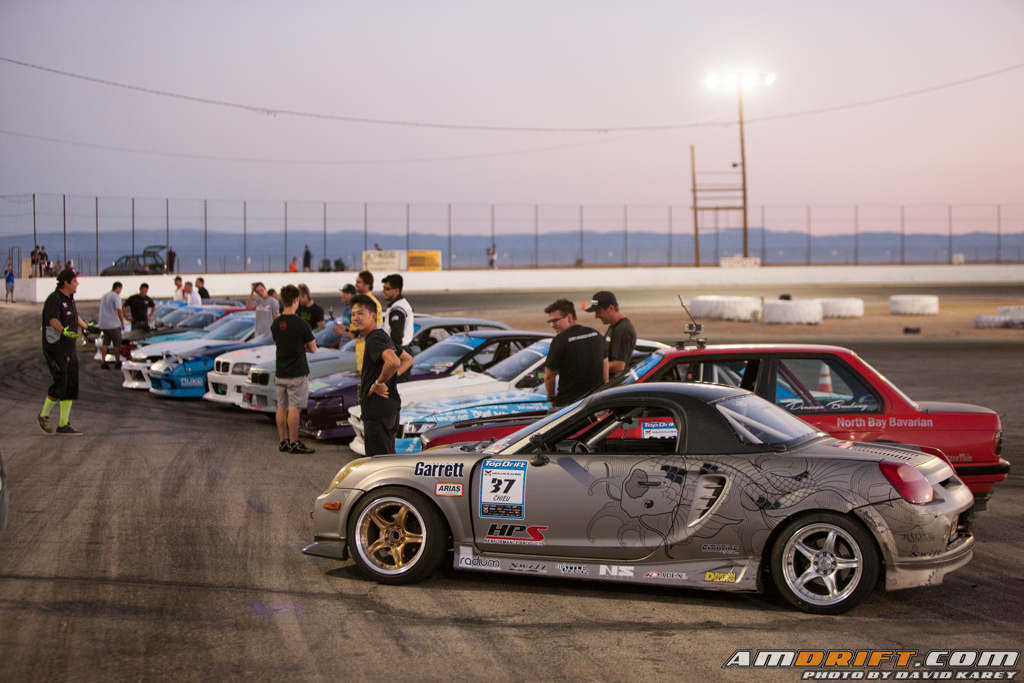 Top Drift always has a driver intro ceremony. Its fun for the fans, and the its motivating for the drivers to hear their names and hear the cheers.
Top 16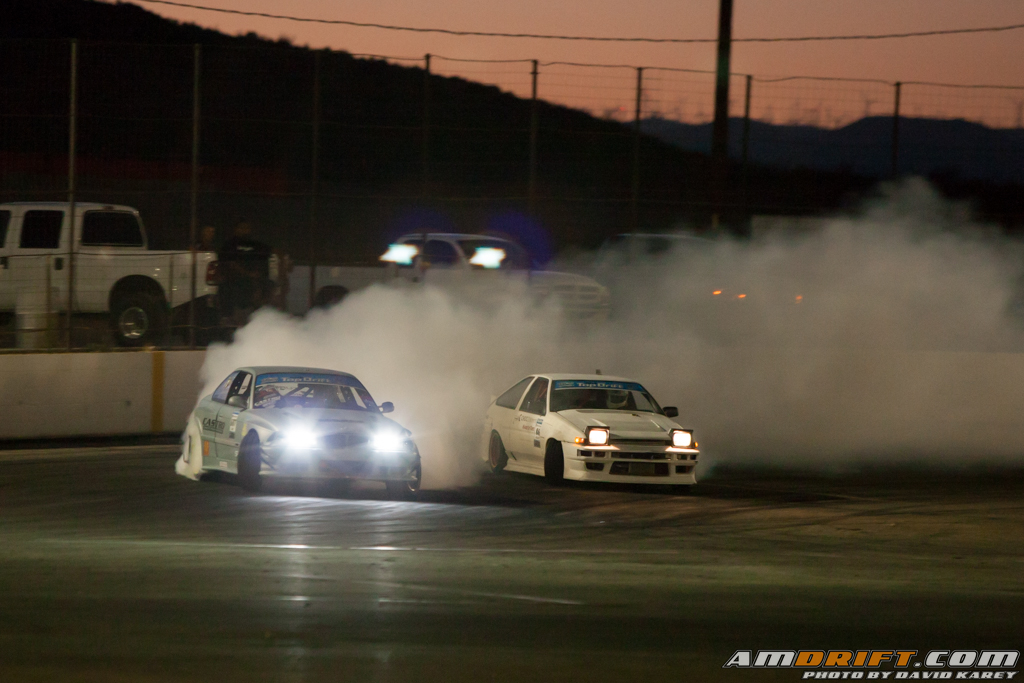 Danny Giraldo vs Jef Groff – The first battle on the Top 16 bracket was Joe Tardiff vs Pablo Cabrera, but Pablo's brake lights were not working, so Danny Giraldo and Jef Groff were called to the line while it was repaired. Danny was the lead car on the first lap, Jef following. Danny Giraldo had a good run until the end, with Jef Groff straightening out behind him toward the last point. The next run was looking good, until Giraldo did a half spin. The judges called "One More Time", which would come later as the drivers were sent off track.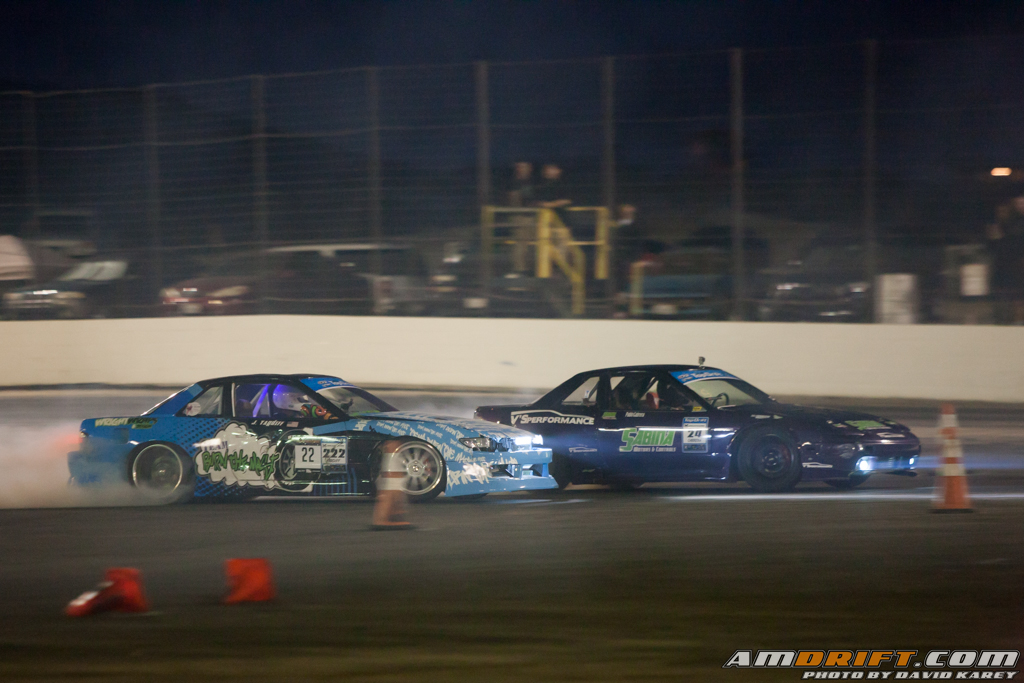 Joe Tardiff vs Pablo Cabrera – Getting back to the first scheduled battle, Joe Tardiff created a large gap between his LS powered car and Pablo Cabrera's KA-T S13. Pablo was able to close the gap halfway through the course, but doesn't hold it through the end. On the next lap, Cabrera is able to pull away from Tardiff before entry, but that gap was quickly closed as Tardiff strategically tapped into the power of his LS and took the win.
Matt Madrigali vs Brandon Contreras – NorCal driver, Matt Madrigali, held the advantage on the first lap with Brandon Contreras stalling/spinning behind him halfway through the course. Come time for Madrigali to follow, he was able to close the gap created by Contrera's supercharged LS, and kept bumper to door until the end. Matt Madrigali moved on.
Danny Giraldo vs Jef Groff (OMT) – On the first lap, Danny Giraldo pulls away from the start into initiation with a one car gap, keeping it consistent. Jef Groff pulls up to close the gap, but cant keep it closed and straightens out slightly at the end of the run. Second lap, Groff pulls away with a 2 car gap and increases it to a 4 car gap, keeping it nice and clean and earning him the win over Giraldo.
Jason Kim vs Joey Dawson – Jason Kim starts this battle as lead car.  Joey Dawson follows with less then ideal angle, falls behind slightly, and spins trying to close the gap. Returning the favor on his lead run, Dawson pulls off with a large gap, but Kim closes it and applies enough pressure to make Dawson decide to be gangster at the end and tap the wall hard enough to lose part of his bumper. Judges gave Jason Kim the win due to Joey Dawson spinning on the first lap.
Donovan Brockway vs Chris Jones – Donovan Brockway was lead on the first lap, taking off a little slow and creating a one car gap that Chris Jones was able to maintain the entire run as follow car. On the next lap, Jones took off on lead slightly pulling away, but Brockway closed the gap and kept it right on Jones' door, so close that there was almost contact! Donovan Brockway took the win.
Spike Chen vs Dan Burkett – Spike Chen was lead car on the first lap, pulling away at least 3 car lengths, and Dan Burkett hit the wall with his front end following. Driving with misaligned suspension parts from an incident the day before, Burkett takes his lead lap, with Spike Chen quickly reeling in behind him. Spike Chen straightened out at the 2nd point, prompting the judges to call "One More Time".
Kenny Chieu vs Aaron Sly – Kenny Chieu takes his experience and puts a one car gap on Aaron Sly, but Sly is able to close it and stay glued to Kenny. Going into the infield from the second bank, Kenny spins out, and Aaron tries his best to avoid, but makes contact. Lining back up, Aaron Sly starts off a little straight on the entry, but Kenny Chieu has some troubles of his own behind him. Aaron Sly moves on.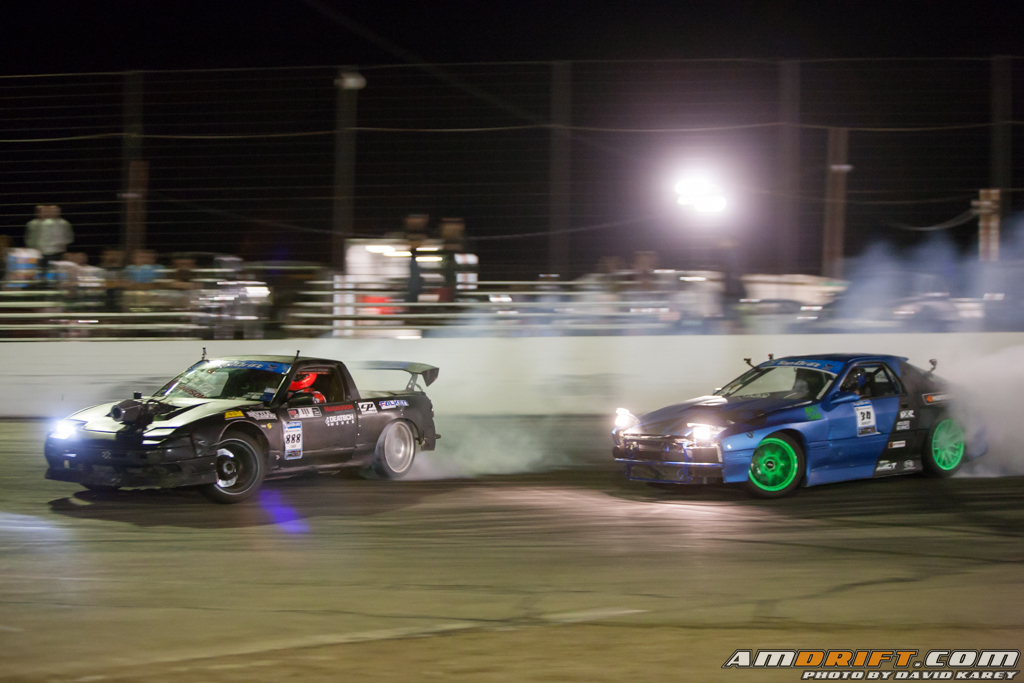 Spike Chen vs Dan Burkett (OMT) – Taking off as lead car on the first lap, Spike Chen begins to pull away, but Dan Burkett closes it and keeps it close. Swapping spots, Burkett took lead, but Spike was able to keep it close and apply enough pressure to take the win as Dan lost control and spun 1/3 way through the course.
Alex Heilbrunn vs Cody Sarem – Driving his recently built BMW, Alex Heilbrunn took off on Cody Sarem who was slow to start, which created a 5 car gap. On the flip, Cody Sarem is barely able to create a one car gap between him and Heilbrunn. Alex is able to stay glued to Cody all the way through the finish, which earned him the win.
Great 8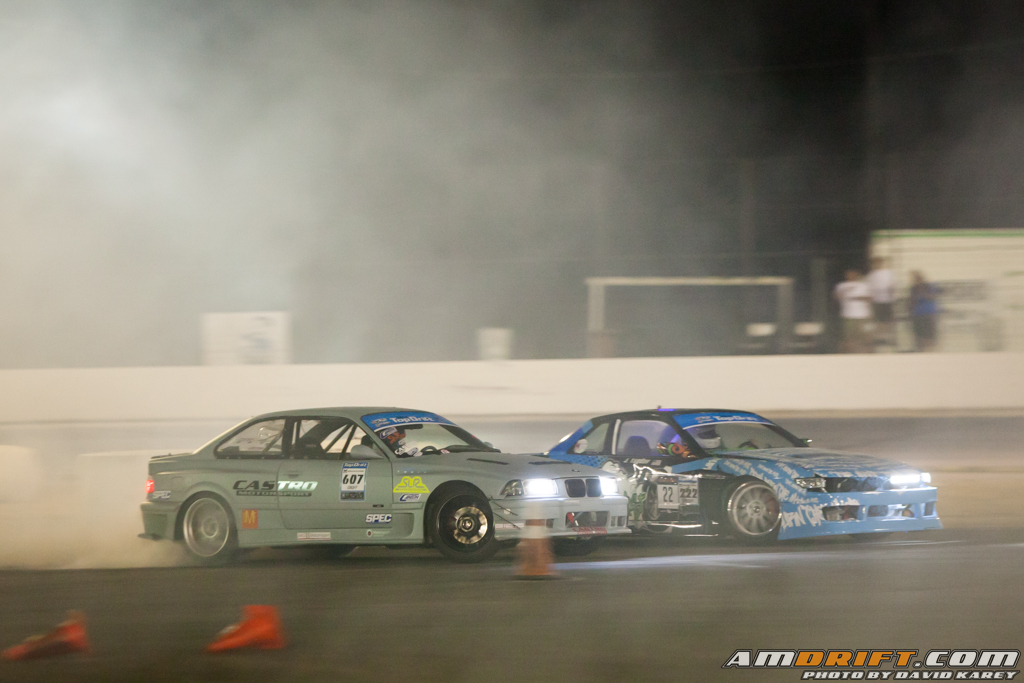 Joe Tardiff vs Jef Groff – Joe Tardiff leads first, pulling Jef Groff behind him on an invisible 5 foot rope. Great run from both. Turning the tables, Groff takes his lead, and Tardiff keeps it super close from the get go all the way to the end. This was a hard battle to call, but judges settled on Tardiff and gave him the win.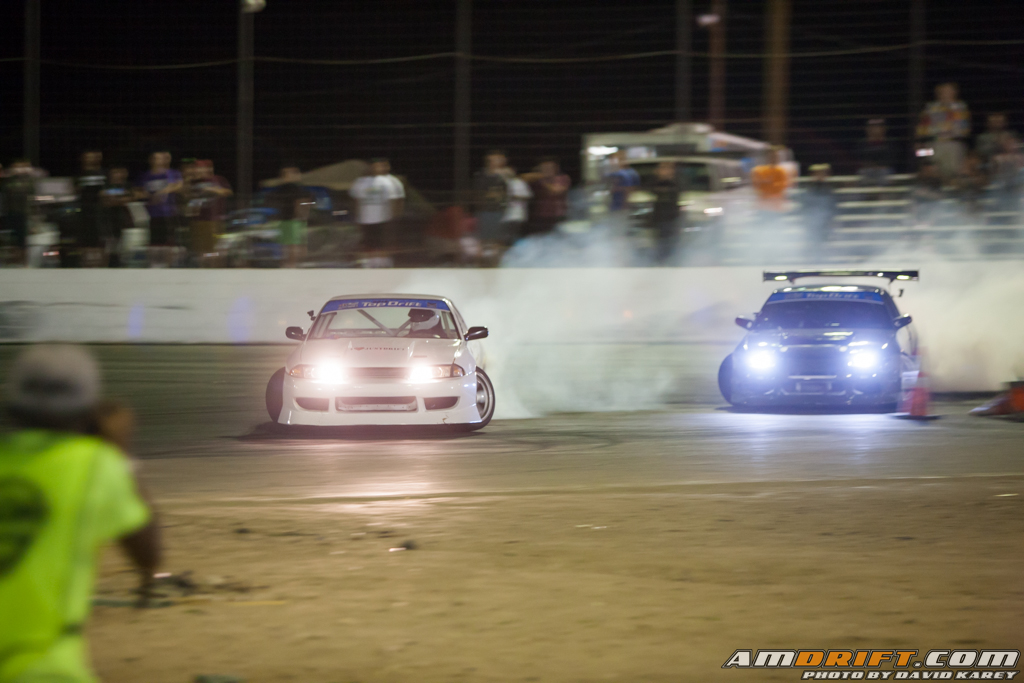 Matt Madrigali vs Jason Kim – Matt Madrigali put his power down and pulled a 2 car gap on Jason Kim, but Kim was able to reduce the gap and keep it close the remainder of the run. Flipping it around, Jasom Kim took his lead lap, pulling away from Madrigali. Madrigali quickly closed it and stuck next to Kim all the way through the end. Matt Madrigali tapped the wall on exit, and Jason Kim was rumored to have tapped as well. The driving was excellent from both drivers in this battle, but Matt Madrigali would take the win over Kim.
Donovan Brockway vs Spike Chen – Donovan Brockway takes off with Spike Chen following him. Chen keeps it close, but makes an error and correction while transitioning through the infield, but still retaining close proximity. We dont understand what happened on the second lap of this battle. There was a slight bobble from Brockway before Spike Chen took off on his lead lap. Brockway stopped halfway down the straight before the bank, obviously confused from start line misunderstandings. With no details coming in about the decision and what actually happened at the line, the judges awarded Spike Chen the win, with Donovan Brockway clearly irritated and confused inside his car.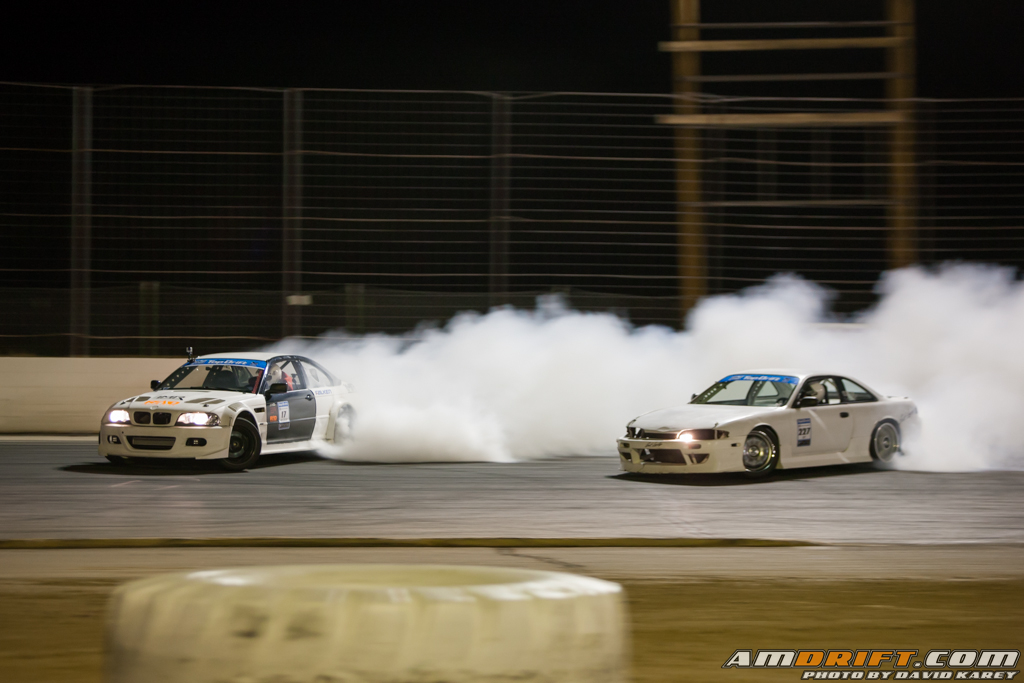 Alex Heilbrunn vs Aaron Sly – Not able to put much of a gap between him and Aaron Sly, Alex Heilbrunn took his lead lap, which both drivers greatly pleased the crowd. Sly took his lead lap with a great initiation by both drivers, but spun out 1/3 of the way through the course. Alex Heibrunn took the win.
Final 4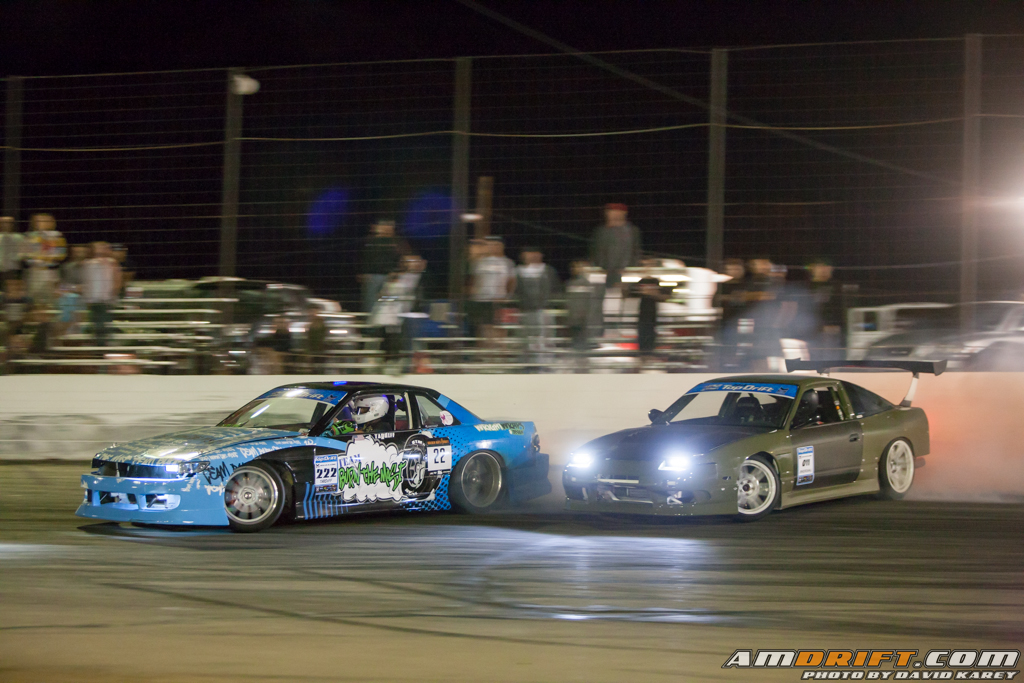 Joe Tardiff vs Matt Madrigali – Both drivers running great on the first lap of this battle, Joe Tardiff wasn't able to shake Madrigali off his rear. Switching lead, Madrigali got a dose of his own proximity medicine from Tardiff, and judges called for a "One More Time".
Immediately going into the OMT, Tardiff took lead once again, slightly pulling away from Madrigali. By the end, Madrigali was able to close the gap, and both drivers finished the lap fender to fender. Madrigali was followed close by Tardiff in a wild crowd pleasing run. Tardiff fell back and low on the bank. The judges had a difficult time deciding who would win, but they chose Madrigali.
Alex Heilbrunn vs Spike Chen – WIth a great run and great angle, Alex Heilbrunn lead Spike Chen into a wild 1/2 car gap battle. Spike took his lead looking to best Alex, but Alex sucked in close to Spike the entire run. Judges call "One More Time".
Taking care of the OMT, Alex Heilbrunn once again throws the BMW sideways with TONS of angle, leaving Spike looking for angle of his own that he cannot find. Spike taking his lead, drives an incredible run, but Alex keeps it close and buttery smooth. Judges say Alex Heilbrunn.
Battle for 3rd
Joe Tardiff vs Spike Chen – Most of us were certain this was going to be good, and yes, yes it was. NorCal vs SoCal, Joe Tardiff took his lead run against Spike Chen, both drivers looking identical on entry, super close together all the way through the course. Excellent tandem run, Spike allllll over Joe. On Spike's lead, Joe knew he had to stick his fender to Spike's car, and did just that. Joe corrected following Spike in the infield portion of the layout. From our view, it looked like there may have been contact, possibly from Spike correcting before Joe did, but not for certain. The judges gave Joe Tardiff the win, making him the 3rd place winner of Top Drift round 4.
Fight for 1st place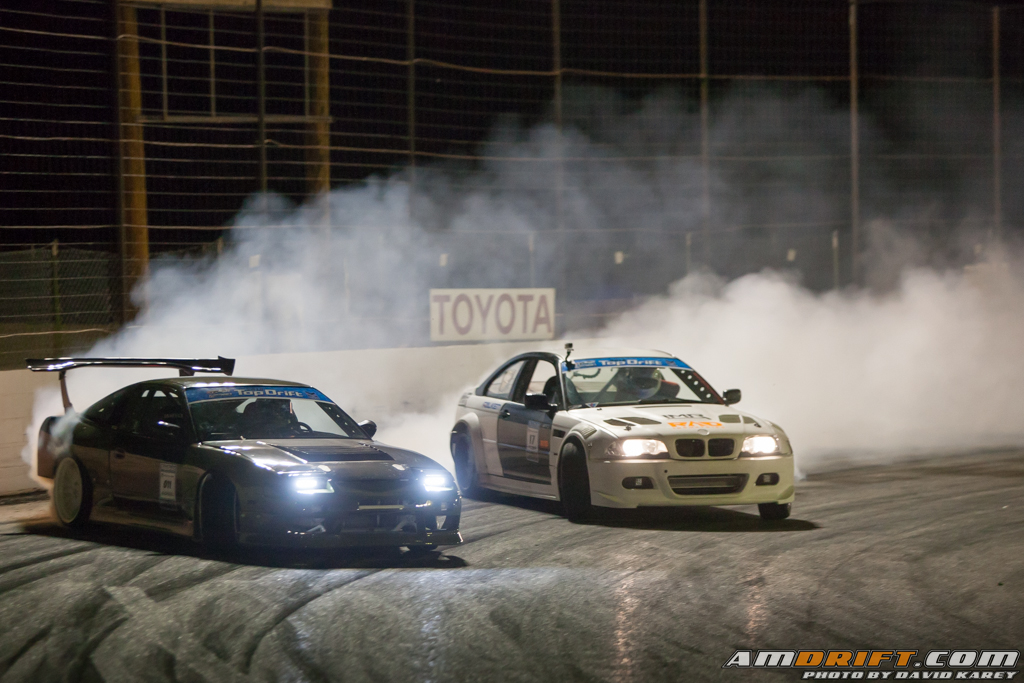 Matt Madrigali vs Alex Heilbrunn – Madrigali leading first, both he and Heilbrunn have a great start. Alex Heilbrunn keeps his car super close to Madrigali while following. Heilbrunn was able to create a large gap on the next run, leaving Madrigali pedaling fast to catch up. We were certain Alex Heilbrunn had won, but judges called "One More Time".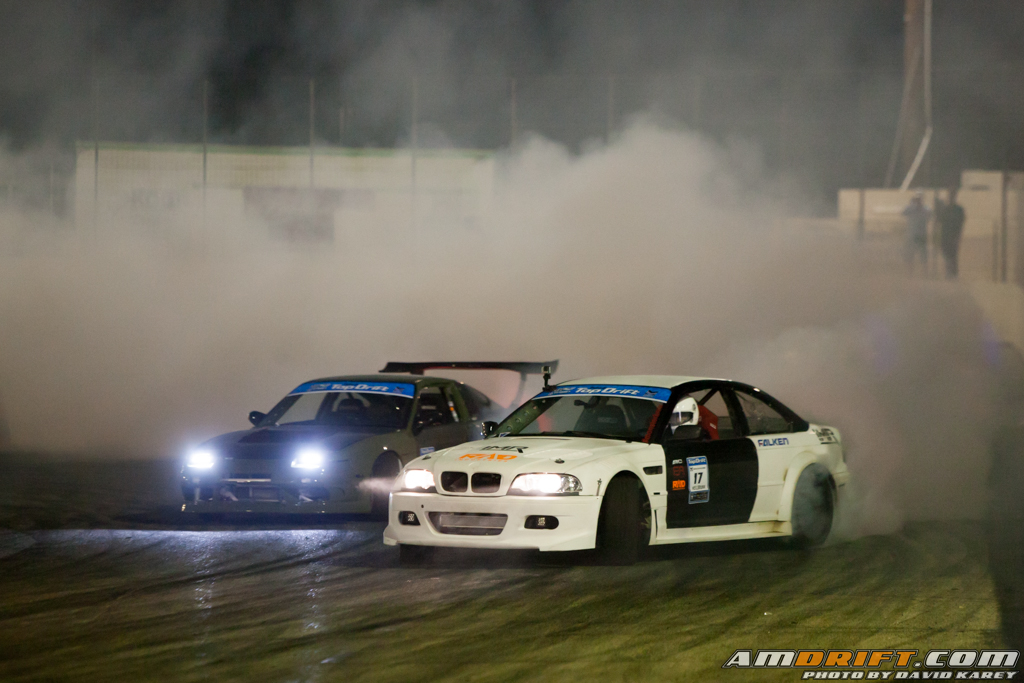 OMT'ing this battle, Madrigali leads with a near perfect run, but Heilbrunn once again keeps it close and manages more angle as the follow car. At the beginning of the last run of this battle, Madrigali jumps the start and is called back to the line. Restarting the run, Alex Heilbrunn pulls away 2 car lengths, but Matt Madrigali quickly pulls in closer all the way to the finish. The judges and had seen an amazing run by both, and decided that Matt Madrigali would be taking home all the goodies that come with 1st place!
In the end of these amazing battles, 3 drivers stood proud on the podium. First place, Matt Madrigali, second place Alex Heilbrunn, and third place, Joe Tardiff.
Joe Tardiff has our vote for the Most Valuable Driver of Top Drift round 4. Not only did he qualify 1st and win 3rd, he also won the Stealth Custom Fab insane entry award!
Top Drift Round 4 was an exciting event of kick ass driving. We knew from the get go that it would be the best round of the year. The walled oval always brings out the best in drivers who are willing to take their cars beyond their limits.
But wait, we aren't done. We have some other exciting accomplishment to talk about.
Top Drift round 4 winners weren't the only drivers to stand on the podium this night. The Top Drift 2014 SEASON champions were crowned as well. 1st place Season champ, Spike Chen, 2nd place Dan Burkett, and 3rd place, Donovan Brockway!
Oh snap, we aren't done yet! This is undoubtedly the most exciting achievements of the entire season. These are the 2014 Top Drift drivers who will be moving on to Formula Drift next year with an FD license. Alex Heilbrunn, Dan Burkett, Donovan Brockway, and Spike Chen, who earned his license in 2013 but chose to run ProAm an additional year for experience. These guys are who we will be hanging out with next year at Formula Drift! We are excited.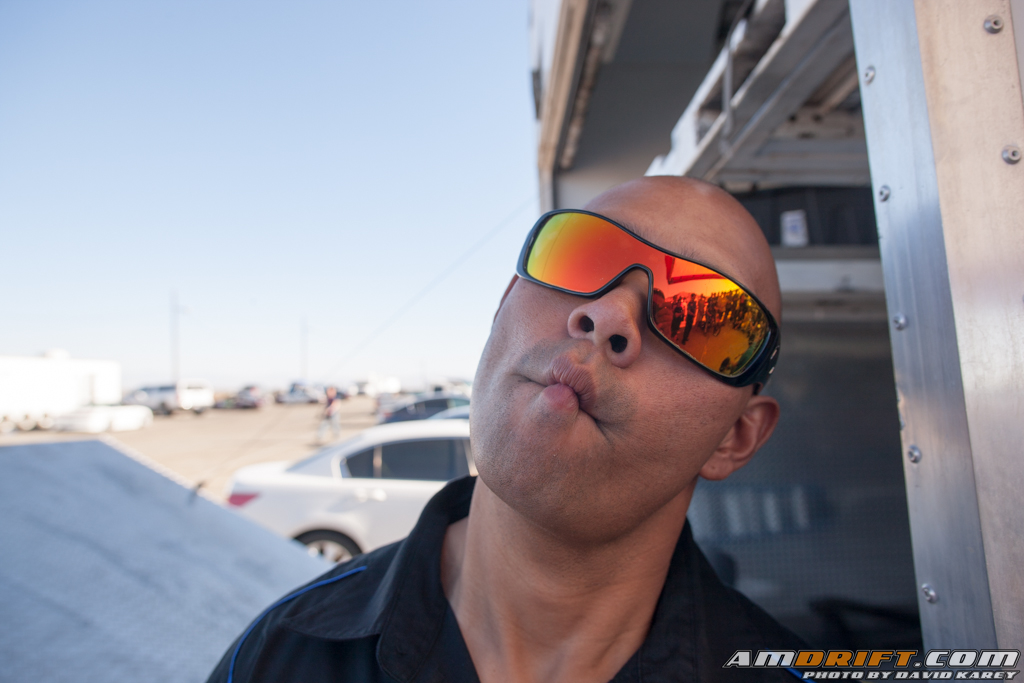 This year was great. We met a ton of new people and built on existing friendships. Just Drift is a family we are proud to be a part of.
Top Drift is over, but All Star Bash is right around the corner. Will you be there? We most certainly will. Come hang out!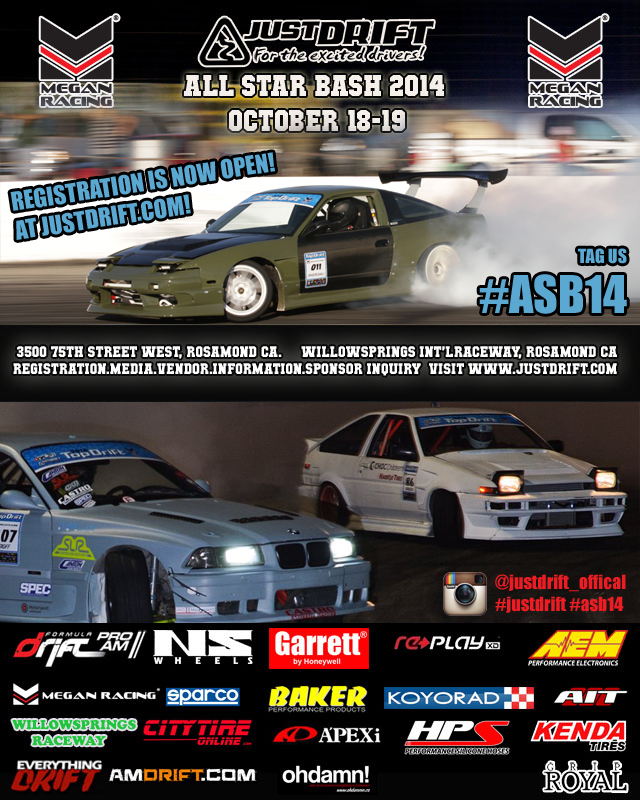 Enjoy our 500 image gallery of Top Drift round 4!