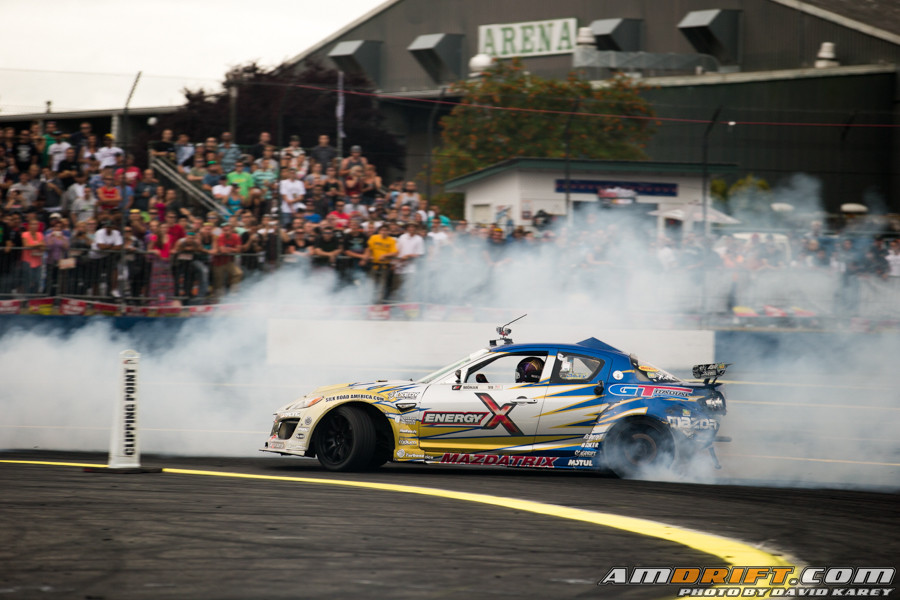 On one hand, drifting is one of the most fun things you can do, if not the MOST fun. But on the other hand, drifting is also one of the craziest things you can do. Once you enter Formula Drift, you've probably made the best and one of the most costly decisions of your life. How, might you ask? Well you're throwing loads of power and torque into a car, throwing it sideways around corners close to walls and such, all while your foe does the same right next to you.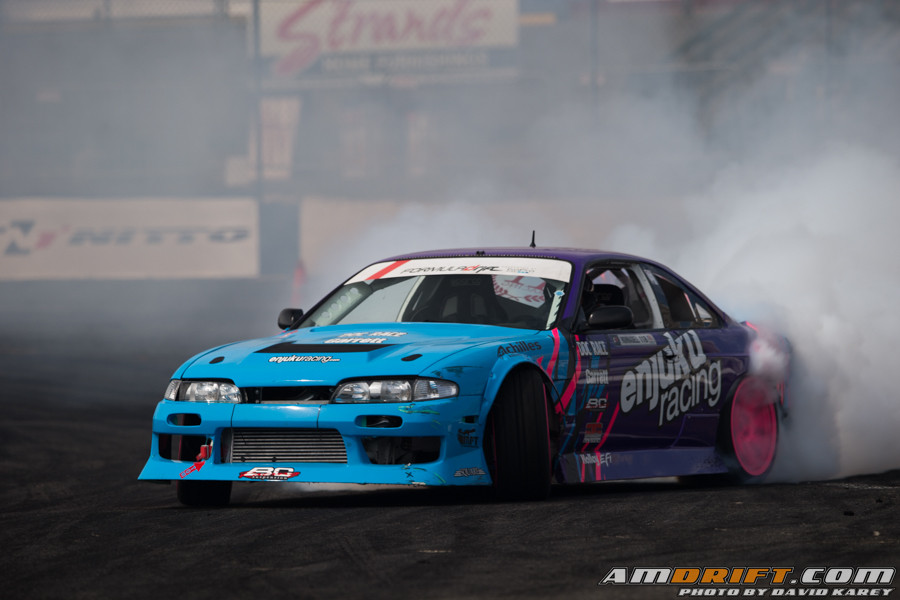 Now of course, this takes money. With the way Formula Drift is progressing, from increasing power figures, to suspension setups, to the amount of grip being extracted from the cars, it really takes a lot to be able to run in the series. Since we are AmDrift, we like to put more light on the smaller guys or the privateers who aren't being trailered in on those big fancy multicar rigs. So, I went around and got some input from some privateers on the series. Here are the questions I asked to get an idea of what it takes to make it in Formula D.
AmDrift: What is your biggest challenge moving forward in Formula D?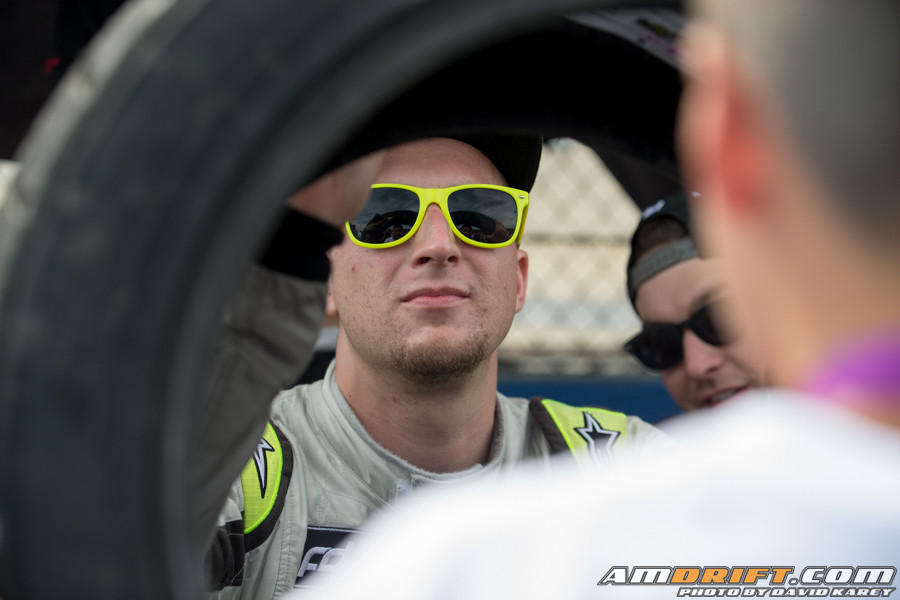 Field: I think my biggest challenge is progression. It's really hard to move forward in the series and continue to do better when we're working with a small budget with a small team with not a lot of resources. There's only realistically me and 2 other guys working on the car, and we're not even able to work on it full time. Obviously my car is priority over most things, but it's still tough to be able to prep the car 100%, get the testing done, and do a lot of the things needed to be a top team in Formula D.

Hohnadell: Competing against the big teams like Monster Energy, NOS, Scion and all that, because they have been in the sport for a long time and know what to bring, they're really prepared. This being our first season, we're still learning the tracks and what to bring, and everything is just so overwhelming right now. Next year and the year after and so on, will just get a lot easier.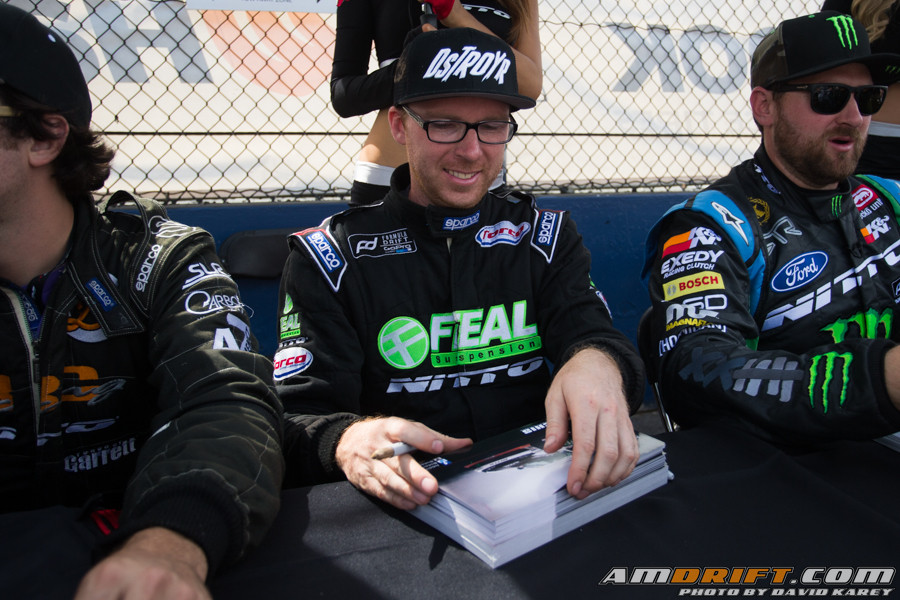 Bakchis: Being a privateer still. I mean, I'm wrenching, building, and driving my car as well as trailering it across the country. We are fortunate enough to pit out of the Nitto rig and run the badass tires. But, the biggest challenge for us, as most can relate, is the lack of budget we have to work with. Everything has to be somewhat conservative. We cannot spend a ton of money on car development as some of the other team, so we have to spend the money wisely and make it count. We can't go overboard with extravagant engines and have a bunch of spares and the like.

Mohan: Formula D has really been growing a lot through the past few years, and without the help of our sponsors & partners, friends & family, we really wouldn't have been able to survive these past few years. But with that, the crowd's reaction, fan support, and online media has been growing. So, our biggest challenge is to really keep up with the pace of Formula Drift and what some of the top teams are capable of doing. But, we've always liked a good challenge and drifting is one of the best motorsports challenges out there right now.
AmDrift: With the Increasing power levels do you find yourself running a more conservative or balls to the wall setup?

Field: I would say we're right on the border of conservative and letting it all hang out. Obviously we've had a bunch of motor problems this year because we've increased the power output from last year and we're trying to make more power, more response more everything. It's definitely taken its toll. I'm on my 4th motor this year, so I can't say its super reliable, but every step of the way we've learned more and gathered data trying to eliminate the weak links. So it's on the line I'd say.

Hohnadell: We built the motor to run 1500-1600 horsepower and we're only running 800. Even in the 800's, it's difficult to drive. I'd like for there to be a limit around 650 to 700 horsepower; one for reliability, and two it keeps it really competitive. It's getting to the point that it's too much horsepower. Less horsepower would be better. Obviously we wouldn't be going back to three or four hundred, but around 650 to 700 would be ideal.

Bakchis: Since I am a privateer and I do have a definite cap on my budget that's fairly tight, we're running very conservative. I feel very confident with my motor, but there is definitely avenues where we could have added way more power to it. But, we're just staying conservative, that way we don't run out of money throughout the season trying to fix problems that we may have, or blow through several engines a season. So, definitely conservative.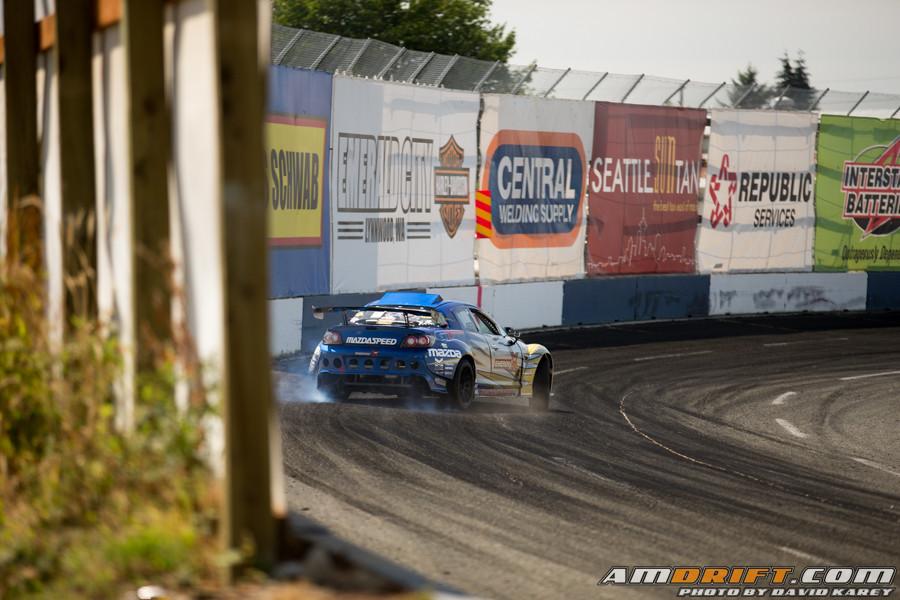 Mohan: It's definitely a horsepower war out here; a lot of the top teams are running anywhere from 800 to 1200 horsepower, which are some amazing figures when you look at the progression of the sport. With our setup, we went to a 3 rotor this year. We're not at a point anymore where you could build the average race motor or the average beefed up street motor. Whether it's a V8, rotary, or inline, pretty much everybody at this point is running fully prepped race motors. Just like everyone else, our 3 rotor is fully prepped and is capable of running closer to 1200-1300 horsepower, but we do have it backed down to run about 900 to keep it a bit more reliable.
AmDrift: With one of the lowest powered cars on grid, Odi hit the podium; do you think that lower powered cars can compete these days?

Field: I think they [lower powered cars] can, but it takes a badass driver and a bad ass car setup, and I think Odi has both of those. His car is very dialed for how much horsepower he has and how much grip that tire produces. I think he's getting the most out of it.

Hohnadell: Odi's setup is pretty amazing as it's all in the suspension, and he's obviously keeping up with all the higher horsepower cars. I think it's really in the suspension that everyone needs to focus on and not horsepower.

Bakchis: I think it's doable. I think that, as a driver, you have to focus a lot more and drive your heart out. There's not really room for huge mistakes. You can't pull out too much angle at high speeds or you'll get left behind so you have to be conscious about pulling that steep angle at the wrong time. It's definitely doable if you're a solid driver and you have the seat time in a lower powered vehicle. I think it's totally doable even with less power than I have now.

Mohan: I think there are a lot of cars out here running around 500-600 horsepower and today that's a low power figure. I think there's absolutely the ability for them to be competitive, but that means, at that point, you have to have everything else optimized in the car as well as your driving. Having that [extra] horsepower gives you the ability to put on that extra show for the crowd & make that extra smoke, as well as in a tandem situation where you may get choked up behind another driver. Formula D is becoming more and more critical about how we place the cars and what sort of corrections are made. As a driver, we're all trying to make our job easier and be more competitive, and the horsepower really does make that for us.

As you can see, Formula Drift has been progressing rapidly. As everyone knows, motorsports is all about progression and how things change. Those who can keep up and even stay ahead of the curve, thrive while the rest are stuck picking up the pieces of a year that didn't pan out as planned. It takes a lot to run your own program in Formula D and it starts with having a competitive car.
Stay tuned for part 2 of What It Takes.
-Tabrese Sequeira