We joined Formula Drift at Irwindale Event Center to cover the final round of the 2014 championship. As everybody prepared for battle, the question around the pits, stands, and everywhere in general, is who would hold on to win Round 7? Would a rogue driver put a wrench in Chris Forsberg or Fredric Aasbo's fight for the championship title? Would Forsberg and Aasbo meet in the very end to battle it out in one of the most epic drift battles in history? Who would come out on top? That's what we came to find out.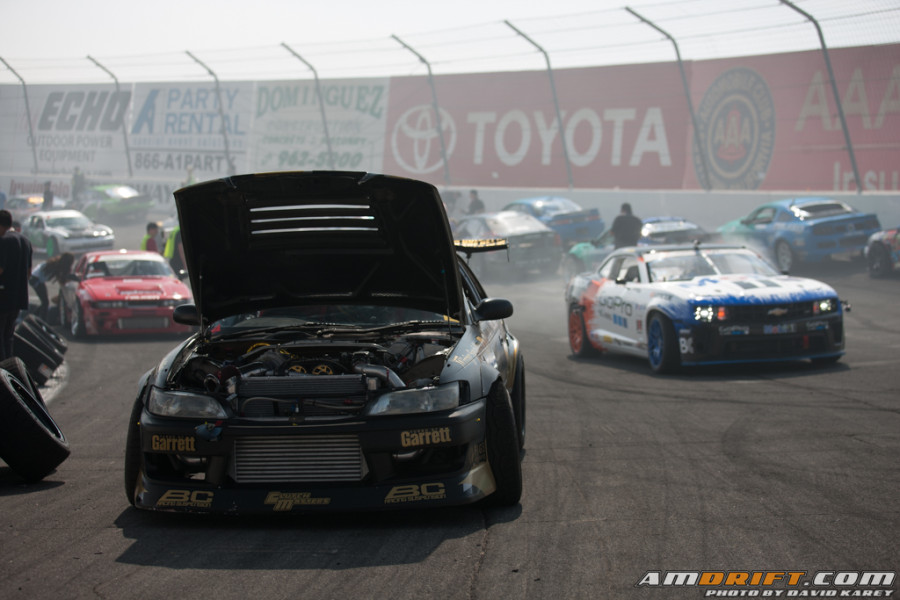 Coming out of Texas and into the final round at Irwindale, a ton of pressure is put on drivers. This is the last event to make your mark and be remembered. A lot of guys wreck at the final round putting it all on the table, which is exactly how you're supposed to do it. Go big or go home.
Top 32
Forrest Wang vs. Matt Coffman
Forrest qualified 1st with one of the best solo runs in Irwindale history, but that didn't stop Matt from throwing down a badass chase run. Unfortunately after throwing down his best chase run of the year, Matt still had it turned up to 11 and put it into the wall. Wang into Top 16.
Mike Essa vs. Kenny Moen
This was set up to be an awesome battle, but Fast Kenny hit the wall on the big bank on his follow and that ended his weekend early. Michael Essa moves on.
Odi Bakchis vs. Jeff Jones
Jeff Jones had the track down and his car dialed in so much that he won Pro 2 the night before. This, in theory, would help against the on fire Odi Bakchis, but Jeff went harder than concrete and ended up spinning, giving Odi the win.
Conrad Grunewald vs. Dave Briggs
The first battle without any zeros. Both competitors duked it out, but the Chevy driver would end up on top.
Dan Savage vs. Daigo Saito
Rapper Dan was on fire! Second place in Pro 2 comp, and grabbing the 2014 Pro 2 championship the night before, it seemed that nothing would take him out until he tagged the inner bank wall in practice, which unfortunately ended his weekend. Daigo gets a bye and a berth in the Top 16.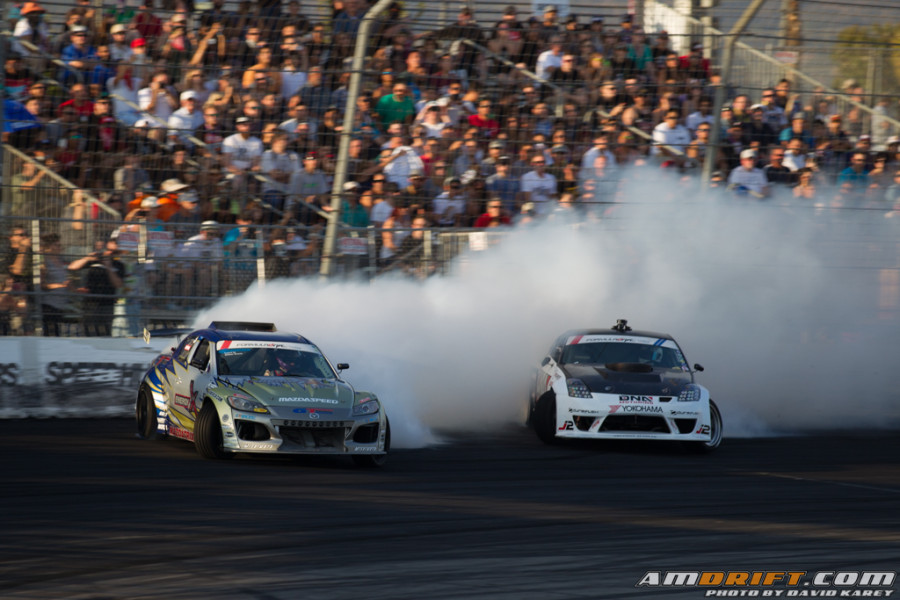 Kyle Mohan vs. Ryan Kado
Kyle Mohan, in that oh so sweet sounding 20B RX-8, was looking good in practice, and we saw that carry over into this battle. Ryan Kado put on a great chase on the first run, but got on throttle a tad early coming out of the inner bank and hit Kyle causing him to spin. After checking the cars, they resumed and Kyle was given the win.
Robbie Nishida vs. Darren McNamara
The battle between these two was great for the first half with DMac putting on a good chase run behind Nishida. It all went wrong for the Irish warrior when he spun and handed Robbie the victory.
Ken Gushi vs. Joon Maeng
Rounding out the first half of Top 32, Ken Gushi would go against Joon Maeng. Ken was looking good all weekend, putting down solid lap after solid lap. It isn't surprising in the least when he put down a really solid lead run. Joon was looking good as well, but he struggled to keep up, and even cut the line in the inner bank for proximity. Unfortunately, Joon's car broke after the run and he had to throw in the towel, sending Gushi on into the Top 16.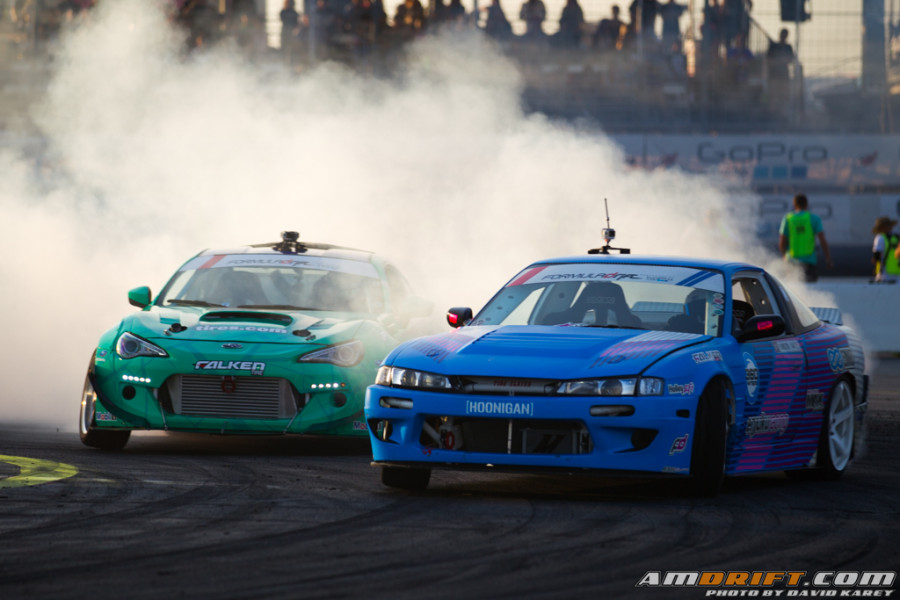 Daijiro Yoshihara vs. Nate Hamilton
Dai is a tough driver to go against, especially when he driving well and qualifies 2nd. Nate pushed too hard and spun while chasing. Nate put down a super sick lead run, but to no avail. Dai moves on.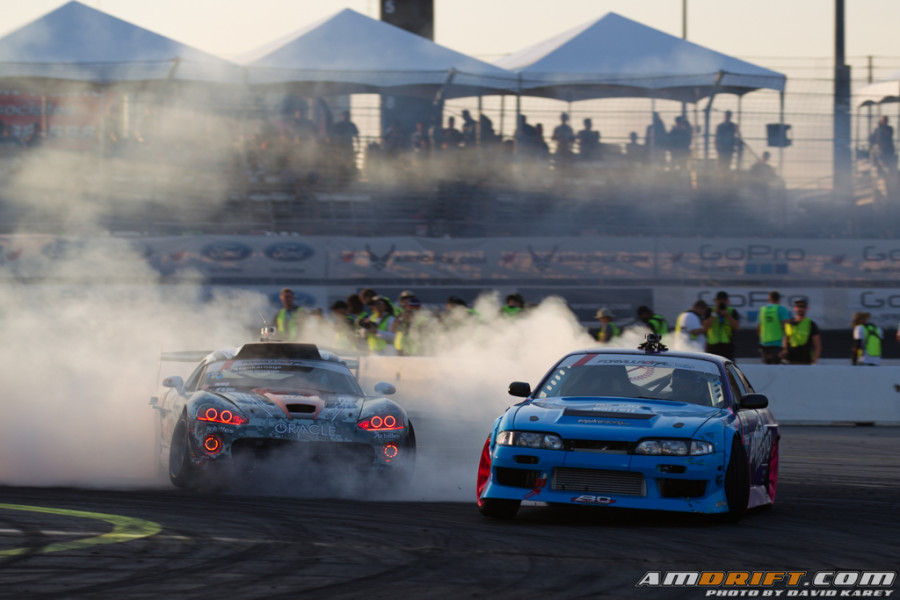 Dean Kearney vs. Alec Hohnadell
Both Dean Kearney and Alec Hohnadell were having car troubles this weekend, but got them all buttoned up before the battle. This is, until Dean took it into the wall at the end of Top 32 practice. The team got the car together and he still managed to take out a strong Hohnadell to get into the Top 16.
Tyler McQuarrie vs. Mats Baribeau
This was a strange battle. Mats got left behind on the first run, with McQuarrie securing a huge advantage. Then, on the second run, Tyler got left behind. As he was catching up, he made a mistake and spun into the inner bank wall. Very strange turn of events, but Canada is in the Top 16 on the back of Baribeau.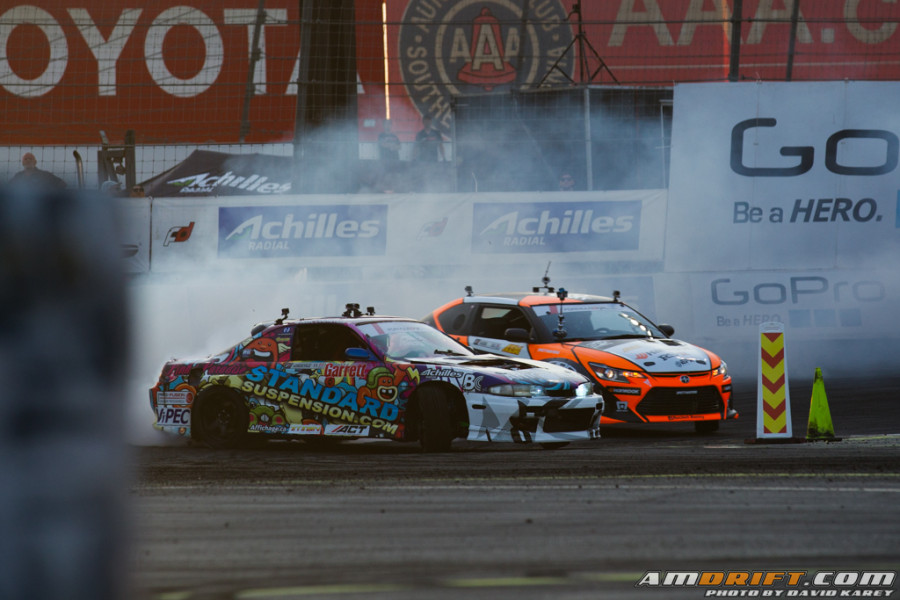 Fredric Aasbø vs. Marc Landreville
The first of many battles on Fredric's journey to the championship. Try as he might, Landreville just couldn't best the Scion driver, and two textbook runs from Freddy sent the Norwegian Hammer into the Top 16.
Ryan Tuerck vs. Taka Aono
86 vs 86, new vs old. Ryan showed off the speed of the Retaks FRS by creating a huge gap between him and Taka on the first run, but on the second, as both drivers were twerking on the wall, Ryan twerked a bit too hard and hit. Taka moves on on to the Top 16!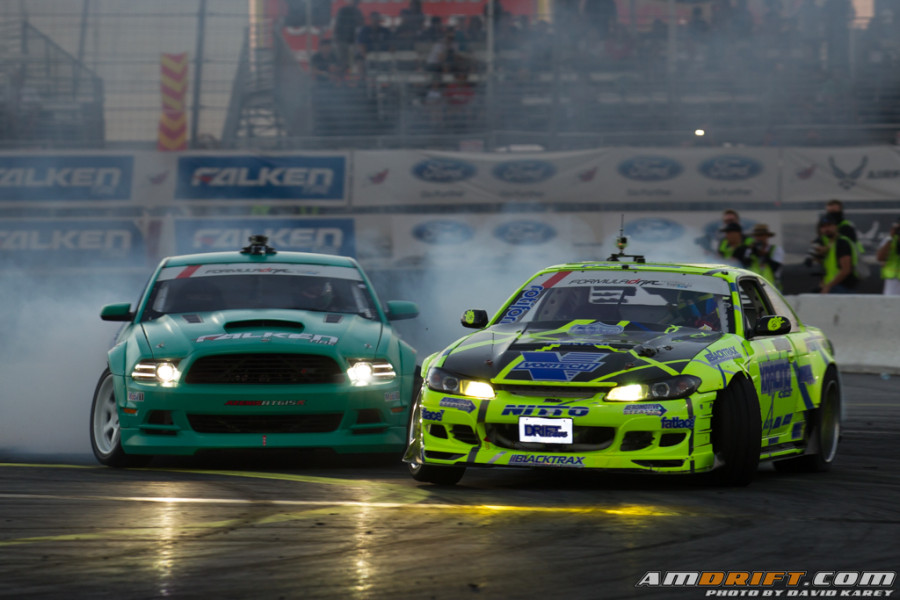 Matt Field vs. Justin Pawlak
Matt Field has been getting better and better each round, as he got more and more comfortable in the car. While JTP is always a tough competitor, he has been looking a bit vulnerable this year. Vulnerable or not, it wasn't going to be easy, and Justin took him to a OMT before Matt Field in the Nissan Highlighter moved on into the Top 16!
Chris Forsberg vs. Geoff Stoneback
Chris Forsberg pretty much had the championship in the bag. Well, not really. He still had Fredric to worry about, but for now he could rest easy. Geoff took it into the wall in practice and the team was not able to get the car back together in time. Forsberg gets a bye into the Top 16.
Pat Goodin vs. Vaughn Gittin Jr.
Rounding out the Top 32, we see Pat Goodin vs Vaughn Gittin Jr. Pat was looking super good all weekend, and out-qualified his opponent by 11 spots. But Vaughn is Vaughn, and that means it isn't going to be a walk in the park. Pat spinning on both runs didn't help and that sent him packing and Vaughn into the Top 16.
Top 16
Forrest Wang vs. Mike Essa
Angle vs angle, both drivers put down awesome runs and put up a great fight. Forrest had better proximity on the chase, and that's what put the nail in the coffin for Essa. Wang is into the Great 8.
Odi Bakchis vs. Conrad Grunewald
The battle between Odi and Conrad was set to be awesome. Both drivers can throw down like there's no tomorrow. Odi ran a textbook run, albeit a little of a midline on the bank, but killed it the rest of the run. Then on the second run, Conrad threw it in all gangster, and Odi did the same right on his door! Unfortunately, Odi was too gangster and tapped Conrad, who then had to straighten out to avoid hitting the wall. Judges awarded Conrad the win based on the contact.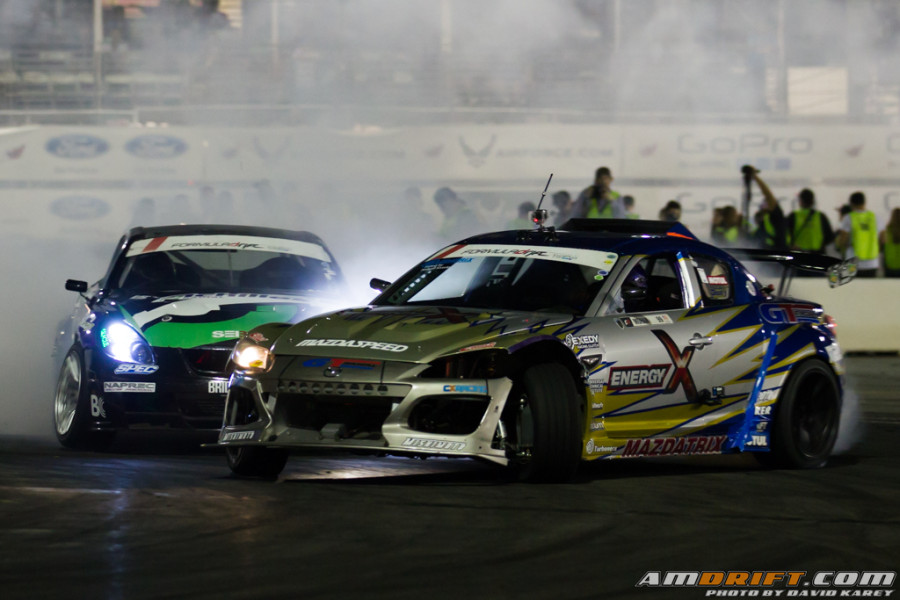 Daigo Saito vs. Kyle Mohan
Local rotary hero Kyle Mohan takes on one of the biggest names in drifting. David vs Goliath, Kyle threw down a gangster run, but Daigo was right on his door. On the second run, Daigo ran away from Kyle and really showed off the speed of his SC430. Daigo got the win and is into the Great 8.
Robbie Nishida vs. Ken Gushi
Nishida and Gushi lined up to do battle under the lights, but just as quickly as it started, it was over. Robbie laid down a pretty decent lead run, as did Gushi on the chase. But, upon exiting, Gushi had to shut it down. Gushi's team called 5 minutes but could not continue. Nishida into Great 8.
Dai Yoshihara vs. Dean Kearney
Dai and his team have finally figured out the BRZ, and Dean was over all those issues he was having. Both guys were killing it through the course until they entered the inner oval. Dean hit the wall, which sent Dai into the Great 8.
Mats Baribeau vs. Fredric Aasbø
Mats has the potential in this battle to be the breaker of hearts everywhere as he lines up against Fredric. 1st run, Freddy, in the 900hp Scion, pulls a gap on Mats. The second run, Mats did everything he could to fend off the Norwegian, but to no avail. Freddy was gunning for his first championship.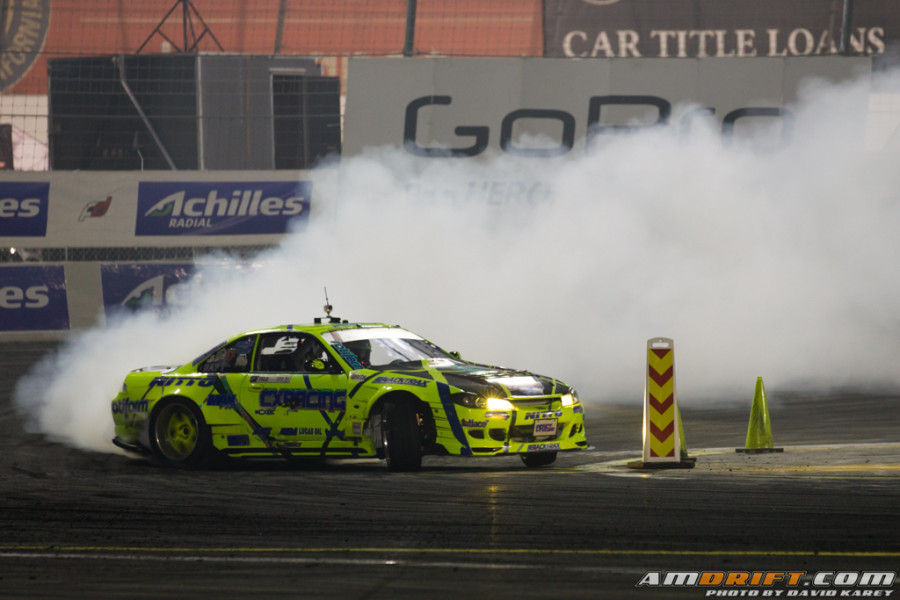 Taka Aono vs. Matt Field
Taka finally hit a Top 16 this year, and everyone was excited for him! 11 years Taka has been in the 86, and it was great to see him in the show. Unfortunately, this battle was over before the initiation, as Taka blew 4th gear and couldn't drift. Matt Field moves on into the Great 8.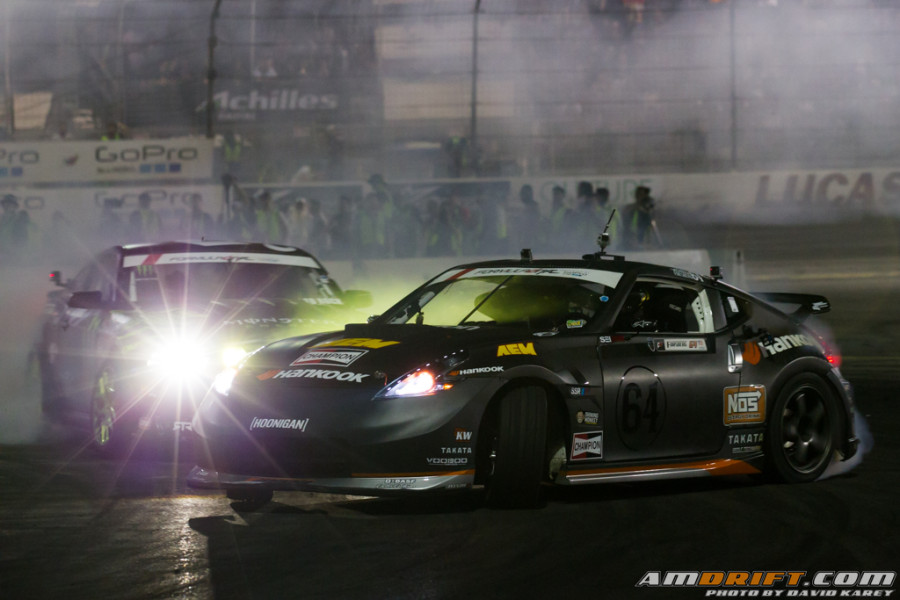 Chris Forsberg vs. Vaughn Gittin Jr.
Longtime friends, Chris and Vaughn, went head to head in the Top 16, and you would think it would be a close battle. Both drivers are ridiculously competitive and leave it all on the track. On his lead lap, Forsberg put down a textbook run, while behind him, Vaughn went too hard and corrected giving Chris a huge advantage. When they switched up the order, Chris gave a bit of a cushion as to not jeopardize the advantage he was already sitting on. Forsberg moves onto the Great 8.
Great 8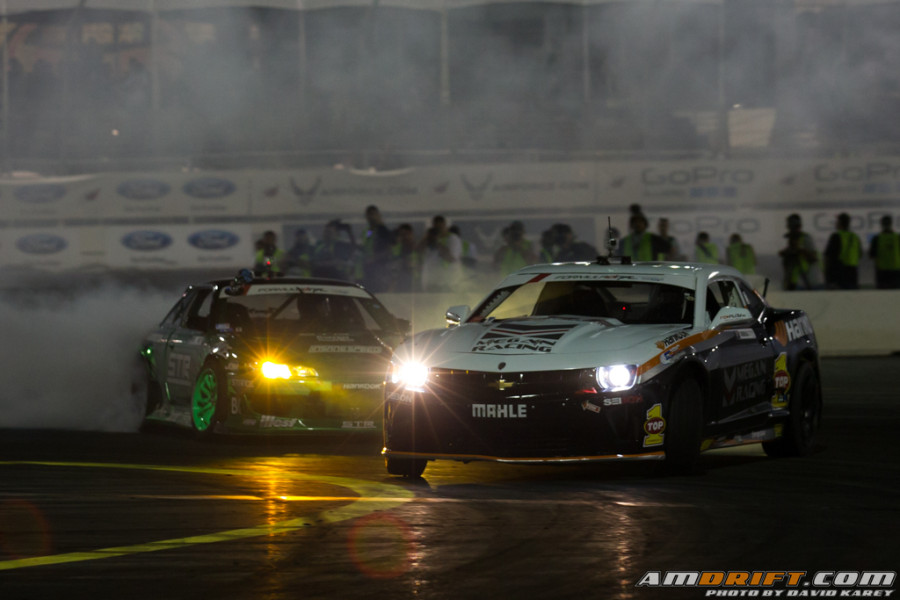 Forrest Wang vs. Conrad Grunewald
All season long, Forrest has been showing how dominant he is, qualifying 1st three times this season. He is also a tough driver to take out, as he isn't as fast as a lot of drivers. This showed as Conrad struggled in the chase position trying to not hit Wang. When they switched it up, Forrest demonstrated that he isn't all angle and can still keep up. Wang is into the Final Four, and is guaranteed a podium spot as he qualified 1st.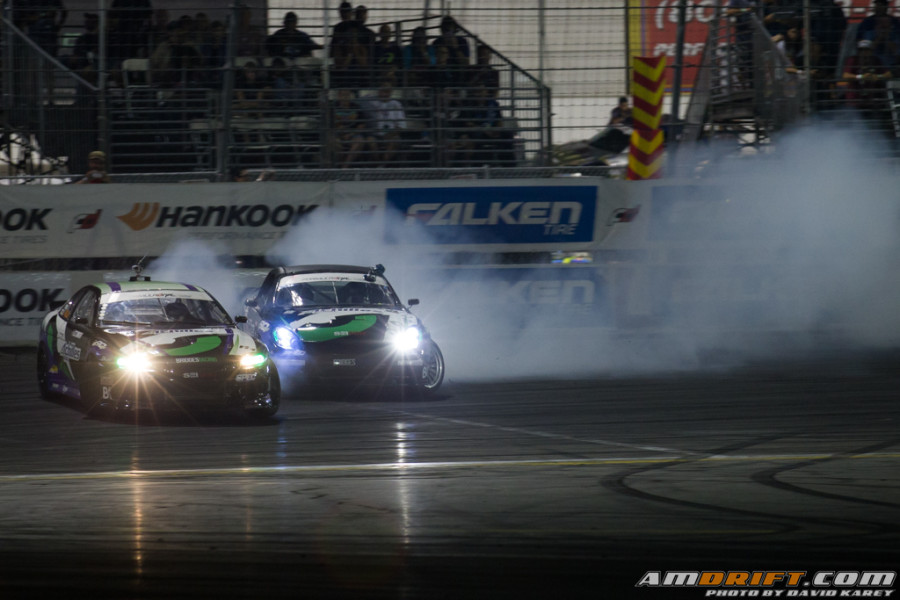 Daigo Saito vs. Robbie Nishida
Achilles takes a big hit here as their 2 main drivers are pitted against each other. These guys drive together all the time back in J-Land, but still maintain a fiercely competitive demeanor when they battle. Robbie dropped a dime of a run out front, while Daigo was a bit twitchy on the bank, but still maintained great proximity. On the second run, Daigo again showed what 1200 horsepower is capable of as he ran away from Robbie. Robbie closed the gap at the end, but spun getting too aggressive. Saito is in the Final 4.
Dai Yoshihara vs. Fredric Aasbø
Falken vs Hankook. Surprisingly this is only Dai's second appearance in Great 8 this year, and of course, he meets his toughest opponent yet. Fredric had no intentions of leaving this in the judges hands, as he gave Dai no room. Dai knew he had to go hard, and that's exactly what he did, until he corrected on the inner bank and gave Aasbø the win.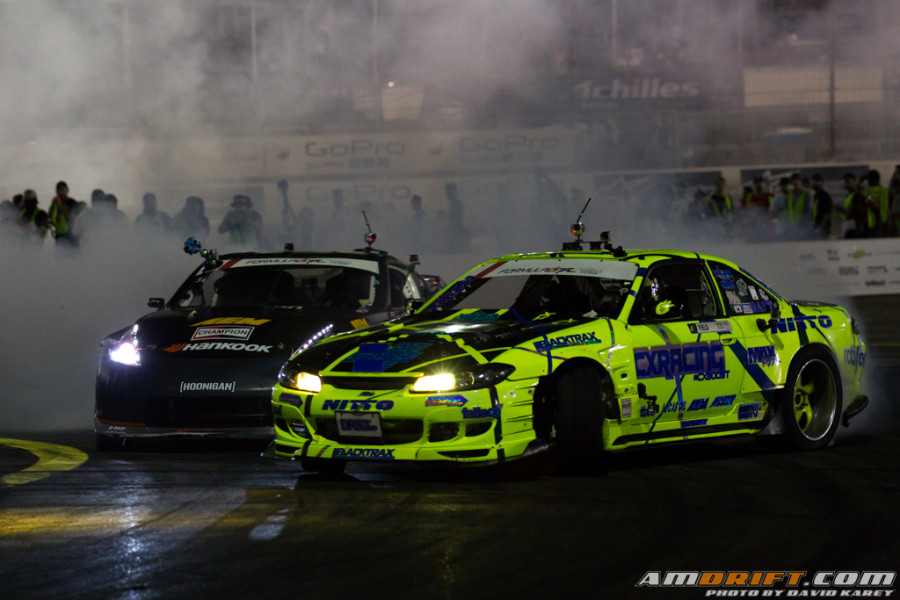 Matt Field vs. Chris Forsberg
Both of these guys were killing it all weekend, even before Thursday practice. Teams rented out the track on Tuesday and Wednesday. Well, things didn't go as planned for Matt. He threw down an awesome chase on the big bank, but transitioned too early and ended up going off course, which sent Chris to face Fredric in the Final 4.
Final 4
Forrest Wang vs. Daigo Saito
We start off the final four with a big time battle. Wang throws down a perfect lead run with Daigo in tow. Daigo then countered with a perfect run while gapping Forrest. The judges ruled in favor of Saito, and sent him into the finals to face a potential champion.
Fredric Aasbø vs. Chris Forsberg
The clash of the titans! If Forsberg wins, he takes the championship, but if Aasbø wins, he has to win the whole thing for it. Fredric threw down the most badass chase run, with Chris running an equally badass lead run. Second run was the same, but with Chris a little farther behind on chase. Judges award Fredric the win.
Battle for 1st
Daigo Saito vs. Fredric Aasbø
This is it. These two runs choose the champion. If Daigo wins, Chris Forsberg becomes the 2014 champion. If Fredric beats Daigo, he becomes the 2014 champion. Fredric throws down yet another amazing lead run, and Daigo had a few bobbles on his chase. As mentioned before, if Fredric stayed with Daigo, he could be crowned the champ. But as it seemed to be the story of the night, Saito got a bit of distance on the Norwegian. Judges gave Daigo the win and consequently Chris Forsberg wins the 2014 Formula Drift Championship!
Round 7 Podium:
1st – Daigo Saito
2nd – Fredric Aasbø
3rd – Forrest Wang
2014 Champion
Chris Forsberg
Formula Drift isn't all the glitz and glamour everybody makes it out to be. Behind the scenes it gets tough and the main problem a lot of drivers face is time. It's a race against the clock trying to get everything in order before the start of the season and even during the season it's a long road. Thinking about driving only scratches the surface as you have an entire program to think about. It's the big stage now and if you don't start early, you will be left behind.
We had a great year following Formula Drift. Thanks for sharing it with us, and we will see you back at FD in April of 2015!
– Tabrese Sequeira