Welcome AmDrifters! Where we're from is mainly known for the amazing food, gumbo, shrimp/crawfish, great jazz, swamp people, crime, booze, boobs, Mardi Gras, and Bourbon Street. That's right, welcome to New Orleans, LA (NOLA)! Well, enough of that gibberish. Besides being an easy going, care free, and culturally enriched town, there's a small growing part that embodies strong love and passion for motorsports, ranging from drag racing, autocrossing, gearheads, and as of late and best of all, drifting!
NODRFT has been around since 2003, starting out mainly as a group of 240 pals sharing the knowledge and experience of modifying these interesting early-mid 90's Nissans, while trying to expand, learn the sport and art of drifting… which was so seldom back then. Well fast forward 11yrs, we are now the grass roots events' organizers of south east Louisiana, New Orleans, La (NOLA). We now host fun and not so serious competition events to give anyone interested in learning how to drift a chance at it, while maintaining fun and safe events all in one!
In early 2014, we decided to take a stab at a grassroots drift competition series. The Final4 Drift Competition series came about, consisting of 4 rounds shared between two home tracks. Along with providing competition, during the events, we retain fun driving and provide drift practice for all levels of drivers. Competition is for fun, voluntary, and aimed to give the more experienced drivers the opportunity to progress, go a step beyond, which hopefully will help them later to move on to bigger series', like pro am, pro… the sky is the limit! ND events mostly focus on fun. Since adding on the competition series, we wanted to put something together decent and awarding. We came up with cash prize giveaways for top 3 series winners! 1st place wins $400, 2nd wins $200, and 3rd gets $100. Not bad for being an easy going competition series, right?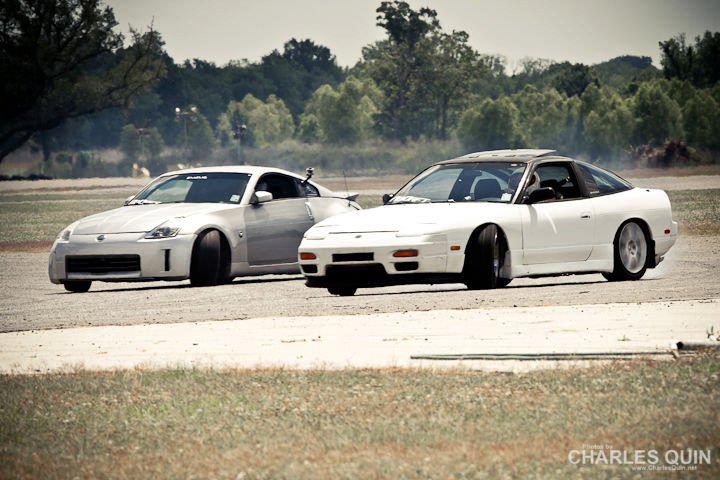 Well, we have to start somewhere. Let us introduce you to our first home track, No Problem Raceway (NPR), located in the backwoods of Louisiana right outside of Baton Rouge. NPR is our long time home since the beginning of ND's existence. The venue consists of a 1.8 mile roadcourse, and 1/4 mile dragstrip. Drifting takes place on the .5 mile "peanut section" of the roadcourse, a fast and fun track with some 75+mph entry speeds. 4th gear entries anyone?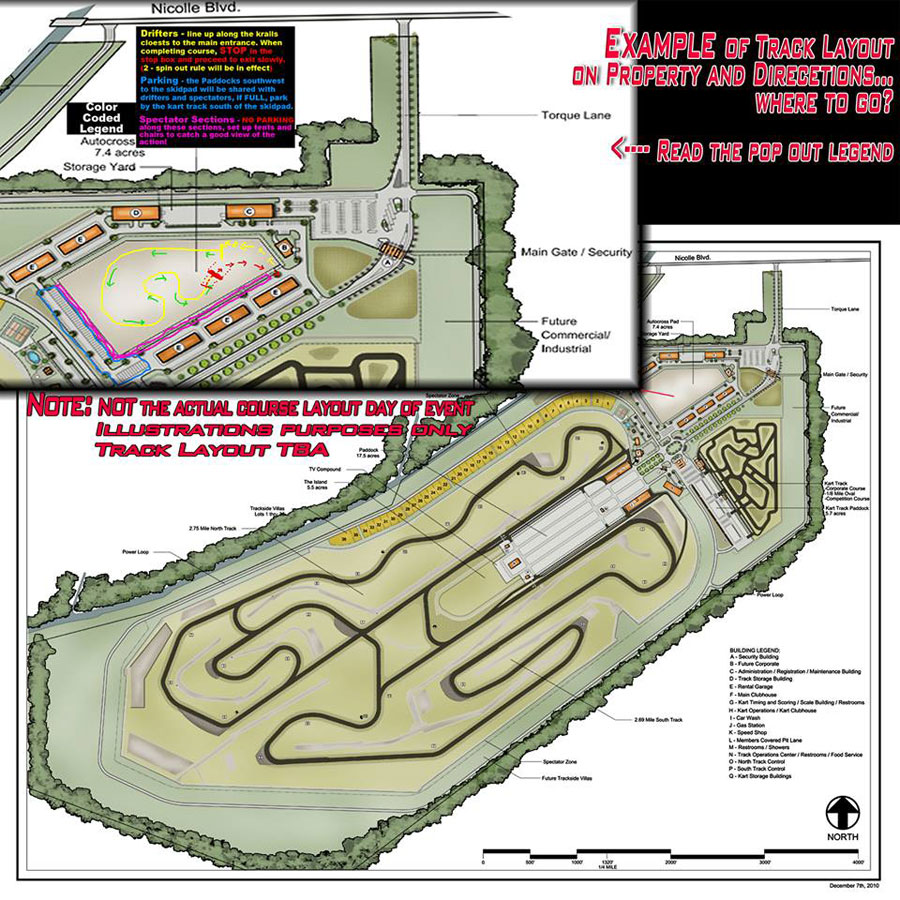 Our second home track is Nola Motorsports Park (NMSP), located right in our backyard just minutes from downtown New Orleans and around civilizatio. Constructed and finalized in early 2011, everything is brand new and awesome here. This is one track where pavement is perfect and does not eat up tires at all! The track was designed by Alan Wilson, and it has an online log of construction. It's documented to have the same engineered pavement as the surface of most F1 tracks! Along with that fancy stuff, the track has sweet air conditioned bathrooms, a huge 2.75mi road course, a magnificent world class 40 acre karting facility, and an onsite Ferrari/Porsche/exotic maintenance/performance shop. NMSP is one sweet racetrack!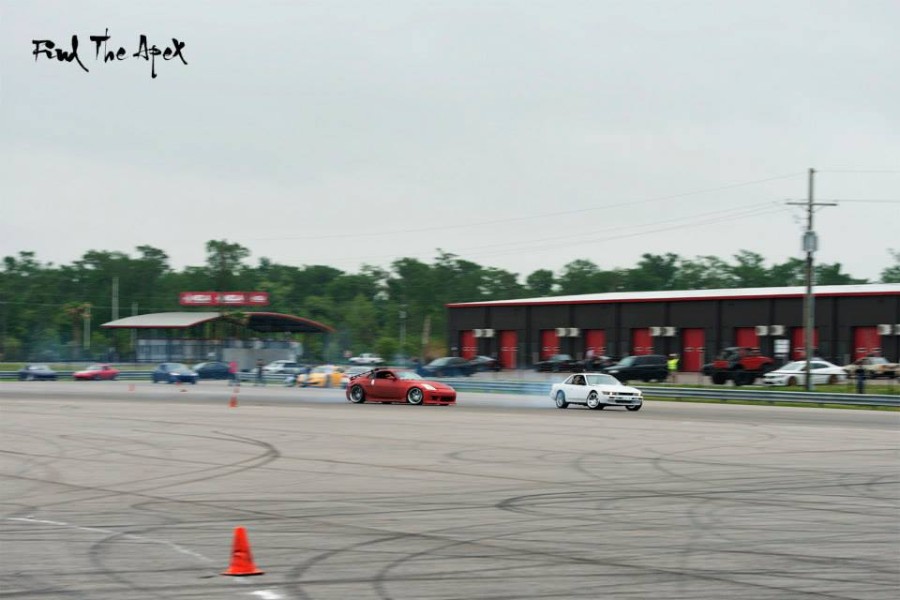 At Nola Motorsports Park, we host drifting on the 8 acre autocross pad, a huge race inspired paved surface with no obstructions for us skid racers to play on!
Now that you're familiar with our tracks, we take you straight into Round 1 of The Final4 Drift Series. We've come up with the idea to alternate between the two tracks and rounds so that round 1 starts off at NPR, round 2 at NMSP, round 3 at NMSP, and finally round 4 ending the series at NPR. On a bright and sunny Sunday, May 25th, Round 1 went down at NPR, with 25 drivers and 8 drift contestants showing up ready to shred tires. 2 of the 8 competition drivers are from Pensacola, FL; brothers from different mothers, Dino Calia (black s13) and William Little (s14) coming at you ripping through turn 4!
Locking down the course and knowing your clipping points is very important. Looks like Dino has it in the bag!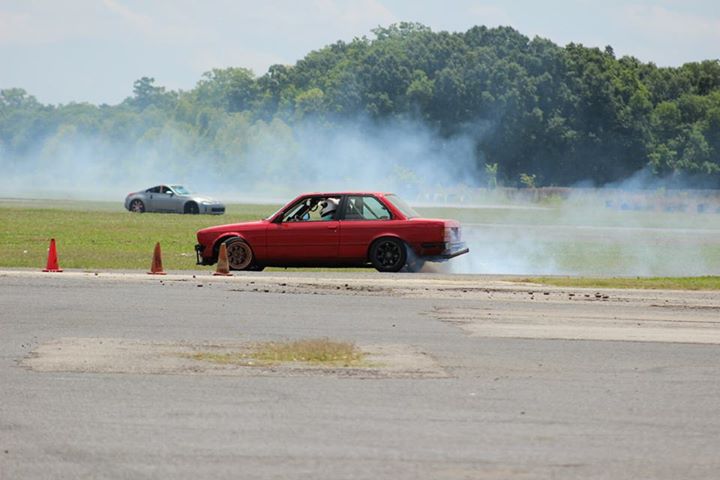 Out of 8 comp drivers, only 3 stood on top, with the 3rd place finisher Edward Jacobs representing Shreveport, LA in his 2JZ powered E30.
Coming in 2nd place is Ryan Lemons out of Baton Rouge, LA in his 1JZ powered SC300.
Finally, 1st place finisher goes to William Little of Pensacola, FL in his once LS1, but now SR20DET powered Kouki 240SX S14!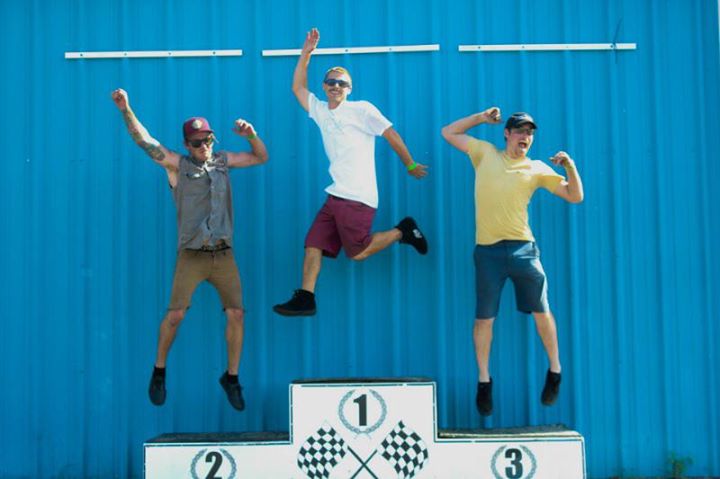 Congratulations Rd.1 winners!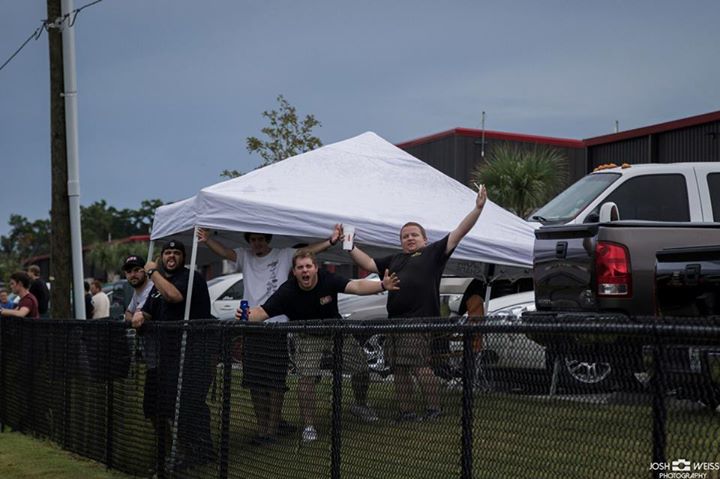 With Round 1 in the books, many local fans, and car enthusiasts were excited to see what Round 2 had in store, especially being the first drift competition ever at Nola Motorsports Park!
As soon as August 17th (Round 2) came, drivers were super excited and ready to burn rubber early as soon as the track went hot, if you can't tell by the early morning 3 car tandem sesh! Dino Calia, William Little, and Ian Mcdougall waking up the neighbors ripping through 24 cylinders of fury. All American V8's baby!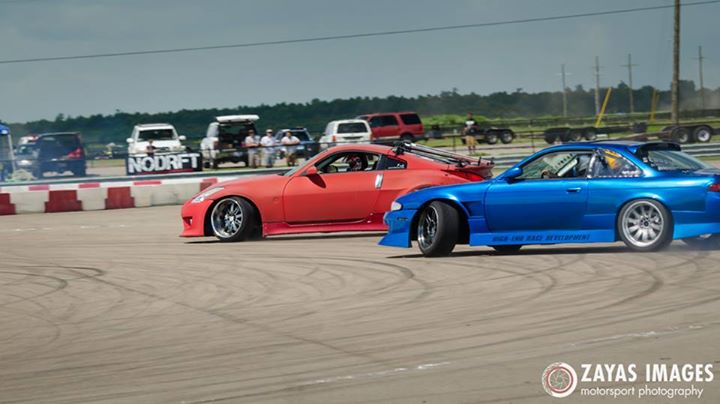 Practice and fun runs were going great all day, with sweet tandems between long time pals in new drift chassis'!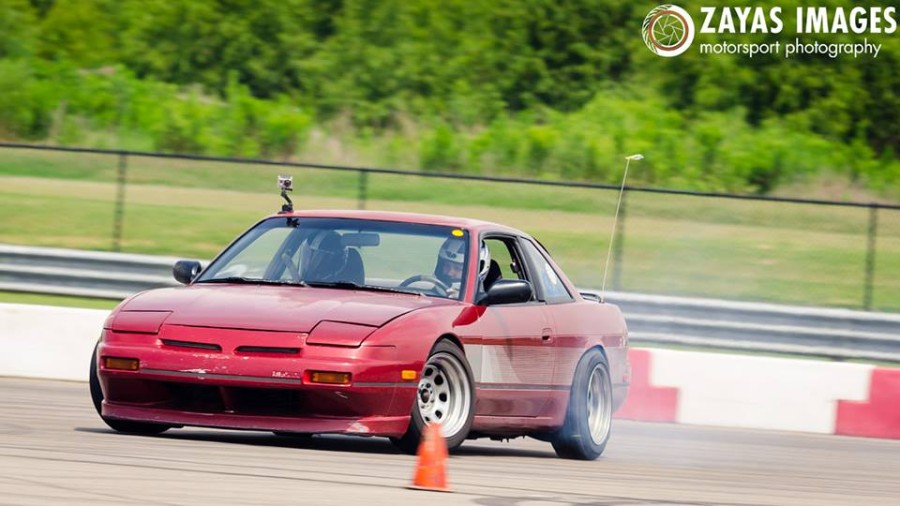 The solo drifters were having fun too. Feast your eyes on Steven Hoffman's vintage 200,xxx mile KA24E S13!
As 2:00pm rolled around, we were hit by terrible rain storms that went on and off the rest of the day. A slight delay and bummer, the wet conditions changed the playing field right before competition. 35 drivers showed up for round 2, 10 of them entered in the competition. Slippery and unpredictable, all drivers were in for a surprise, but it did not stop their hard fought battles. We have in 3rd place, Ryan Lemons (1JZ SC300), Dino Calia (LS1 S13) took home 2nd, and displaying his signature "1up" podium stance, is William Little (LS1 S14) claiming 1st place victory!
Halfway thru the mini series, ND brings you Round 3 at NMSP on Sept 28th. 37 drifters from all over the south came out to drive. To include some, a few of Texas' finest representing Fabricated Motorsport's FD Pro-Am series made their way to show off true sliding skills!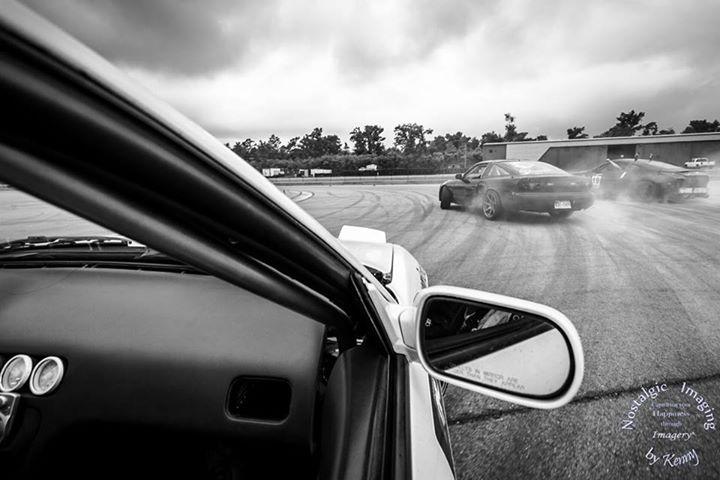 Check out this in car shot of some Texan rears, Chris Tyrone (Z33), leading Ignacio Mendoza (S13), and Randall IAS-performance (S13)!
While out of towners are abundant, our local hometown heros are still throwing down. Ryan Lemons all up on Arston Grass's door!
Local driver, My Nguyen in his BK38 Hyundai Genesis "banana boat" killing all tires in his daily drifter commuter!
Coming into Rd.3, being in the unpredictable Gulf Coast, another projected rainy event was forecasted and sure enough, scattered showers started by competition time. Great, just our luck…! 37 drifters and 14 contestants; the most we ever had, and conditions were not the greatest, but drivers adapted quickly. The rain limited our media's photo capturing, but we have a few to work with. We're glad to announce Ignacio Mendoza from Houston, TX being top qualifier. He battled William Little in the rain, but lost and took 3rd place in his FD Pro-Am built KA-T S13. Not bad considering it was his first time ever driving at NMSP!
Battles were fought hard. William Little navigating his S14 coming in at 2nd place!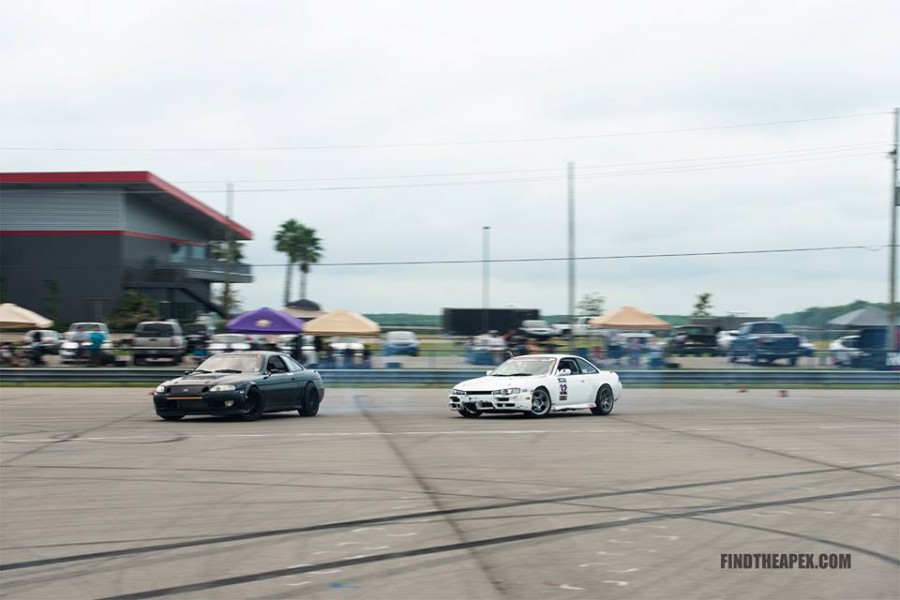 Ryan Lemons was able to pull away and win 1st place victory at Rd.3 in his 1JZ SC300!
Happy Soarer SC300, content driver.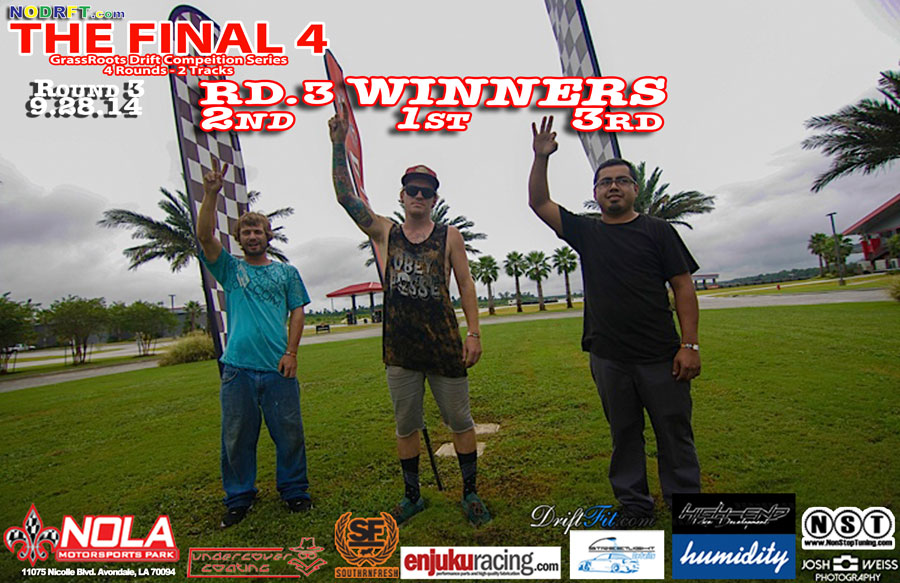 Congratulations to Rd.3 winners, Ignacio (nacho) Mendoza in 3rd, William Little in 2nd, and Ryan Lemons in 1st place!
Leading into the final round of TheFinal4 Drift Comp, driver standings are:
William Little = 40pts
Ryan Lemons = 30pts
Dino Calia = 10pts
Ignacio Mendoza = 5pts
Edward Jacobs = 5pts
Each podium gets you points:
1st place = 15pts
2nd place = 10pts
3rd place = 5pts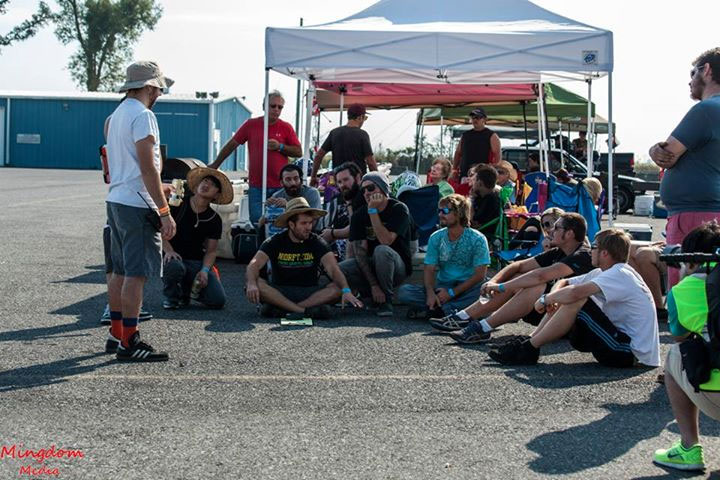 With the last round scheduled on October 19th and bringing the 4 round mini series back to NPR, it has come down to the finals for the first ever N.D series championship. $700 in cash and other prizes will be given away. That Sunday (10/19) came quick! A nice fall day with cool mid 80's non humid weather was more than the perfect condition for our final competition round, especially since the last two rounds were rainy. Round 4 at NPR yielded 25 drifters and 8 competitors. Some may think that's low, but we do not have a problem with it. Less drivers means more seat time for the hardcore ones that made it!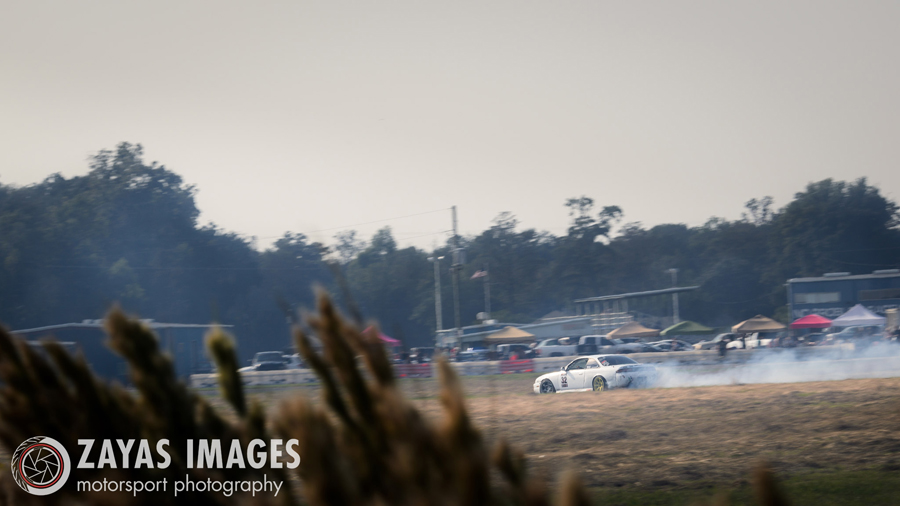 Drivers quickly hit the track warming up and locking down the .5mile peanut circuit. Series leader William Little does not hesitates as he connects the entire track!
Competitive and non competitive drivers were all out on track having fun, which is one of things we always stress at our events; just have fun while learning and locking down your car and the course! Brandon Shannon does that in his black widow E36!
But, competition drivers were taking it up one notch. Being persistent and fun can be a tough composure to keep. William Little shows little effort of balancing the two as he rips through turn 5.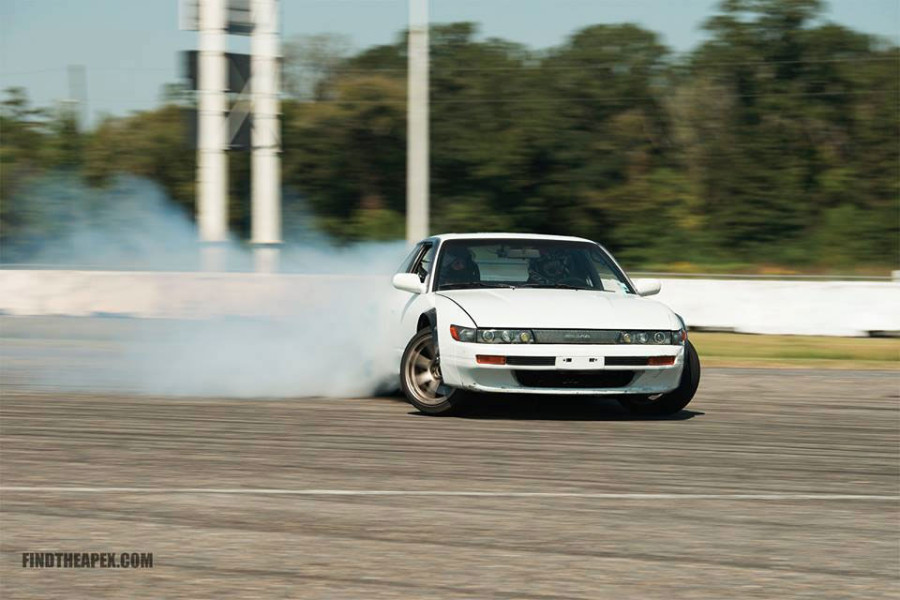 First timers caught on quick. Jason Evers was one of them in his VQ35HR S13!
Qualifications and tandem battles were intense. Our N.D. drivers really love this circuit, if you can't already tell from the tandem session between Dino Calia (S13) leading Ryan Lemons (SC300) around turn 4!
As soon as 2:00pm hit, we started competition! William Little(S14) does not flinch chasing down fellow Florida brother, Dino Calia (S13) and climbing his way up to the finals!
Fierce battle between Kim Tran (Z33) and Ryan Lemons (SC300), but after a one more time, Ryan Lemons advances to the next round against Will P. for first/2nd place. Who will get it?
Kim Tran knocked out Dino Calia battling and winning 3rd place due to Dino's lack of tire tread. It was a fun battle nonetheless!
With 3rd place out the way, our final battle and Cinderella story unfolds as it's between Ryan Lemons (SC300) and William Little (S14)!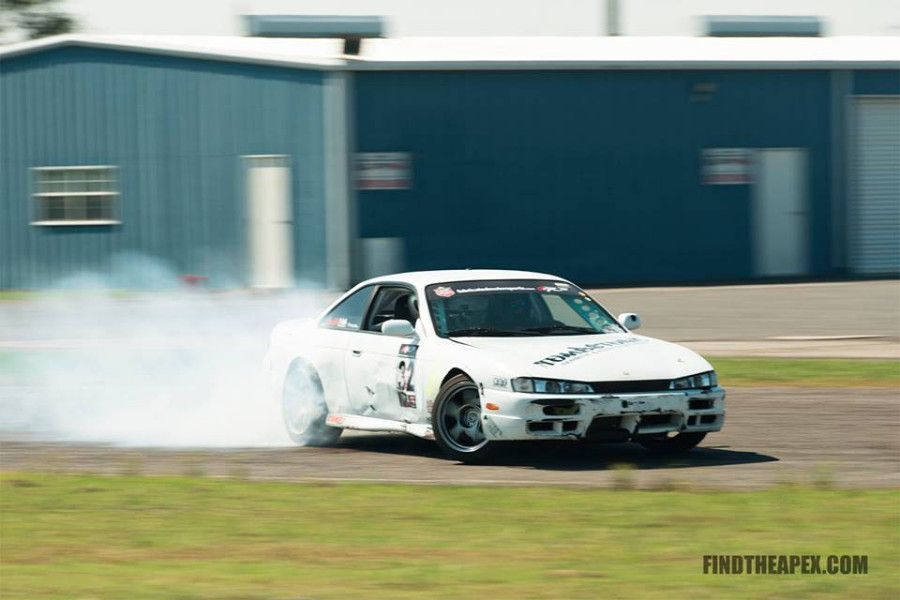 Battling each other throughout the 4 round mini series, William Little has adapted to the drivers well. It shows here as he takes the win after Ryan Lemons committed some mistakes upon entry following Will. Congrats!
Ending Round 4, fighting hard and claiming victory, William Little takes 1st place(15pts). Ryan Lemons coming in at 2nd place(10pts), and Kim Tran placing 3rd place(5pts). While the exciting 2014 4-round mini series of southeast Louisiana closes, this season was a great starter with lots of ups and downs, but we've learned a lot and are very grateful for everyone's involvement with NODRFT. Our drivers drove their hearts out and had a great time all at the same time! We're excited to announce the series champions of the Final4 Drift Competition Series: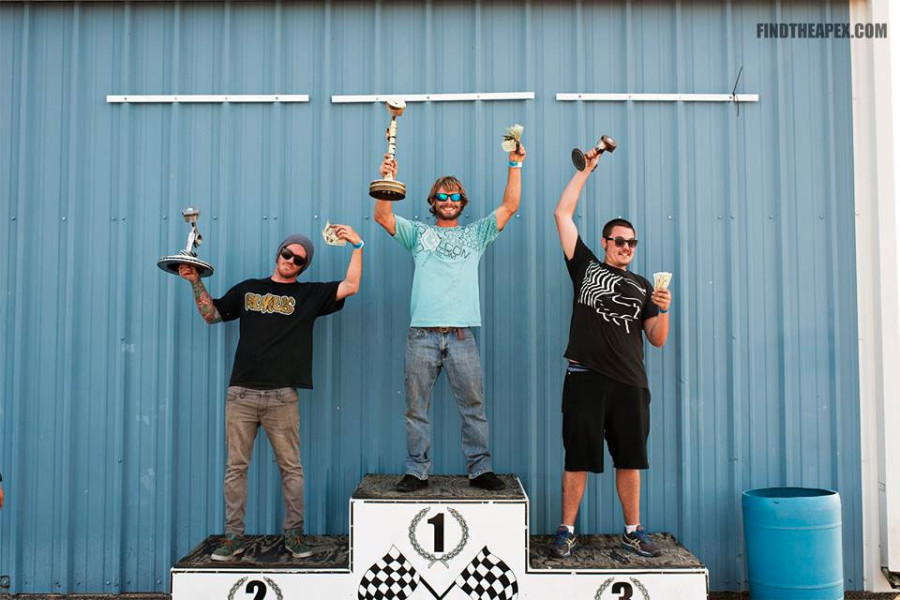 1st place series winner at 55pts – William Little S14 – Pensacola, FL.
2nd place series winner at 40pts – Ryan Lemons SC300 – St. Amant, LA.
3rd place series winner at 15pts – Dino Calia S13 – Pensacola, FL.
With the series closing, it ends our 2014 competition focused events, but we still have one last event of the year. Our annual End of Year Bash 2014 is planned for December 27/28, a 2 day all out fun drift event with camping, parties, KDF competitions, and unlimited driving for drifters of all levels. If you are around the gulf southern states, don't hesitate to visit us and come drift!
-Kim Tran
NODRFT