It's been a while since I've been to a Golden Gate Drift FD licensing series, only having made it up to Stockton 99 Speedway for Round 1 of the 2014 season. When Luke Crowell invited me to round 3 at Thunderhill Raceway on July 5th, I was excited and jumped on the opportunity to check out some drifting, take my family on a NorCal Independence Day road trip, and immerse myself in the unique experience that only the NorCal drift scene could offer.
For those of you unfamiliar with Golden Gate Drift's founder, Luke Crowell, you may recognize him as the bearded guy with dreadlocks that runs the starting line and sends every car on it's way to disaster at every round of Formula Drift. Luke also keeps it real by attending as many small grassroots events as possible, so having him provide a series that guides the little guy into becoming a professional competitive drifter, is a great asset to the Northern California drift community.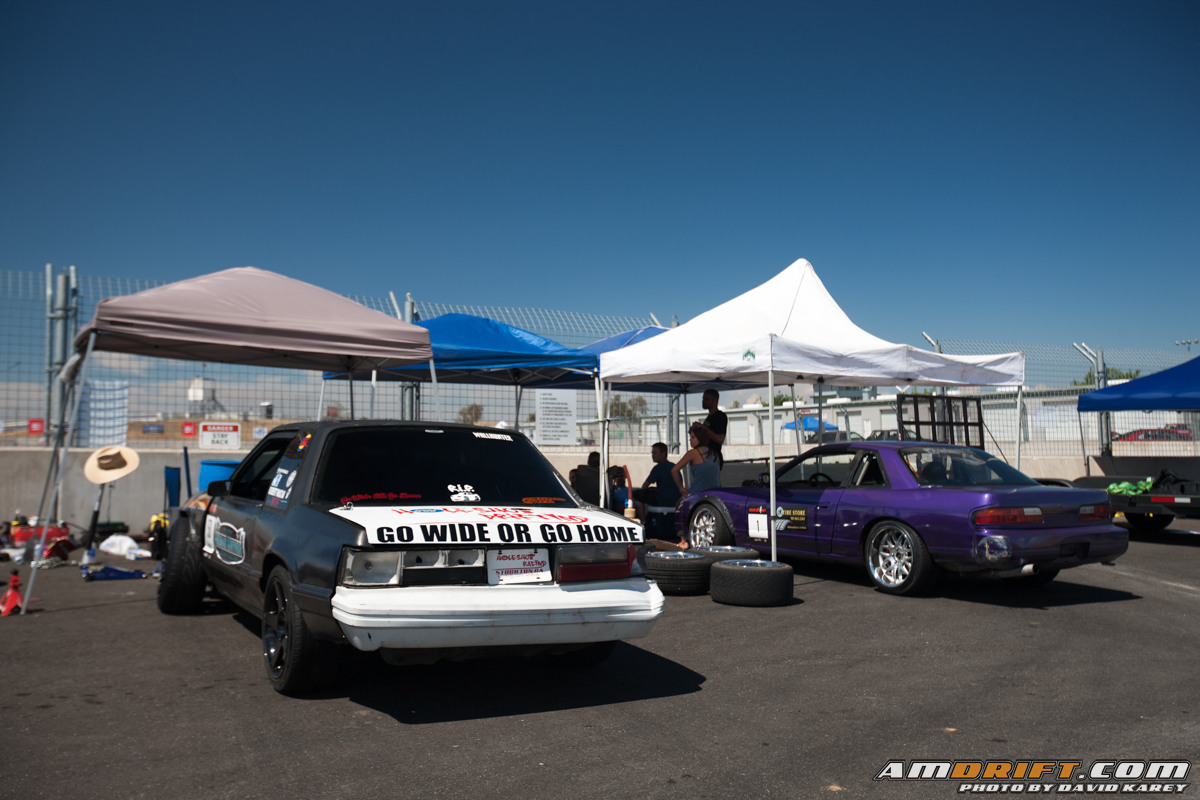 NorCal is a unique, almost one of a kind crowd. The diversity of vehicles you don't normally see in drifting is strong with these guys. For example, a fox body Mustang isn't the first platform the majority of drifters would choose to learn the ropes and evolve into a competitive drifter, but guys like Robert Pascua continuously develop the chassis and make it work, and quite well I must say. The uniqueness doesn't stop with the cars. I really enjoy the people in the NorCal drift scene and get a kick out of their laid back and chill approach to almost everything they do.
At this round of Golden Gate Drift, the cool sweeping hillside portions of the main track would not be available. Creating an interesting and fun skidpad layout that drivers would enjoy, was a task that only an experienced driver such as Pat Mordaunt could pull off, with the assistance of Formula Drift rookie Pro 2 driver, Donovan Brockway, to add visual appeal to the board like a Little Mermaid coloring book.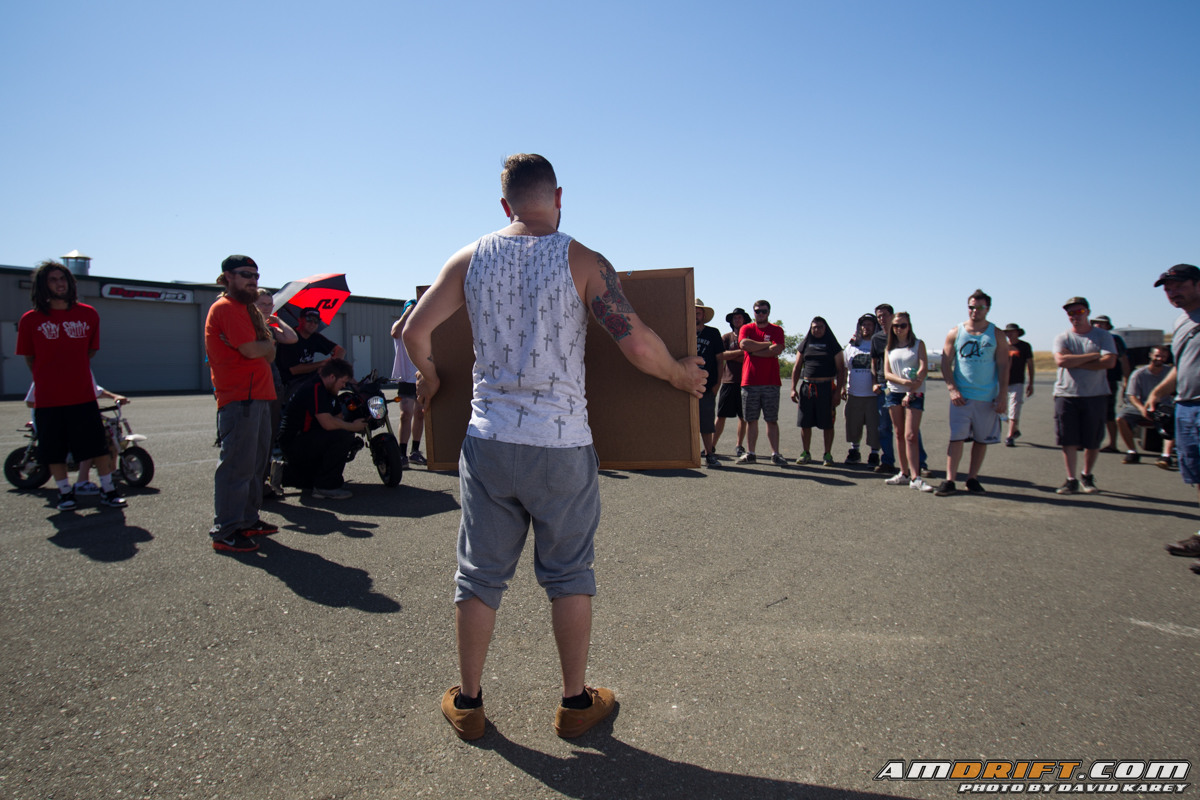 With temperatures already rising into the 90's in the morning, it was undoubtedly going to be a sweltering event under the sun. While the layout was being presented, somebody cracked a joke comparing the conditions of Formula Drift Orlando to this day, and all of a sudden everything was better and drivers were ready to hit the track.
Right off the bat, drivers figured out the course and were killing it. One driver that stuck out as a personal favorite of mine, was this dude they call Sideshow Tone, real name Anthony Frangieh. NorCal style spills off this guys car and self with his kick back personality, getting closer and closer to walls and grabbing more angle run after run.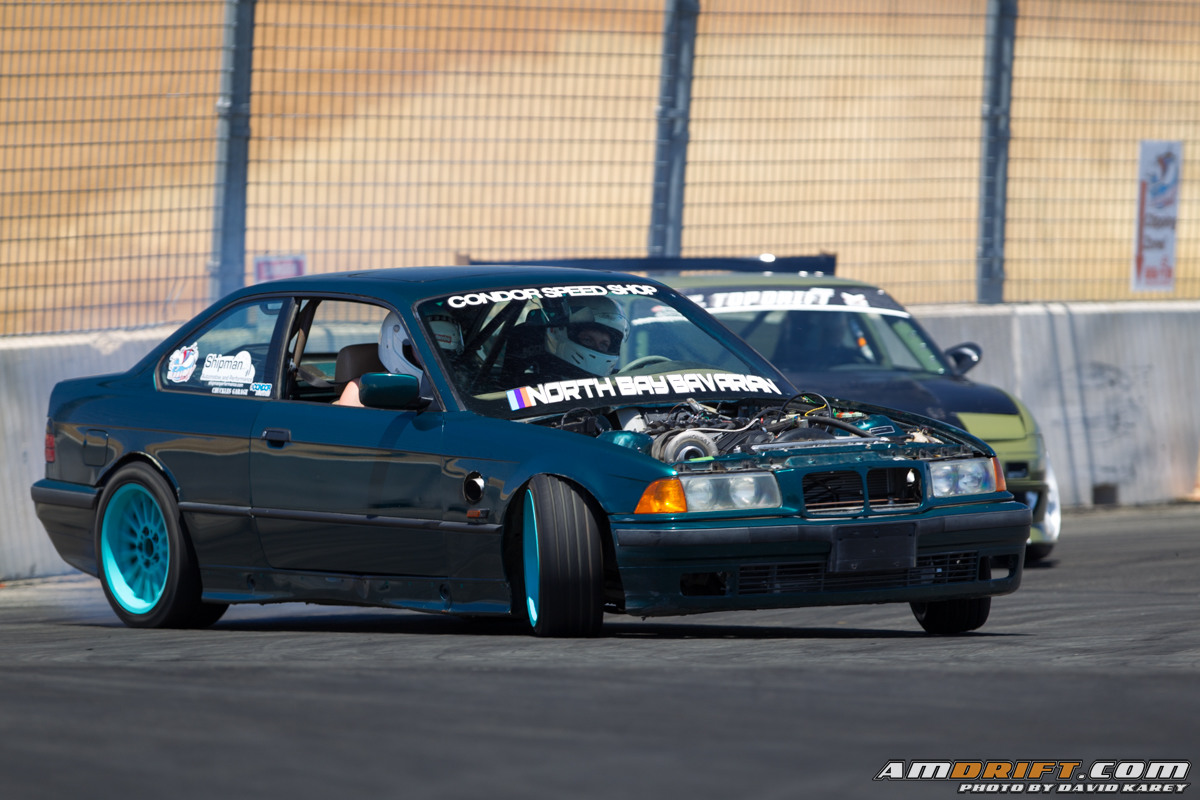 Practice also wasn't a bad time to get some tandem runs and ride alongs in. Julian Dumay can hold his own in his turbo E36, while being chased by Matt Madrigali in his v8 S13. Guys like Julian Dumay, and Donovan Brockway of Red Baron Racing, are taking leaps and bounds to increase the popularity of many BMW chassis' in United States ProAm drifting, along with the dudes in SoCal and many other guys nationwide.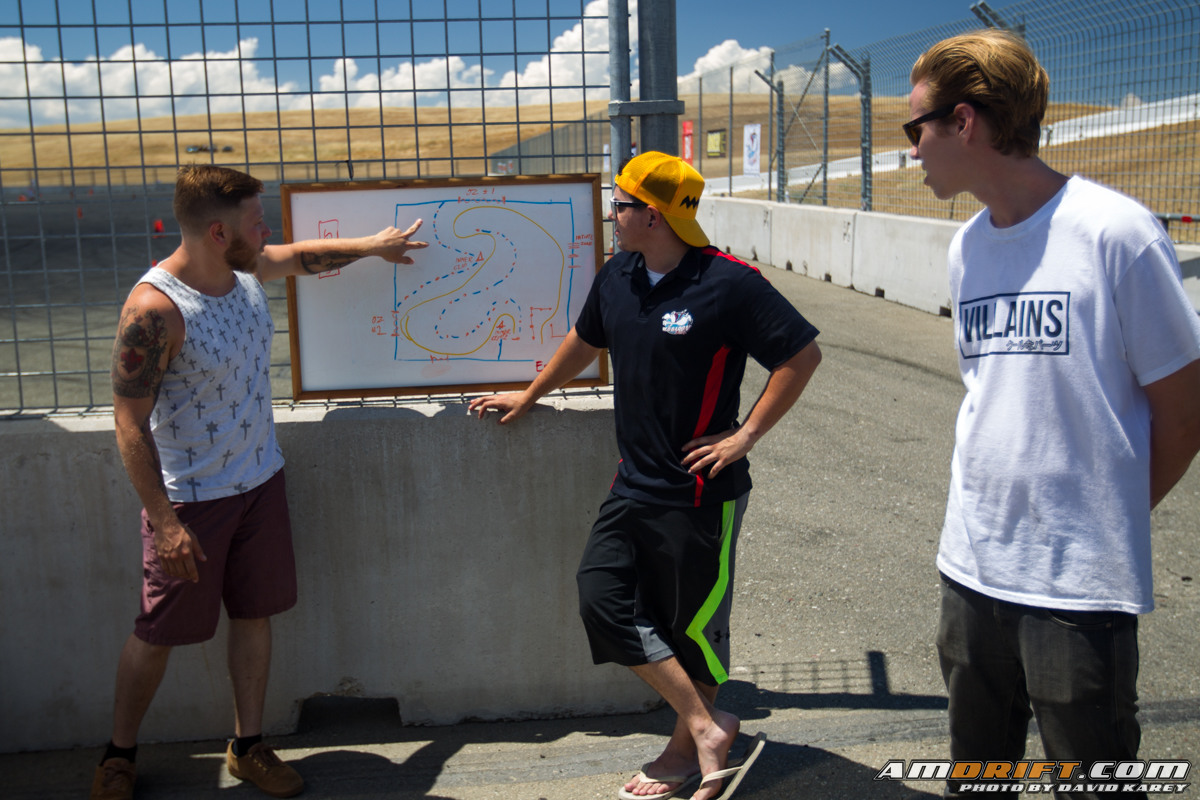 After an ample amount of practice time, 2 year Formula Drift driver, Matt Coffman, joined Pat Mordaunt and Donovan Brockway as judges for this round. Each judge explained what they were looking for, and their style of judging on the course that started with a long run against a wall on the right side, and flick to the left to enter a sweeper that ran along another wall into a sharp left hairpin style turn. Out of the hairpin, the line continued into a long sweeping right turn with a transition to the left along the wall by the spectators and pits, which judges highly encouraged drivers to get as close to the wall as possible. Getting away from the wall, the course continued into a left sweeping turn, which ended around a very tight right hander into the finish. It was a tough course to master, but this series isn't grooming novice drivers to send to the big leagues.
When qualifying was all said and done, one of the "usual suspects" grasped the first place qualifying spot. Joe Tardiff has been running unchecked and unmatched at several ProAm events this year. Recently returning home after a first place win at Southwest Drift series the weekend prior, Joe is on a high performance streak and looks to be unstoppable for the rest of the year.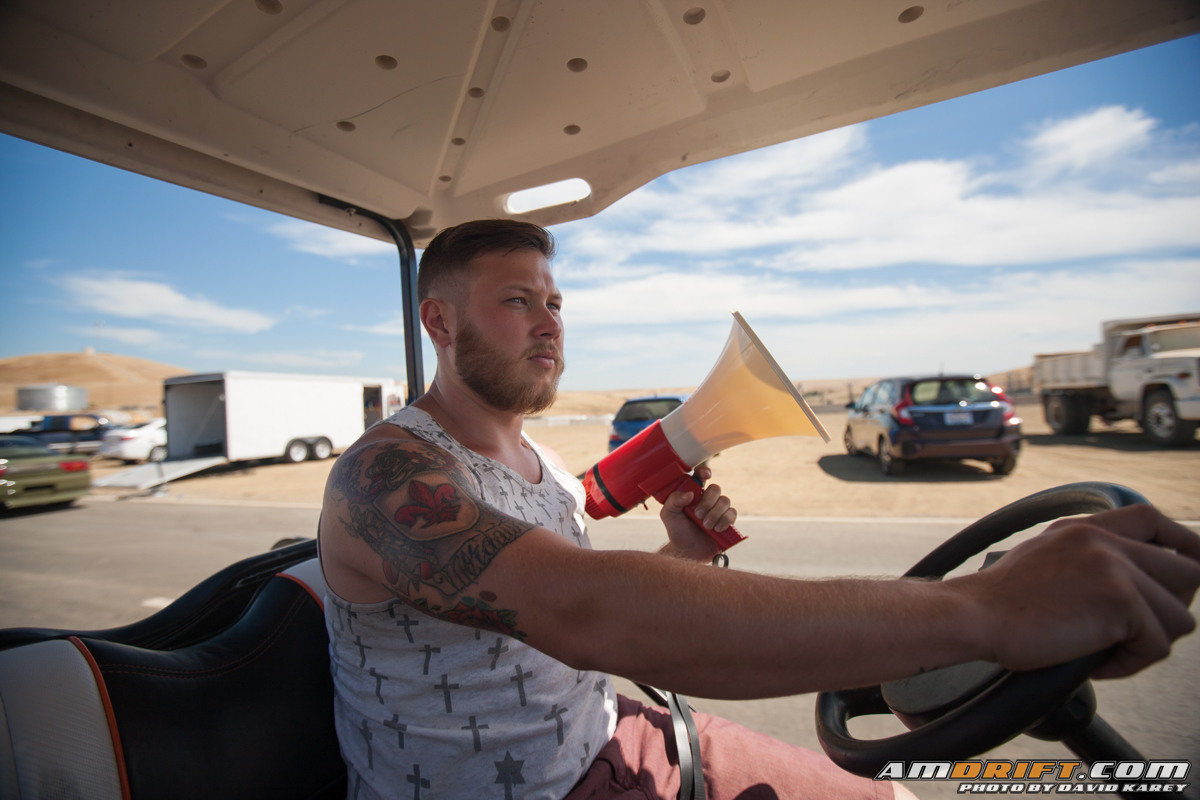 With the Top 16 bracket set and the judges making their way to their stations, competition would start in short time. Drivers that would be seeing competition, would be (in qualifying order): Joe Tardiff, Anthony Frangieh, Travis Ragona, Julian Dumay, Christopher Hillis, Ryan Rasberry, Matt Madrigali, Chris Bixler, Robert Pascua, Joe Freeman, Tyler Knudsen, Carlos Cano, Joshua Sher, Joe Busto, and Even Bogovich.
Top 16 (15)

Joe Tardiff takes a bye run in the first pass of Top 16 (15).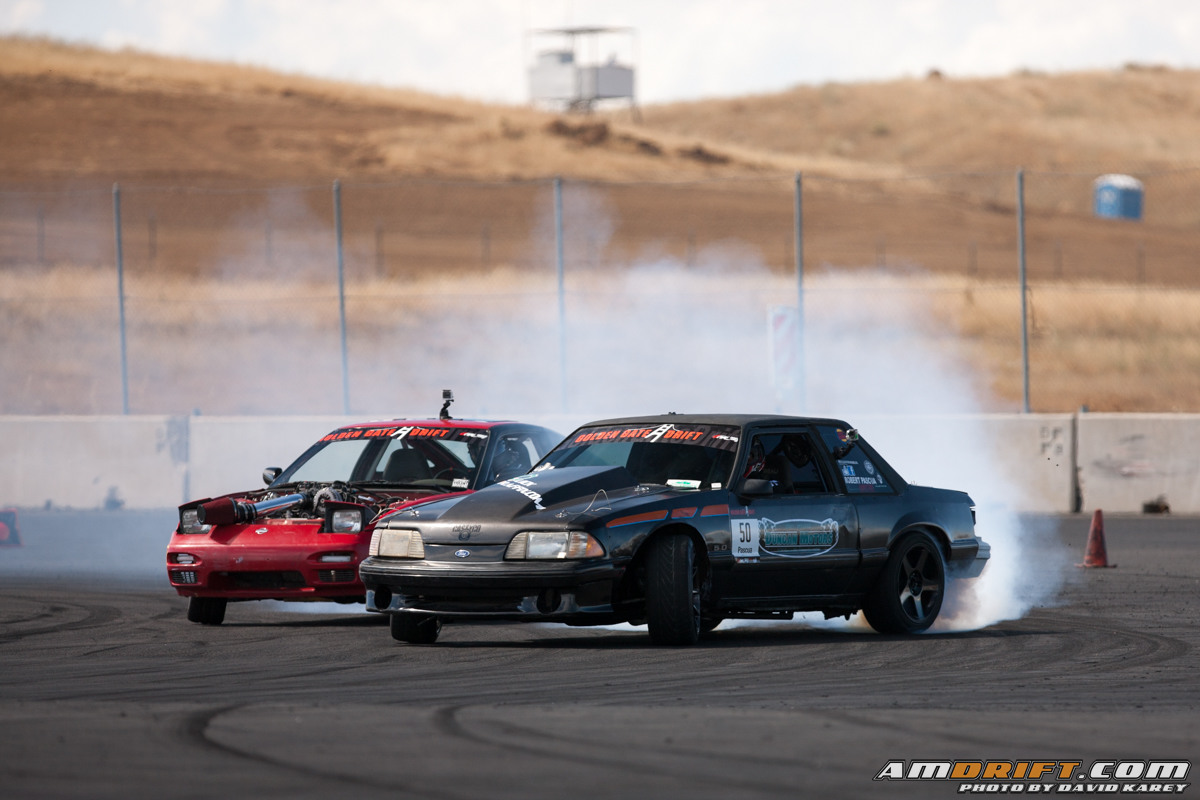 Robert Pascua vs. Chris Bixler. Bixler runs a clean lead and Pascua is right there behind him with a good follow. When Pascua takes his lead run, he runs it with lots of angle and finesse. Bixler falls back shortly after initiation, but closes the gap along the first outer wall. Continuing on the follow, Bixler straightens along the spectator wall, but gets back in it and finishes close to Pascua. Pascua has been running a great lead, but runs around the last clipping point and makes a correction and comes to an abrupt stop. Even with the mistakes Bixler made on the follow, he gets the win and Pascua is retired from the competition.
Joshua Sher vs. Julian Dumay. Dumay takes the lead, but has trouble on entry. Sher falls back slightly, but catches up near the finish. Sher takes the lead with a good entry into the first turn, and Dumay has the same entry trouble on his follow that he had on his lead. Dumay is able to close the gap that Sher created and give good chase through the finish, but Sher takes the win.
Carlos Cano vs. Christopher Hillis. After stuffing the rear of his BMW into the wall during practice, Hillis fights the car into a really good entry. Cano also driving a car with problems, straightens and goes wide around the first inner clipping and falls behind on the follow. Hillis continuing to fight the damaged handling of the car, nearly taps the wall by the spectators. Cano closes the gap with Hillis almost across the finish, but Hillis spins at the last turn. Cano takes his lead run, Hillis following with minor hiccups on the follow but still having a good chase. Despite Hillis giving his all with suspension components on their way to the dumpster, Cano fights his way through brake issues to get the win.
Anthony Frangieh vs. Joe Busto. Frangieh drives a super great lead run, creating a gap between himself and Busto, leaving Busto pedaling to catch up with several corrections in the process. Busto runs a decent lead, but Frangieh is right on his ass on the follow. Busto hits the last clipping point and spins, giving Frangieh the win.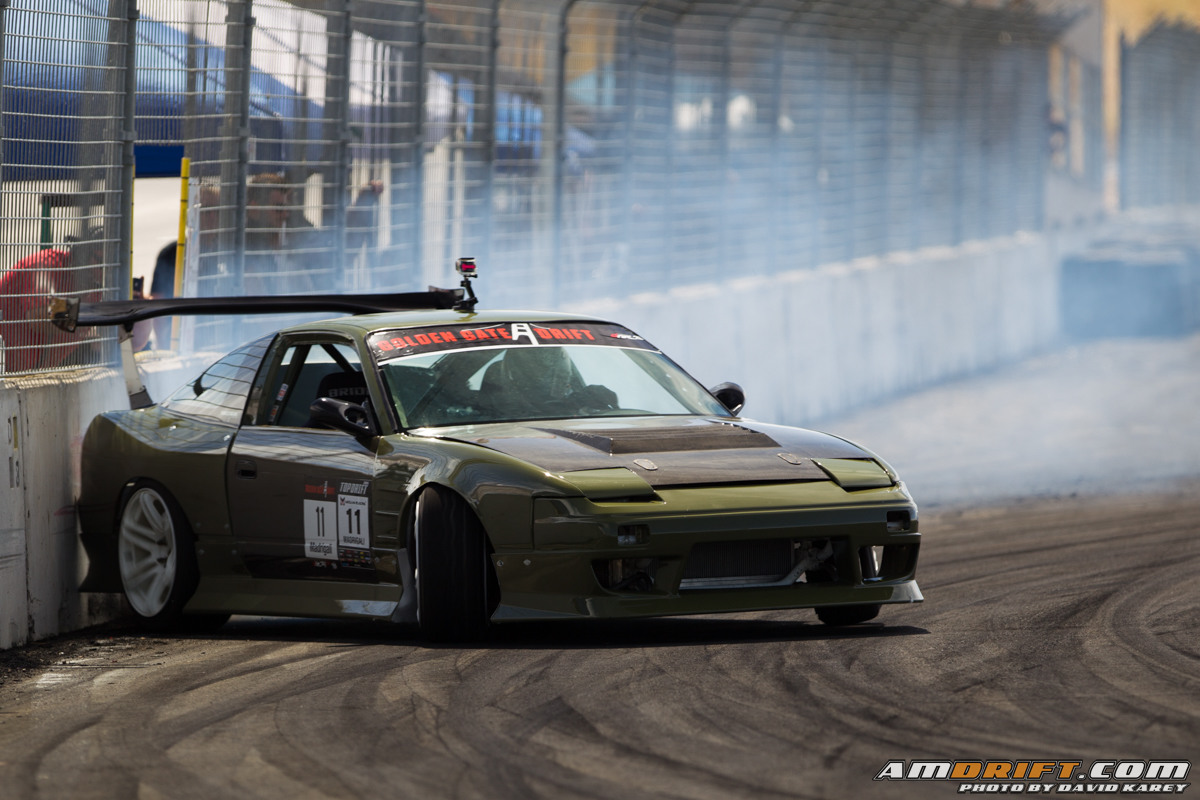 Madrigali vs. Joe Freeman. Madrigali leads, and right off the bat put a gap between himself and Freeman. Madrigali taps the wall along the spectator/pit row and smashes bumper in and removes a wing end plate, while Freeman plays catch up far behind. On the flip, Freeman has a great lead run, but Madrigali is on his ass from the get go. Freeman taps the same wall Madrigali made contact with, but straightens instead of keeping drift. Madrigali gets the win.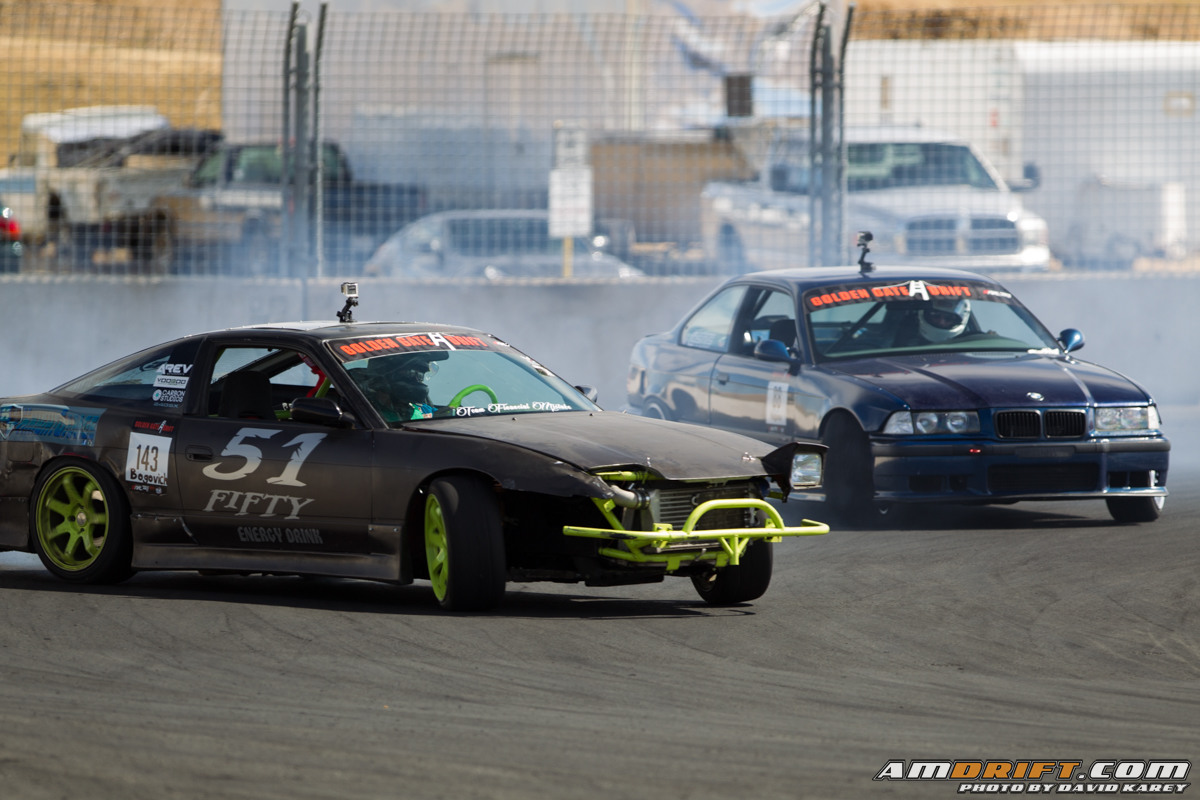 Travis Ragona vs. Evan Bogovich. Ragona takes the lead for the first run of this battle. Ragona drifts a good lead, but both cars are slow around the first inner turn. Ragona is able to slingshot out of the turn, but Bogovich falls behind. Both cars finish, but with a gap. Bogovich takes his lead run, wide around the first inner turn with lots of angle. Ragona stays in it on the chase, and finishes right on Bogovich's rear. Judges give Ragona the win.
Tyler Knudsen vs. Ryan Rasberry. Rasberry up front on the first run, runs a good lead with Knudsen on his tail from the start. Knudsen falls back while Rasberry continues and finishes a clean run. Knudsen runs a good lead with Rasberry also keeping close on portions of the track. Judges decide these 2 need to run One More Time.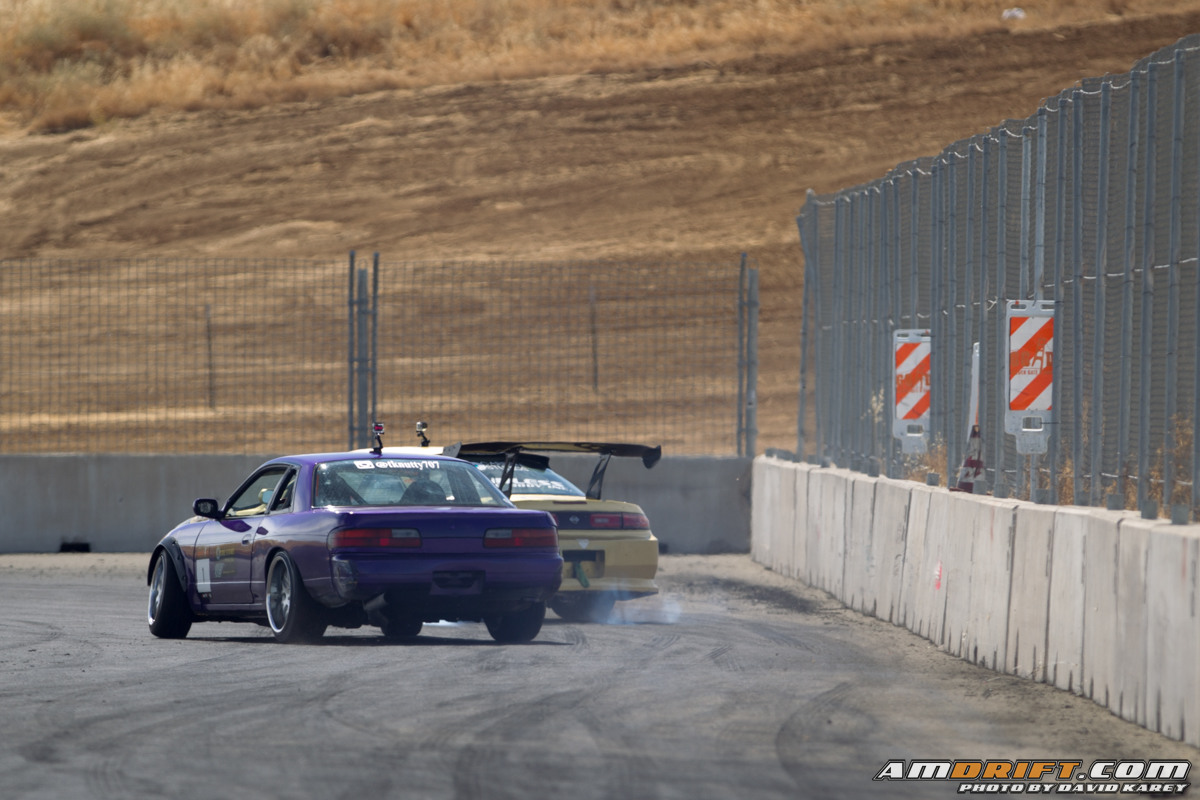 Tyler Knudsen vs. Ryan Rasberry OMT. This battle never makes it past the first run. On Rasberry's lead, Knudsen gets too close and hits Rasberry hard enough to cause damage and a spin. Because of the contact, Rasberry gets the win, but is unable to continue the competition to face Travis Ragona due to damage.
Great 8
Joe Tardiff vs. Chris Bixler. Tardiff runs a wicked lead run with tons of angle, throwing Bixler way off his game. Tardiff lays down tons of smoke leaving Bixler behind with a huge gap. Bixler has a good lead run, but Tardiff was all over him from the start. Tardiff gets the win with Bixler coming back in with the cooling system overboiling.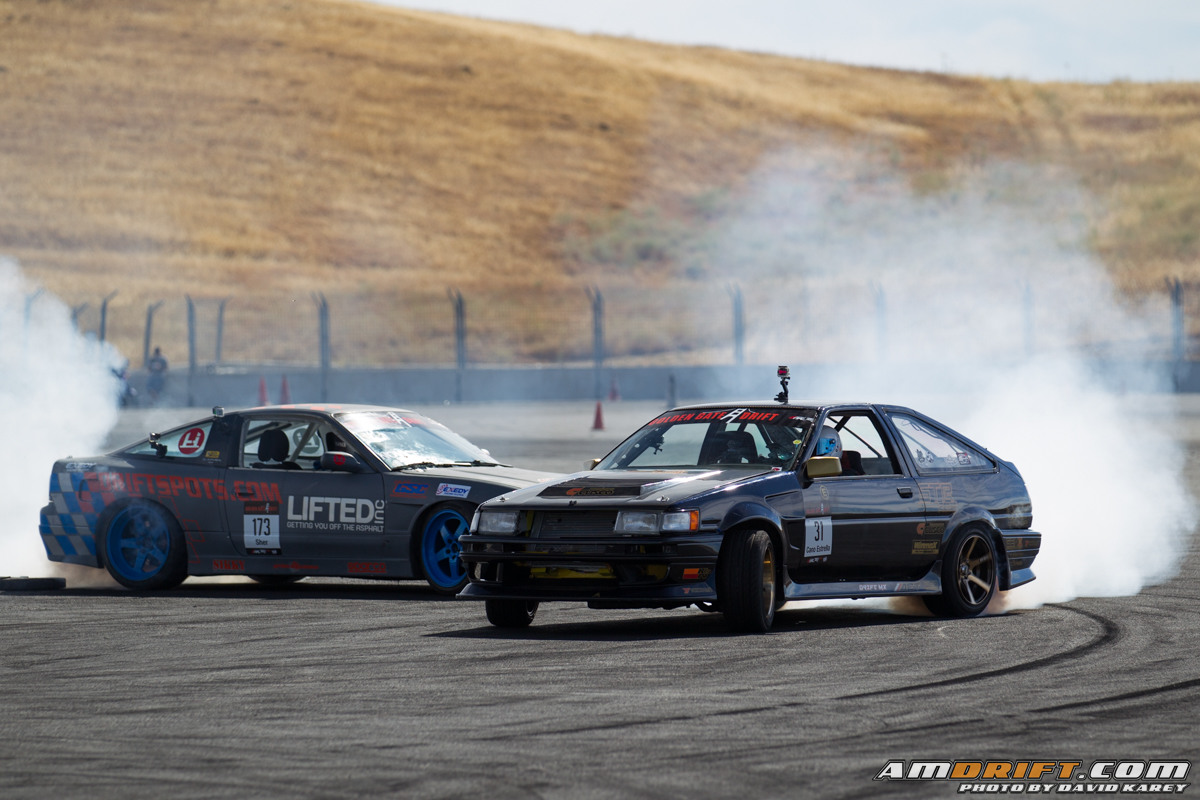 Carlos Cano vs. Joshua Sher. Cano leads, Sher really close on the follow. Cano goes wide after the first inner turn, continues and Sher follows. Cano hits the last clipping point, but Sher straightens behind him and throws away his good follow. Sher takes his lead, but Cano has no errors on the follow, and gets the win.
Matt Madrigali vs. Anthony Frangieh. Frangieh leads first in a nice clean battle between the pair, but Frangieh spins at the last turn. Madrigali switches spots and takes his lead run in typical Madrigali robot fashion, but Frangieh turns up the heat with a great follow. Because of Frangieh's lead spin, judges award Madrigali the win.
Final 4
Joe Tardiff vs. Carlos Cano. Tardiff walks away on his lead run, but Cano doesn't give up and keeps chasing far behind. Both cars finish. Cano leads, but Joe is all over him even throwing more angle than Cano. Cano spins at the last turn. Tardiff is awarded the win.
Travis Ragona vs. Matt Madrigali. Ragona leads first and creates a gap through the fast part of the course and finishes far ahead of Madrigali. Madrigali takes his lead, but Ragona put it down on the chase, which earns him the win.
Battle for 3rd
Matt Madrigali vs. Carlos Cano. In the battle for 3rd, Madrigali is the first to take his lead run. Cano falls back after initiation. Madrigali has a great run, Cano crosses the finish far behind. When Cano takes his lead, he hits every corner with tons of low angle speed hoping to throw Madrigali off his game, but Madrigali stays in it on the follow. In typical final battle fashion, the winner of 3rd place would be announced on podium.
Battle for 1st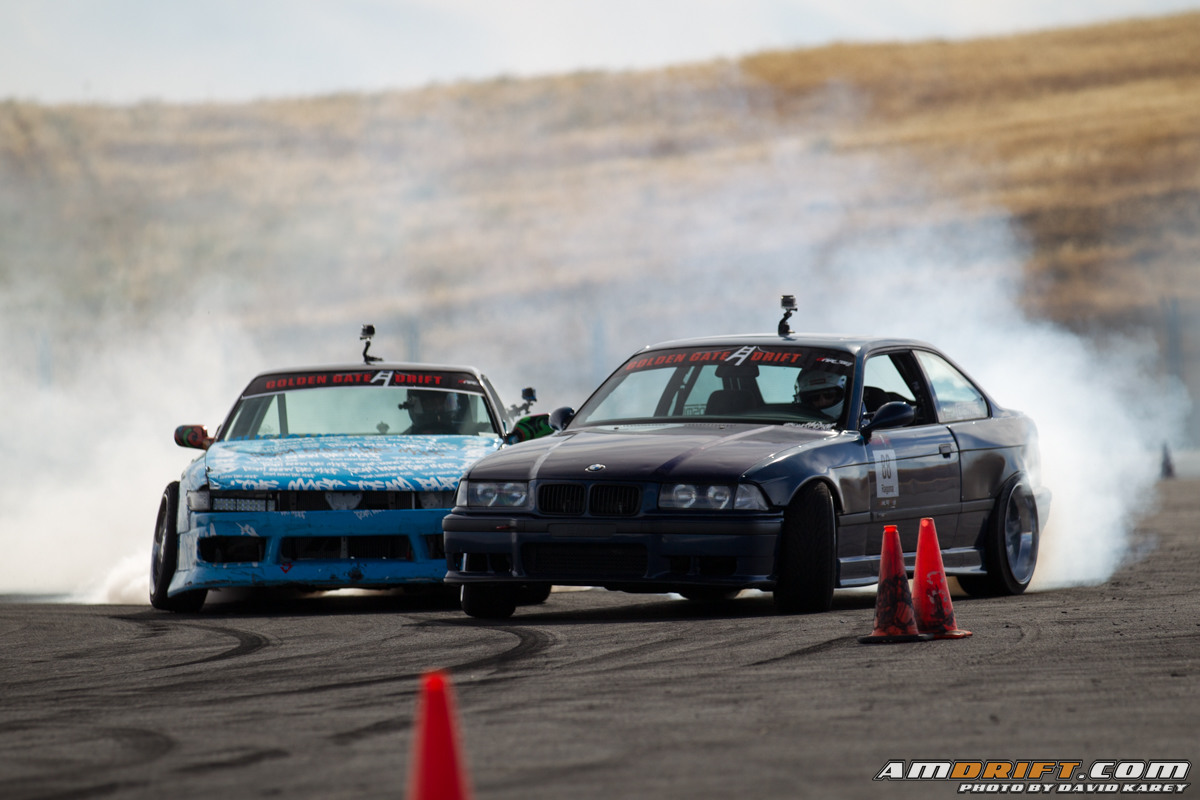 Joe Tardiff vs. Travis Ragona. In the very last battle that everybody was eager to watch, Joe Tardiff runs an awesome lead run with lots of smoke. Travis Ragona keeps in it, both cars crossing the finish line. When Ragona takes his lead, Tardiff is relentless on the follow, leaving no space unfilled between his front fenders and Ragona's quarter panels. After an impressive display of control and talent, we would make our way to the podium to see who would be crowned winner of Golden Gate Drift Round 3.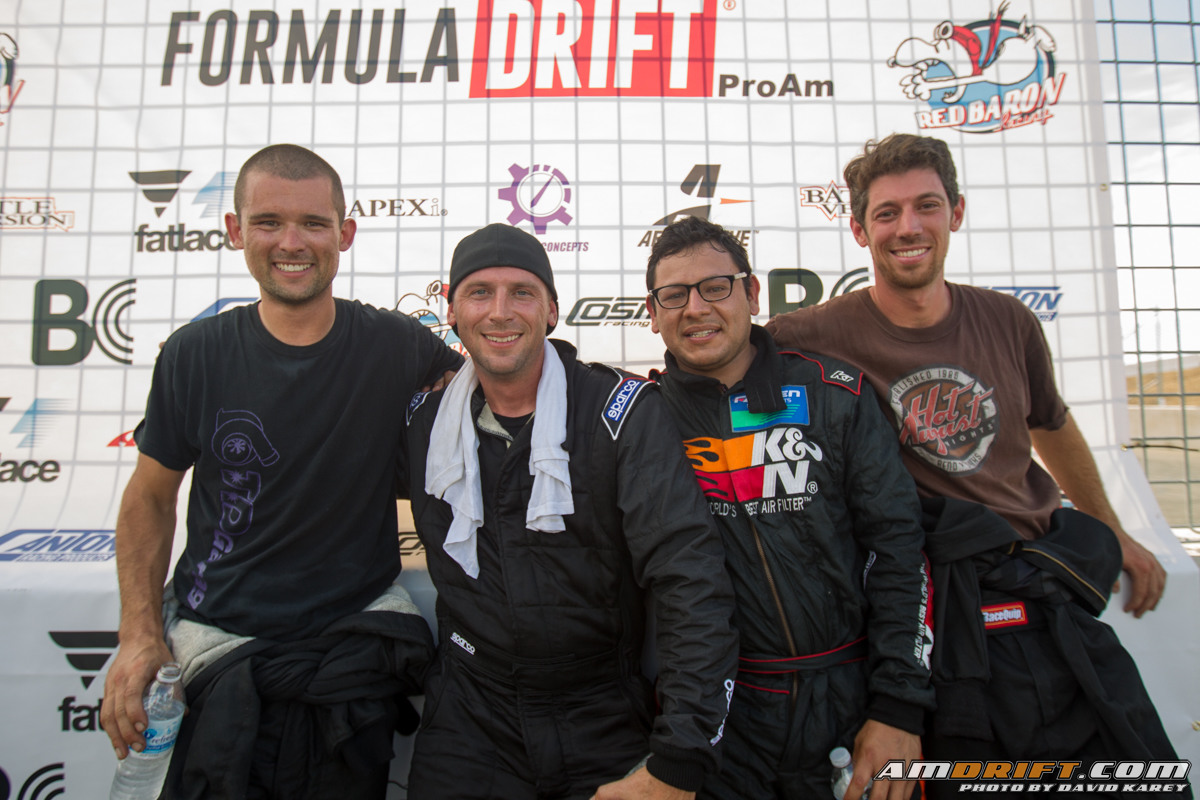 Every driver of Round 3 has a story. Matt Madrigali seemingly had a slow start earlier in the day, but was deadly once he mastered the course. Joe Tardiff had a big scare earlier in the day before qualifying with broken steering parts, with the team fixing the car moments before his run. Carlos Cano had nearly no functional brakes the entire competition, relying on angle and hand brake to scrub speed. Travis Ragona just hung in there with the best in his stock looking, but far from stock BMW.
A smooth running event wouldn't be possible without volunteer staff to keep things oiled. Luke Crowell keeps good company with the staff he invites to help. Now lets give these trophies away!
First place of Golden Gate Drift Round 3 goes to Joe Tardiff! Second place goes to Travis Ragona, and third goes to Matt Madrigali! It's a real shame that these gentlemen weren't supplied with champagne to spray all over me like every other event. Congratulations gentlemen!
With 3 of 5 rounds completed, Matt Madrigali leads the series with 272 points. Ryan Rasberry sits in second place with 242.5 points, Tyler Knudsen in third with 204 points, Travis Ragona nipping at his heals in fourth with 199 points, Julian Dumay sits in fifth with 188, and Joe Tardiff is not too far from making waves in sixth place with 182 points.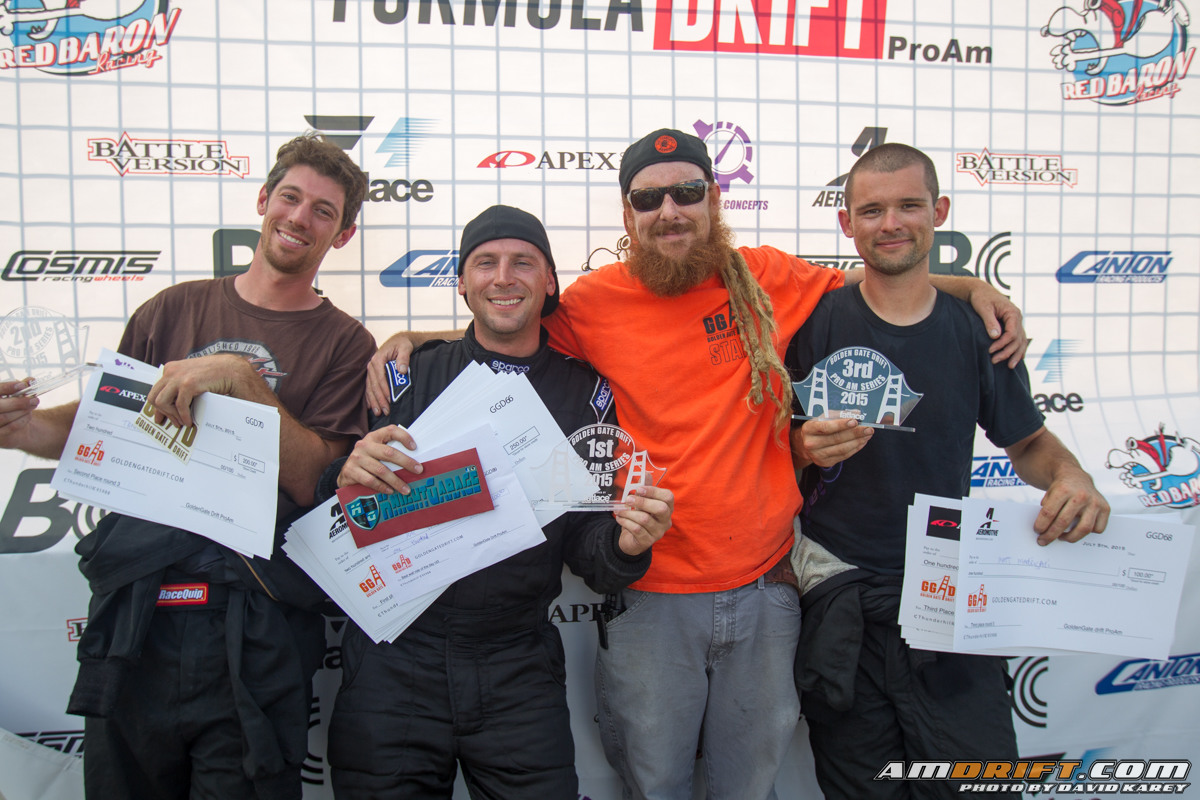 I'd like to thank Luke and crew for the amazing hospitality and having my family and I up for the weekend, allowing me to cover Golden Gate Drift Round 3. NorCal has a sweet drift community, and I'll definitely be back up a couple more times this year!

Keep tabs on Golden Gate Drift Round 4 and 5. Visit http://goldengatedrift.com to keep updated on dates, locations, and news of current and upcoming events.