It was supposed to be dull. It was supposed to be a flat plane of non-excitement all the way to Round 7. A champion was supposed to be crowned, money was supposed to overcome passion and drive. What really happened, however, was nothing of the sort unless you wear a tin foil hat.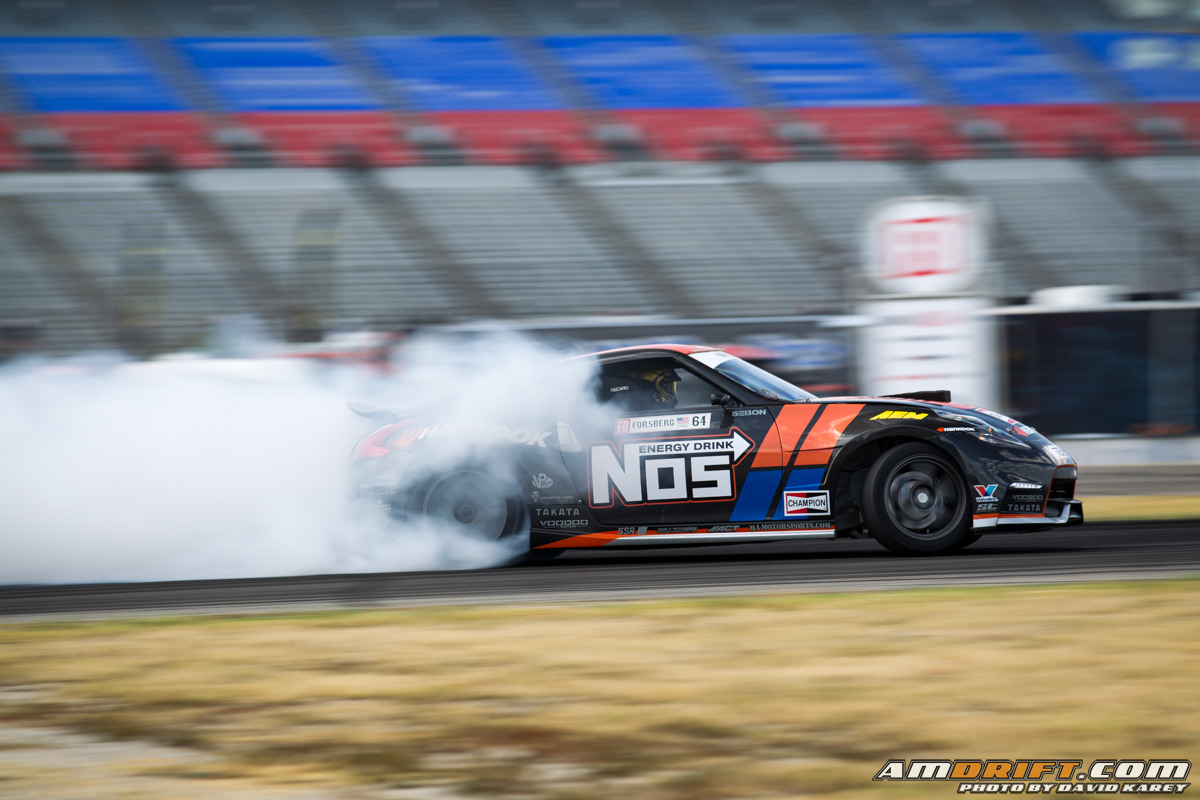 Yes, you keep hearing about how Chris Forsberg and NOS money won him a battle, even though NOS Energy hasn't funded Formula Drift for a few years. You keep hearing how Scion is making Formula Drift crown Fredric Aasbo champion, in a car that isn't really targeted to drifting. Well, as conspiracy theorists keep wearing that tin foil hat tightly, we've got another championship race down to the final round at Irwindale. While it isn't as close as years past, it's still shaping up to be a great send off for the final Formula Drift round at the "House of Drift."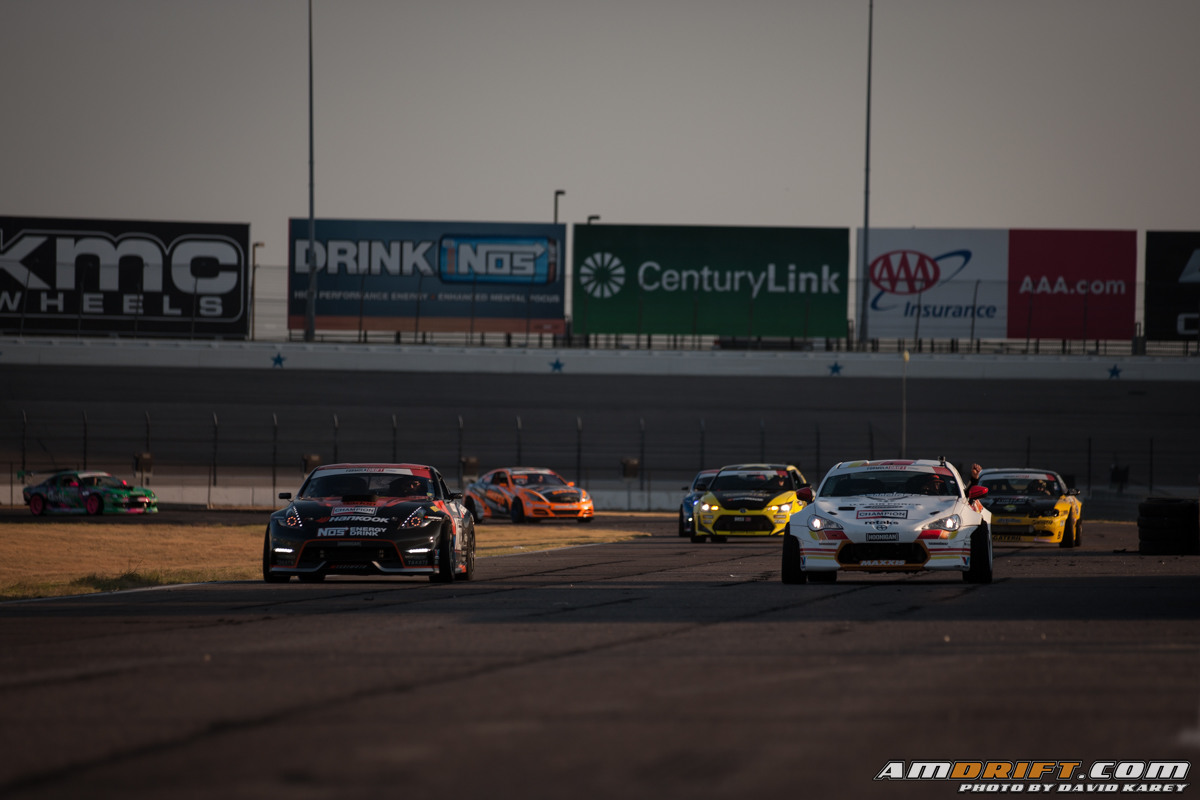 Let's be clear on something. I've been involved with drifting as a journalist since 2007 and been a fan for longer. However, every year I hear the same thing and it never changes. To be honest, I hear it in every form of motorsport. "Money won that championship". Well, no shit. There seems to be this myth perpetrated that racing doesn't cost money.
Now, I know that some people assume that Formula Drift was bribed for championships and wins. If that were true, I could name at least five people, right now, that should be in the championship lead that aren't; Vaughn Gittin Jr., Justin Pawlak, Tyler McQuarrie, Mike Whiddett, and/or Daigo Saito. That's Ford, GoPro, Red Bull, and Achilles Radial. So, you're probably asking about Rockstar and Scion, they both have a driver in the lead. Well, Rockstar doesn't fund Formula Drift, and Aasbo is in the wrong Scion since the FR-S is the target market for drifting fans. That would leave Ken Gushi. Right now, Scion does have the top 2 cars in points, can't deny that.
Does Scion declare who is the favorite among the two? Looking at how the Tuerck and Gushi battles went down, I'm pretty sure we can't say that. Think about it. If Formula Drift wanted Gushi to take the championship to please Scion, he wouldn't have had three one more times against Tuerck in their battle. You could argue the other way, too. Gushi's late rise to the top in points should also be a good indicator that he's not looked at as the Scion favorite. Why isn't Gushi at the top? Well, most drivers at the top have had high finishes this year, but some staggering lows as well. There are reasons why they are on top, but none are number one except Aasbo.
Fredric Aasbo has three wins this season, and that's why he's at the top. If you believe the reason is Scion, then you could also speculate that Nissan won Chris Forsberg a championship last season. Yes, Scion gives money to Formula Drift, but they have been since their involvement. This is the first time since Tanner Foust that Scion will most likely win a championship ,and the first time ever that they will win both driver and manufacturer's championships in the same year. You could also say that Formula Drift isn't playing him as a favorite, considering he didn't take the championship in Texas, even though he could have if he beat Daigo Saito in the Great 8.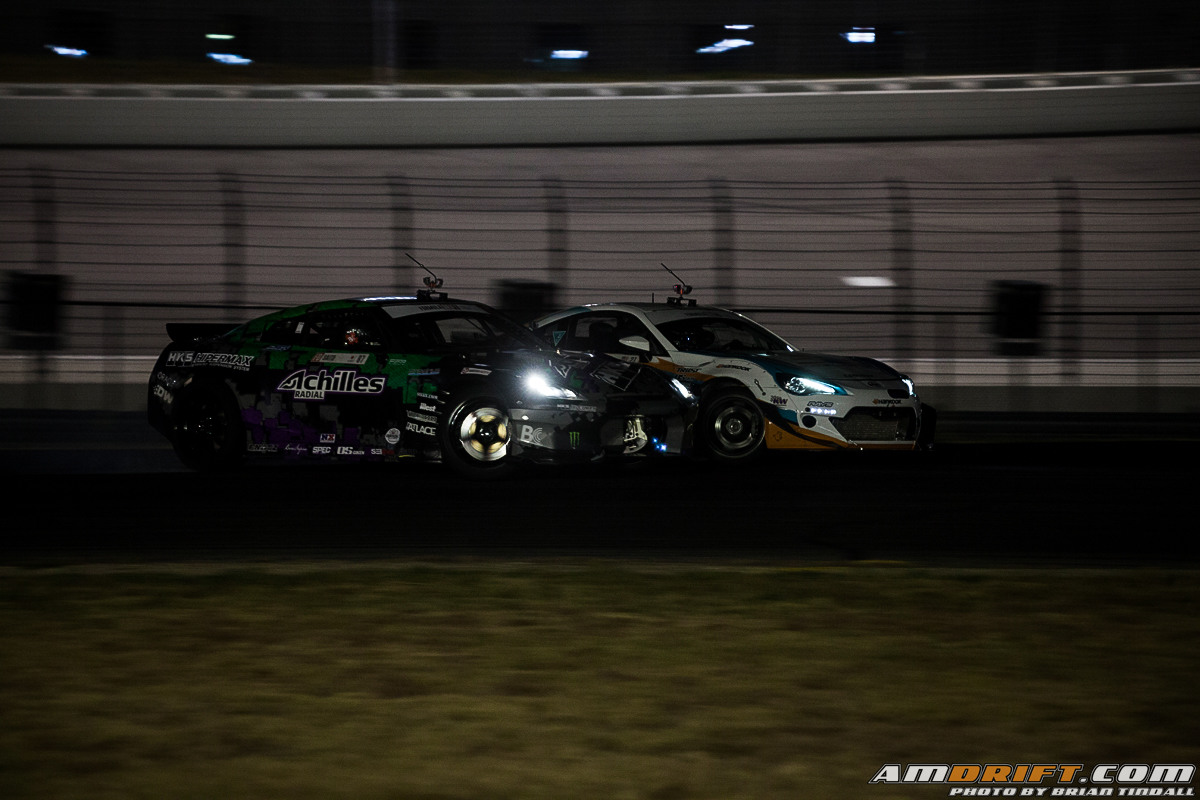 Instead, Daigo beat Aasbo, even though Saito could have been ruled a zero with a major correction at clipping point two. This is one where I feel that it should have gone one more time, as both drivers had zeros from my point of view. However, I'm not a judge and I don't get to see what they see, to factually say that Daigo didn't have a zero on his follow run.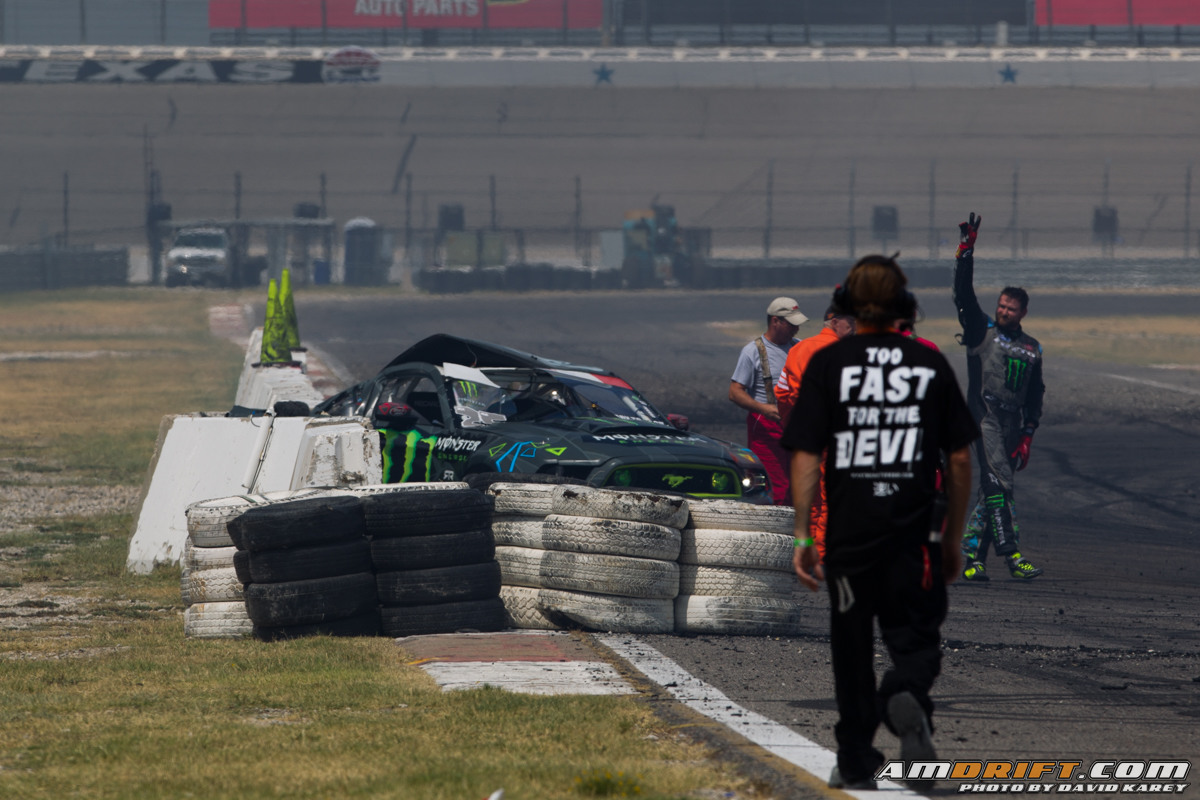 One really good thing that everyone has said from this event, is that Formula Drift proved that their rules on driver safety are the best in drifting. Vaughn Gittin Jr. had a really hard impact with the wall in Texas. It was bad enough that the roof was deformed. There are many people I hear argue against the safety regulations who just don't realize how little speed it takes to kill someone in a crash. You may only be drifting up to 50 or 60 MPH on certain tracks, and that makes you feel safe because those are highway speeds. However, even in race cars that reach speeds of over 200 MPH, it's never the speed they hit the wall at. Typically, the actual speed is far, far lower.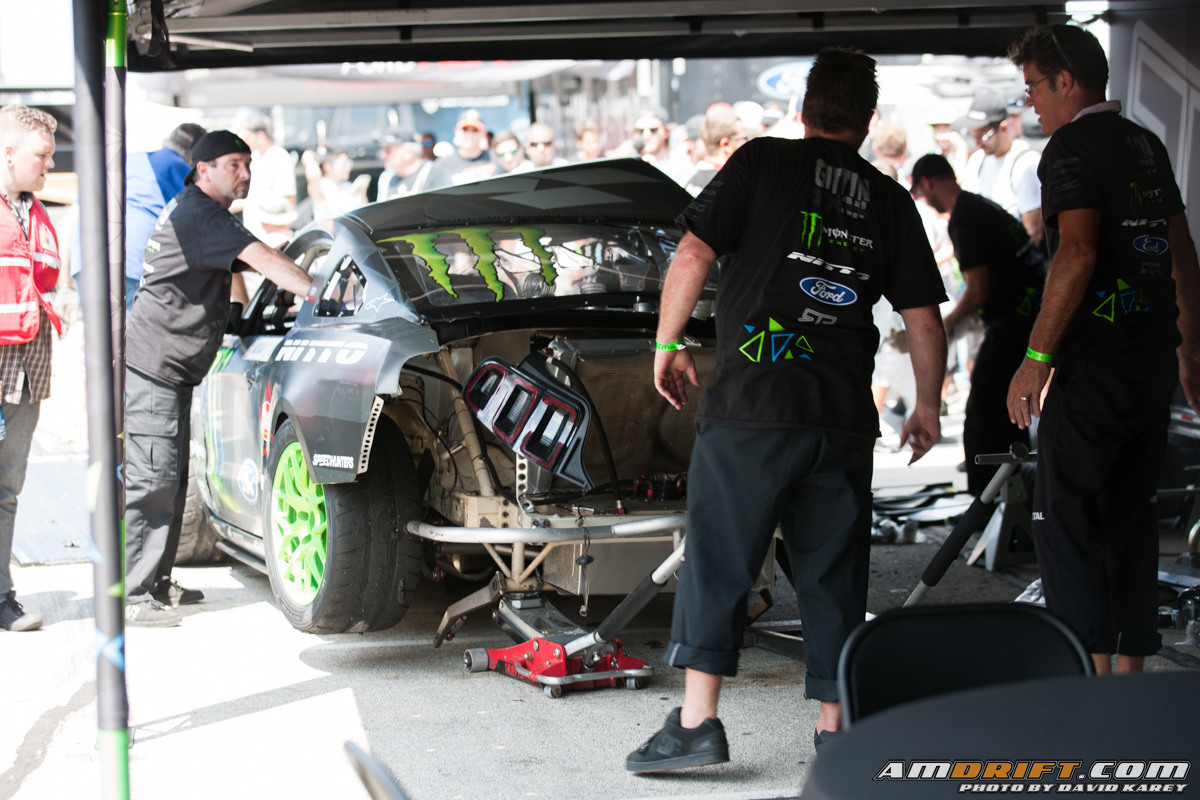 While a vehicle travels in its original direction at that speed, the change in direction requires a new momentum force to carry a vehicle in that new direction. I'm over simplifying it, but even at Daytona, wall impacts by stock car drivers don't reach higher than 45 to 60 MPH. The roll cage mandates and the HANS requirements, along with hitting the rear of the car that had the most crush to give to reduce the energy, are the things that allowed Vaughn get out of his car after. Now, he's racing a Trans Am car, but he may not have a car for Irwindale.
Finally, let's talk a little about the Chris Forsberg and Forrest Wang battles. I can't say I was a fan of the outcome or the resulting one more time. Personally, from the views the livestream gave fans, I felt that Forsberg did not have the better runs on both chase and lead. From the angle that showed the inside of the first turn on the livestream, it also appeared that Chris went past Forrest on his follow run. The other view didn't tell a conclusive story, only an on-car camera would reveal what happened on those runs. What really surprised me was the speed Forrest gained from his swap with the drag engine they got. Not sure what the difference is in the builds, but the new engine is fast and he was really able to show that he can mix both speed and style in his runs. Forrest just needs the engine that can give him the speed.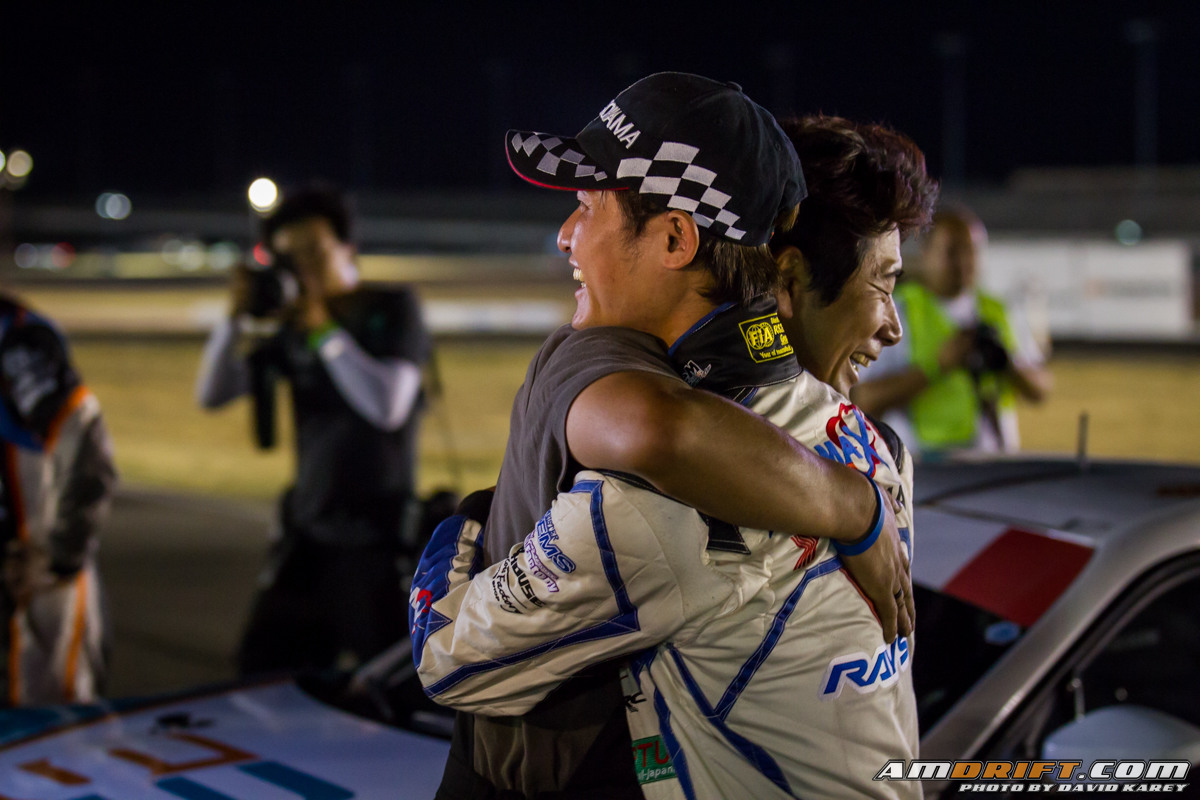 So, what have we learned from Texas? Conspiracy theorists exist everywhere. The championship isn't rigged for Drift Alliance or Forsberg. Big money hasn't bought the 2015 championship. Judging is still controversial. However, I'm sure we'll address these issues again at the final round at Irwindale. Especially so, since it will be a big one with 2015 being the final year we get to see the awesome track. After this year, we'll no longer have it.
Formula Drift Pro Podium:
1st – Masashi Yokoi
2nd – Ken Gushi
3rd – Chris Forsberg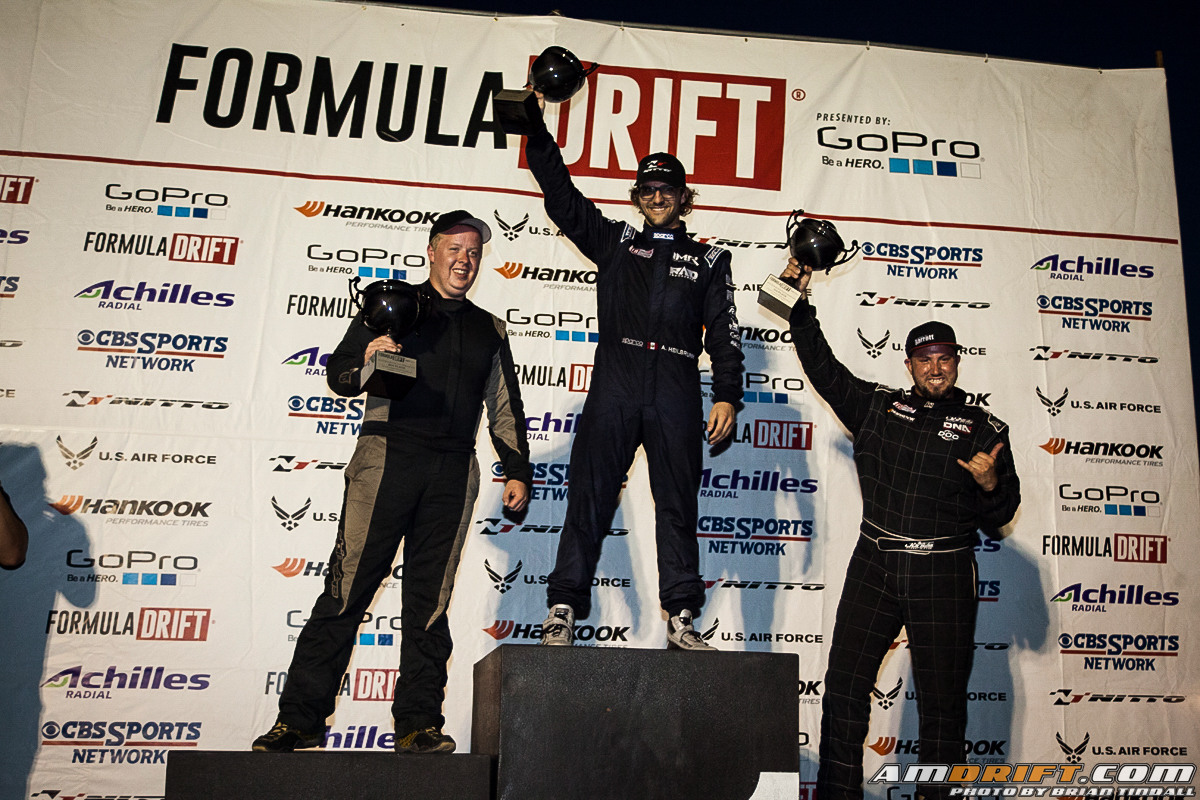 Formula Drift Pro 2 Podium:
1st – Alex Heilbrunn
2nd – Cameron Moore
3rd – Jeff Jones