Golden Gate Drift hosted Round 4 of it's Formula Drift Pro licensing series this past weekend at Thunderhill Raceway, located just minutes outside the Northern California town of Willows surrounded by classic California rolling hills and grassland. This would be the second time we've joined Golden Gate Drift at Thunderhill this year, and the second time we've been to Thunderhill, ever.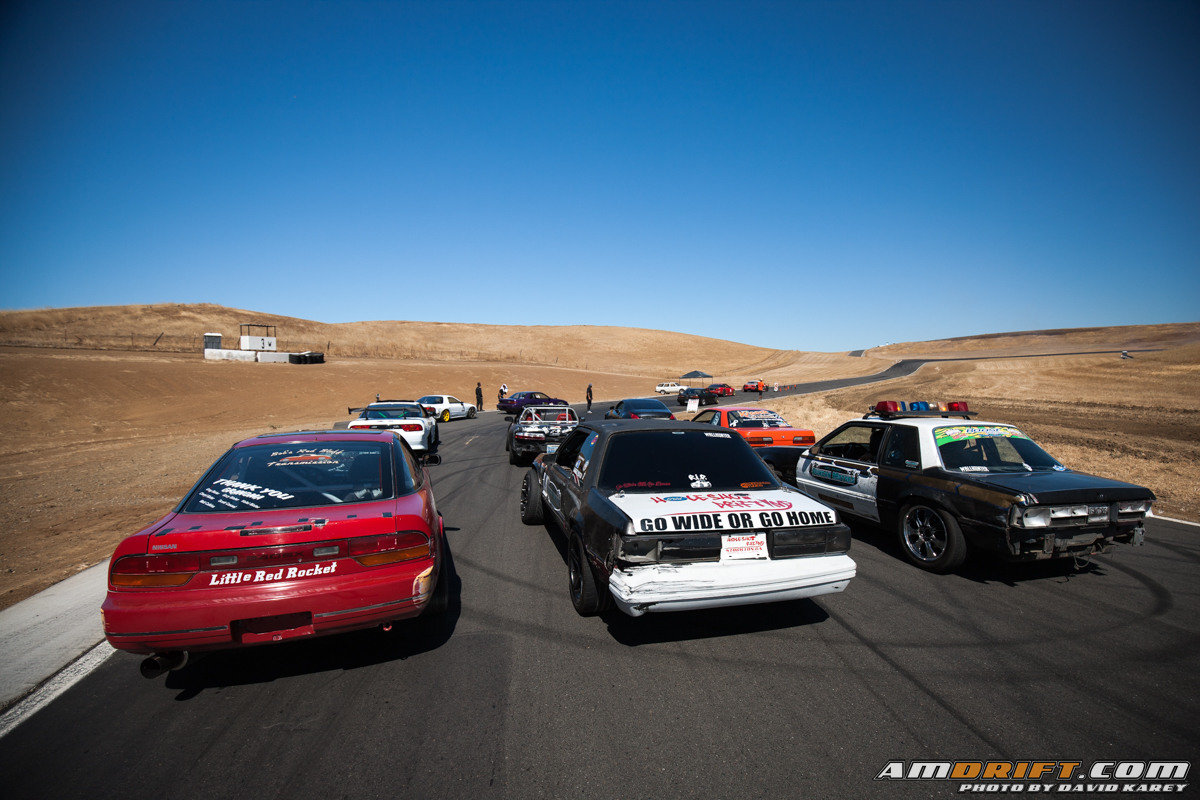 The track of choice this event was Thunderhill West, the newest addition to the facility that could be linked to the eastern track for a combined 5 mile layout. Luke Crowell came up with some amazing ideas for the T-Hill West event. Instead of offering open practice and a schedule revolving around the Pro-Am competition all day, there would instead be open track drifting AND Pro-Am running at the same time, giving all drivers enough seat time to burn all tires they brought to the event.
Over 50 drivers came to compete and have fun, some of them last minute due to a canceled track day in Stockton not too far south from Thunderhill. Tons and tons of spectators and family arrived to support their favorite drivers, enough to make this the most spectated event in Thunderhill West's short history.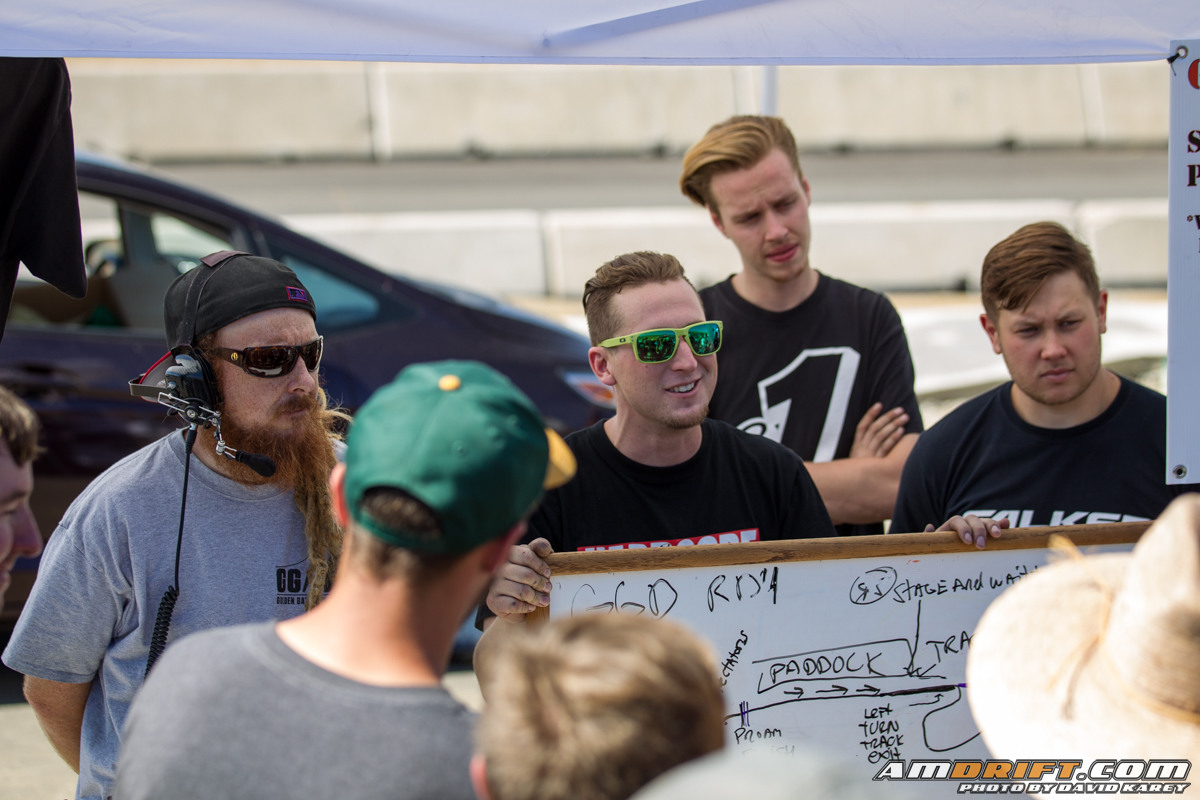 Judges for round 4 are all Formula Drift drivers and huge supporters of the NorCal drift community, Matt Field, Pat Mordaunt, and Matt Coffman. Having pro drivers come out and give Pro-Am drivers guidelines and rules to follow, help prepare those who plan on moving on to Formula Drift.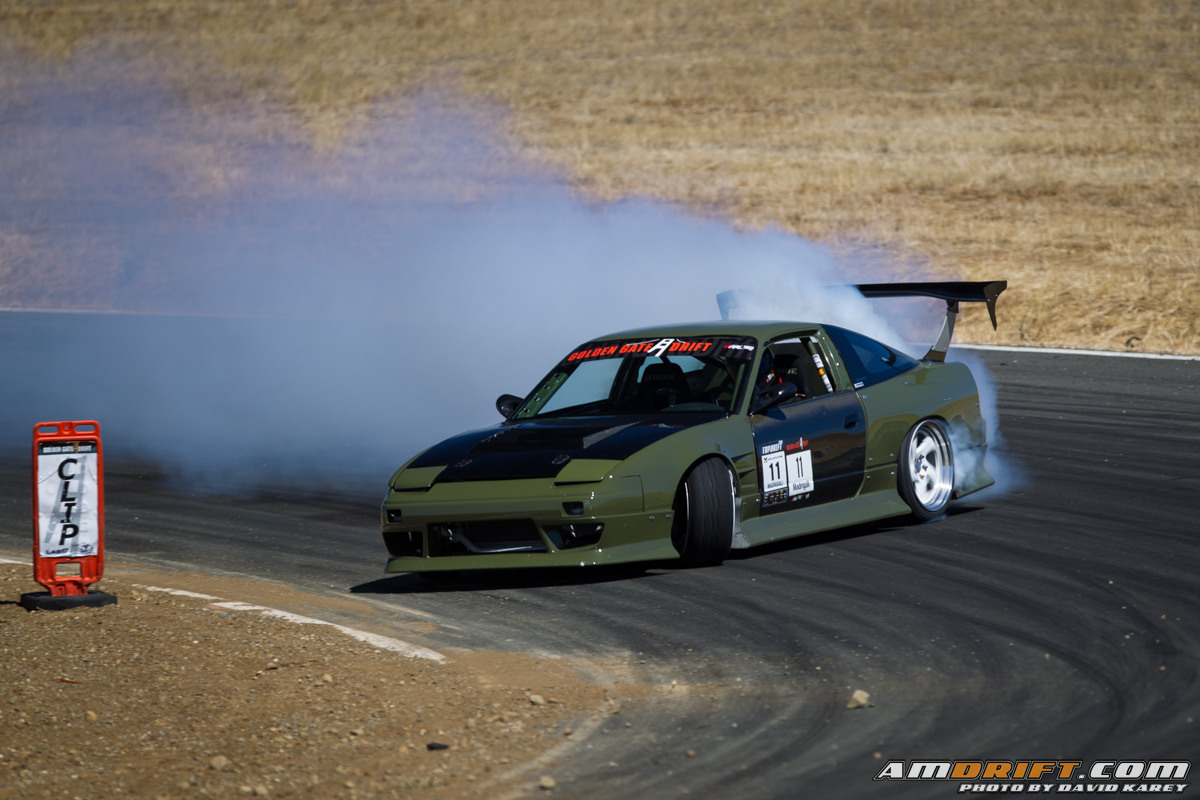 Coming into round 4, Matt Madrigali had the lead in points for the 2015 GGD Championship. Ryan Rasberry, Tyler Knudsen, Travis Ragona, Julian Dumay, and Joe Tardiff were nipping as his heels for the #1 spot, and anything could happen to move them into striking distance to take Madrigali down.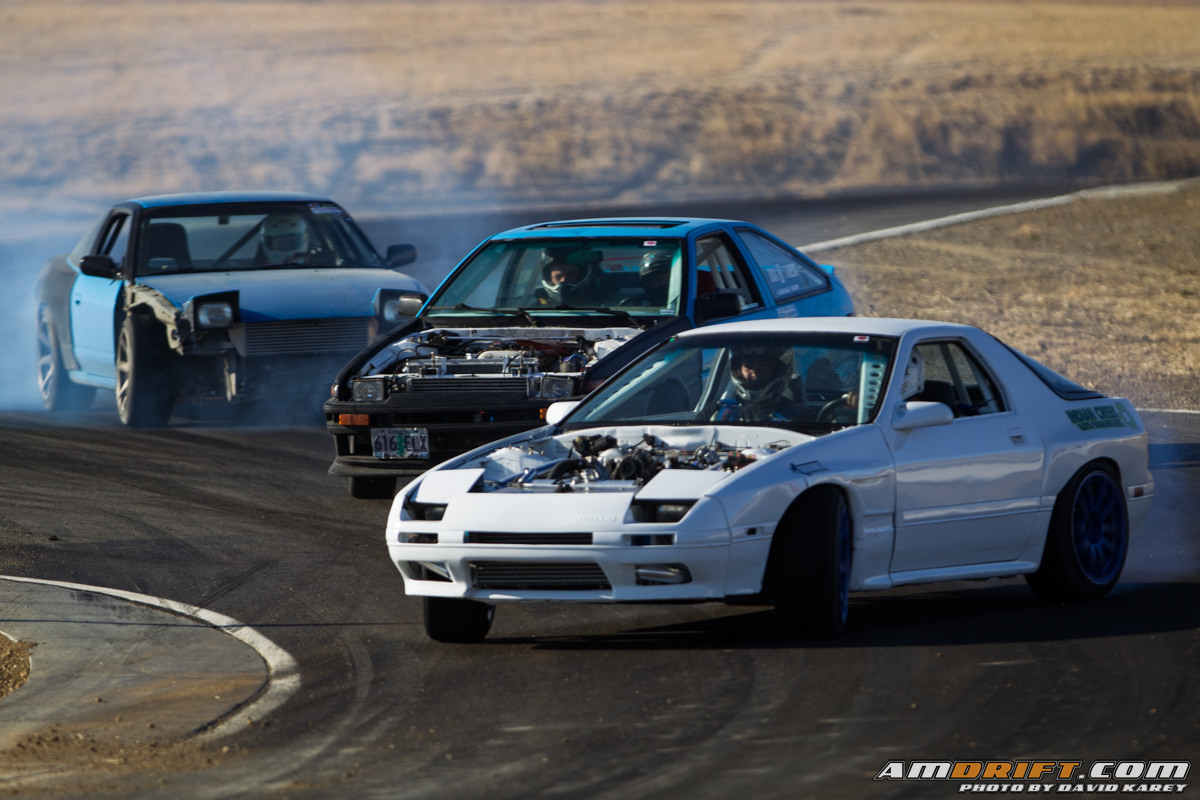 Several drivers formed teams for the team tandem competition. Team Epic Ways laid down some gangster runs, even beating a team of Formula Drift drivers, earning them a trophy they must defend at the next team tandem comp.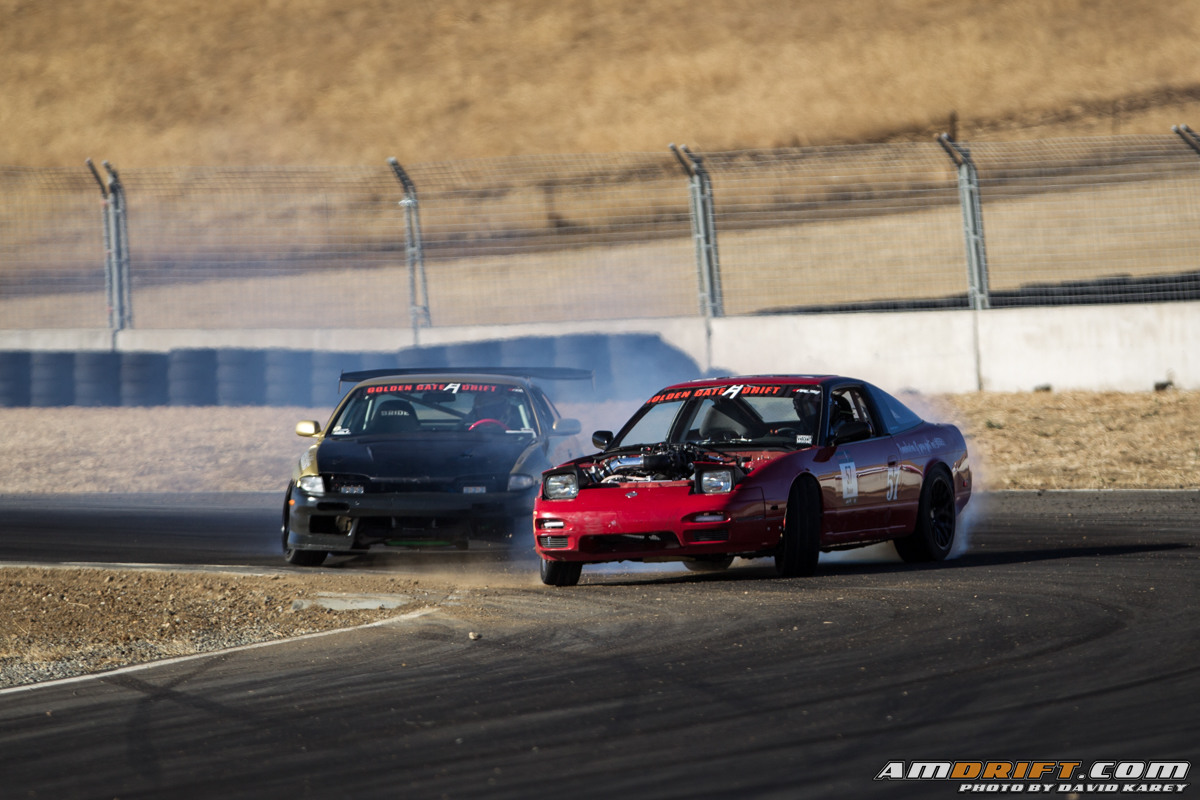 After a long and blazing hot Top 16 with a couple of upsets and drivers sitting out with mechanical issues, Ryan Rasberry and Chris Bixler would meet in the battle for 3rd. Rasberry would get the win, securing a 3rd place finish at round 4.
Matt Madrigali and Joe Tardiff would duke it out in the battle for 1st. Madrigali had to perform his best to win this battle. If Tardiff earned the victory, it would mean Madrigali's overall performance at the upcoming round 5 would be the deciding factor if Ryan Rasberry or Joe Tardiff would walk away with the 2015 championship.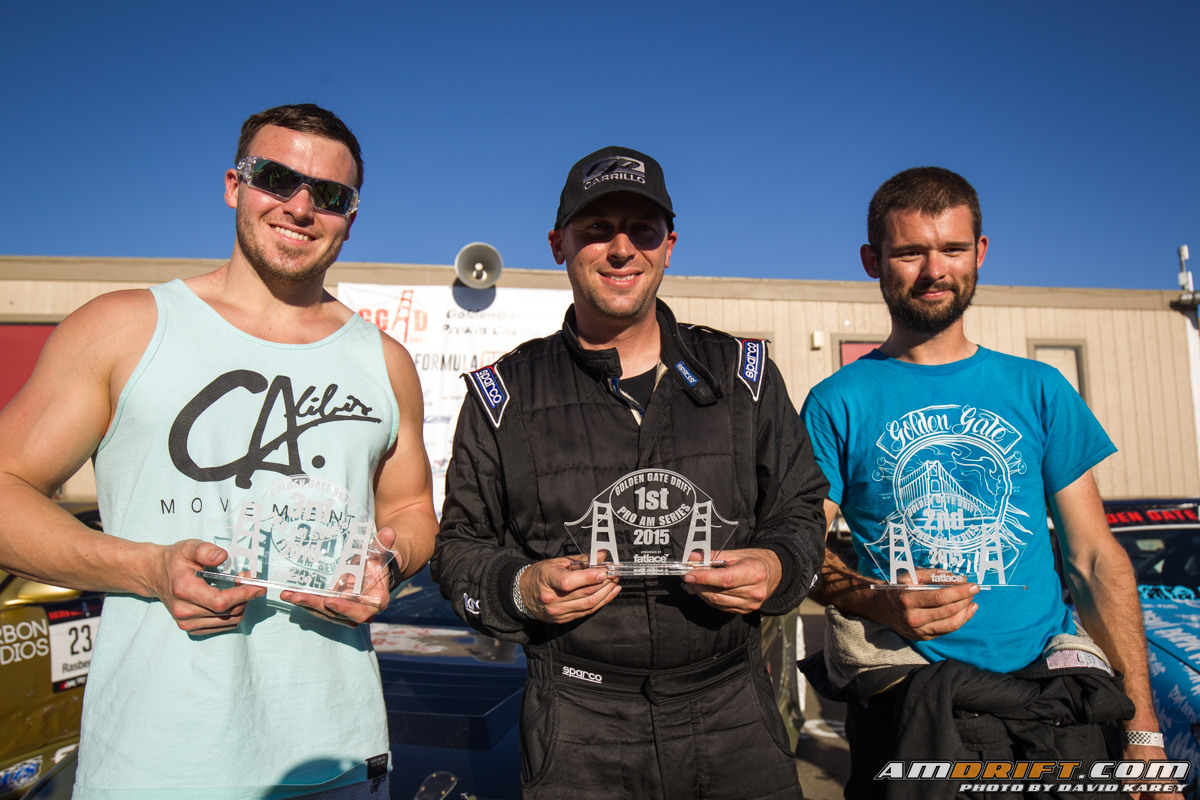 In the end, Joe Tardiff took the win, making him the winner of Golden Gate Drift Round 4, Matt Madrigali followed in 2nd, and Ryan Rasberry took 3rd. Matt Madrigali still leads the series with 368 points, Rasberry is right behind him with 325.5 points, and given his performances in several other Pro-Am series' this year, Tardiff is bound to strike on both drivers in 1st and 2nd, sitting in 3rd with 294 points.
With 4 out of 5 rounds completed, there is still plenty of mixing up to be had. The date of Golden Gate Drift Round 5 will be announced shortly, but we do know that we will be back at Thunderhill for another exciting round of drifting. We are looking forward to another high driver and spectator count to make the final round one for the history books. Until then, enjoy the Golden Gate Drift Round 4 gallery.
– David Karey