---
Once in a while an event comes around our part of the country that promotes nothing but fun, and that's what Street Driven Tour is all about. I missed 3 of the 4 events this year, so my wife and I headed out to Las Vegas Motor Speedway for the final Street Driven Tour of the 2015 year with partners Vegas Drift and StanceWars. It was nothing but hanging out, drifting, sweet show cars, and drift games that not many organizers bring to the table. Street Driven Tour in Vegas was THE must attend event for many west coast drivers, and a few popular names from afar.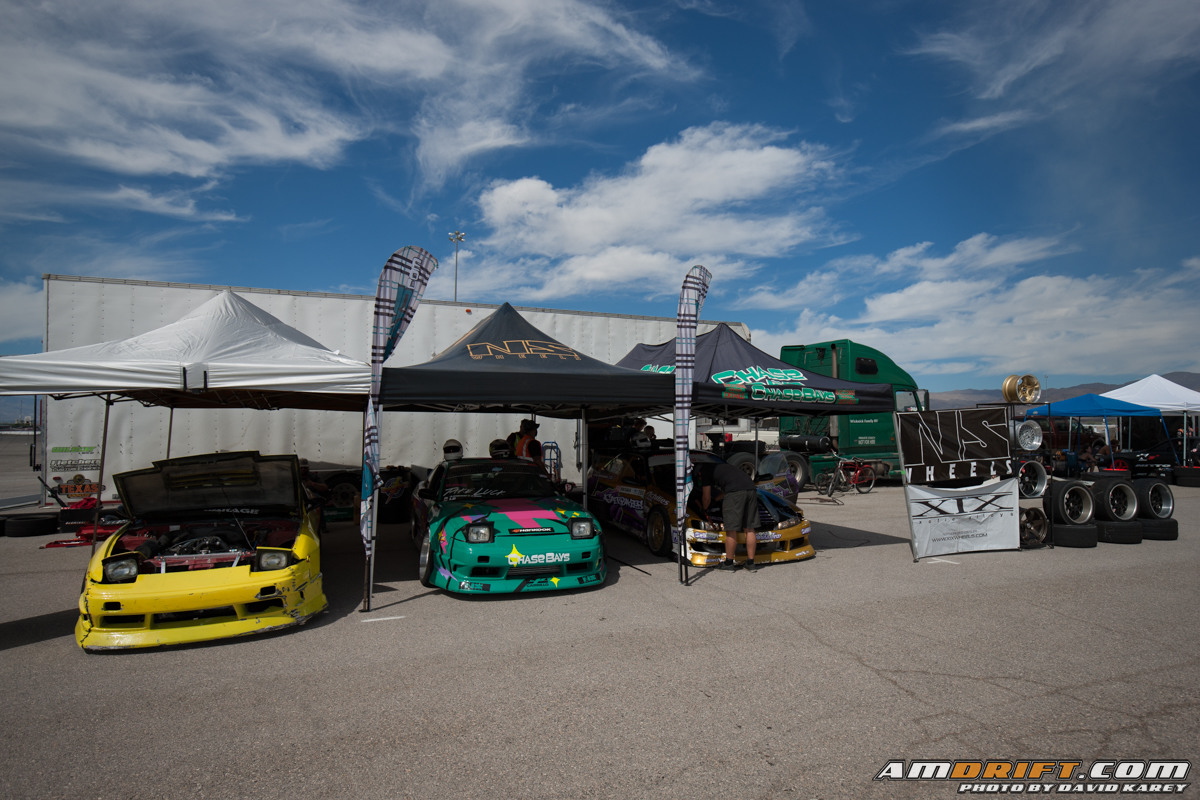 Covering a strictly fun event with no finances on the line, and so many friends in attendance, is difficult. All I seem to want to do is hang out, bullshit with everybody, and before I know it, I haven't shot anything and half the day has gone by. This is why when my buddies like Brandon Wicknick and crew show up, I know I'm going to be the most useless photographer at the event, and I never seem to care.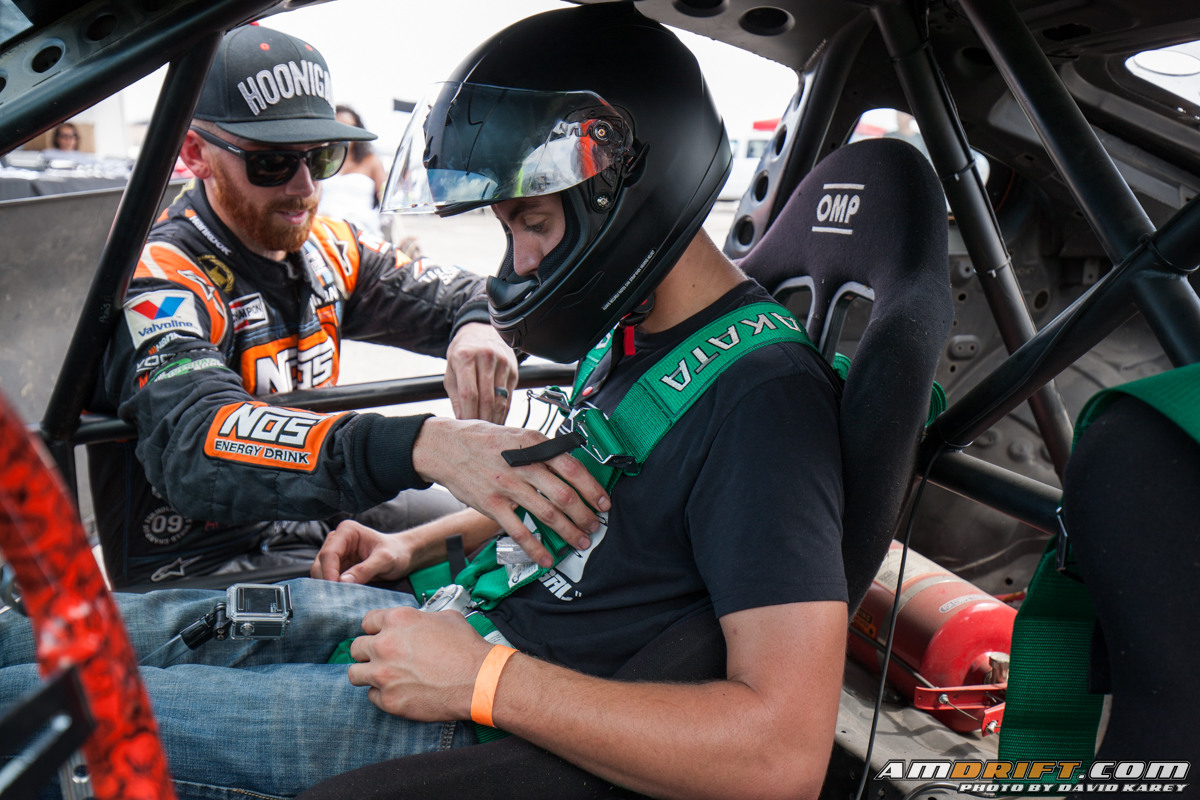 Professional drifting is expensive and takes a toll on an individual, so to see a lot of pro drivers come out to hang out with the crowd and have a good time is refreshing. You can easily tell where a driver's heart lies when you see them travel to an event where they don't have to put on a game face for their sponsors. A few popular faces that get thrown into the drifting spotlight at least 7 times per year in Formula Drift, made it to out to Vegas for Street Driven Tour, such as Chris Forsberg, Odi Bakchis, Forrest Wang, Geoff Stoneback, Alex Heilbrunn, Brandon Wicknick, Juha Rintanen, Andy Hateley, and old timer Matt Powers.
It's always a pleasure to hear and see our man Jarod DeAnda on the mic. Little known fact: Jarod loses his voice after every gig. Love him or hate him, Jarod has been an icon of American drifting since the beginning. Good times in Vegas.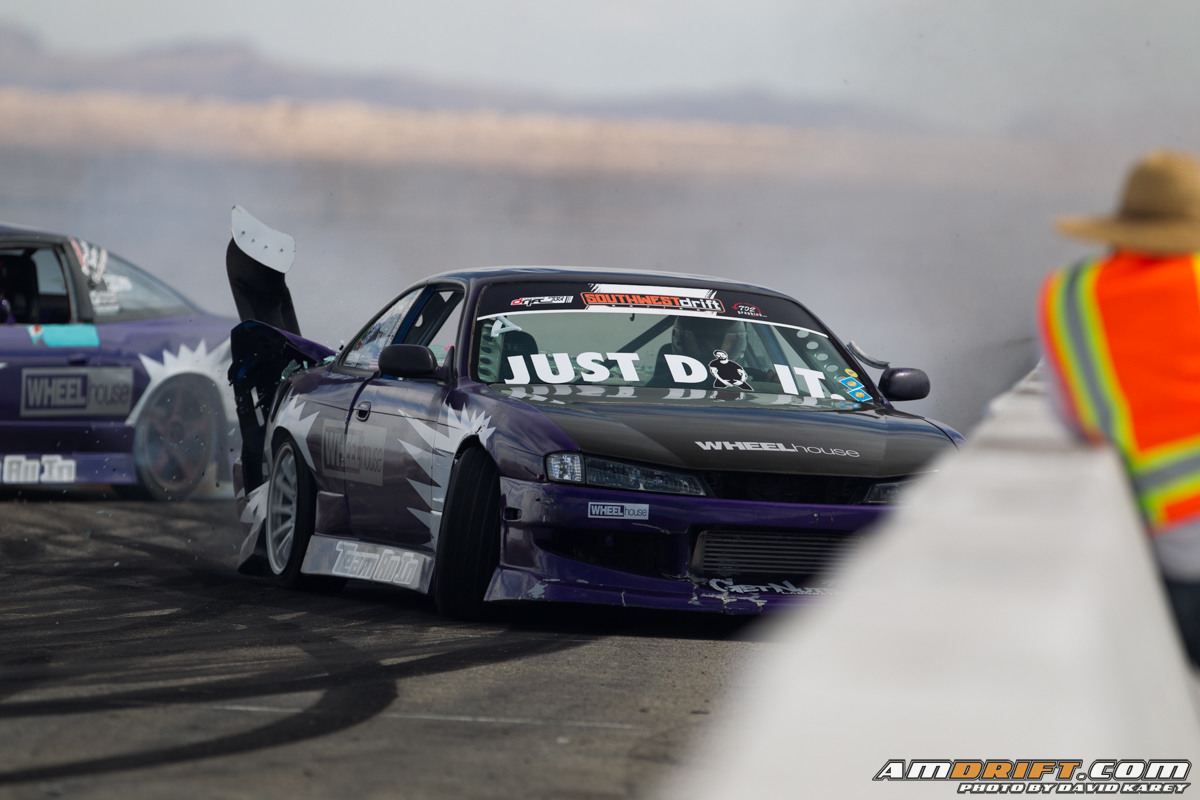 As I mentioned before, the day started slow for me because I was bullshitting left and right. About mid day, I made it out to the track just in time to see this dude have a little one on one with the wall. After some cleanup time, drifting was back in full effect.
StanceWars had a cool gathering of show and street cars going on right next to the drift arena, so after the crash above, I made my way over there to check it out. There were some pretty sweet rides there. I never ever ever ever go to car shows, but since this one was part of Street Driven Tour, I gave it a chance, and actually found interest in the cars. Cliff Notes: it was a great car show.
Tandems were a highlight of Street Driven Tour. All day long, the pro and pro-am guys got together for some group door banging fun. There wasn't a period of 10 minutes where a tandem train wasn't running. From a driver's perspective, it must have a been a damn good time.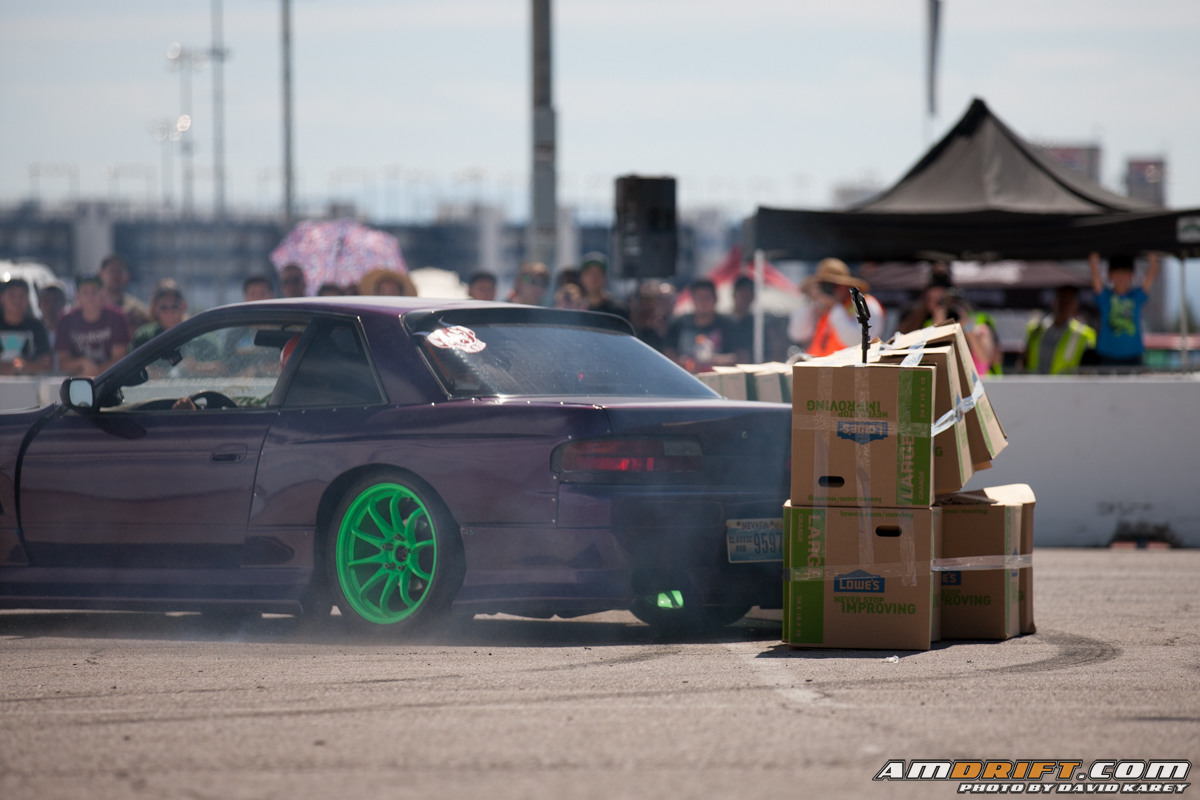 Street Driven Tour is on the cutting edge of bringing ideas to the table that have been long forgotten or hardly given a second thought at drift events. One of the cool drift games at this event was the hard park contest. Driver's had to swing into a drift, and park as close and parallel to a wall of boxes as they could, without touching them. The crowd seemed to love it, and the drivers were visibly having a good time.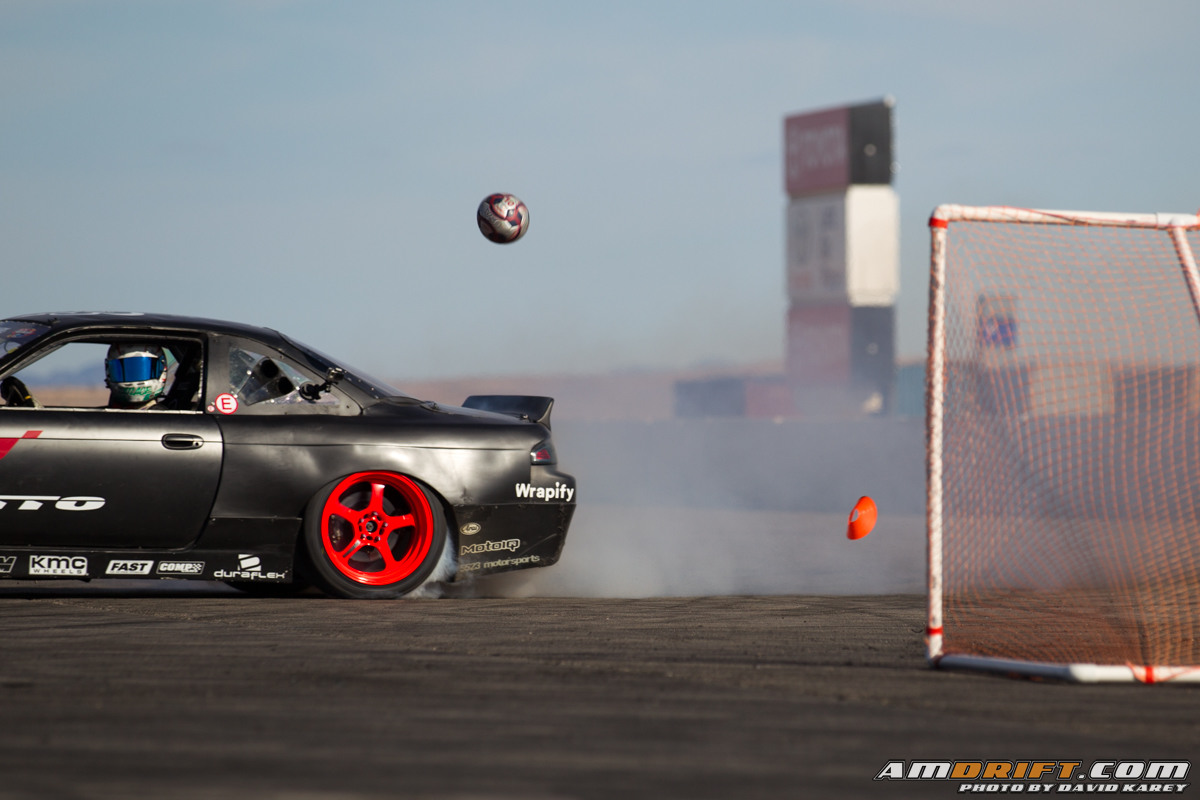 Drift soccer was another innovative game that Street Driven Tour scheduled in. Similar to the hard park contest, drivers would drift toward a goal net, but instead of boxes (lol), they would hit a soccer ball into the net with the body or wheel of their car. This was pretty cool. The last time I attended an event with drift games was a 626 Drift gig years ago, and most of the drivers were complaining about how games are stupid. Get out of here. Games are awesome.
Oh, whoops. You don't become a great driver without pushing the limits. When you are on the top of your game like Formula Drift Pro 2 driver Alex Heilbrunn is, sometimes you go that extra inch too far that ends up kicking your ass. No worries. Team Inca Madness Racing had the car fixed in a flash and it looked like nothing had happened. A team that can rapidly fix a car that had just removed a basketball sized chunk from a concrete wall, is a damn good team. In a nutshell, Alex had a good time.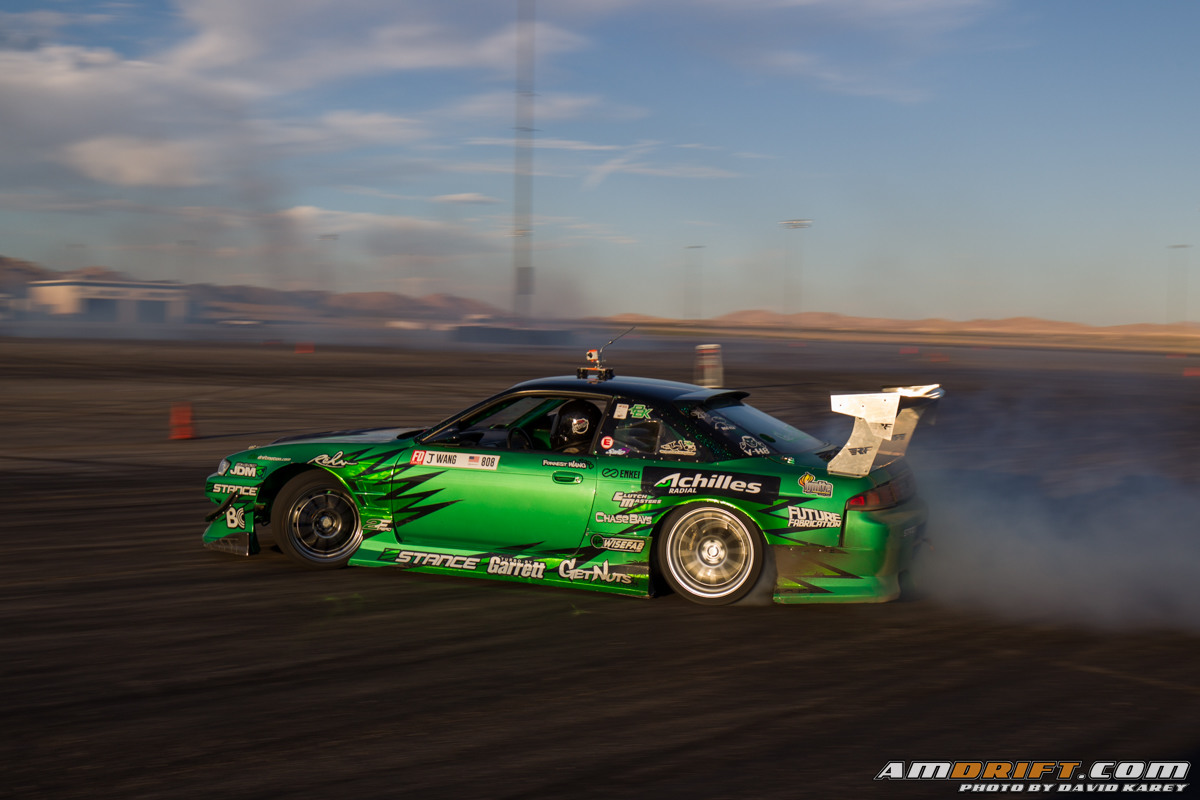 Geoff Stoneback was out in the Get Nuts Lab S14 owned by Forrest Wang, but decked out in Stoneback sponsors. I asked Geoff if he liked the 2JZ, and he said he loved it. You never know, 2016 may see a 2JZ powered Stoneback mobile.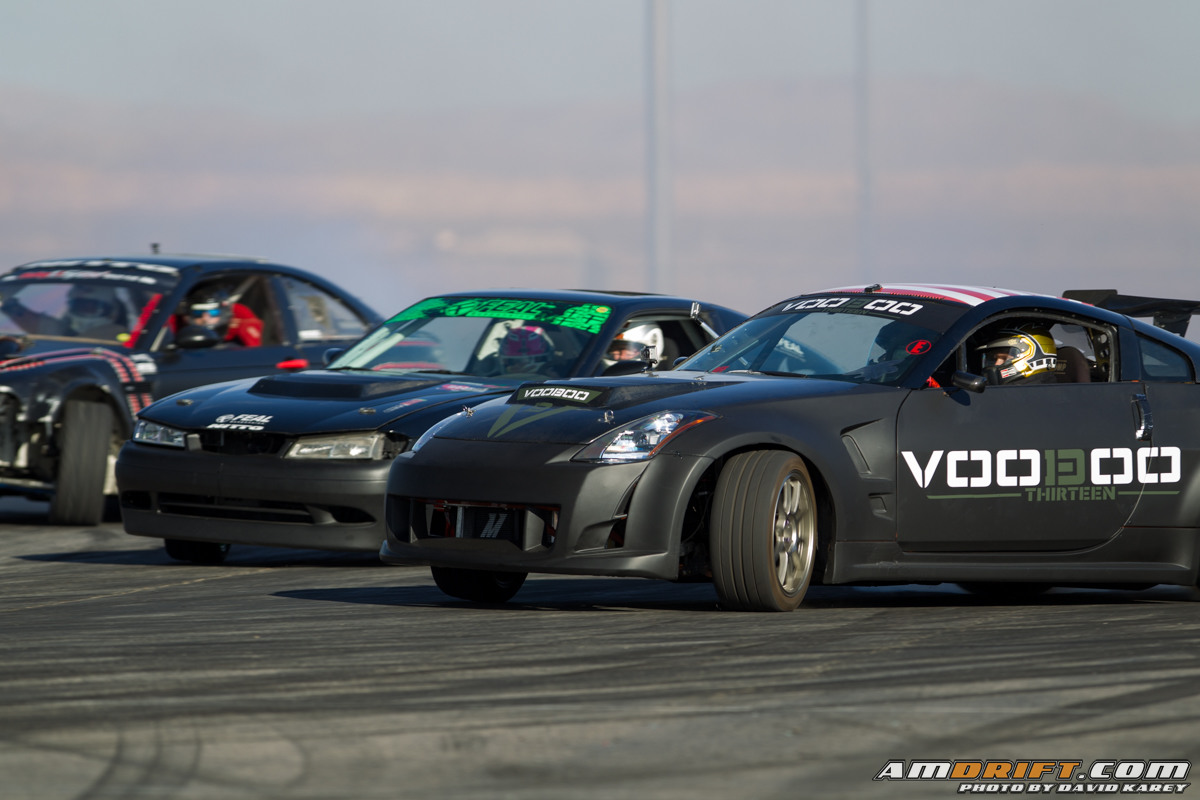 There was so much drifting going on at Street Driven Tour in Vegas. I mentioned the frequency of group tandems, and I really wasn't over exaggerating. There was always a steady mix cars organized by whoever was at the starting line at the time, flowing throughout the day. Why not, eh?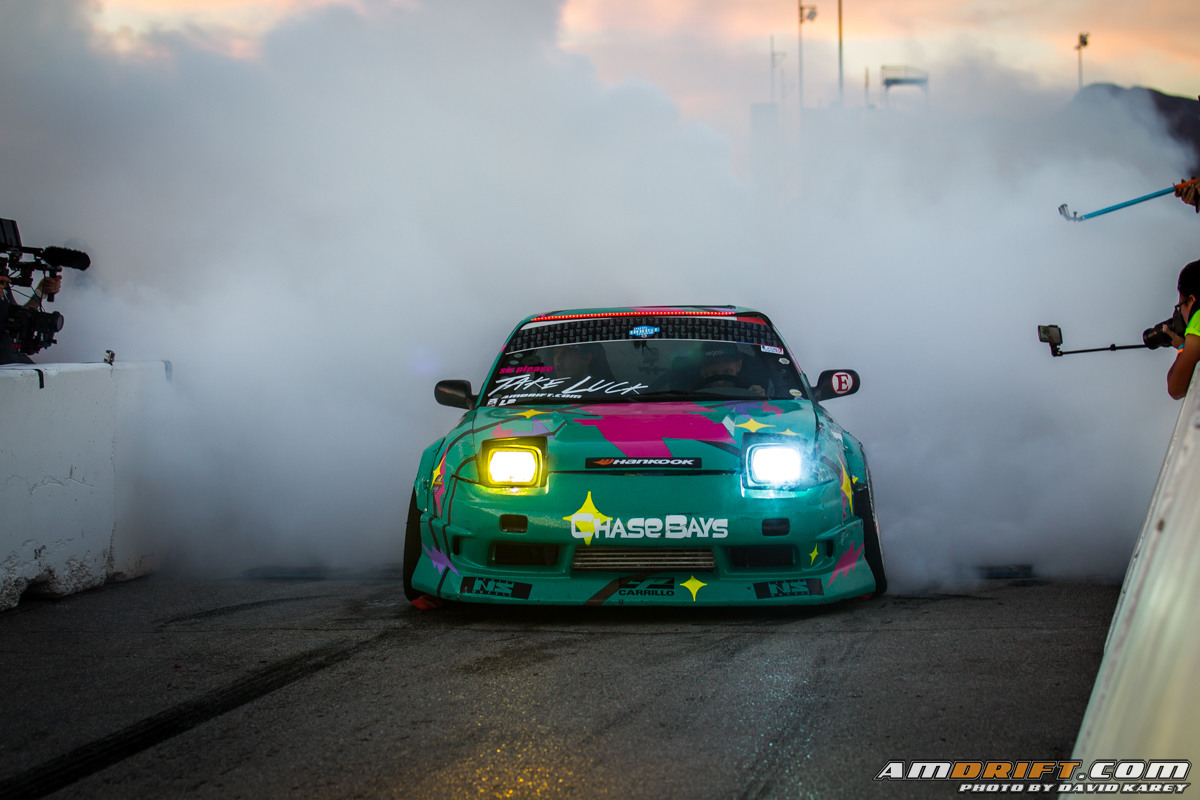 A couple more hours of bullshitting went by, and the event started nearing a conclusion, and there was no better way to end it than with the Hoonigan Tire Massacre burnout contest. Car after car, it pretty much came down to who could park it and kill a set of tires and the crowd the best. I am a huge fun of burnouts, and I don't think they are stupid, and I like when drivers are peer pressured into wasting a good set of tires standing still. It's freakin awesome!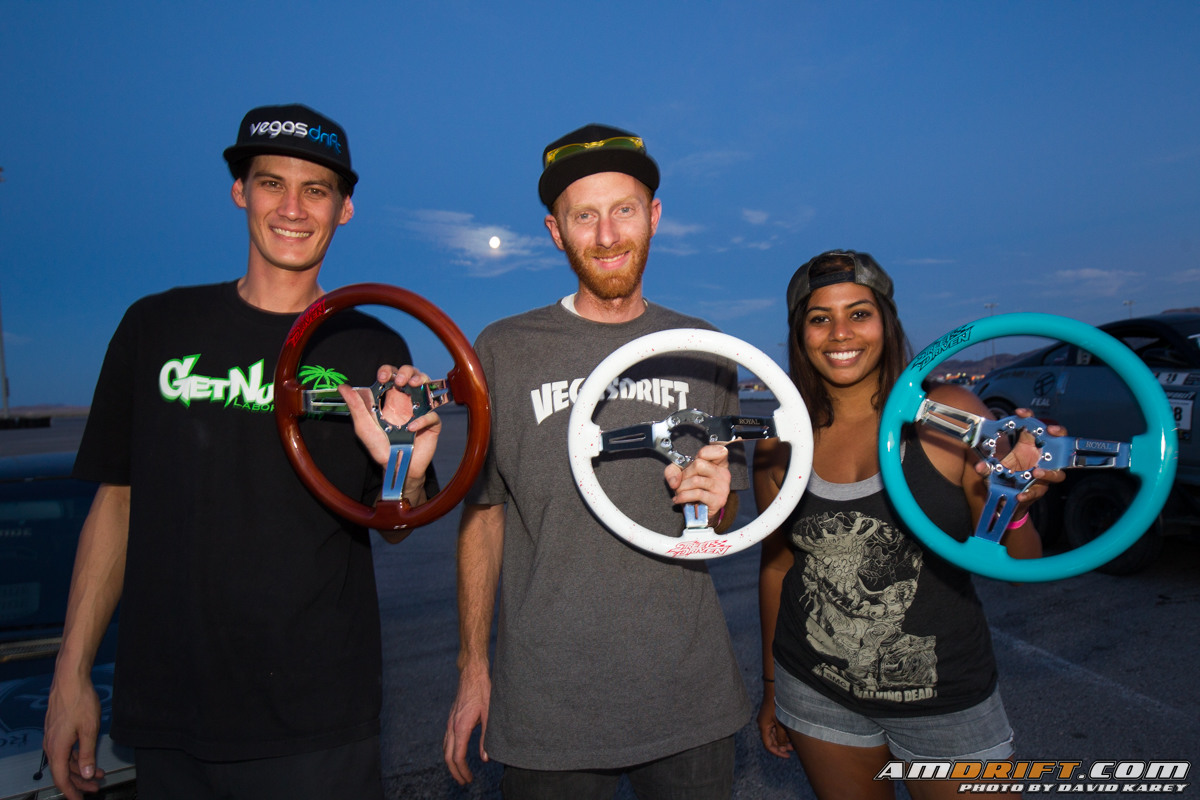 Games aren't games without winners and losers. At Street Driven, there aren't any losers as long as everybody has a good time, but there are winners. The winner of drift soccer was Forrest Wang, the winner of the burnout contest was Brandon Wicknick, and the winner of the hard park contest was Rathyna Gomer. All winners received Grip Royal steering wheels.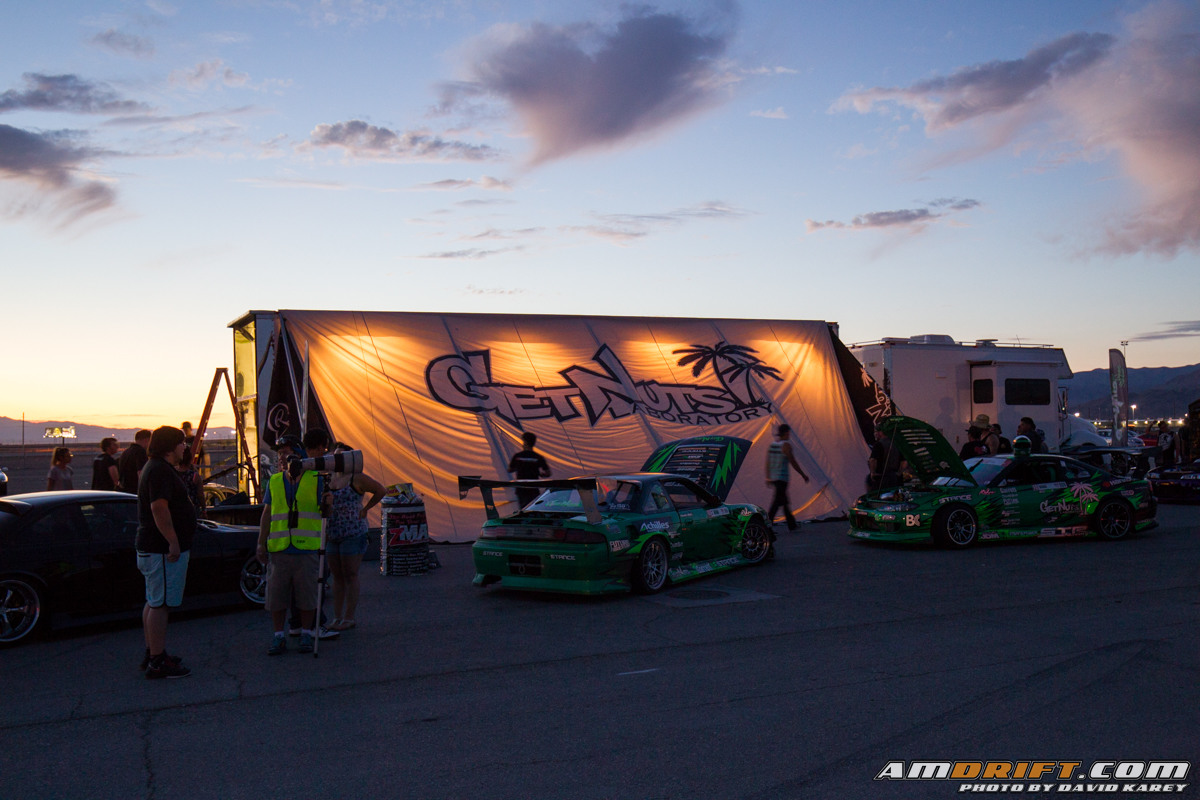 Street Driven Tour was a good time. Would I go again? Absolutely yes. Will I go again? Most definitely. I can't wait to see what's up Street Driven's sleeve for next year. Thanks for putting on a good show.
David Karey