The stage was set for the final round of Formula Drift Pro 2 at Irwindale Event Center on October 9, 2015. Irwindale is a track that has much history in FD, and drivers knew it was go hard or go home. It was time to put it all on the line as this was the make or break point for those to earn their Formula Drift Pro licenses.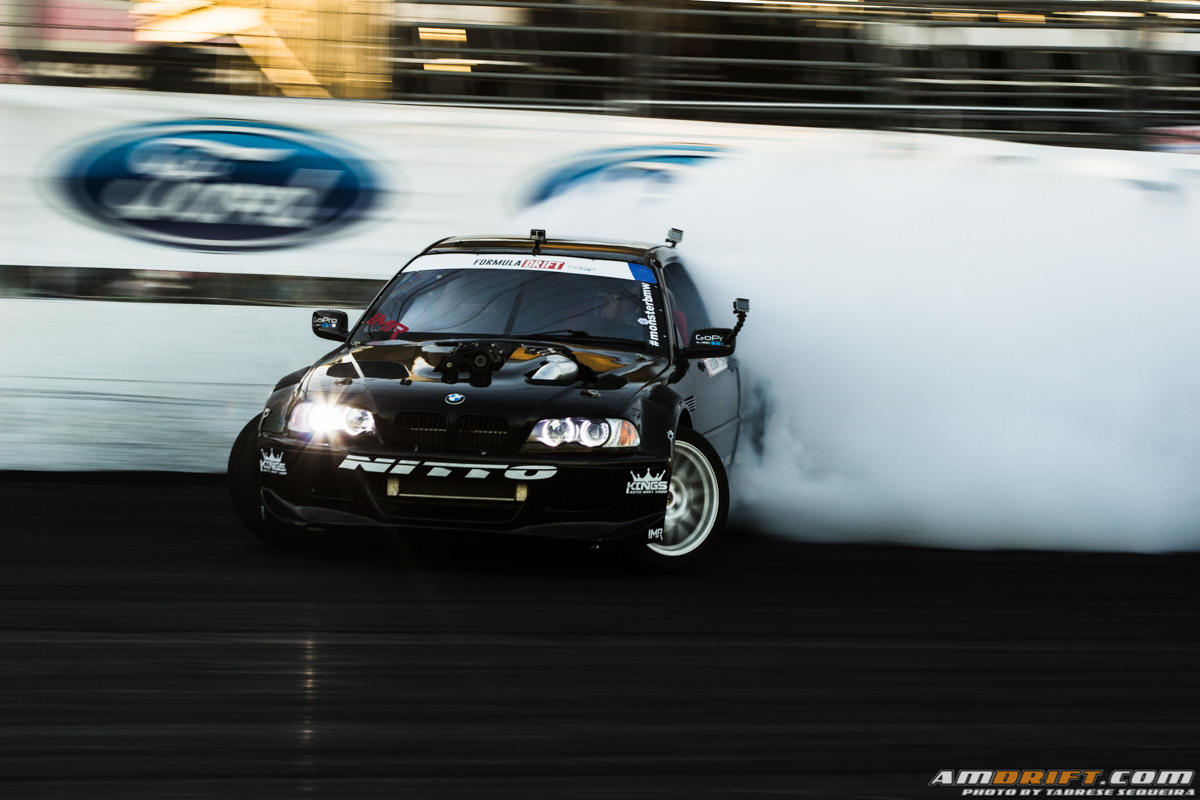 Coming into the final round, Alex Heilbrunn already had the championship locked up, but that doesn't mean he, or anyone else for that matter, was going to take it easy. From practice it was clear that it wasn't going to be an easy fight for anyone to get to the podium.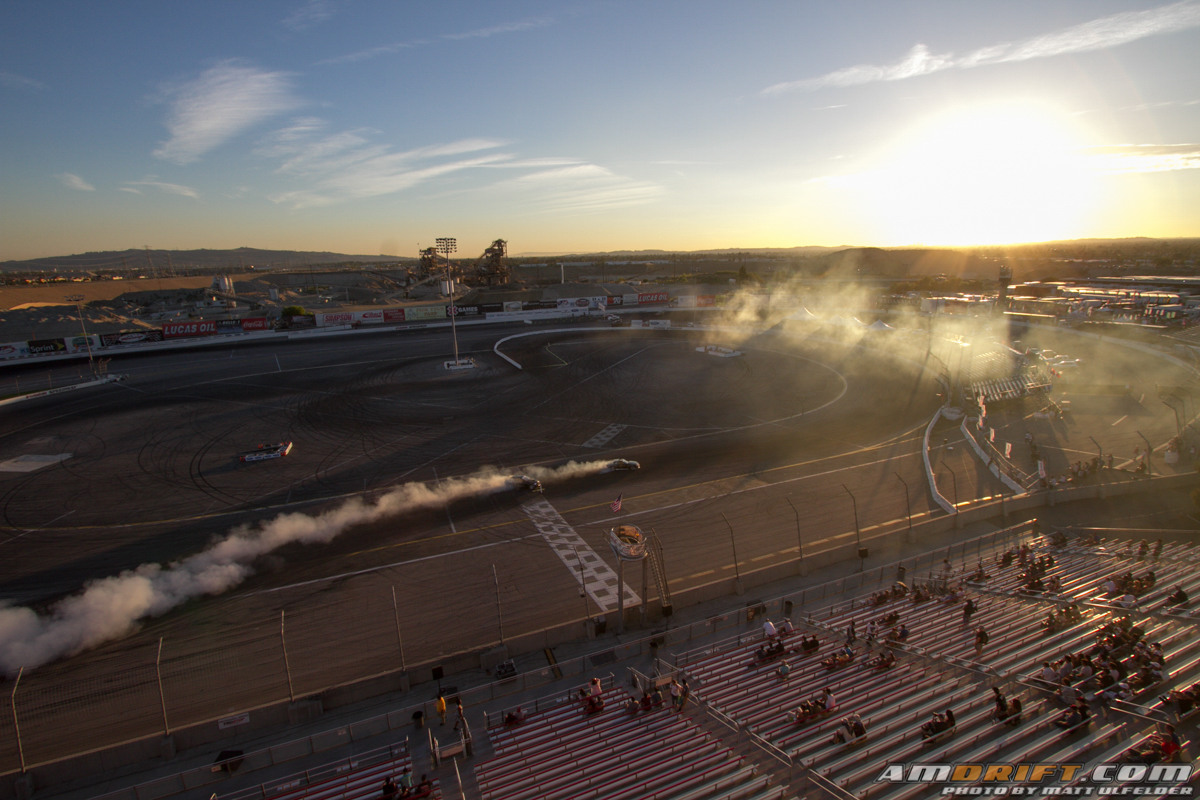 Practice came and went. The drivers, whether new to the venue or not, we're getting more and more comfortable. The main issue was keeping cool. Track temps were high and that meant drivers, cars, and even the tires were struggling.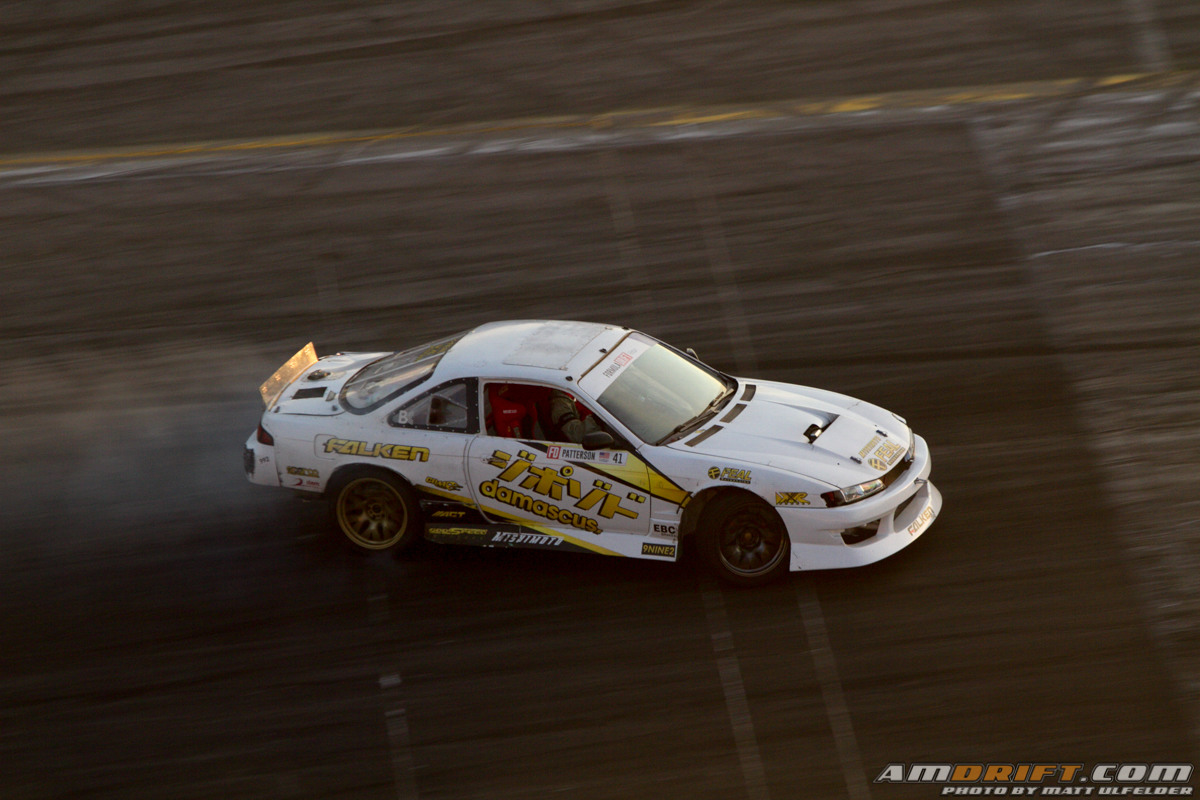 Drivers were able to push harder towards the latter part of the day when the temps cooled, allowing for more runs on mechanical components and tires that weren't being over cooked.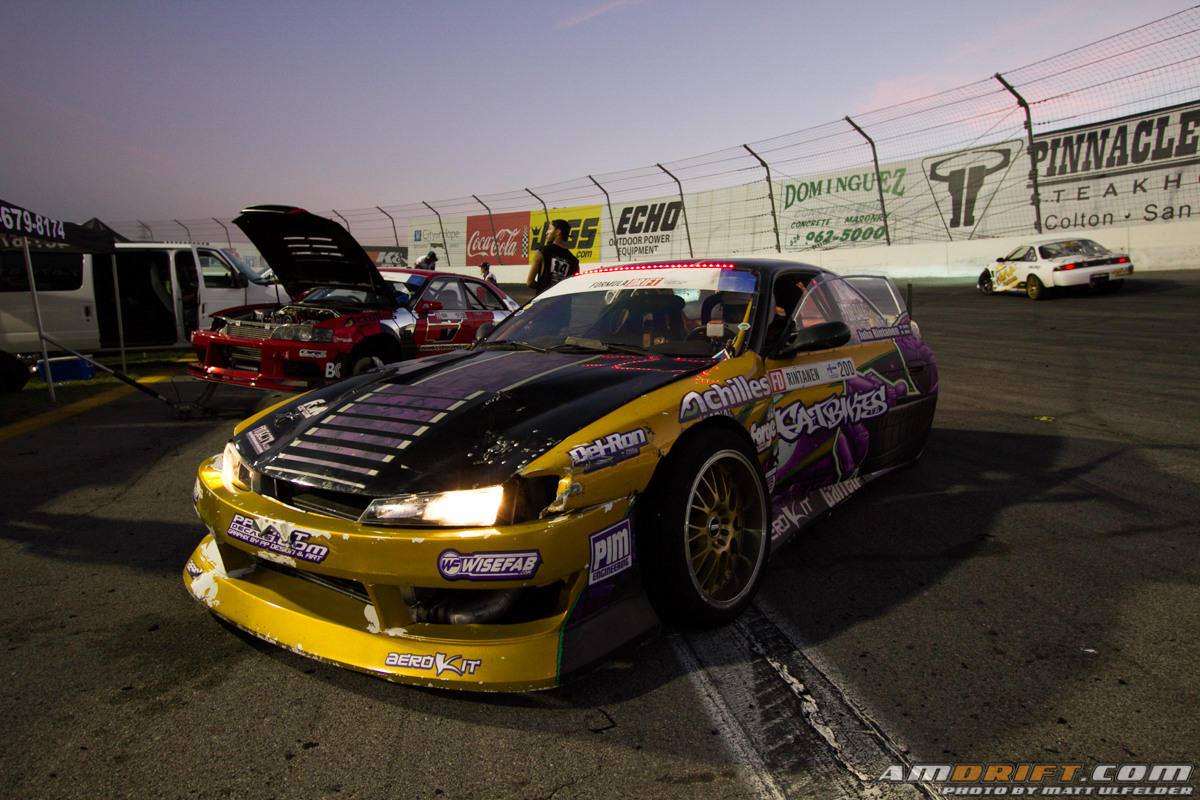 Juha Rintanen came out swinging and scored himself first place qualifier. Staying in the states after Texas and going to No Coast Drift Party in new Mexico and Street Driven Tour in Vegas, gave him the time to test and tune every aspect of the car, something the team has never been able to do because they travel back to Finland the day after every round. It looks like the test time really paid off.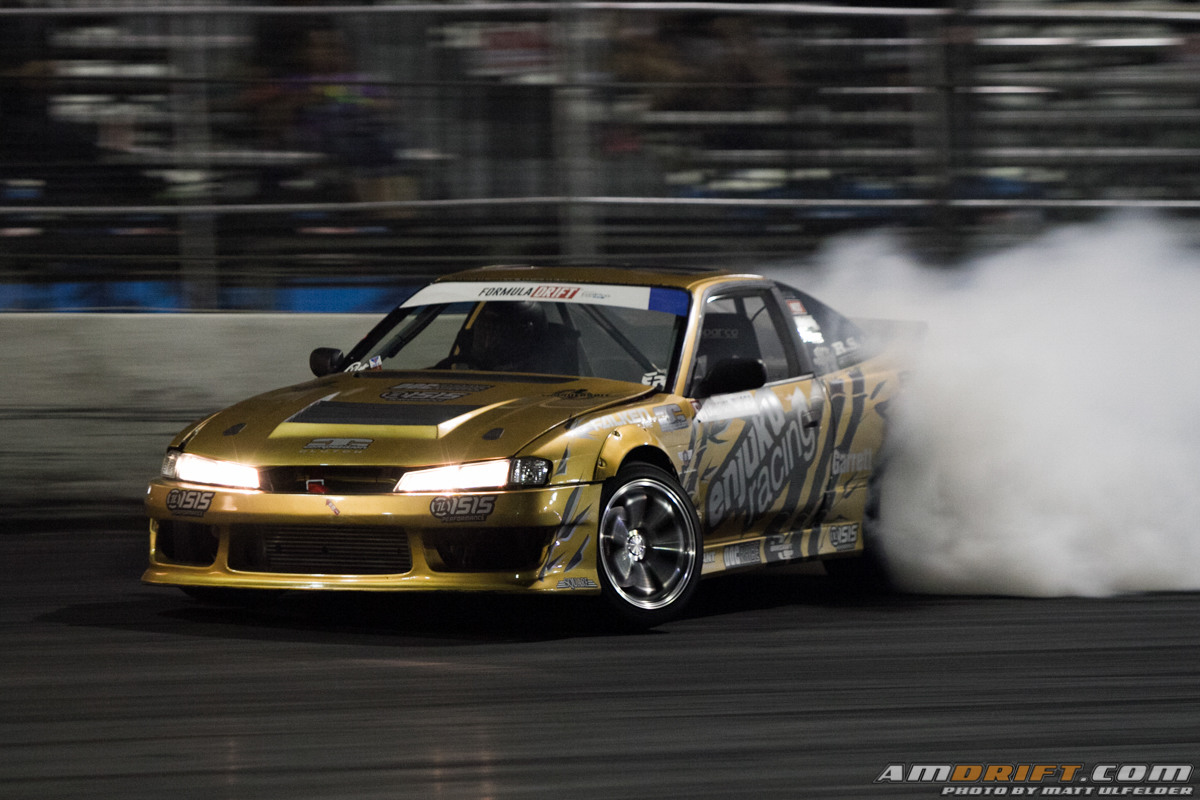 Enjuku Racing driver, Kevin Lawrence, ran the walls like a gangster and secured second place qualifier, well more than enough to put him in the show. Kevin is a force to be reckoned with, consistently showing and increasing progress with every round this year.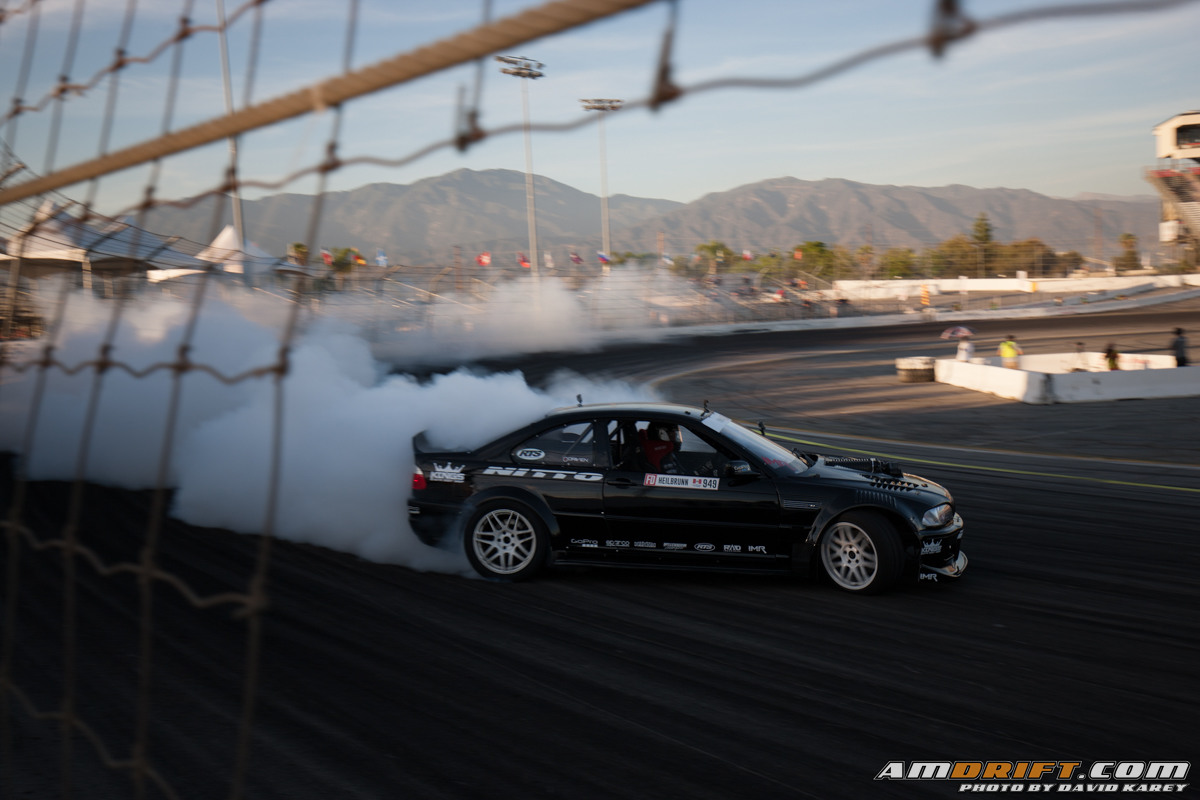 Once qualifying started, it was clear that all the practice that Alex Heilbrunn had put in at Thursday Night Drift open drift nights held by Formula Drift had paid off. Heilbrunn qualified third.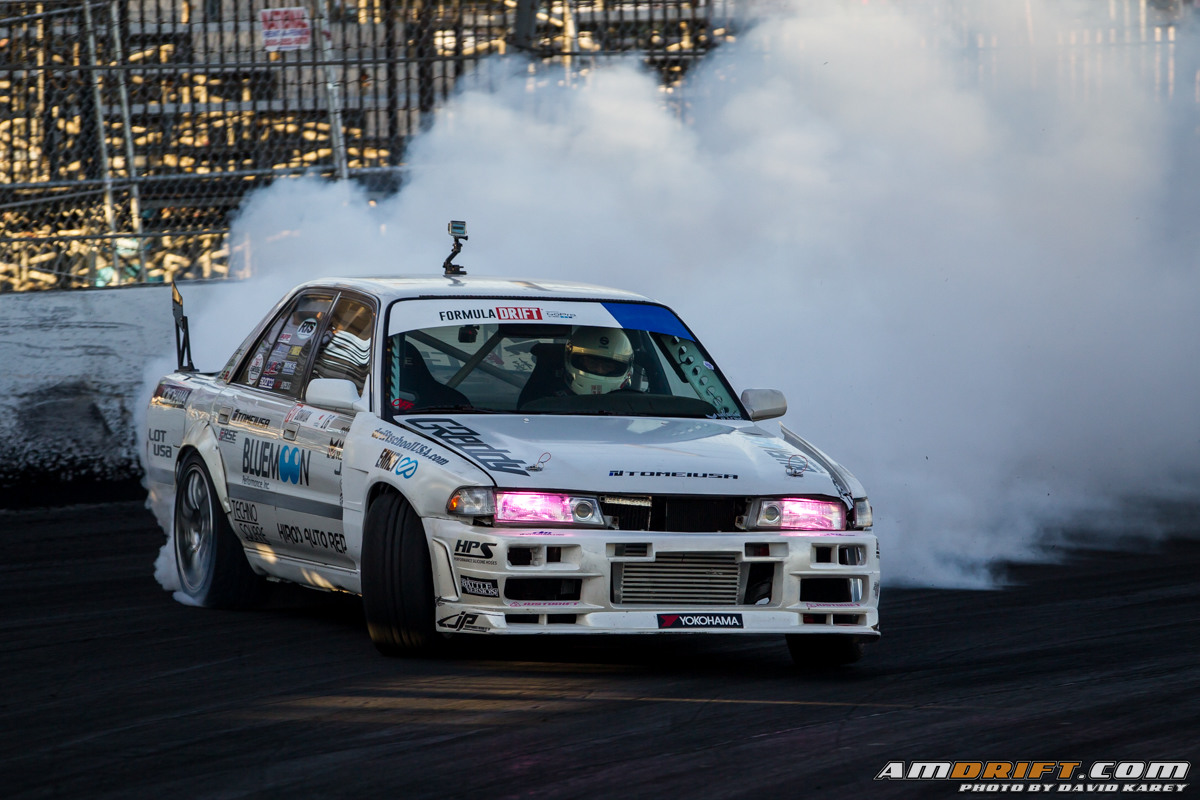 Hiro Sumida is no newbie to Formula Drift, and that showed as he landed himself in 4th. I don't know how many new school fans know about Hiro, but they definitely won't forget him and his pink headlights!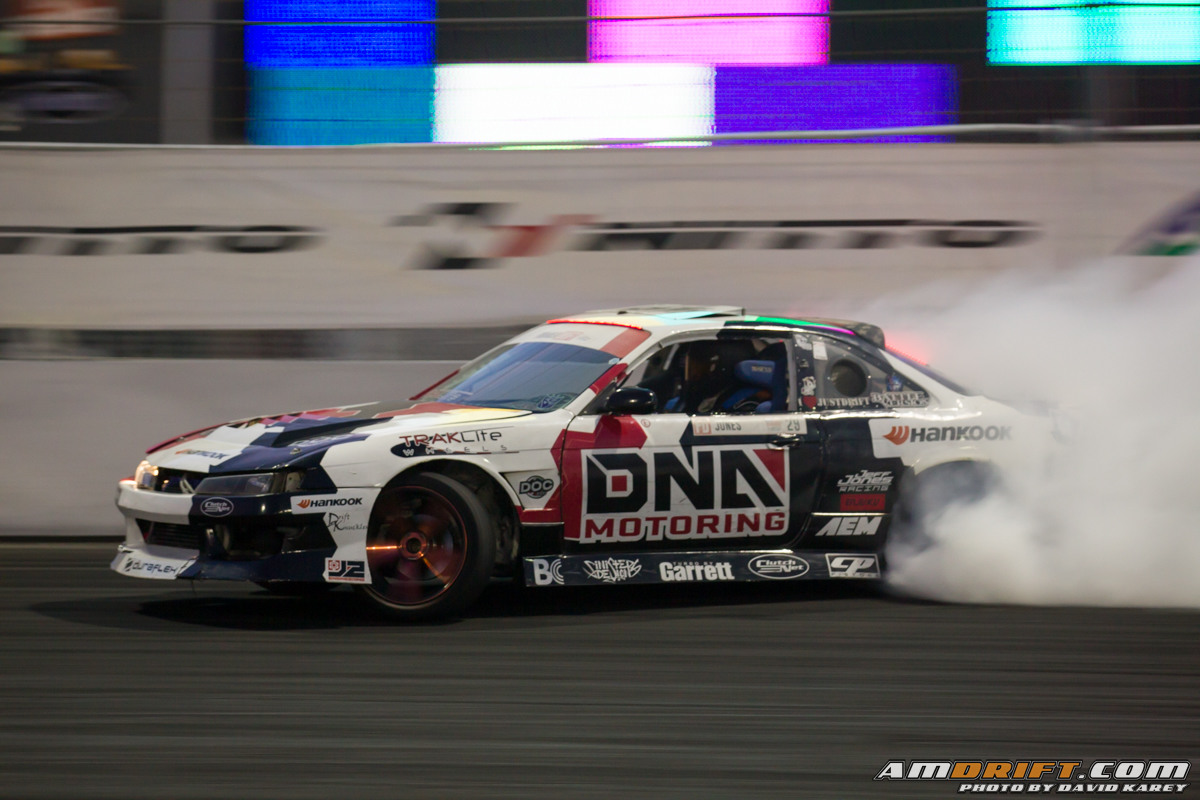 Jeff Jones and his veteran experience with the track landed him 5th overall with that turbo Chevy V8 setup.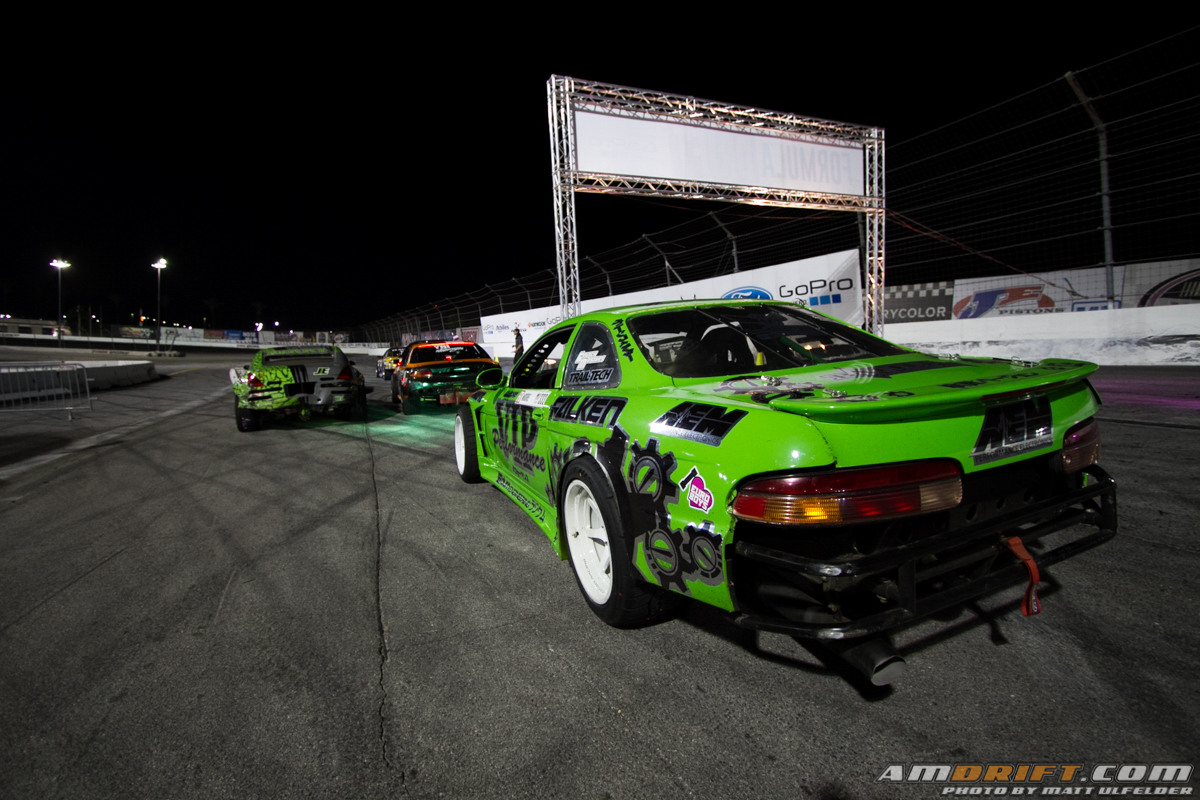 With the Top 16 bracket set, we were in store for some exciting battles. But it's a different excitement than watching the Pro drivers. Pro 2 has lower average horsepower figures, which means the driving is different and interesting in my opinion.
Top 16
Juha faced Brandon Patterson and showed why he qualified number 1. He put down a really solid lead and chase, but Brandon put up one hell of a fight as well! It definitely wasn't an easy victory for Juha.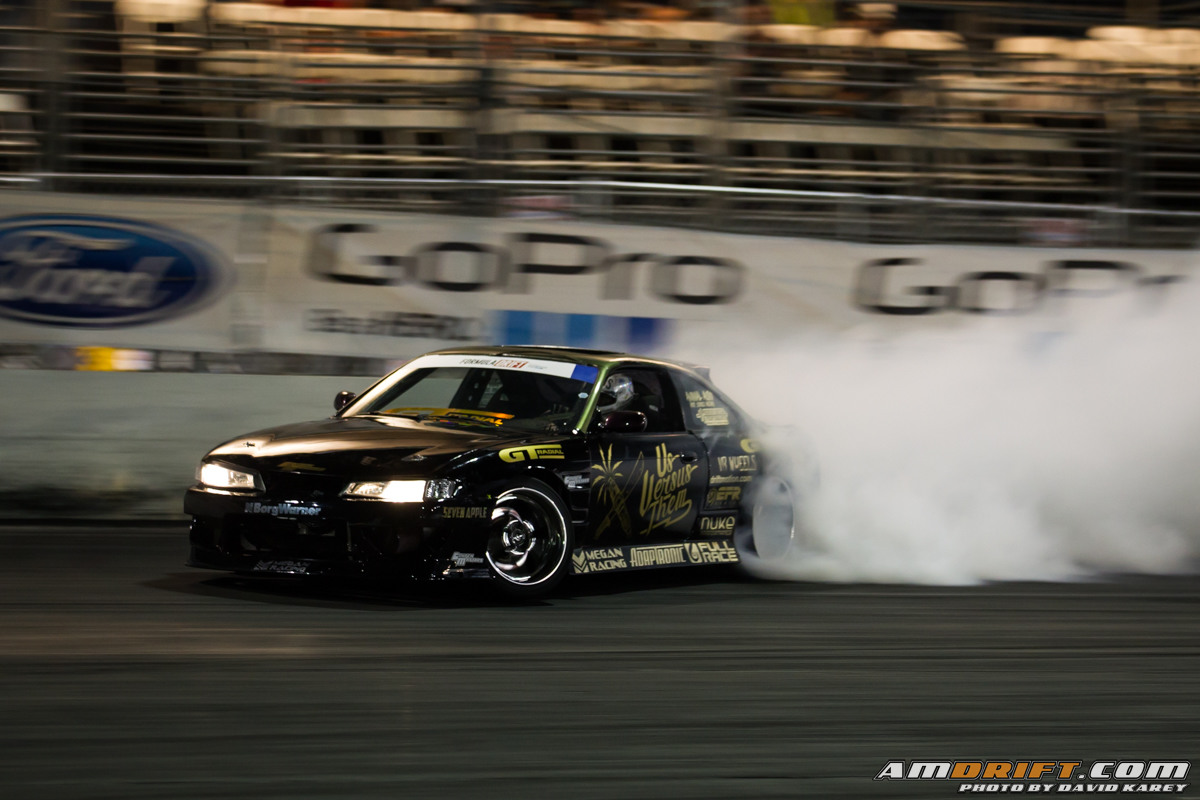 Ryan Litteral vs. Faruk Kugay, RB vs JZ, every V-H8er's wet dream. It was a beautiful sounding battle that we all wish would go on forever. In the end, Ryan Litteral bashed his rev limiter to the win.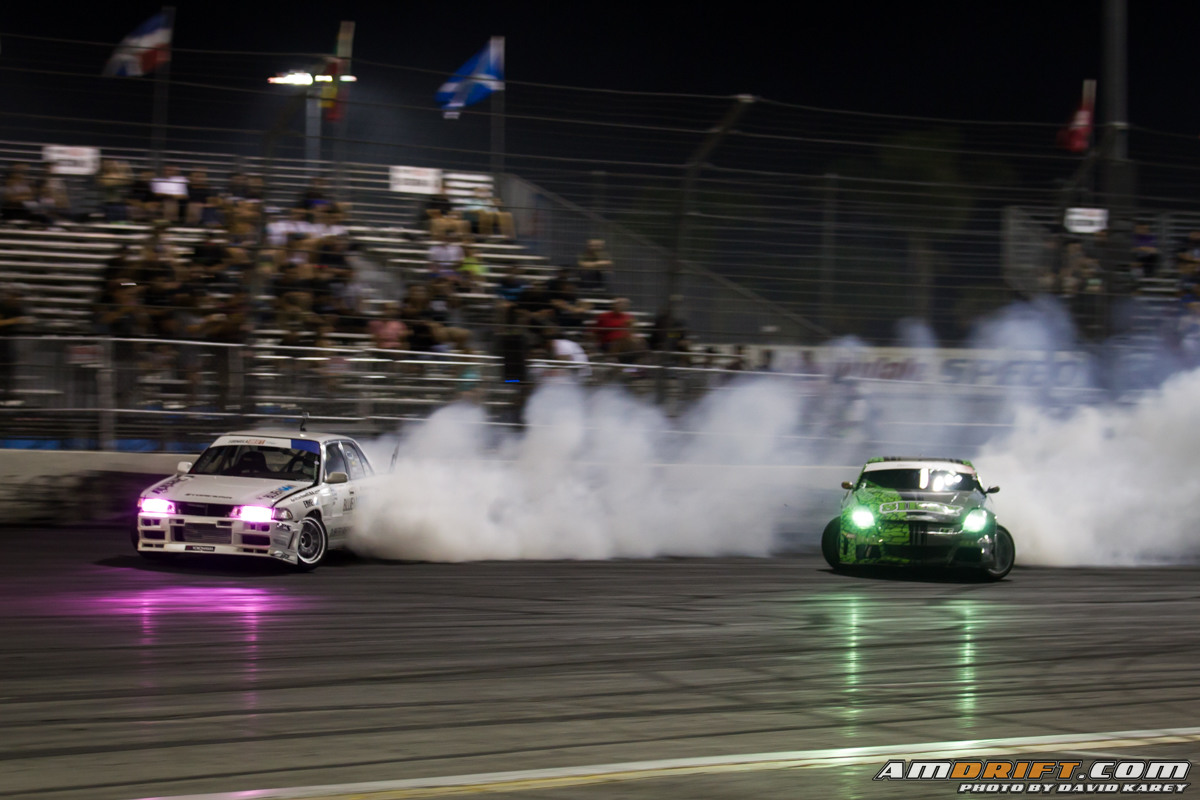 Anyone who loves colored headlights was a fan of this battle. Pink vs green, Hiro Sumida took on James Evans from the Sikky camp. Unfortunately, Hiro had power steering issues and straightened twice, the second time being into the bank on initiation. Hiro is okay, and Evans moves on to the Great 8.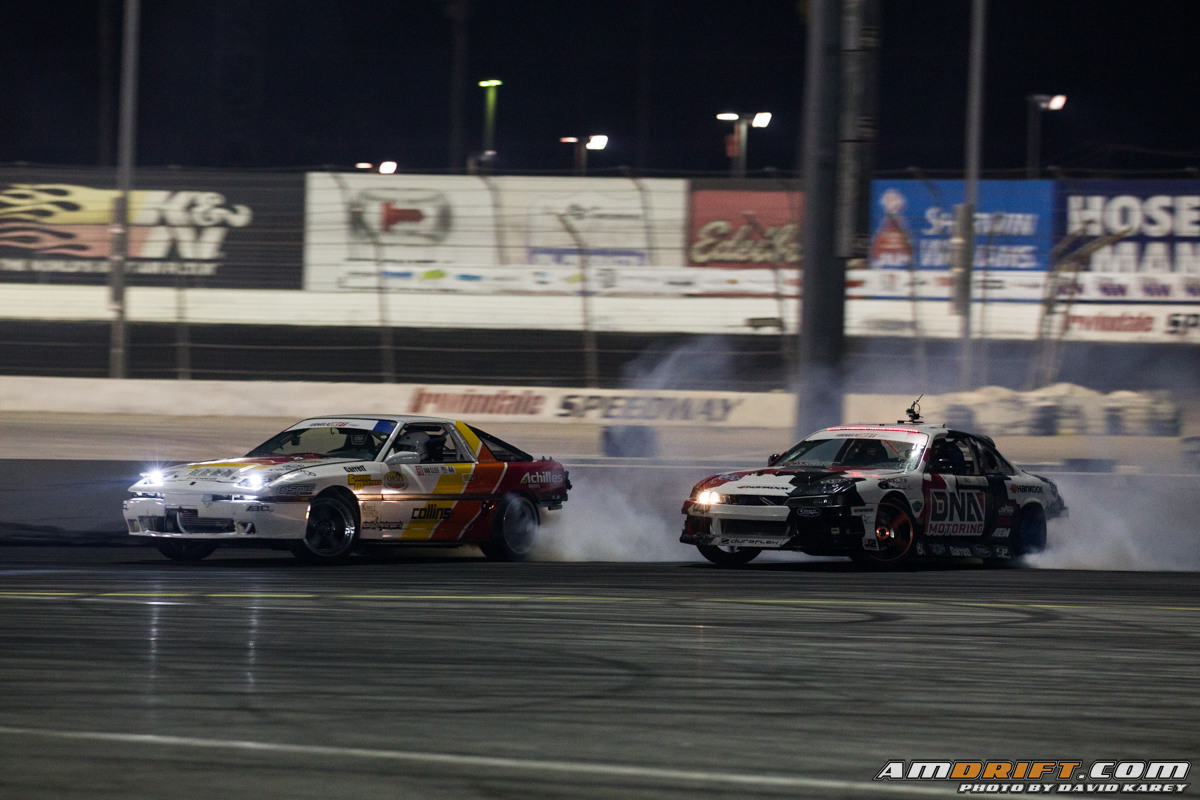 In an unprecedented move, Ryan Tuerck decided to run the final round of Pro 2! Just kidding. I'm sure Tommy Van Cleef is tired of hearing that this year, but I had to get my jab in. Van Cleef had the tough task of taking on FD veteran Jeff Jones. Jeff is no slouch, and showed it grabbing the win here.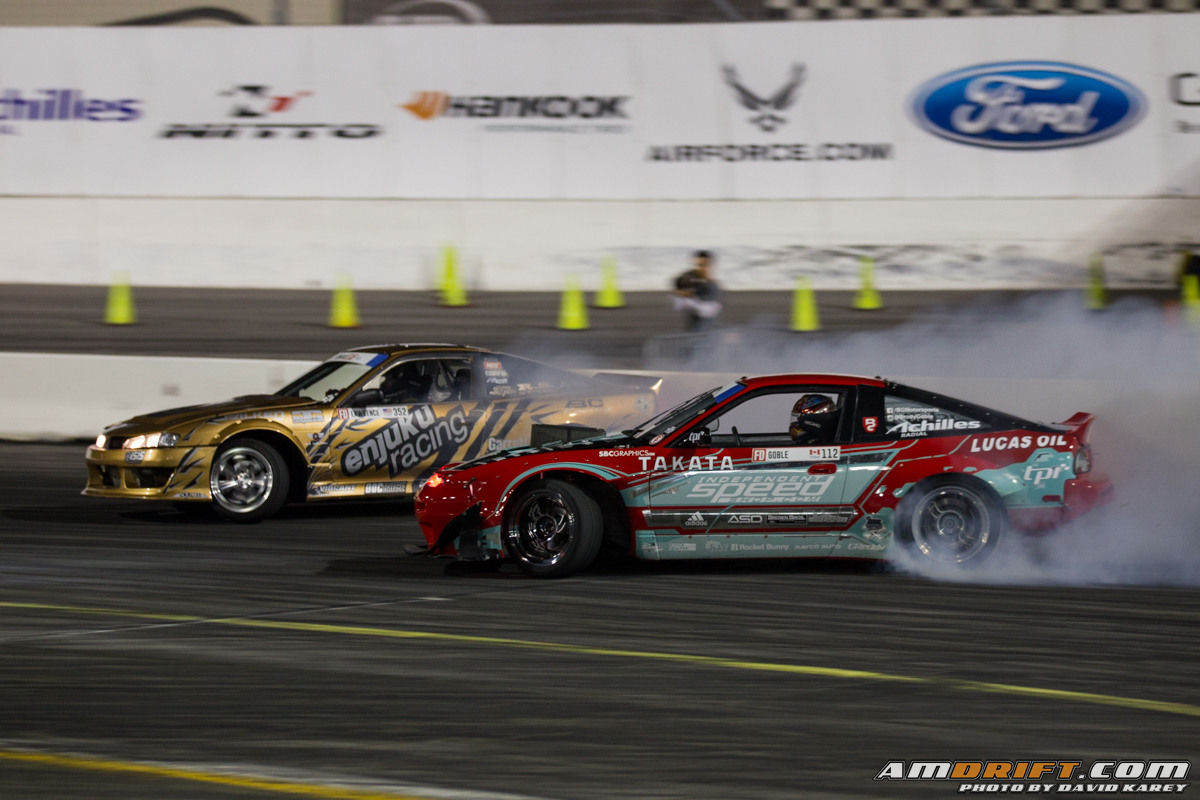 The start of the second half of the bracket pitted two hard chargers in Pro 2 against each other. Kevin Lawrence with his RB26 took on Brody Goble and his LS. Both of these guys were blazing fast! It was a pleasure to watch how committed they were on the inner bank. Kevin Lawrence put it down for all the boost guys and took down Goble.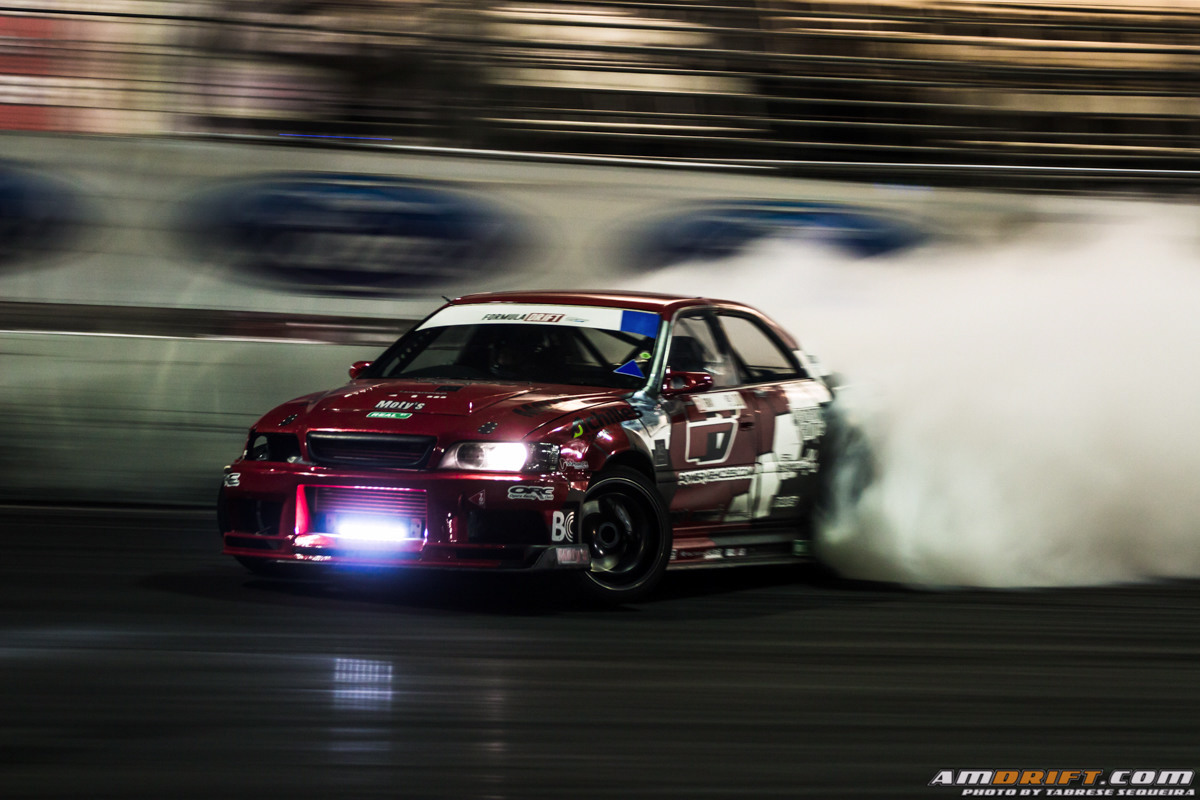 Andy Gray and that beautiful JZX100 got a refresh for Irwindale and a rear mount radiator for better weight distribution. Even after crashing in qualifying, the team got the car fixed for competition. Unfortunately, Brandon Wicknick had motor issues and had to pull out giving Gray the bye. Andy Gray moves on.
Alex Heilbrunn has been getting a lot of practice in his BMW and he's been feeling it, but Taylor Hull is a solid competitor. He showed it here as he threw it down against the Pro 2 champion. He put up a good fight but the monster BMW took the victory.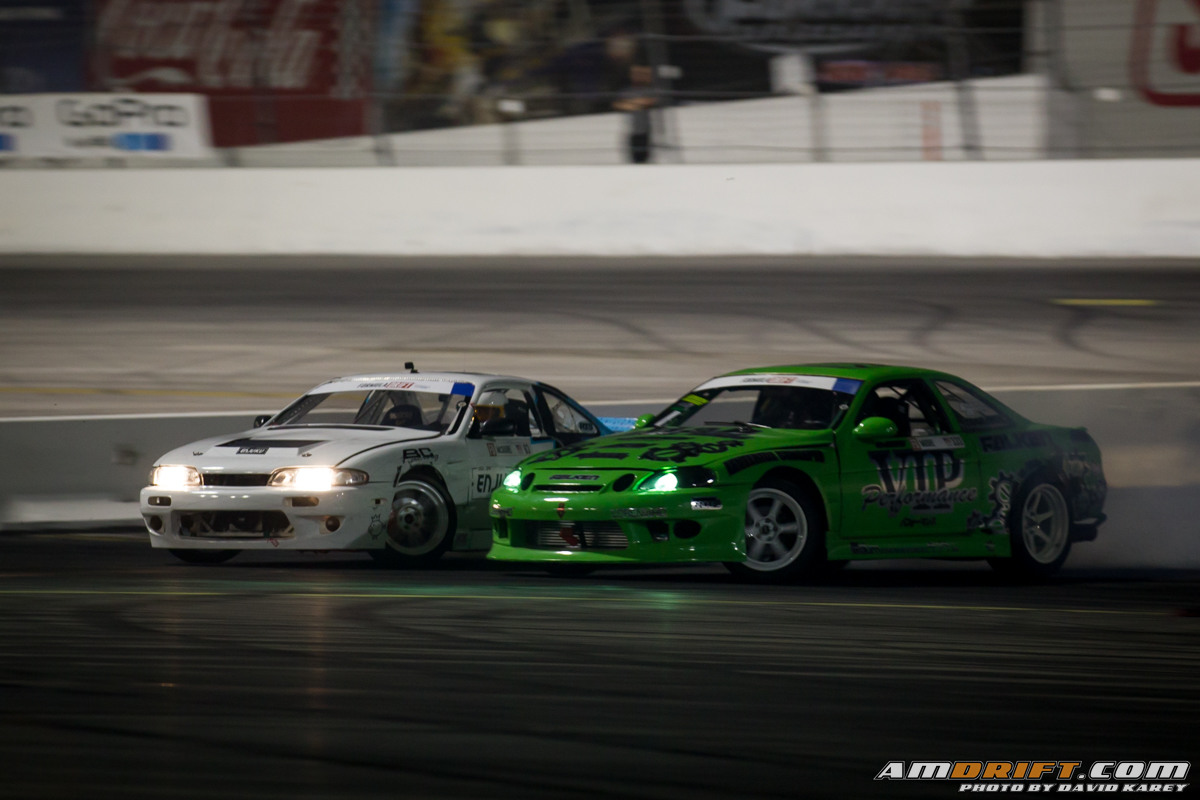 Rounding out the Top 16, Cameron Moore from the Pacific Northwest took on Josh McGuire from Texas. Pretty straightforward battle between these two that sends the 2JZ of Cameron Moore into the Great 8.
Great 8
To start out the Great 8 round of competition, another JZ vs RB battle was upon us! Juha Rintanen takes on Ryan Litteral, two guys who have definitely improved from last year and bash their rev limiters much to the delight of everyone. Litteral fought hard, but he and his sweet beard couldn't best the European driver. Juha to the Final Four.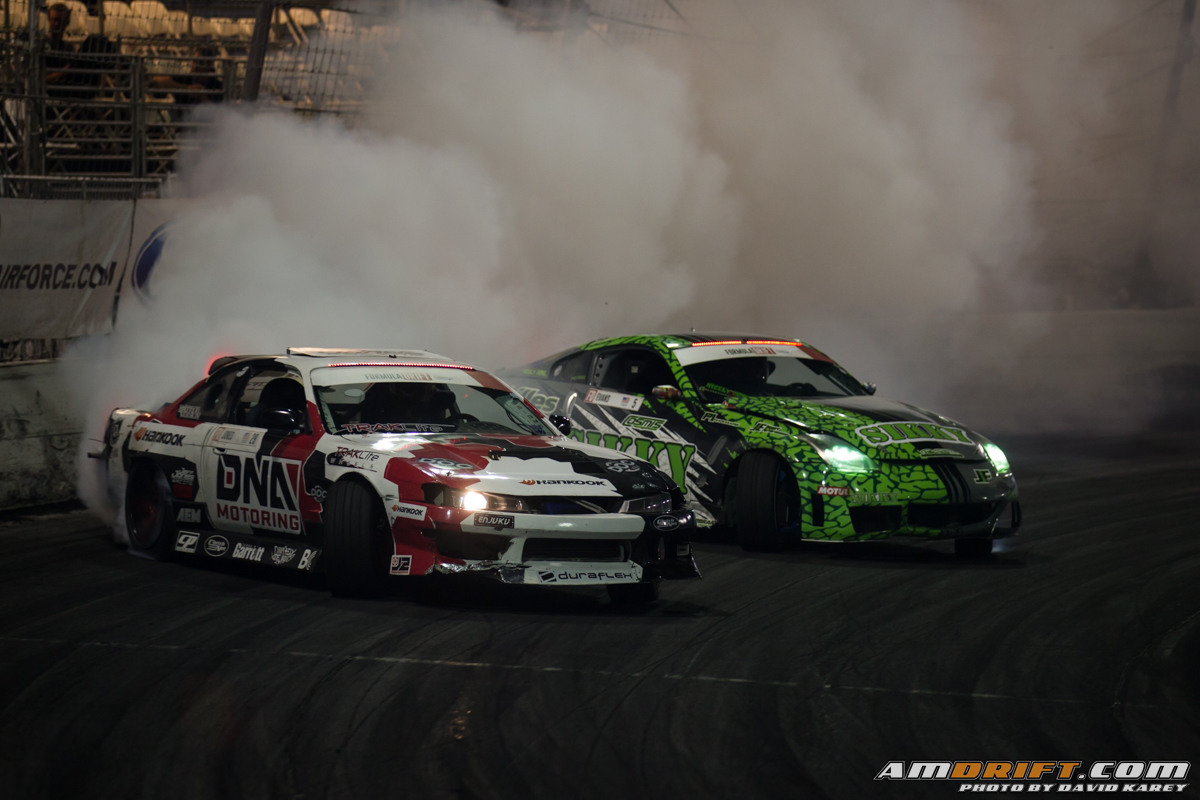 Two double duty drivers go head to head with Jeff Jones taking on James Evans. It couldn't be decided after a first go around, so they went OMT. After changing tires, they ran again and the judges made the decision to send Jeff into the Final Four.
After his bye run, Andy Gray was ready for some competition. Unfortunately for him he drew the man on fire, Kevin Lawrence, but Gray is always up to the challenge. It was a hard fought battle on both sides, and both of these guys were zooming! After the smoke cleared, Kevin Lawrence moved on to the Final Four.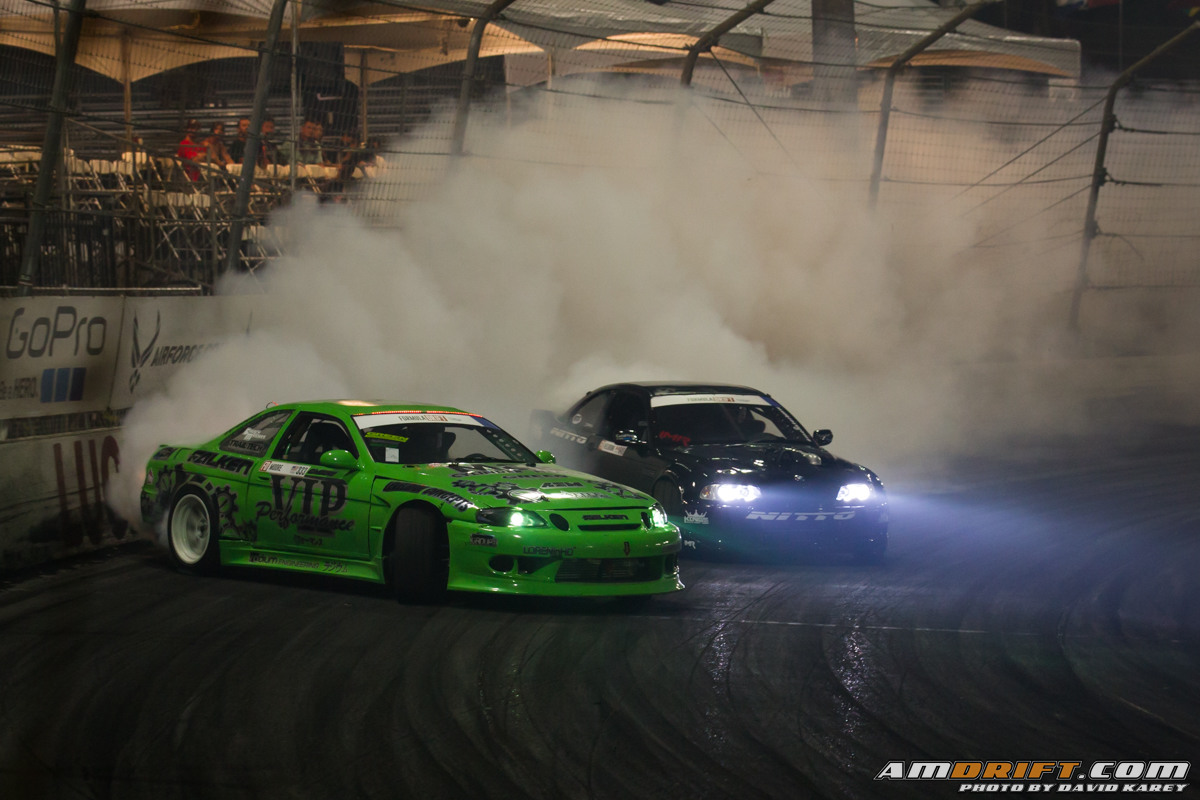 One more spot left in the Final Four and it was between the champion, Alex Heilbrunn, and Cameron Moore. The BMW piloted by Heilbrunn is super fast, but so is that Lexus of Moore. After keeping pace with him, Cameron Moore put it down and took out the guy who dominated Pro 2 this year. Moore to the Final Four.
Final Four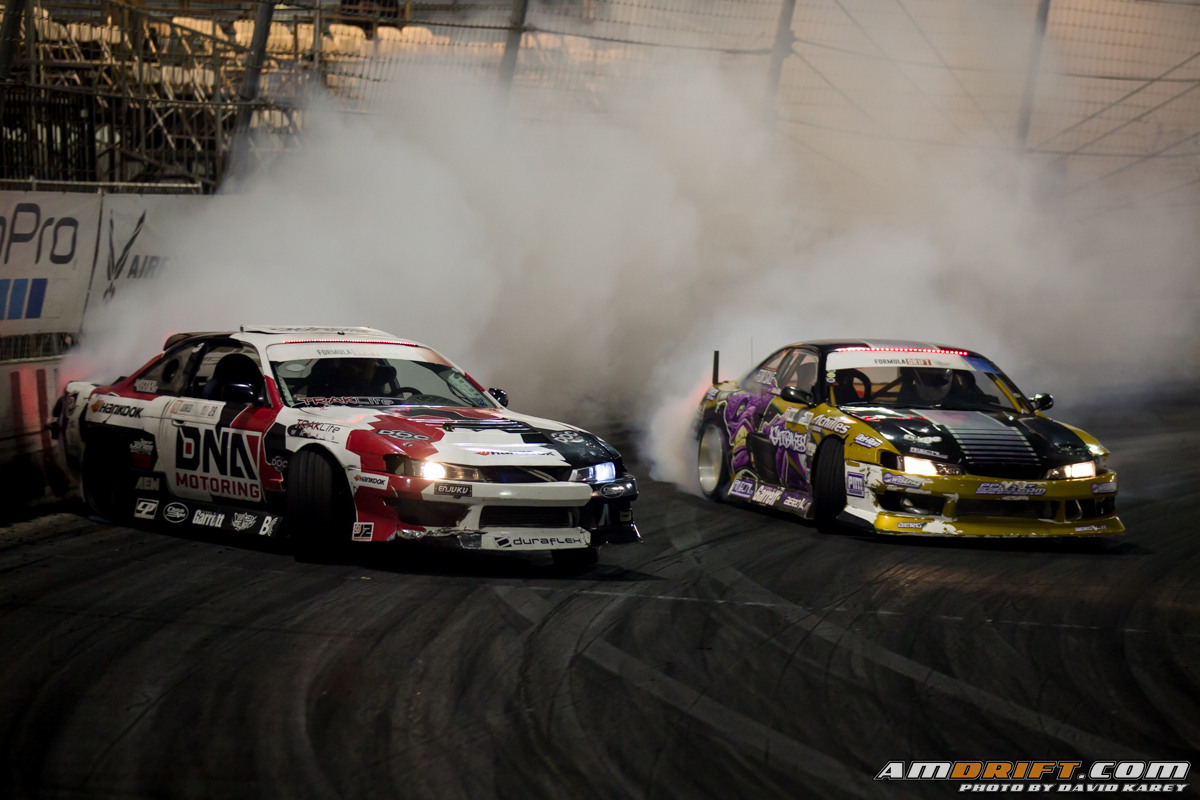 Juha Rintanen vs Jeff Jones. These guys were putting it down all weekend, and their performances made for one good battle. They were throwing it on each other like a high school dance. Okay, that metaphor probably doesn't apply, but you get the gist. When all was said and done, Juha pushed through into the Finals.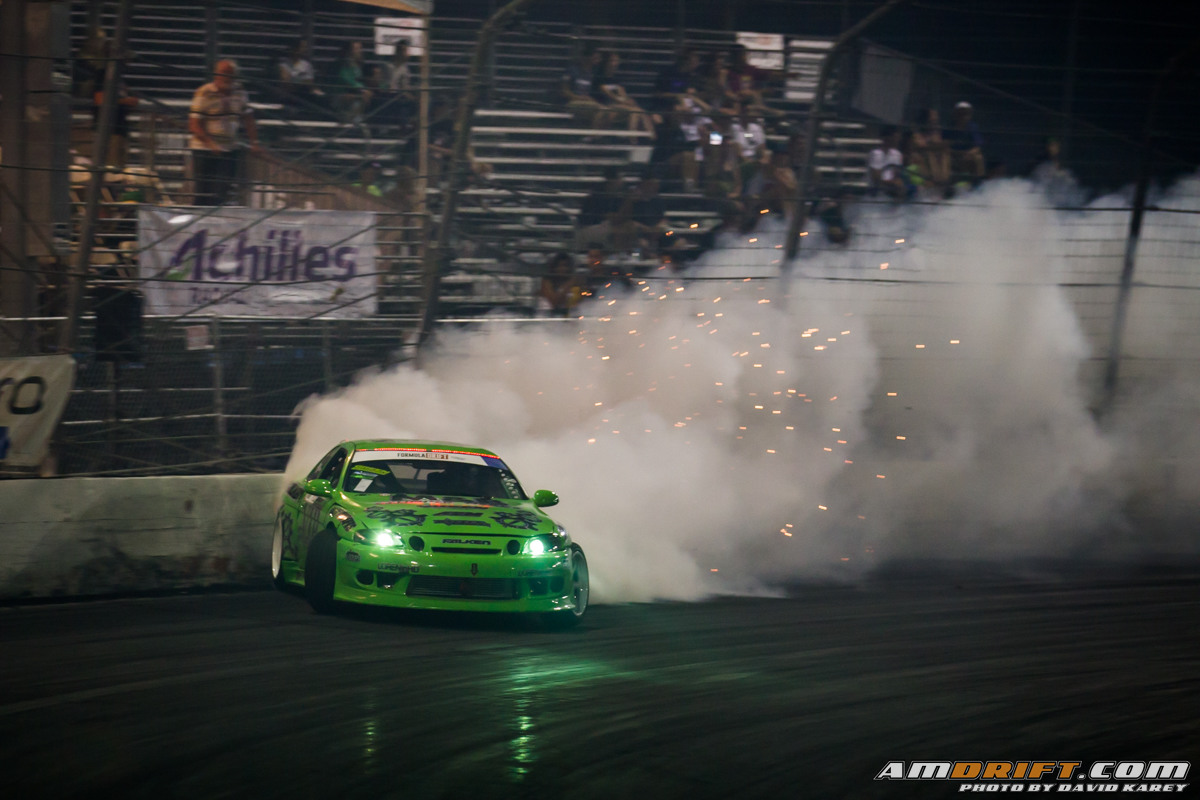 Kevin Lawrence vs Cameron Moore, yet another RB vs JZ battle that seemed to be the theme of the night! If this could be a trend, I'm pretty sure everyone will be happy… except the V8 guys. In addition to these guys pushing hard, they threw sparks every time they put it on the wall. But I will spoil this and say that my favorite color, green, prevailed here. Cameron Moore to the Finals! Kevin Lawrence snags 3rd after qualifying 2nd!
Final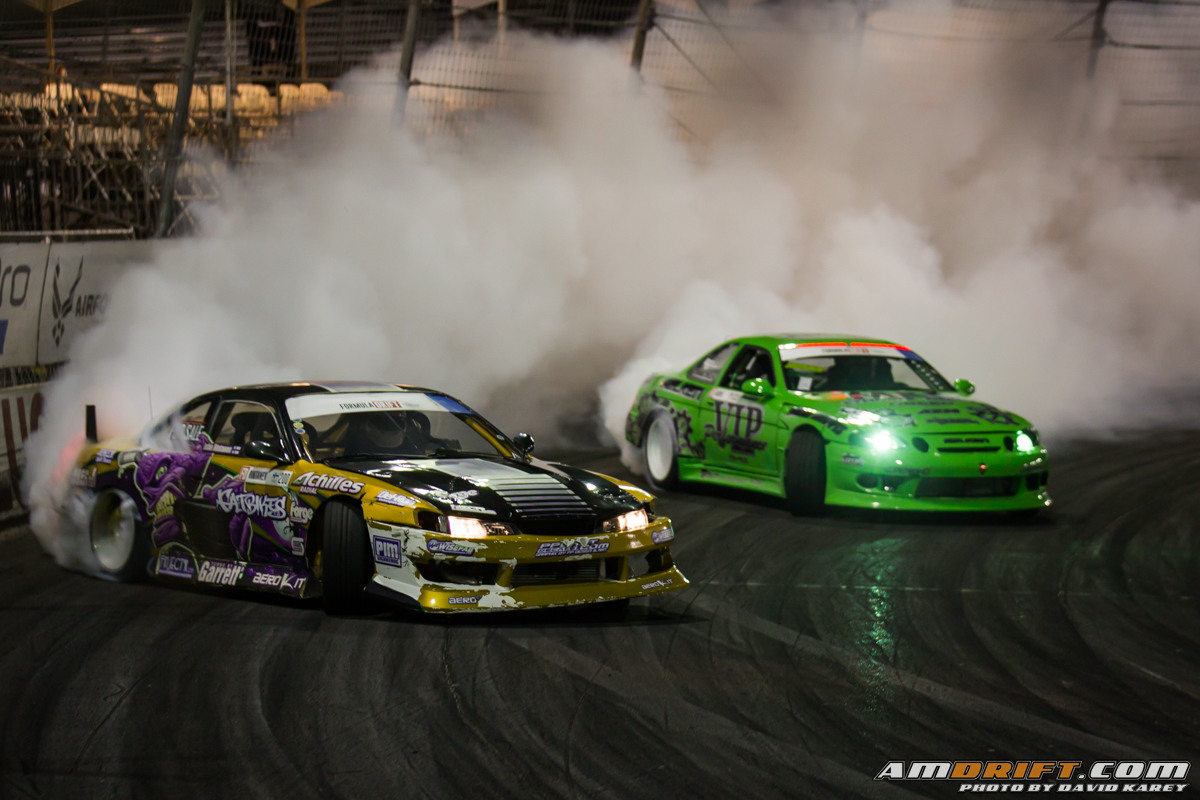 It took until the final battle to see a 2JZ shootout. Cameron Moore already took out one gold car, and was looking for another gold victory. They both threw down, and Juha Rintanen proved that the time spent test and tuning his car between FD Texas and Irwindale, was the key to success.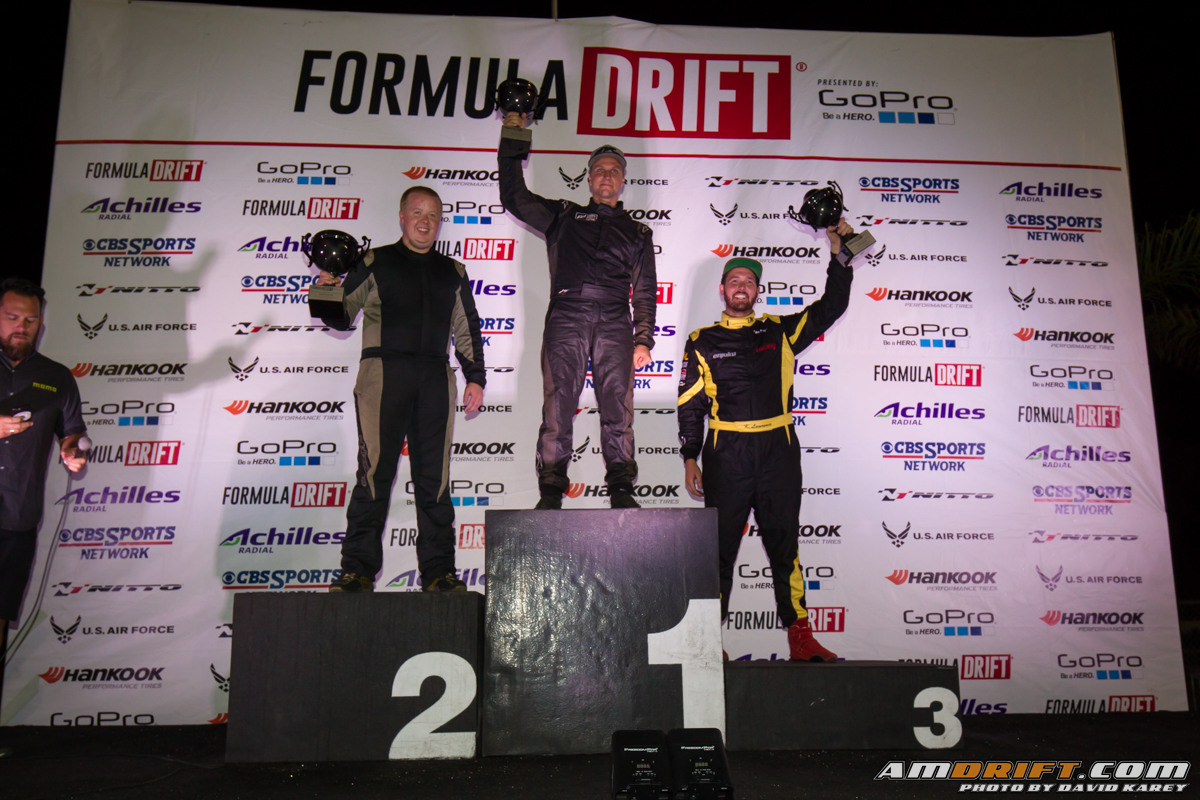 After a crazy round full of wall scraping carnage, Juha Rintanen takes first place, Cameron Moore second, and Kevin Lawrence third.
Alex Heilbrunn and a well funded program worked their way through Formula Drift Pro 2 nearly unchallenged this entire year. FD Pro in 2016 is going to be interesting, as Alex just gets better and better every single time he gets behind the wheel.
So what is to become of Irwindale Event Center? We hear this and that, that and this… so much speculation and supposedly official information, but we don't know what to believe anymore. Despite what happens to the legendary raceway, the 2015 Formula Drift Pro 2 final round will add a solid chapter to the facility's history.
-Tabrese Sequeira
Photos by Tab, David Karey, Matt Ulfelder