The 2016 Top Drift Formula Drift Pro Am season is officially underway, and if the rest of the season is as fun and exciting as Round 1 was this past weekend, it's going to be an awesome one! Why was Top Drift Round 1 awesome? Read on and check out the massive 760+ photo gallery to find out why!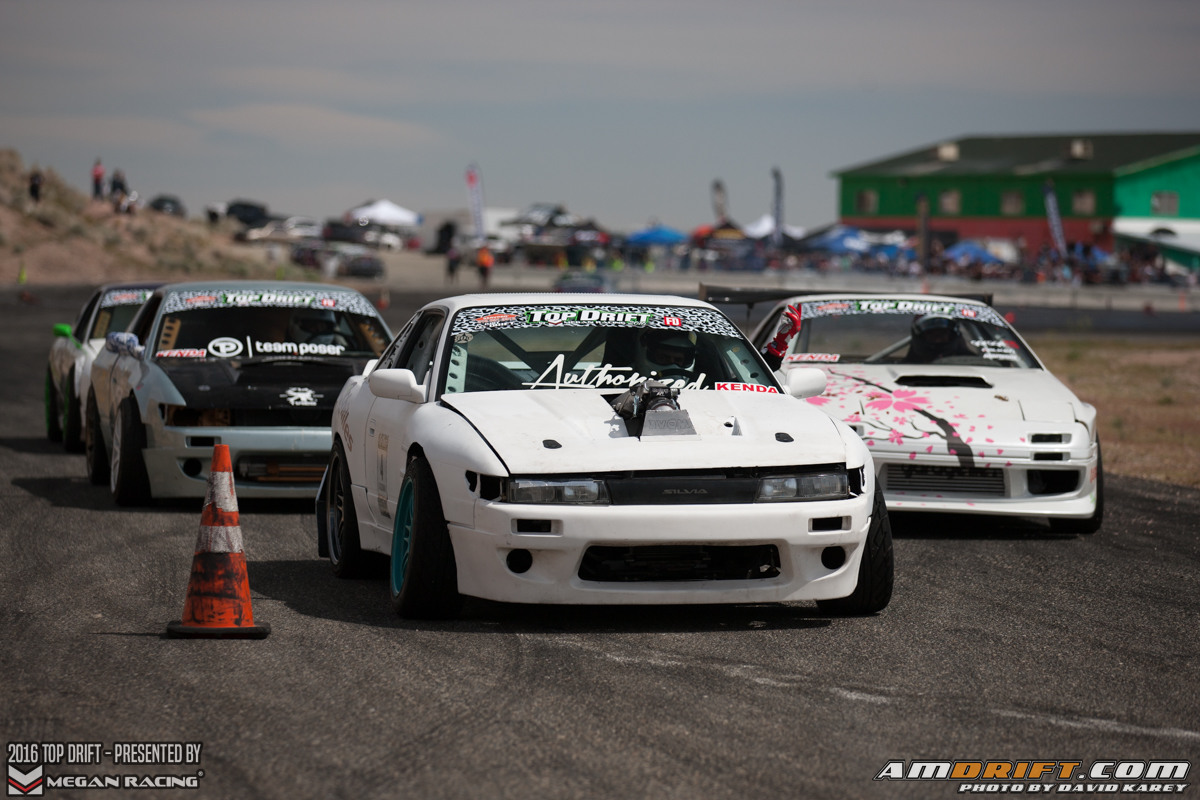 Not many years ago, grassroots and Pro Am drifting used to have a ton of personality, with drivers bringing flashy cars that represented their sense of style, and sometimes sense of humor. Over a short period of time, drivers became consumed with the idea of becoming a professional drifter, and style started taking a back seat to everything other than reaching that goal. Everything fun about drifting had started to dissolve with the seriousness of running programs capable of reaching the pro ranks.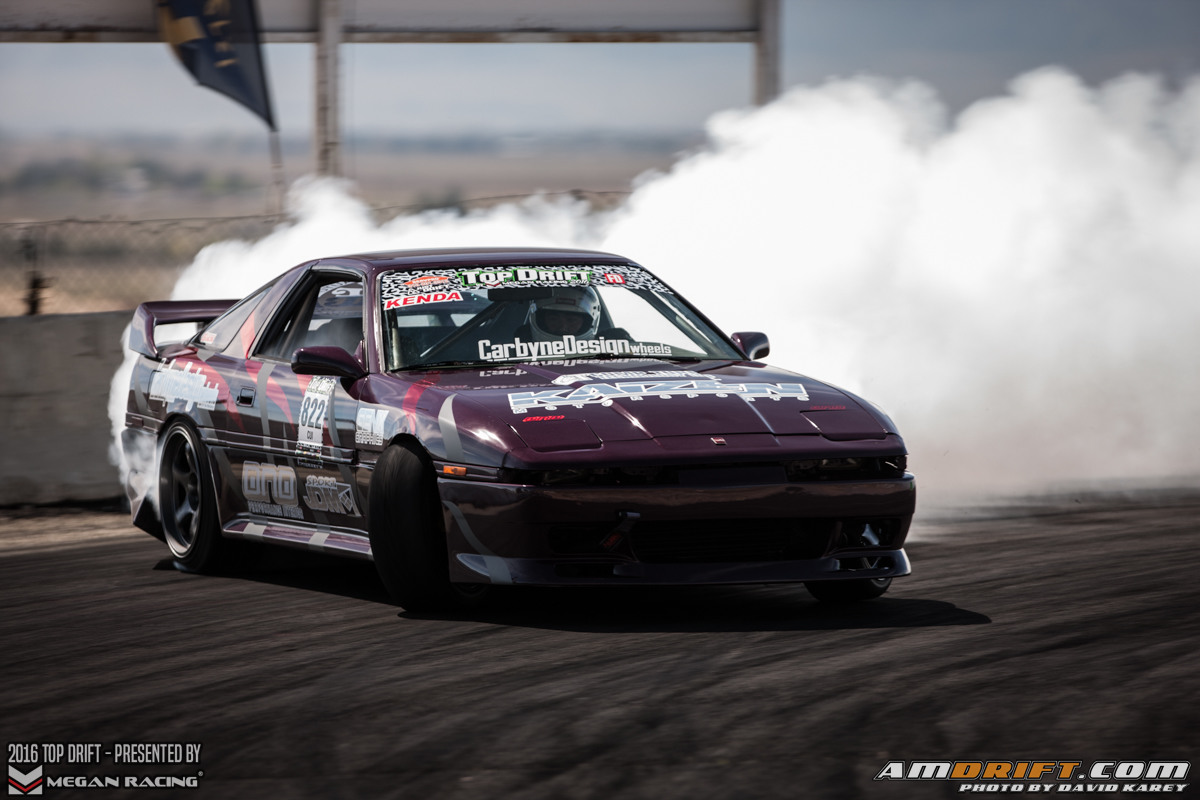 It is overwhelmingly apparent that fun has made a comeback this year. For whatever reasons, it seems that people have finally started to remember why they started drifting. Style is back in the form of unique cars with great looking liveries, interesting engine choices and built OEM powerplants have made an appearance, and drivers who previously earned or held a Formula Drift license have opted to run the Top Drift series yet another year. Top Drift has my attention!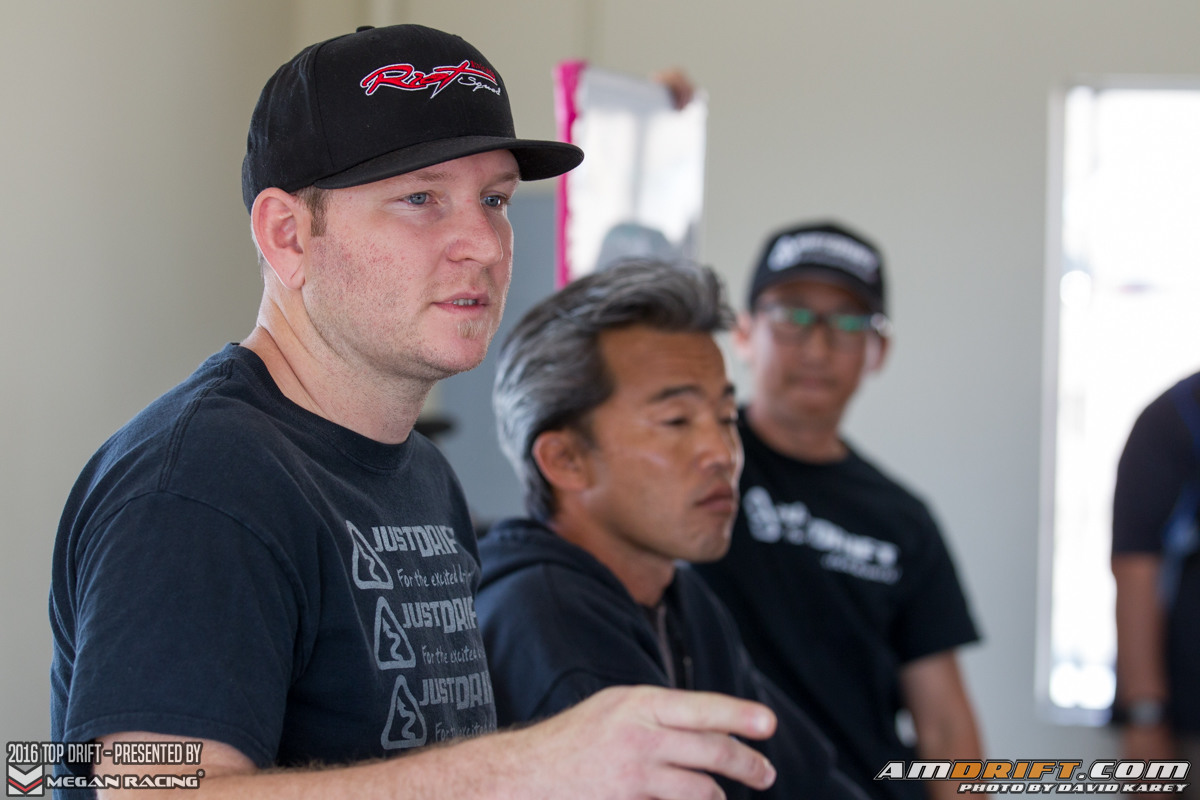 A whopping 60 drivers registered and met at Willow Springs Raceway to add to the extensive history of the world famous Balcony Circuit, one of the early homes of Southern California drifting. Popular drivers such as Justin Pawlak, Taka Aono, Hiro Sumida, and many others, have risen through the ranks with many competition and practice hours on this very surface.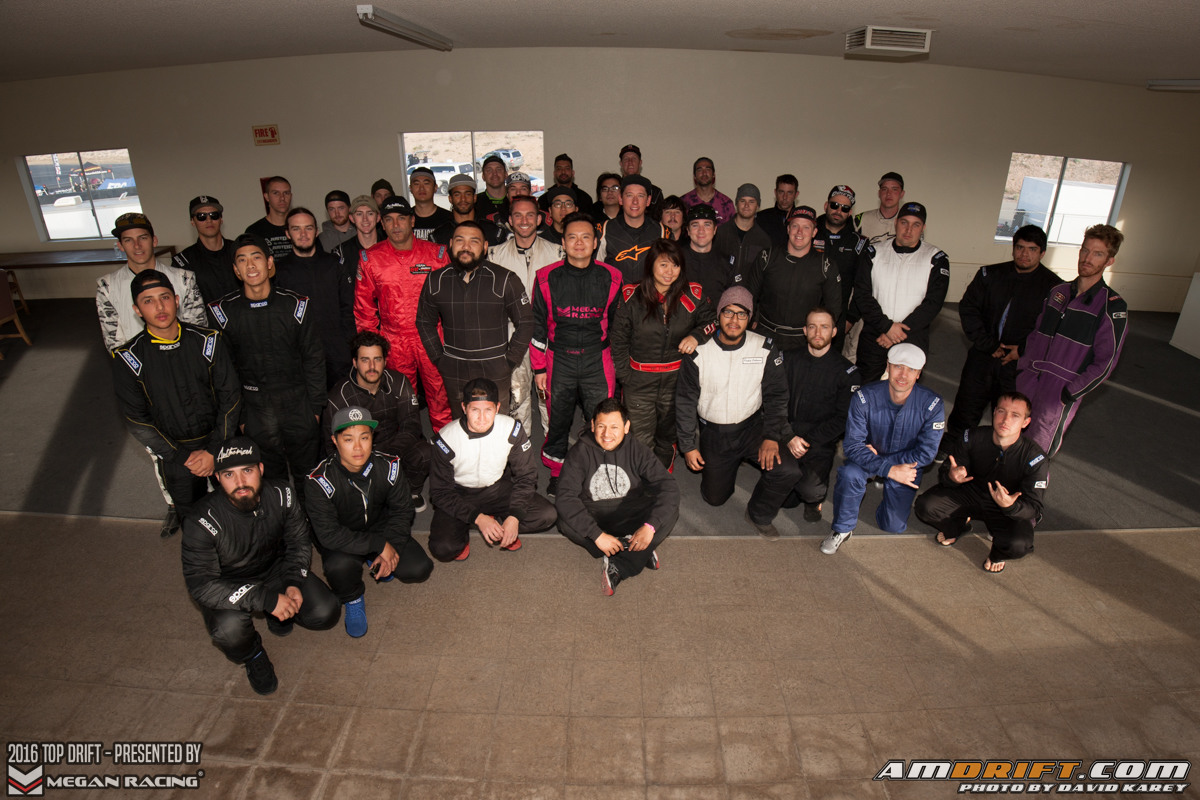 To say I was excited to see all of these drivers head out and shred some tires, would be an understatement. The long off season definitely contributed to anticipation and excitement, and it was there, you could just feel it.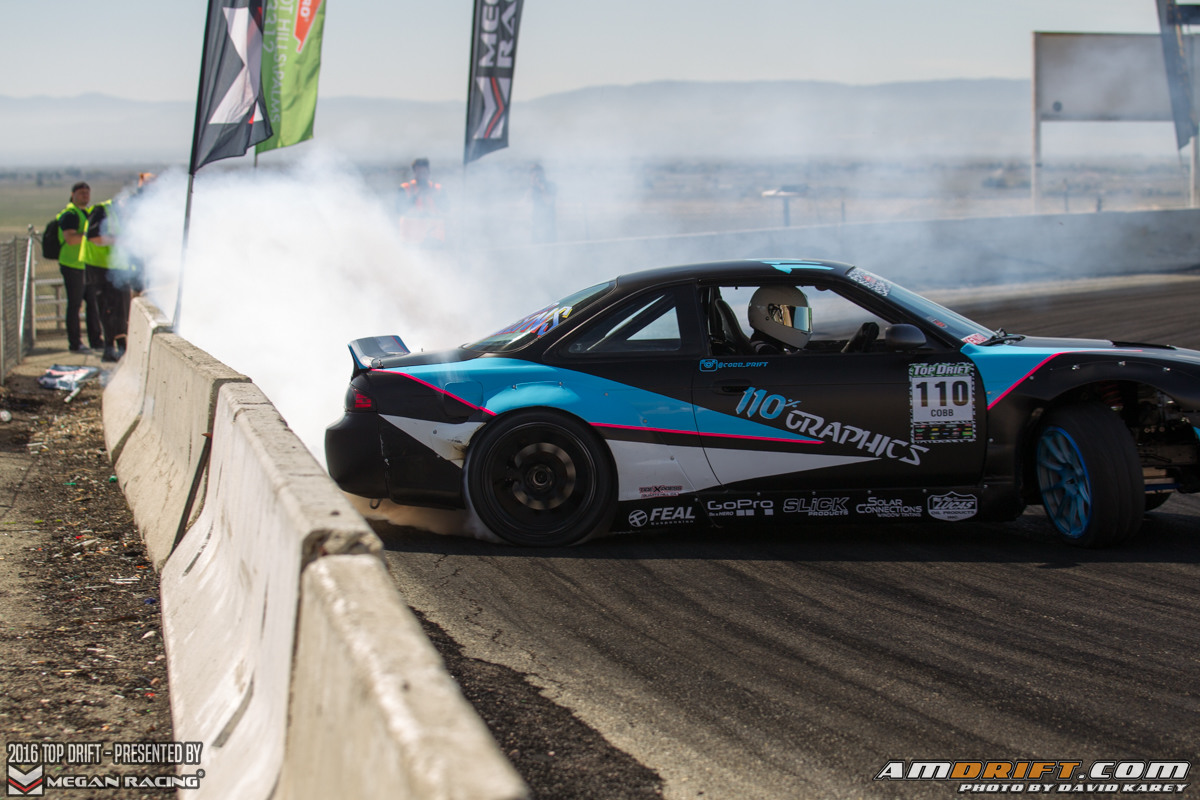 Heading into the day of competition, a few drivers had been killing it with their practice runs for 2 days. Come time to qualify for the big show, many unexpected things happened, with heavily favored drivers not making the cut, and some low key characters slipping right into the Top 16. Out of 60 registered drivers, 53 had earned qualifying points.
Top 16 qualifiers from 1-16: Jason Kim, Adam Knapik, Kelvin Arreola, Rob Carlsen, Pablo Cabrera, Shawn Illingworth, Kyle Cameron, Derrick Cui, Blake Olsen, Sean Adriano, Zach MacGillivray, Nate Tuchlinski, Micah Diaz, Brian Nimmo, Sam Guzman, and Alex Grimm.
The crowd turnout was great. Many drivers have made their very first Top 16 appearance in their drifting career, and all were stoked. There would be some very interesting cars running side by side in the Top 16 battles.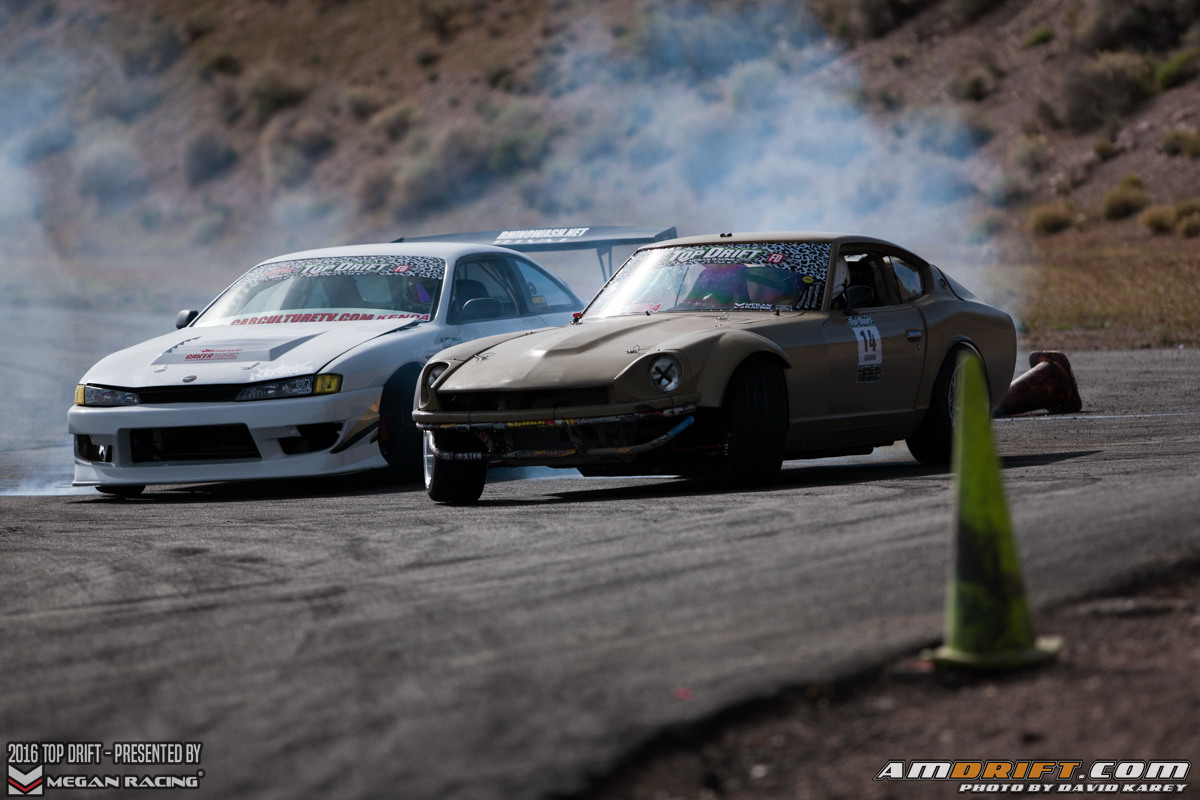 Alex Grimm and Jason Kim would meet one another in the first battle of the Top 16. Grimm, driving his LS3 powered Datsun S30 (240z-280z) with tube front and rear ends, put up a valiant fight against Jason Kim and his super fresh V8 S14. Jason Kim is a veteran of veterans of the series, and defeated Grimm with years of tandem experience applied behind the wheel.
One the best things of the event, as I mentioned, were OEM powerplants making an appearance, and these 2 were definitely the poster children. Zach MacGillivray laid it down with a borrowed stock motor 350z, but Kyle Cameron took the win with a boosted KA24 S14.
2 swaggy looking cars belonging to Blake Olsen and Derrick Cui, took the track and battled it out. Olsen runs an LS3 in his S14, and Cui runs a 2JZGTE VVTI in his Mark III Supra. Both of these cars get the internet excited. Olsen and Cui went one more time TWICE, and Cui was able to get the win after the third battle.
Rob Carlsen's futuristic beast S14 powered by a supercharged V8, took down solid competitor Sean Adriano in a 2JZ powered S13.
Kelvin Arreola stepped back in the ring in his first competition for years, this time bringing a 1980 Corolla with a 160hp Beams motor swap with a shot of nitrous. Arreola lined up against Sam Guzman and his V8 S14. The pair went OMT after both spinning on their lead runs, and Arreola earns some battle scars and holds it together with solid runs to take the win.
Kelvin Arreola moves on into the Great 8 in a super under-powered chassis compared to the rest of the field. The Top Drift crowd is officially excited and on their feet at this point.
Brian Nimmo had Adam Knapik nipping at his heals. Nimmo's Toyota X-Runner isn't eligible to compete in Formula Drift, but it's perfectly eligible at Top Drift. Knapik can officially say he tandemed with a vehicle higher that his helmet. Adam Knapik takes the win over Brian Nimmo.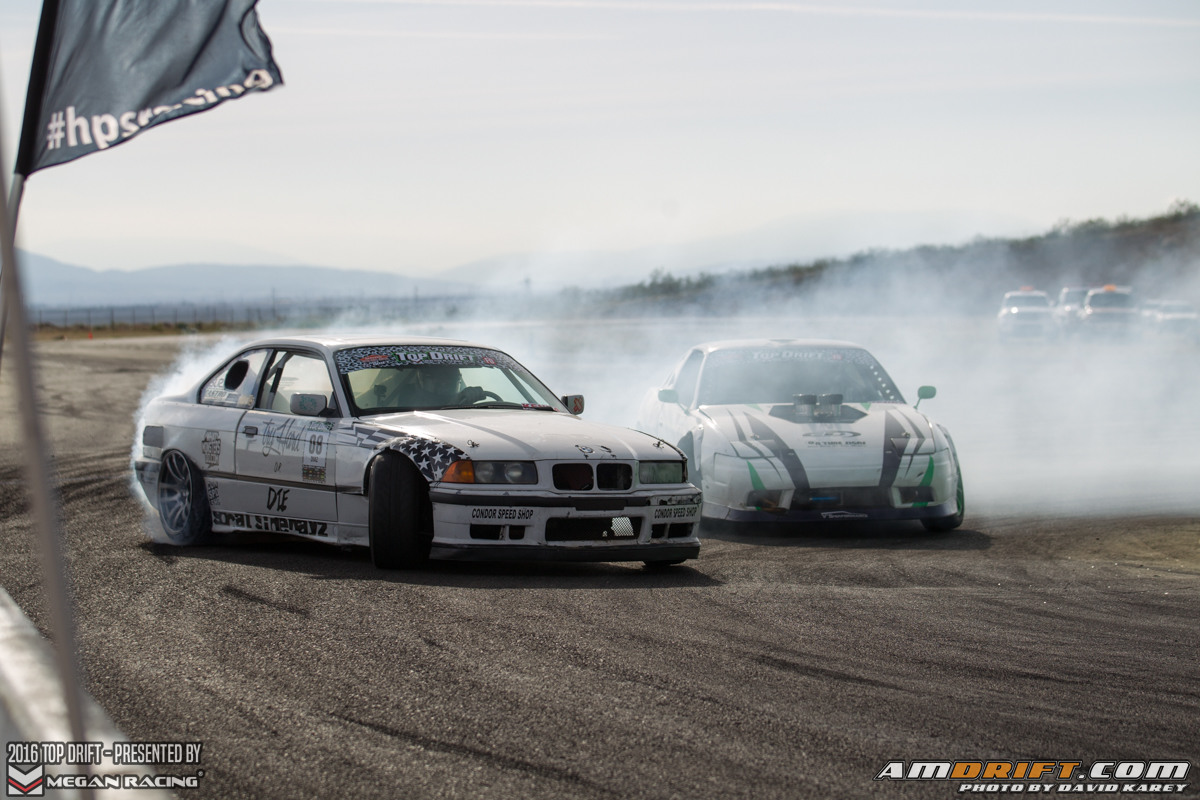 Micah Diaz and Pablo Cabrera bring out their personal style with a pair of beastly cars, without straying far from the stock looks. Diaz runs an Chevy LQ4 V8, and Cabrera runs a Chevy LQ9 with velocity stacks. Cabrera took the win over Diaz after a OMT.
Jason Kim worked his way through the field and took the win over Kyle Cameron to get into the Final 4.
Pablo Cabrera ended his day in a battle against Adam Knapik. Adam moved on to face Jason Kim later in the finals.
Rob Carlsen continued his winnings against Derrick Cui. Not only did Derrick take Blake Olsen for a ride 3 times in his previous battle, he also took Carlsen for a OMT, in which Carlsen took the win.
Kelvin Arreola keeps his under-powered cool while navigating right off Shawn Illingworth's door, earning him the win and moving on to the finals.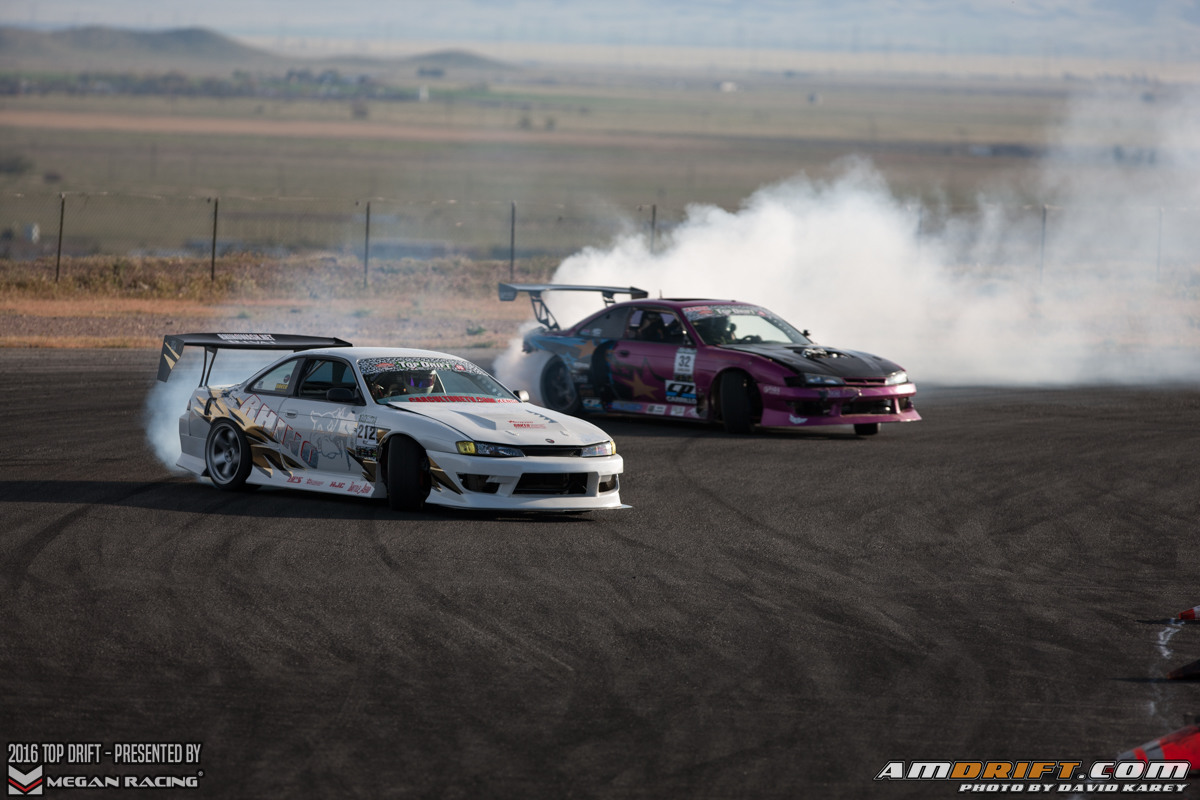 Jason Kim moves on further into the finals after Rob Carlsen pushes a little too hard.
In the battle for 3rd, Kelvin Arreola finally meets his match, going down to the mighty Adam Knapik.
Adam Knapik would go no further than 2nd place after battling Jason Kim. Jason Kim takes the win over Adam, securing the number one spot in points for the 2016 Top Drift season.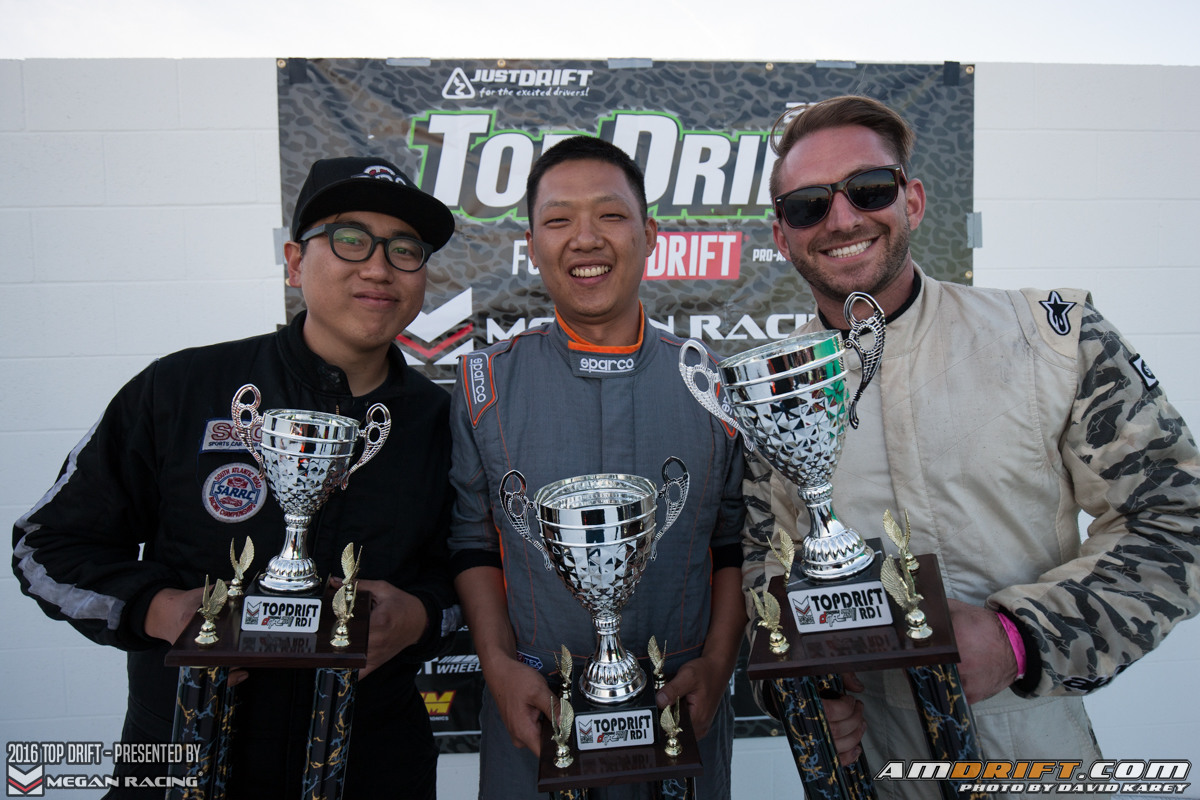 Congrats to Jason Kim in 1st, Adam Knapik in 2nd, and Kelvin Arreola in 3rd. It was a very interesting day of battles, and the season is off to a great start. Notible mention, will Kelvin be able to pull off another strong finish at Top Drift Round 2? Find out on May 28-29 on Horsethief Mile at Willow Springs International Raceway.
Thank you for checking out Top Drift Round 1 coverage. Please enjoy the event gallery. Do not crop, and please tag @amdrift and @davidkarey when posting. See you at Round 2!
Saturday March 19 Gallery
Sunday March 20 Gallery