I've been going to the Grand Prix of Long Beach since I was around 10 years old. In my 20's, my father had a condo right on Ocean Boulevard until the mid 2000's, and I would wake up to the sound of racing and the smell of heated brakes. Back in the day before I was even in junior high, it was easy to sneak in, and my brother and I used to tell the gate attendants that we were taking the water taxi to the Queen Mary. My father was engaged to a woman who was the catering manager there, so our story always seemed believable. Once we were in, we were free to roam around and experience motorsports for that one time a year. We were young and without adults in our company, so maybe the gate attendants were letting us enjoy ourselves. We don't do stuff like that anymore, although we did eventually make our way to the Queen Mary when we were ready to go home. Because of events like the Grand Prix of Long Beach being a part of my early years, motorsports is now a huge part of my life and completely worth the price of admission if I had a chance to go back and buy those tickets.
In 2006, Formula Drift took over the streets of Long Beach the weekend before the Grand Prix. It was a new sport for everybody, and the majority of motorsport enthusiasts frowned upon the idea of breaking traction and rapidly laying waste to a good set of tires. Many old time motorsport lovers weren't thrilled with the younger, hip crowd that drifting brought to the scene, and it took a while to attract many of the traditionalists to whom the Grand Prix of Long Beach appealed to. Year after year, the crowd of drift spectators has grown, and now those who watched from afar with a weary eye, are now sitting in the stands enjoying the heck out of the high speed smoke show that drifting had become.
Only one short week had passed between a very busy Formula Drift Round 1 – Streets of Long Beach and the Grand Prix weekend, and there were no complaints from me. I've been shooting the Grand Prix for about 8 years now, and I've seen many events come and go. My personal favorite series was Trans Am, which stopped running Long Beach after the Champ Car/Indy merge. I'm not the biggest fan of open wheel racing, so Trans Am leaving Long Beach was a bummer, until World Challenge and ALMS/IMSA sports car racing filled the void to my excitement. Real sports car racing is why I love the Grand Prix of Long Beach. Cars that are built on platforms readily available to the general public as road cars, are what I like to see racing!
In 2013, it was announced that Formula Drift would be running an evening event on the drift course the series lays rubber on the weekend before, and I was totally ecstatic. The invitational event was called the Motegi Racing Super Drift Challenge, and large purse of $25,000 was up for grabs by the event's top finishers who worked their way up through a tournament bracket based on the qualifying results of night 1. Fast cars all day and drifting at night in the gorgeous Southern California beach city of Long Beach, the closest thing to Monaco that most of us regular folk will ever get. There are many visually appealing evening venues on the Formula Drift schedule, but Long Beach is extra special to the eyes under lights. It's a treat, and it only happens for 2 nights a year.
The Motegi Super Drift Challenge is now on it's 4th year at the Grand Prix. This year, all competitors to the series were California locals, and even a 2016 Pro 2 rookie would make his Formula Drift debut before the first official Pro 2 event at Road Atlanta in May. Drivers and teams, some assembled of FD Pro-Am drivers working their way through the ranks, gathered in the Lifestyle Expo not far from the Pirelli World Challenge garage to spread the good word of drift happening at night. The 2 night roster: Fredric Aasbo, Odi Bakchis, Kyle Mohan, Mike Essa, Matt Field, Dean Kearney, Alex Heilbrunn, Jeff Jones, Justin Pawlak, Ryan Litteral, and Trenton Beechum, pictured above.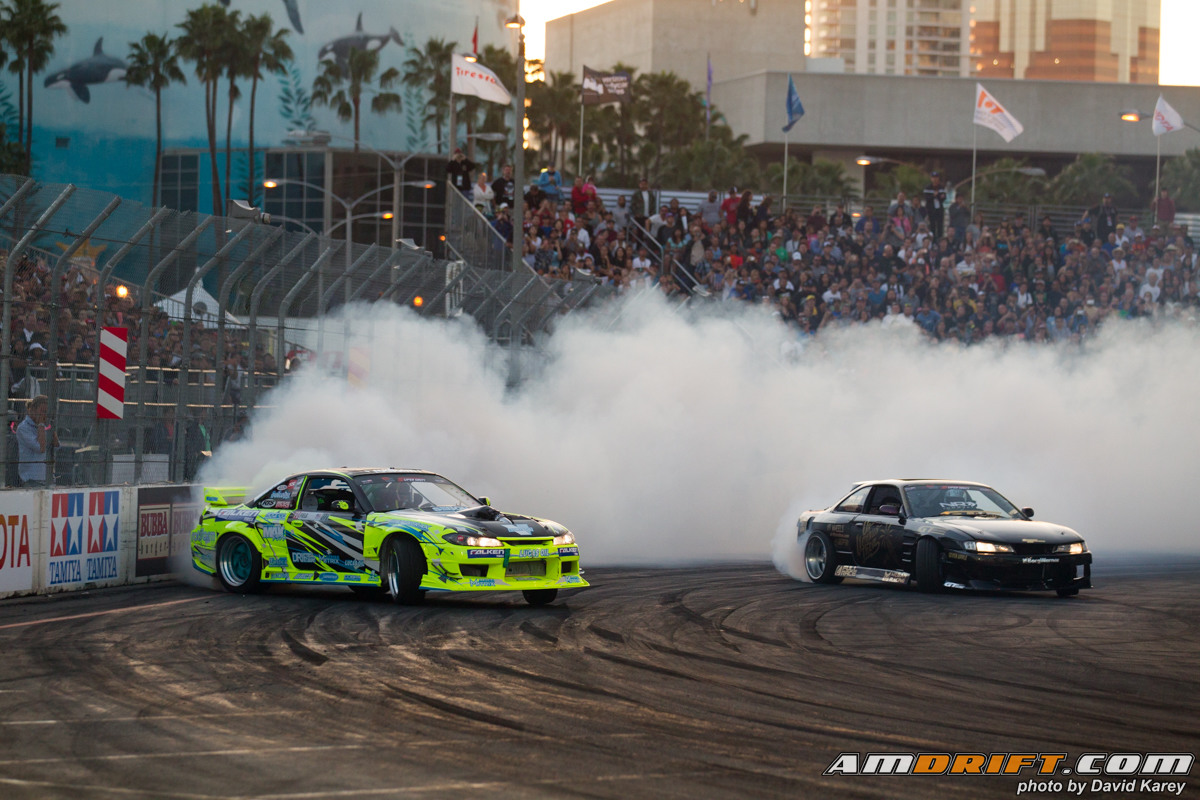 The International Motor Sports Association wrapped up qualifying of their sanctioned sports car series, appropriately named WeatherTech SportsCar Championship, and Super Drift Challenge practice was underway. The stands were absolutely jam packed, which in part was due to Friday being the "free day" in which free tickets were available to the public. A full crowd of people from all walks of life filled the stands, most who have never seen drift before as discovered by Formula Drift announcer, Jarod De Anda, after he asked to see hands of those who HAVE been to a drift event before. Hardly a hand was raised, and I knew the night was going to be exciting for many.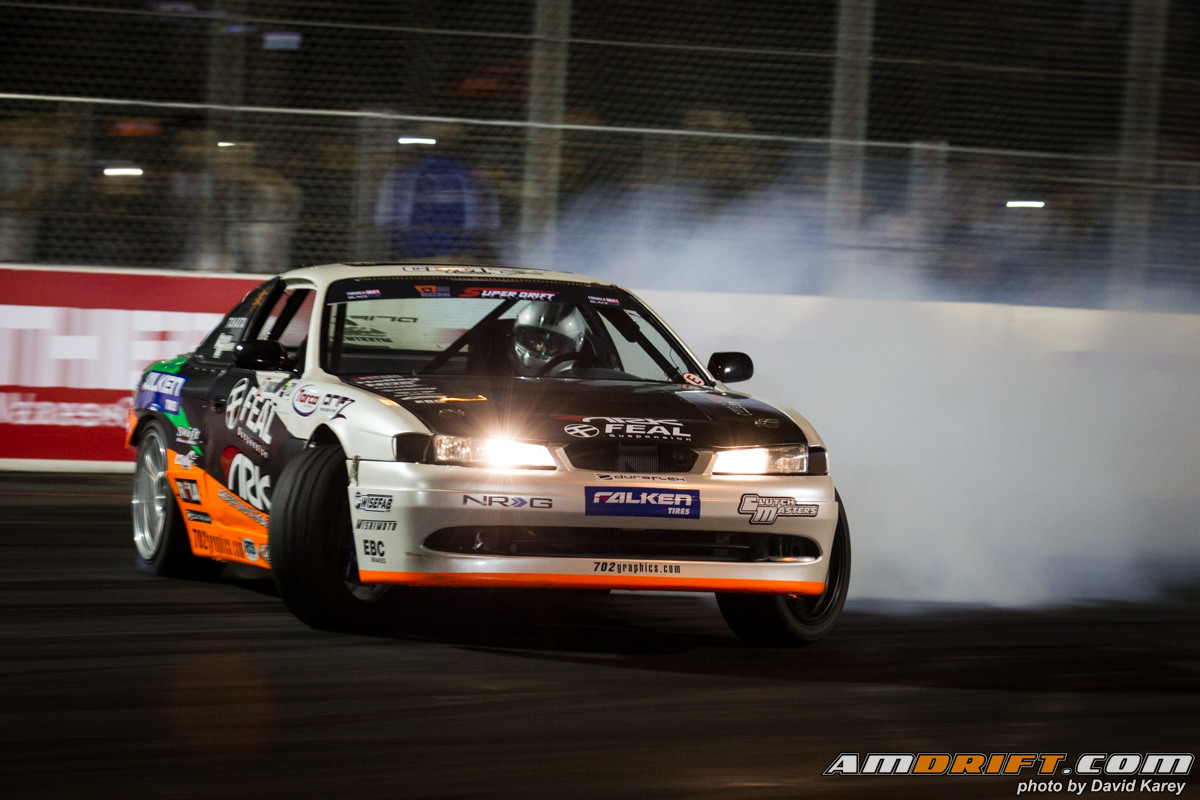 2 hours of drift practice and qualifying had gone by, and Odi Bakchis stood in the number 1 qualifying spot. Matt Field qualified 2nd, Dean Kearney 3rd, Mike Essa 4th, Kyle Mohan 5th, Alex Heilbrunn 6th, Jeff Jones 7th, Ryan Litteral 8th, Justin Pawlak 9th, Trenton Beechum 10th, and Fredric Aasbo 11th with car issues.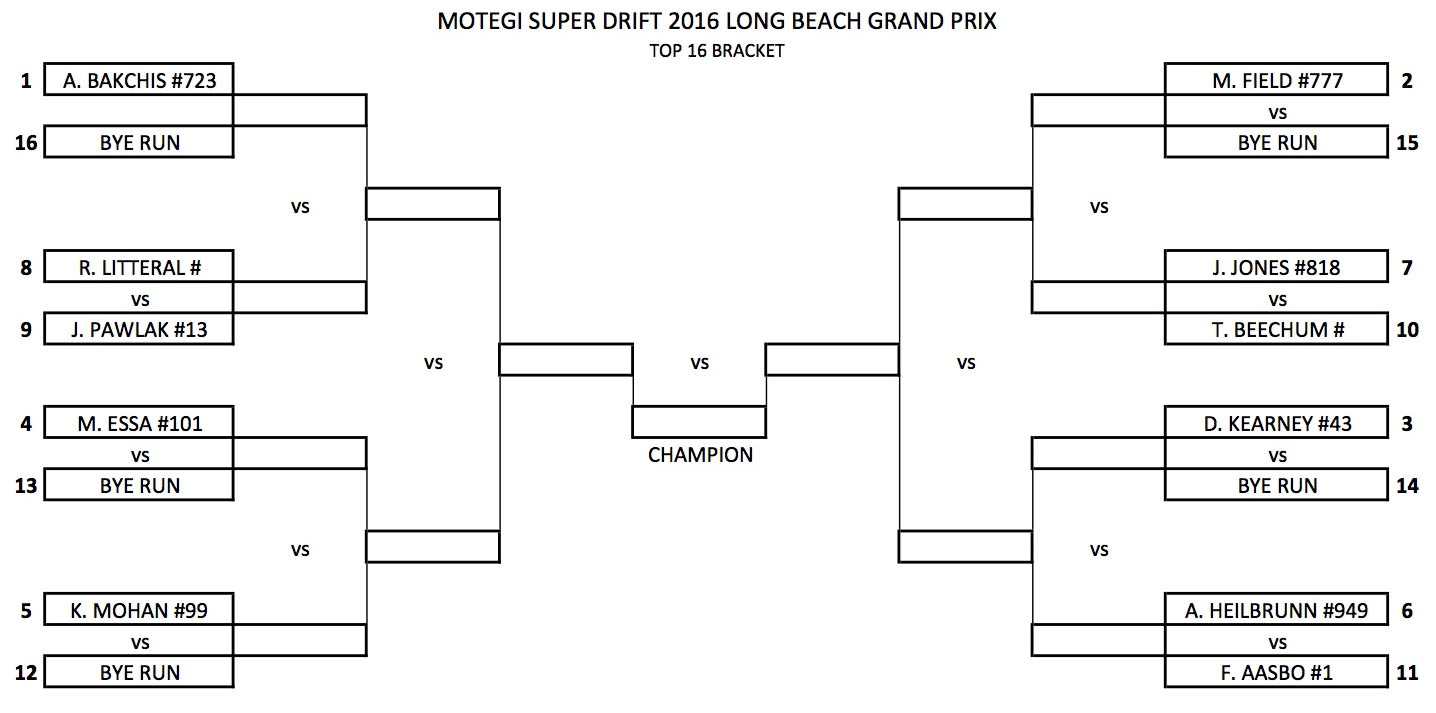 The final evening's competition bracket had been set. Since less than 16 drivers had volunteered to stay in Long Beach and entertain the crowd, many drivers would have bye runs right off the bat. Powerhouses such as Odi Bakchis, Matt Field, Mike Essa, Kyle Mohan, and Dean Kearney, would run unchecked in their first battles, which would make it extremely difficult for those facing another driver to climb to the top of the $25,000 purse. All of that would go down on the second night of the Grand Prix, after a jam packed day of road racing motorsports!
Day 2, Saturday, we met up with a couple of Formula Drift drivers who couldn't restrict themselves to only driving at night. Mike Essa, Dean Kearney, Kyle Mohan, and Matt Field had taken full advantage of the Grand Prix of Long Beach Association's generous offer of piloting pace cars between race sessions. Does the GPLBA understand the severity of this situation? They put DRIFTERS behind the wheels of regular cars, which zoom around a track made of WALLS! All jokes aside, these guys were having an absolute blast keeping the track hot and special guests of importance entertained with ride alongs. It's pretty cool to see these guys expand their motorsports resume with opportunities like these, which some of them have been doing for a couple of years.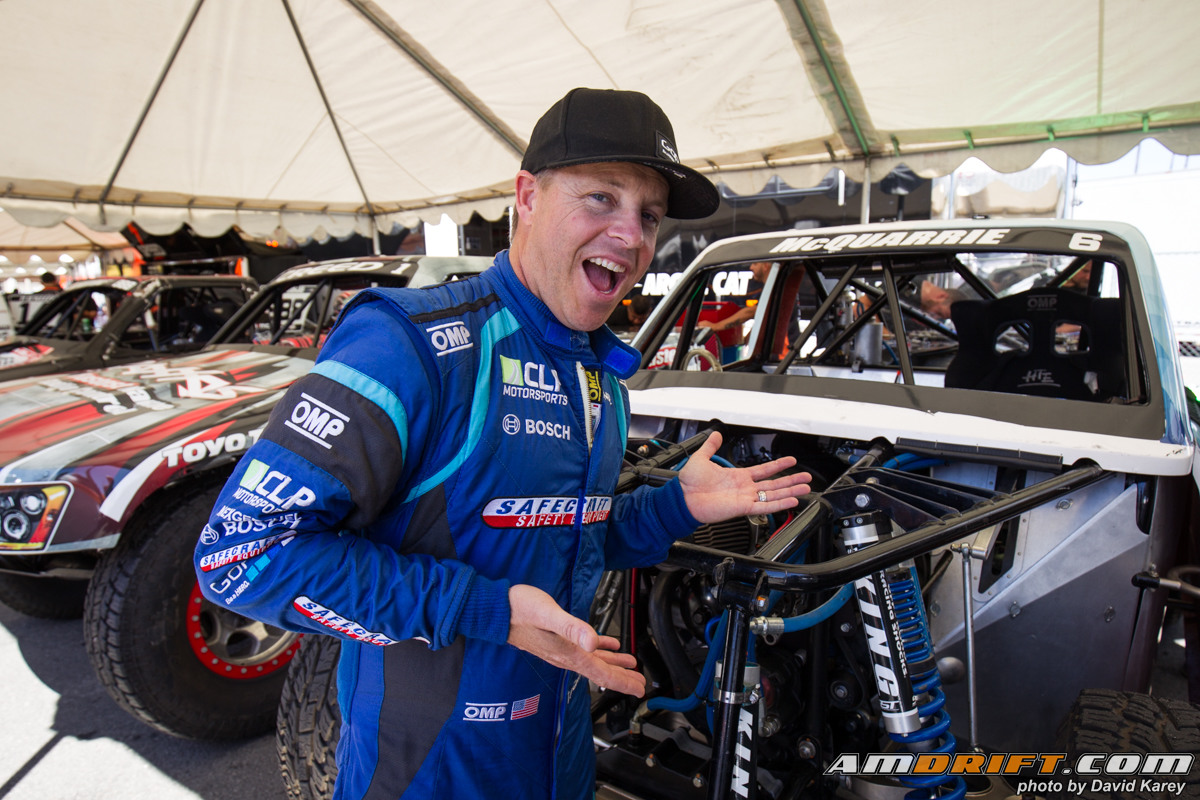 Pace cars weren't the only activity that Formula Drift drivers were wandering off to participate in. Our friend Tyler McQuarrie drives so many other types of motorsports other than drifting. On the Grand Prix weekend, he would be driving in Stadium Super Trucks behind the wheel of the Safecraft rig. Stadium Super Trucks is another series with a following that is growing, similar to how drifting made it's way into the Grand Prix. It's a bang 'em up, thrash race to the finish consisting of rowdy full contact racing and jumping off ramps. It's pretty intense! Tyler finished 3rd in the first race of the weekend, after rolling his truck and dislocating his shoulder in the impact. He managed to work his way back up to the pack, and finish 3rd in a bout of bad-ass-ery for the books.
A couple of hours after Stadium Super Trucks, and a qualifying session for IndyCar, the IMSA WeatherTech Sports Car Series was underway. It's absolutely amazing being anywhere near the straight as all cars speed toward turn 1, and around to turn 5. The sounds of various race engines from multi-million dollar teams, some back by manufacturers, is music to any motorsport enthusiasts ears. The race lasts for 100 minutes. 100 minutes is enough time to visit all areas on the track by foot and take in the race, but 100 minutes is hardly enough for the fan. As a spectator with media credentials and camera gear, I always crave hours more of this type of racing.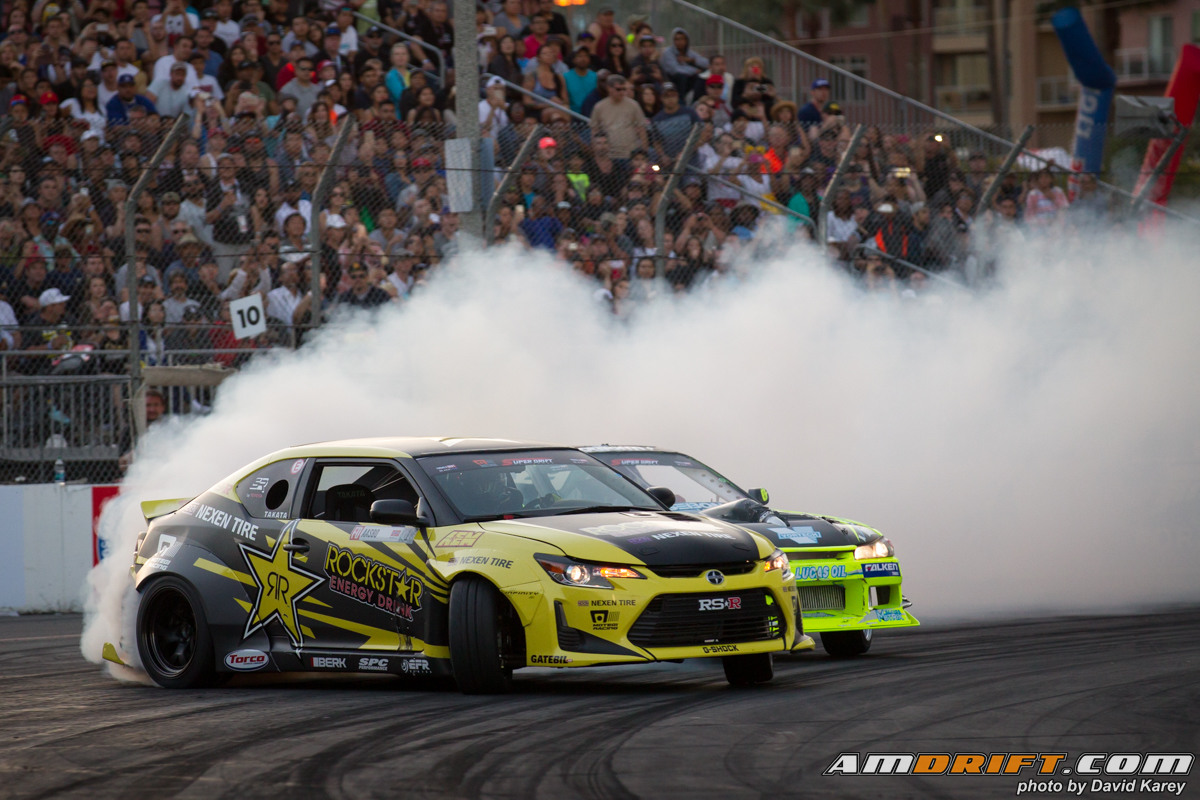 Day 2 of the Grand Prix of Long Beach had been amazing thus far, and for us, it was only about to get better. It was drift time, and once again the stands were packed. We delightfully observed the crowds reactions as the first cars slid by, temporarily leaving visibility to a minimum. They loved it!
The crowds reaction during the driver's introductions is amazing. Most of the spectators aren't followers of Formula Drift, so they haven't had the opportunity to chose a favorite driver. Instead of cheering loudly for one or two drivers, each driver gets an equally motivating roar from the crowd. To them, it doesn't matter who wins at the end of the evening. All they want to see is absolute mayhem. They want to see cars out of control, but in control, tire shredding, loud and fast, absolute mayhem… and that's exactly what the drivers want to give them.
After Odi Bakchis took his bye run, Ryan Litteral and Justin Pawlak met at the line and went at it. Litteral is a Pro 2 driver, but his experience in drifting spans many many years since the beginning of drifting in the US. Pawlak has the same under his belt, but has been afforded many great opportunities to hone his skills in Formula Drift competition. The battle will be tough for Litteral. Litteral leads, but Pawlak leaves him hardly any breathing room on the follow. Pawlak takes his lead and leaves Litteral back in the smoke, but throws it away going around the last clipping point at the hairpin, slowing and straightening, causing Litteral to hit him. Ryan Litteral moves closer to sharing the $25k purse with the win.
Upon completion of the bye runs of Mike Essa, Kyle Mohan, and Matt Field, Jeff Jones and Trenton Beechum took off the gloves and went to battle. Jeff Jones' lead line wasn't his best run of the event, but Beechum slows dramatically around the hairpin to avoid contact with Jones from closing the follow too fast. Beechum has a very fluid lead run as described by announcer De Anda, and perhaps would have have beaten Jones if he was able to make it out of the last turn without missing a shift and coming to a stop. Jeff Jones would take the win.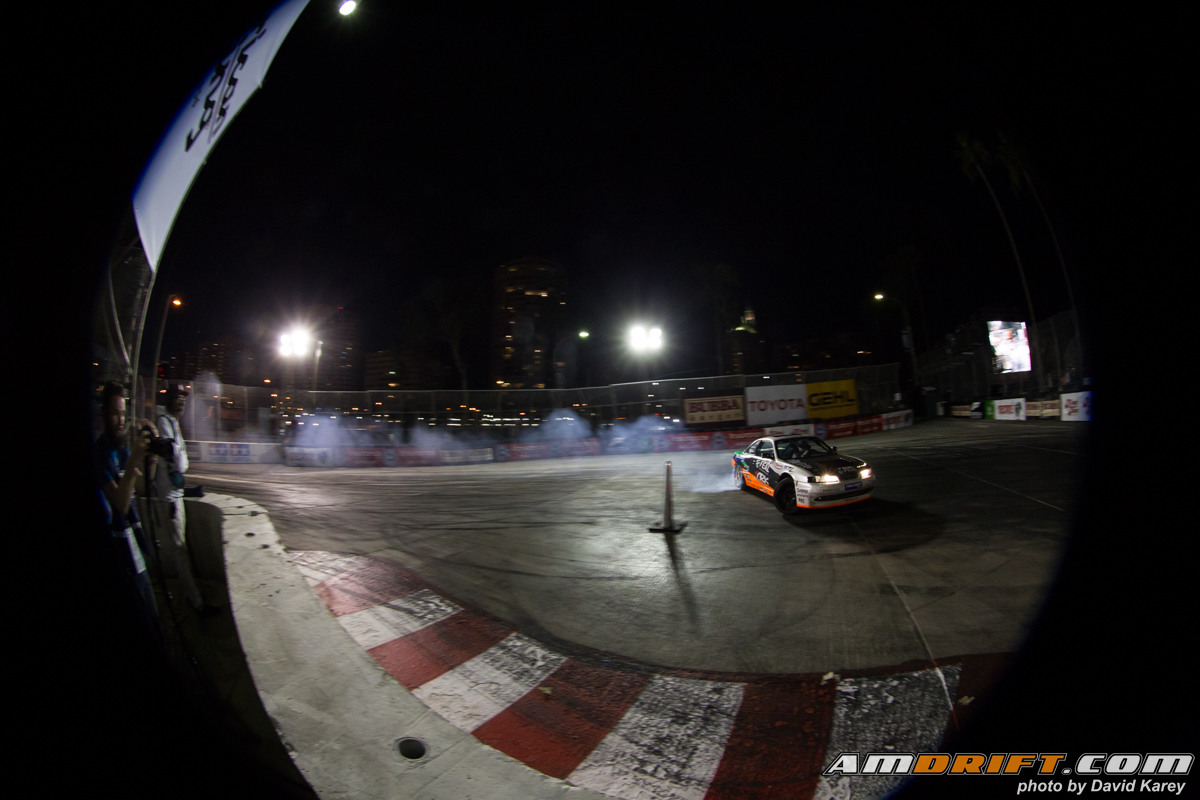 After the bye run of Dean Kearney, Fredric Aasbo, Odi Bakchis takes yet another bye run after Ryan Litteral bows out of the competition due to mechanical issues. It's unfortunate when a competitor exits the competition, especially when it was a promising battle such as Bakchis and Litteral. It could have gotten crazy!
Finally back into tandem battles, Mike Essa leads Kyle Mohan through the course leaving a dense smoke cloud making it difficult for Mohan to follow through. Mohan takes his lead with Essa right on his tail for the first portion of the course. Other than Essa dipping in shallow through the middle of the course, it was a super close follow through the rest, and Essa gets the win.
Matt Field takes Jeff Jones for a wild ride in the next battle. Field has a gorgeous lead run, and Jones has to sacrifice line and proximity on the follow to keep up in this horsepower battle. Jones navigates thr course on his lead, but Matt Field is just all over him, just barely falling back to allow Jones to make transitions. Matt Field moves on toward the Motegi Racing $25k purse.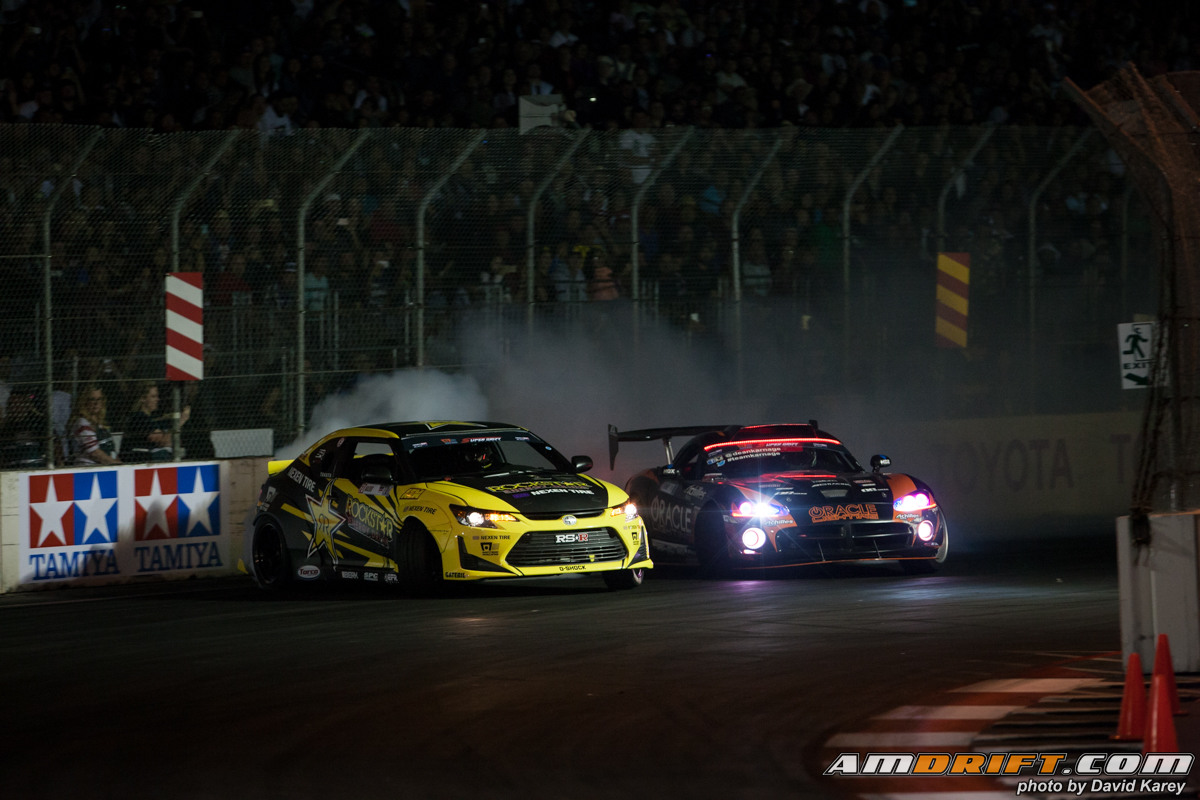 Dean Kearney takes on Fredric Aasbo to the delight of spectators. Both drivers run the Long Beach walls like paint brushes, and here they are going head to head. Kearney leads, nearly tapping his wing on the wall on entry. Aasbo is right on Kearney's panels until mid course where he falls off, but quickly closes the gap through the finish. Aasbo goes on the lead and gives Kearney a sweet line to follow, and he does, closely. 2 judges call for Kearney, and one calls for One More Time. Kearney gets the win and moves on to battle Matt Field.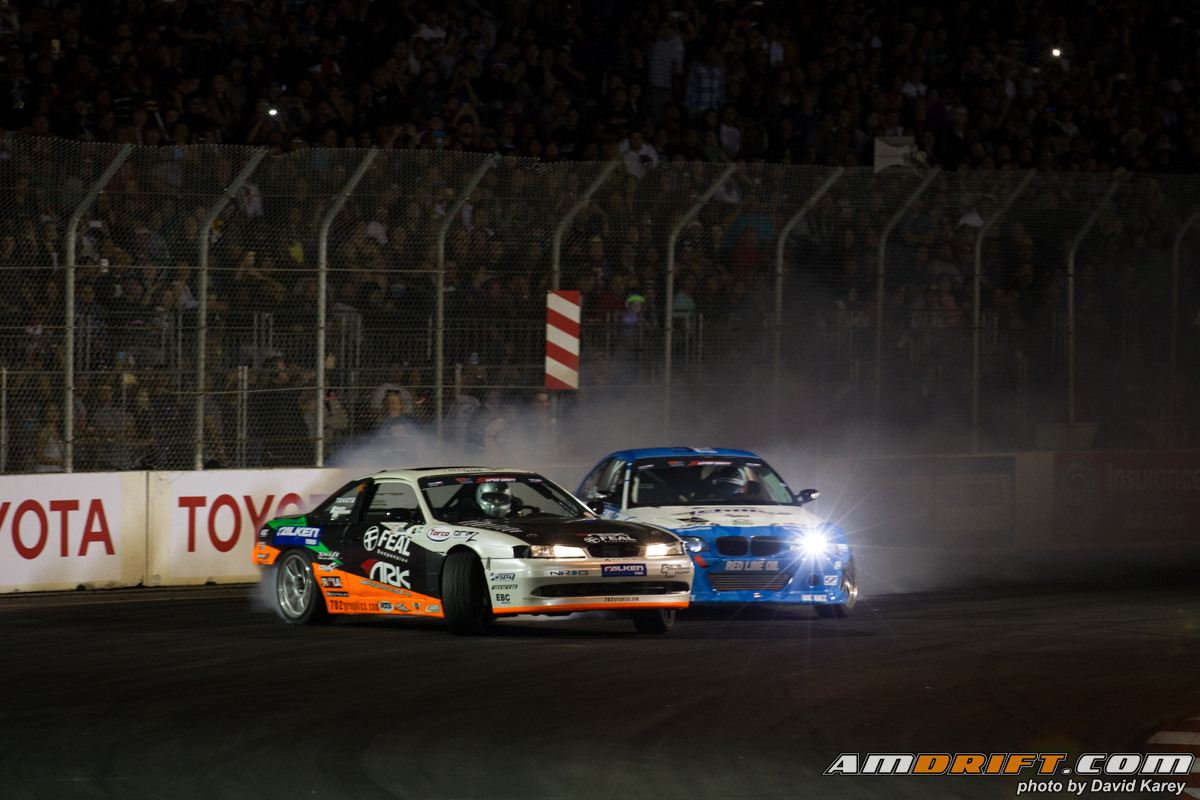 Here we are in the Final Four with Odi Bakchis and Mike Essa. Odi puts his car in all the right places for the most part, but Essa wants blood with close proximity on the follow. Odi giving chase to Essa, both cars make their way through the course and spectators could barely see through the smoke. One judge calls for One More Time, and two judges send Essa through to the final.
"This should be a fun one to watch", exclaims Jarod De Anda, the voice of Formula Drift. Matt Field versus Dean Kearney, two drivers who look great this evening. Field leads, but Kearney spins after Field takes an unexpected line toward the hairpin. After review, judges find Field's line acceptable and send both drivers back to the line to switch it up. Both Kearney and Field push their machines to the absolute limit in the final run of their battle. Field stays door to door with Kearney on the follow, and Field gets the win.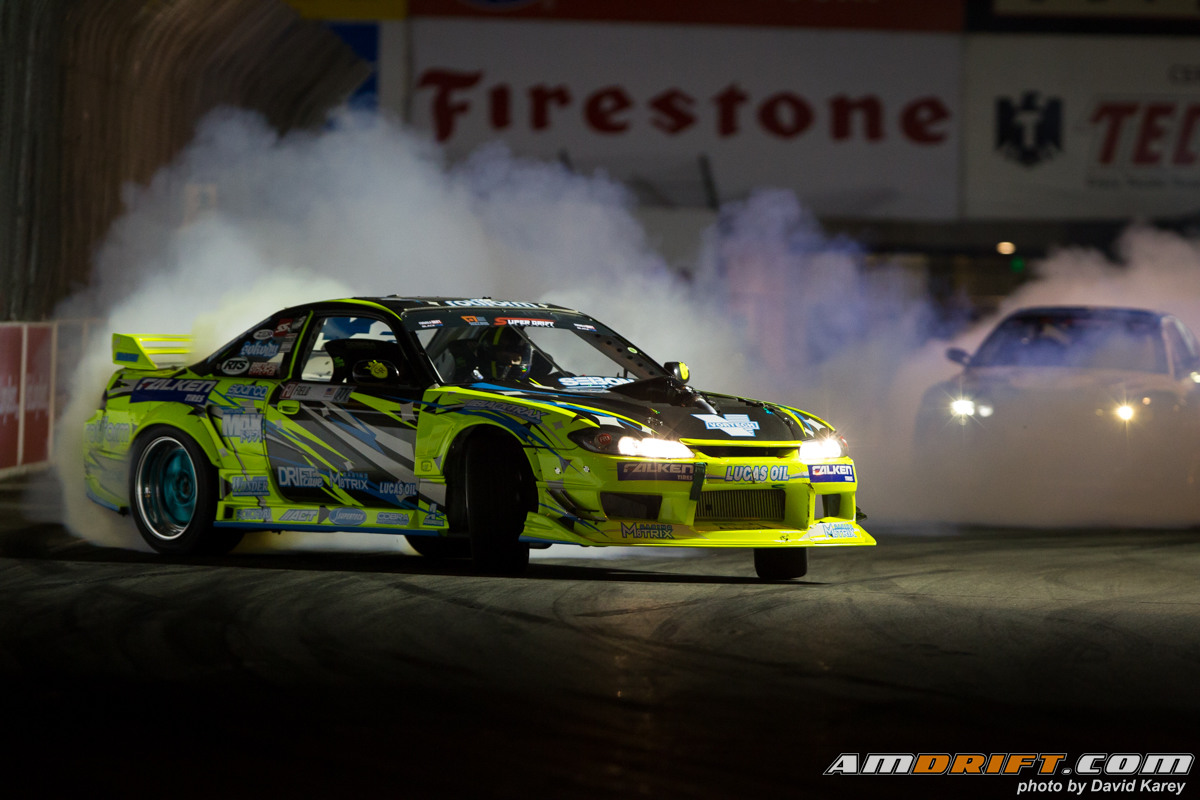 In the final battle, Matt Field would have to get through Mike Essa to get the win. Field leads first, but regardless of his lead, Essa goes too wide on the follow and shuts it down giving Field the advantage. Essa takes a redeeming lead, but spins on entry leaving Field to navigate around him and take an instant victory lap in front of cheering fans. This battle would have been great if tandem played out, but it didn't, and Field gets the win!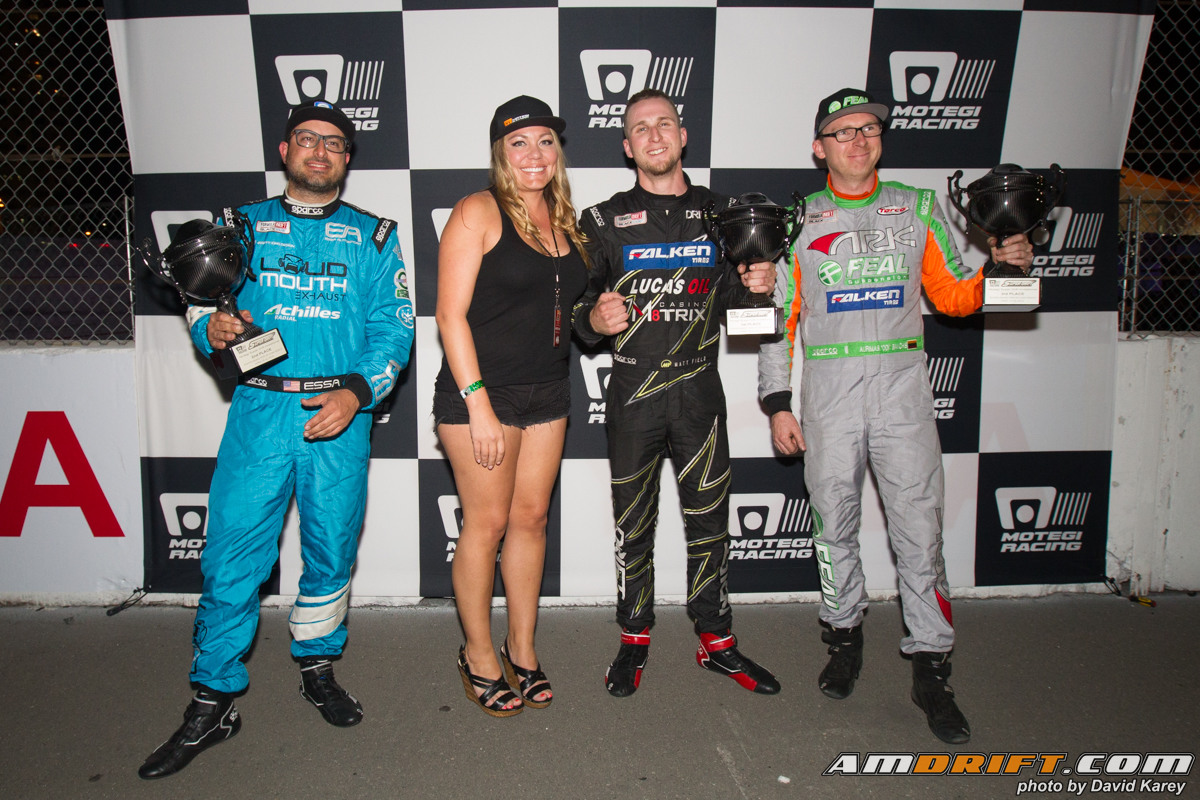 The Motegi Racing Super Drift Challenge was tough under the lights of the Grand Prix of Long Beach. Matt Field takes out some tough competition and takes 1st place. Mike Essa puts on a great show coming in 2nd, and Odi Bakchis follows up in 3rd, reminding the entire Formula Drift show that he is a threat to all this season. It was a great 2 nights of drifting, and now Formula Drift moves the show to Road Atlanta.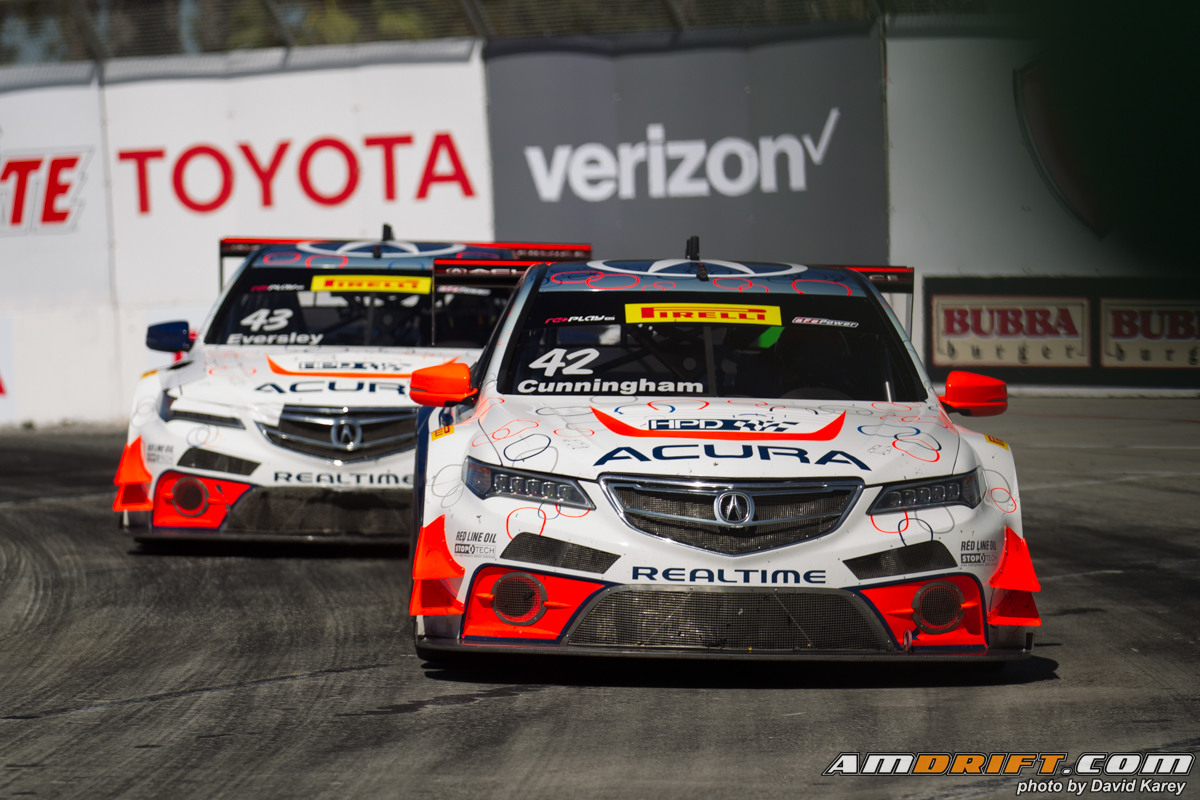 The weekend was far from over, with one more day of excellent racing to be had on Sunday. The Pirelli World Challenge was slated to start late morning, and we made it track side just in time for the race. We chose to hang out at unusual spots, soaking up the sun and the Long Beach vibes while geeking out on the sports cars hustling by. Walking around the perimeter of the race course reminds me of when I was younger. The areas we photograph now, didn't even exist when I first started coming down for the races. It's amazing hearing stories from elders about how much the track has changed over the years, well before my young self joined the ranks of those with Long Beach memories.
The departure and merge of Champ Car into Indy Car in 2008 left an open wound on me that never really healed. Champ Cars had lots of power. They were bigger. I think the fans liked them more too. After 12 years of fighting, confusing fans beyond the dictionary definition of confusing, Champ Car and Indy Car signed a deal in 2008 to bring the 2 series together once and for all. Champ Car would cease operations, and Indy Car would take over everything. The 900+hp turbocharged Cosworth powered cars of Champ Car would be gone, replaced by smaller cars and engines with nearly half the power. I've never given Indy Car the chance to impress me, but standing track side during the 2016 Indy Car race in Long Beach has taught me I need to enjoy these cars. Open wheel racing isn't my favorite, but all the down force rushing over the wall into your face as cars go by, has me thinking…. these could be cool, right?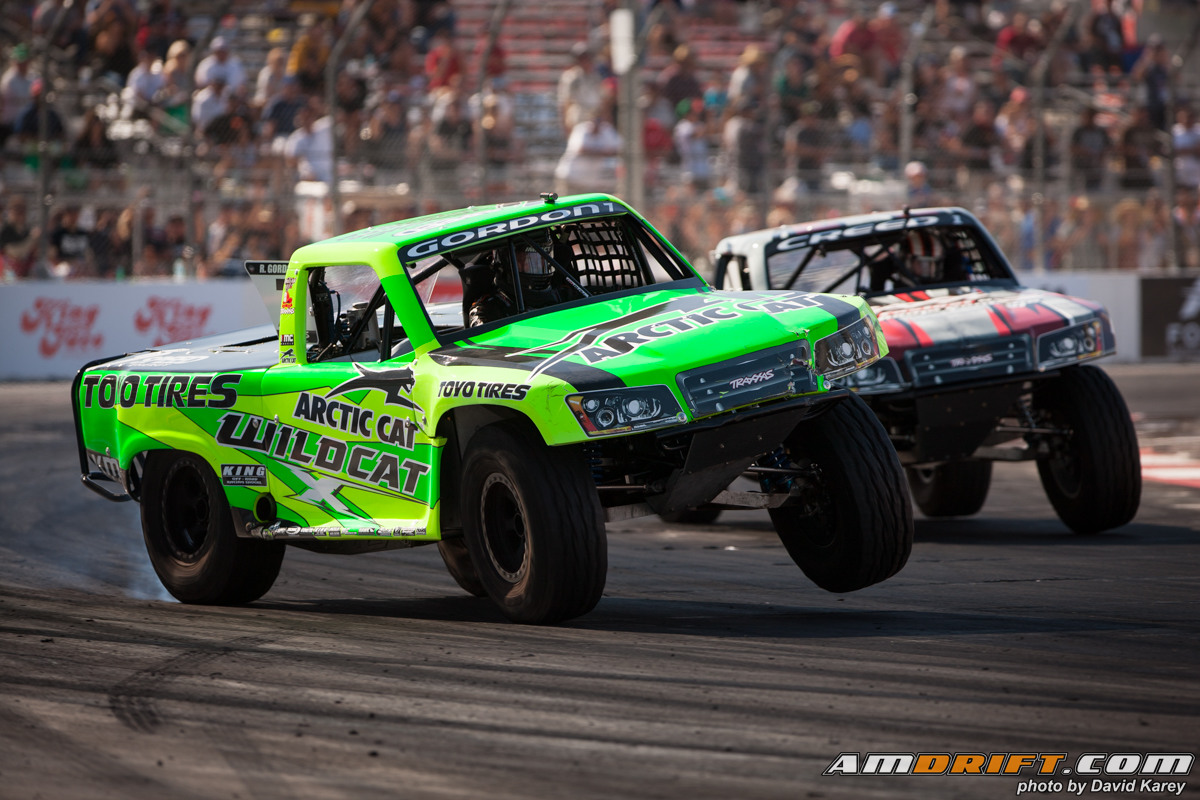 Revelations come as quick as they go, and before we knew it, the Grand Prix of Long Beach commenced the final race of 2016. Stadium Super Trucks was up for their second race of the weekend. Naturally, everybody involved with drifting was pulling for Tyler McQuarrie to hit podium again. Unfortunately, his truck had a power issue and he was unable to keep pace with the leaders Robbie Gordon and Sheldon Creed who battled it out, Creed making a pass right at the end for victory. It was absolute mayhem out there, and probably a good decision for the Grand Prix of Long Beach Association to run these guys last as every single one of them drive with no holds barred. Stadium Super Trucks was a delightful way to end the weekend, and left us walking home with a smile on our faces.
Check out our 2014 article, and enjoy the gallery below.