The 3 weeks before the opening of the 2016 Top Drift Limited season was extremely busy. With Golden Gate Drift, Formula Drift, and the Grand Prix of Long Beach holding their events back to back, one weekend after another, my butt was kicked and all I wanted to do is hang with friends and shoot for fun. Last weekend, Just Drift kicked off the 2016 Top Drift Limited season with Round 1 at Willow Springs Raceway. The event was exactly what I needed to unwind and enjoy the purest form of drifting that a competition event could provide.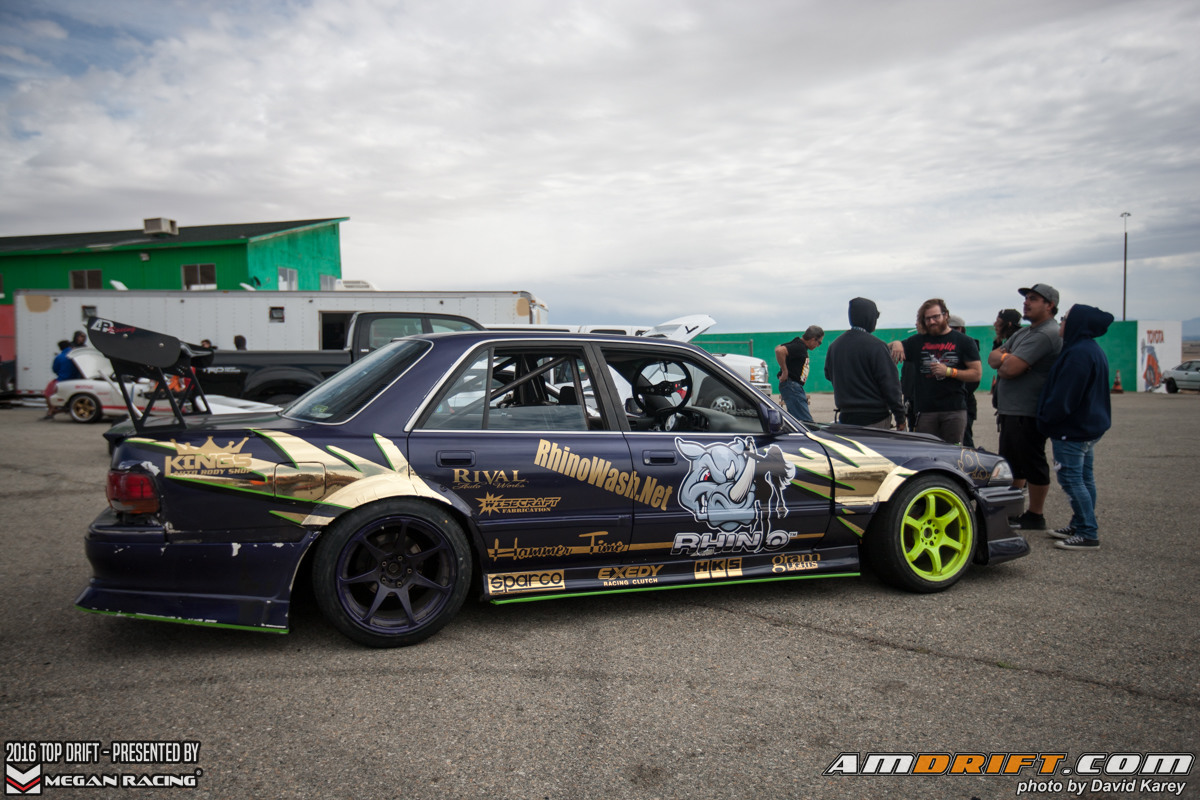 For those who aren't familiar with Top Drift Limited, it's a series in which all cars must abide by a "street legal" rule. Engine swaps are allowed, but only production engines that came in the chassis anywhere in the world can be used. Roll cages are mandatory for tandem competition, but extensive modifications such as fuel cells are not allowed, tires are limited to a maximum size and minimum treadwear, and interior such as door panels and factory dash are required. Participants are strictly limited to those who don't hold a Formula Drift Pro or Pro 2 license, and a participant cannot have podiumed at any Formula Drift Pro Am event in the current season.
Limited rules don't mean limited fun, though. Top Drift Limited always has a relaxed, grassroots event feel. The cars are a little more basic and don't require a full pit crew, drivers don't have to wear fire suits, and people come with the main goal of having fun.
Making it into the "big show" at Limited means you came to have fun, but were on top of your game for the day. Being part of the Top 16 simply means you get to go out and drive a little longer.
Battles can get a little heated in competition. There often are a couple of battles that bring all family and friends of the drivers to the stands, and there are never sad or disappointed faces when a favorite driver doesn't move on. Everybody had fun, and that's the best thing about Top Drift Limited.
Seat time is all these drivers are looking for. It's joyfully obvious that some of the drivers who made it through to the podium, have been getting a regular dose of it. As the bracket narrows down to the strongest drivers of the day, the battles become a little more intense, which is extremely entertaining to watch given the strict regulation of the cars.
Congrats to Tyler Page-Howell for sweeping Limited in 1st place, Cory Faso for beating up on Tyler in 2nd, and Sean Adriano in 3rd. These guys were fun to watch.
Top Drift Limited Round 2 is on June 25-26, 2016 again on Balcony Circuit at Willow Springs Raceway. Until then, enjoy the Top Drift Limited Round 1 gallery.