The Formula Drift Pro 2 season continued for Round 2 in Central Florida at Orlando Speed World (OSW) Oval Track. Hot as hell and always with the potential to rain, Pro 2 in Orlando would prove to be more interesting than some thought of Atlanta. Georgia brought the wet conditions prior to Pro 2 competition, leaving drivers with little time to shakedown before taking on the Road Atlanta hill, not the case for this very dry and hot day. Drivers kicked up the competition we got a hot round of Formula Drift Pro 2 Top 16.

Donovan Brockway and Matt Madrigali line up on grid for practice. Both drivers would end up making the competition show.

Staying cool in the heat was paramount for drivers. Sometimes the heat makes us do things… Looking good, Trent Beechum.

Rookie Pro 2 driver Sheng Ng Nian from Singapore in his JZX100 Chaser looked like a force to be reckoned with throughout practice and qualifying, even without the sponsorship level of his competitors. This isn't the Japanese Chaser cup, so we welcome these 4-door monsters in the U.S. 1000hp? Yes. Built by Powervehicles? Yes indeed.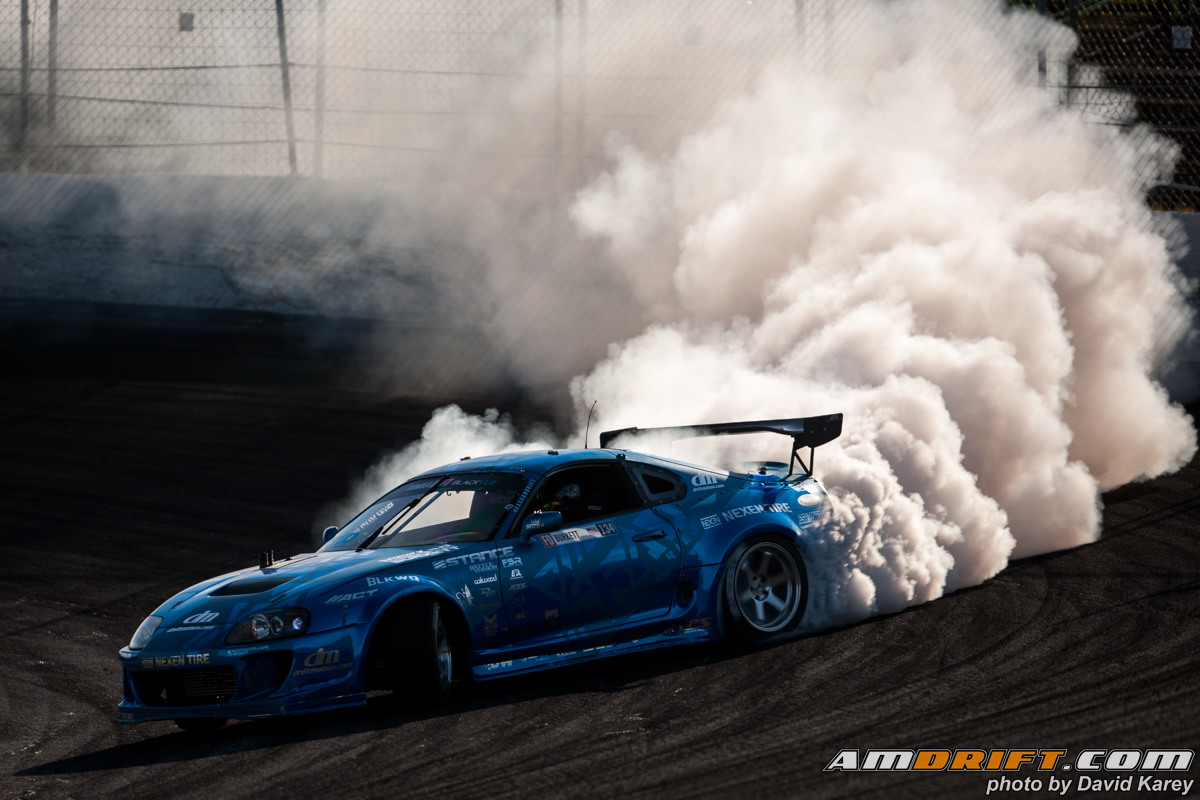 Crazy ass smoke clouds from Dan's 2JZ Supra is always a beautiful sight. Thanks Dan for continuing to sacrifice tires…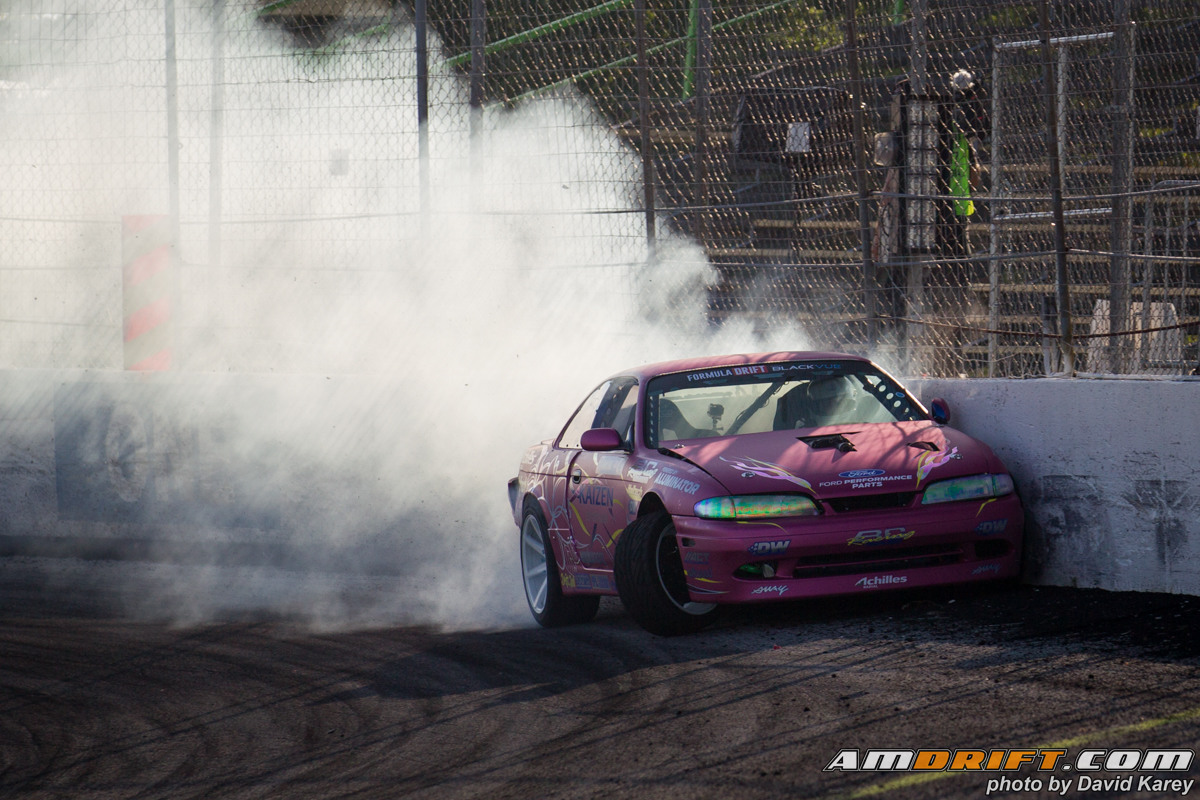 Florida based driver Kelsey Rowlings was really pumped to drift on her home track, especially after steering issues in Atlanta, only later to be sucked in by the OSW wall during qualifying. She wouldn't be the last driver to kiss the bank with too much love…

We were thankful this year that the setup for media, it was 100% better than last year, from nothing to something. Shooting through a fence is still a great option for other angles of the cars coming off the bank, like Donovan Brockway, but out of respect for everyone who travels for these events, having a proper setup was absolutely necessary for Orlando's second year of Formula Drift taking over the track.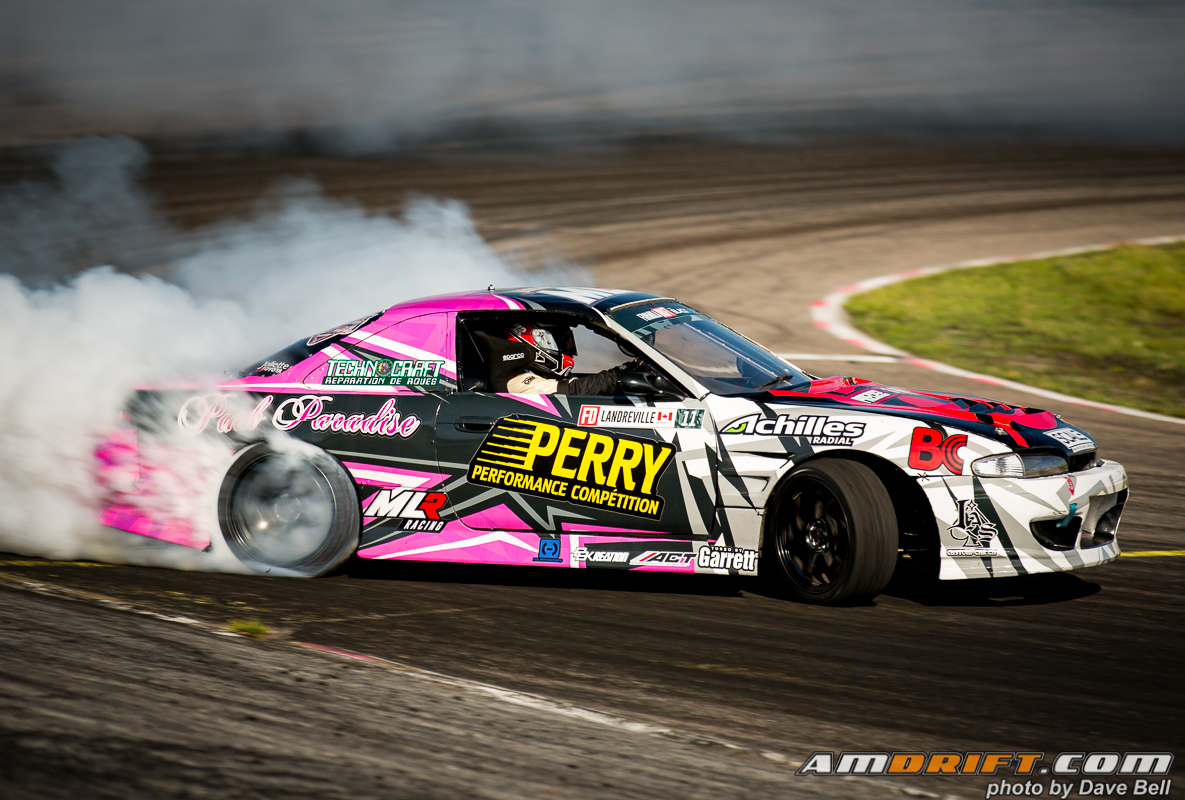 Marc Landreville had a great outcome in Atlanta with a podium finish and would continue solid runs into Orlando.

Matt Madrigali didn't need no freaking wing to be a strong competitor in Top 16 competition, so he decided to just do away with it along the OSW fence. Parts available as souvenirs?

Taylor Hull lost power steering on one of his final practice runs, just before Top 16 competition, and then proceeded hard into the wall with the sudden loss of steering. Unfortunately Taylor was not able to repair his car in-time for competition.
Competition got started a little later than anticipated but the wait was worth it… The sun was headed down, temperatures were cooling, and drivers were ready to throw out solid runs in Top 16.

We continue to love the variety of cars that Formula Drift brings in, no matter what level of competition. Both Trent Beechum and Dirk Stratton competed in Top 16, but only one could move on, with the Corvette v. Mustang chassis battle going in favor of Stratton.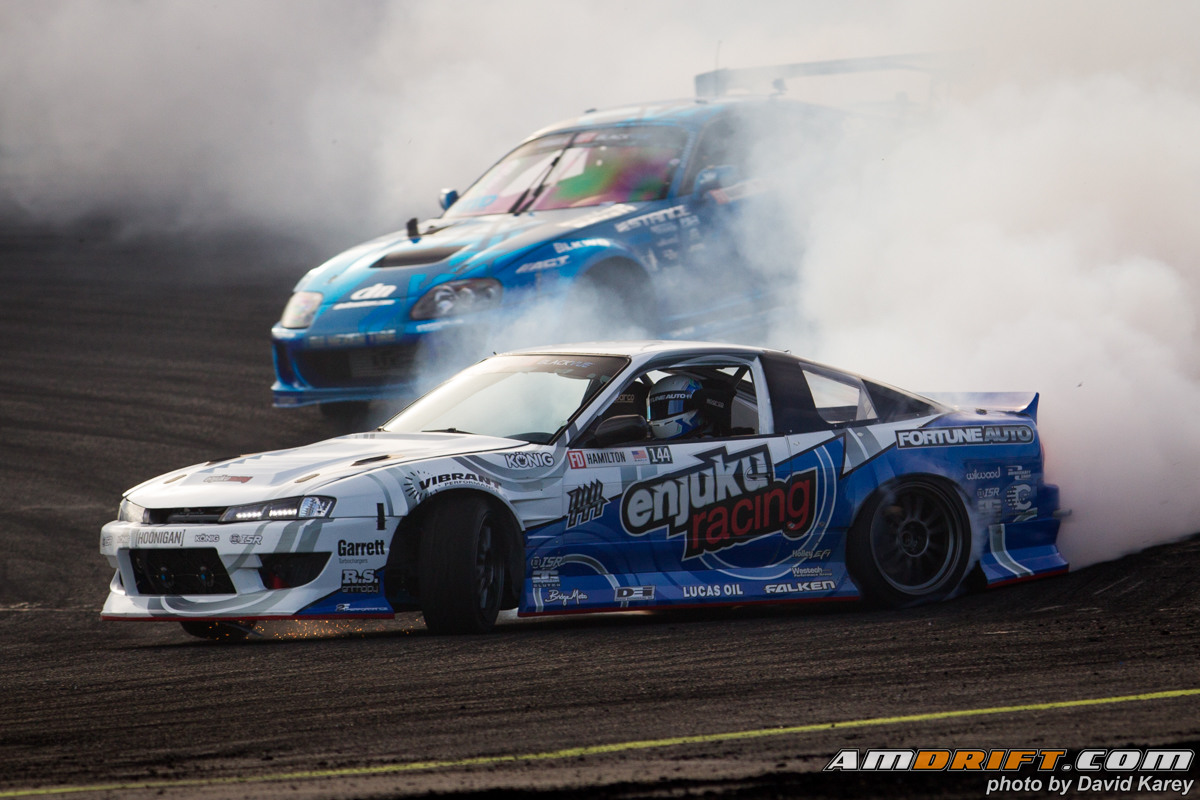 Nate Hamilton had to bow out in Top 16 from a debeaded tire. Debeading tires became more and more common as the weekend went on as drivers tried to deal with the tough bank and rough center of the track. It's not common to see cars on 3 or even 2 wheels coming off the bank and over the hump.


Dan Burkett took on a solo run after the Hamilton battle competition timeout and continued on  competing, only to later take himself out with an aggressive spin.

Kevin Lawrence looked like he was one of the Pro 2 drivers to beat leading up to competition and into the Top 8. He had solid runs with really high bank runs. Consistency and his aggressive driving style continues to be very effective, including versus Rookie Luis Lizardi's BMW.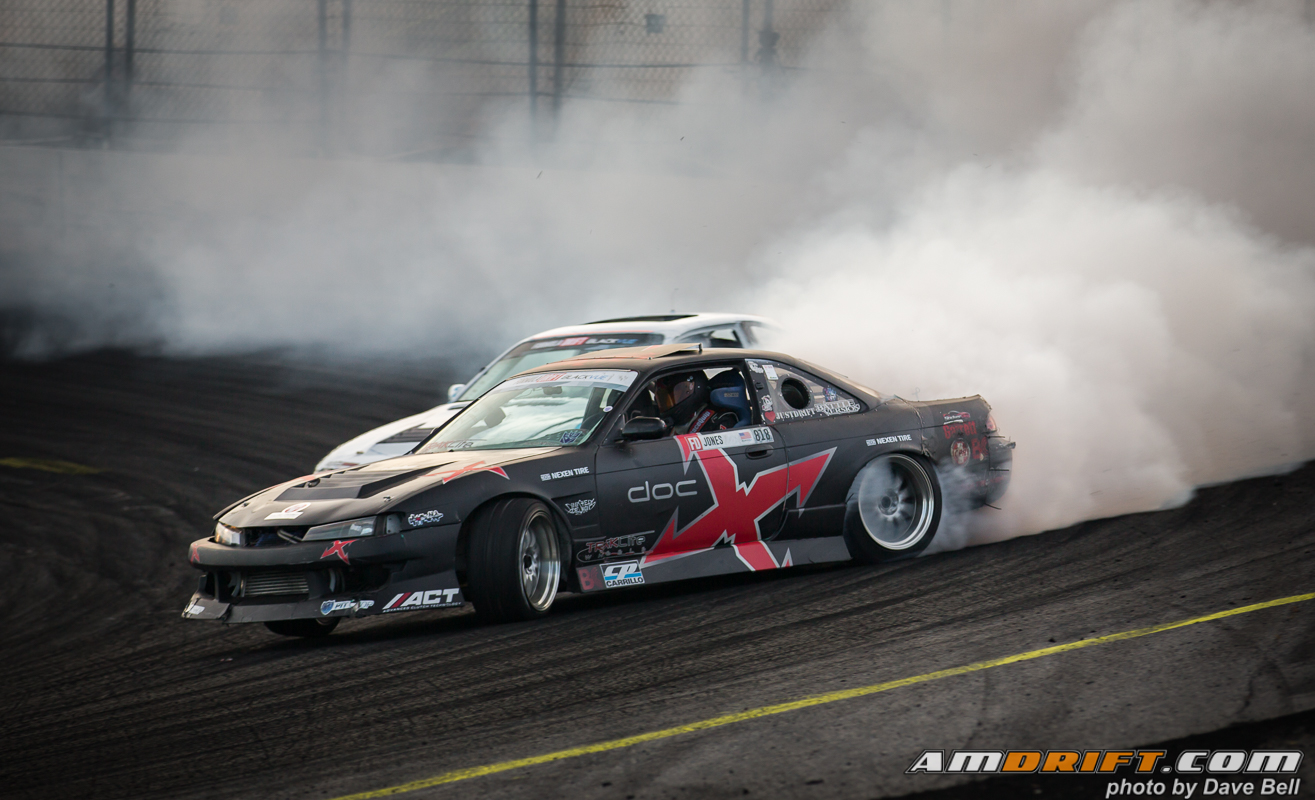 We can't ever count out Jeff Jones from being competitive, especially in Pro 2. After a 1st place finish in Atlanta Jeff continued to dominate in Orlando and would later have an epic battle with much-favored Kevin Lawrence.
Sometimes it's not the wall or even a debeaded tire. Meeks advanced over Brockway after a mechanical failure on Brockway's lead run. Both had a solid first battle, it's disappointing these two didn't get to see the round through.

Ryan Litteral's lead run against Matt Madrigali was strong, only to have a major correction in his chase run, making it easy for Madrigali to get the advance.

We knew Marc Landreville would go far in competition as we continued to watch his solid runs throughout the day. His lead run had a nice high line on the bank while Dirk Stratton ran a very shallow line before the transitioning into the center of the course.

Andrew Lewis's lead run put the pressure on Dan Burkett, causing Burkett to spin during his own lead run. Luckily Lewis was able to avoid a serious collision and move on against Landreville.
Two of the days best performing drivers gave everyone a great show during the Jeff Jones turbocharged V8 v. Kevin Lawrence RB powered battle. They would both have consistent, tight runs which would require a OMT to decide a winner.

Meeks took on Madrigali and you would have thought the 2nd run was a solo battle when Austin got a very late start out of the gate. This round could have easily went OMT or the other way around if Austin wasn't playing catch up during the entire chase run.
The highly anticipated OMT battle of Jones v. Lawrence was cut short after Kevin was sucked into the OSW wall. The impact provided too much damage to move on in competition, leaving the door open for Jeff towards another Pro 2 podium finish.
Landreville separated from Lewis during the lead run and made it especially hard for Andrew to make up the distance. Marc had a solid follow run too and would continue marching on towards his podium finish.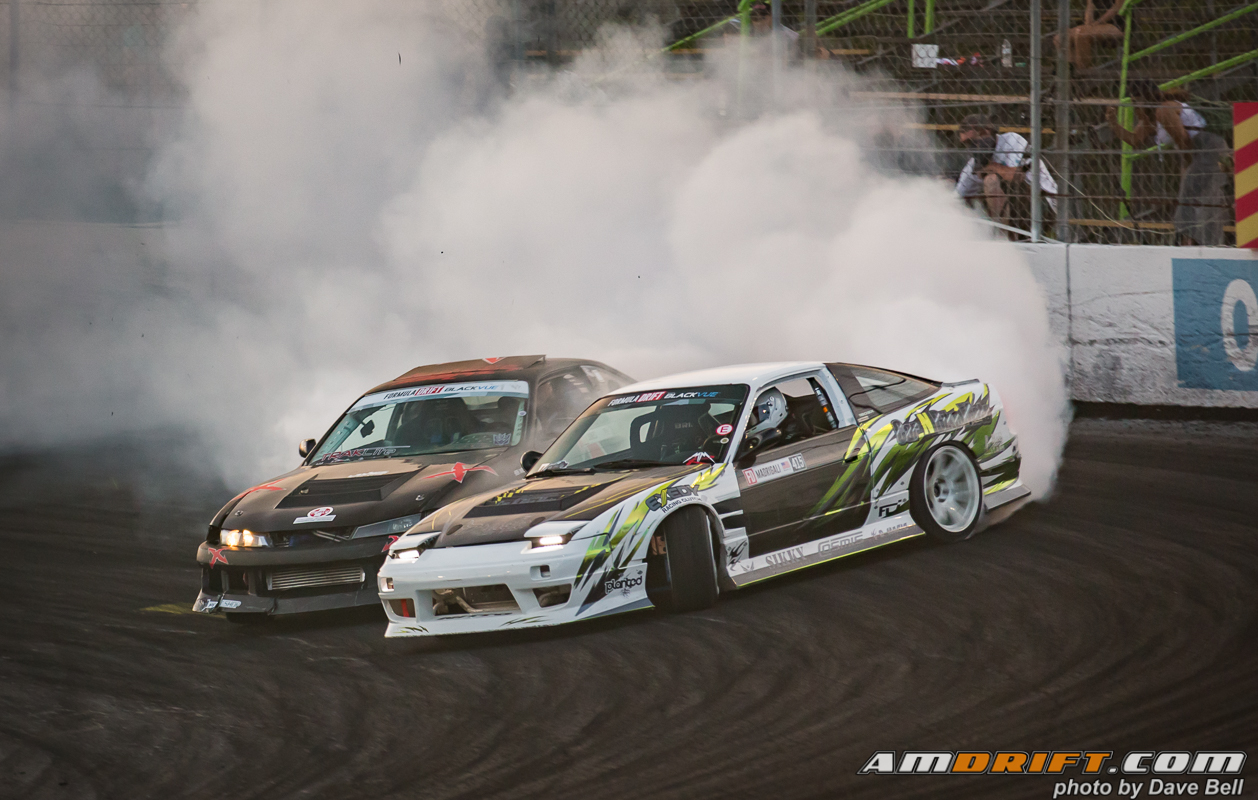 Even after it felt like Jeff Jones had debeaded a killer runway tire all day, he was able to keep all four on v. Madrigali. A nice lead run by Jones and an even better door-to-door chase run let Jeff move on towards a final battle with Landreville and giving Matt a 3rd place podium finish.
Landreville and Jones had an amazing final battle, with Landreville looking to have a slight edge moving into the next run with a nice high line and putting distance on Jones.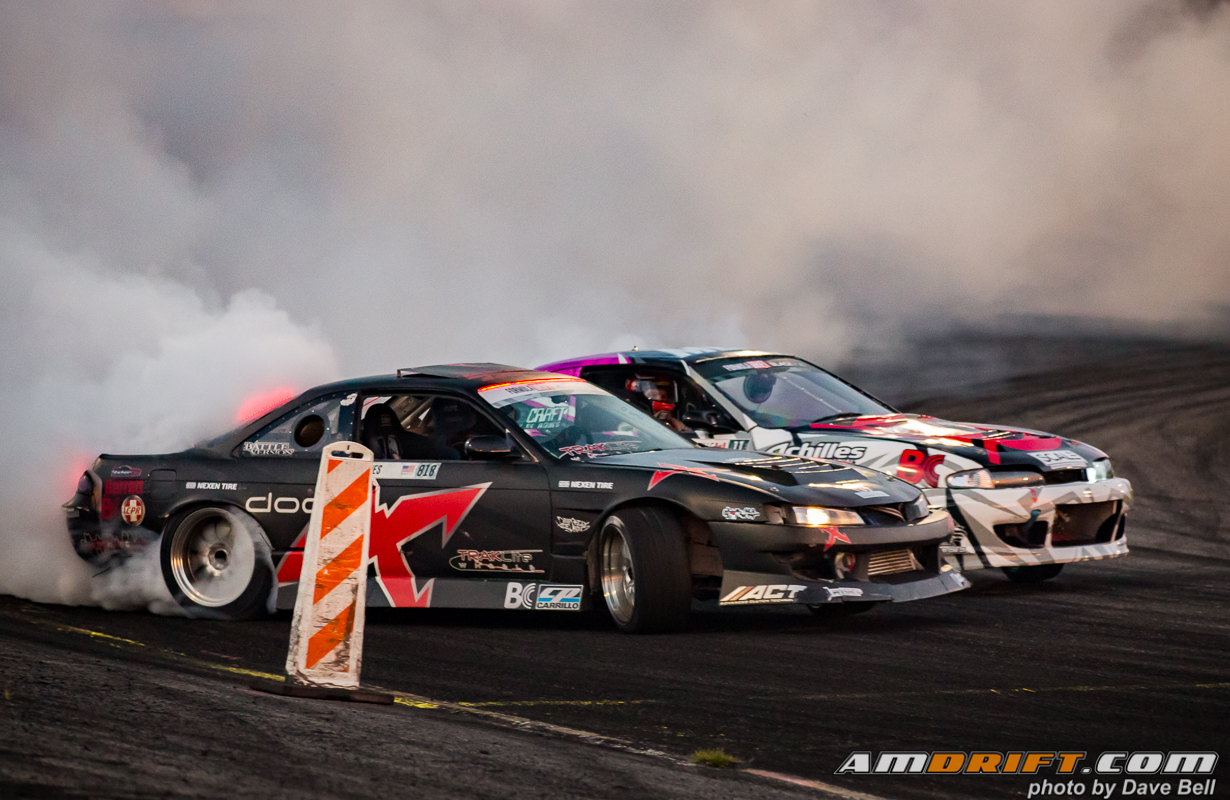 A clean start on the final run let Landreville stay in close proximity the entire run and then surging door-to-door in the final section of the track. This was enough for Marc to take the battle from Jeff, even after amazing driving from both competitors.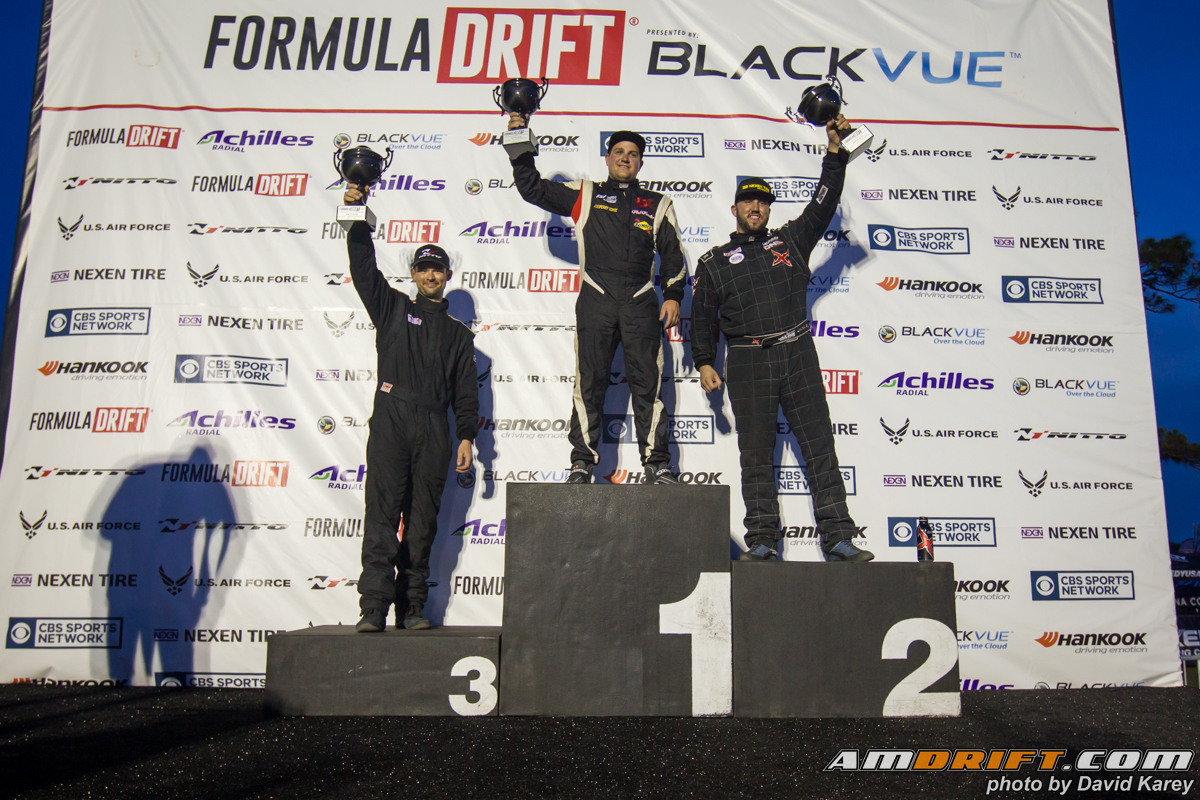 Pro 2 Round 2 Final Results from OSW in Orlando, FL:
Marc Landreville
Jeff Jones
Matt Madrigali
Current Pro 2 Championship Standings put Marc Landreville in 1st, Jeff Jones in 2nd, and Andrew Lewis/Dan Burkett tied in 3rd.
The next round of Formula Drift Pro 2 competition takes place in Texas, September 9-10. We can't wait to see what the next round will bring after a solid Round 2 in Orlando. If it's anywhere close as hot as Orlando was, prepare to drink plenty of water, sweat your ass off, and be ready for great Pro 2 battles. For now, enjoy our huge gallery from Round 2 of Pro 2 in Orlando, FL.