We had a chance to head out to Extreme Autofest at Angel Stadium in Anaheim to check out some drifting. It was a cross between autocrossing and drifting, which everyone there was calling Driftkhana. The course wasnt big enough for serious high speed tandem drifting, so the organizers put together a very technical obstacle course which the drivers would go around a cone a couple of times, drift to another cone, and go around that one a few times. Other than the whole concept being new to all the drivers that Megan Racing invited, it was a good time hanging out with all the friends we've gotten to know through amateur drifting events.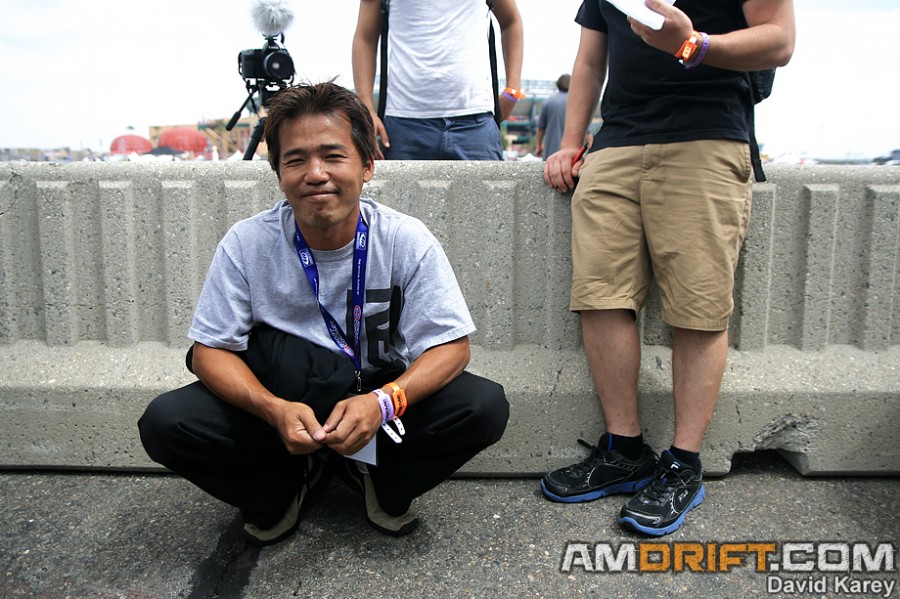 Taka Aono always has his hand in some sort of amateur drifting of gymkhana style driving. He likes to help the little guy as much as possible and really cares about the future of the sport and helping drivers grow to shine as a pro someday.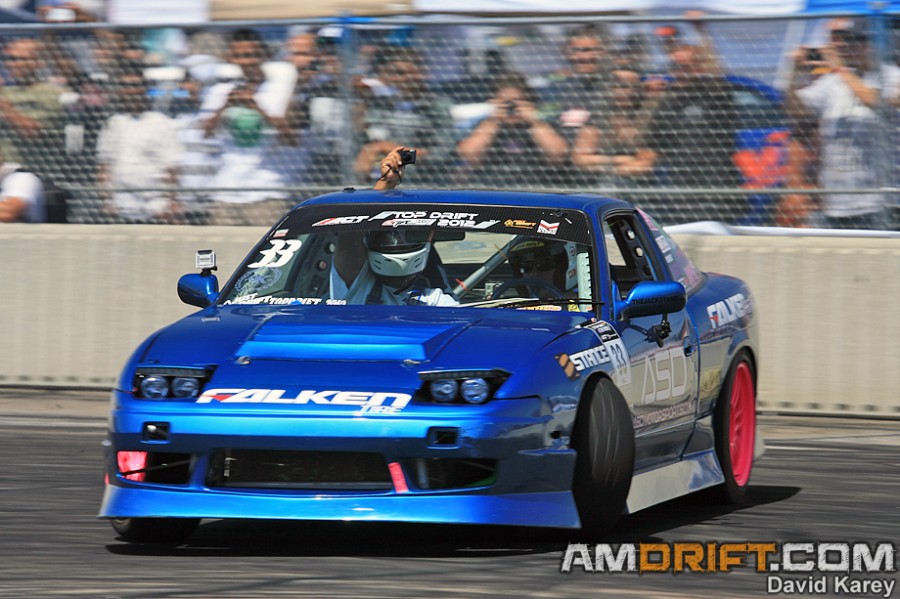 Eric Hill got a chance to steal Mad Mike of Pimp My Ride's West Coast Customs away from the lowrider show and give him a taste of the drift life. Mad Mike held his camera out of the sunroof the entire time. In the video at the end of the run, Mike says "Now thats extreme autosports 2012, Extreme Autofest Anaheim California baby woooooooooooo" with Eric getting in on the "woooooooooooooo". Check out the video HERE.
Mad Mike giving Eric Hill mad props. I really like when drifters open up and show guests what its all about. Drift rides for everyone! Next time you are at a a drift event, ask a driver for a ride.
Recently sponsored by Megan Racing, Alex Villabrille and his family brought their competition S13 to the show. Alex has been driving an LS1 powered 350z in competition for part of the year. In my opinion, this car is a lot more developed and setup. Naturally, the 350z will become better over time with tuning and development.
Calvin Cheung of Megan Racing was messing around with this new FRS for the first time. I wont say it made a lot of smoke or impressed anyone more than the fully built drift cars at the event, but it looks damn easy and fun to drive. I cant wait to drive one.
As a fellow Cressida co-owner, I found this fully built MX83 of Andy David to be a great example of where I want to go with ours. Engine is a 1Jz, had a full cage, and is decked out with all sorts of suspension stuff for drifting, and kick ass widebody.
At the end of the day, Extreme Autofest was good for hanging out with the buds and seeing some carefree drifting/gymkhana. Enjoy the photos below.