The AmDrift crew took off for Vegas to check out Vegas ProAm for the very first time. A few things were known in advance. It would be hot, there would be carnage, and there would be super competitive drifting.
For some veteran drivers and ProAm rookies, this past weekend at Vegas Drift round 3 was really an eye opener of what is soon to come to Formula Drift.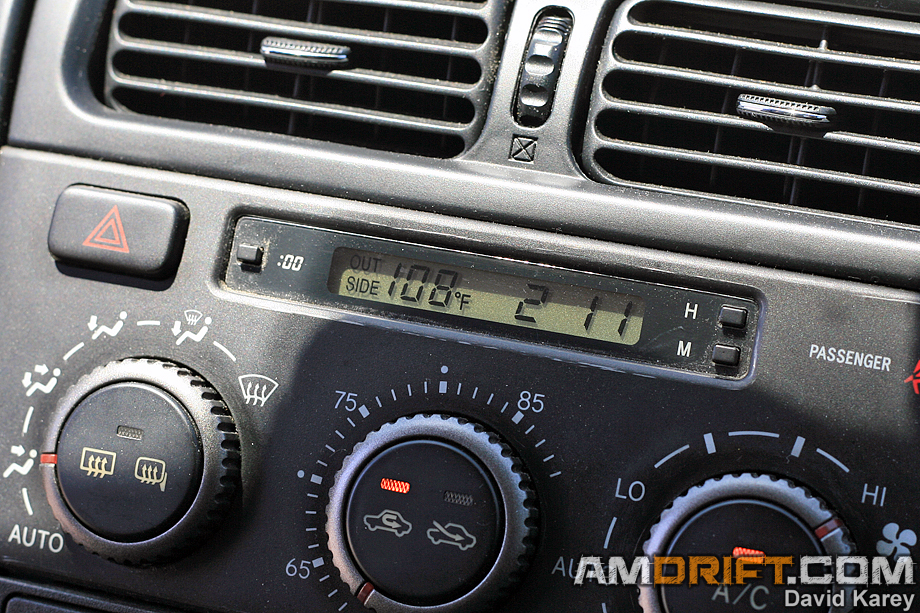 The temperatures reached over 108 degrees, and the competitors would only bring it harder than ever under the blazing heat of the Nevada desert.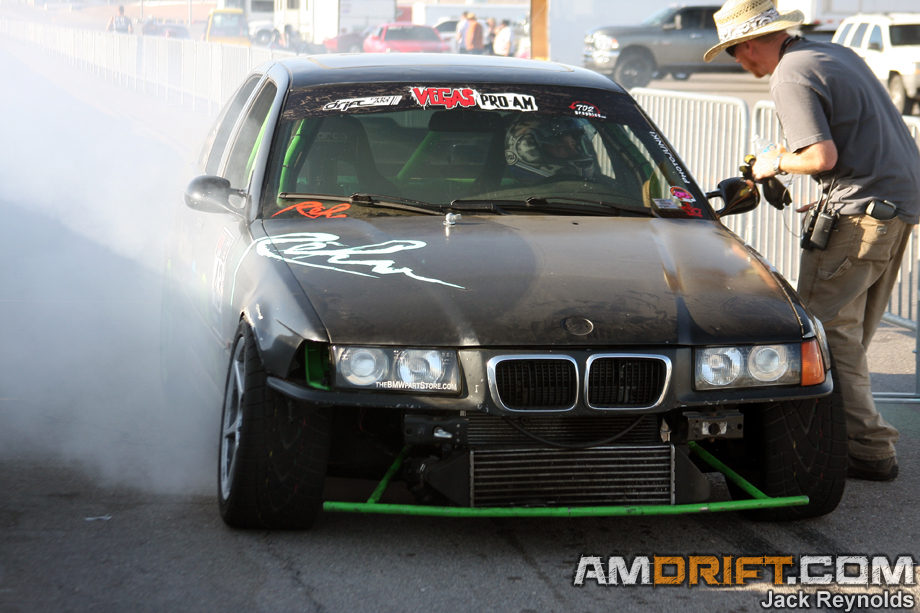 With the air temperature being so high and all the extra stress of the heat involved with drifting, Doug Cox BMW blew out the 6th cylinder and he was unable to run in the main event. I really hope he is able to fix this beast in time for the next round. Maybe he will finally install a drift brake too.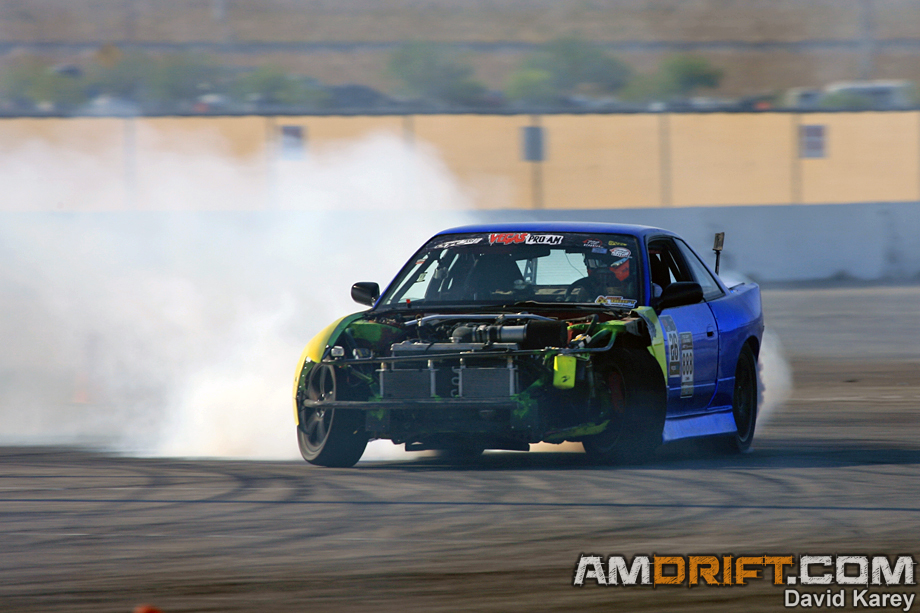 One driver that was really killing it, was Spike Chen. He looked like he had that car dialed in all weekend. Unfortunately, due to a confrontation with the wall during practice, he had to go back into the pits and readjust his alignment on the fly. Soon after, he came back swinging and was able to qualify in the #2 spot for the main event.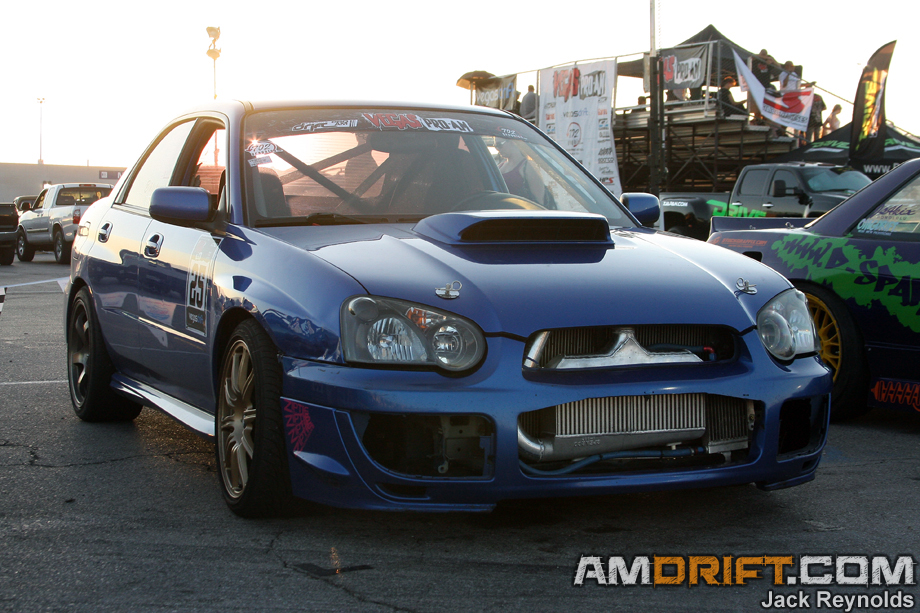 I really wish we could see more  4 wheel drive cars converted to 2 wheel drive in ProAm drifting. They just look so good sliding down the track. Derrick Lopez from the Utah drift scene has really done wonders with this car, and yes he can drive like a boss too.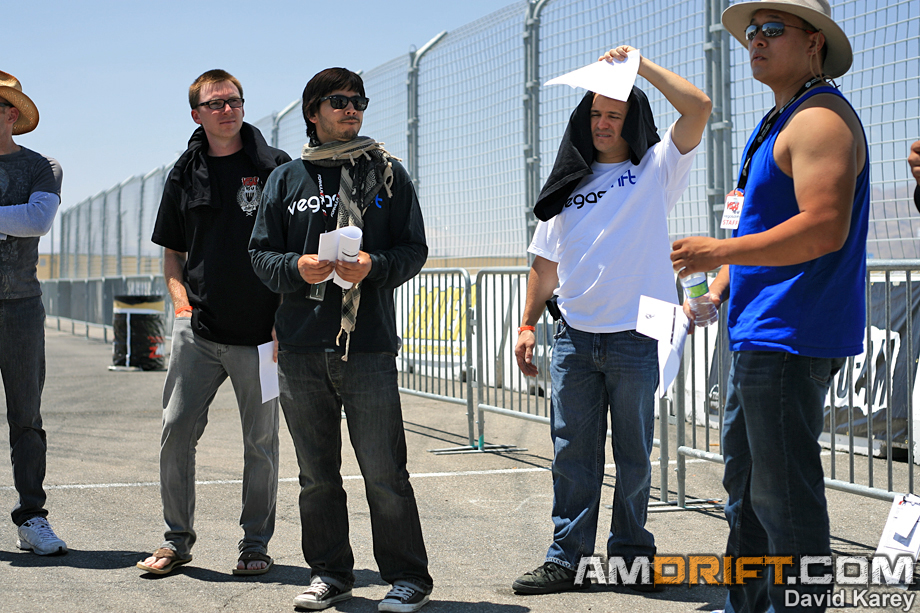 Odi Bakchis, Ernie Fixmer, and Nick Dizon announcing top 16 and explaining what they are looking for in the competition.
Chris "Pow" Billedo qualified 13th, but was too busy enjoying his Snickers bar. He was secretly scheming his plan to make it to the podium.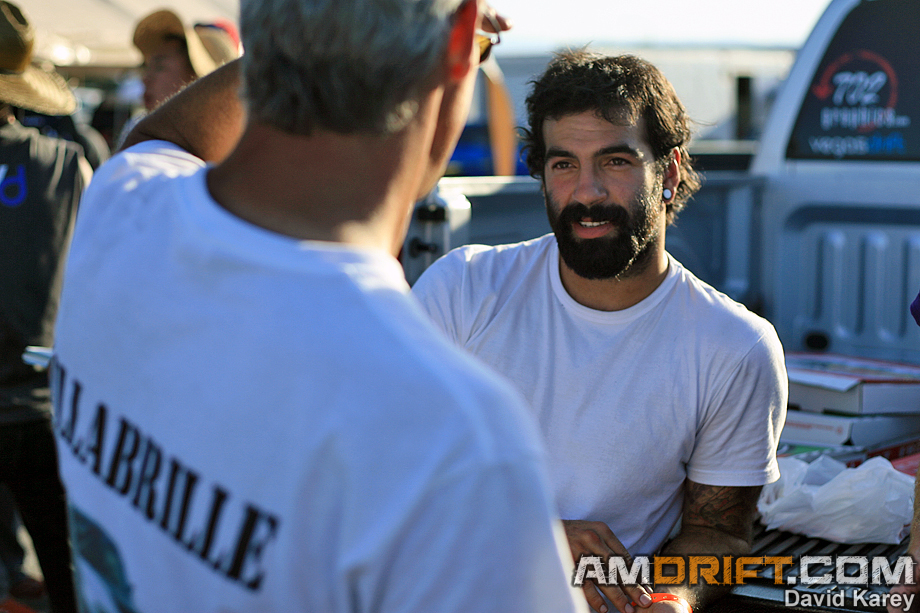 Alex Villabrille representing Megan Racing, started discussing his plan of attack with his Dad. Alex is currently 3rd in points and is planning on taking his LS1 350z to Formula Drift next year if he gets his license with Vegas Drift.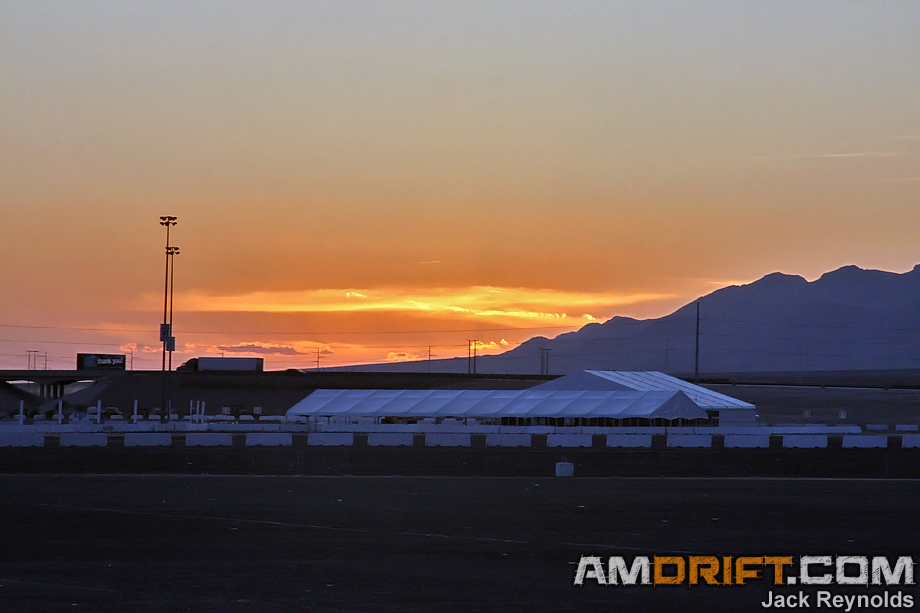 Just as the sun started to set on Las Vegas Motor Speedway, the insanity of Vegas Drift top 16 was just getting started.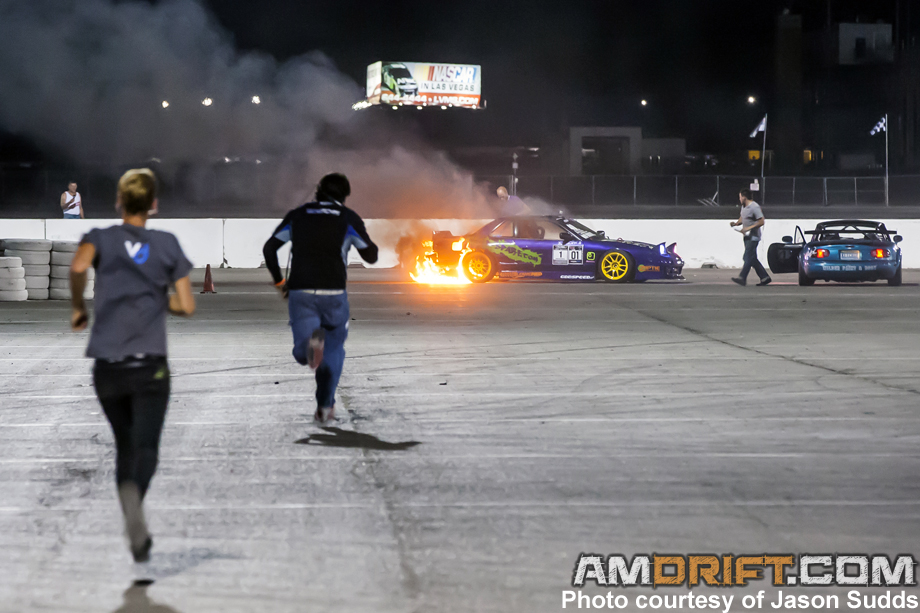 Shortly after the announcer Nick Dizon did the top 16 presentation, Brandon Wicknick took off and burst into flames. It turned out that he forgot to install his gas cap properly. With a last minute 5 minute call from his pits, he was able to make it out just in time for his battle and ended up making it to top 8 against Pow Billedo.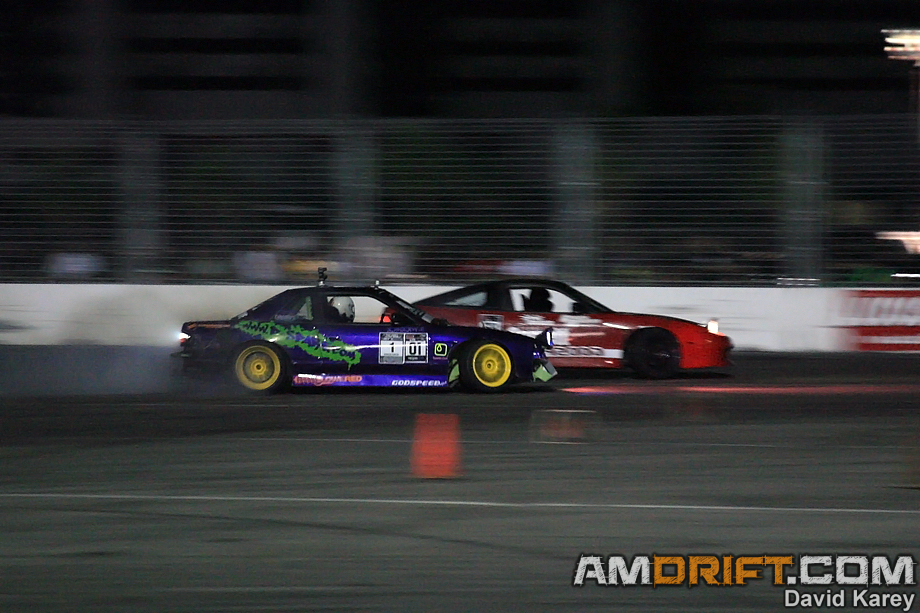 Pow was able to beat Wicknick and secure a spot in the Final 4. But, at the end of the run, his motor blew and he had to give a by run to Forrest Wang who moved to the final. I think Pow might have a LS1 in his future very very soon *Hint Hint*.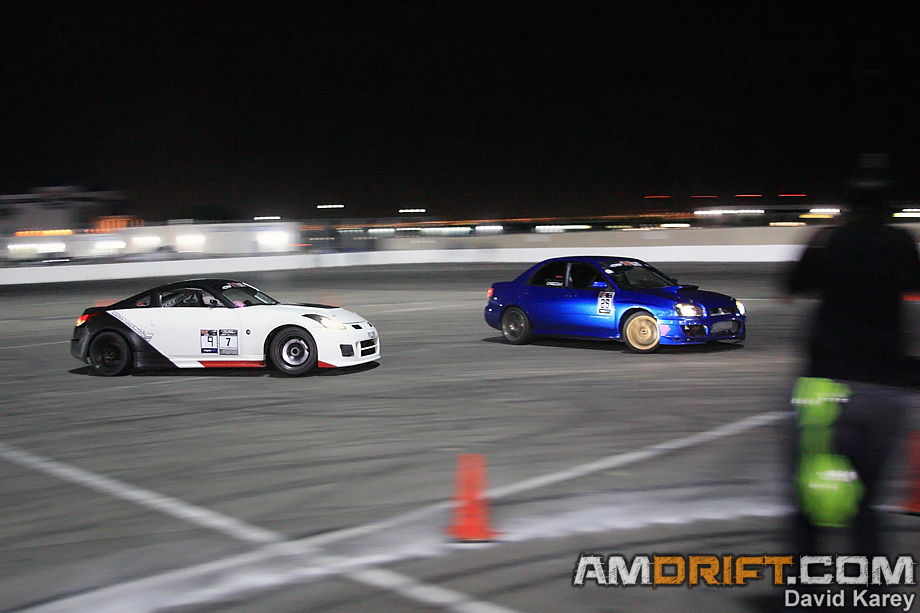 The battle between Alex and Derrick was pretty close. The judges decided to give it to Alex because his chase run was right on Derrick's bumper. As the course started to end, Alex laid on a pass right through the finish line. Perfect run.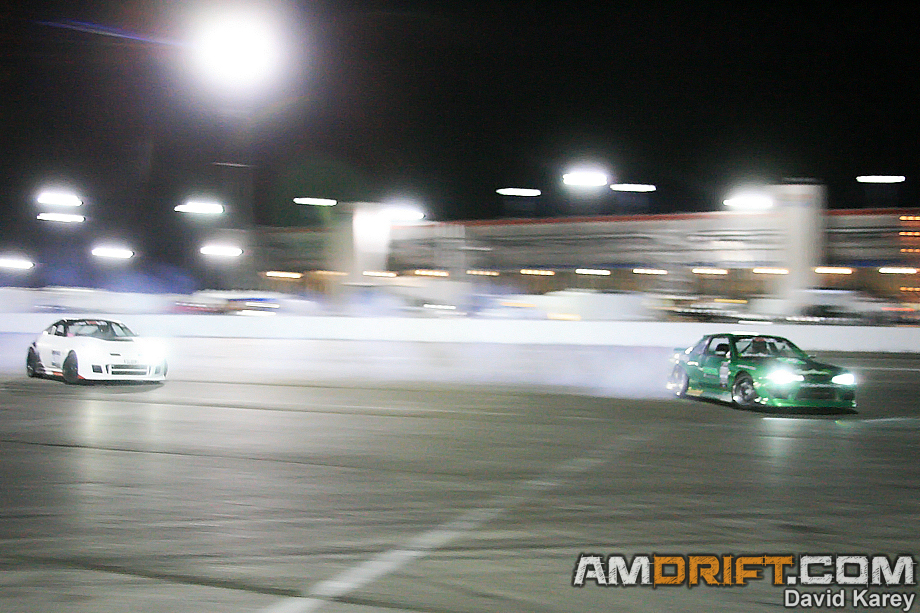 The final between Forrest and Alex was quite interesting. During Alex's lead run Forest got about a foot away from the driver's door of his opponent, and to avoid a collision Alex went wide off course. After Forrest noticed Alex was drastically off course he laid on a pass. There were very mixed opinions in the stands, since the job of the chase car is to follow the line of the lead car as a moving clipping point and not to pass before clearing the outside clip.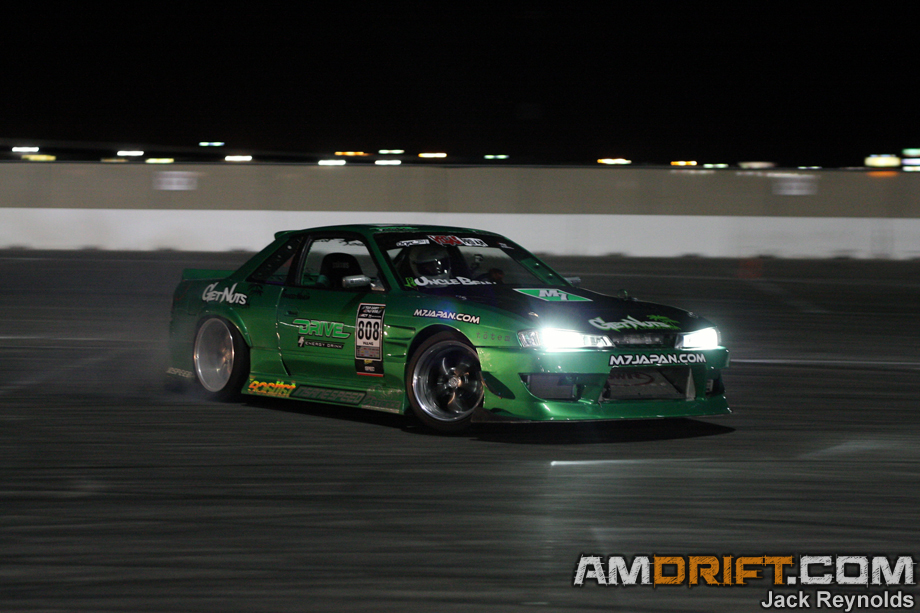 The judges decided to give the win to Forrest Wang, representing Get Nuts Lab. They believed that Alex's drastic line off course was more than enough reason to make the pass legal.
Garret Nikolich with Get Nuts Lab and M7 Japan ended up taking home the Retaks insane entry award for his battle against Josh Guild.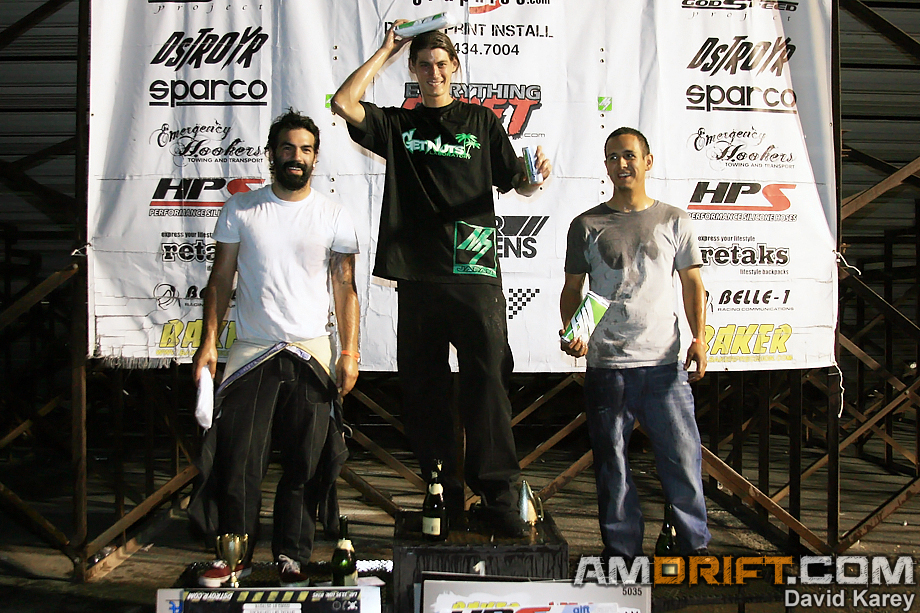 1) Forrest Wang
2) Alex Villabrille
3) Derrick Lopez
Please be sure to check out our gallery and see the wicked shots from this past weekend and check out our FaceBook page