One good thing about waiting so long to post about an event, is that someone would eventually get a video up before the article was complete. In this case, we weren't disappointed. Jesse Wood of Albuquerque, NM, dropped this dope video from No Coast Drift Party, which took place on September 15-16 2012 at Sandia Motor Speedway. We HIGHLY recommend watching it before proceeding!
I had no idea what to expect from No Coast Drift Party. The only people I knew out that way, were the drivers and crew that used to make their way to Cali for Top Drift. I heard that Justin Pawlak and Matt Field would be there too, but going to a different scene where I knew nobody a couple of states away in the middle of the desert, would be a new experience for me.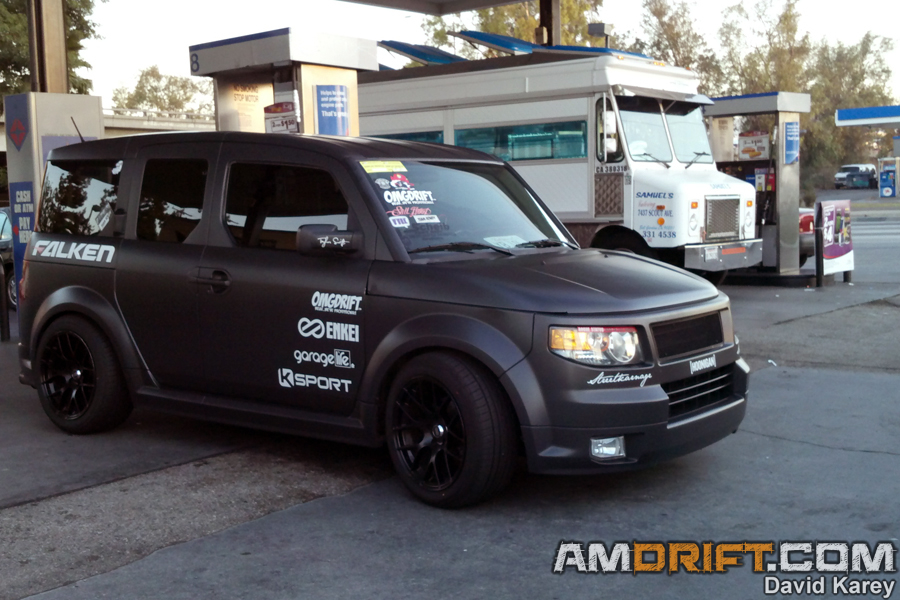 Drew Fishbein of OMGDrift, picked me up early Friday the 14th in his cool Honda Element so we could roll out to Albuquerque for the event. We had to stop a couple of times to attend to some wheel rubbing issues, lol, but as soon as it was dealt with, we grabbed breakfast and hit the highway. The ride there was interesting. Drew's Element is on KSport coilovers, so you would tighten your ass cheeks for every crack/bump/dip in the road.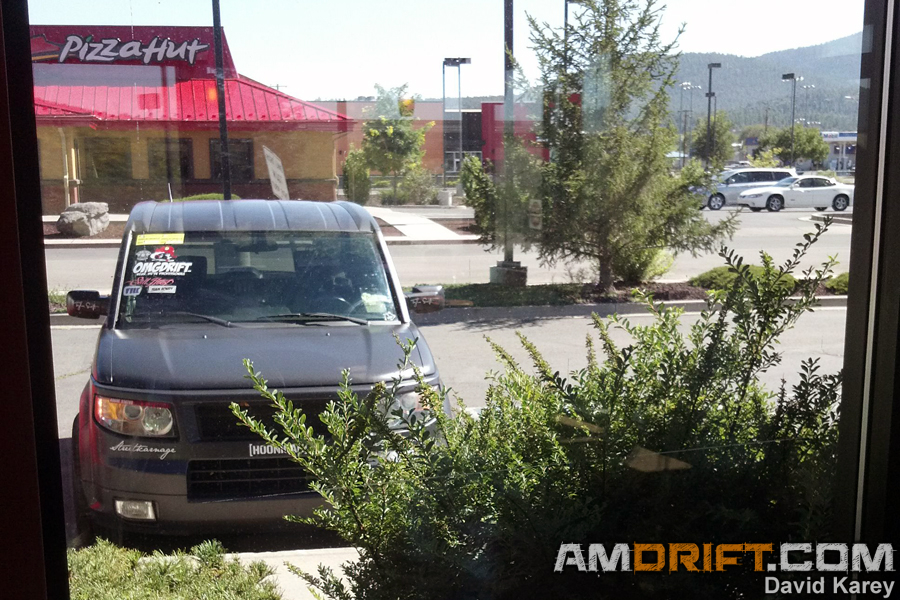 One of our stops were in Williams, AZ, a nice little winter ski town that lays on historic Route 66. Williams was one of the last towns to fight bypassing of Route 66 for Interstate 40. In 1984, Williams dropped all suits after 3 exits were planned on I-40, which resulted in the decommissioning of Route 66 in 1985. It was nice to have lunch with Drew in this town.
We had just made it to the Arizona-New Mexico stateline around sunset. Let me tell you, heading away from the sunset into majestic desert mountains is one of the most gorgeous views you can ever see. We arrived at the track and setup camp a few hours after crossing into NM.
Waking up to the sound of drift cars is rad. Ive never had the experience of waking up at a track, walking out of the tent, and seeing my photographic subjects ready and waiting. Although it was a rad experience, it completely set my mind in a different direction for the weekend. I started walking around and BS'ing with a few people I knew, and meeting a whole bunch of other people. I didn't even reach into my camera bag for a couple of hours! Maybe next time I will book a room, just for the sake of doing what I came to do and staying on task throughout the event LOL.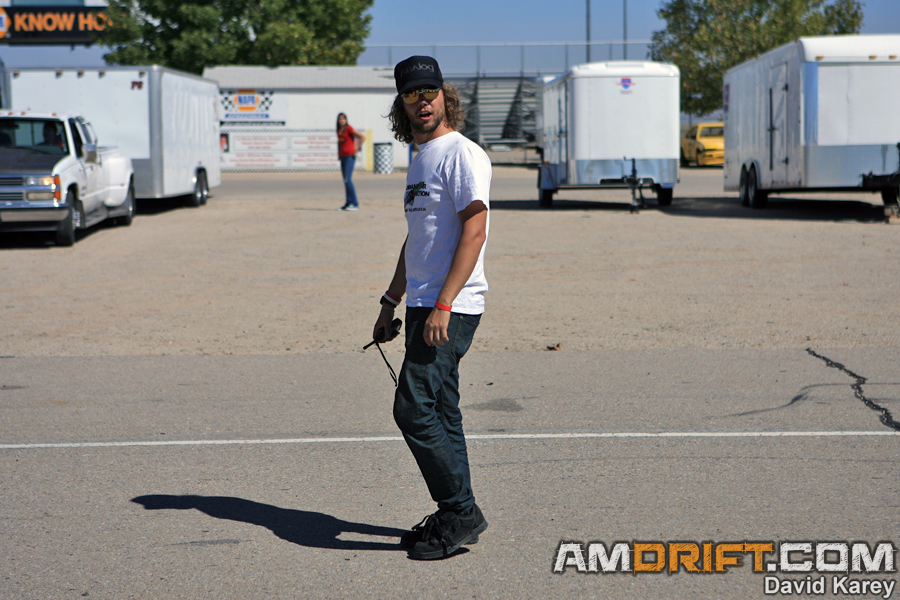 Woke up, located Dan Brockett, got permission to screw off the entire weekend.
I also ran into some photographer friends from back in SoCal. William Nourse drove from the Orange County area around the same time Drew and I left from LA, and arrived in NM a few hours before us. He obviously did not have tire/fender issues. 😀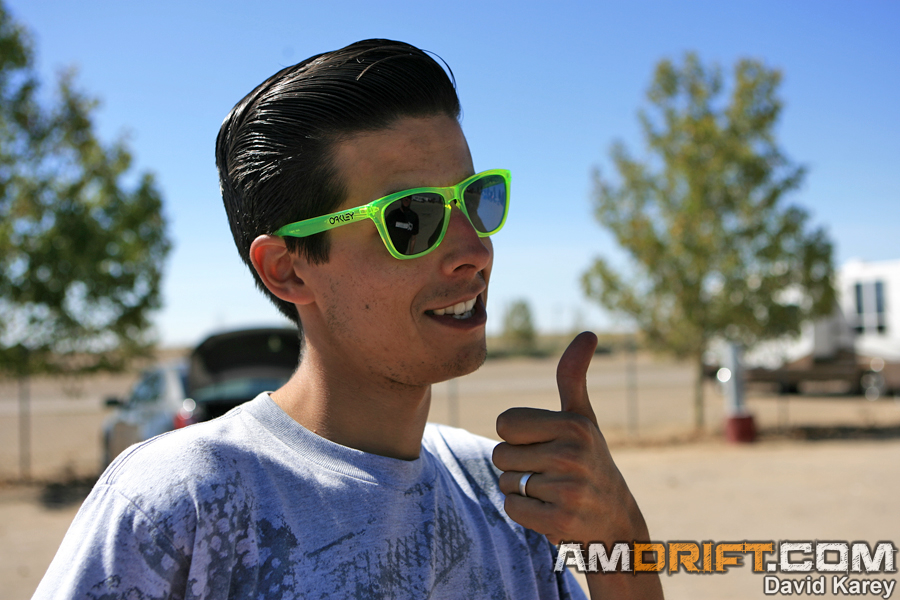 In tow, was Jonathan Velasquez, who has been going to Top Drift events and wanted to come out and support Dan Brockett's effort to keep drifting alive in the southwest.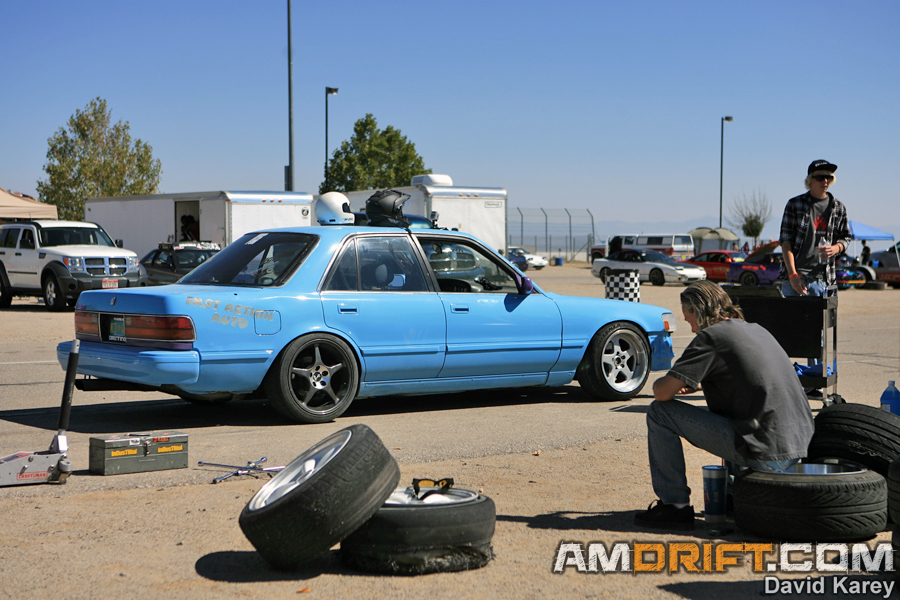 Despite being allergic to the sun, I walked around a little more and discovered that the Cressida is a popular car here in NM. This blue Cressida belongs to Tony Acker, who goes by Toe-knee, and runs a Toyota 1JZ motor.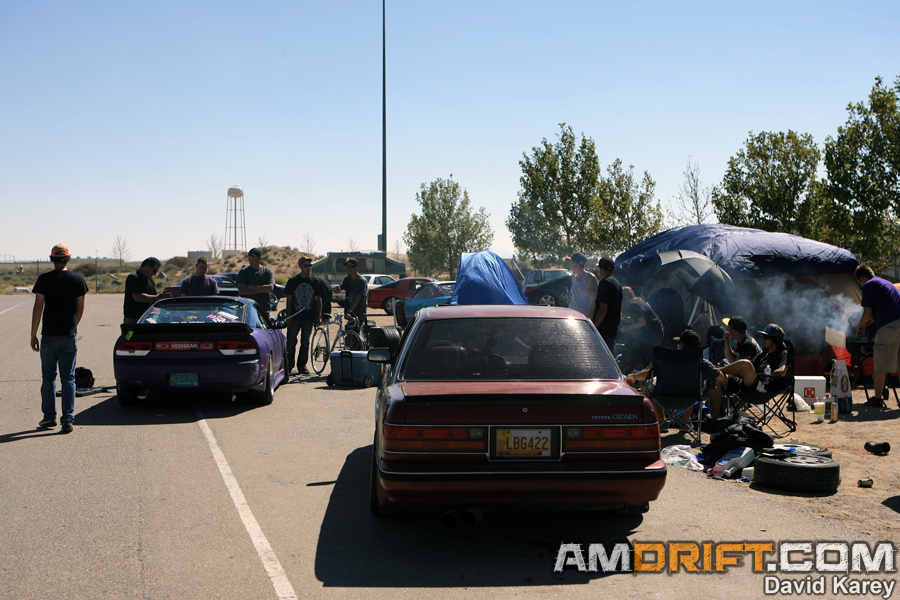 I found another Cressida hanging out in the local NM drift camp. Allen Aiken owns this one, and was unfortunate enough to break on the skid pad and was unable to run the event.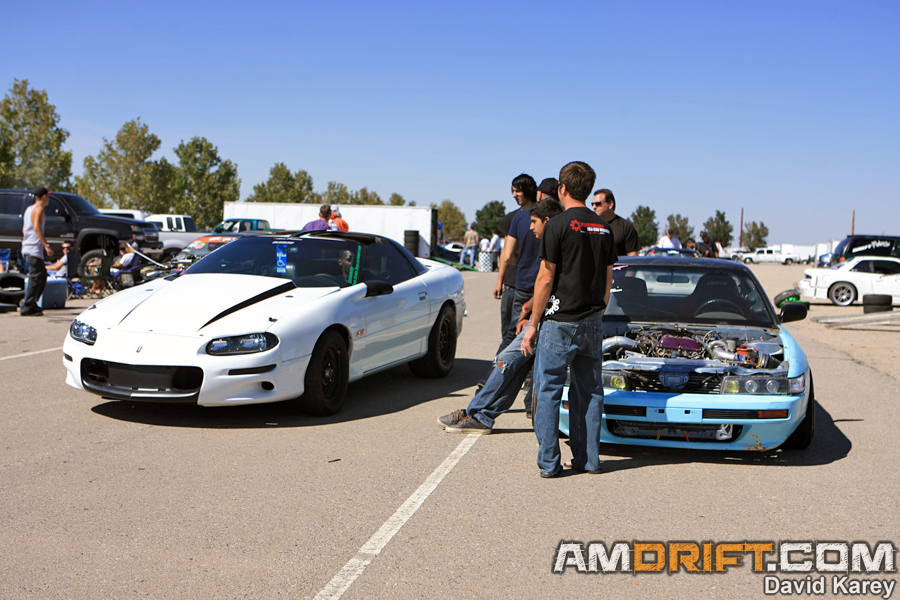 Some drag racing buddies came up to the track to support the drifters.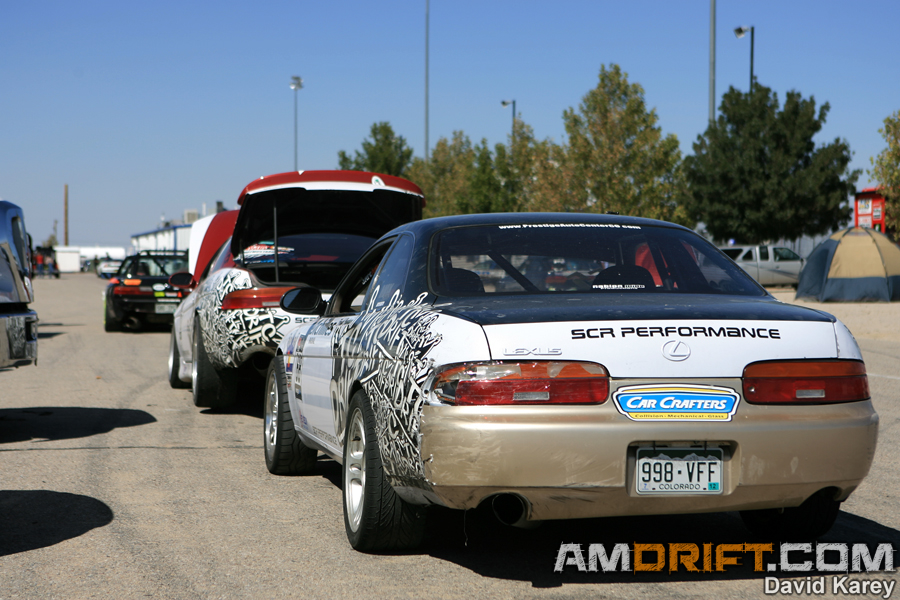 The Triple Crown Drift dudes came down from Colorado to party. I met these guys at Top Drift round 2, and its been nothing but a pleasure to know them ever since.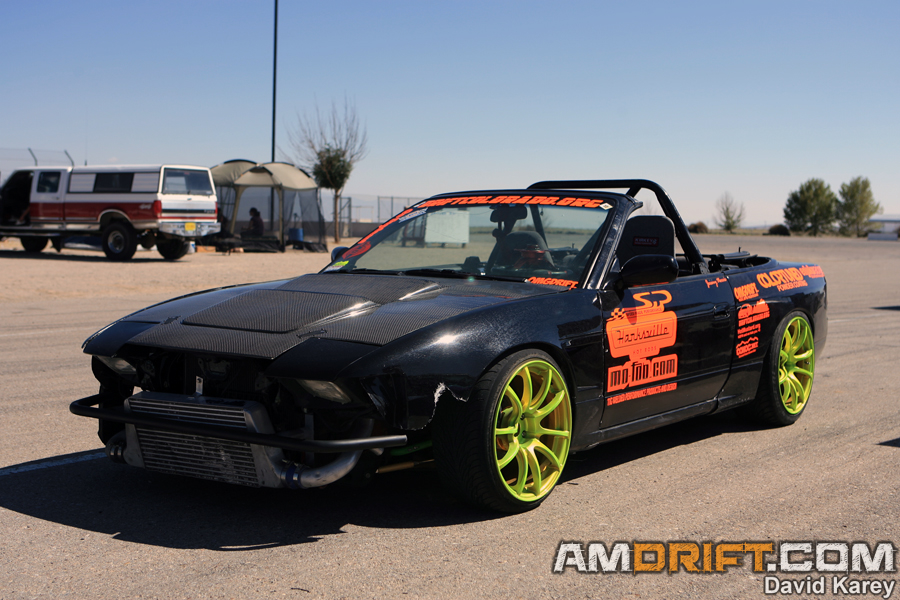 It seems like a little map here at the track. NM guys were camping out in one area, CO guys were together, etc. Ive never actually met anyone from Drift Colorado, so it was sweet to talk to some of the guys and know where I'm going the next time I visit my mother in Denver LOL. I am totally planning my next family trip to CO around a Drift Colorado or Triple Crown event.
I made it out to the track just in time to see Justin Pawlak setting up the cones and tearing it up.
For some reason, I kept thinking of this song while Justin was riding around.
A familiar face and hot green sunglasses wearer, Brandon Wicknick, was one of the first guys to go out and play.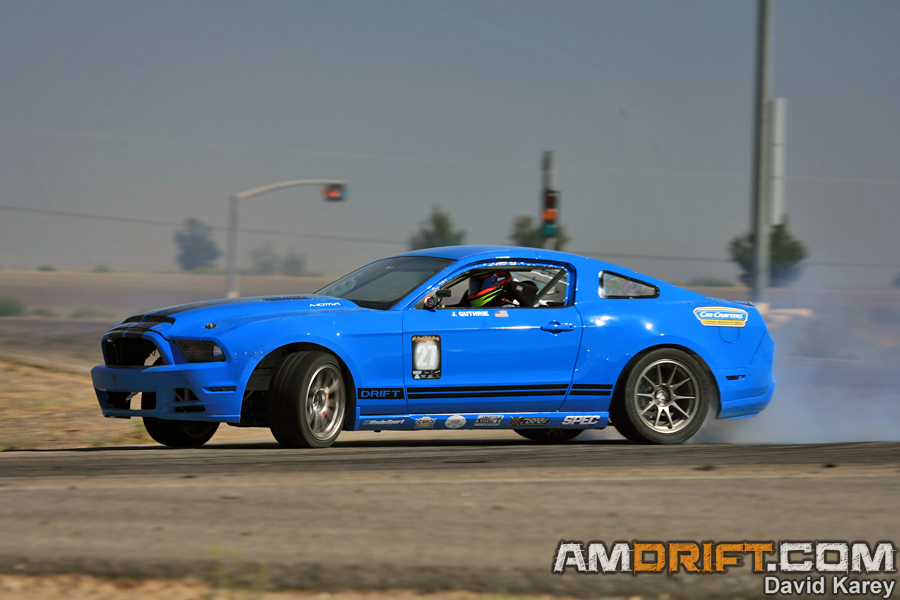 Once FD drifter, now Proam and Sandia Speedway management, Jim Guthrie was looking hot on his home track.
Joseph Ocampo was one of the first drivers to dirt drop and keep it drifting.
Jason "Bubba" Price dirt dropping, going wide on the infield portion of the track.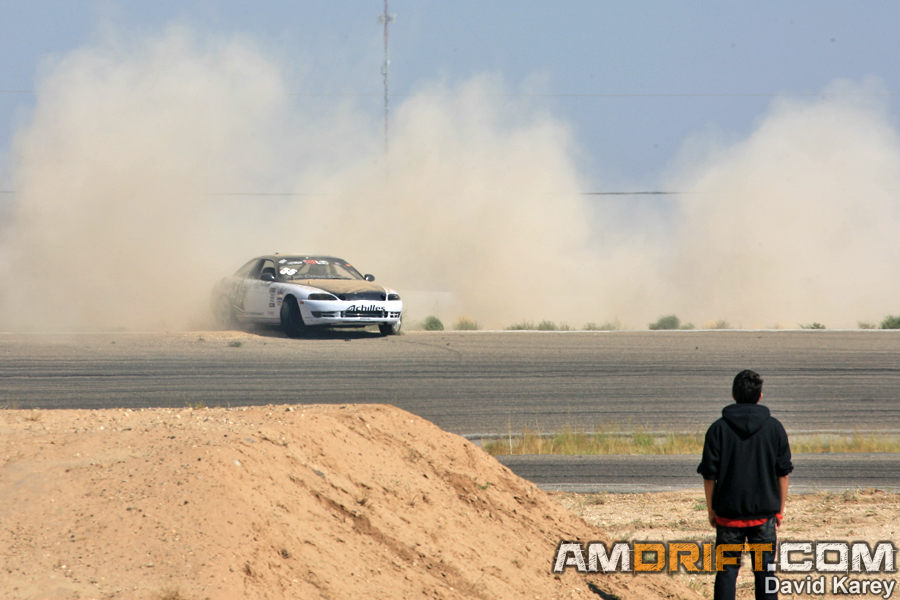 Frank Cundari attempts a dirt drop, but ends up offroading instead.
In all fairness, Frank was looking spectacular throughout the day. Frank and his Triple Crown Drift buddies are some of the very few Southwest/Midwest drivers on the Achilles ProAm support program.
Trevor Koontz took great pride in showing off his new wheels. Ive noticed the locals have some sort of styling trend going on with their radio antennas.
Newlywed Tim Walsh of Automotive Digression, was responsible for organizing media, and did a swell job.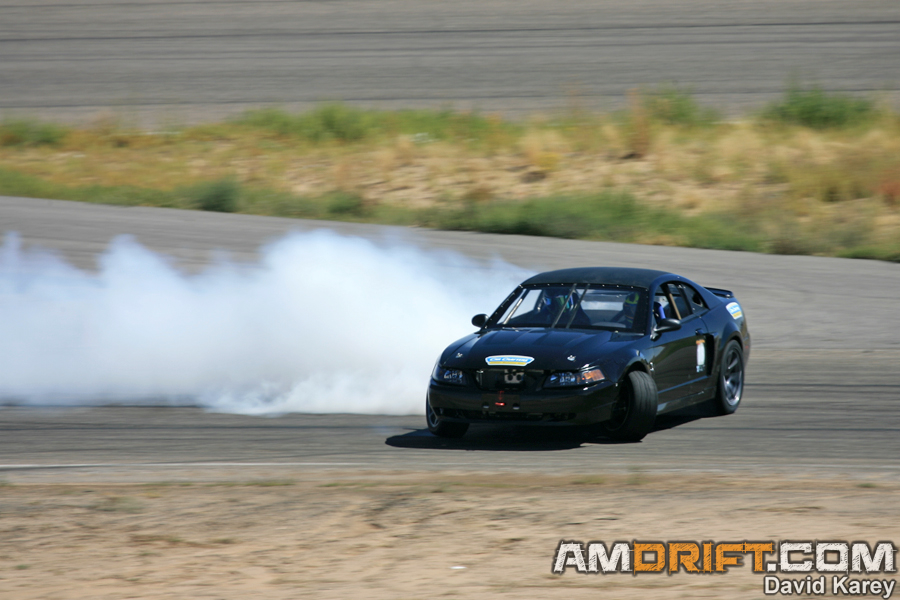 After hanging out on track for a while, I headed up to the booth above the grandstands and caught Sean Guthrie attempting a reverse entry through the glass.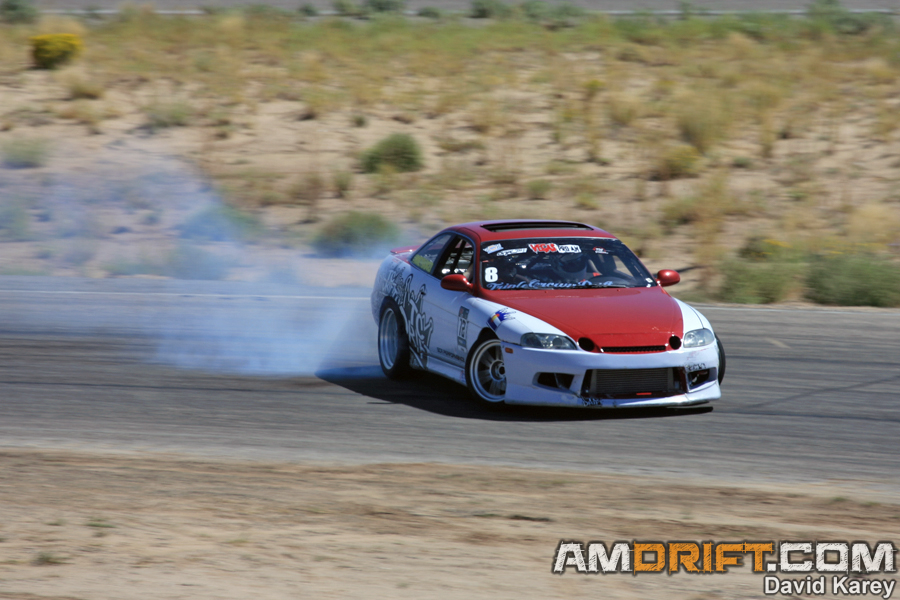 I was amazed the photos came out so clear while shooting through the glass. Maybe I could stay up here all day? Kasey King came through fast while I was considering taking a break upstairs.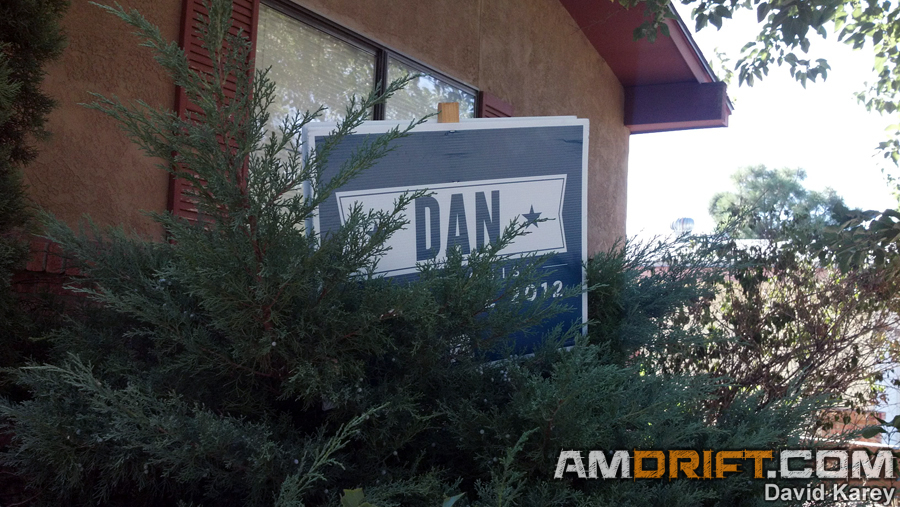 Sitting up in the tower made us lazy, so Drew and I decided to head into town to pick up some supplies for the remainder of our stay (beer and POSSIBLY food). We were invited to Dan's residence, which is totally noticeable from the street. This guy…
After meeting Axel Mack and his lovely lady from Germany, and hanging out at the house for a couple of hours, we set out for some Mexican food and the grocery store with the entire crew. This Nissan Hardbody was just purchased and driven up to the house by one of Dan's friends. I thought it was cool, not everyone's style, but cool.
We made it back to the track and encountered some crazy traffic at the gate. By the time we got in, the night drift exhibition for the oval racing crowd was just wrapping up. Somebody with a V8 was doing donuts at the finish line, then the crowd started screaming. I ran out with my camera and saw JTP jumping out of Jim Guthrie's Mustang, then a huge fire erupted from under the hood. Just as fast as is caught fire, it died down, but oil was still dripping on fire underneath.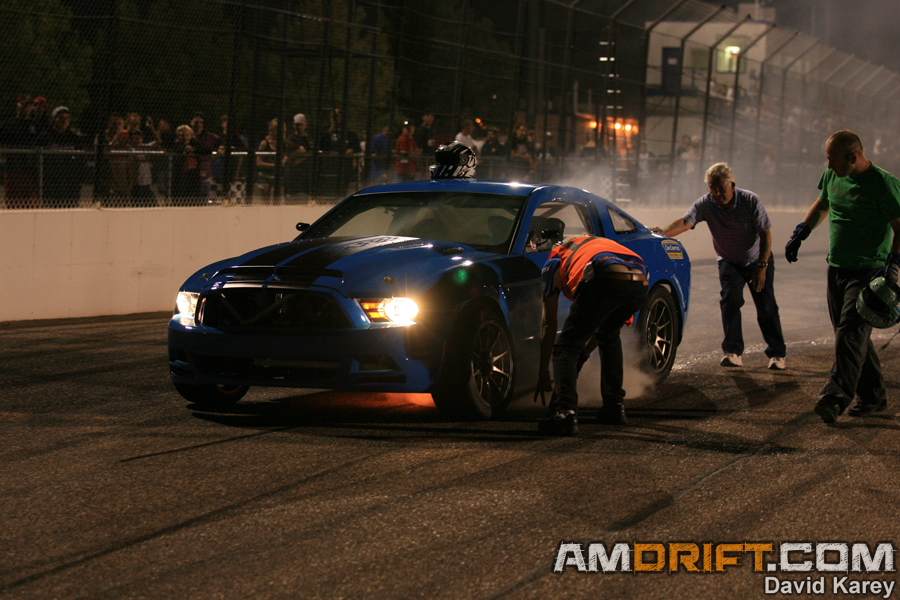 For a while it seemed as if nobody could find out where the fire was. but it was eventually taken care of and Jim's car was pushed back to his rig.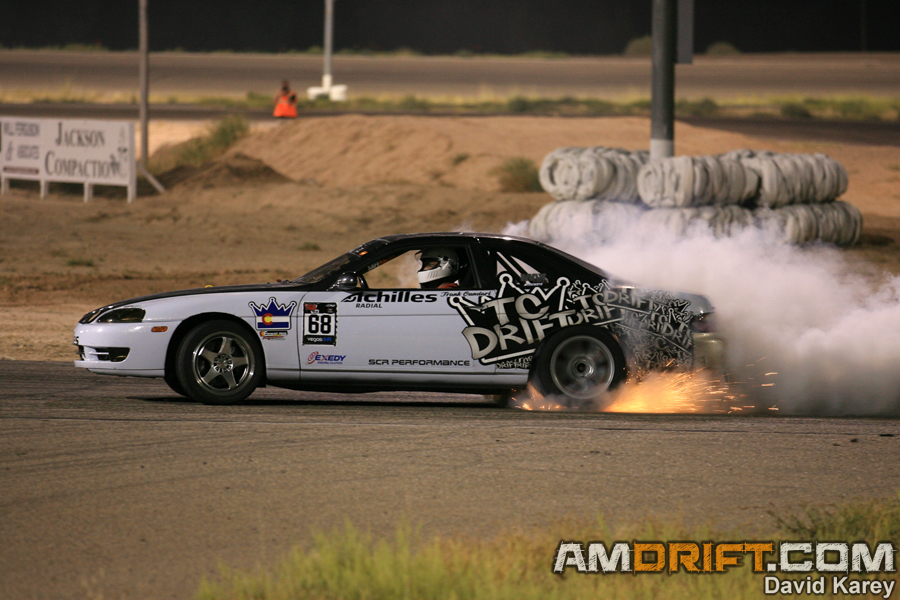 Fran Cundari was stuck on track during all the commotion around JTP and Jim Guthrie's car, so he lit up his tires and gave the crowd a steel belt firework show.
Back at Guthrie's rig, Brian Dewitt started tearing down the mustang to get an idea what caused the fire. A faulty oil cooler line was to blame. When it burst, it sent oil spraying on to the exhaust. Jim's crew prepared to pack up and drive back to the shop to thrash on the car all night so it would be ready for qualifying and competition the next day.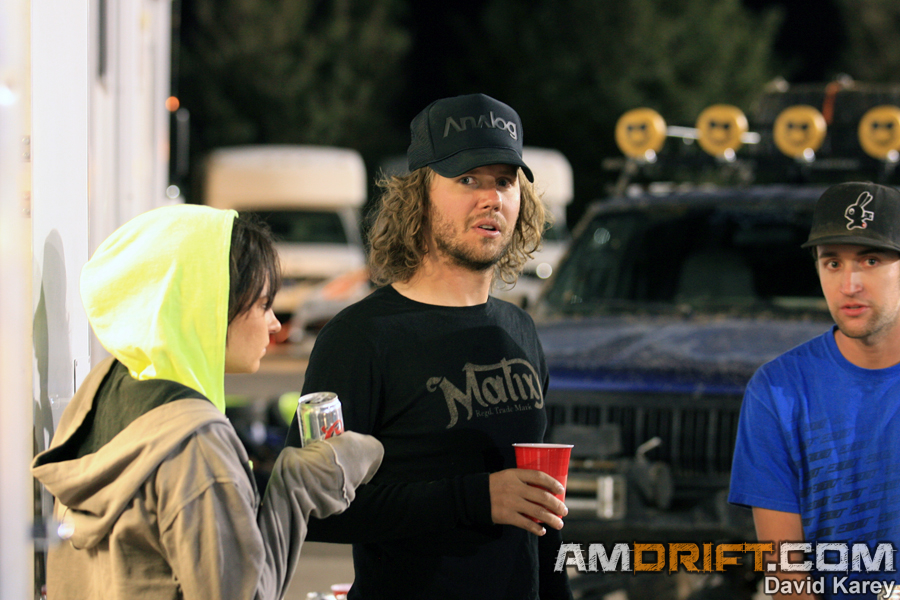 With all leadership duties behind him for the night, Dan and crew took some time to tip back a few with all the people who came to party for the weekend…..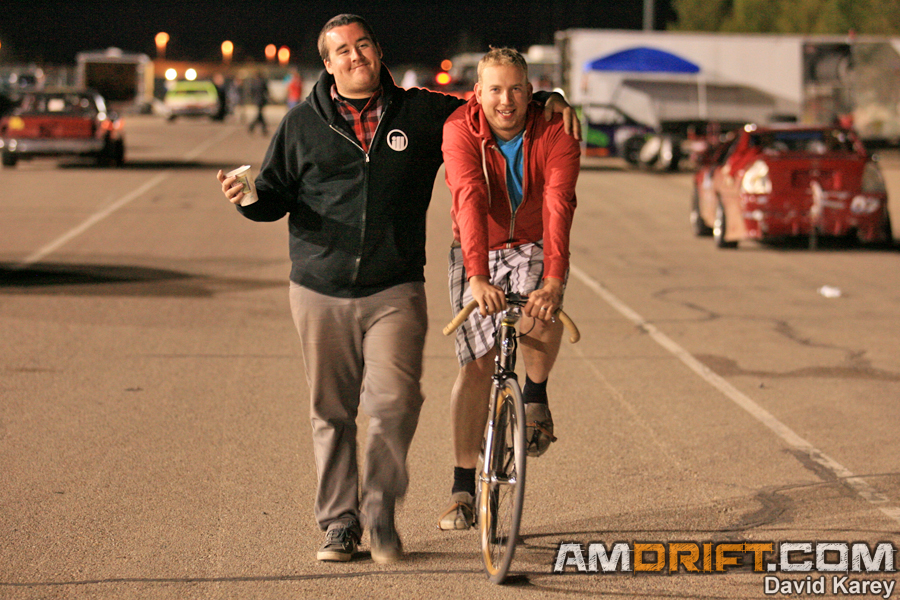 …..and so did Drew Fishbein and Robert Robinson. Is Drew holding Robert up, or is Robert holding Drew up? Either way, its rare to see Drew not working his ass off with a camera.
After much needed sleep in the tent, I woke up and got to hang out with Trevor Koontz for a while. Trevor comes from Espanola, NM, which is in the middle of nowhere, and you could imagine how little opportunities there are for a good driver to get recognized.
Trevor has a Nissan Rb25 engine with a Garrett GT3076R turbo in his S13 coupe. Another thing I noticed about the NM scene, is the use of license plates for heat shields and replacement panels. Ive been around drift for a long time, so if this is something thats done everywhere, Ive never really noticed!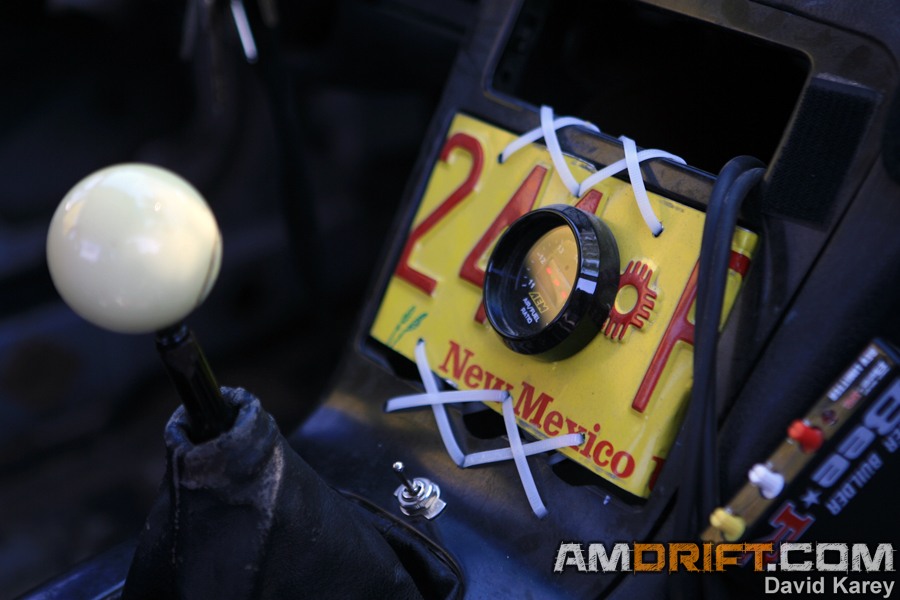 License plates make great panels for gauges. I love the execution of this piece in Trevor's car.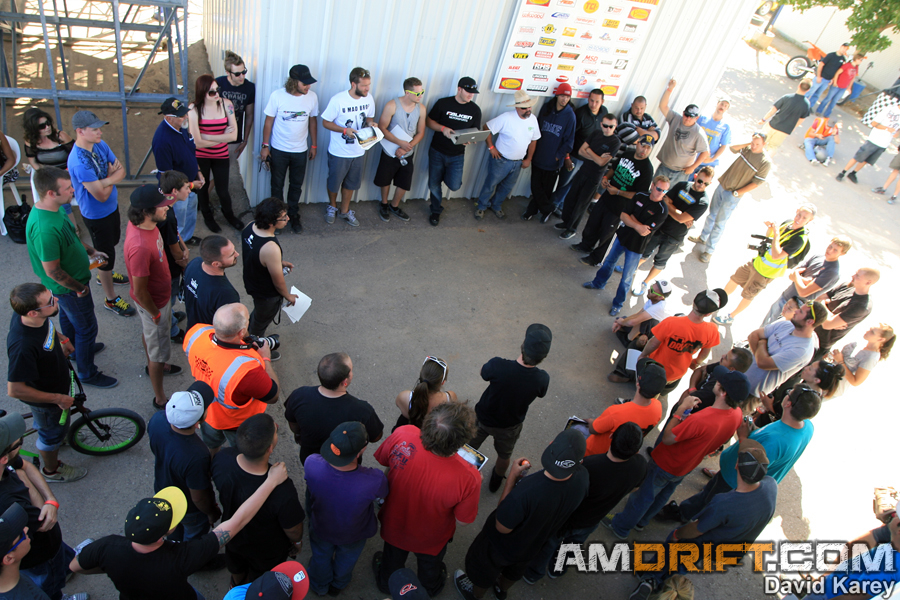 The firsts driver meeting of the day was held under the grandstands.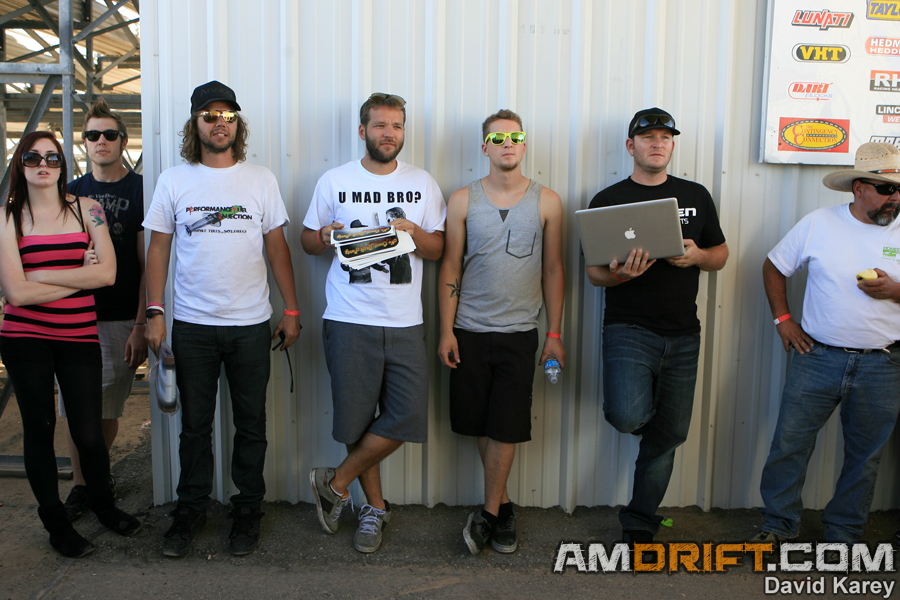 Organizer Dan Brockett and judges Axel Mack all the way from Germany, Matt Field, and Justin Pawlak go over basic layout and expectations before the competitions qualifying session began.
Dan was totally stoked to have such a strong professional judging panel out at No Coast.
Dan is a man of many faces. Sometimes he drives. This is his driving face.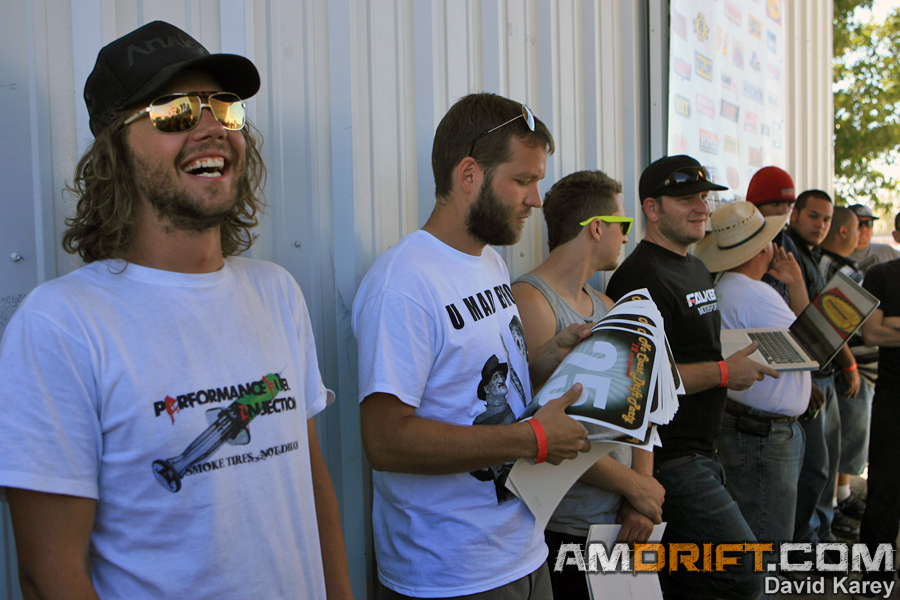 Sometimes he organizes bad ass events. This is his successful happy face.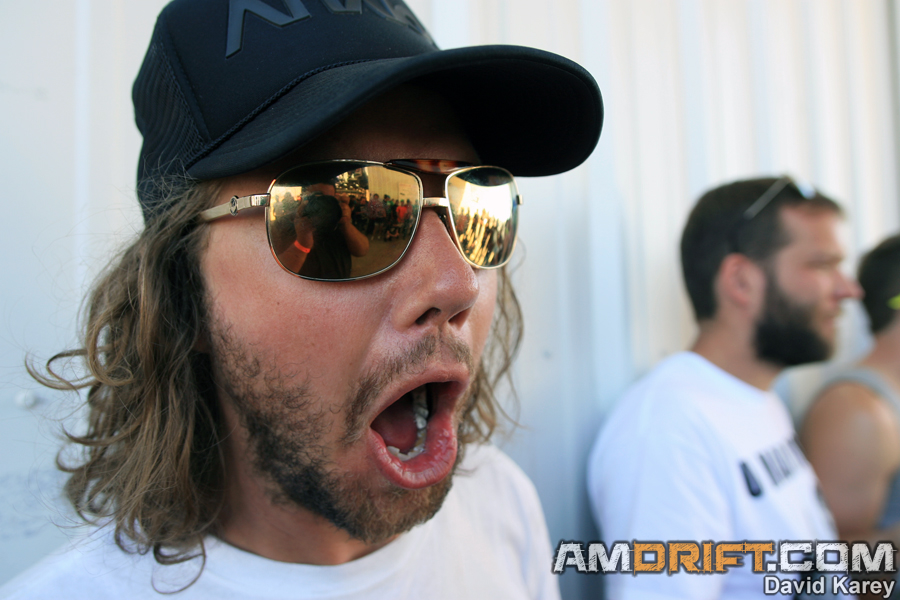 Always a ham for the camera, Dan has given me the pleasure of great candid photos for the past 2 years.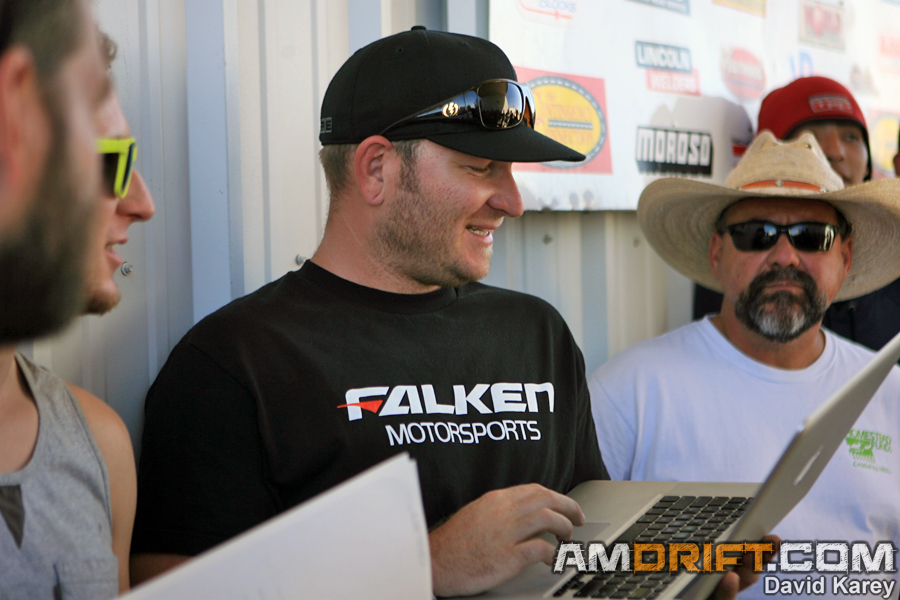 Justin Pawlak checks his mac for track layout info to relay to the drivers.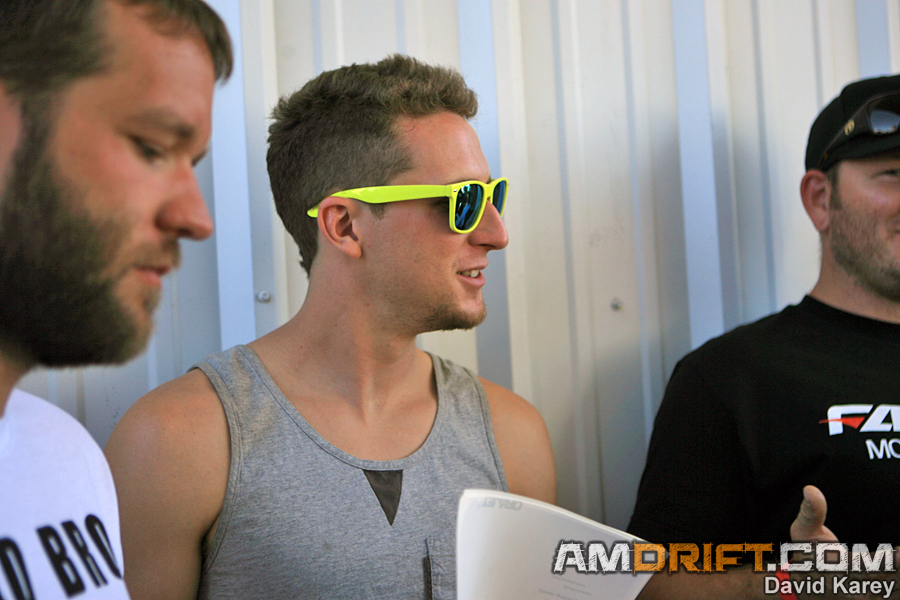 Matt Field is just day dreaming about riding the moped around the track to fix cones…..which he did an outstanding job doing by the way! Its critical to have judges who are hands on when it comes to course arrangement.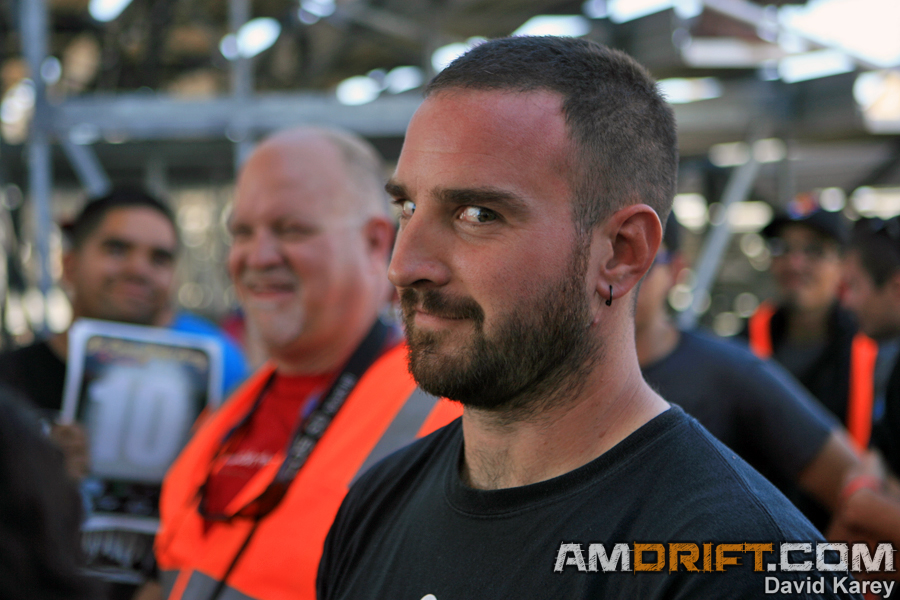 I often get suspicious looks when I creep on people. Frank Cundari looks like he is stealing my soul.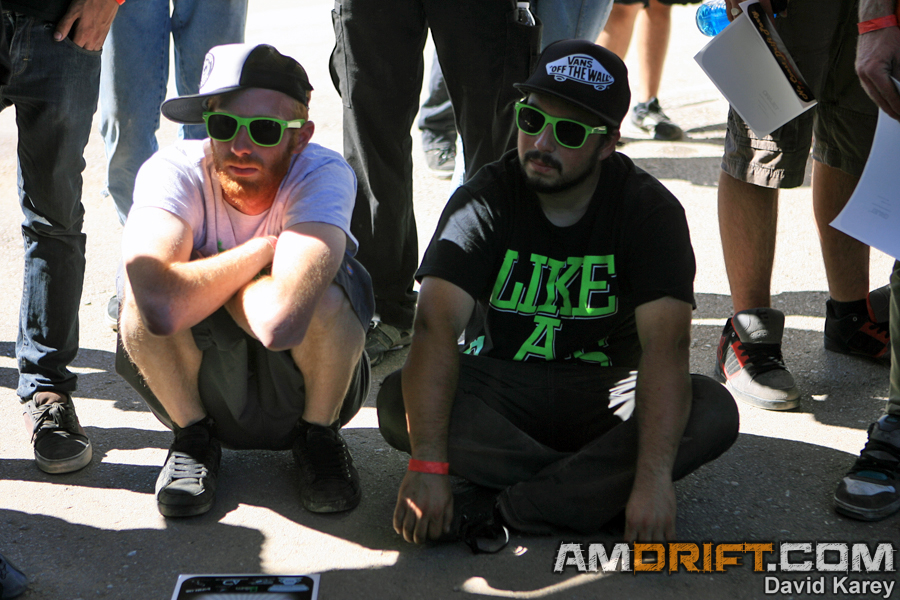 Brandon Wicknick and Jose Mendes of D-Spare out of Salt Lake City, listen to the judging criteria.
No Coast would like to thank the sponsors for making the event possible.
Jim Guthrie takes a break from track management to attend the driver's meeting, while Santi Romero attends to the back of Jim's head.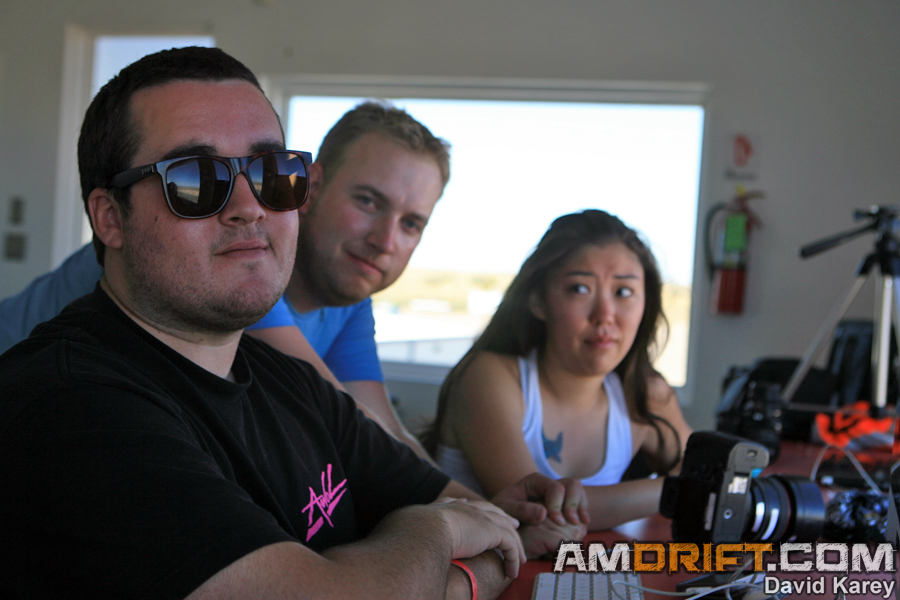 I walked up to the tower to get a shot of all the drivers about to go into qualifying, and snuck inside to find the OMG Drift crew very hard at work…..working very very very hard.
As you can see, drifting it on its way up in the southwest by the amount of drivers that made it to the event. These drivers are getting ready to qualify.
An Amdrift amateur competition wouldn't be complete with a group jump shot! Frank Cundari with the successful face block on Kasey King!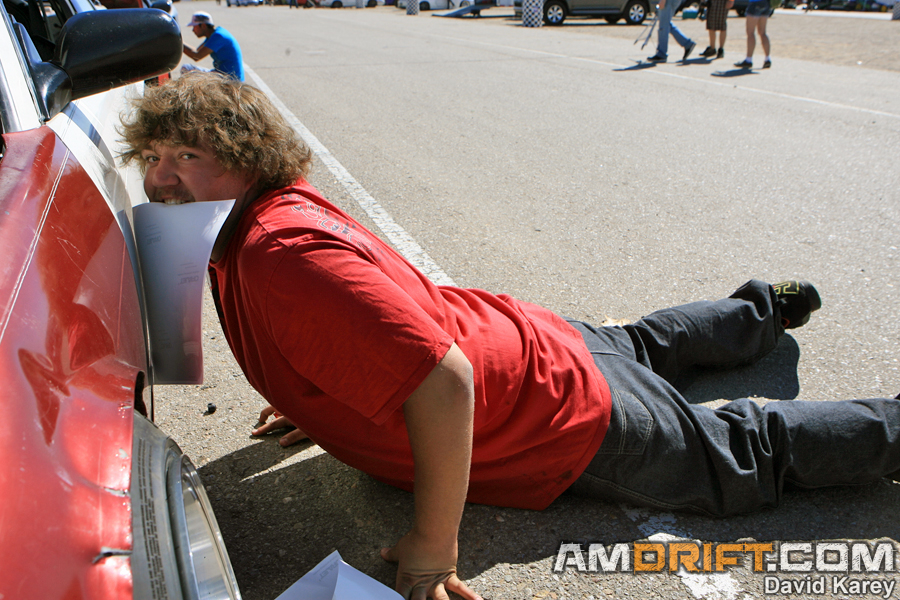 Trevor Koontz gets sexual with the number decal placement.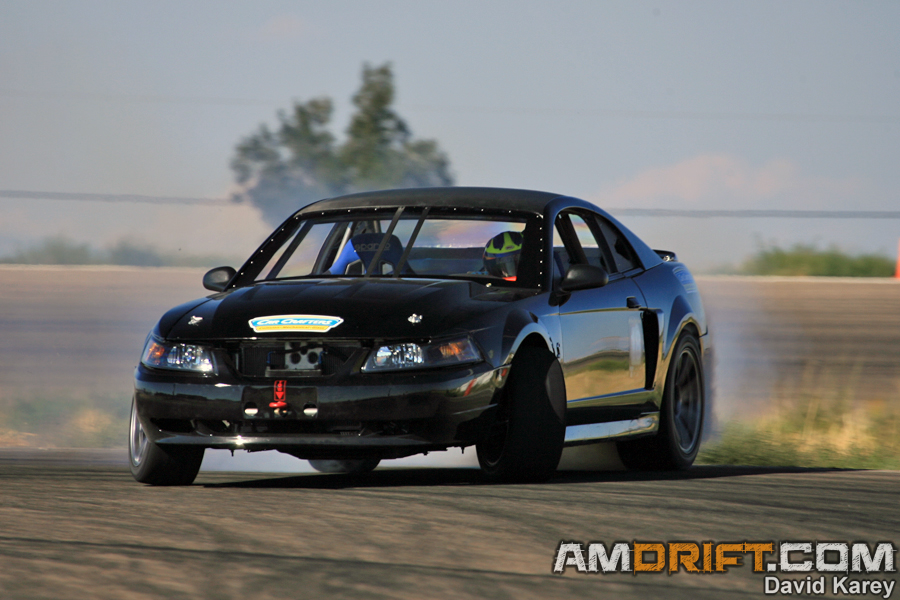 Once the track went hot for qualifying, Sean Guthrie was able to qualify in 1st place.
Jonathan Pollard qualified 2nd.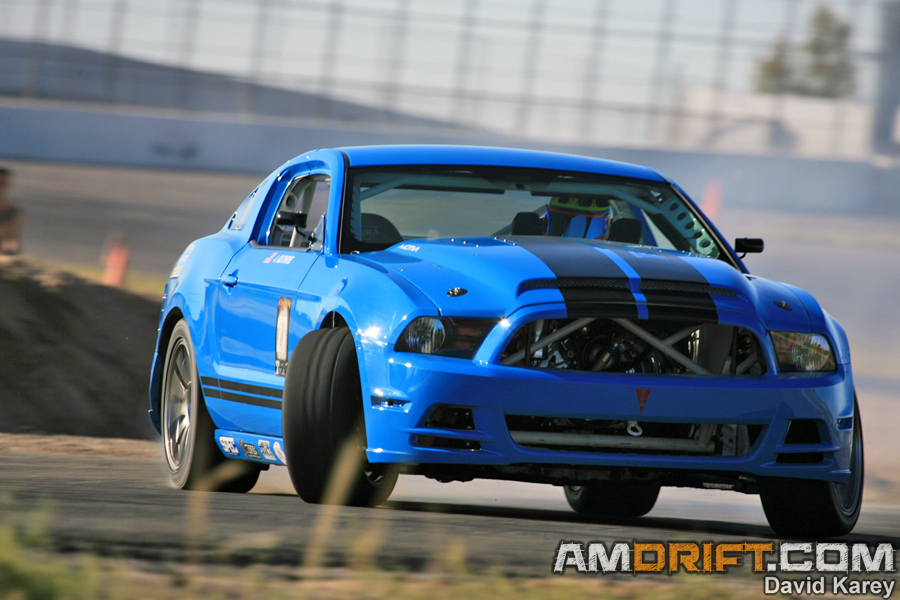 Jim Guthrie qualified 3rd.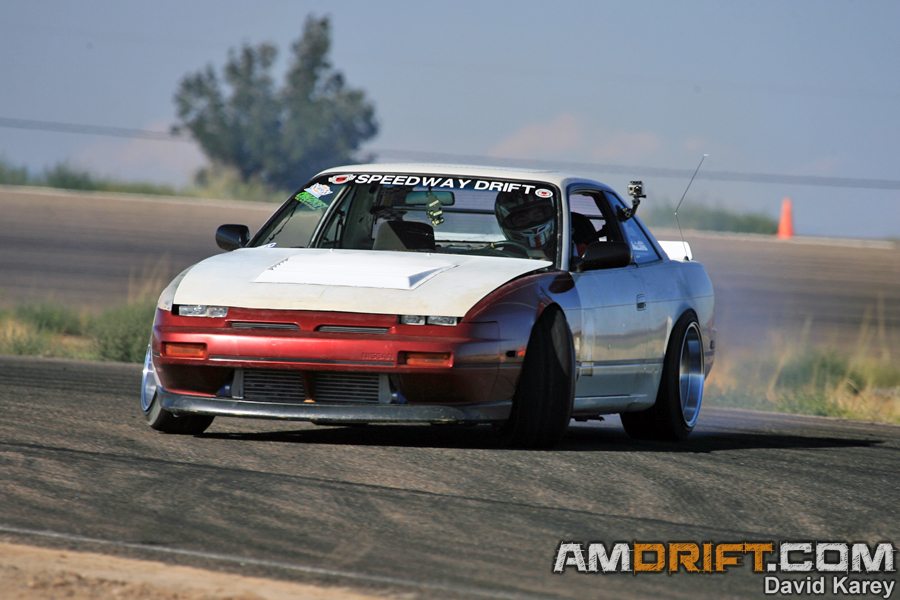 Trevor Koontz grabbed 4th place.
Brandon Wicknick, 5th place.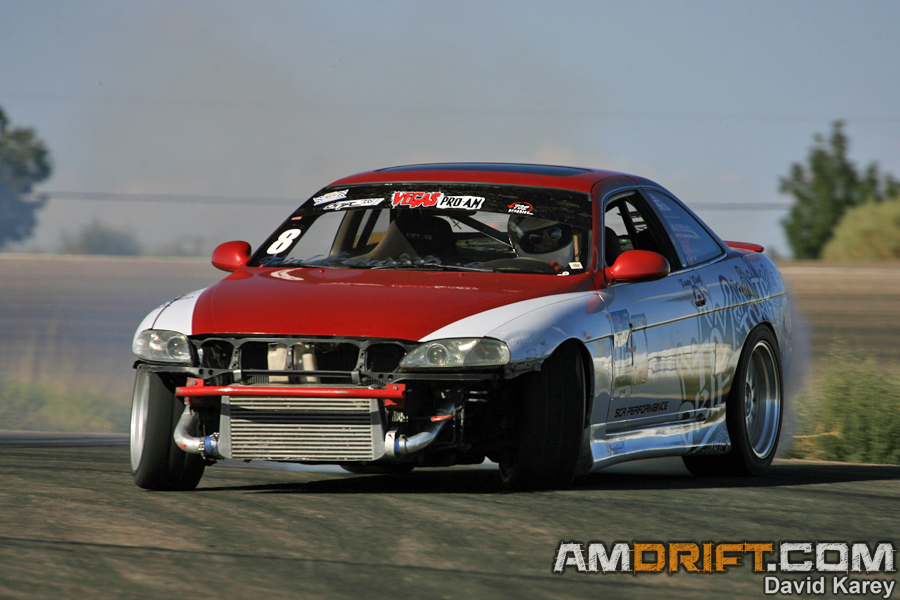 Kasey King qualifies 6th.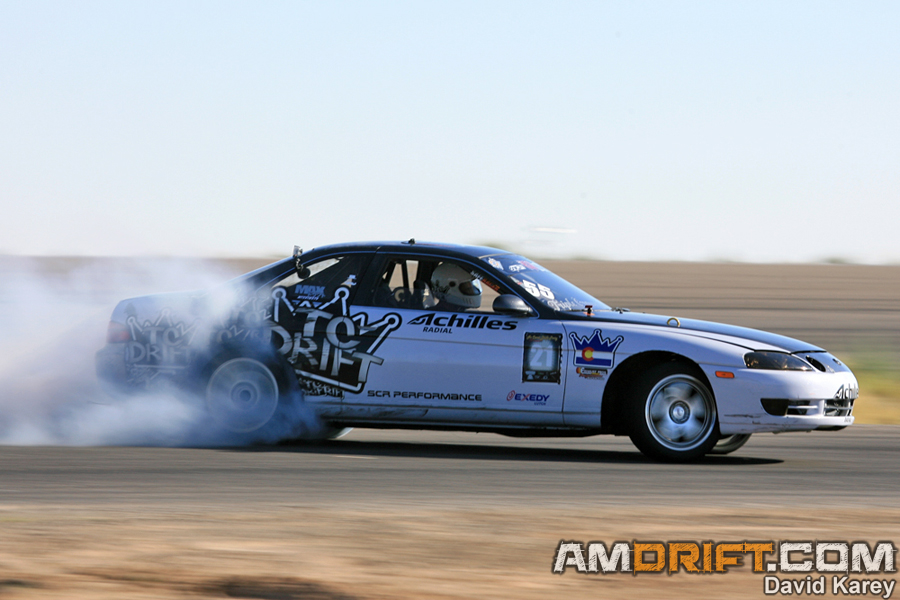 Frank Cundari qualifying in 7th place.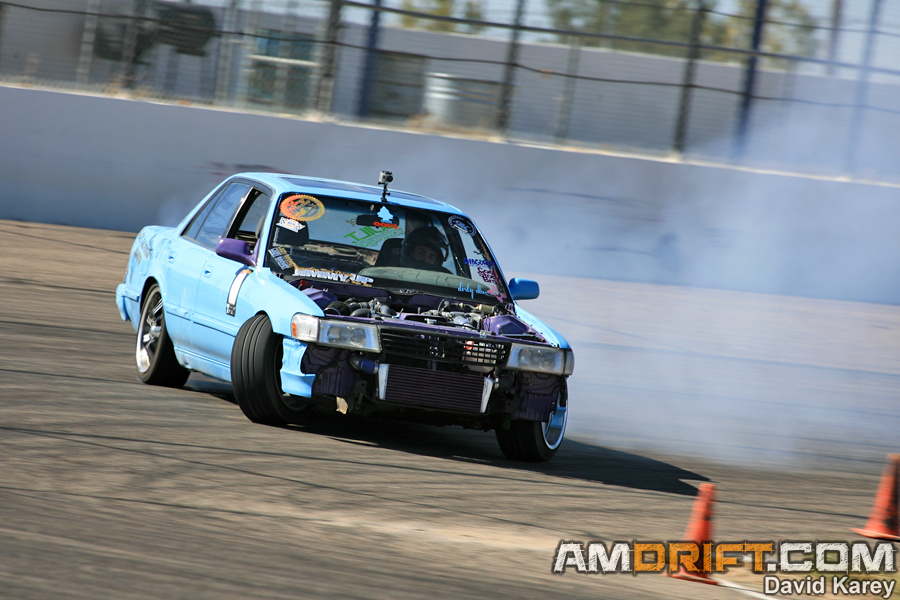 Tony Acker qualified in 8th place.
Joseph Ocampo, 9th place.
Jason Price, 10th place.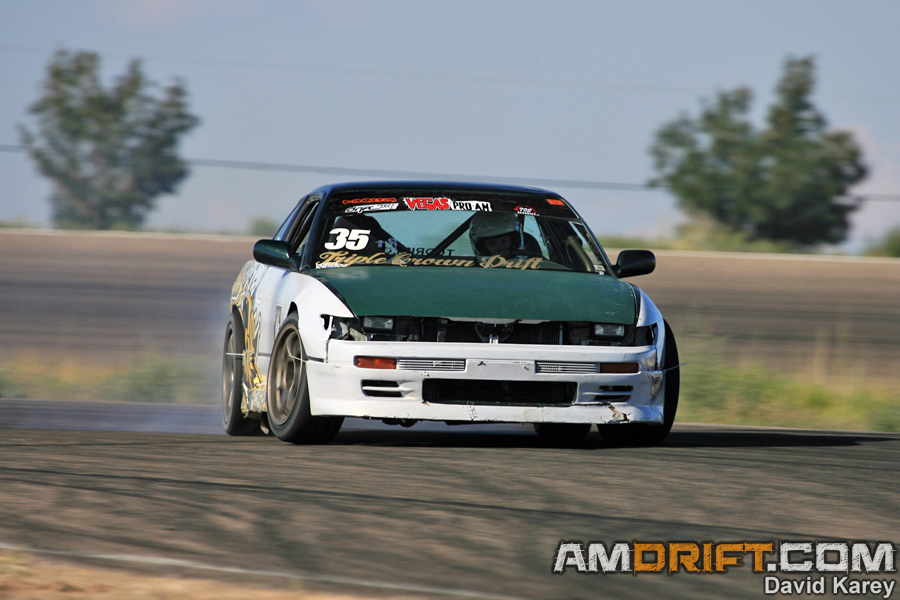 Kasey Kohl, 11th place.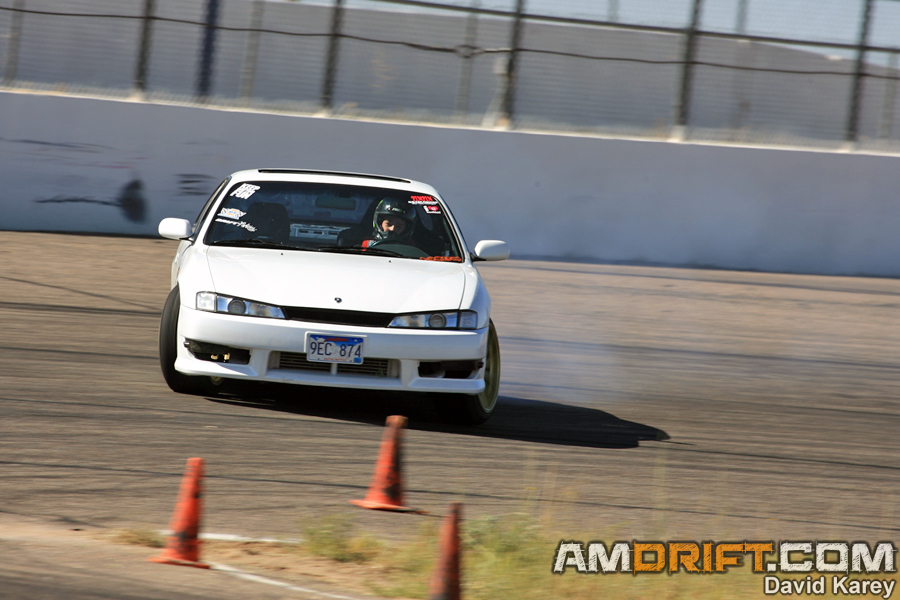 Amazing driver, 15 year old Riley Fremont, took 12th in qualifying.
Issac Sherman qualified 13th in his Legends car. Yeah, a Legends car!!!
Jeff Osborne, 14th place.
Brandon Hack, 15th place.
Vince Herrera qualified 16th, just enough to make it into the Top 16.
Logan Dimick was the first to just miss Top 16th in 17th place.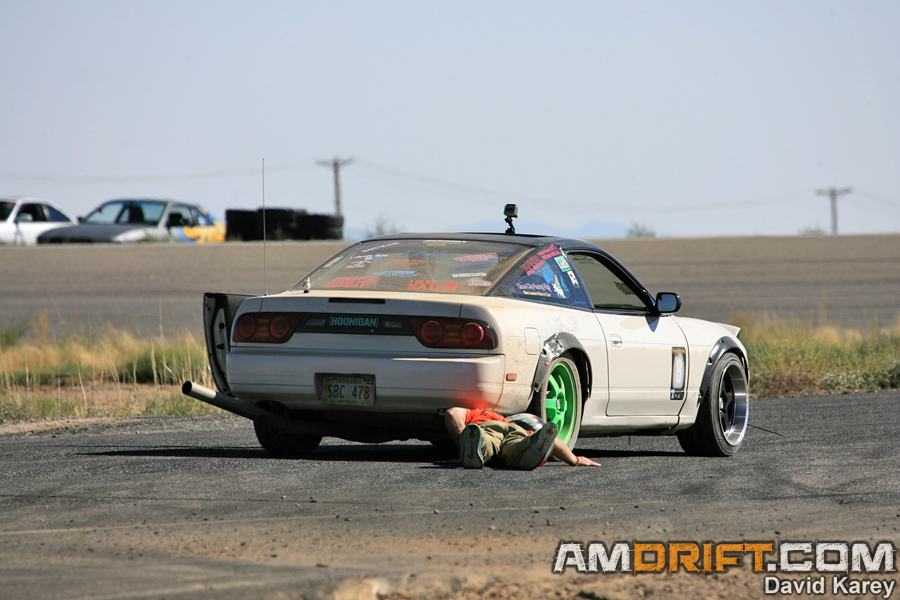 Mike Fisher fought an off road excursion and possible mechanical difficulties to get 18th place in qualifying.
David Salaz just missed Top 16 in 19th spot.
Gerard Jacinto fell into 20th place.
Media guy Jonathan Velasquez came in dead last, but he doesn't care.
This little mobile camera was freaking me out. I never actually saw it move, but it would be in a different place every time i spotted it.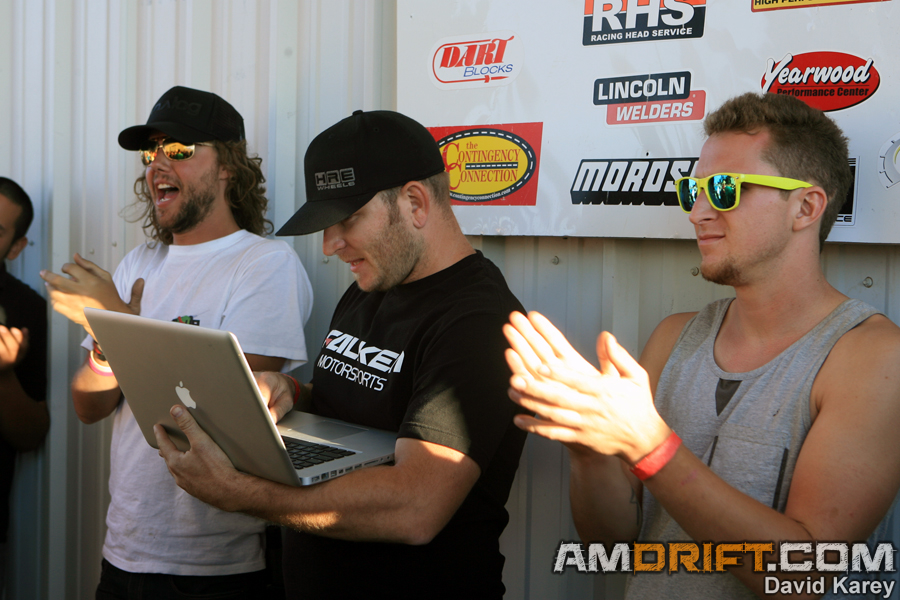 Back at the drivers meeting to announce qualifying results, Justin gave scores while the other judges applauded.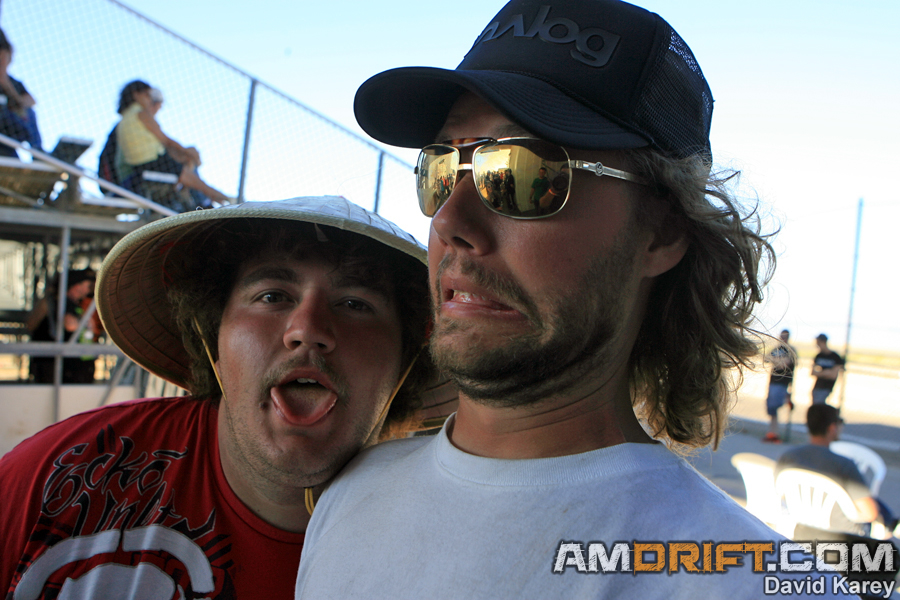 Trevor Koontz keeps popping up in my lens and all over this article. He was super excited to have qualified 4th and wanted to share the experience with Dan.
Trevor left a willing and waiting Dan Brockett hanging.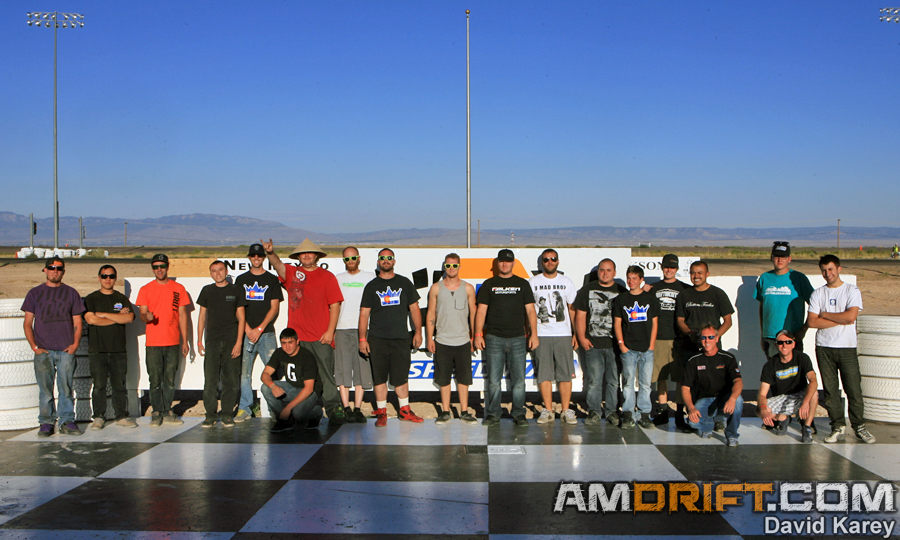 Top 16 qualifiers line up for a nice little group shot. I love it when these guys stay still.
Ill admit, I was having too much fun to keep record of everything that happened in Top16 down to the final, but competition was fierce.
Vince Herrera gave a good fight against Sean Guthrie, but wasn't able to pull off advancement, and Sean moved on.
Trevor Koontz took on Riley Fremont and was able to secure a spot in the Great 8.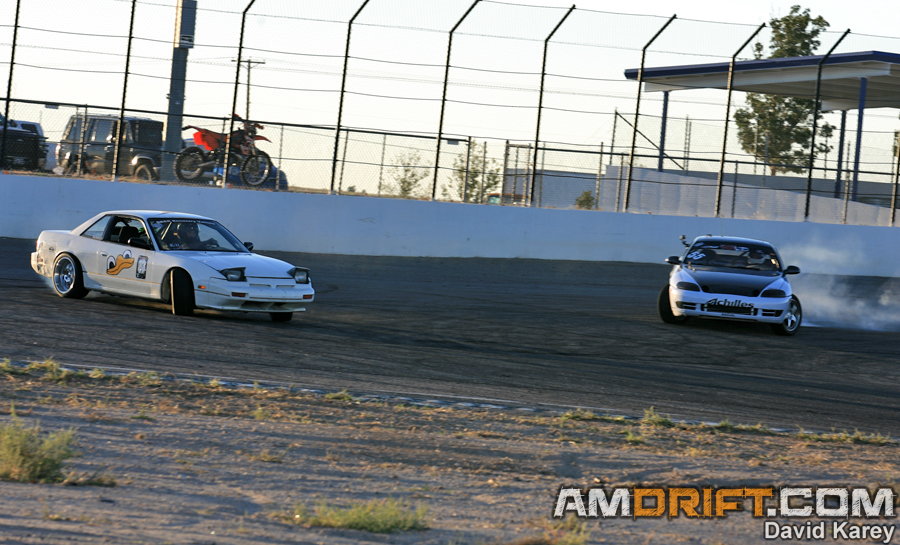 Jason Price held strong against Frank Cundari.
Both Frank and Jason had errors on their first runs, so a one more time was called and Jason was able to keep his head up against Frank and move on.
Kasey Kohl was matched against Jim Guthrie, and made a couple of unfortunate mistakes resulting in Jim advancing.
Jeff Osborne had to pair up with Kasey King. Kasey was able to defeat Jeff and move on.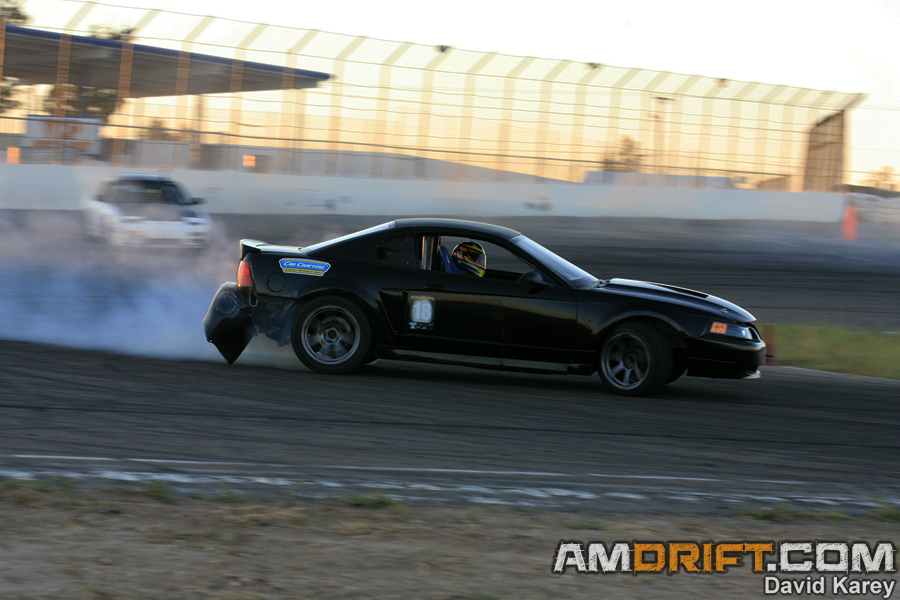 Joseph Ocampo tried to hold strong against Sean Guthrie, but Sean was able to put together good runs to advance.
Trevor Koontz was matched against Brandon Wicknick, in a battle of similar cars. Trevor put up a commendable fight, but Brandon was able to defeat him and move on.
Brandon Hack and Jason Price took the track in a close tandem battle. Brandon fought well, but Jason was able to keep it clean and take the win.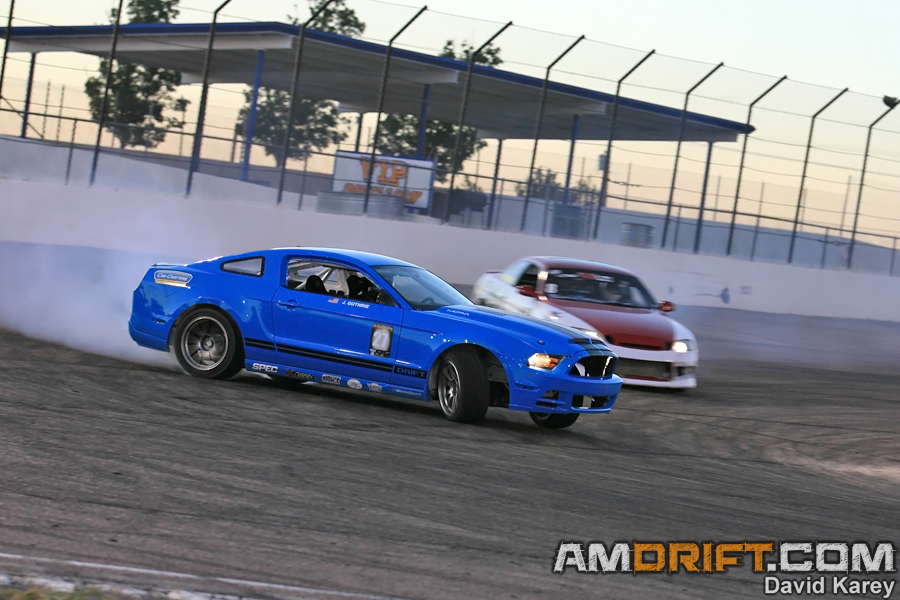 Jim Guthrie and Kasey King both prompted a one more time situation as a result of their first runs.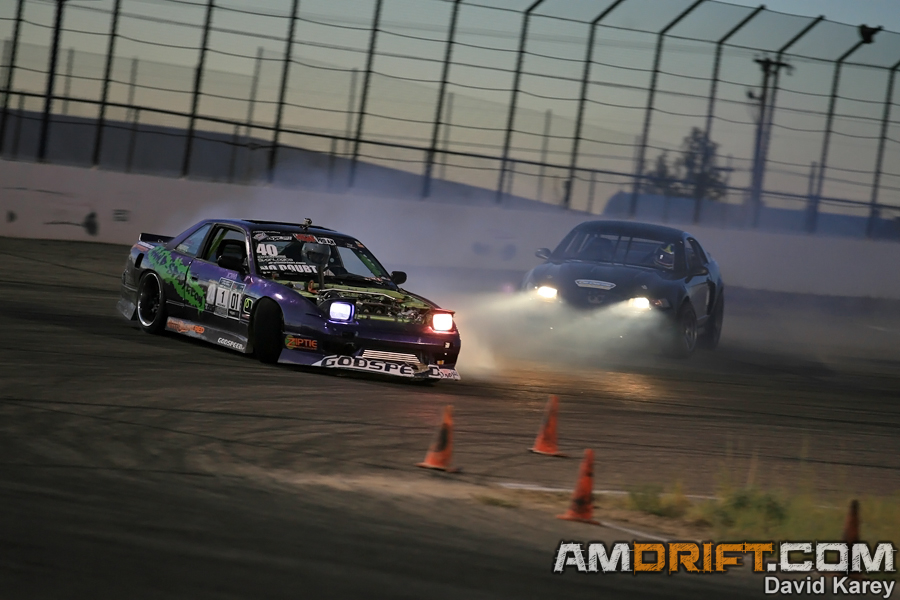 While waiting for Jim and Kasey to replace tires. Brandon Wicknick went up against Sean Guthrie and was able to move on to drive again.
Kasey King and Jim Guthrie came back on track to settle their grudge left over from the round before going off for tires. Kasey had a little oops coming into the infield, and Jim was able to move on.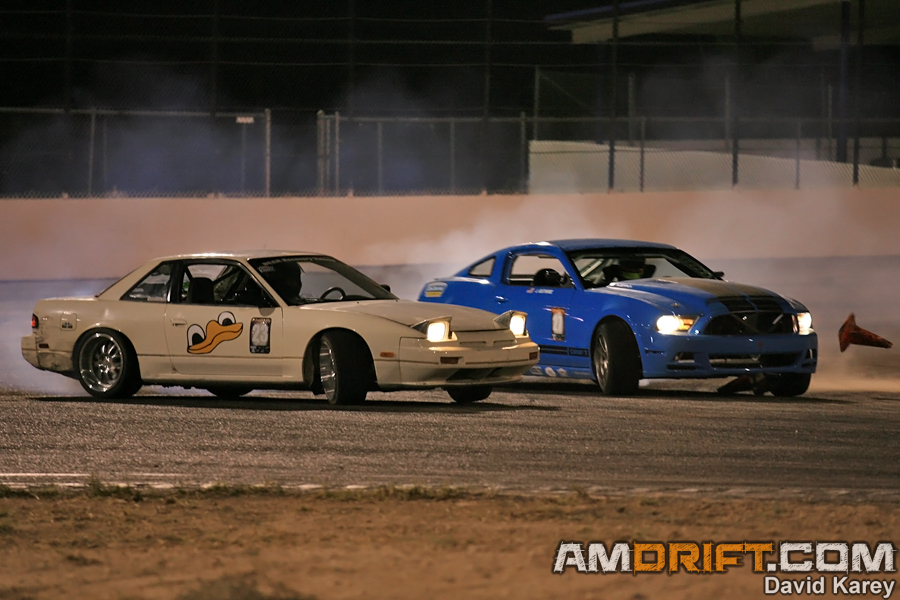 Immediately after defeating Kasey King, Jim Guthrie went against Jason Price for 3rd place in a exhausting series of runs that ended after FIVE one more times! Yes, 5 one more times!!! Both drivers were on their A game at least once every pair of runs, resulting in the judges calling OMT over and over. Eventually Jim was able to defeat Jason Price and move on to the next opponent.
An exhausted Jim Guthrie went into battle against Brandon Wicknick for 1st place.
Brandon was able to secure 1st place against Jim after a strong pair of runs.
After some seriously entertaining competition, Brandon Wicknick took first place, Jim Guthrie 2nd place, and Jason Price 3rd place!
Brandon Wicknick gave us a victory burnout, the last plume of smoke we would see of the weekend. Drew Fishbein and I said our thanks and goodbyes to all the wonderful people who attended and hosted us, and hit the road back to Cali the same night.
We only made it to Gallup, NM despite feeling invincible when we left the track. Drew had caught sight of this little gem of a junkyard looking place as we were headed off the freeway to get some food. Before we ate, we stopped and checked it out.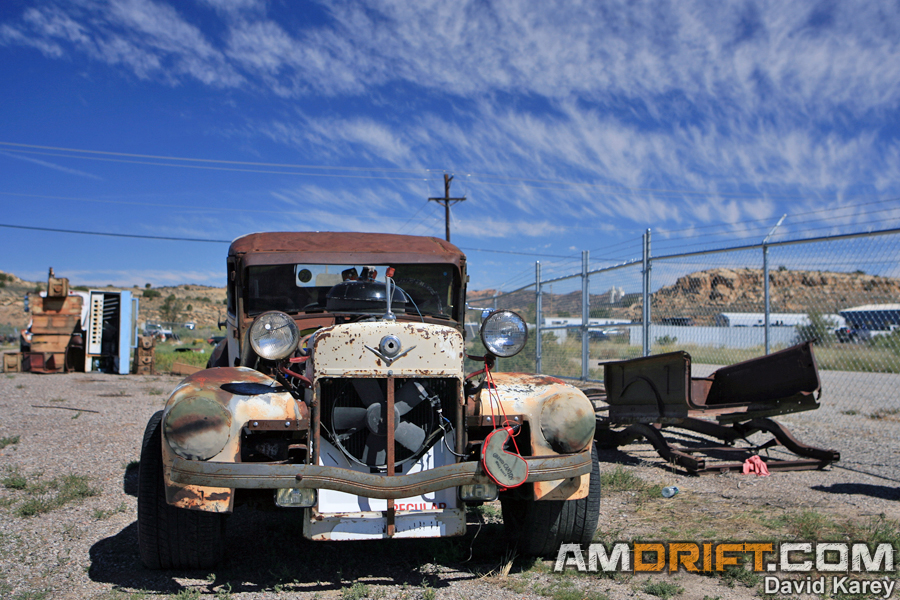 The owner had appropriately named it "Rat City" and we could see why. He was fondly proud of this awesome rat rod he had in the yard.
The air cleaner on the motor was made of an old Weber bbq, and we were told it actually ran and was able to drive!
There were lots of cool vehicles scattered around the yard. Ive never even heard of a Federal.
This bus would be rad to renovate with brand new modern diesel motor and trans, new wiring to accommodate todays devices, and then drive it around the country as an RV! That is a cool dream.
Many thanks to the owner, Jack, who gave us a no limits tour of the place as if we were his own sons! We hope he find our coverage and enjoys it.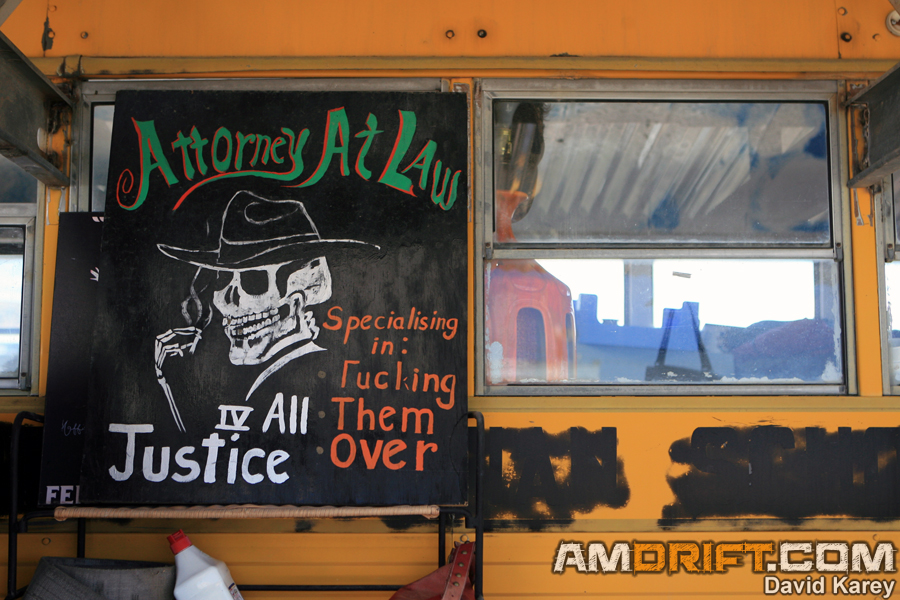 We had a wonderful time at No Coast Drift Party. There were times where we didn't think we would make it, but we are 100% happy that we did. Check out the gallery below for more photos, and as always, download and share!