I have to admit, I've been pretty ignorant when it comes to understanding what goes on at the annual Coronado Speed Festival, which takes place on the runways of Naval Base Coronado. When I heard that some of the guys we usually cover on Amdrift were invited to perform a drift demo, I thought it would be an excellent chance to finally check it out. Jason Sudds , our friend William Nourse, and I met early on Saturday morning, and headed down to Coronado.
Early morning was pretty rad, with a gorgeous marine layer slowly pouring over the Point Loma Peninsula directly behind where the drifting exhibition would be held. Above, Adam Levi mixes it up with professional Formula Drift driver, Jeff Abbot.
Matt Powers brought his demo car out to play with the guys.
Ryan Kado also made it to get some low stress fun run action.
Cyrus Martinez was the first showboater of the event, quickly come up with some wall tapping action for the crowd.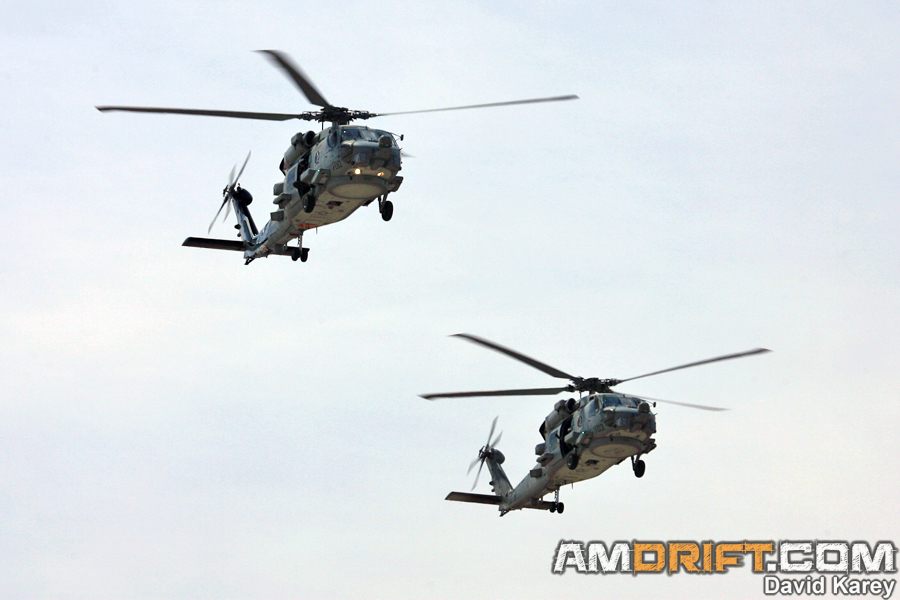 Helicopters did routine flyovers during the drifting exhibition.
Power by Max owner, Dan Greenbank, and Replay XD Jesse Vargas get their tandem on.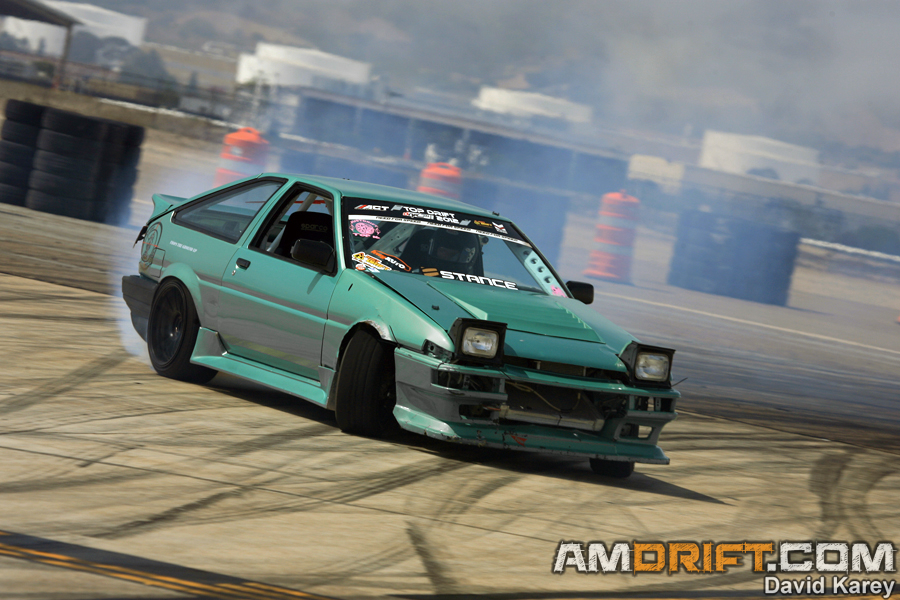 Luke Pakula falls victim to my unintentional JDM photo angle while getting some great angle around the corner before the grandstands.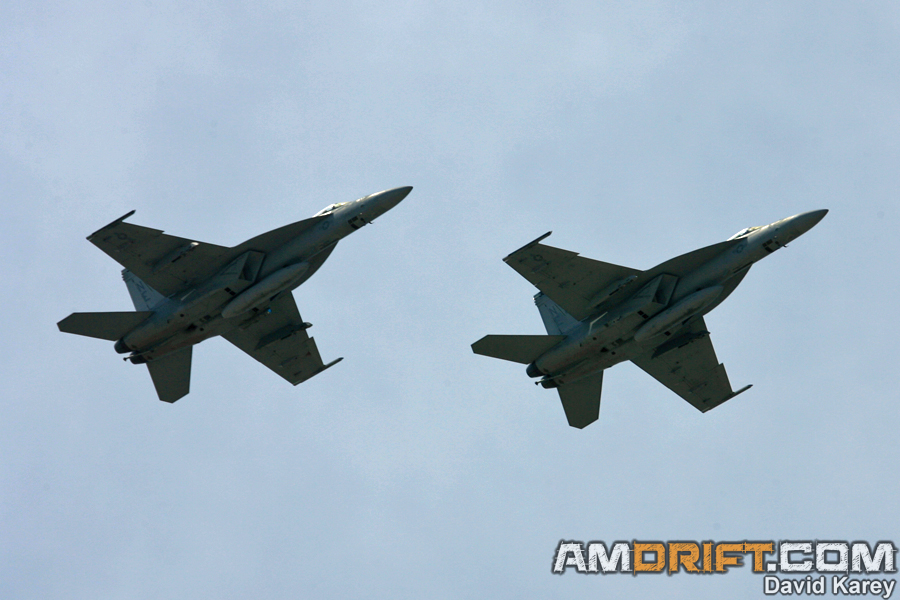 A pair of F-18 fighter jets followed the helicopters in parade fashion.
Tyler Wolfson had finally seemed to get the fuel or ignition issues worked out that had plagued him all year in competition, just in time for some play time at Coronado.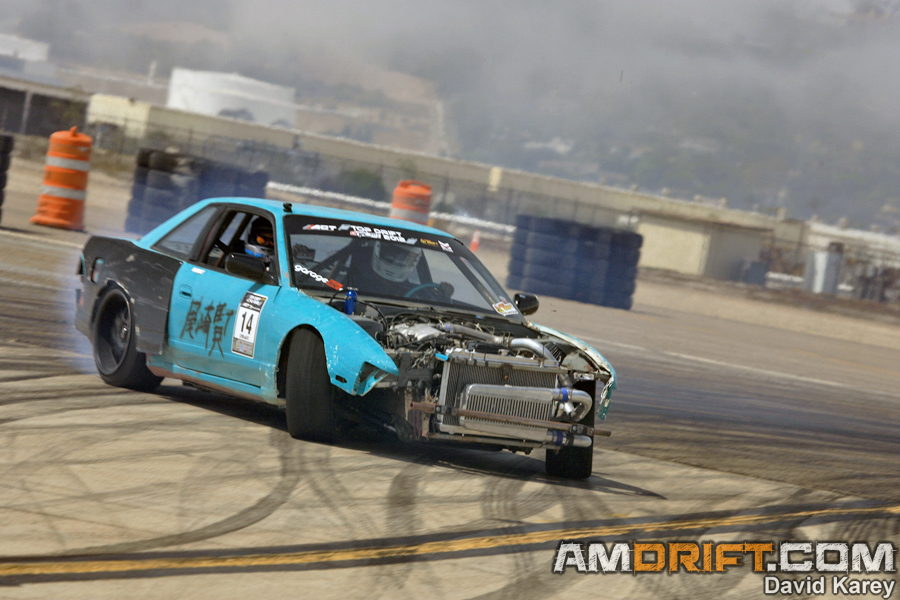 We were fairly pleased to see another local drifter, Karl Osaki, down here in San Diego.
After all the drifters had turned around to head back to the pits, Cyrus Martinez did a sideways crawl for a hundred feet or so toward the track exit.
Some of the Navy's finest dropped in when the drifting had finished to signal the big pre race ceremonies that would follow.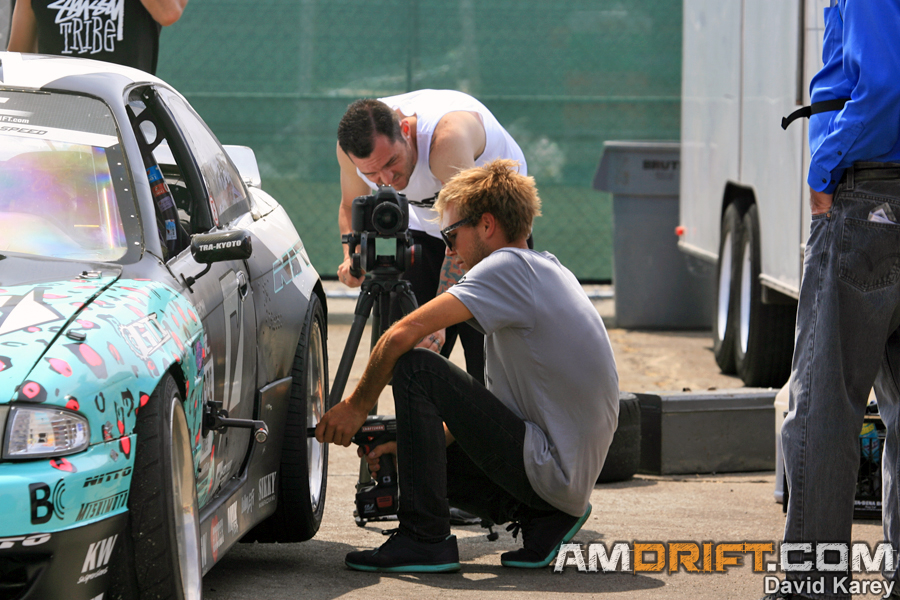 The next drifting exhibition would be 5 hours away, so drivers took time to change wheels and stuff. We decided to take a walk through the pits of the historical race cars.
One thing that is pretty cool, is that the runway is transformed into a small town complete with street signs that marked the cold pit lanes.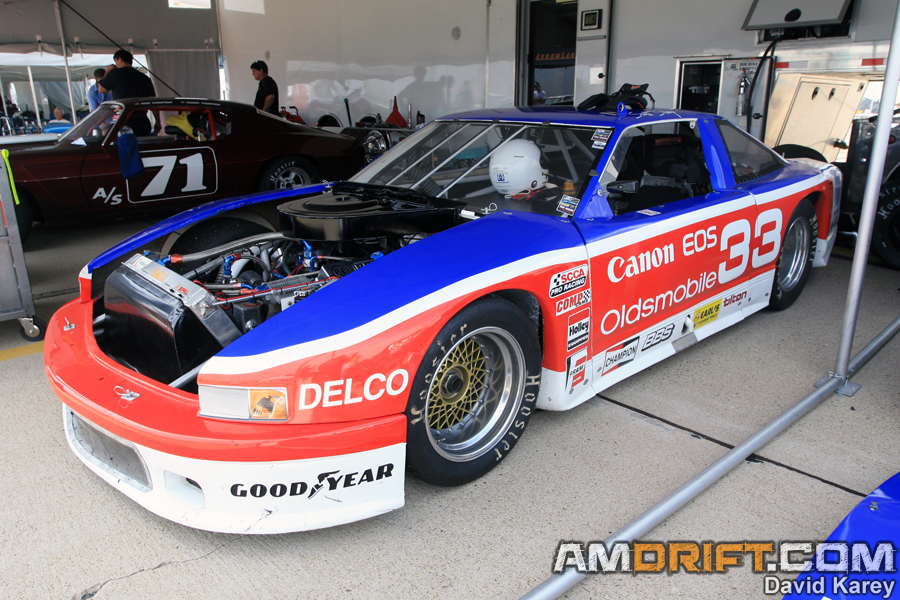 One of the first race cars that caught my eye, was this Oldsmobile Cutlass that was part of the very famous Newman-Sharp racing team and campaigned in Trans Am in the late 80's and early 90's. It was cool to see a car from back in the days when Canon used to sponsor cars.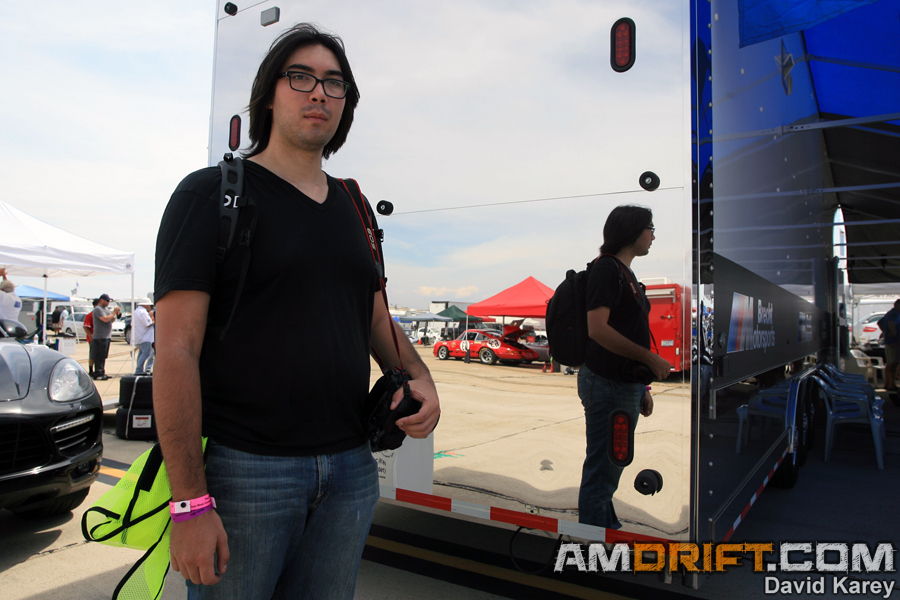 Jason Sudds takes a break from the brutal sun.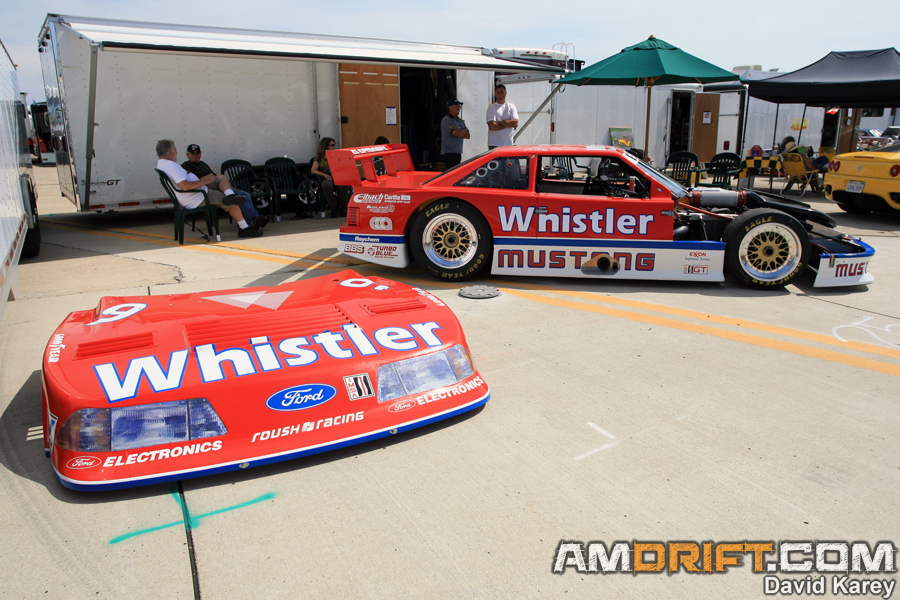 Walking around some more, we spotted this Roush Racing Mustang that was raced in the 80's and 90's in Trans-Am.
Whats cool about this car, is that it didn't use the run of the mill V8 that was available in the fox body Mustang. Instead, it used the 4 cylinder turbo engine that came in the SVO Mustang. Homologation is awesome!!!
There was wayyyy too much cool going on. This Mercedes gullwing made my jaw fall to the floor. It was actually headed to grid to race! Yeah he was gonna drive it hard. Awesome!!!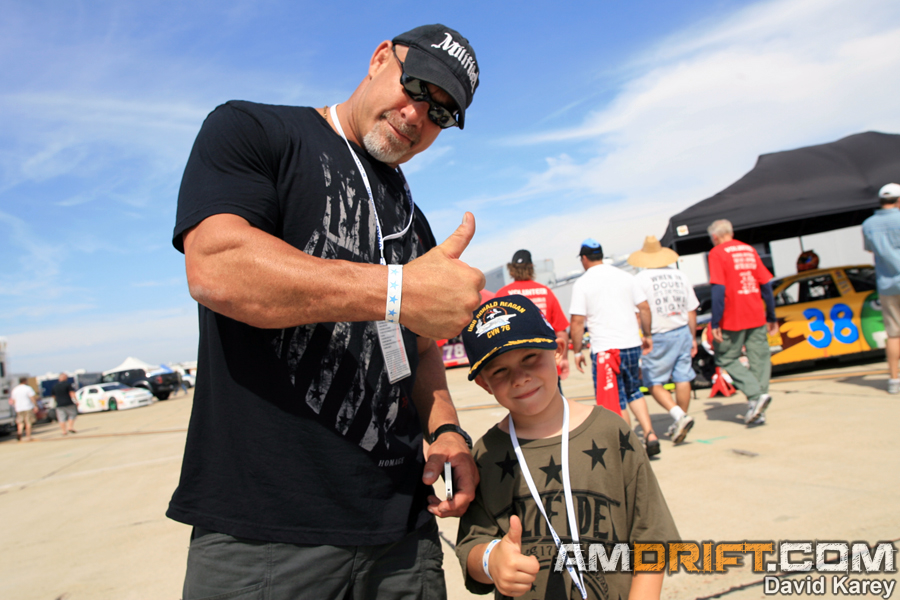 We ran into Goldberg and asked him what he thought of the event so far. He said AWESOME!
There were just so many vintage cars to soak in, our minds were blown. As much as I know about cars, this old Chevy is beyond me. The owner had just gotten back from the track, and got out with a smile.
Behind the old Chevy horseless carriage race car, was this totally awesome Chevy Apache bus conversion? Somebody please educate me on whats going on here. Who wouldn't absolutely love to have this as a tow rig?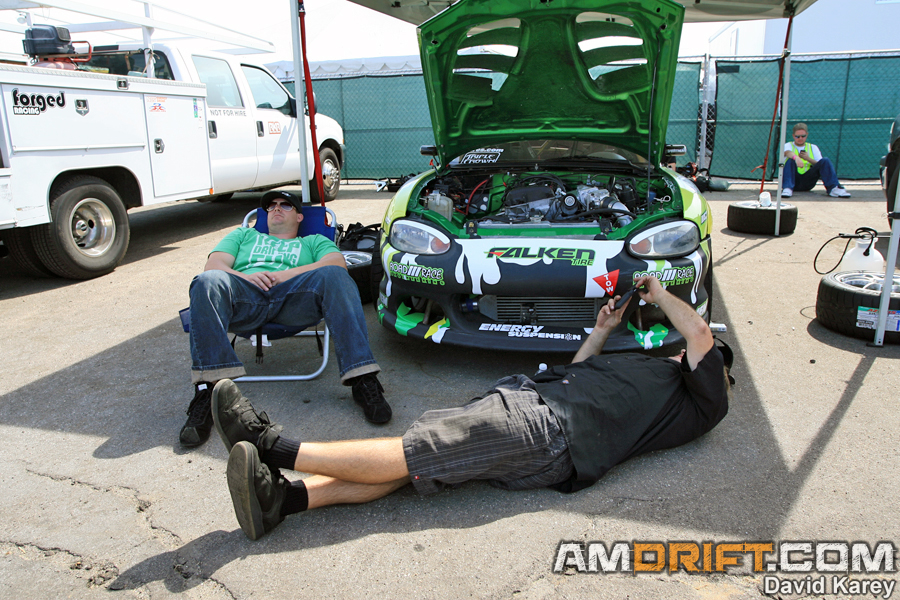 We arrived back at the drift pits to see what was going on, and you can see, not much was. Jeff and Greg had crashed out waiting for the next drift session.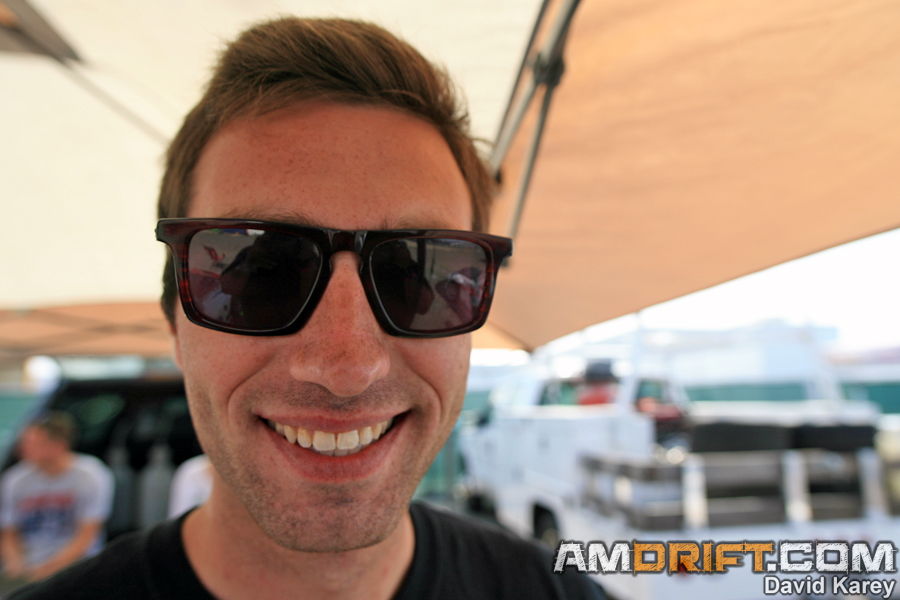 Tyler Wolfson was awake and all smiles.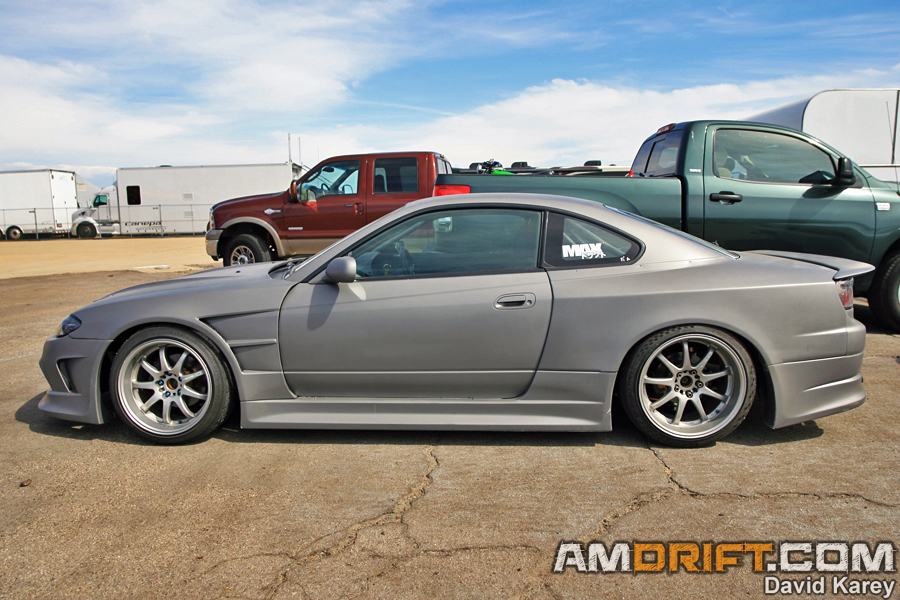 Everybody else was seriously gone. Dan Greenbank's RHD S15 looks better than ever without people standing around it.
It seems that Matt Powers had brought his piece of Crap bike along.
Not much was going on in the drift pits, so we headed out to trackside to catch some vintage racing. Lots and lots of money there on the track!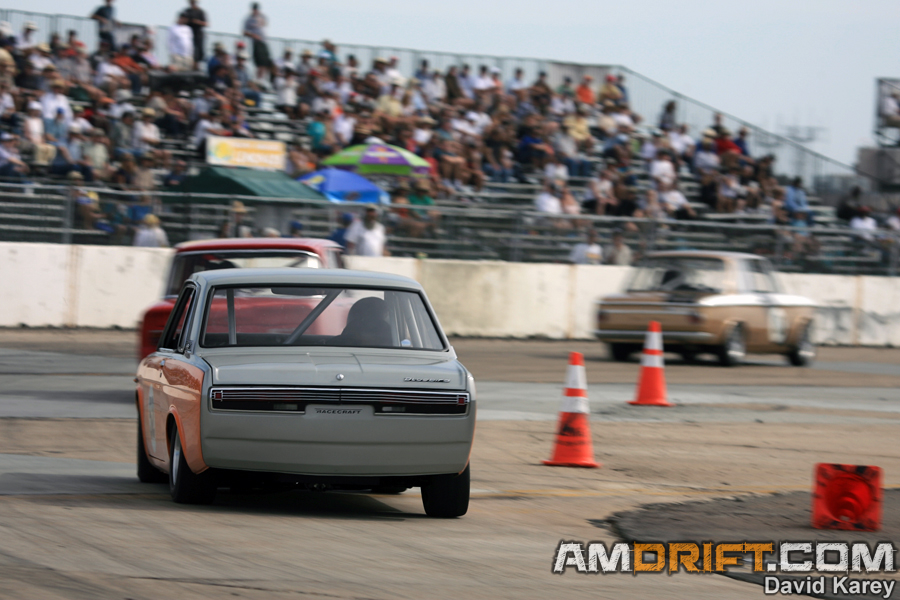 A nice Datsun Bluebird!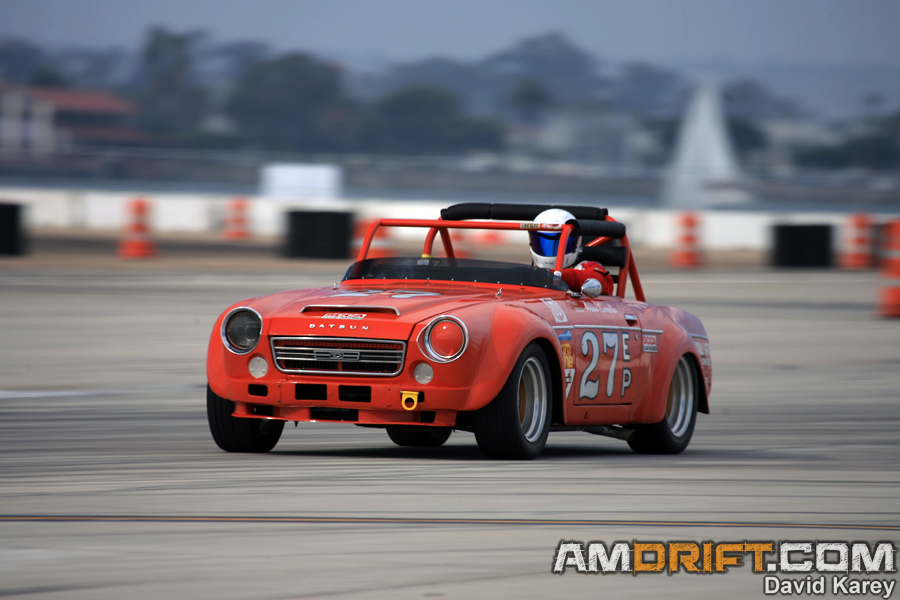 Adam Carolla was spotted zooming around in his Datsun Roadster.
I have a thing for old Alfa Romeo cars. Actually, anything with round lights makes me happy.
This old Lotus Elan was zipping around.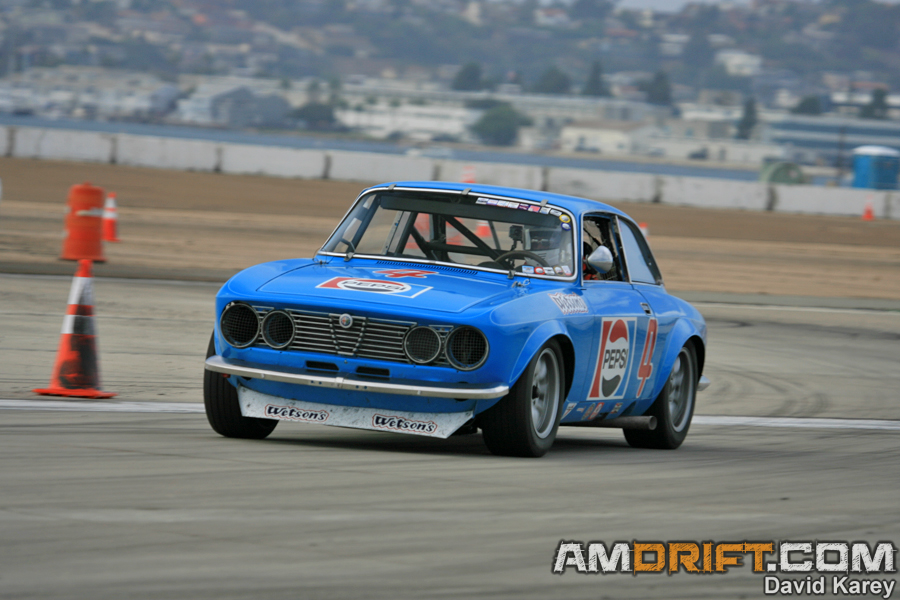 Just a little more Alfa eye candy.
Now thats a ton of money racing door to door right there. Really nerve wracking, but beautiful at the same time.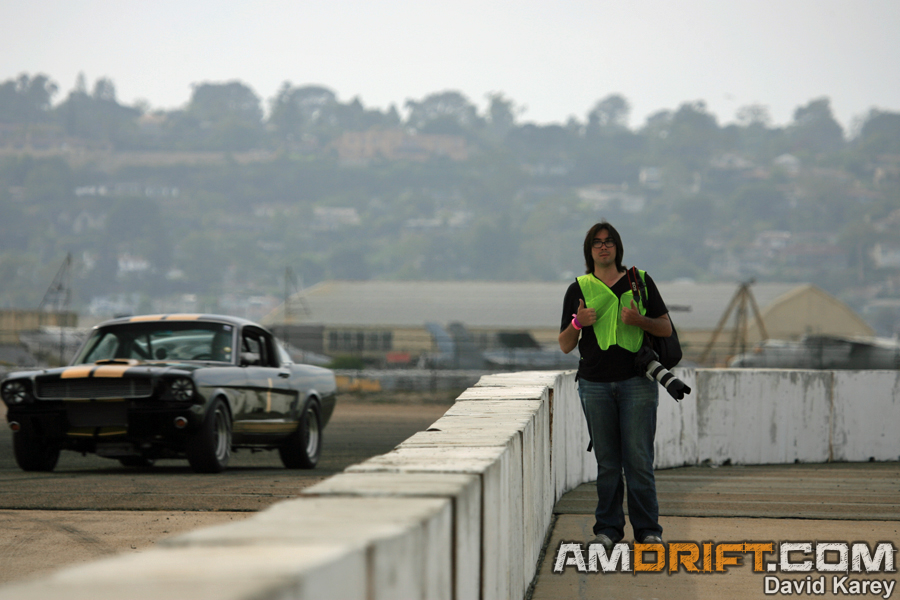 Jason Sudds digging the historic cars.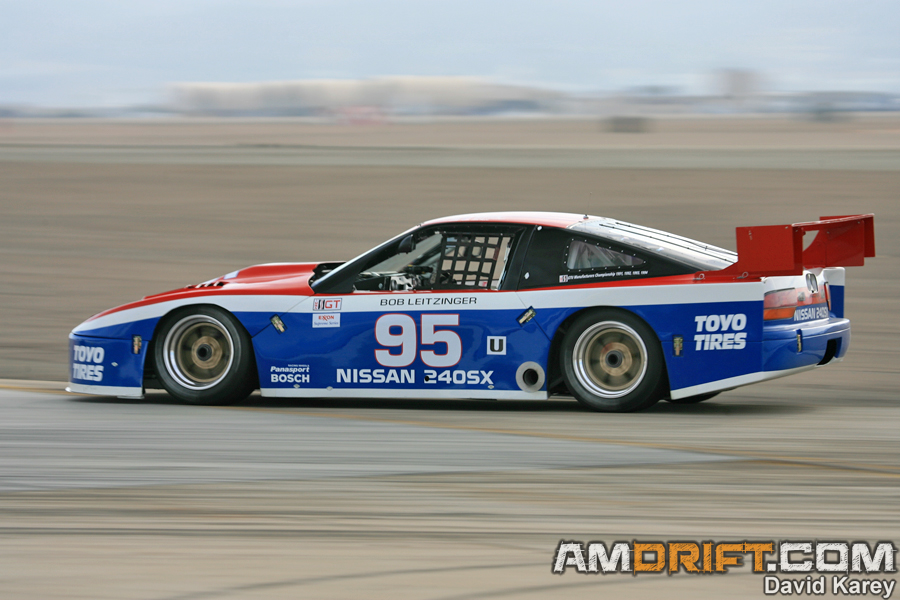 As soon as the IMSA GT cars hit the track, I noticed something I haven't noticed while walking around earlier…. an S13 bodied race car! Since this car is very popular with the drifters, and I am a HUGE fan of Nissan Racing of the past, it was a special moment to be able to snap some photos of this. This Bob Leitzinger 240sx was raced in the super early 90's in this livery.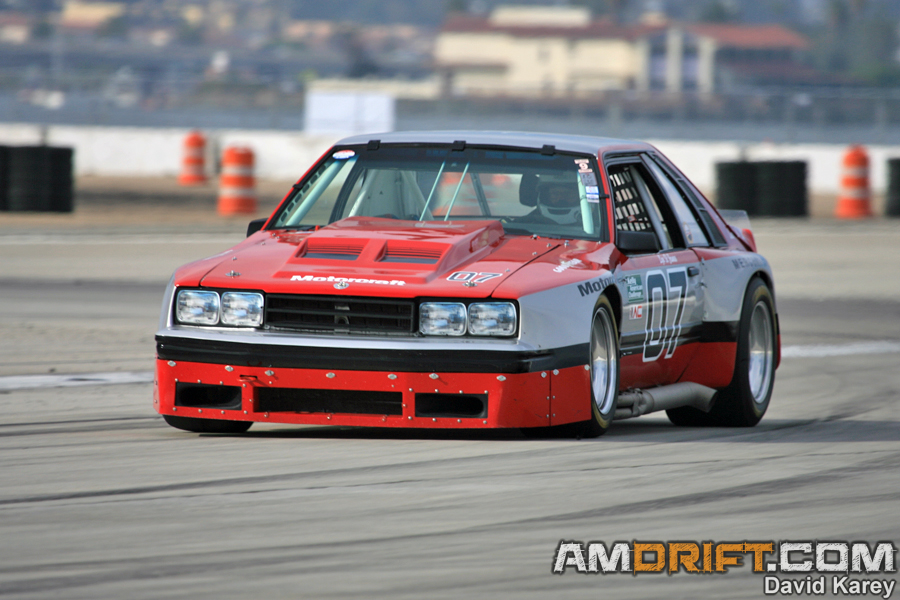 A Mercury Capri. The Capri is basically a fox body Mustang, but in a Mercury body.
Heres that awesome Roush Racing Mustang we saw earlier.
There were a handful of classic Z's, like this BRE 240z.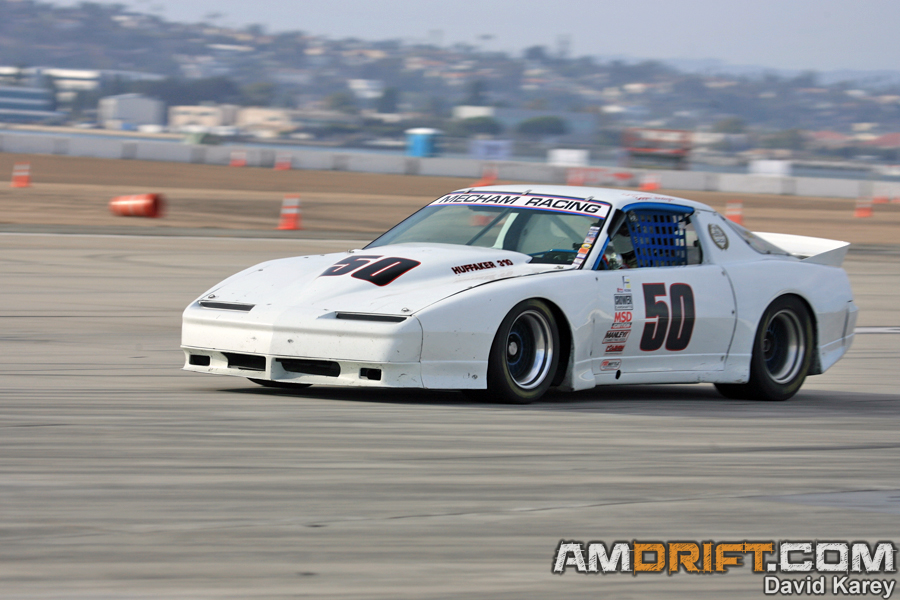 Does anyone else love a 3rd generation F Body race car as much as I do? This 1982 Pontiac Trans Am won the 1982 Trans Am series while being driven by Steve Saleen.
Next up came stock cars that were all raced in NASCAR. Not a whole lot of people who read Amdrift care about stock car racing, but these were all road race versions that were built for tracks like Watkins Glen, Sears Point, etc. They are in short, bad ass and I order you to like them. This is an old Rusty Wallace car.
I am not educated on the history of these cars as well as one of my friends, but I think they are totally awesome. These cars are LOUD and FAST!!! Sterling Martin drove this Kodak Film car in the 90's.
Bobby LaBonte drove this car in the mid 90's.
I just thought these cars were spectacular. As a kid, I remember when every race car had a tobacco company or beer advertisement on them. Racing just happened to be better back then, in my opinion 🙂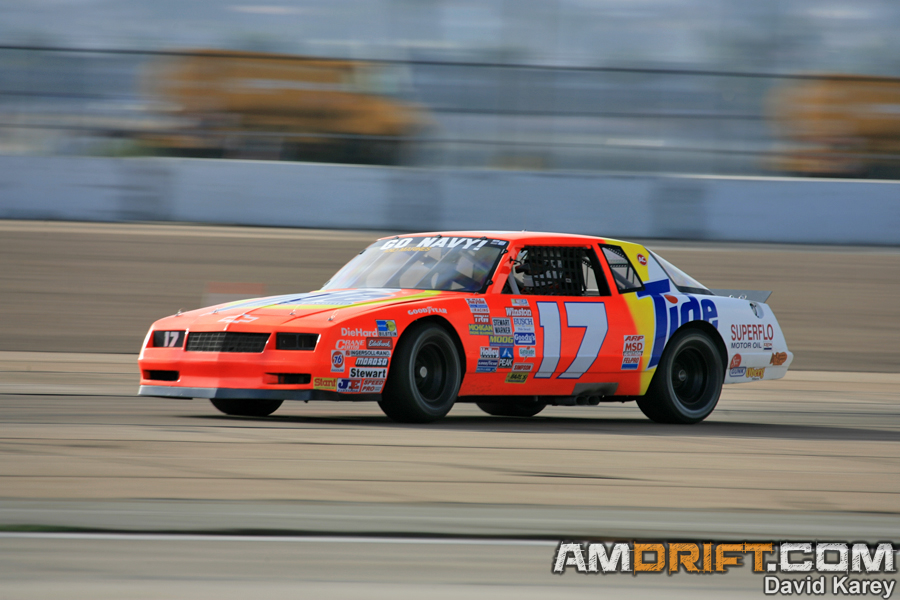 Darrel Waltrip drove this car in 1989. After some web searching, I learned this car was involved in an incident coined "Tide Slide" Read about it here.
After soaking in some vintage radness, we went back to the drift pits and found Jeff Abbott and Greg Landes awake and ready to drift!
A small crowd gathered while drivers prepped to go out for the late afternoon session.
Mickie Frial was excited that track time was nearing.
Karl Osaki and his buddy having a quick rest before getting in the car.
Karl kept bugging me to watch his Gangnam Style dance, and I refused every time.
Luke says its time to roll!
Just like Dan's car, Ryan Kado's car looks sweet with nobody standing around.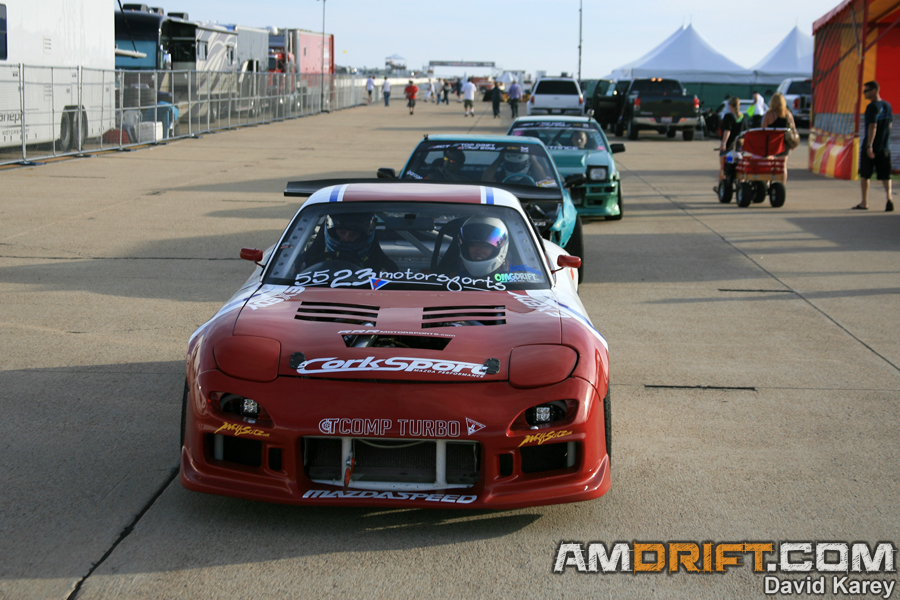 Tyler leads the pack to grid.
Tyler Wolfson… tough guy drifter, hot chick with nice legs, in a bad ass drift car….what more could you ask for?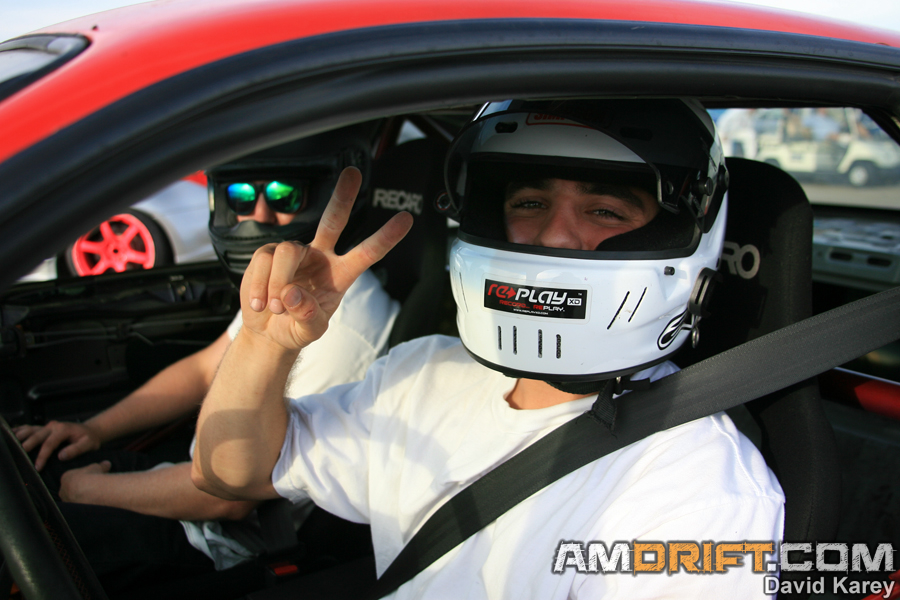 Adam Levi peacing out.
Matt Powers with the fist bump. Its always nice to see the pros come out and be a part of the guys equally.
The drift cars lined up and requested permission for take off.
Jesse Vargas and Matt Powers. Something was afoot.
They were actually passing a camera to each other like a baton. Sweet.
Pat Mourdant is another pro who came out in his personal s14 to play around for a while.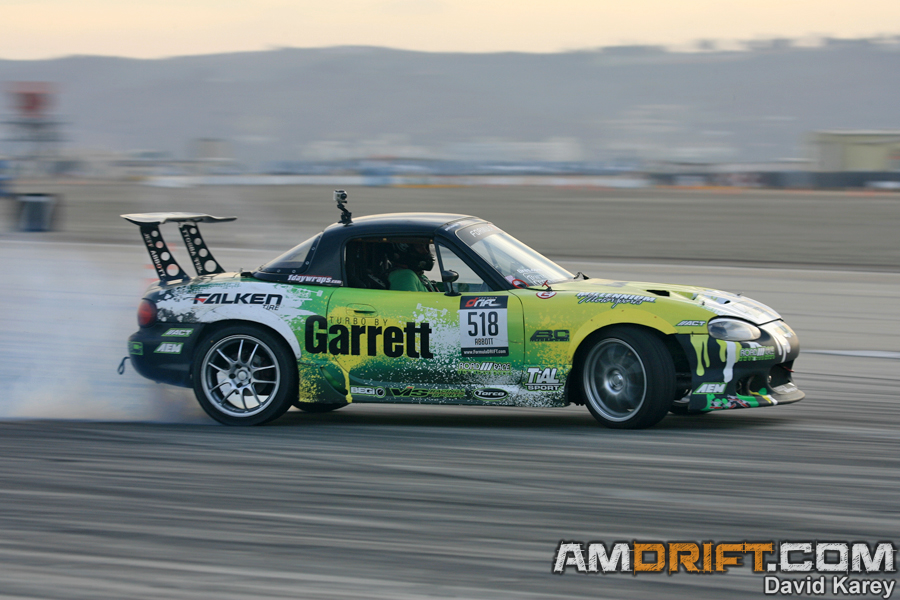 Catching a brake pull in a corner is always fun for me. Ive had trouble capturing a good picture of Jeff Abbott all year long, but I would absolutely kill it at Coronado.
You can evade me no further Mr. Jeff Abbott.
Jason got ya too.
…and again. You cant avoid us mwhahaha.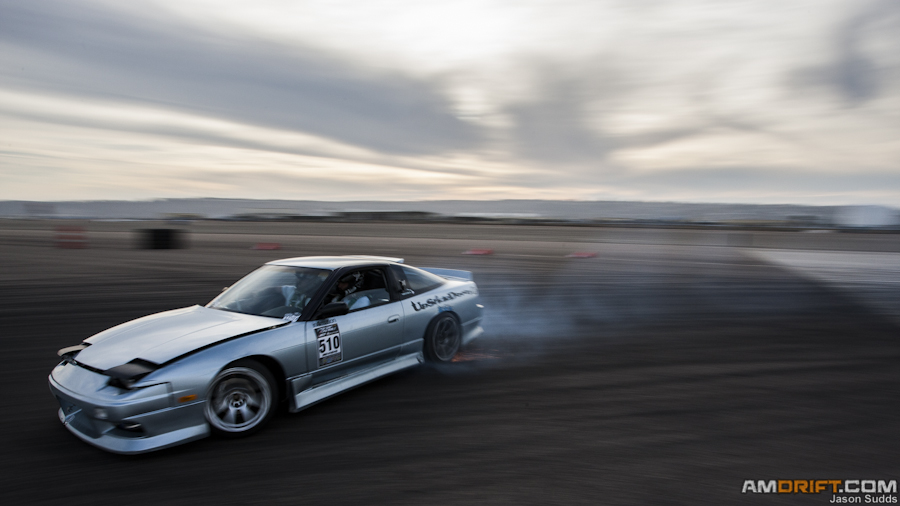 Going late into the afternoon, everybody was running out of tires.
Mickie Frial sliding into the sunset.
Mickie's car looking better than ever with that fairly new paint.
Mickie was actually chasing Adam Levi.
David Westfall and Dan Greenbank follow shortly behind in a rad tandem.
Check out Ryan Davis setting up cameras, and Matt Powers scheming.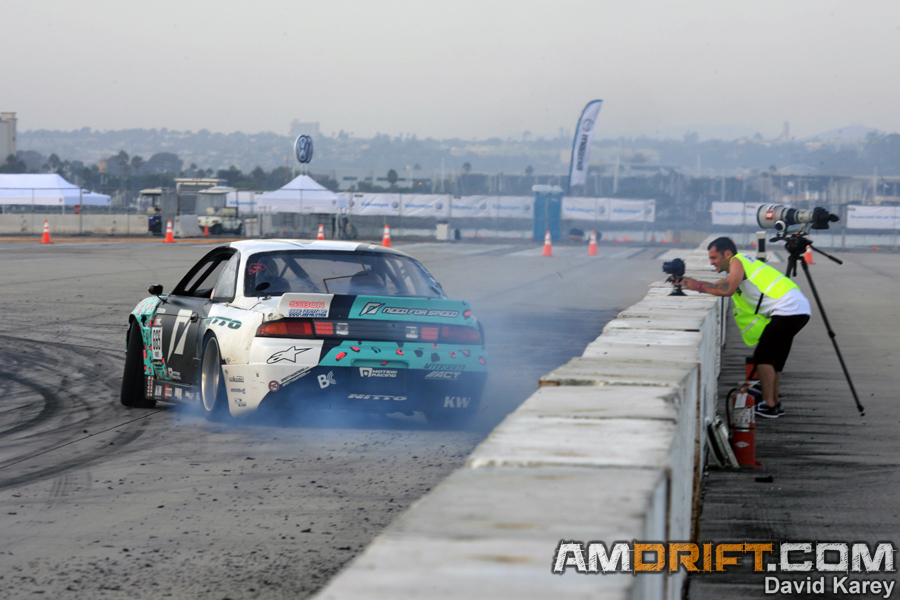 RAD! Wheres the video of this, Ryan Davis?
With all track action halted for the day, we all gathered for a memorable group shot.
…and a group jump shot
…and another.
We will definitely be back at this GREAT event next year!!!
Check out the gallery for more photos!