On Friday and Saturday, August 24 -25, a very hot Las Vegas Motor Speedway played host to Vegas Drift ProAm Round 4, which was run alongside Formula Drift Round 6 – After Dark. Our trip to Vegas was interesting, to say the least. The AmDrift crew was running double duty in Vegas, being part of Joon Maeng's team and covering both ProAm and Pro events. Taking on double coverage and supporting the Lucas Oil team, we knew we had a lot of work to do.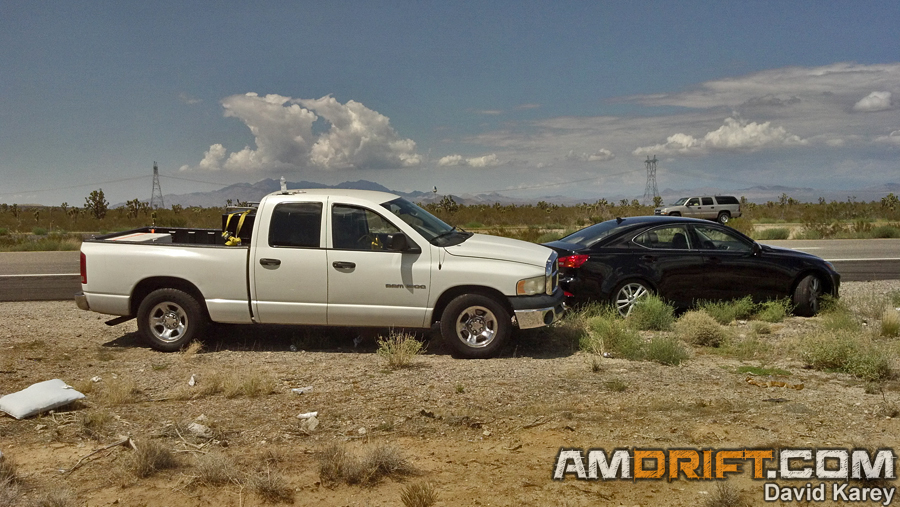 20 miles outside of Baker heading towards stateline, our truck blew a head gasket, leaving us stranded waiting for a tow into Vegas. Stuck on the road, we explored options to get our vehicle and support gear to the track, and ended up waiting on a flatbed tow. Joon caught up to us with the Lucas Oil rig and picked up all the tools and bbq stuff, while the Road Race Engineering crew sat tight with us and waited for our pickup.
The drive through the California/Nevada desert is always amazing, to say the least. The day before most teams headed out to Formula Drift in Vegas, it had dumped a ton of rain which flooded parts of Vegas and the surrounding land. Heading through stateline in a tow truck gave us some time to enjoy the view and snap a couple of shots. Lots of fun was had explaining drifting to the tow truck driver. Its always nice to get someone interested in drifting. Once we got everything sorted out with the truck, we were able to limp into the track and park it for the rest of the weekend. We settled in just in time for ProAm practice, so we headed trackside for some early coverage of the guys learning the lines and getting to know the walls.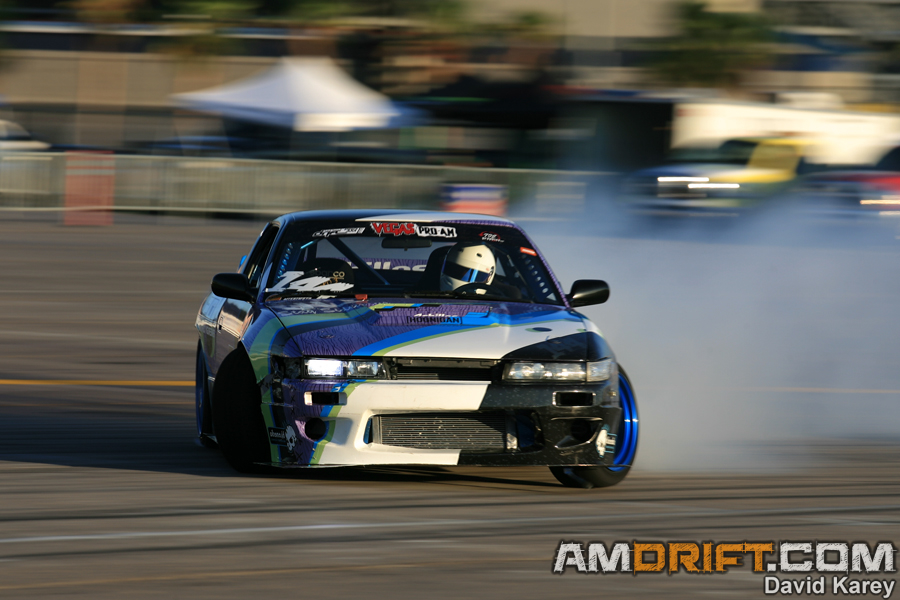 This event was immediately a pleasure for me. Even though I've been covering the amateur drifting scene for quite some time, Ive never had the opportunity to see Nate Hamilton drift in person….well at least in this livery. It was nice to finally see this car. You can watch this car get wrapped for the 2012 season here on Vimeo.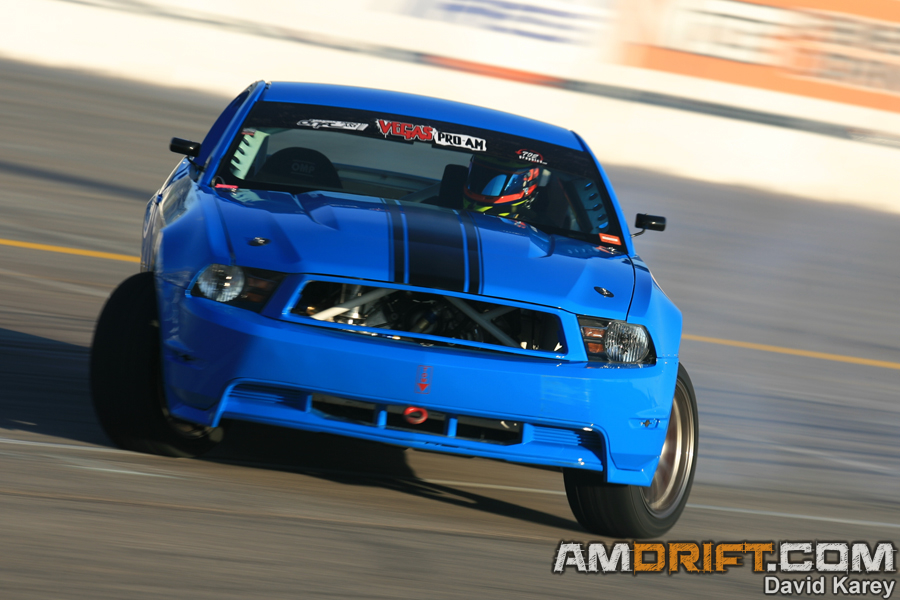 Jim Guthrie always looks hot and fast in practice and qualifying at every event we've covered that hes driven in. That Mustang is blazing fast and is loud enough to have people covering their ears when Jim does a burnout or goes flying by. Its definitely one of the loudest cars in ProAm and Pro, hands down.
Forrest Wang is no stranger to driving in Vegas heat in his 2JZ powered S13 coupe. He owns a shop called Get Nuts Labs down the highway in the city of Enterprise, which actually has a fairly large track on premises that shop employees and friends drift almost daily. Going into round 4, Forrest was second in season points with 230, closely following the 238 points of teammate Garret Nikolich.
Derrick Lopez and the D-Spare crew made it down all the way from Salt Lake City, Utah. 420 miles is nothing to the D-Spare crew, which they gladly travel to make as many Vegas Drift events as possible.
Dan Brockett and Jim Guthrie both traveled approximately 600 miles from Albuquerque, NM to compete in Vegas ProAm. Dan Brockett had previously earned his FD Pro license at Top Drift Round 4 last month, so seeing how far he could go in Vegas was just a little icing on the cake. The Toyota/Lexus chassis is becoming extremely popular as of late.
Kasey Kohl slid into Vegas from 750 miles way in the Denver, CO area with teammates Frank Cundari, and Kasey King of Triple Crown Drift.
Kasey King of Triple Crown Drift is pictured sliding before the first clipping point. Triple Crown Drift is a drifting organization in Colorado that brings drifting events to venues such as Pikes Peak International Speedway, and Colorado National Speedway. TC Drift is holding a kick ass bash in October, titled DRIFTOBERFEST. You should be there!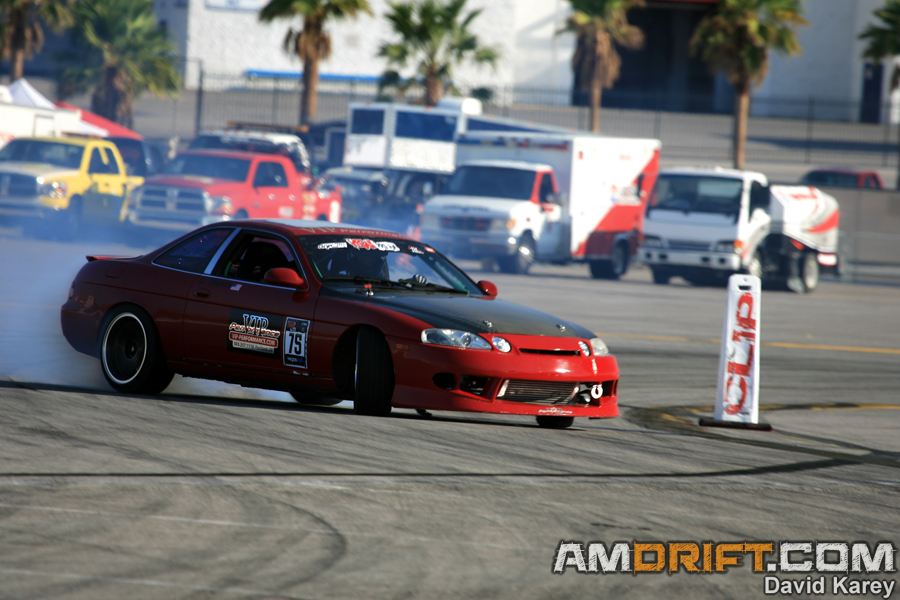 Cameron Moore drove 1100 miles all the way from Battle Ground, WA to compete in Vegas ProAm with this very powerful Soarer/SC.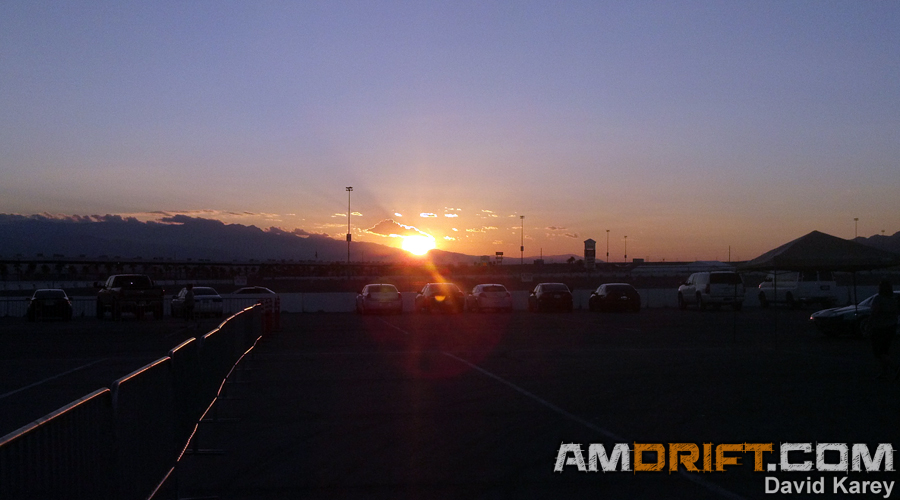 We soaked in all the practice glory before rejoining the Lucas Oil team before FD Pro practice, and getting some work done on our truck as much as possible to assure we have a way back to Los Angeles. You can check out more of our practice photos in the gallery at the end of this article. As always, download and share!
On Friday, we made it trackside just in time for ProAm qualifying. We left the track at 4am the same morning after the Lucas Oil/Road Race Engineering team did some adjustments on Joon Maeng's car late into the night to avoid the daytime heat. We are sure glad that happened in the dark, because come 4pm, it was already 99 degrees. Keep in mind that a ProAm practice has already been run one hour earlier back to back with qualifying. HOT!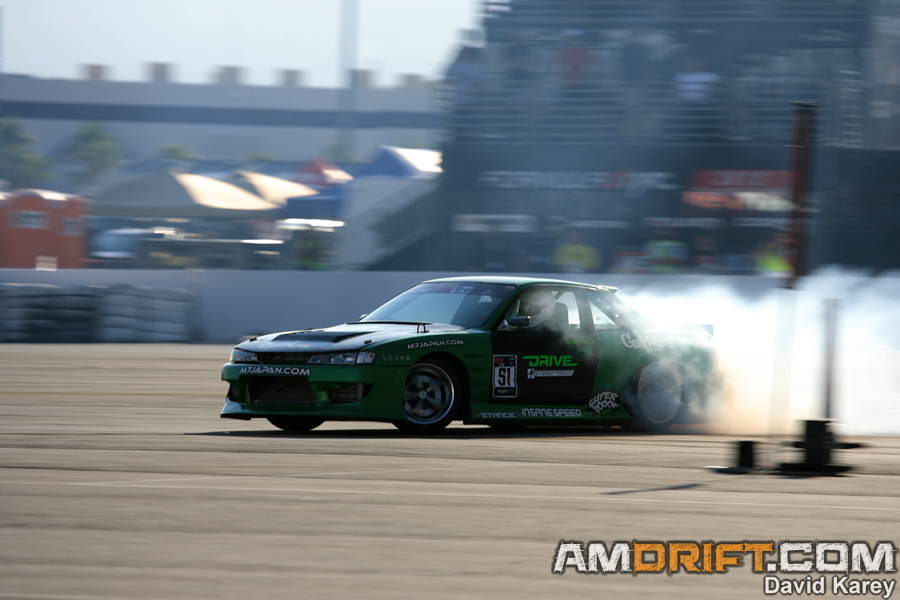 Forrest Wang pulled off 88.3 points in qualifying, which put him in first place in qualifying results.
Eric Hill came out and put down a sick run, very fast and close to the wall at times, giving judges what they wanted to see at all clipping points. Eric was awarded a 77.3 for his run, placing him 2nd in qualifying.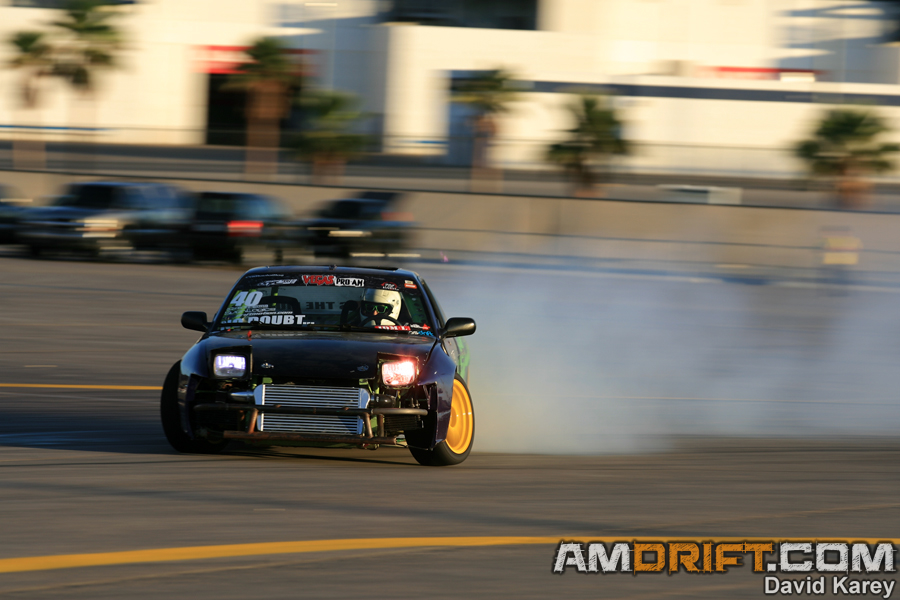 Brandon Wicknick was able to earn 77.1 points, which placed him in 3rd overall in qualifying.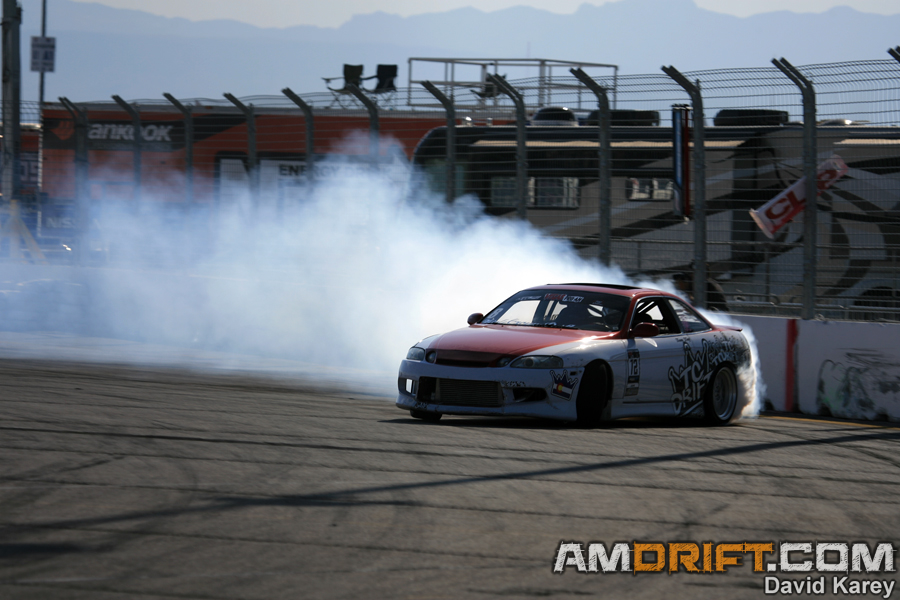 Kasey King came out with a killer line almost against the wall on the second clipping point, and was given a 76.3, good enough for 4th in qualifying!
Andy Hateley kept it fast during his run, a little shallow in parts, but good for a score of 73.9 and 5th place in qualifying.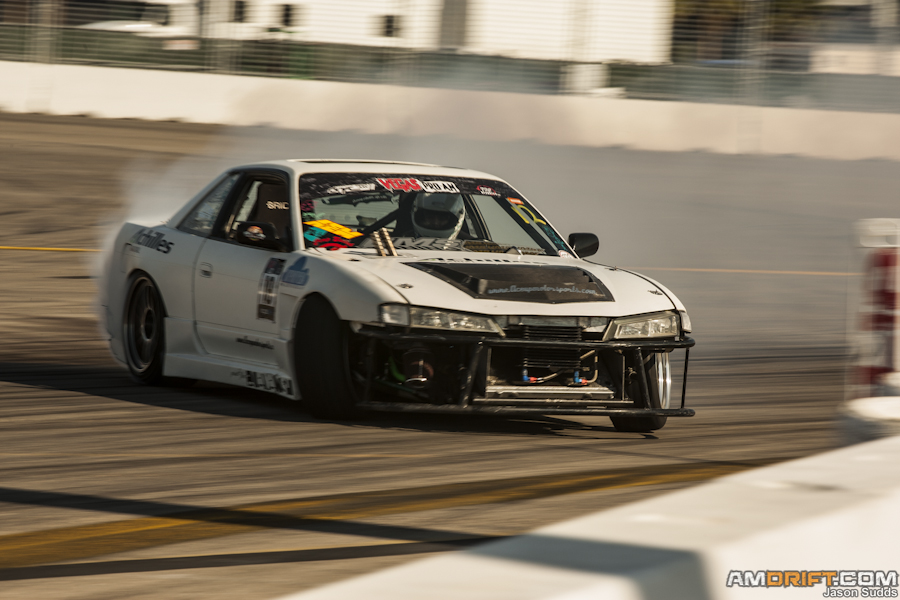 Vitaly Sopkin from Arizona, was given 73.5 points, only .4 points lower than Andy Hateley placing him 6th in qualifying.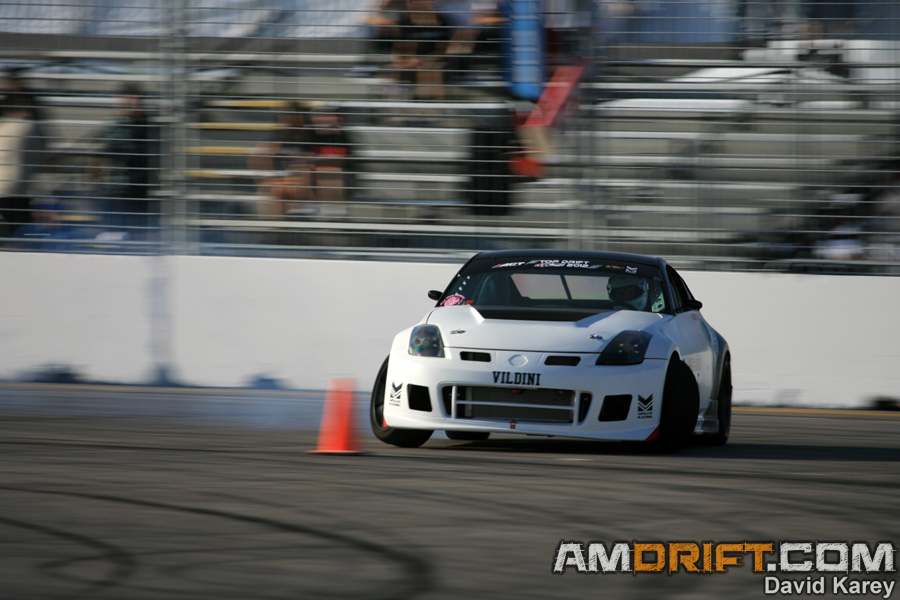 Alex Villabrille kept it sideways earning 72.7points and 7th place in qualifying.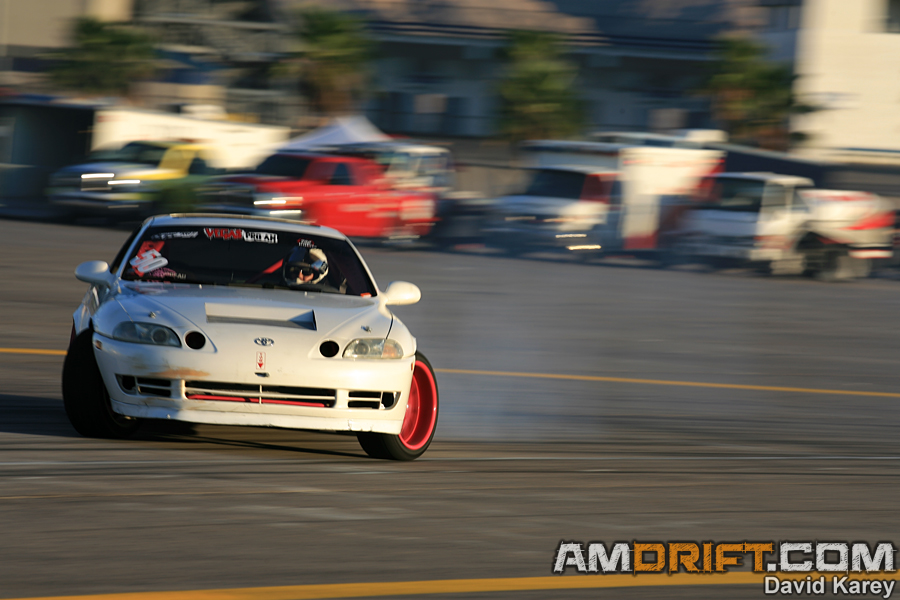 Internet sensation and heartthrob, Dan Brockett, drove the Lexus hard to earn a flat 72 points in qualifying, placing him in 8th position.
Spike Chen in his S13 truck, was awarded 71.2 points for his qualifying effort and 9th place.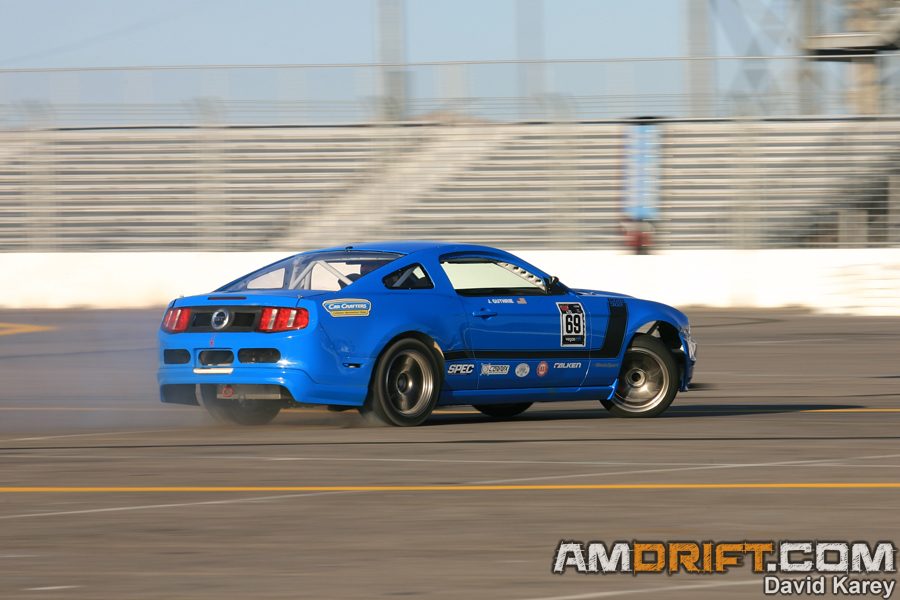 Like I mentioned earlier, Jim Guthrie is always strong in practice and qualifying. Jim was able to clinch the 10th qualifying spot with 69.7 points.
Here are the complete qualifying results by score:
1. Forrest Wang – 88.3
2. Eric Hill – 77.3
3. Brandon Wicknick – 77.1
4. Kasey King – 76.3
5. Andy Hateley – 73.9
6. Vitaly Sopkin – 73.5
7. Alex Villabrille – 72.7
8. Dan Brockett – 72
9. Spike Chen – 71.2
10. Jim Guthrie – 69.7
11. Derrick Lopez – 69.5
12. Garret Nikolich – 69.3
13. Shawn Smith – 68.8
14. Frank Cundari – 67.8
15. Cameron Moore – 64
16. Tanner Baer – 55
17. Josh Lind – 52.5
18. Omead Moinee – 49.6
19. Tony Cisneros – 46.7
20. Kyle Armstrong – 44
21. Justin Moore – 31
22. Kasey Kohl – 30
23. Nate Hamilton – 0
24. David Drummond – 0
25. William Vincent – 0
26. Daniel Kuo – 0
27. Joey sproul – 0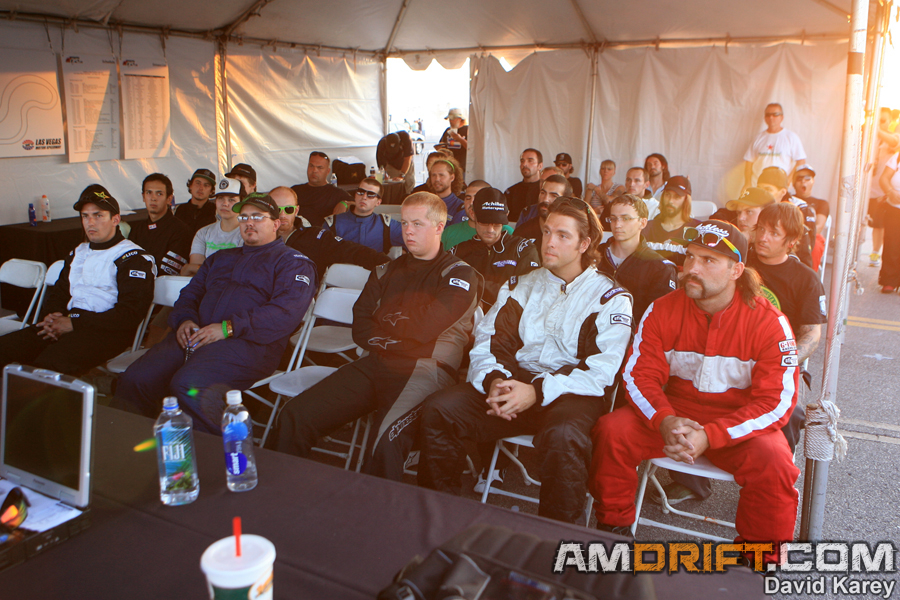 Drivers attend the post qualifying drivers meeting, and patiently await their scores.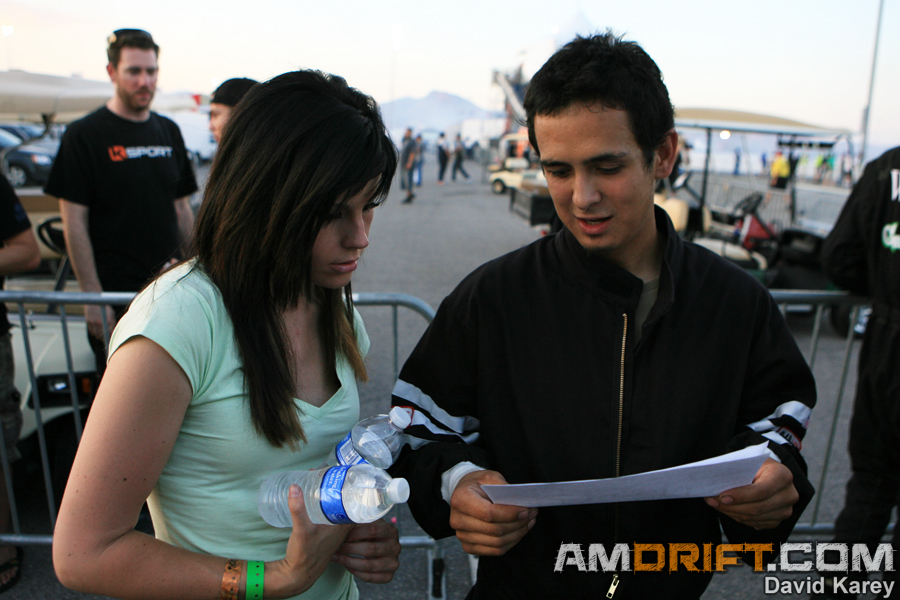 Post drivers meeting is always a great time to catch candid photos of ProAm drivers with their friends and family. The sense of urgency to get back to your trailer/tent for business or to greet fans isn't as much a priority as it is for a pro driver. Here Derrick Lopez shares qualifying results with his girlfriend Shelby.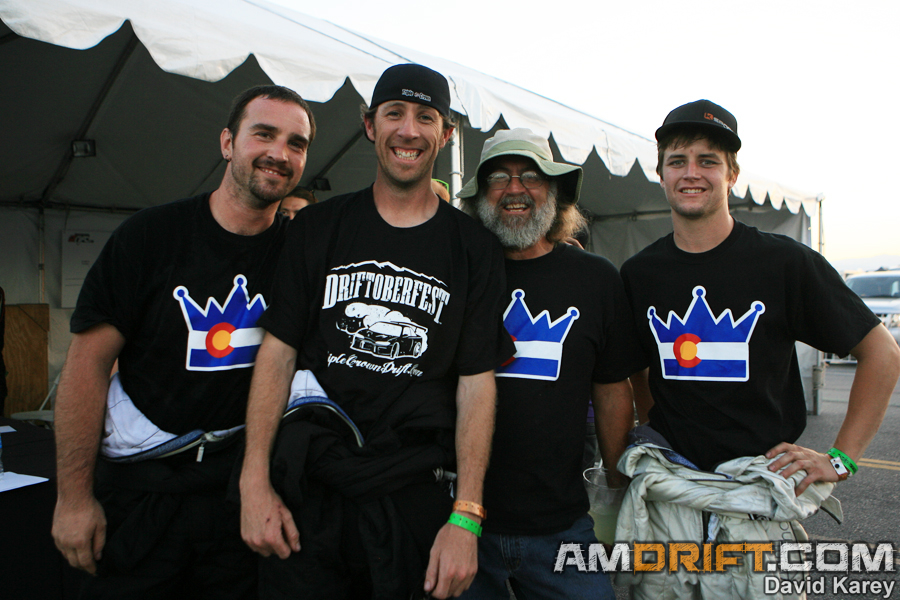 Triple Crown Drift, brothers in arms, Frank Cundari, Kasey King, Tom White, and Kasey Kohl. It must get confusing having 2 Kaseys on the same team.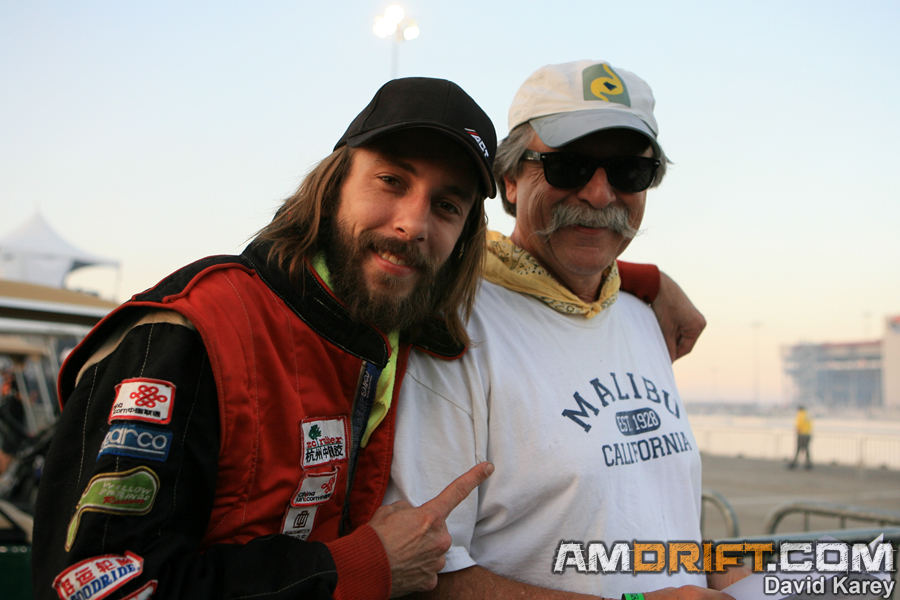 Andy Hateley and his father, Mike, sporting some of the coolest mustaches in drifting.
Garret Nikolich and his father, Gary Nikolich. Looks like a proud pops! Someday, I hope to see my boys drift and make it to all their events!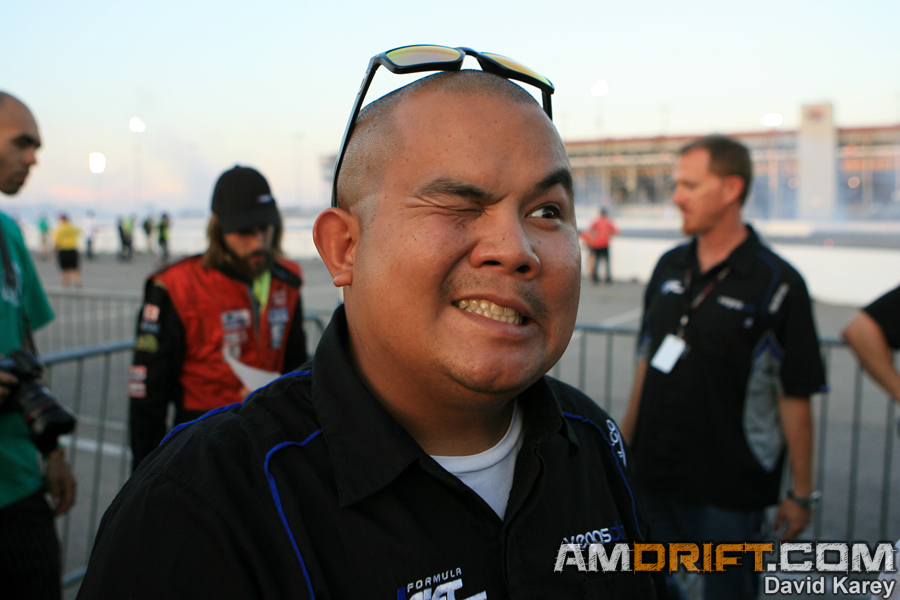 Vegas ProAm judge Mike Bolanos, demonstrates how he is going to watch Top 16 the next day….with one eye shut. Hey now, you need to use both eyes dude!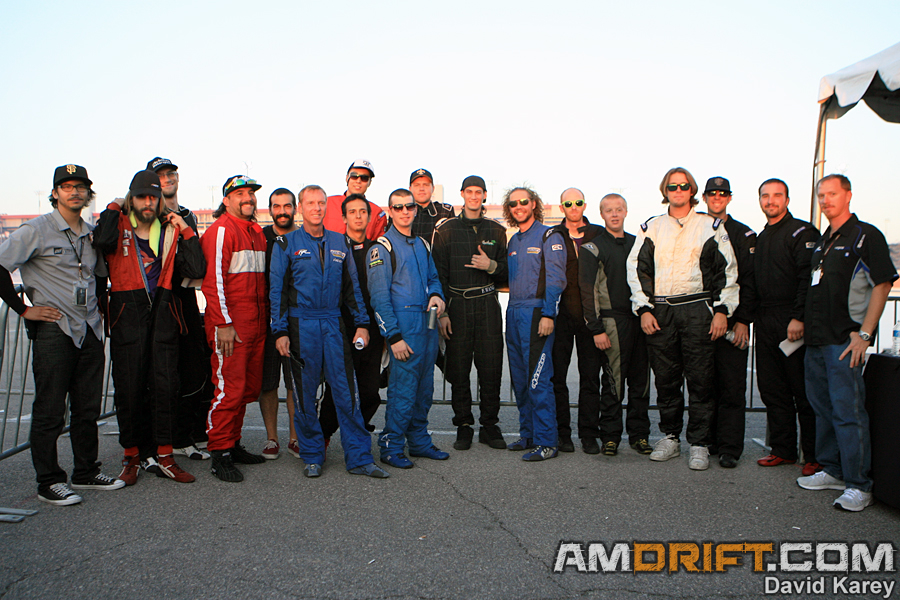 Getting 16 drivers….ahem….proam drivers together for a top 16 photo, can be quite the task. Theres always a joker (which we love!), or someone putting their driving suit on, etc. This time we were fairly successful, capturing the entire top 16 after the drivers meeting. From left to right: Nicholas Dizon (Vegas ProAm Director), Andy Hateley, Vitaly Sopkin, Shawn Smith, Alex Villabrille, Jim Guthrie, Spike Chen, Derrick Lopez, Garret Nikolich, Tanner Baer, Forrest Wang, Dan Brockett, Brandon Wicknick, Cameron Moore, Eric Hill , Kasey King, Frank Cundari, and Ray Berlo (Vegas Drift race control).
Calculating the qualifying scores, this is how the bracket would be layed out:
Forrest Wang (1)            vs.     Tanner Baer (16)
Eric Hill (2)                     vs.     Cameron Moore (15)
Brandon Wicknick (3)  vs.     Frank Cundari (14)
Kasey King (4)                vs.     Shawn Smith (13)
Andy Hateley (5)            vs.     Garret Nikolich (12)
Vitaly Sopkin (6)            vs.     Derrick Lopez (11)
Alex Villabrille (7)          vs.     Jim Guthrie (10)
Dan Brockett (8)            vs.     Spike Chen ( 9)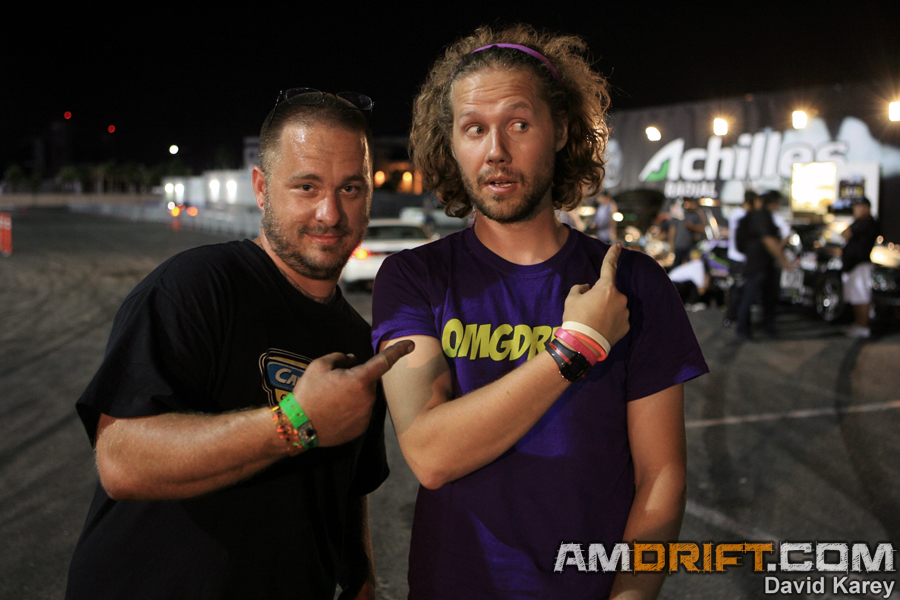 With Top 16 set, we would return the following day for some practice, and the main competition. Before heading back to our base at the Lucas Oil camp and switching into pro coverage mode, we would catch up with Dan Brockett and Brian Dewitt so they could show us who they would love to have as a tire sponsor in the 2013 season. Brian Dewitt owns the Soarer/SC that Dan Brockett drove for his 2012 ProAm season, after crashing and flipping his S13 during the production of the ICON Bike vs Mustang drift video.
Getting to the track shortly before ProAm Top 16, we had some issues with the truck we had to attend to. Luckily, our photographer Jason Sudds was able to make it trackside and get some great shots of the competition. Sitting down and looking at this coverage, we decided to do something a little different with the reporting, contacting each of the drivers in Top 16 and getting their point of view directly from behind the steering wheel and letting them tell the story of Vegas ProAm Round 4.
Top 16
Forrest Wang vs. Tanner Baer: After a run in with the wall in top 16 practice, Tanner was able to fix his car in time for his run against Forrest Wang. Tanner had informed Forrest that he had transmission problems from the crash, so Forrest let Tanner get a good starting run before going all out. Tanner would carry his Miata as close to Forrest as he could, but would make major contact with the wall, and knock himself out with enough damage to render 5 minute repair time useless. Forrest Wang would move on to the Great 8 battles. (photo courtesy Collin Adair of Autovotion.com)
Forrest Wang: "The first run with Tanner was short since he crashed on our first run following me, I didn't even see him. I finished smooth and proceeded on to Great 8."
Tanner Baer: "First run of top 16 practice felt awesome till the end where something felt a little off. I decided to shake it out in the next run, and in doing that, I was riding the wall and it just all of a sudden turned me about 150 degrees into the wall. Got it towed back to the pit to look at the damage. Looked like to much to fix so all I wanted to do was throw it on the trailer and call it a day. We got the truck to pull out most of the dent, I had an extra tie rod and Danny George had a spare Lower control arm. It was coming together super fast thanks to Joshua Hadlock's help! I decided we should just go for it, being my 3rd ever competition tandem, I needed to show the judges that I can drive. Told Forrest that I didn't have 2nd gear from the crash, so he let me get into 3rd before he got on it. Went into the first corner floored and as close as I could get, while I was smoked out. Transitioned hard with him and it just pushed again into the tire wall this time. Had a lot of fun and can't wait to drive it again with a couple of changes. I would never hit Forrest Wang like some people told me to do, because I come from a drama filled background of dirt track racing where I get close to someone and they flip out. I am glad that I can avoid drama while drifting because it is more of a subjective form of motorsport."
Eric Hill vs. Cameron Moore: Eric Hill was to lead in his run against Cameron Moore. Cameron was chasing and initiated as he had been doing all weekend, but was unable to keep drift at the first clipping point, and was unable to catch Eric after straightening out. Cameron Moore was to lead on the second run of the battle, and spun in front of Eric, giving Eric the win.
Eric Hill: "For the Cameron run, I knew he had power so I just went for it. At the last clip I didn't see him so I hoped I had the advantage, on my follow run he spun so I got the win."
Cameron Moore: "Got matched up with Eric Hill and knew I would have to go hard and use my power against him. He lead the first run and I chased. I had been initiating my drift at the first set of cones all day ran my line like I was in practice, but was just coming in too hot on the back rear clipping point and lost drift and was never able to catch him after that. Second run I lead and initiated before the first cone 'cause I knew I had to make one crazy run. Pulled the rear clipping point off that I had lost drift in the first lap, and did perfect on the next point, but was trying to go to hard and over rotated the car and spun out."
Brandon Wicknick vs. Frank Cundari: Brandon Wicknick was able to keep close proximity to the clipping points over Frank Cundari on his lead run, and kept tight on Frank's door on his follow. The judges moved Brandon on to the Great 8. Both drivers had nothing but positive to say about each other. (photo courtesy Collin Adair of Autovotion.com)
Brandon Wicknick: "My car broke and I did ALL comp runs on 5 cylinders .Against frank, we both ran good. I had more proximity so I got the win."
Frank Cundari: "Brandon is a skilled driver and just drove better on lead and better on our follow run. He beat me as clean as you could ask for."
Kasey King vs. Shawn Smith: Kasey King was to lead while Shawn Smith was follow. On his lead, Kasey took a better line on the outside of the track closer to the wall than Shawn, who had fallen to the inside of the track. On Shawn's lead, he went a little shallow in the first clipping points, but pulled it super close and scraped the last wall for a good distance, kept drifting, and finished the run. Kasey had run into some debris and tried to avoid it, causing him to spin and give Shawn the win. (photo courtesy Collin Adair of Autovotion.com)
Kasey King: "I crushed him the first lap and had the advantage after I grazed the first clip, and set myself up to basically stay off the clips by a few feet throughout the whole track. We came back around for lap 2, and in practice he dogged his runs with me, so I expected him to drive a little faster, which he did. We hit the first clip and I followed his line deep, but didn't realize it was bound for a hit with the wall. I looked at him as we slid the long left and he hit the wall in front of me, throwing his wing onto the track, so I clutched in to avoid the hit with him and slammed it to second. When I did that, I kicked it and my inside tire stuck against my control arm spinning me out. I was sad, but that's drifting. I beat myself, so some self improvement and tandem practice is needed."
Shawn Smith: "My first top 16 battle with Kasey King went pretty well. Going into  it I knew I had a good chance on moving on. I felt very confident after tandem practice. I knew he was very fast, but didn't get as much angle as I did. I followed as good as I could, even though I did not have the best launch. On my lead run, I knew I need to get crazy, so I entered pedal to the floor and went as fast as I could while still getting good angle. I wasn't the best in the middle of the track, but I knew I could get really close to the last part of the wall, which I had crashed into the day before. I went hard and even nailed the wall, but because I have a bash bar that was smashed, I hit the wall and kissed it for about 20 ft. Into the infield, I was able to see Kasey and that he had spun out. I had to keep my cool and not spin out. Went back to the starting line and got the THUMBS UP. So excited. Kasey is a great driver and I was so happy I was able to move on."
Andy Hateley vs. Garret Nikolich: Both drivers ran well in both their lead and follow runs, prompting the judges to call a One More Time (OMT). On the OMT, Andy ran faster than his previous lead,  Garret transitioned cautiously in what seemed to be to avoid contact, causing a gap and fumble in front of the judges. On Garret's lead run, Andy came in along the wall a little too fast, but slowed down enough to make the third clipping point. Judges awarded Andy the win.
Andy Hateley: "I ran a clean, fast line while in front but he stayed with me, especially in the slower section of the course. Being in a 3100lbs car becomes a big burden in tight sections like that. Garret ran well in front, I was able to stay with him but I made a few mistakes. I think he made a few mistakes following because I thought he had it in the bag. Judges decided for a one more time. I ran a bit harder that before but he still stayed there until the end. I tried to get as close as I could when following and dove in a bit too deep on the transition leading into the 3rd clipping point, but I was able to slow the car enough and slide up to his door and still make the next transition. Judges awarded me the win. Garret put up a good fight and he is a great driver, I think it just came down to who made fewer mistakes."
Garret Nikolich: "As a driver, I have several bad tendencies. One is I follow too close, the other is I really loose my cool when they call one more times on me. I felt pretty confident I won the first round, one of the judges thought so, when they called OMT, I lost it… when Andy made his first transition, I timed it wrong, and I was so close that I would of caused contact if I didn't transition when I did. It made a huge gap, and was a mistake made right in front of the judges. I think in my opinion that's why I lost. It was very difficult to follow Andy's line. After watching the pros and driving with Forrest, I was running more outside. Adapting to that line was kinda weird too I guess… that's all I really saw from where I was sitting."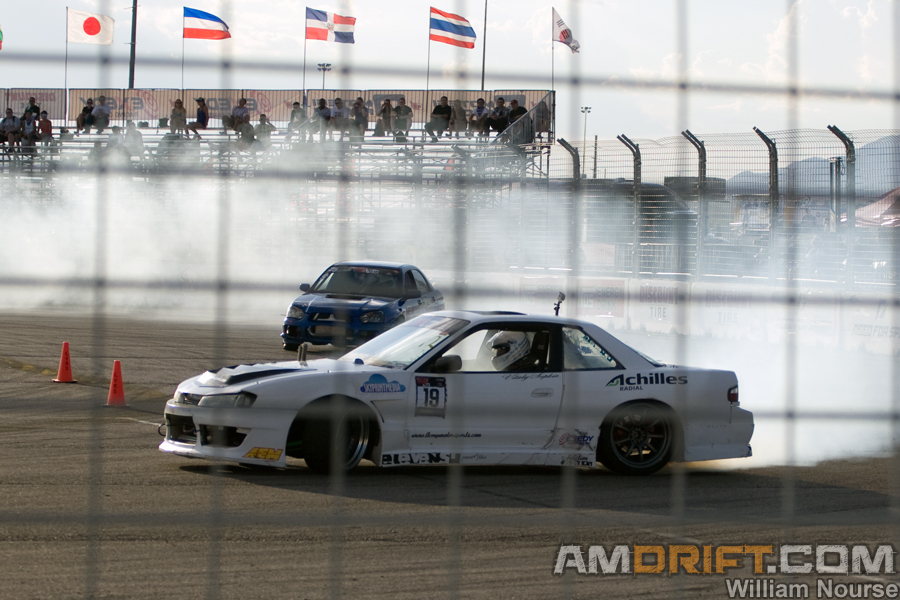 Vitaly Sopkin vs. Derrick Lopez: Vitaly Sopkin took the lead on this run against Derrick Lopez. Vitaly had a faster car, so immediately put a distance between him and Derrick, but took out the first clipping point as he struggled with front grip. Derrick was able to maintain a solid line behind Vitaly. On Derrick's lead run, all he had to to was run a good line and transition smoothly within close proximity to the clipping points. Vitaly seemed to have issues following Derrick, losing control and spinning at the first clipping point to the infield, giving Derrick a Great 8 spot.
Vitaly Sopkin: "My first battle was up against a consistent but lower horse powered driver Derrick Lopez. My first run I noticed the car once again had more rear grip then front and I wasn't able to let the rear end hang out like i prefer and ended up putting down a very "Blah" run and took out the first clipping along the way. Since for whatever reason I still suck at following slower cars i figured I would give him a bit of head start and try to reel him in by the beginning of the S section of the track. and once again after the initiation the rear gripped up and i ended up taking a shallower line to catch up. Coming into the first clipping point on the infield i was pretty much on his rear and knew I had to apply whatever pressure I can. Unfortunately I made that decision as he was slowing down for the transition and when I attempted to left foot brake before the transition the car just came around.. 🙁 "
Derrick Lopez: "My first run with Vitaly was tough right from the launch. He pulled on me hard from 1st to second and then to third gear. He had a few car lengths on me on initiation, so I just ran a good line and by the 3rd inside clipping point I gained a little on him, but not much. On my lead run, I just ran the same line I always ran, but held full throttle as long as I could to try and pull away from him. I could hear he was close, so I just pushed and after I crossed the finish line, I seen he spun behind me."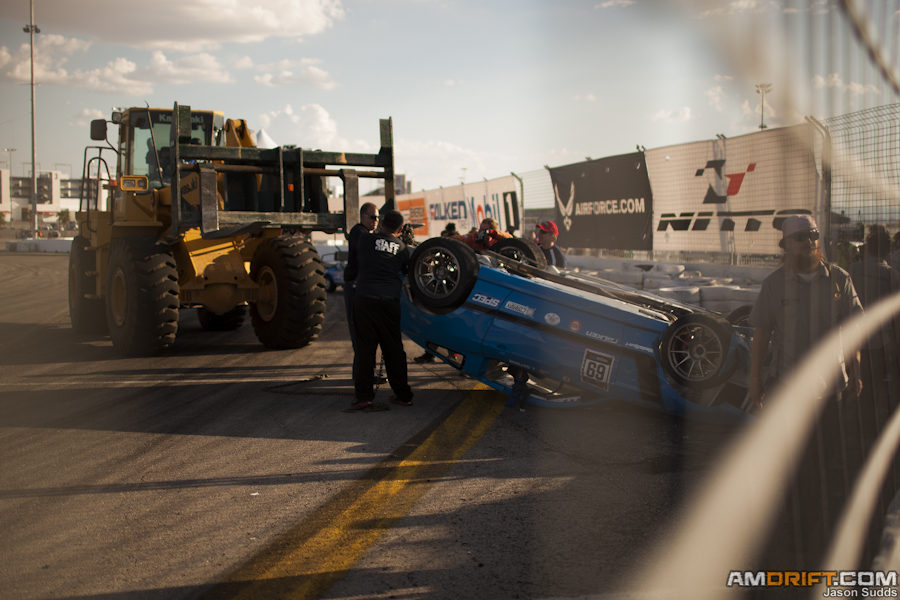 Alex Villabrille vs. Jim Guthrie: Jim Guthrie was to follow Alex Villabrille on the first run. Alex set a nice line for Jim to follow, but Jim pushed too hard and spun near the end of the course. On Jim's lead run, he pushed a little harder than he wanted, and momentum carried him straight into the tire wall after the first clipping point. Jim's Mustang crashed hard, flipped upside down in the air, and landed on it's roof. Everybody at the track heard the impact and ran to see what had happened. Alex was able to avoid following Jim into the tires, stopped drifting, and drove back to see if Jim was ok. Jim was able to exit the car and walk away under his own power, but it was a very scary moment for every witness. Alex was moved on to the Great 8.
Alex Villabrille: "On my lead against Jim, I did a normal lead lap and he had spun on second to last zone trying to close in on me. When he lead, I know he was pushing hard because of his spin, but after initiation, his car didn't rotate to transition and began to understeer into the tires. As I saw that, I ebraked shortly to cut my line shallow and continue drifting. As I saw his car flip I immediately did a 180 and turned back to him. Glad he was okay!"
Jim Guthrie: "I hadn't had an issue there all weekend, but … It was a really weird deal going into the transition area, as I turned the wheel left after the first inner clip, the weight transferred to the left front and the car stuck. It's like it stopped drifting. At that point it was headed to the fence, so on with the binders and hold on for the Joey Chitwood Thrill Show! I didn't expect it to turn over, but over it went. I'm glad I was able to provide plenty of photo ops for everyone. LOL. Always shiny side up!, Jim G….P.S. My number was 69 for the first time in my life. I wonder if that had anything to do with it. It reads the same right side up or upside down!"
Oh that Jim Guthrie, always in best of spirits. We are very glad that Jim is ok. He is the epitome of doing what you love.
Check out these series of photos of Jim Guthrie crashing and flipping, by Joe Ayala of Lifeblasters.com. Head over to their site to see more awesome Vegas FD coverage. Photo and link used with permission.
Dan Brockett vs. Spike Chen: Dan Brockett leads first and Spike Chen follows. Dan took a shallower line than the judges wanted to see, and Spike was able to give him a close chase mimicking everything Dan did. On the second run, Spike took the lead and put some distance between him and Dan with horsepower. Spike came to the first transition and had trouble carrying speed through to the first clipping point, so he straightened out and gave Dan a chance to suck in and follow closely the rest of the run. Spike's mistake in the first clipping point area, was the deciding factor in Dan Brockett moving on to the Great 8.
Dan Brockett: "With Spike, I had a decent lead run, a bit shallower than I wanted to be, and spike had a great following run, nice and aggressive. The horsepower gap was pretty evident on my following run, as he blew me out of the water at the start. I caught up to him just as he straightened out in the section near the first outer clip, giving me the advantage to move on."
Spike Chen: "The follow run was good, nothing to pick at there. For the lead run,I had a great start. lots of lead. Entering into the first clipping point, everything was really good. The problem started when i did my first transition. I transfered way to early, which means i had a lot of distance to cover to the first outer clipping point. I did a little left foot breaking to try to bring me out to the first clip and that scrubbed off some speed. That gave Dan the chance to catch up, and since I scrubbed off too much speed and was unable to reach the second clip, I pulled my ebrake to slide out to the second clip, once more killing my speed. The rest of the run was ok. Those series of events and corrections was more correction than Dan in his run and my good follow, and the judges gave the win to Dan. I 100% agree with the judges decision. Should i have transitioned later on the first clipping point, I would have moved on to top 8 since I would have never lost speed and Dan would have never caught up to me."
Great 8
Forrest Wang vs. Dan Brockett: Dan Brockett was to follow Forrest Wang first. There seems to have been some confusion on who was doing what, being Dan was still leading coming up to the initiation for the first clipping point. Dan Brockett slowed down to let Forrest get by to lead, which put him on a different line than he wanted to take through that part of the course. Dan shut it down and drove the rest of the course with no drift. Forrest followed Dan on the next run, but was able to stay close even though the lead line Dan was taking was super deep and close to the wall, exactly what the judges wanted to see from both drivers. The judges awarded the win to Forrest, no question the reason being that Dan's follow run had some errors, and Forrest sticking close to Dan's door on the follow.
Forrest Wang: "We had a good clean battle that ended in 2 runs with me mimicking his line through the course well."
Dan Brockett: "Forrest has probably double my horsepower, so I thought he would blow by me in the straight so that we could enter together in tandem. I got to the 3 cone initiation point and I was still ahead, so I had to slam on my brakes to allow him to pass me. This made me enter late, and I was pretty much off course the entire run, and just drove the back half without drifting at all. My lead run was my best run all weekend, going super wide on both rear clips and made a ton of smoke. I was bummed out that I didn't move on, but it was awesome nonetheless."
Shawn Smith vs. Andy Hateley: Shawn was the follow car, but went into the tires directly after the first clipping point where Jim Guthrie had previously flipped. Shawn Smith's car was unable to be fixed within the 5 minute allowed time period, so Andy Hateley moved on to the Final 4.
Shawn Smith: "For Great 8, I had Andy Hateley who I have seen drive in other competitions. He is a very smooth driver and has been driving for a very long time, but coming off a win the top 16, I felt I had a chance to move on. When I got to the starting line, I felt my power steering get really hard, which I have had problems with the past 2 months, but I didn't want to call 5 min because I would have had to replace my rack which would have taken to long. So I followed Andy, hit the entry and the car would not get sideways. I tried to clutch kicking again and it still would not get sideways. At this point I knew I was screwed. I then ripped on the ebrake to bring the car around so I wouldn't hit the tire wall dead on. Still crashed really hard but the car was fixable but not in the allowed 5 min. I was happy with what I had done for the weekend. There were so many great drivers there and I was blessed to be able to make it to the Great 8. Vegas Drift was a great experience this year and I will be back next year with the goal of getting my FD license. Thanks for your interest."
Andy Hateley: "When I ran with Shawn Smith, he crashed into the tire barriers on the first run. I didn't see the crash happen behind me, I noticed he was not there sometime after the 2nd clip. I saw the crash on the livestream later that night. He initiated a bit too early and had to straighten out right before the 1st clip, then tried to get the car to drift again just after the clip, and this took him into the tires. Shawn is a great driver and I really was looking forward to following the mullet car."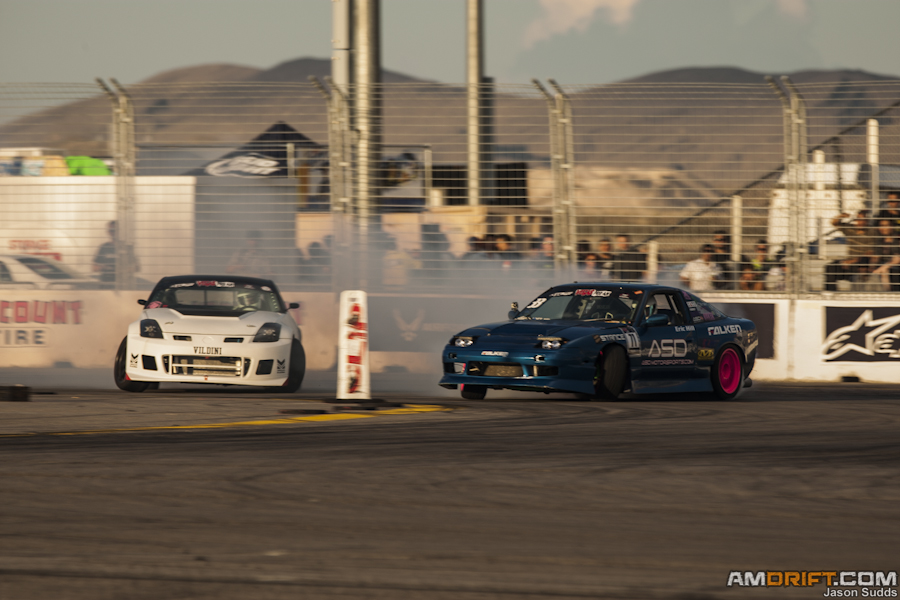 Eric Hill vs. Alex Villabrille: Eric Hill and Alex Villabrille would both pull off very clean, consitant, and close runs, prompting the judges to call One More Time not only once, but twice! After the 2nd OMT was called, Eric chose to take 5 minutes and put new tires on the car. Alex did not, and Eric came out with fresh grip and was able to take the win to the Final 4.
Eric Hill: " I always like running against Alex because he is so consistent. Go figure both our lead and follow runs warranted not only 1, but 2 one more times. After the second one more time was called, my tires were done. I called 5 min and changed my tires, Alex didn't have any tires left, so on the next run that extra grip gave me the advantage and the win."
Alex Villabrille: "With Eric, we were just going back and forth because id make a mistake, then he would. Once he put fresh tires on, I had no chance since I was on my last good set of tires."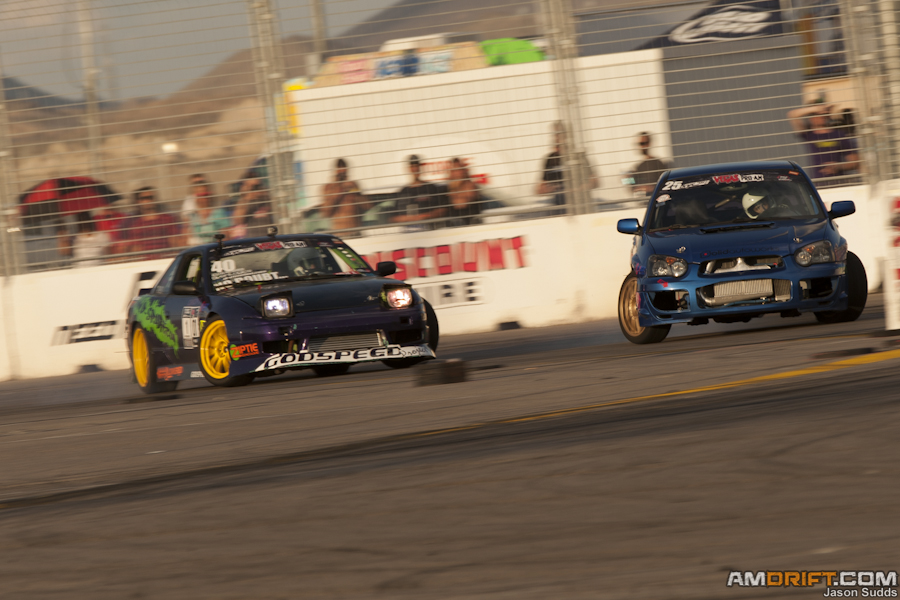 Brandon Wicknick vs. Derrick Lopez: Brandon Wicknick, still on 5 cylinders, was able to hand on Derrick Lopez's door like he was tied to it by a 4 foot rope. Derrick had trouble keeping up in his Subaru, being extremely underpowered compared to the 1JZ of Brandon. Brandon moved on to the Final 4.
Brandon Wicknick: "I was able to suck up to him at the first inside clip and glued to his door. I was told by many that it was the closest tandem of the day (besides Andy smashing Forrest lol)."
Derrick Lopez: "Brandon was pretty much the same story as Vitaly, except he didn't spin. I found out I need more power just by following these guys. Can't wait till next season."
Final 4
Forrest Wang vs. Andy Hateley: On this set of runs, Andy was to follow Forrest first. Forrest had a great initiation before the first clipping point, carrying good speed and angle in front of the judges tower. Andy followed a little too fast, so he performed a series of corrections while following Forrest through to the area between the 2nd and 3rd clipping point. Andy was following fast when Forrest slowed to setup for the infield transition, causing Andy to react and slam on the brakes to bleed off speed, but still making hard contact with Forrest causing both cars to catch a little air and lose pieces of bodywork. Andy Hateley and Forrest Wang made it back to the pits with broken suspension parts, but Andy's car was beyond repair in the allowed 5 minutes. Forrest would advance to the podium final battles. (photo courtesy Collin Adair of Autovotion.com)
Forrest Wang: "Next up was Final 4 where I went against Andy. Going into this round I felt good and was just going to do what I did all weekend, drive good and hard as I had in my #1 qualifying run. So first run in I'm riding the wall on the correct line that the judges were asking for. Not many of the ProAm drivers could consistently take the wall line. Coming into the U turn, I grab ebrake and apply some foot brake to set up for this slower section of the course, as most FD drivers do as well. Then out of nowhere, Andy crashes into me on a way shallow line pushing me into the air while bending my car in multiple places. I land and lay back into the throttle to maintain drift, but when I got to the switchback, I was unable to keep drift since my control arms and tie rod had been bent so bad. That was it for top 4. I rush back to the pit and bend back my tie rod the best we could to get to the line for the finals."
Andy Hateley: "With Forrest, I was following first He initiated pretty fast and had some good angle and moderate speed passing the first clip. I came in a bit too hot and checked my speed in that area. We transitioned and headed for the first outer zone and he was going a bit slower than I had anticipated. I had to go down to third gear and this messed up my line a bit. I had been running that part of the track all day in 4th gear. Now I was in third gear chasing him down on a bad inside line as he is throttling away from me on to the 2nd outside zone. He pulled some ebrake and gets out to the outside zone pretty good and I am on a bad line but at least I will be able to get close to him so stay hard on the throttle. Then I realize he is going a lot slower that before, not really carrying his speed to the 2nd clip. I was expecting him to be going a lot faster right there. The clip was a late apex and I was going for max angle passing the 2nd clip before the transition to the 3rd. Forrest slowed the car down just after the 2nd outside zone. I was not expecting that, so I braked hard as soon as I realized how fast I was approaching him, but slid right into him, and hard too. My Z still has the dinky stock brakes and does not stop fast. I broke a rear suspension arm and broke the lip off my rear wheel. Forrest had a bent tie rod, I offered to replace the tie rod and he said it was fine. I apologized numerous times and told him that I was not expecting him to slow down that fast and in that area of the track."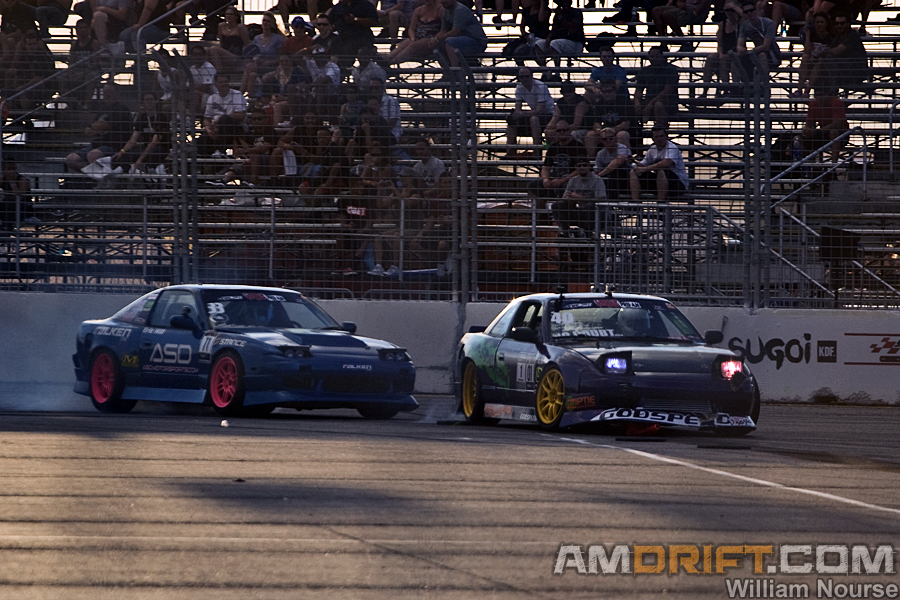 Eric Hill vs Brandon Wicknick: Eric Hill would be first to lead, going hard into the first transition, and keeping it consistent throughout the course. Brandon kept it close to Eric, but bobbled and corrected in the early zones. Brandon Wicknick would lead next with great angle at first initiation, but would have a minor correction, and Eric would remain super close the entire course, giving Eric the win.
Eric Hill: "Onto Brandon who was bombing it all weekend with some mad angle smokey entries. I lead the first run and threw what I could knowing he would be charging. I think he came close a couple times, but I knew I gained some space too. On my follow run, he initiated with plenty angle and smoke, but with the transition from the second wall to the first inner clip, he bobbled while I maintained. The advantage gave me the win."
Brandon Wicknick: "Against Eric, he was super tight on me. Following I made a big mistake and straightened between the first outside zones and he got the win."
Podium
Andy Hateley vs. Brandon Wicknick: Andy had broken previously in his run against Forrest and was unable to further compete, so Brandon defaulted to 3rd place podium!
Brandon Wicknick: "Andy's car broke so I defaulted to 3rd (luckily. I couldn't have beat him in my 5 cylinder car.)"
Forrest Wang vs. Eric Hill: At the end of Eric's run with Brandon Wicknick, a freakish raincloud hovered over the track and proceeded to dump inches of rain. After a period of waiting for FD officials to place equipment on track for the pro competition, Forrest and Eric were given the go to complete their battle for 1st place. Hitting a wet track in the rain, Forrest would lead and keep it slow and steady. Eric was caught off guard, expecting Forrest to go a little faster, causing an early correction in speed and line by Eric. On Eric's follow, Forrest would maintain great proximity throughout the course. The judges awarded Forrest the 1st place win, giving Eric a well deserved 2nd. (photo courtesy Collin Adair of Autovotion.com)
Forrest Wang: "Guess what… It starts pouring rain and I have bent back arms I haven't driven on yet, not a good feeling going at a wall that had been claiming cars all weekend. The run with Eric was clean and conservative since we both knew the consequences of rain and walls. I think I won since I got much closer to the outer clip the wall."
Eric Hill: "I was going up against Forrest WoooWhoo.. Always fast with plenty of smoke and almost undefeated in ProAm events. Right before our battle (which I didn't find out till later), Forrest got hit by Andy and bent some stuff. Also we had a random downpour from a random thundercloud that dropped a few inches immediately as my last run with Brandon finished. After about 10 minutes of waiting for course workers to put signs up on the track, the officials tried to get us to go while they were still working on the track. We were holding up FD, but neither of us wanted anything bad to happen to people on a hot course, so we waited it out till they were done. Since Forrest qualified 1st, he would lead. When I was following, I knew he would slow it down cause of the rain but his initiation was way slower than I expected. I had to initiate in 3rd instead of 4th like I was doing all weekend. We ended up too close too early and I had to shallow my line up and slow down, which made me straighten up a little bit. I lost it there and I knew it. On my lead run, I knew I could carry more speed, so I went for it. I don't really know where he was the whole time, but I felt his presence at least one or twice. Even though my setup was way off for the rain, I still had a blast, but wish we could have done it in the dry. Oh well next time."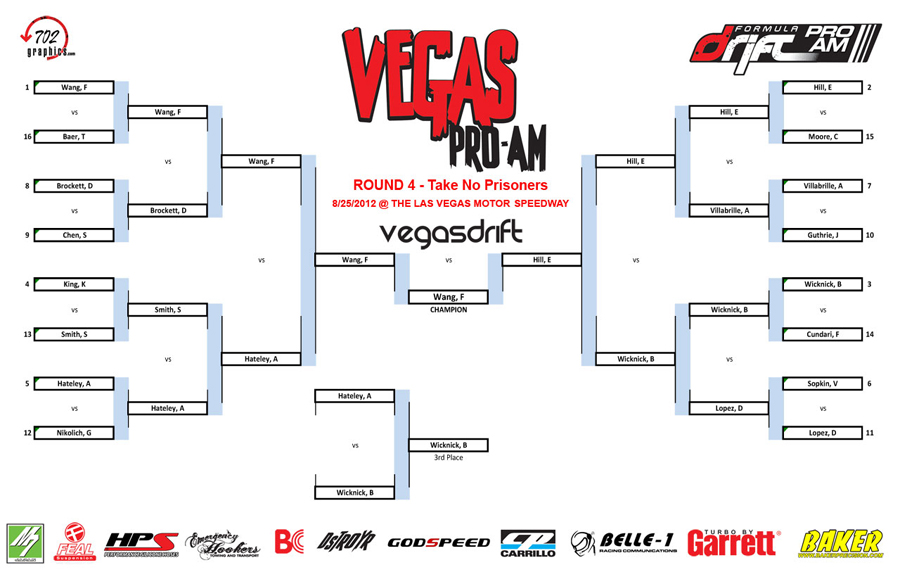 This is the all important Top 16 bracket, provided by Vegas Drift.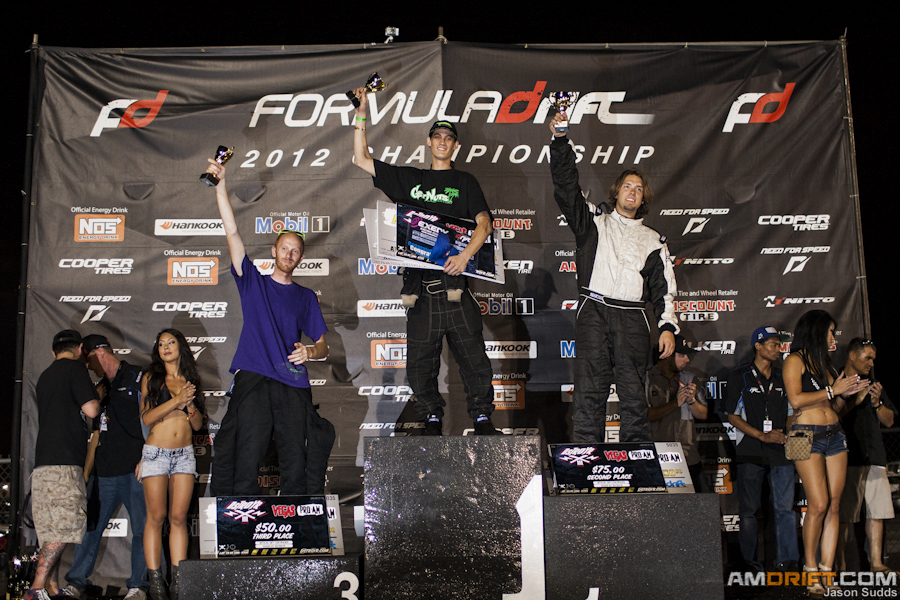 After an amazing round 4, Forrest Wang would take 1st place, Eric Hill 2nd place, and Brandon Wicknick 3rd place.
After a successful season, 2012 series champions would be crowned alongside 3 Formula Drift pro license recipients.
Vegas Pro Am Round 4 Champions:
(1) Forrest Wang
(2) Eric Hill
(3) Brandon Wicknick
Vegas Drift 2012 Series Champions:
(1) Forrest Wang
(2) Alex Villabrille
(3) Andy Hateley
Formula Drift Pro License Recipients:
Forrest Wang
Brandon Wicknick
Garret Nikolich
Andy Hateley, and Alex Villabrille were set to earn a pro license through Vegas ProAm, but earned theirs earlier in the month at Top Drift Round 4.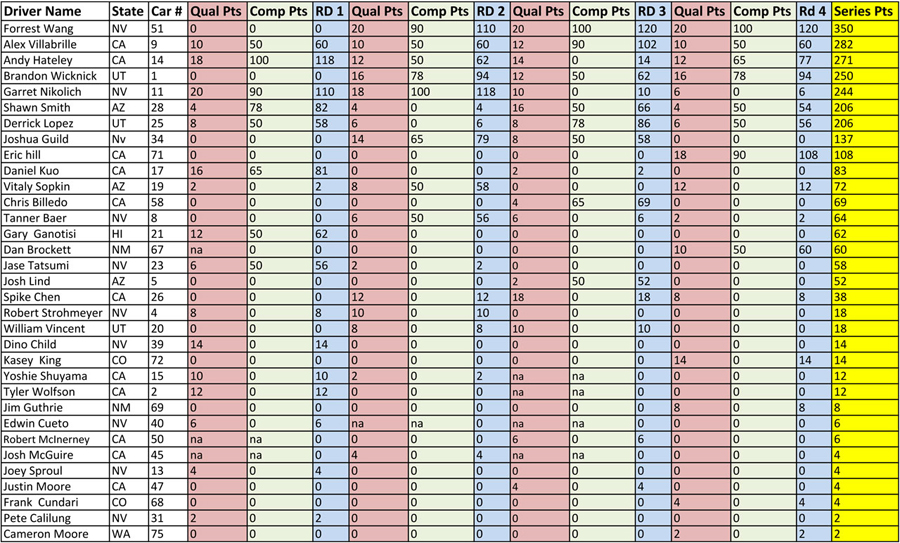 Thank you for enjoying our coverage of Vegas ProAm Round 4. Keep visiting AmDrift.com for awesome amateur drift coverage! Now its time to pack up and head home!