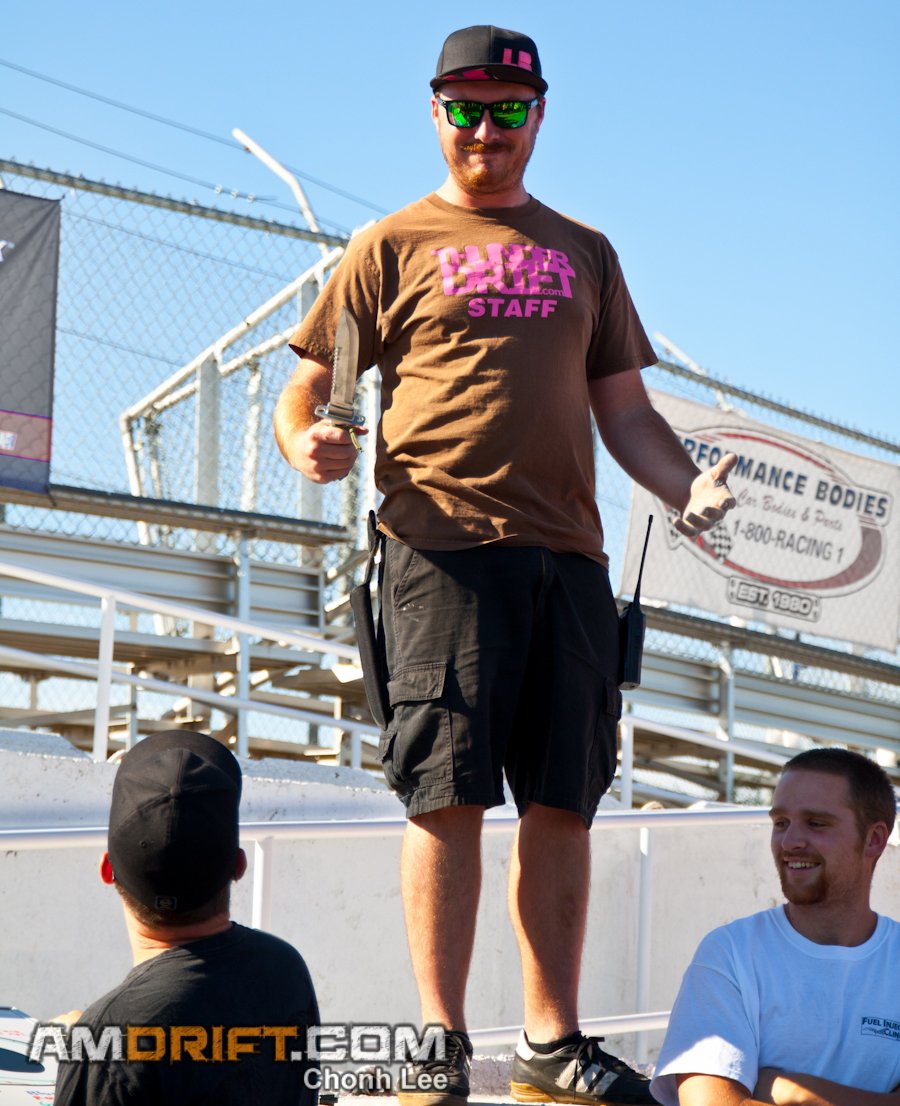 Many of us are familiar with Thunder Drift (TD) ProAm. For those of you who are not, well let me just say this, it was an awesome event! The guys from the TD ProAm series along with the Stockton99 course workers really did an awesome job in hosting an exciting event. The warm California weather was forgiving, although it was a toasty 97 degrees, the weather gods permitted a decent breeze to keep us cool all day.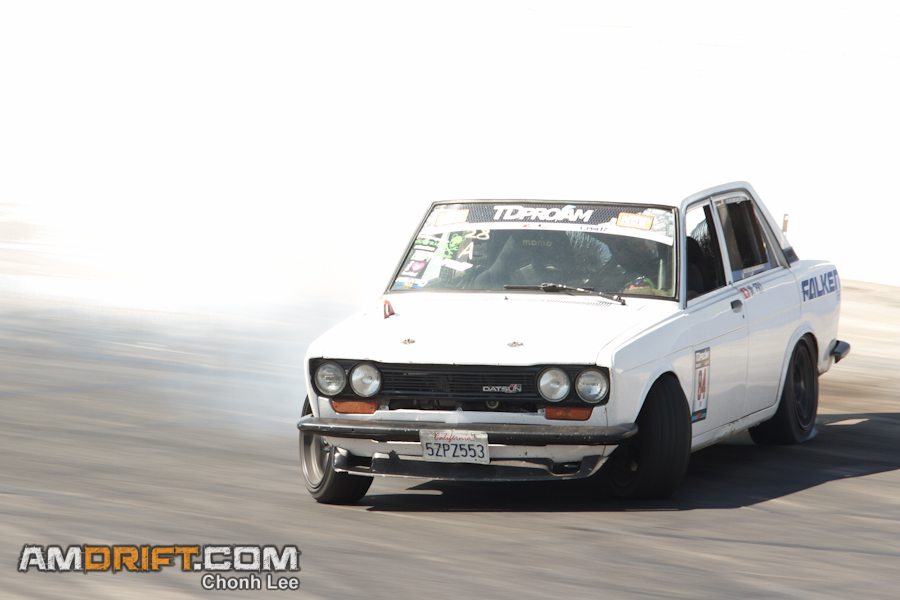 The Stockton99 track tested the driver's skills; the judges measured entry speeds up to 55 mph into a wall on a high angled bank.
Practice time allowed the drivers to become familiar with the oval course. Some drivers began to take wider entries into the second turn, while others choose to take narrower lines.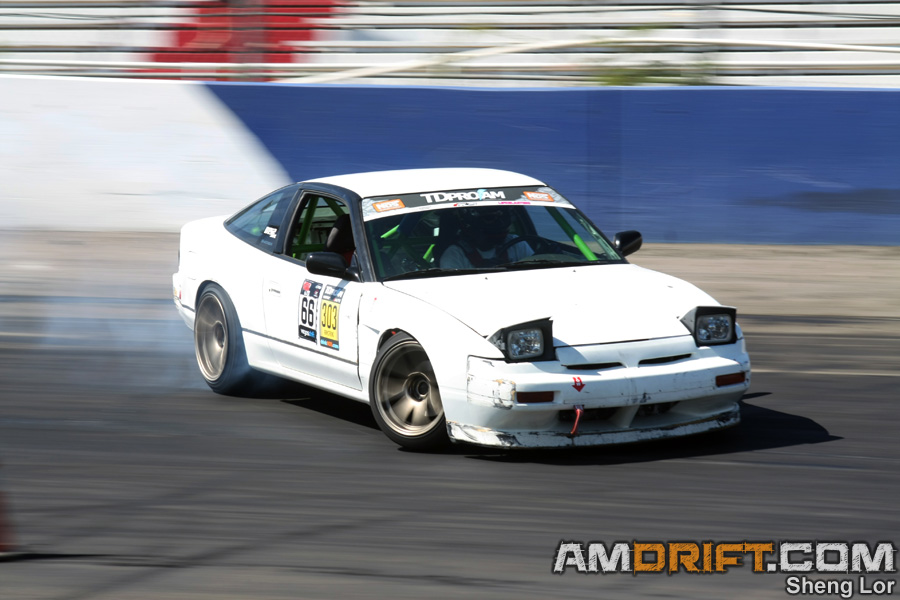 As drivers became more familiar with the course layout, they began to take more extreme lines hoping to discover that sweet spot on the track which would avoid the dirt and the giant tires guarding the turn.
Driver's skill and knowledge of the track shined as each of these top drivers smoked their way through the course.
As each driver took their turn qualifying, the judges Julian Jacobs, Jason Bostrom, and Luke Lonberger, deliberated as scores were awarded to each driver for their efforts.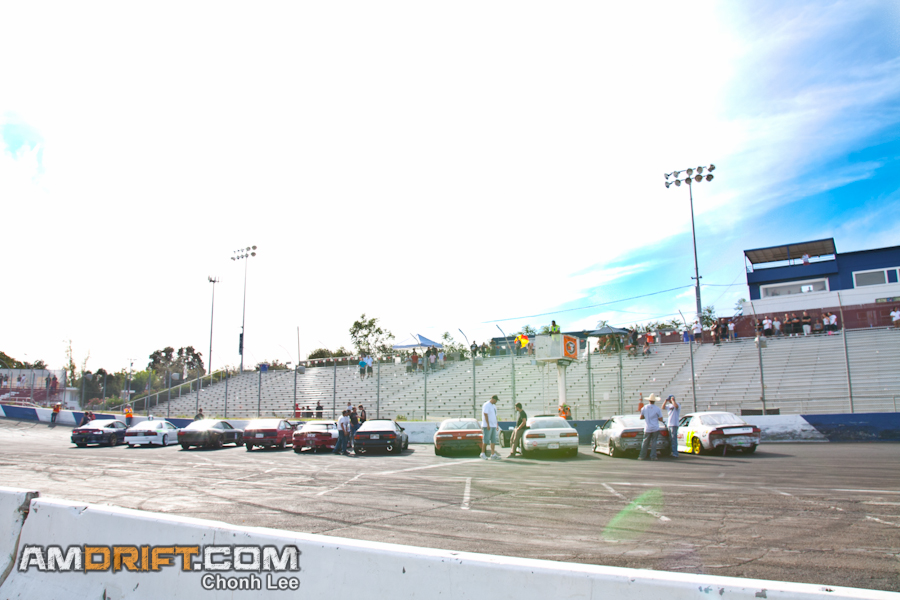 After awarding each driver their respected scores, the Top 16 lined up proudly as the national anthem was played.
Number one Qualifier with 85 points, Tyler Wolfson.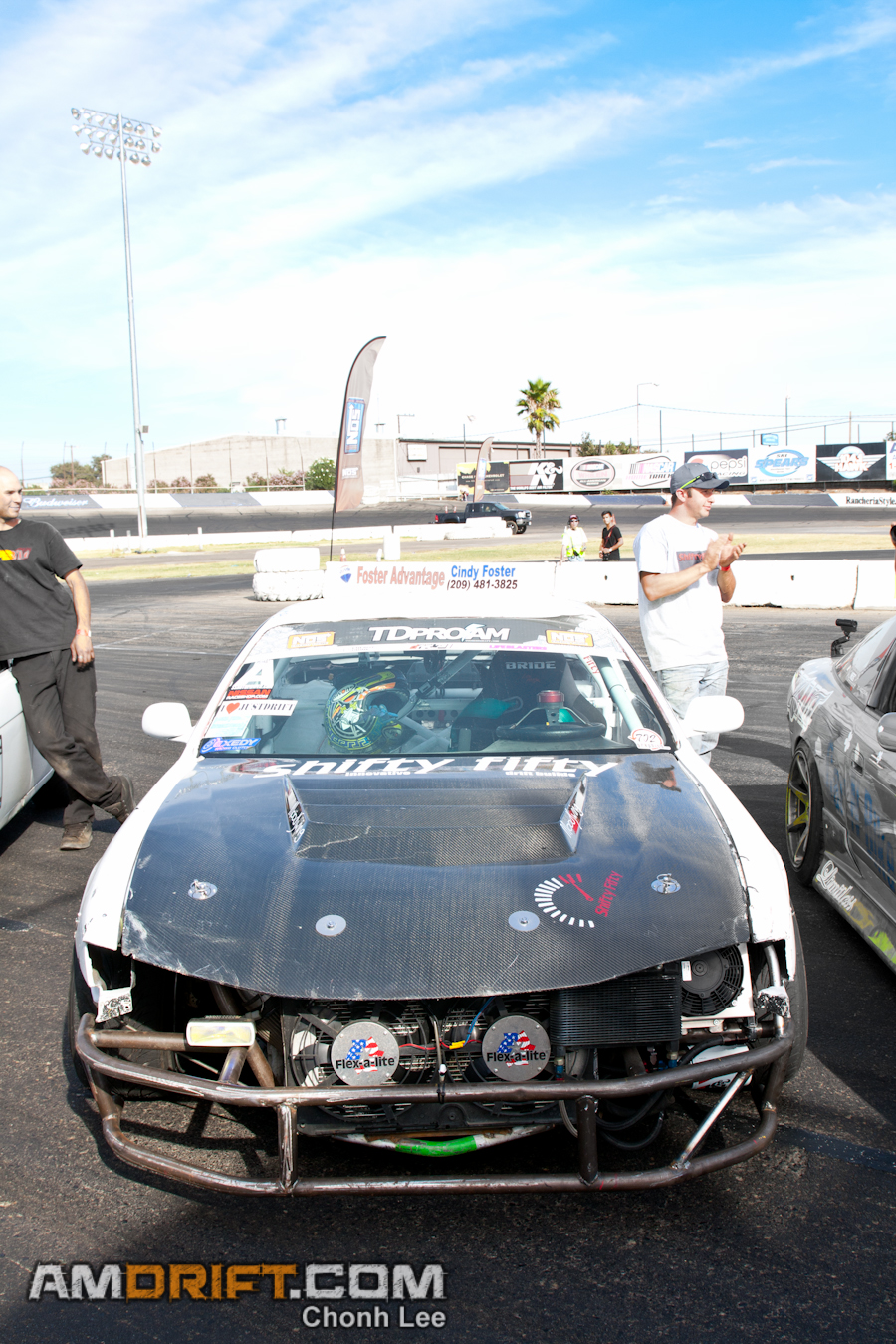 Josh McGuire qualified 2nd with 84 points.
Marcus Fry qualified with 83 points resulting in 3rd place.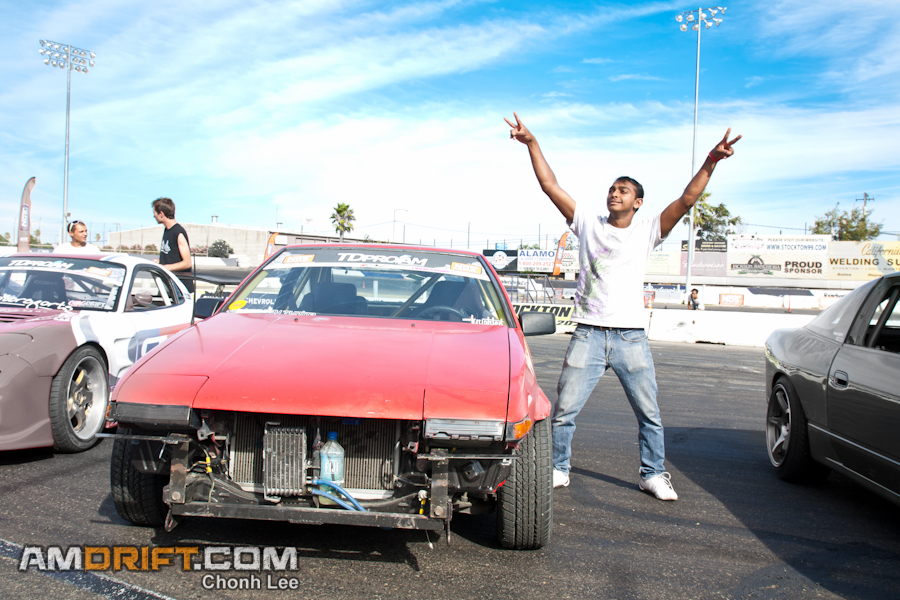 Alveen Gideon qualified with an amazing 78 points in his little 4AGE powered 86 hatch!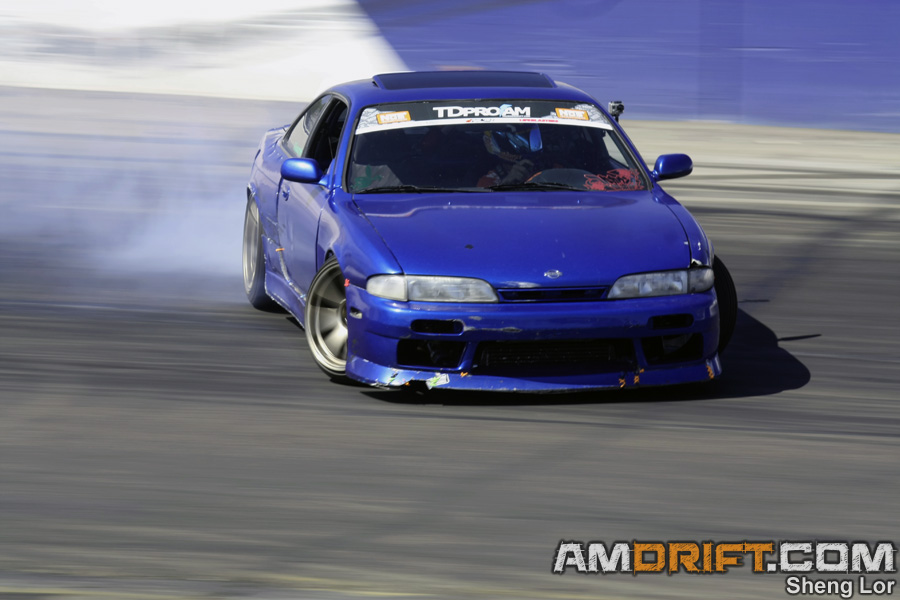 Sean Hoover, 73 points.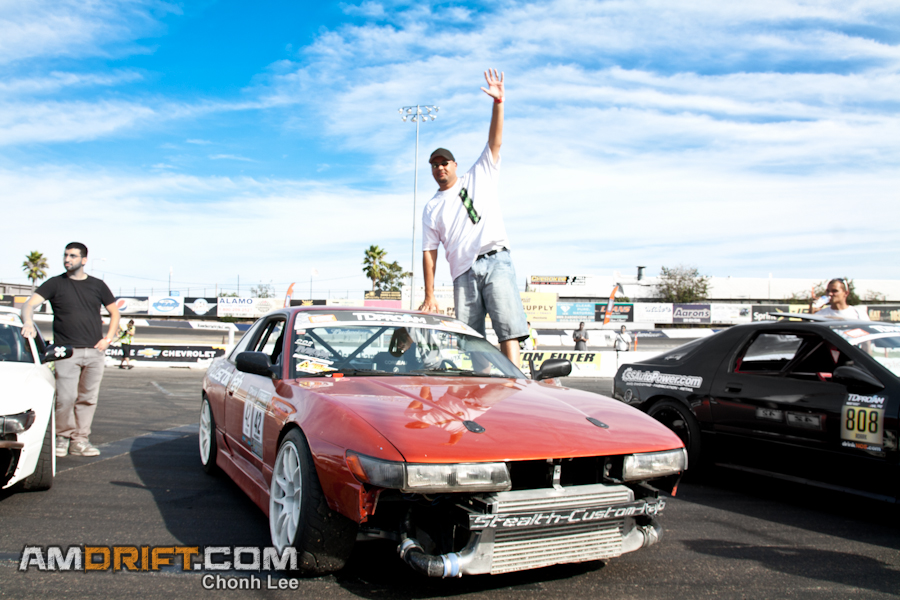 Robin Webber, 72 points, 6th.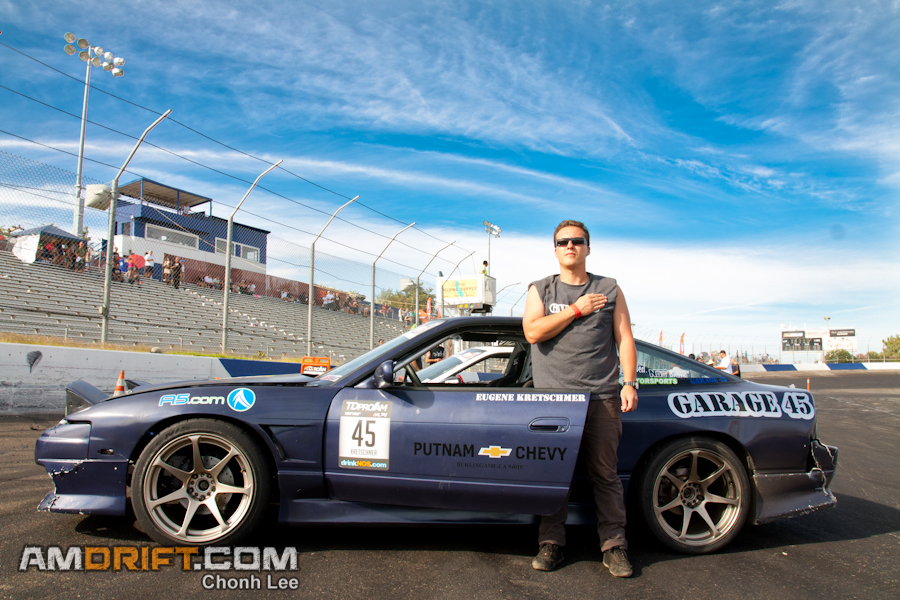 Eugene Kretschmer also qualified with a 72 point overall, tying him between 6th and 7th place.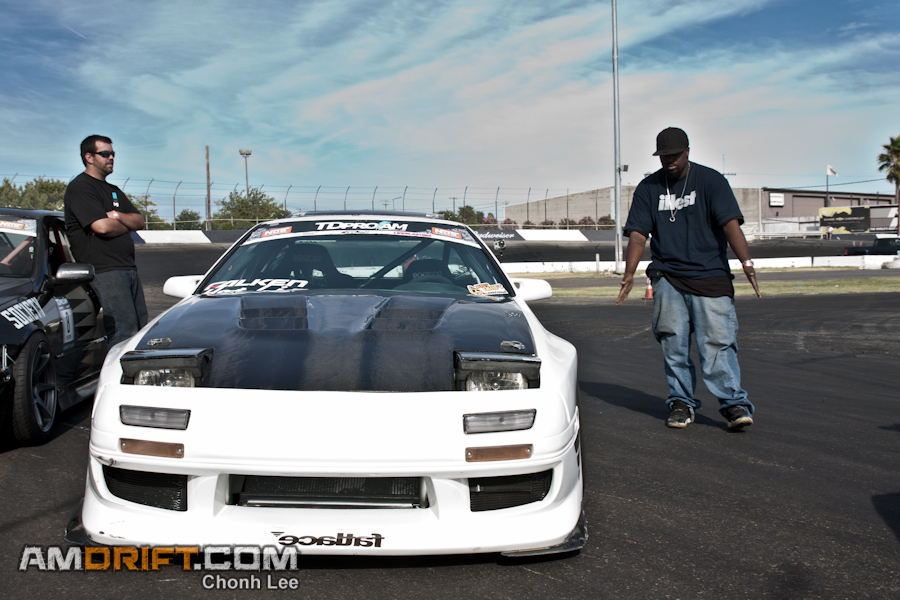 Lex King with his super clean machine, qualified 8th with 69 points.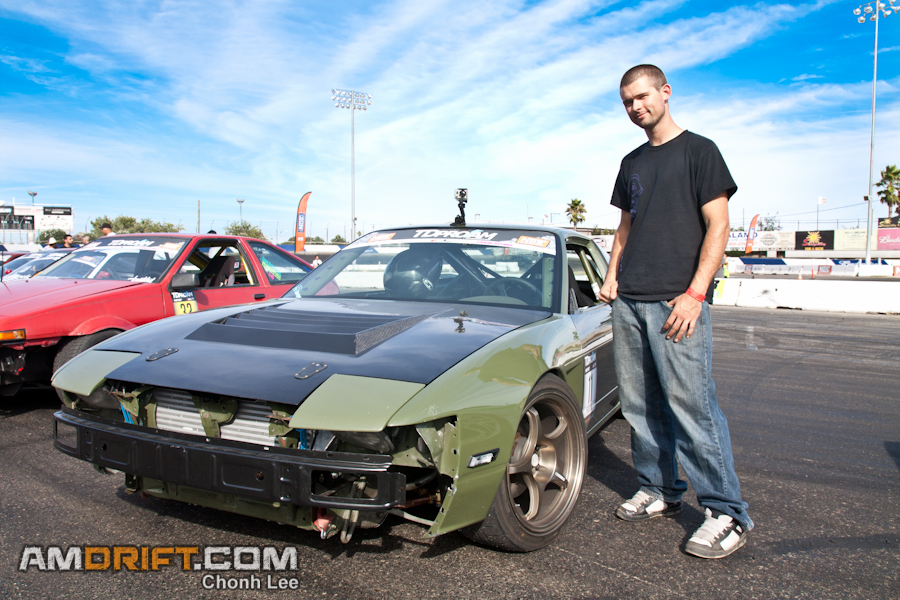 Matt Madrigali qualified 9th with 66 points.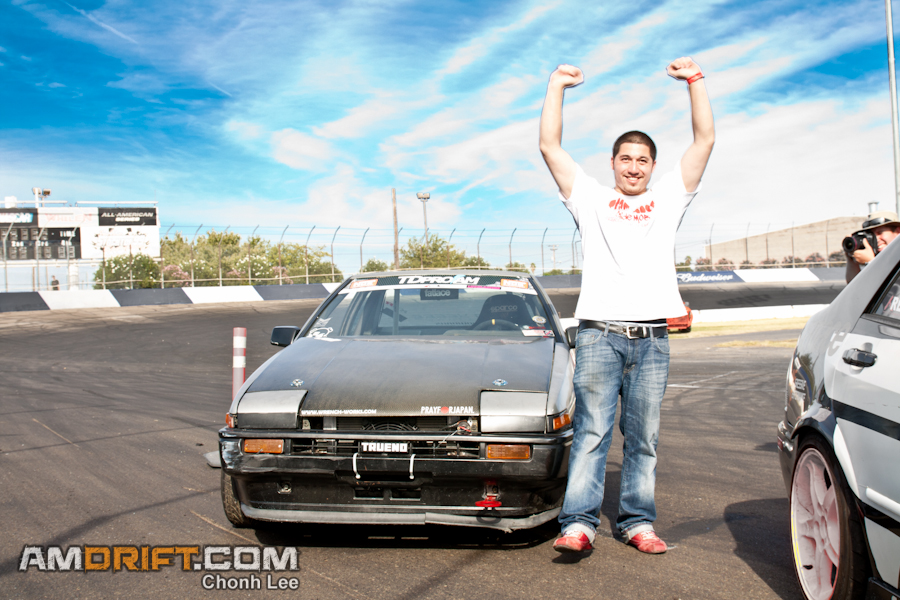 Henry Van in his 1UZ powered 86, was awarded 60 points, placing him in 10th place.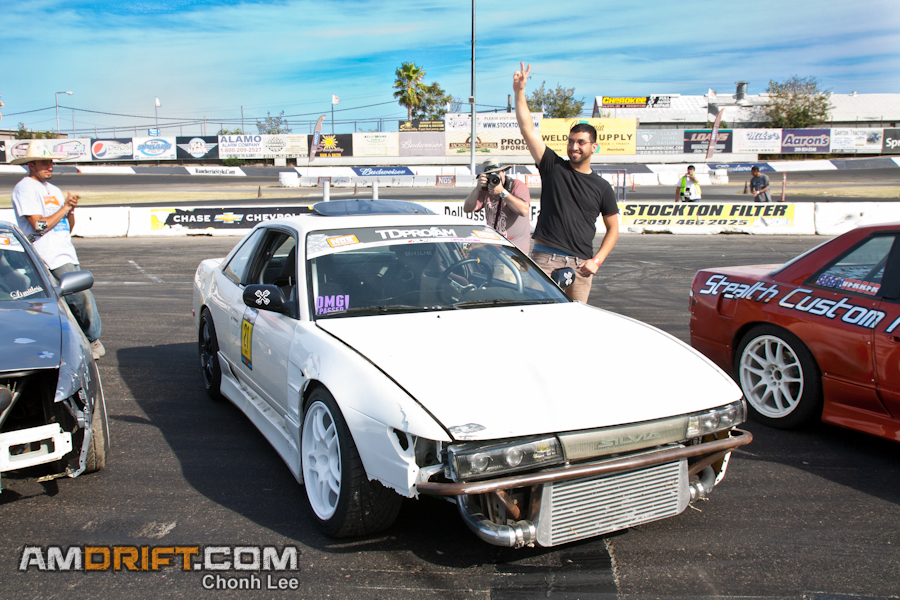 Nick Bayati with his KA-turbo, qualified 11th with 53 points.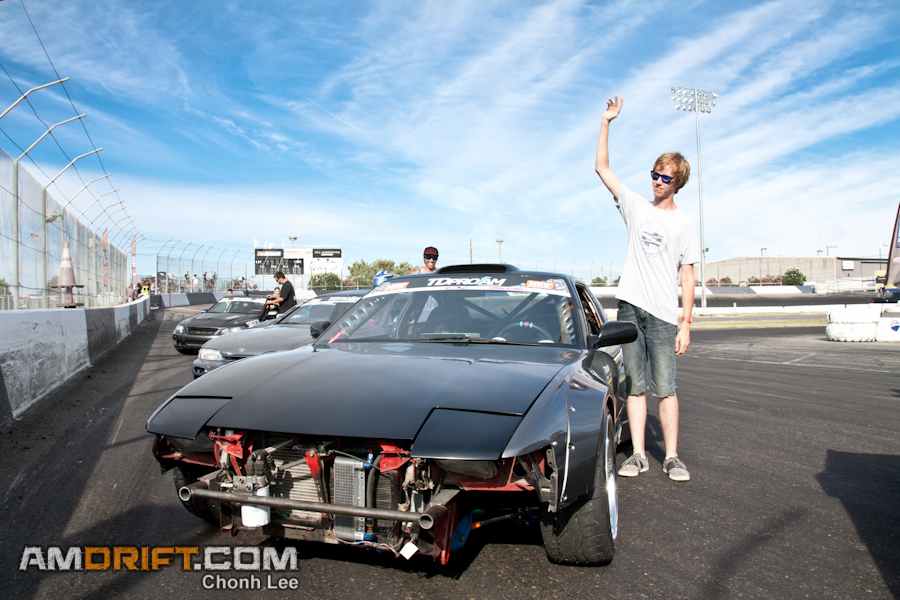 Matt Coffman form Oregon, qualified 12th with another tie of 53 points.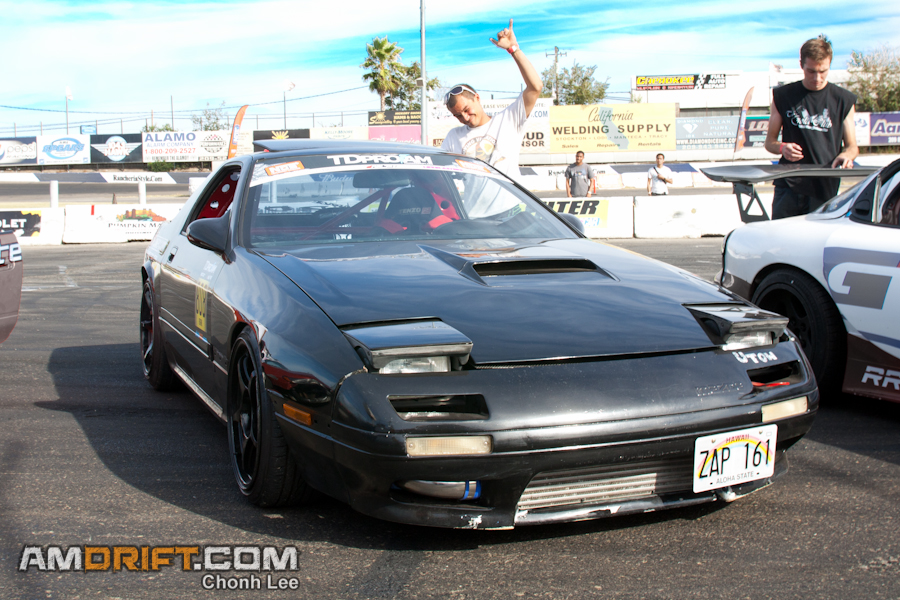 Geoff Roark was awarded 47 points in 13th place.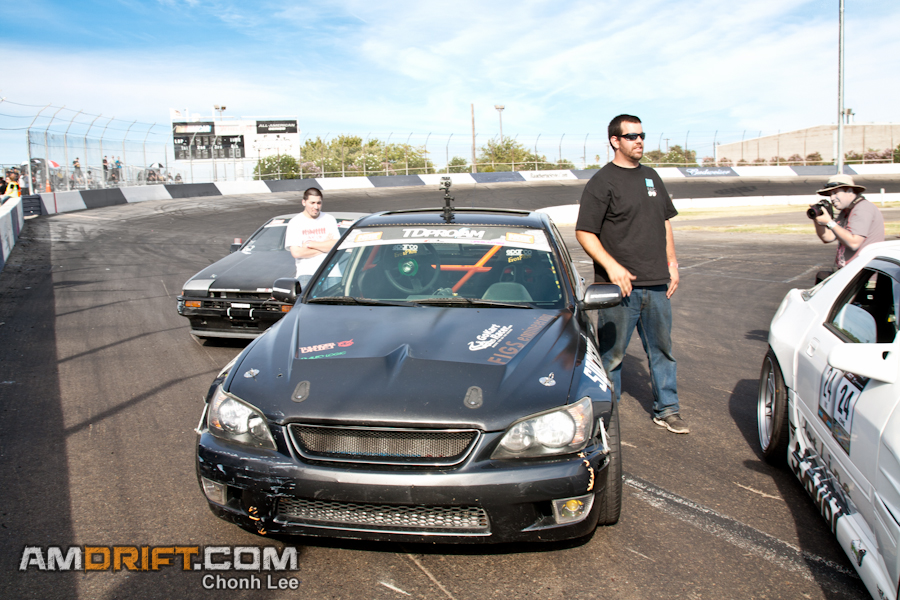 Joe McGuigan also qualifies with a 47 point run placing him 14th place.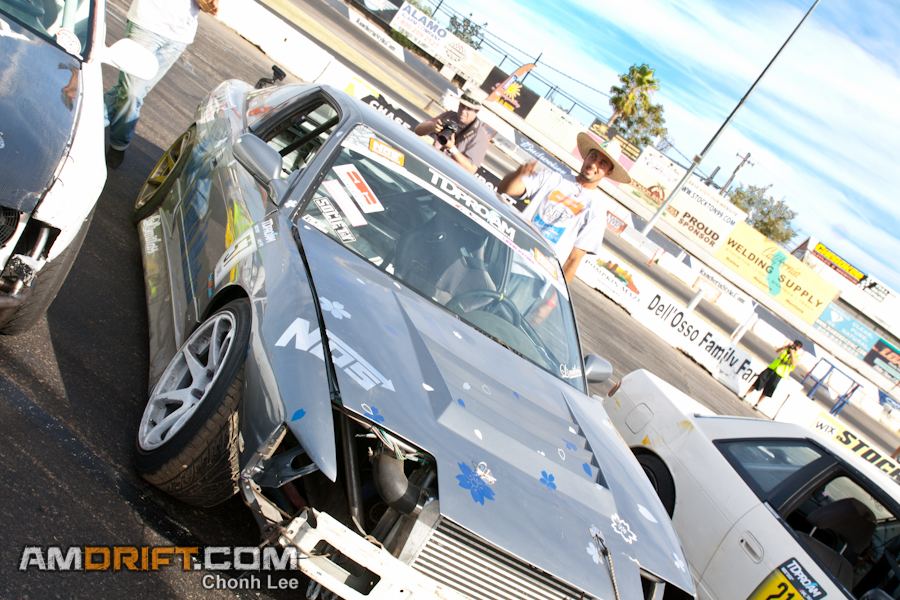 Jose Flores qualifies with 45 points, 15th place.
Joe Amies qualifies 16th place with 43 points.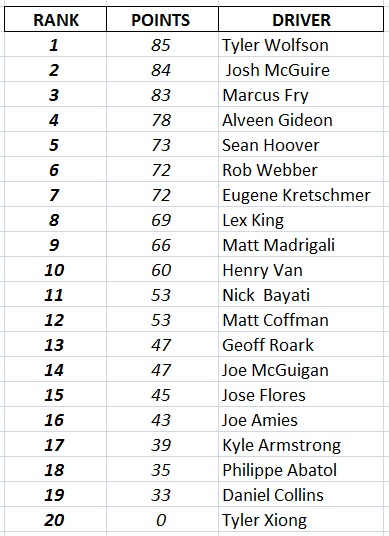 Drivers qualifying scores at Stockton99.
First match up was a rotary battle, Tyler Wolfson versus Joe Amies. Tyler Wolfson wins by decision and moves to Great 8.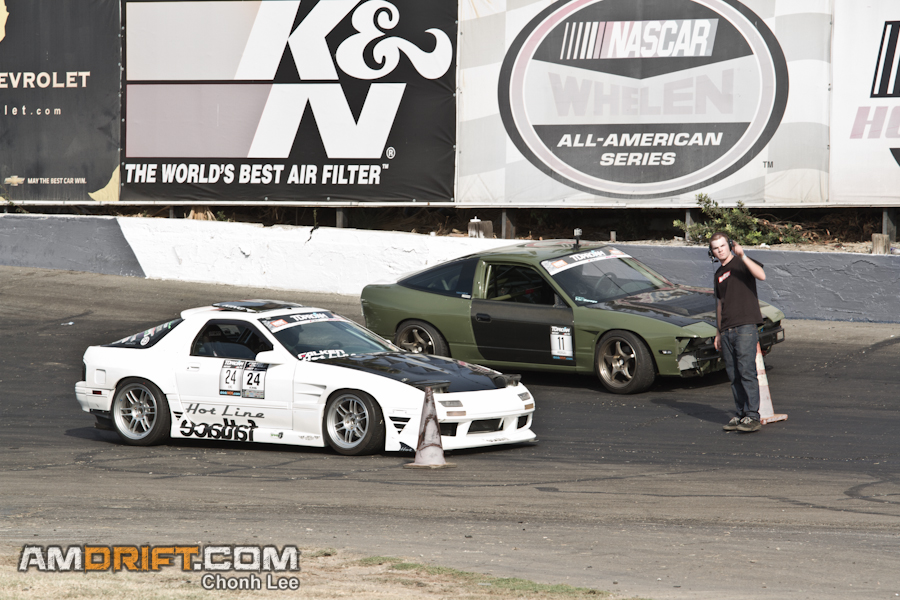 Second match up was between Lex King and Matt Madrigali; the battle was intense, the judges were unable to deliberate between from the first battle which lead to ONE MORE TIME.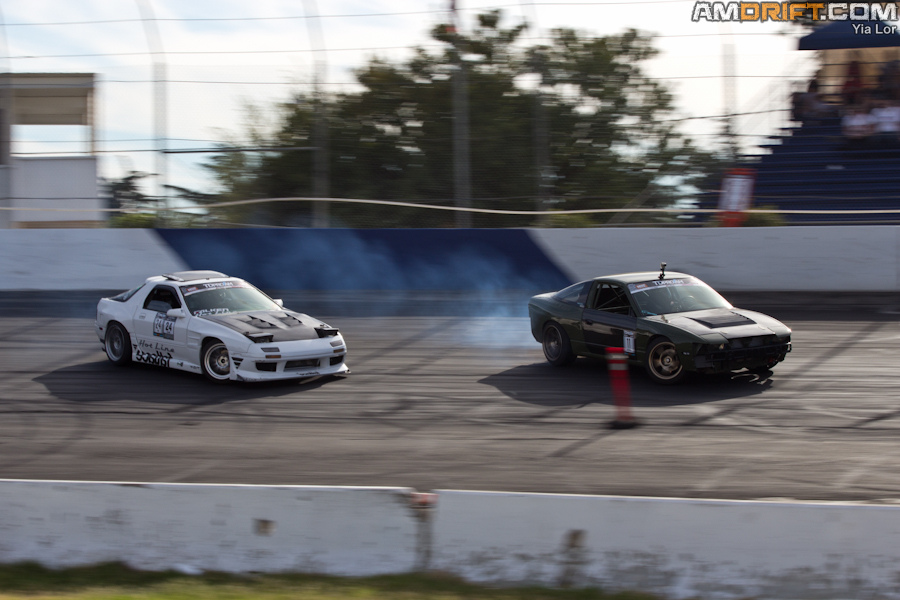 After another close battle between Lex King and Matt Madrigali; the judges decided that Matt would move on in the competition.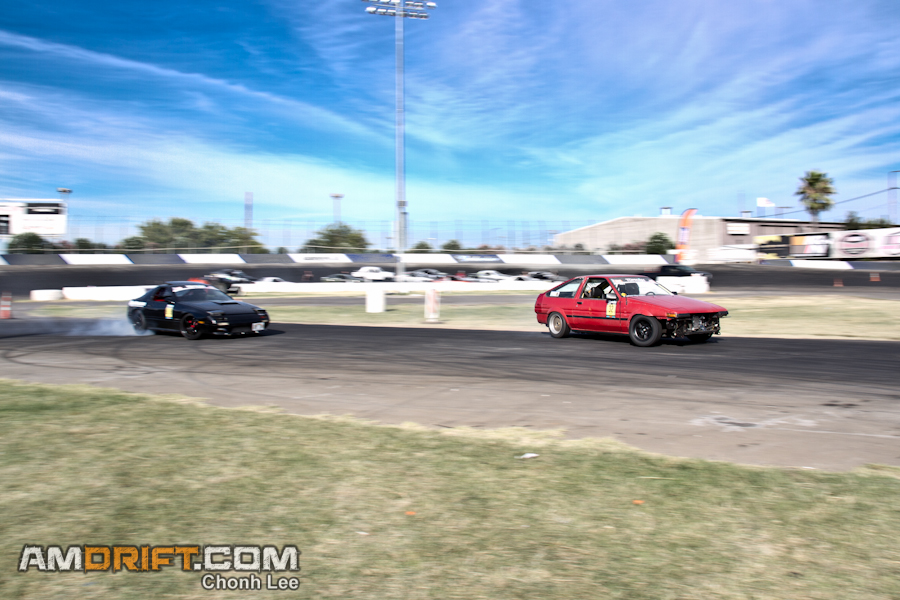 Alveen Gideon took on Geoff Roark, the battle was fierce, but Alveen was able to keep his line and moved on in his little 86.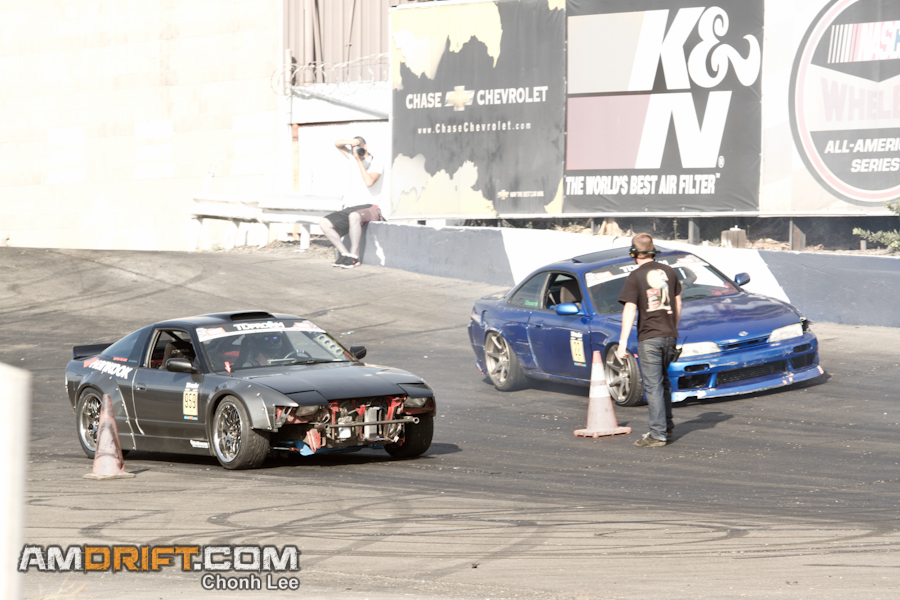 Sean Hoover versus Matt Coffman.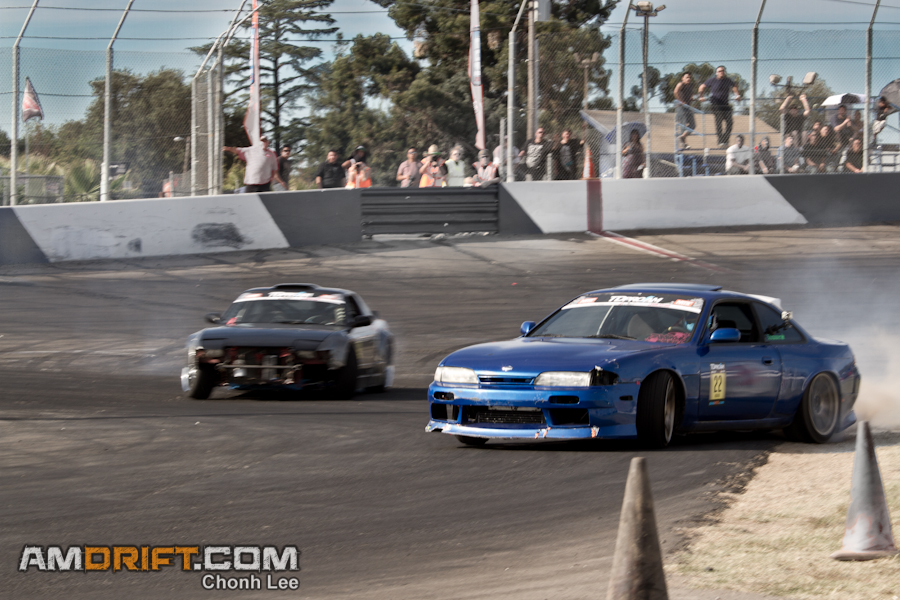 Sean wins by decision.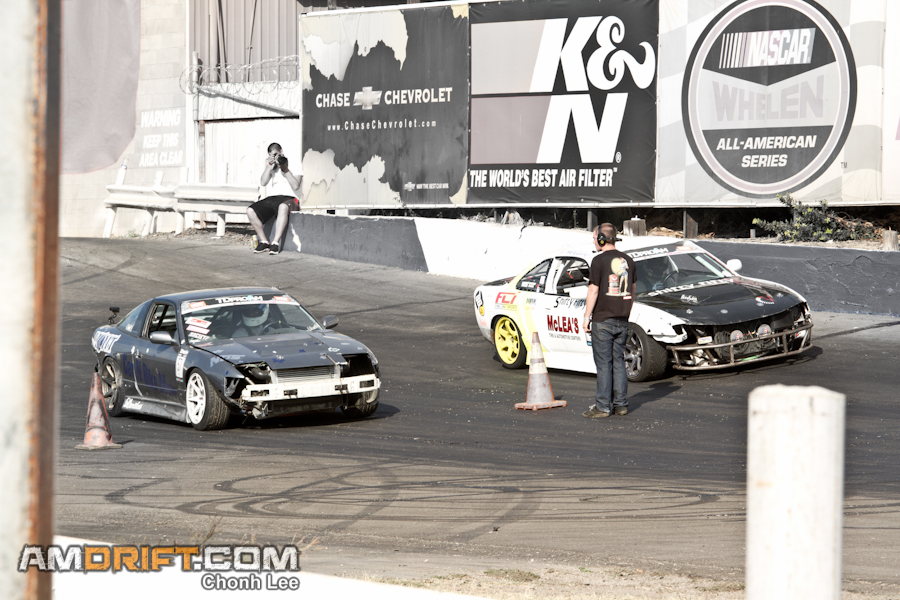 Jose Floes versus Josh McGuire, these two monsters would battle it out on the track. Jose spins out during the chase, while luckily enough Josh also spins out during his chase run, leading to a ONE MORE TIME battle.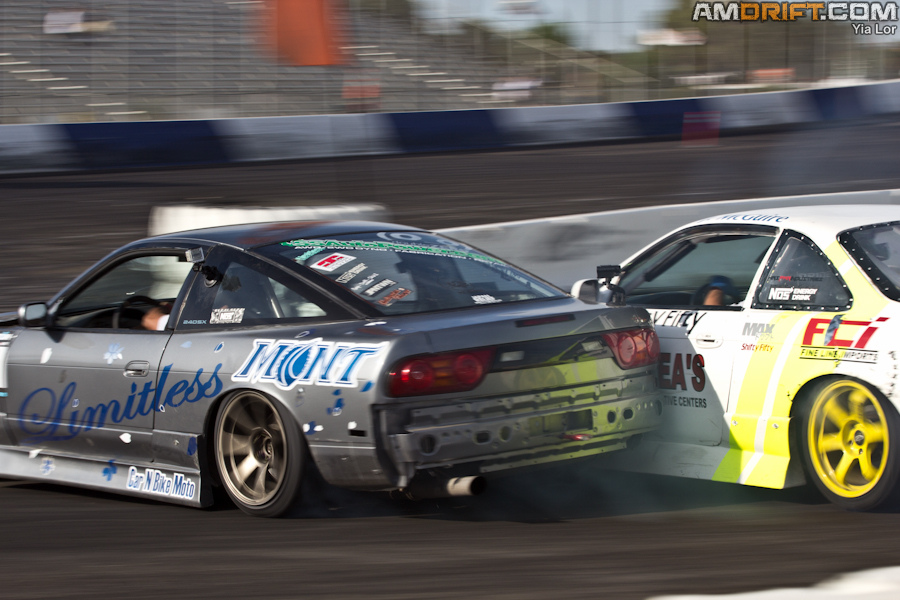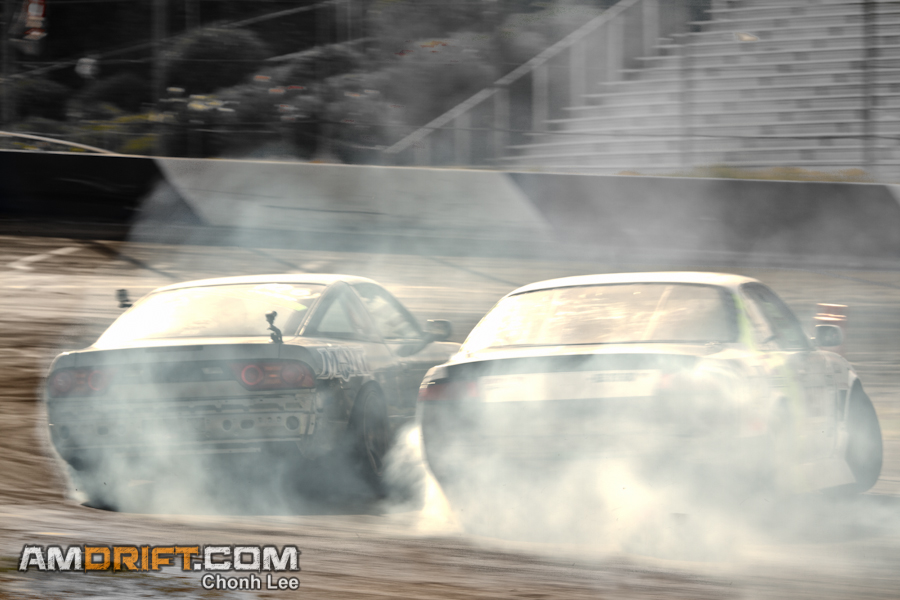 The following battle between Jose and Josh was an impressive battle, both cars were so close at one point, they made contact.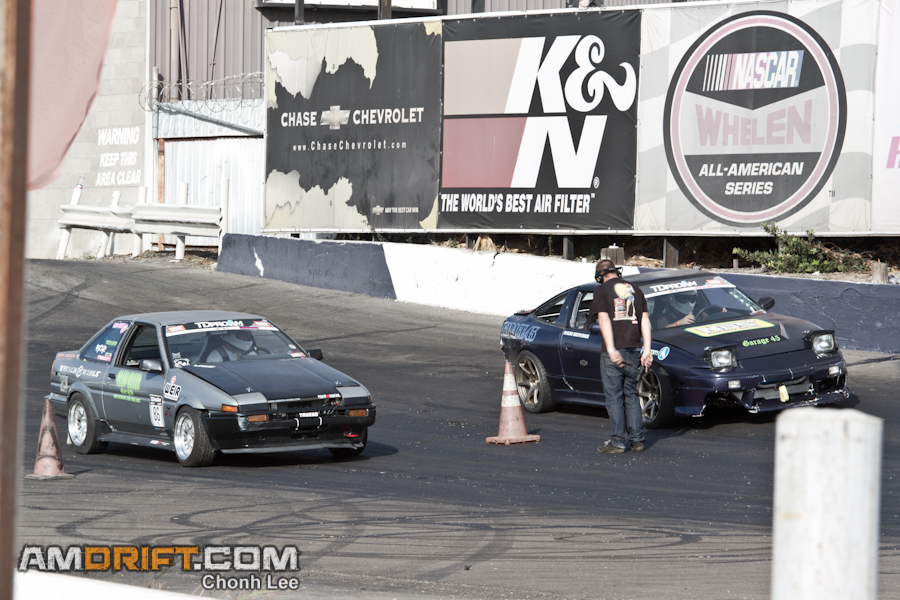 Eugene Kretschmer versus Henry Van.
Henry Van would but on a good lead run, but spun out during his chase run giving Eugene the win.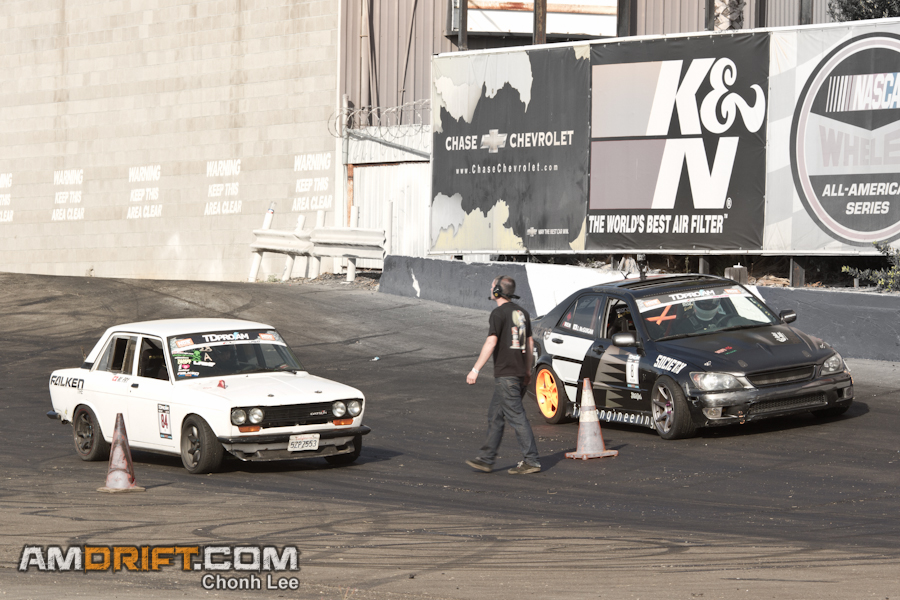 Marcus Fry versus Joe McGuigan.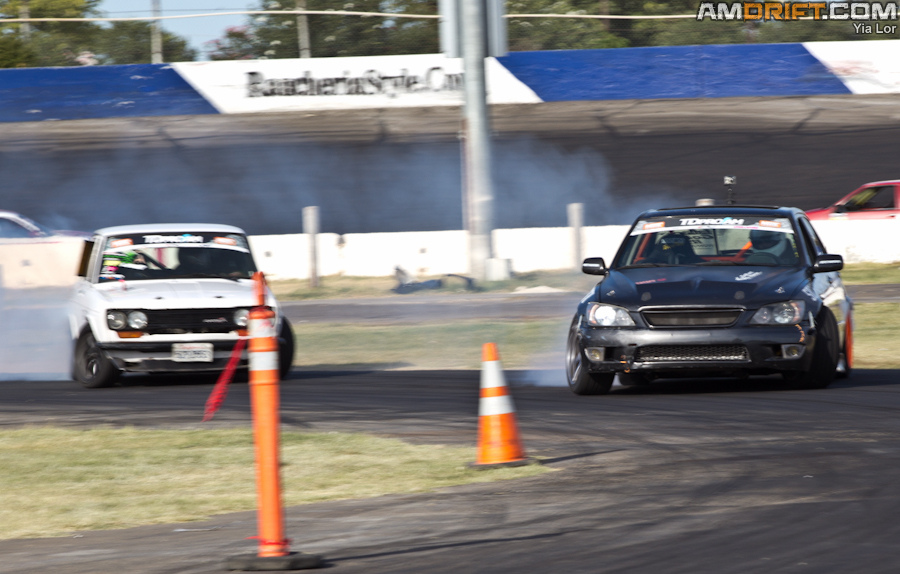 Joe and Marcus would put on an impressive V8 battle, but Joe spun out during his chase run, giving Marcus the opportunity to move on.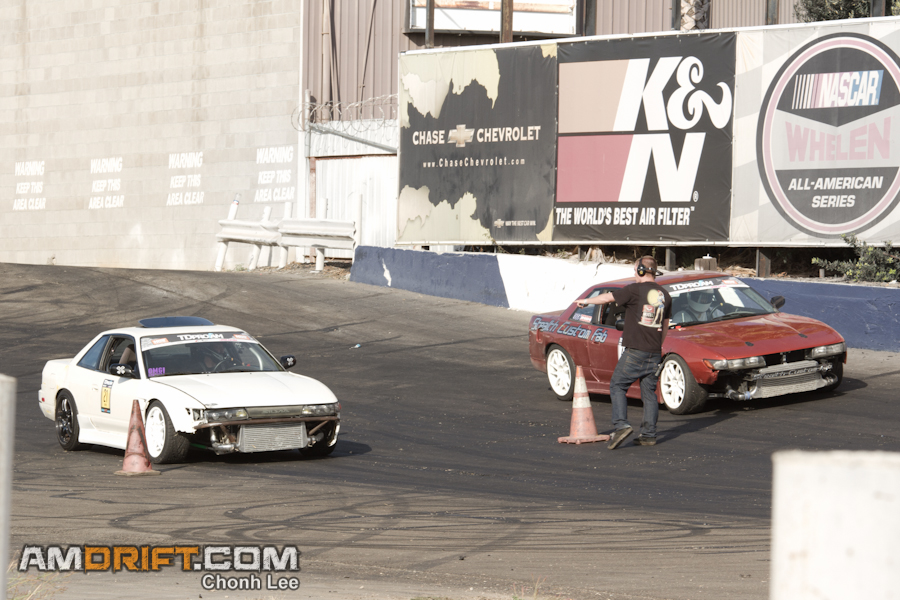 Robin Webber versus Nick Bayati.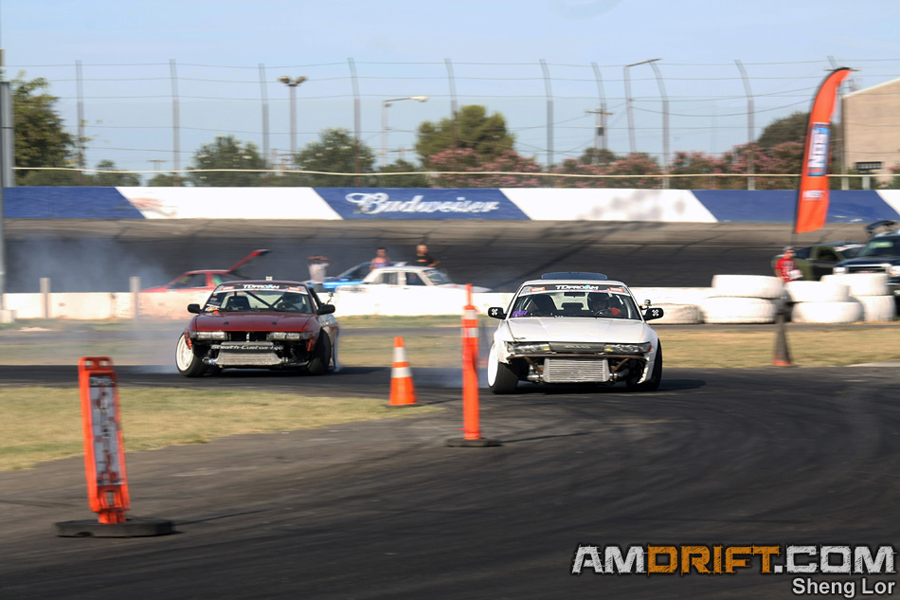 The battle between KA-Turbo versus SR power was close, Robin would put up on hell of a fight. Judges deliberated and would reward Robin advancement.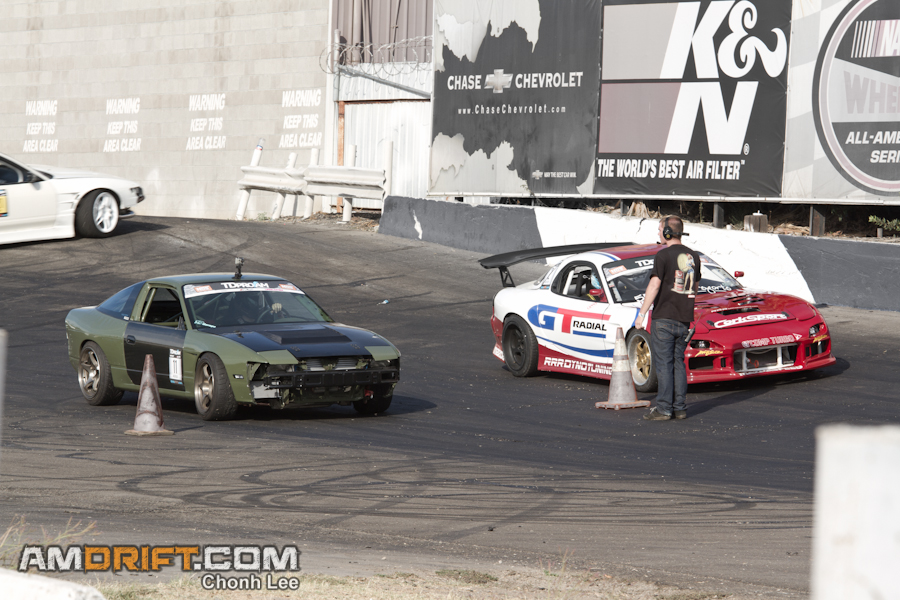 The first battle of the Great 8 would begin with Tyler Wolfson versus Matt Madrigali.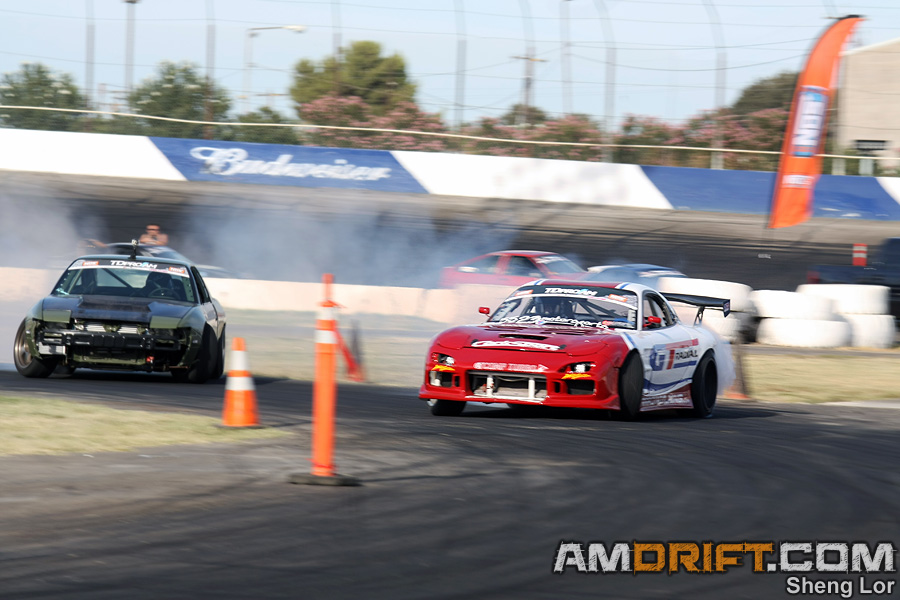 The battle between Tyler Wolfson and Matt Madrigali, was an extremely impressive show of skill and execution between the two drivers.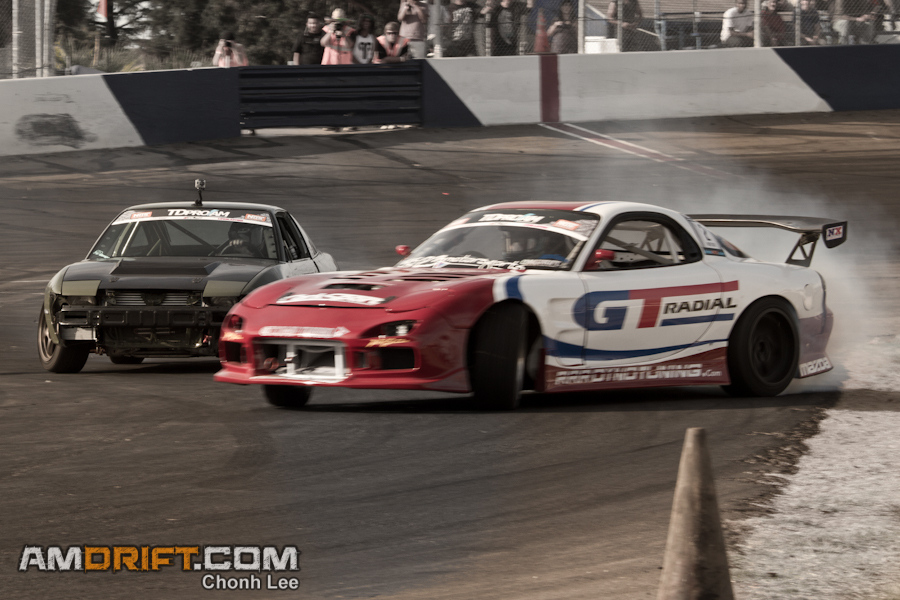 The match up would eventually lead to a ONE MORE TIME battle, giving Matt Madrigali the win over Tyler.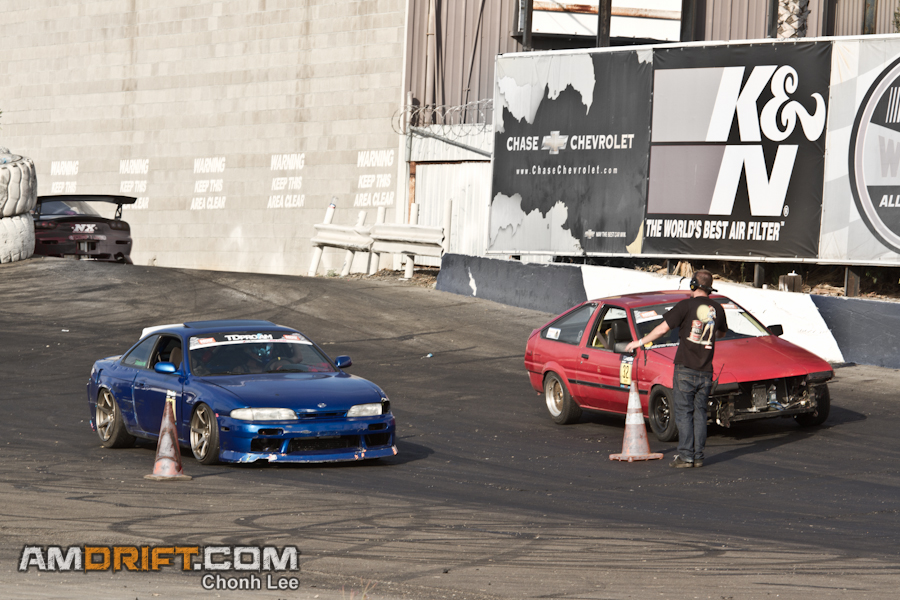 Alveen versus Sean Hoover.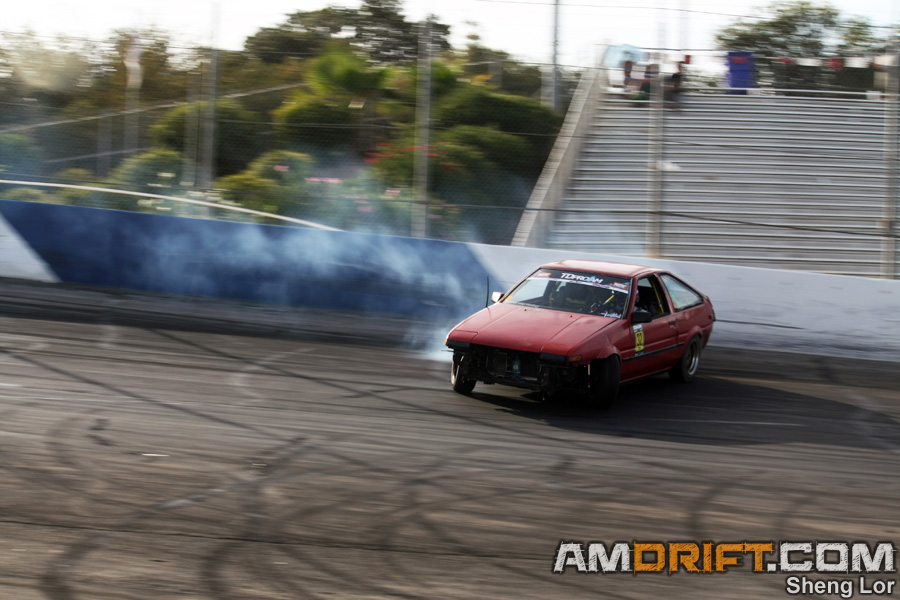 Alveen continued to show his skill in his 4AGE powered 86 behind Sean, but Alveen would give up his spot in the running as he spun-out during his lead run.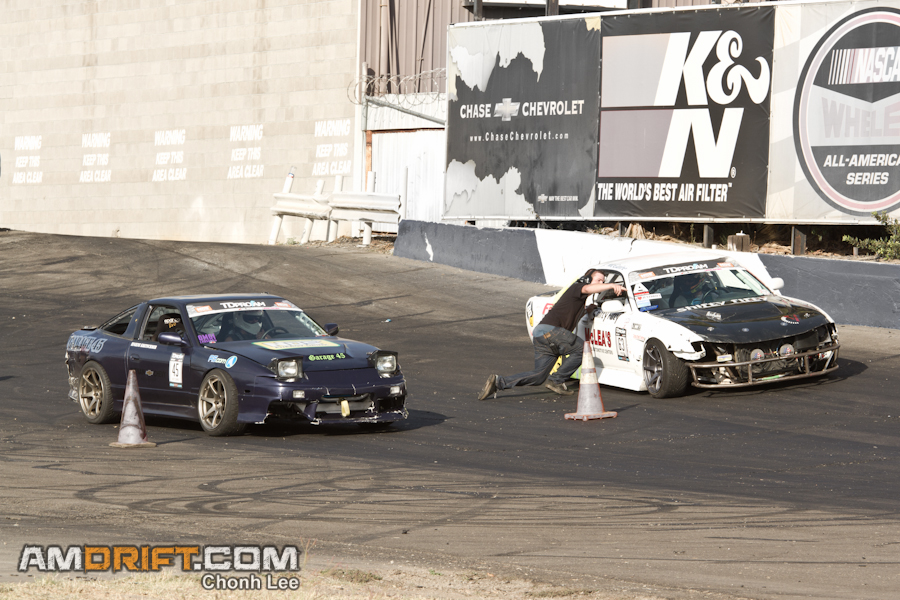 Josh McGuire versus Eugene Kretschmer.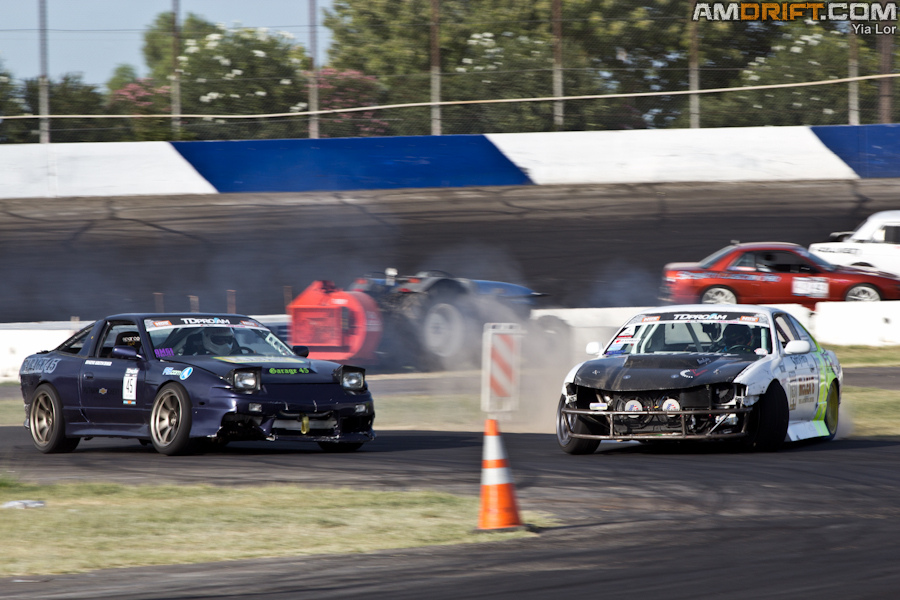 Eugene would straighten out in order to catch up to Josh, giving Josh the win.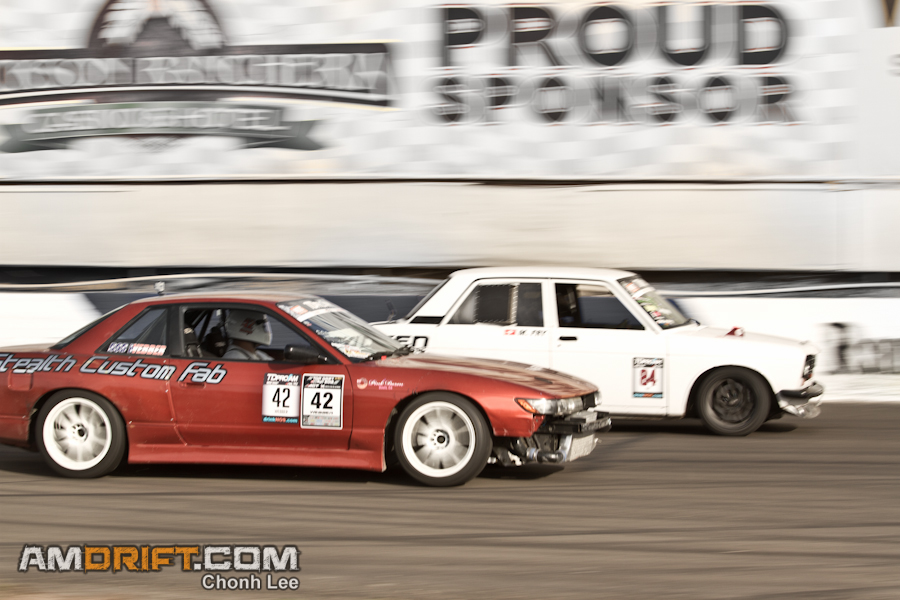 Robin Webber versus Marcus Fry was one battle to look out for, but sadly Marcus's monster of a 510 would suffer an unfixable damage within the 5 Minute rule, giving the win to Robin.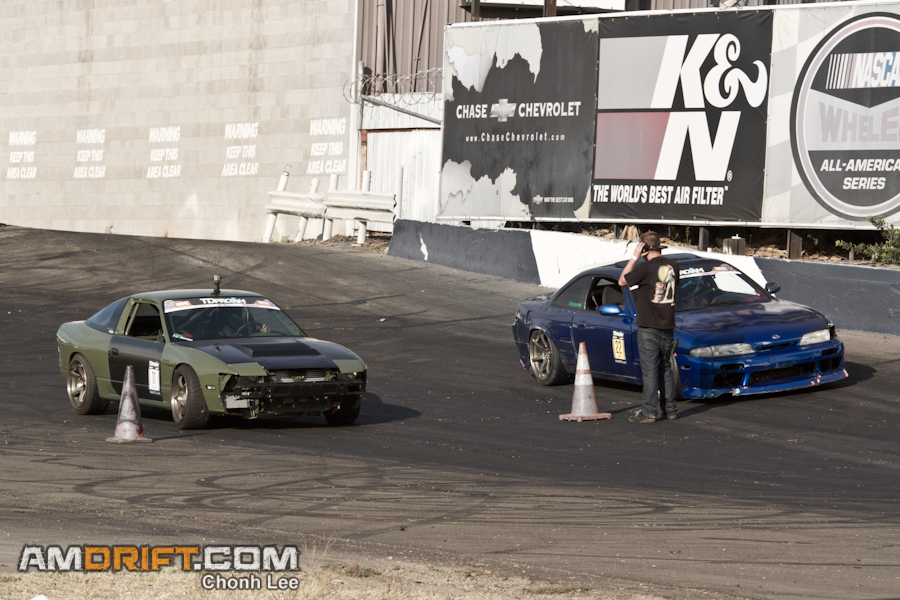 Finalists Matt Madrigali versus Sean Hoover.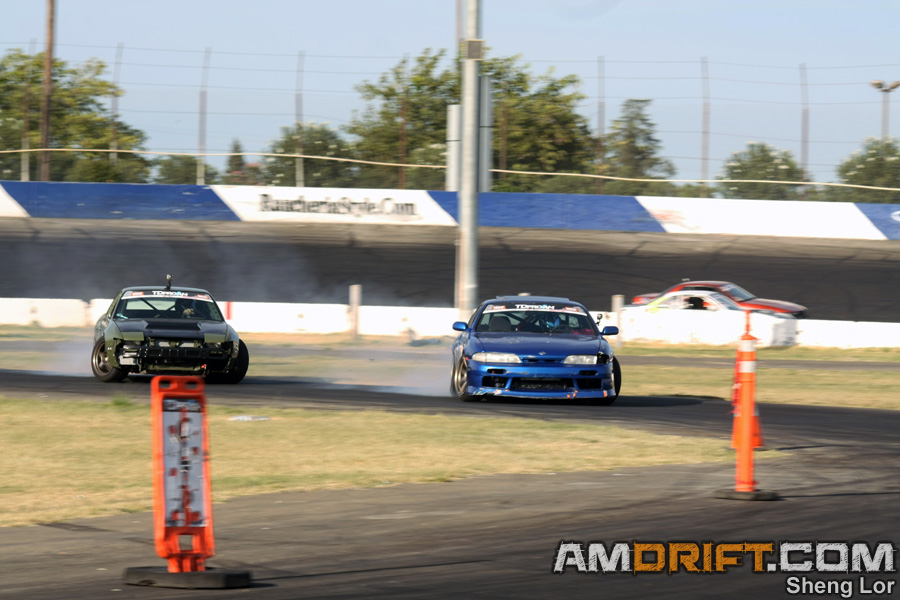 Sean wins by decision over Matt.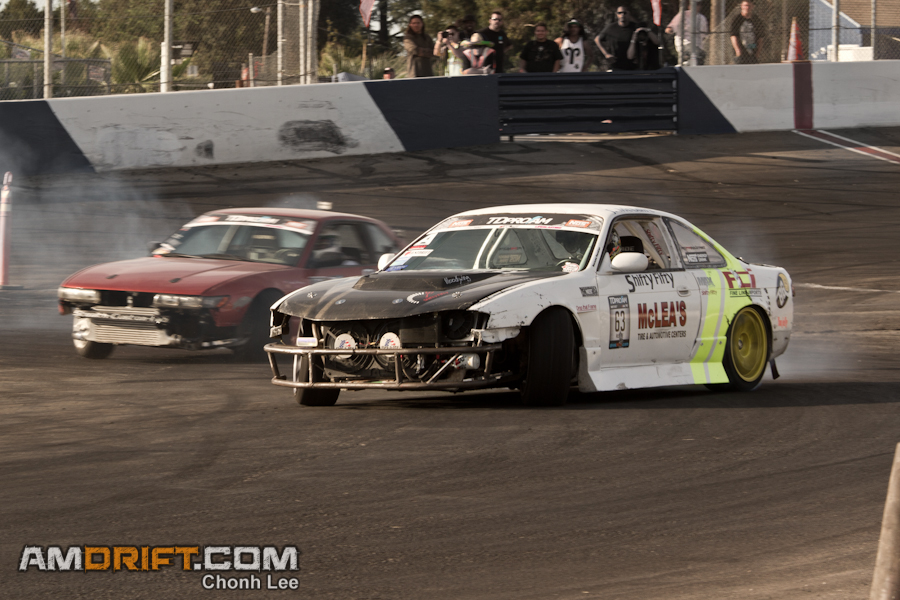 Josh McGuire versus Robin Webber.
Robin spins out giving Josh the win.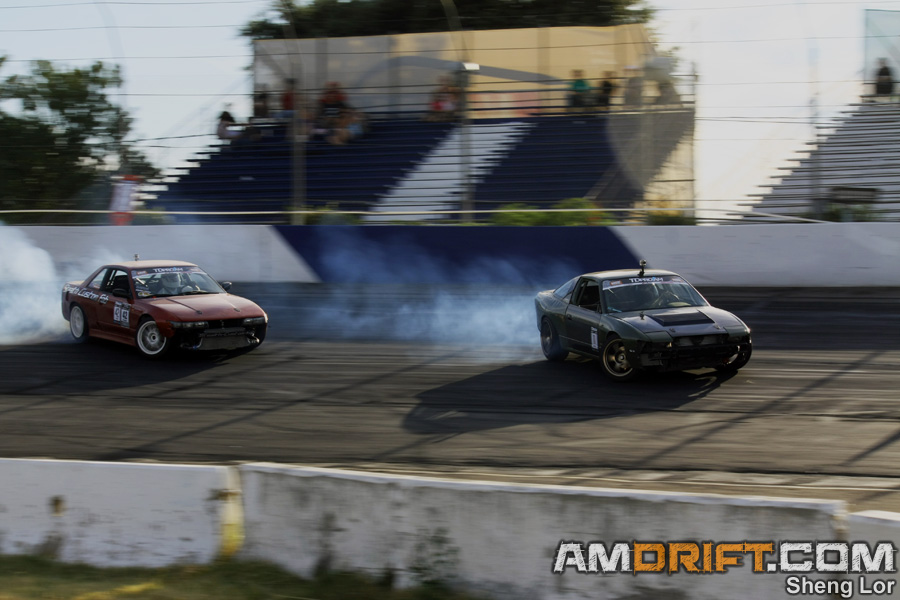 Rob Webber versus Matt Madrigali for third place.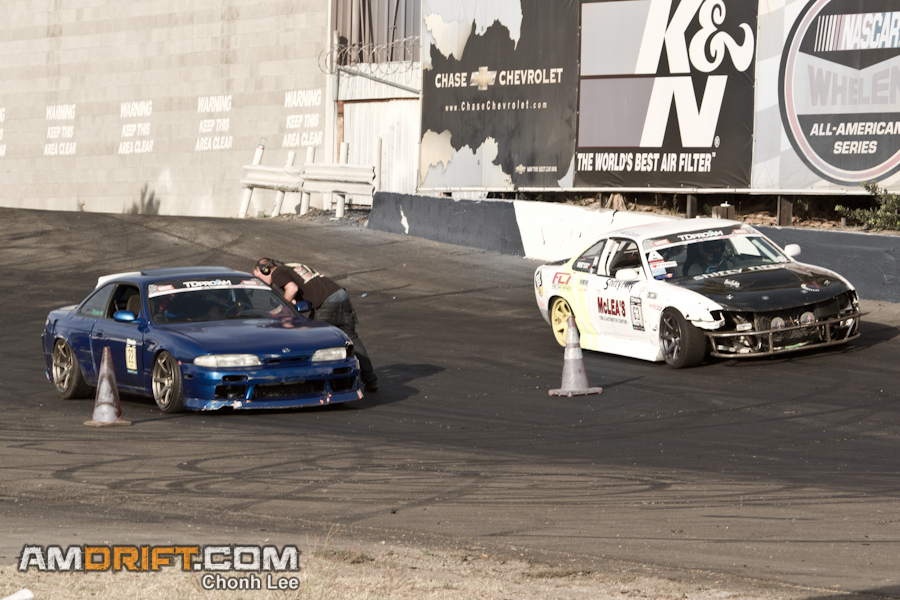 Josh McGuire versus Sean Hoover the Round 3 TD ProAm Championship.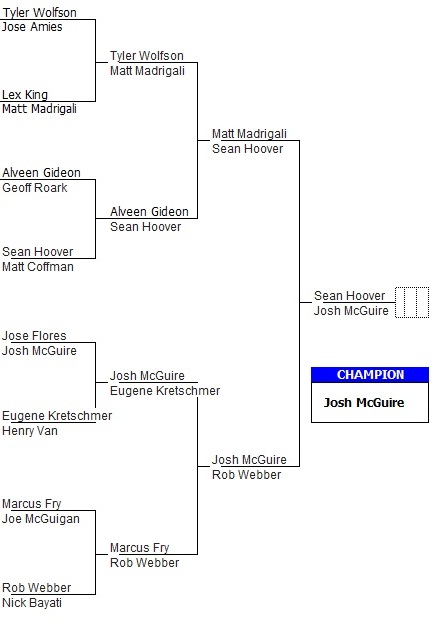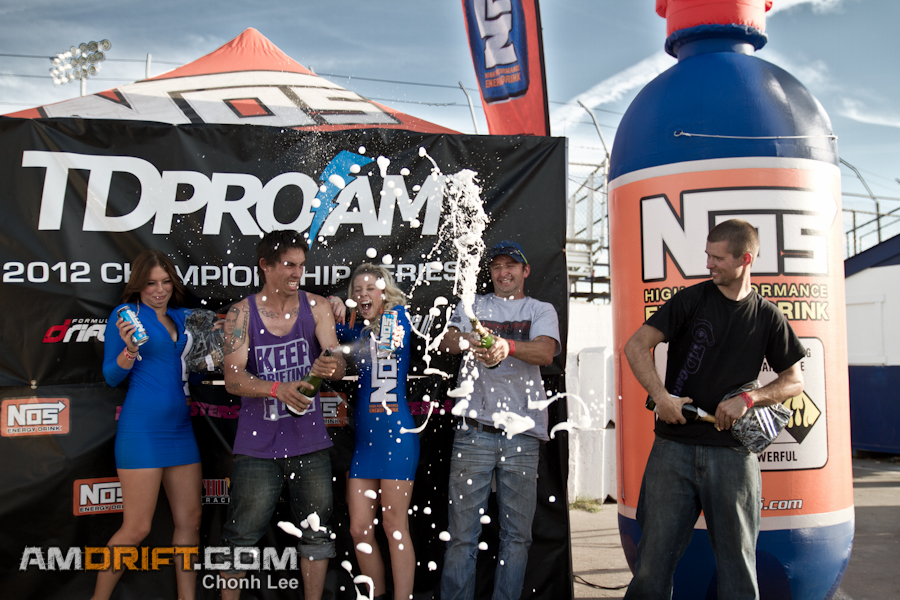 Podium for TD ProAM Round 3 at Stockton99. 3rd place, Matt Madrigali in his Olive green 240 hatch. 2nd place, Sean Hoover in the blue Zenki S14. 1st place, Josh McGuire in the Shifty Fifty Mustang powered S14.