In the many years we have been going to Just Drift organized events, we have never seen such a jam packed Top Drift as the first round of the 2013 season was. Just Drift held round 1 of Top Drift this past weekend on Sat and Sun 23-24, on the world famous Balcony circuit at Willow Springs International Raceway in Rosamond, CA. The early morning crowd would pale in comparison to the amount of drivers and spectators the weekend would bring. Approximately 60 drivers from all over the West Coast and South West, had registered to slide on Balcony at round 1. When drivers bring friends and family, and really good drivers attract lots of fans….a crowd forms, and a great event starts to take shape.
Rise and shine. The usual West Coast locals naturally were the first to arrive and setup, but en route just miles away, were groups from as far away as Colorado and New Mexico.
Not too long into the day, a crowd formed like weve never seen before. We are talking an attendance for the Top Drift record books! Spectator vehicles were parked along the access road all the way down the hillside, and every terrace along the big racetrack was occupied with rigs and campsites of drivers.
The drivers meetings consisted of drivers looking to make it big in drifting, to many who just enjoy drifting no matter if they qualify for competition or not. Being the first competition of the year, everyone could use a refresher on the rules and expectations of all drivers.
Don't let some of these faces fool you into taking them seriously. Despite all of them having a reputation for sticking their fender to your door, they are all very sensitive. We think Ernie in the middle was confessing his feelings to Sean Guthrie in the rear shortly before this photo was taken.
While the drivers meeting was wrapping up, we snuck outside to catch a few shots of this cool rat rod that always shows up to the local Antelope Valley automotive events. How many random parts are you able to name on this ride?
SATURDAY OPEN DRIFT
Once the track went hot and driving got underway, New Mexico's Dan Brockett gave us some crazy angle entries in his freshly built S13 that replaced the one that flipped in the Icon drift video.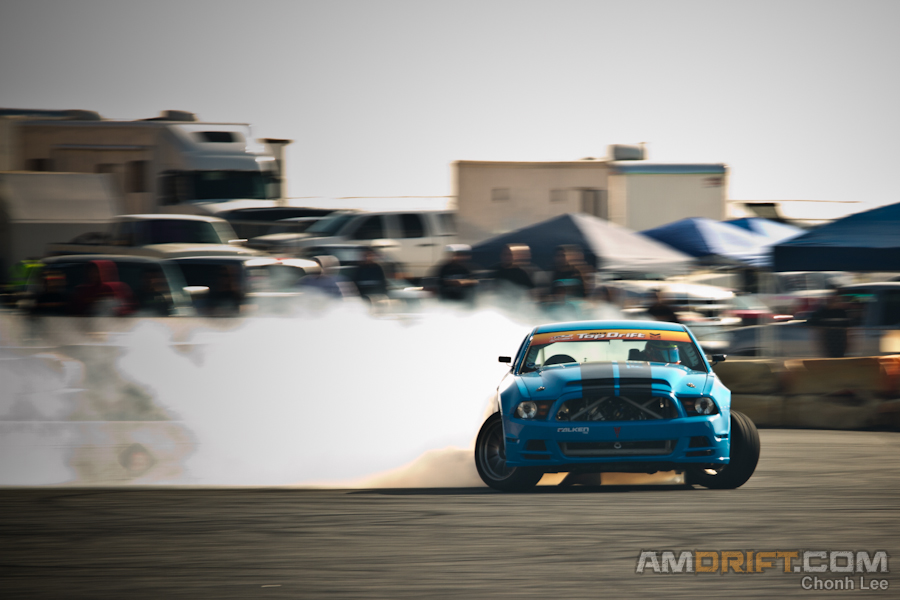 We personally havent seen Jim Guthrie in action since No Coast Drift Party in September of 2012, so it was enjoyable to hear the motor and smell the Falken tire smoke once again.
Another New Mexico drifter and son of Jim Guthrie, Sean Guthrie really knows how to drive this Mustang. Just like his fathers, it also has a very loud motor and makes a ton of smoke.
Something that was pleasant to see, since we haven't seen this driver/car combo at a Top Drift event since 2011 when his Pontiac GTO drift car caught on fire, was Tony Ciseneros of Rancho Cucamonga, California. This is the same car that was loaned to Odi Bakchis to drive after he crashed his car in Vegas last year.
The Bravo Motorsports guys made it down from Fresno to put their LS1 SC300 into competition duty for the first time ever.
During open drift practice, Trevor Dowdall tapped a haybail and performed the slowest roll over in history, becoming one of the most talked about and shared incidents in social networking presently.
We saw it with our own eyes, but nobody can really explain how a lowly haybail managed to throw the car into a roll, and linger on its side until it decided to slowly turn and rest on its roof. Surprisingly there was hardly any damage, aside from the windshield. Trevor has a full cage inside the car which minimized damage to the structure. In fact, most of the damage came from the tow crew flipping the car back on its wheels, crushing the only side view mirror that had survived the roll over.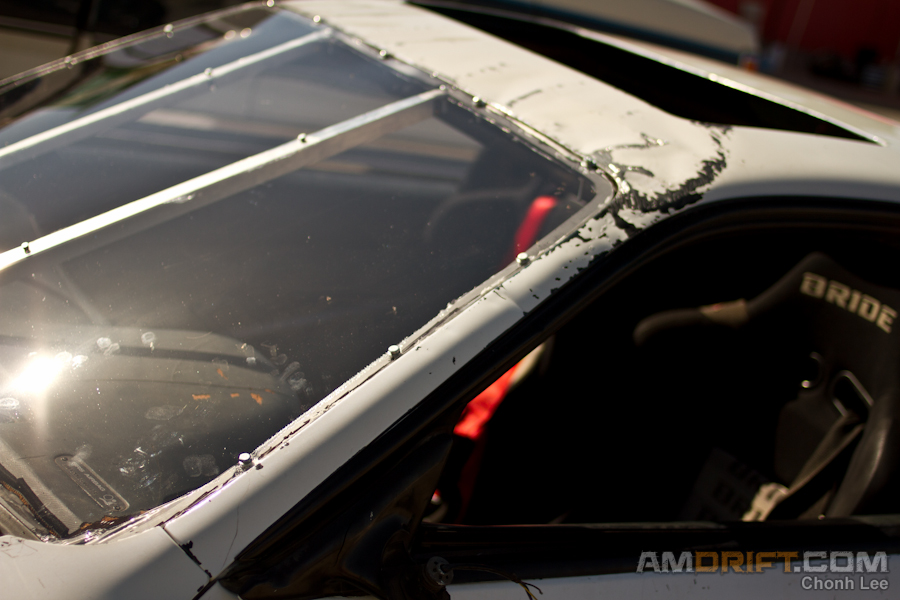 Our buddy Trevor and his crew were able to make quick repairs by removing the broken windshield and adding plexiglass or lexan.
Not too long after Trevor's roll over, some lugnuts decided to not cooperate with a wheel/spacer combo, and mysteriously jump off the wheel studs and cause a wheel to fly off and bounce all the way down to the big racetrack. We didnt like that fence anyway.
Tyler was able to get some unique shots from above.
One of our biggest supporters comes fast around the house.
Recently, the green brick building in the middle of the track was painted black and a platform was constructed on top, giving us a great vantage point over the track.
We hope these improvements stay forever, because its pretty rad getting shots from up there above the cars.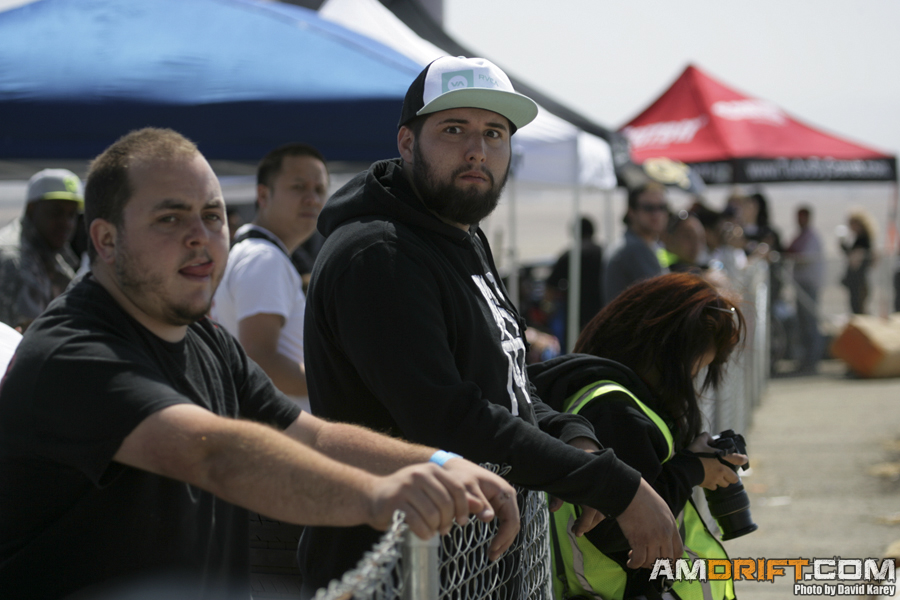 These fellas from New Mexico don't think i would ever post a photo that i take of them. Bubba Price, left, brought his V8 S13 from NM to compete, and Allen Aiken, who is a Cressida drifter, came to support all his buddies from New Mexico.
Chris Billedo was building a 2JZ powered s14 for competition, but time constraints and mechanical issues forced him to run his older KA s13.
Rob Webber was piloting his s13 with a newly swapped LS motor under the hood. Last year he ran with am SR20, but was looking for more power as competition is getting stiffer and stiffer….no pun intended.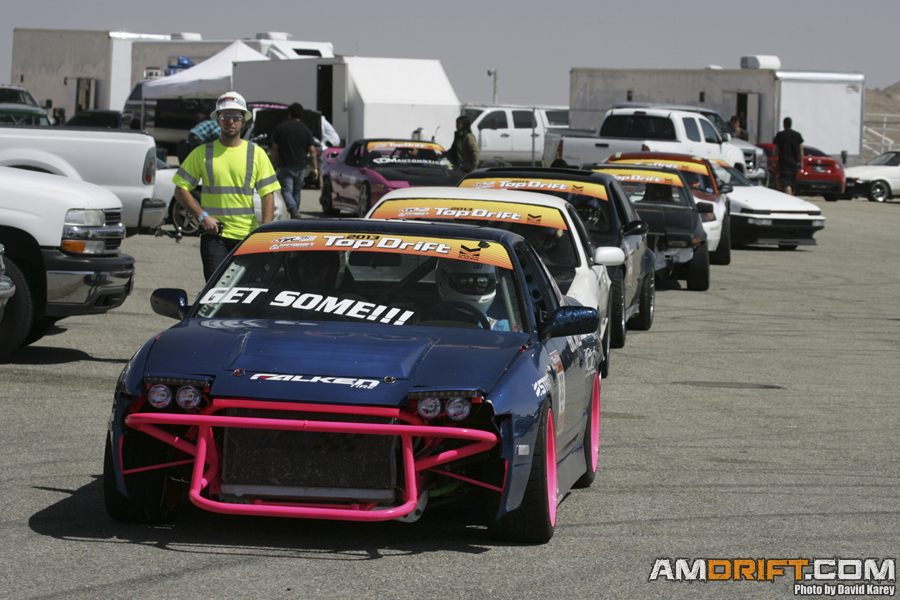 Since registration was high this round, long lines of cars waited in the pits for run groups to finish and come off the track.
Its always awesome when a pro jumps in a ride and makes a few blasts around the track lie it aint nothin. Justin Pawlak took Jim Gutrie's Mustang out for a couple sprints.
Kasey King, part of the Triple Crown Drift crew from Colorado, enjoyed some late afternoon runs around the brick house before the track went cold for the day.
SUNDAY QUALIFYING AND TOP 16
Qualifying scores:
There were a few things that happened after qualifying that need some explanation, for those who were as confused as I was. Jesse Vargas and Adam Levi had shared a car during qualifying. Previously, it was agreed that the lower qualifier would have sit out, and whoever would be matched to run with them on the bracket would get a bye. Since Jesse Vargas was the higher qualifier, Adam Levi wasn't able to continue, and Dave Forman didn't come out to grid possibly due to mechanical issues, so 2 drivers got a bye. Eric Hill and Clarence Trinidad would take their bye and sit out until the bracket made its way down to 8 drivers.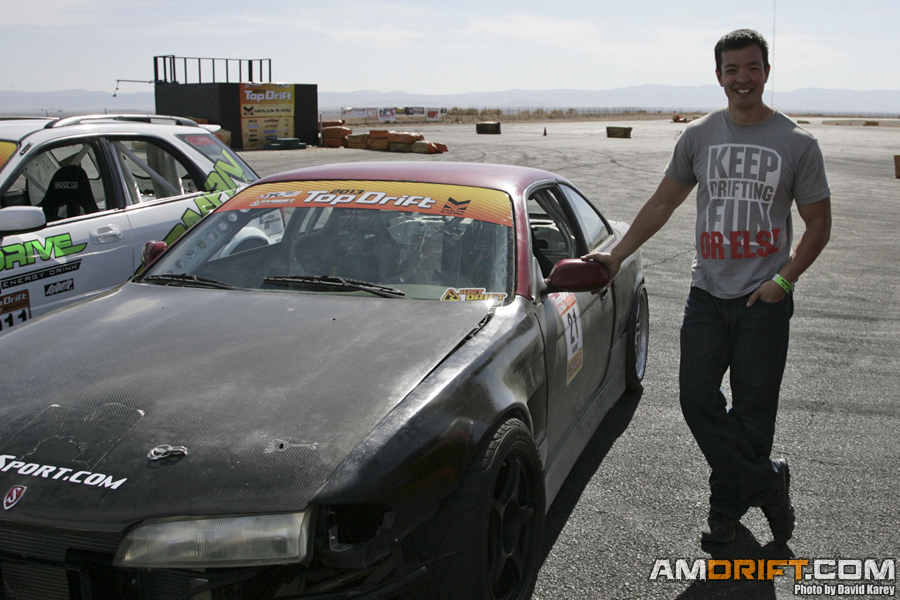 Steve Ramil was able to drive his ass off and become top qualifier. Steve travels from Seattle for every event, and has never qualified or driven tandem in competition before. Coming out and consistently laying down great runs enough to outperform some of the seasoned drivers who qualified below him, is quite the impressive feat.
Driving a car thats rare in drifting, Kenny Chieu qualified 2nd in his Toyota MR-S, which has undergone some serious modifications since last year.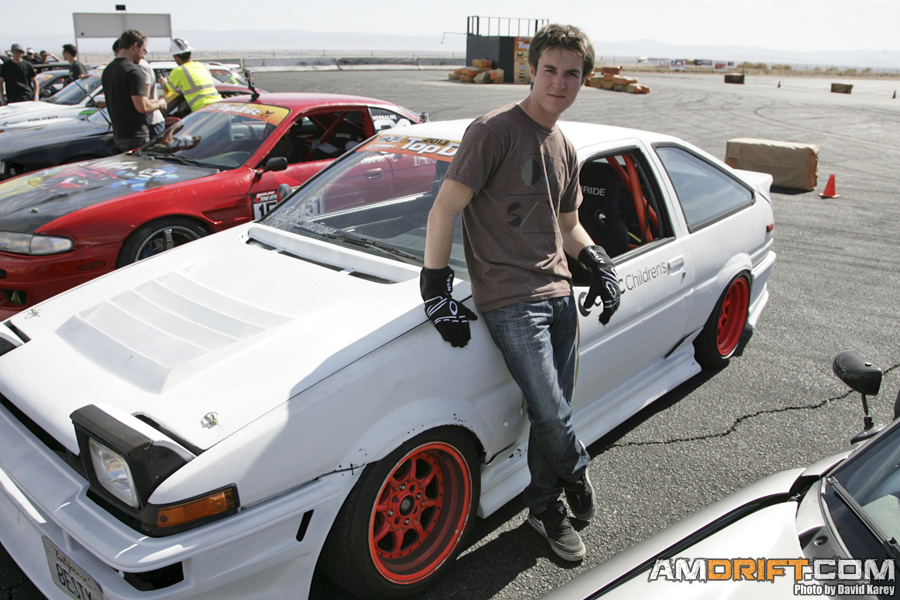 With tons of experience and no stranger to driving tandem on the Balcony circuit, Daniel Giraldo qualified 3rd.
Eddie Gutierrez did not qualify in the Top 16, but he pulled off the best entry of qualifying, earning him the Stealth Custom Fab Insane Entry award.
In the first battle of Top 16, Stevel Ramil went up against Joseph Mcguigah. Steve lead first and slightly pulled ahead with more angle and wider line than Joseph. One the second run with Joseph leading, Steve pressed the clutch pedal to the floor so hard, that the pedal got stuck behind the pedal stop and Steve had to drive to the pits to fix it.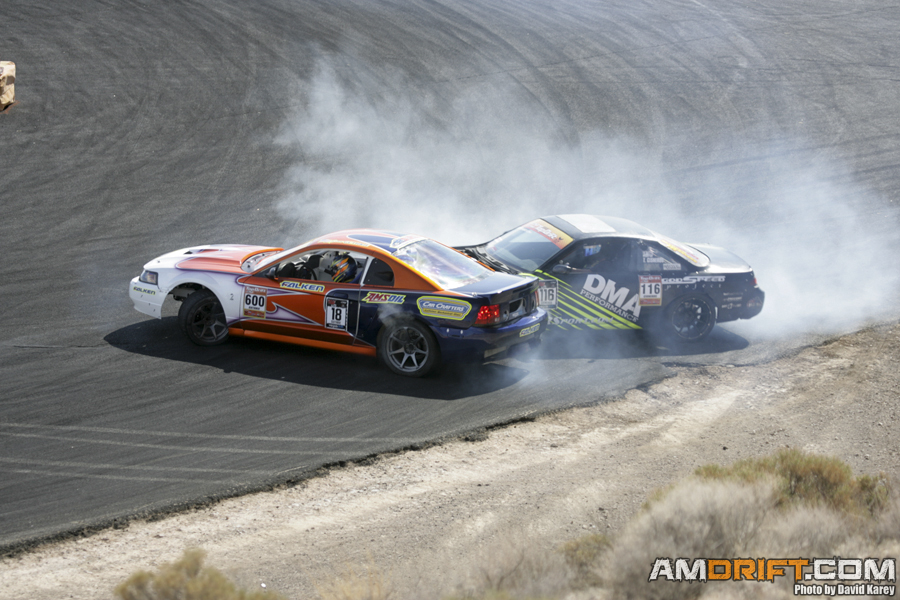 While waiting for the Ramil vs Mcguigah battle to resume, Sean Guthrie and Tony Cisneros ran against each other. On Sean's lead run, he lost drift at the second transition, and Tony tried his best to slow, but lightly hit Sean's Mustang. After Tony's lead run with Sean following, judges called one more time.
On the one more time run, Sean Guthrie would lead once again. Sean had a great line, but Tony Cisneros was very close to Sean, on the same line. On the second run, Tony lead, but Sean Guthrie spun before going around the house. Tony Cisneros would take the win and move on.
Steve Ramil returned from the pits to finalize his battle with Joseph Mcguigah. Steve would lead and pull off an excellent entry while it seemed that Joseph had difficulty finding his entry line and straightened a bit here and there throughout the course. Joseph would lead next, but went wide on the entry, and Steve was able to keep close proximity and follow the line. Judges called for Steve Ramil to move on.
Next up was Tim Cobb and Spike Chen. Tim lead with Spike close to him on the entry, but Spike spun out on the second turn. On Spikes lead run, he would tap the hay bail enough to send debris on the track, but Tim Cobb was able to keep close. Tim Cobb would take the win and move on.
Kenny Chieu would go head to head with Adam Knapik, literally. Kenny lead first with a good entry, while Adam seemed to have slight trouble and straightened in a few spots along the course. On Adam's lead run, he spun on the second turn. Kenny locked his brakes and tried to avoid contact, but wasn't able to avoid coming to stop on Adam's fender. Kenny Chieu would get the win.
Daniel Giraldo faced hard charger Kelvin Arreola, with Daniel leading first. Kelvin tapped the hay bail on the entry while chasing Daniel. Next, Kelvin would lead with a slight dirt drop on the second turn, but overall good line. Danny was able to follow the line. Judges call for a one more time.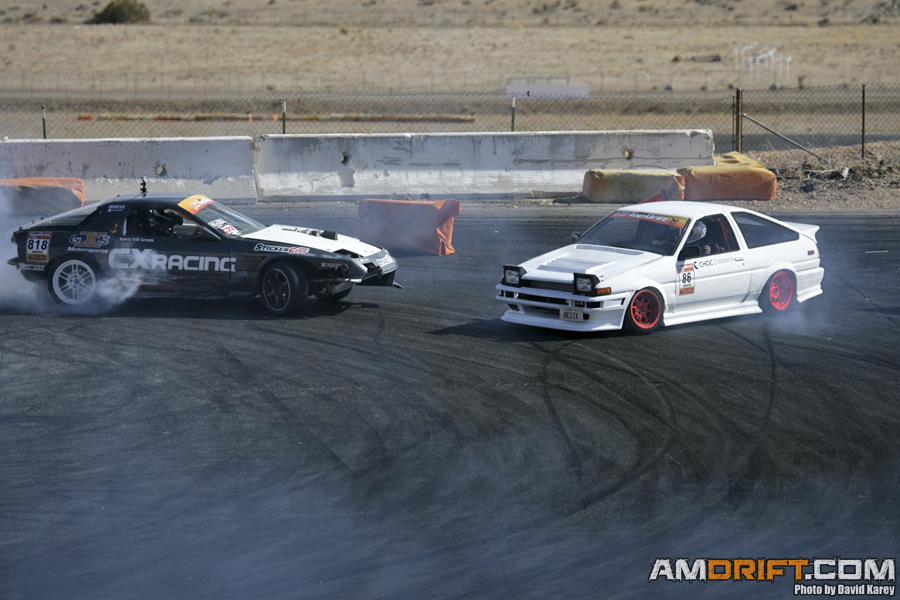 Daniel Giraldo would once again lead and drive a good line, and Kelvin was able to follow close. Next, Kelvin would lead, was looking good with Daniel following nicely behind, but spun before going around the house. Daniel Giraldo would get the win and move on to Top 8.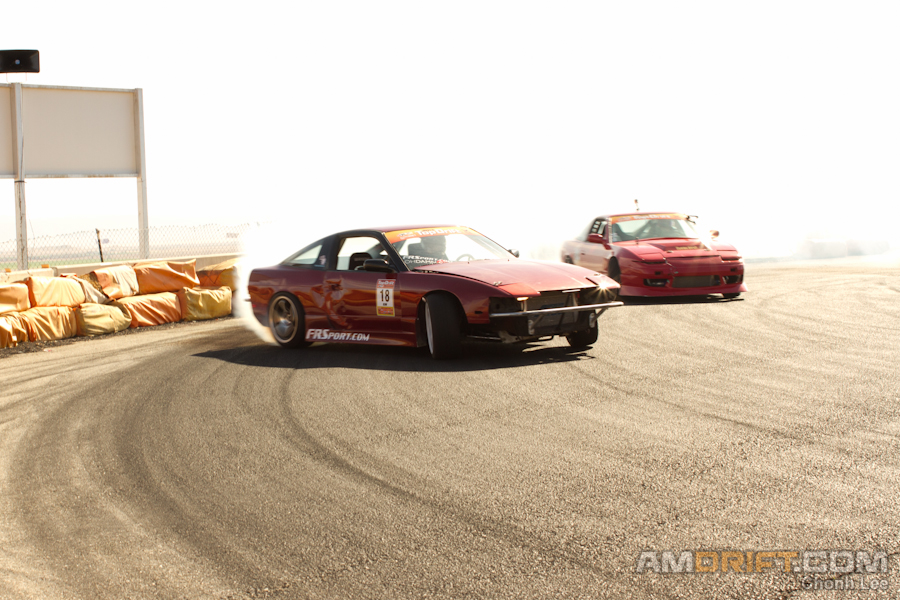 Jesse Vargas would take on Jason Kim in the last battle of Top 16. Jesse lead first with Jason far behind. Jason Kim lead next with a great line, and Jesse was following good on the entry. Unfortunately for Jesse Vargas, he straightened throughout the course, so Jason would move on to the Great 8.
GREAT 8
The first battle of the Great 8, was Steve Ramil against Clarence Trinidad. Steve would lead, but spin. Clarence would lead next, but also spun, this time directly in front of much the much heavier car of Steve Ramil.
Steve tried his best to stop before hitting Clarence, but both cars had minds of their own and ended up nose to nose. Steve's car suffered an oil fitting leak at the oil cooler due to the impact, and was allowed to fix it. Judges called one more time while Steve fixed his car. This photo has been shared by thousands over the internet. Good times!
While waiting for Steve Ramil to fix his car, Tim Cobb would run against Tony Cisneros. Tim would lead first with Tony close on the follow. Tony lead next, but Tim was a little shallow on the 2nd turn. The judges awarded the win to Tony Cisneros with the really loud car that you can hear from 20 miles away 🙂
Next up, Kenny Chieu would lead against Eric Hill. Kenny had a good line while Eric had a good follow, but Eric slowed around the brick house. On Eric's lead, Kenny had a great following line. Judges called one more time.
Kenny lead one more time, but spun coming off the entry turn. Eric Hill lead next and Kenny was able to follow closely, but it wasn't enough to take the win, and the judges awarded Eric Hill with advancement.
Steve Ramil returned from repairs once again, resuming the battle between himself and Clarence Trinidad. Steve lead first, while Clarence fell behind on initiation and spun. On Clarence's lead run, everything was great from both drivers, until the very end of the course where Steve made a pass around Clarence. The judges did not seem to like that, and called for a one more time yet again, most likely due to faults from both drivers during this matchup.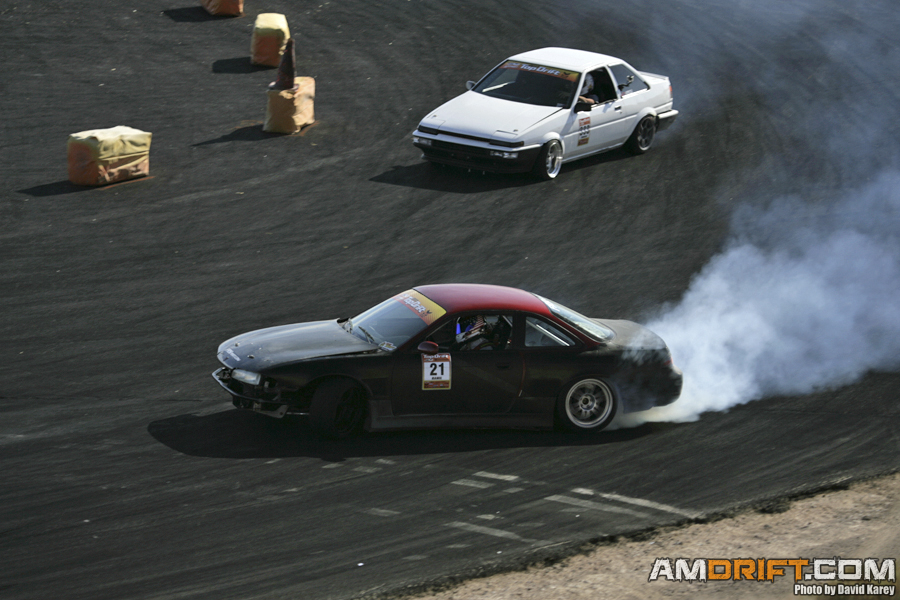 Once again, Steve Ramil would lead. Steve had a great line and Clarence spun behind trying to follow it. When Clarence lead next, Steve followed very close with lots of angle, pleaseing the judges and earning him the win and advancement.
Daniel Giraldo would face good friend, Jason Kim on the way to Final 4. having tons of experience driving with each other, this would prove to be a tough battle. Daniel would lead first with Jason driving hard to follow him. Jason would spin after turn 2. Next, Jason would lead. Daniel also made the mistake that Jason made, spinning right before the brick house. The judges called one more time due to similar errors from both drivers.
Daniel Giraldo would lead on the beginning of the one more time with his bumper hanging which may have affected his performance. Jason hit the clipping point cone on entry when it came time for him to lead. Judges did not like either performance and knew both drivers could do better, so they called one more time.
Going one more time, again, Daniel Giraldo lead, driving a great against a very close Jason Kim, who was able to follow the line almost perfectly, but bobbling once or twice. Jason Kim lead next, and threw out an awesome line, but Daniel fell behind a little. The judges didn't see Daniel's proximity as an issue, and awarded him the win over Jason Kim.
Final 4

Heading up the Final 4, Steve Ramil and Tony Cisneros would take to the track against each other. Steve would lead first and Tony would follow very well and close. Steve spun before the brick house. Next, Tony would lead. Steve had a sufficient following line while Tony straightened out after misjudging his line going around the brick house. The judges would call one more time, and Tony Cisneros would go back to the pits for something.
While waiting for the Ramil/Cisneros battle to resume, Eric Hill would take on Daniel Giraldo to secure a spot on the podium. Daniel lead first, and Eric's follow was very close, but possibly shallow after turn 2. I looked away for a few seconds, but that is what i heard when I questioned a couple of fans. Next Eric would lead. Danny looked to fall behind due to power differences, but the run was still clean and that must have been taken into consideration when the judges awarded Danny Giraldo the win.
Fans show excitement while waiting to see the final podium battles of Top Drift round 1.
Steve Ramil and Tony Cisneros came back out on track for the continuation of their battle. Steve would lead first, with Tony taking a wide follow line and straightening in areas. Tony would lead next, but Steve was able to stay on point and follow the line Tony was taking. The judges awarded Steve Ramil with the win.
With Steve Ramil and Daniel Giraldo moving on to battle for 1st place, Tony Cisneros and Eric Hill would battle for 3rd. Eric lead first, but Tony was able to keep close proximity and follow his line very well. On Tony's lead, he drove a nice line, while Eric went a little shallow after turn 2, but caught up and gave a really good chase around and after the brick house. The judges saw something that called for a one more time. The judges withheld the outcome until podium announcements.
Steve Ramil was slated to line up against Daniel Giraldo, but he was unable to continue due to a leaking fuel injector o-ring.
A very happy and tired Daniel Giraldo, emerges from his AE86 at the podium ceremony.
Steve Ramil was exhausted, and coming this far has exceeded his expectations of himself.
Tony Cisnero was thrilled with a very strong showing very early in the season. We are sure Tony is a force to be reckoned with this year.
Daniel Giraldo had taken 1st place, Steve Ramil 2nd, and Tony Cisneros 3rd. Congratulations to these gentlmen.
There is nothing as sweet as champagne in the air at a podium ceremony.
Congratulations to Eddie Gutierrez for winning the Stealth Custom Fab Insane Entry award. Keep up the good work buddy, and do it again next round!
Without a hard working Just Drift staff, none of this would be possible.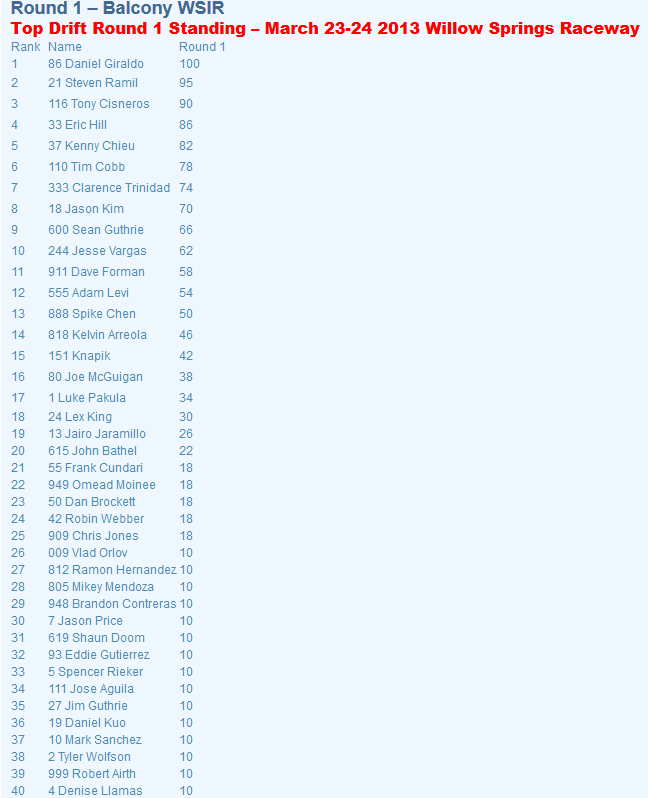 Top Drift round 2 will be held on may 25-26 on Horsethief Mile, at Willow Springs International Raceway. Dont miss it!
Thank you for checking out this article. Please enjoy our MASSIVE gallery, and download as much as you want.