A common sight today in the drifting community, are your usual Japanese cars fitted with roaring American muscle power plants. Now whether you agree or not with the decision of dropping an American power plant into a popular Japanese chassis, just continue reading and maybe you too will understand why many have decided to embrace the "darkside." In a panic, the car was torn apart and reassembled in the last four months with only a few days to spare before Top Drift Round 1. Robin admits that the car currently makes plenty of power .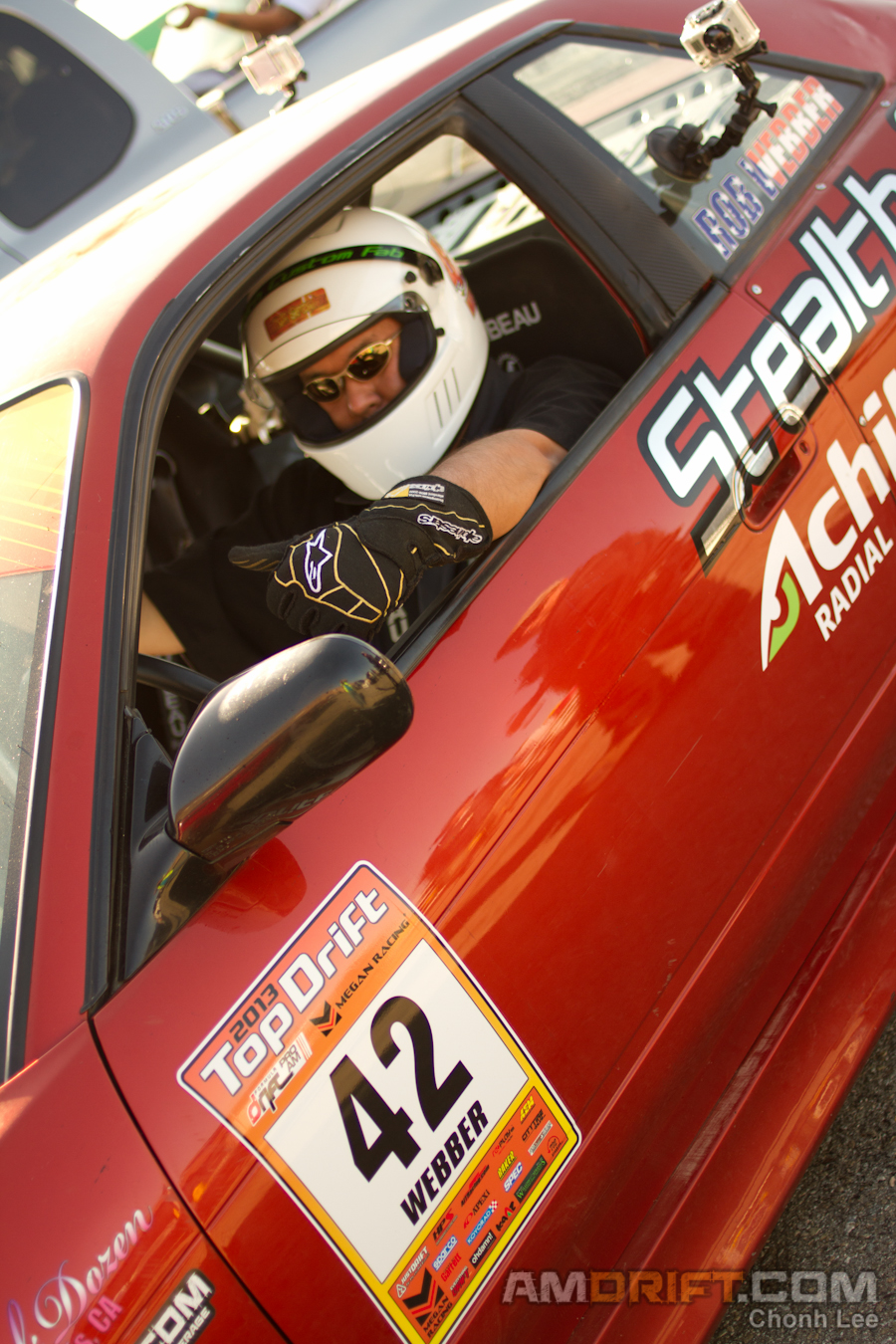 Owner and driver, Robin Webber, has not always owned an American powered Nissan 240sx. The decision to make the switch was actually more recent than you would imagine. Just a few short months ago, Robin's ride was powered with the popular choice of an SR20DET. Although his SR was never meticulously, built it made good power… enough power to compete and qualify in the recent Pro-Am series.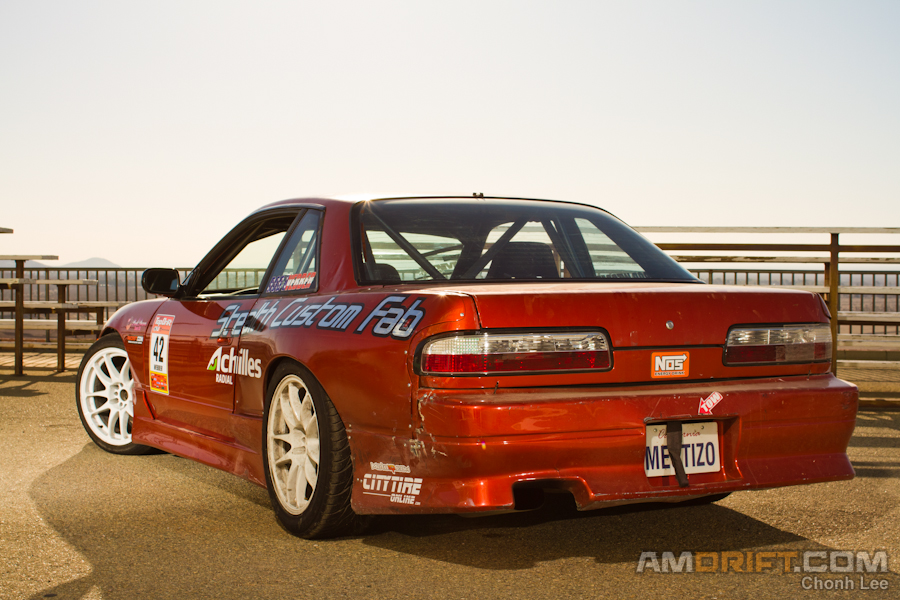 The decision to switch power plants over to American versus traditional Japanese, came shortly after Just Drift's All Star Bash in 2012. There, drivers were given the opportunity to drive with the best in both chase and lead runs around The Streets of Willows at Willows Springs Race Park. Although the SR provided plenty of power to maneuver and do what Robin demanded, it still lacked the potential to link certain sections of the course without slowing down, or "manji" into the corners.
"So, after chasing Matt Field around for a few laps, I knew then it was time to move on to something else." – Robin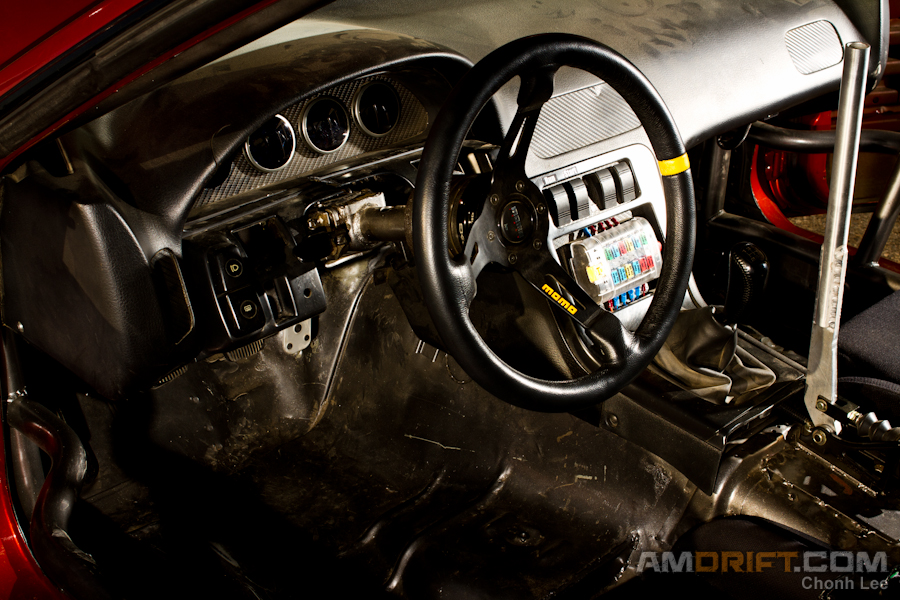 As Robin explained, it was an easy choice to go V8. Big displacement engines would be easy to produce up to 400 horsepower easily, and still have plenty of room to further improvements. Aluminum blocks would provide a lightweight alternative to adding unwanted weight. In addition, American made engines means locating parts here is easy, as they are plenty and far more affordable compared to quality parts from Japan. Common with engine transplants, you have plenty of platforms to choose from. A common swap we have all seen when it comes to going V8, are Chevorlet's LS series engines, and Ford's 5.0 and Coyote motors. In the decision making process, Robin wanted something with displacement and affordability. The decision was easy. The LS series offered more reliability and more displacement.
With plenty of homework and barely enough time, Robin set out on a mission to take on the install of the new power plant. The original plan was use the Hooker S13 swap mounts and headers for the S13, but only Robin would come to realize that Hooker discontinued production of their engine mounts due to improper fitment. Together with Jon Frazelle of Stealth Custom Fab, they produced their own mounts.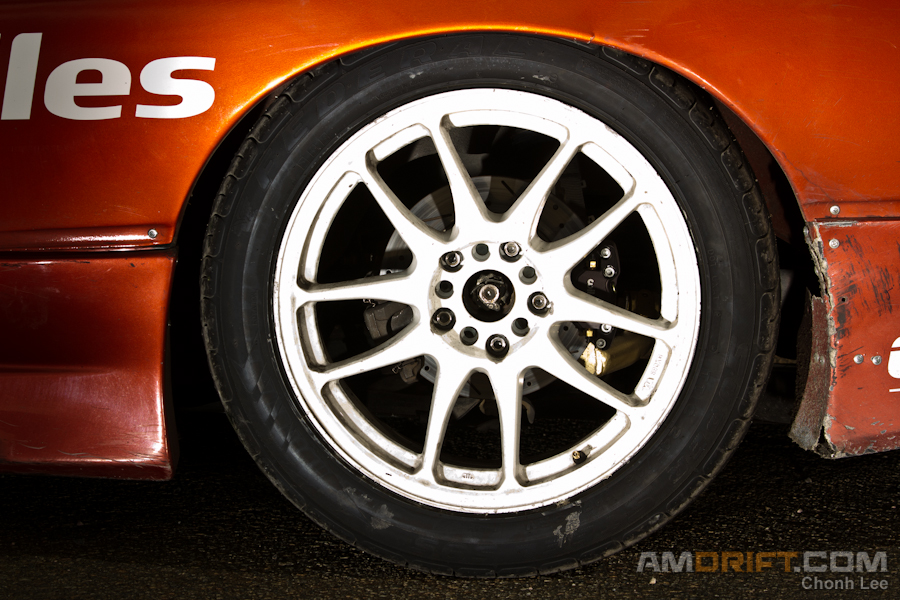 The guys measured, mounted, and customized the chassis to accept the new engine and oil pan within a single week! The changeover was as simple as an easy SR swap. If you choose this as the route to go on with the transplant, without the assistance of a changeover kit, a lot of simple important parts require an immense amount of customization.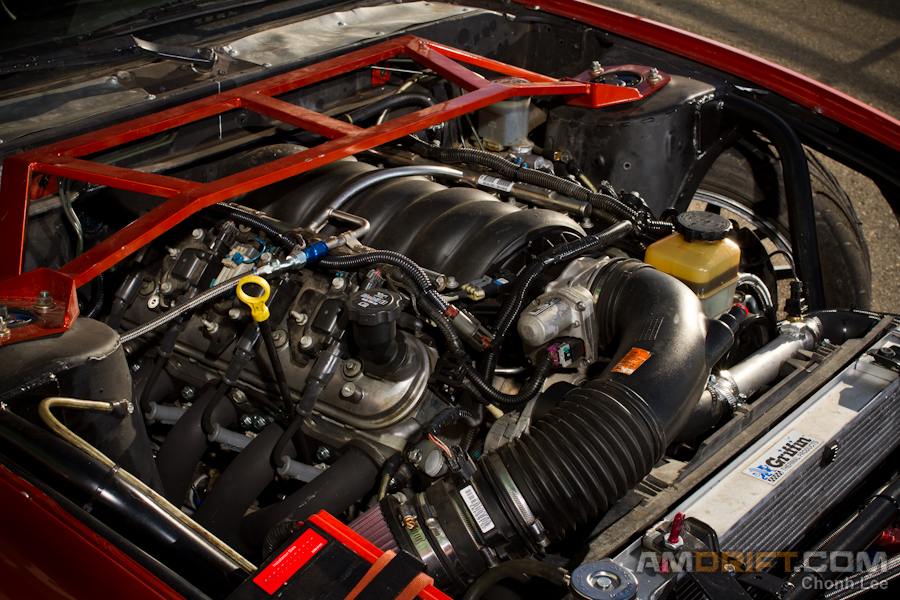 Robin choose to go with an LS2 motor commonly found in the 2001+ Corvette, Camaro and GTO's. These engines already made 400hp and torque. Paired with a T56 transmission, they are perfect for all drifting needs. The engine has little modifications done to it. The ECU was sent off the PCM of NC to clear the ECU of unwanted features,  and to be programmed with a basic tune conditioned to Robin's needs. The engine is fitted with Hooker headers, K&N filter, dual 3″ collector into a custom Y pipe, which pairs up with Spintech oval exhaust to create further ground clearance. All custom work was done at Stealth Custom Fab by Jon Frazelle.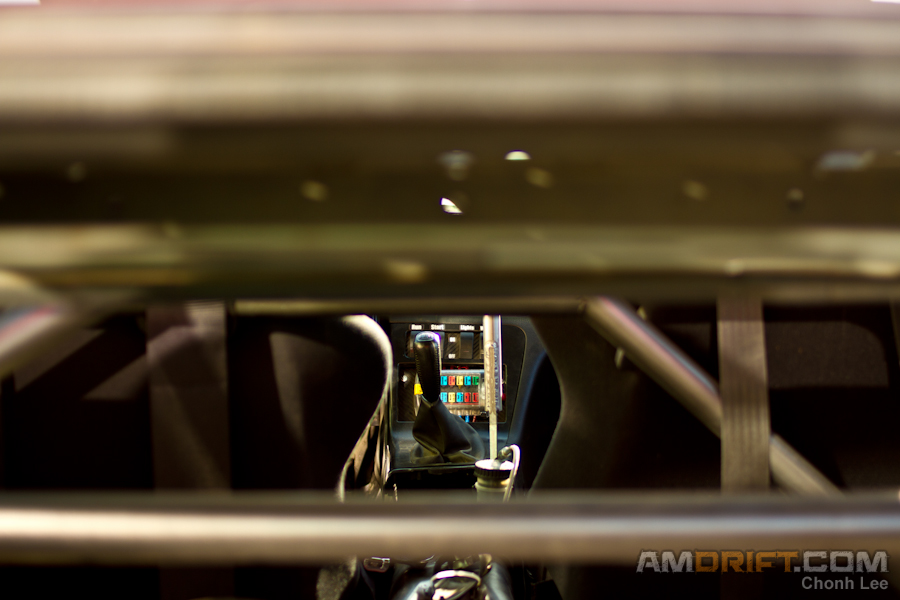 As a youth, Robin began his motorsports hobby starting at the young age of 6. It began with racing quads and motorcycles until he was the age of 16. Once a teen, Robin continued on his life as a normal teenager and pursued a life of motorsports in the audio and drag racing scene, but he would ultimately come to realize that nothing would come close to the previous motorsports before. It was not until 2006 when Robin had the opportunity to get behind the wheel of an S13 he acquired for $500 . Together with his father, Robin welded the diff and began attending events. Looking to hone his drifting skills, Robin entered into the Pro-Am series in 2010. Jon from Stealth Custom Fab, became the crew chief and Robin's main sponsor. Robin's ultimate goal is to be able to drive at the professional level.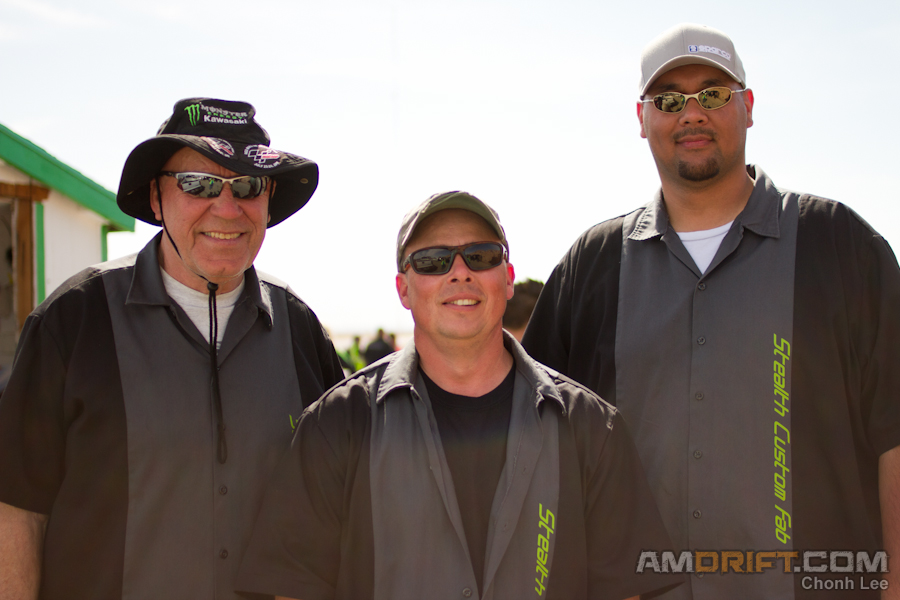 Robin is an aspired driver, inspired by professional teams such as Dai Yoshihara's team and their dynamics. Rob is also inspired by professional drivers who move up within the ranks of Formula Drift drivers, as each year they progress through what seems to be the impossible in the competitive sport of drifting. Aside from the driving and the sport, a driver cannot be who he or she is without a structurally strong support of friends, family and loved ones. Robin would like to specifically thank Jon Frazelle of Stealth Custom Fab for being a great sponsor, crew chief, fabricator, and most importantly, a great friend. In addition, what better team member to have on your team than your father, so thanks for being an awesome dad! Robin's loving wife Kelly is also a big part in supporting the foundation of his drive in the sport. So, for all you loving and supporting spouses out there, thank you not only from Robin, but form us as well! Having support from friends and family can help anyone boost the winning spirit.
"Thanks to AmDrift for covering the grassroots guys and showing a side that most people never see." – Robin Webber
"You're most welcomed sir"- AMDRIFT.COM