We are ever so grateful for the rookies who take time to tell us their story. In this article, we get with 2013 Formula Drift Rookie, Eugene Kretschmer from San Jose California. Lets see what he has to say.
How were you able to run all your events, and how long have you been drifting?
"Thankful my sponsors have helped me out tremendously in pro am and this year. Without their support, I would not be where I am today. I started drifting in 2005, but stopped in 2008 because my father was stricken with cancer and my family and I were unsure if he would make it. It was a rough time in my life, and I felt I had to put drifting to the side for awhile and spend as much time with him as possible. Thankfully he beat cancer in 2010 and has been doing great ever since. I returned to drifting after that, and haven't looked back since."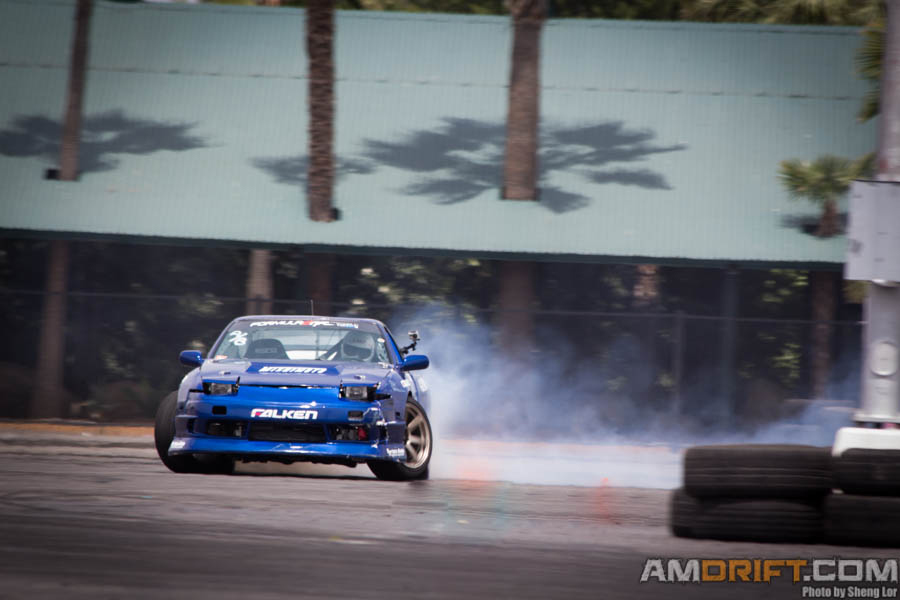 Where did you get your license from and is there any regrets in any competitions or your car?
"I earned my license through Thunder Drift pro am, and I have zero regrets. Drifting is too fun to me to have any regrets."
What is your setup for motor, suspension, etc?
"Currently I'm running a stock 5.7 LS1 making about 300 hp. I had a stroked LS2 (6.7) making 500 hp I was going to run at Long Beach, but 4 days before we were to leave for LB, the motor committed suicide.

For suspension, I'm running Fortune Auto Series 500 coilovers, Battle Version links, and Garage 45 Knuckles, tie rods, and subframe.

To keep everything cool, I'm running a Mishimoto dual pass radiator.

For tires I'm running the best in the biz Falken Azenis RT-615k."
How did you get into drifting?
"I got into drifting when I was in the Navy. It was back in 2005 while I was deployed to Japan. A friend of mine showed me a Japanese drift magazine, and I was instantly fascinated. I started to see drift cars all over Japan, and new that I wanted to get into a car and start learning how to drift as soon as possible. As soon as I returned home, I purchased a bone stock single cam 240sx, welded the diff and started learning how to slide it. I attended my first legit drift event in 2005, and I was instantly hooked!"
What future events do you plan to attend, both FD and/or grassroots?
"My team and I are hopeful we can make at least one east coast FD event this year. Like most, if not all rookie teams, funding is a difficult to find, and getting the car, team, and equipment to the east coast and back is pretty expensive. We will be going to the remaining west coast events, also including Texas. I would like us to make as many grassroots events as possible. They are great for us to get out and do some testing prior to FD, and are my favorite events to attend. My team and I attended Tandem or Die Ver 3 on Cinco De Mayo and had a blast ! We hope to attend more events like that in the near future!"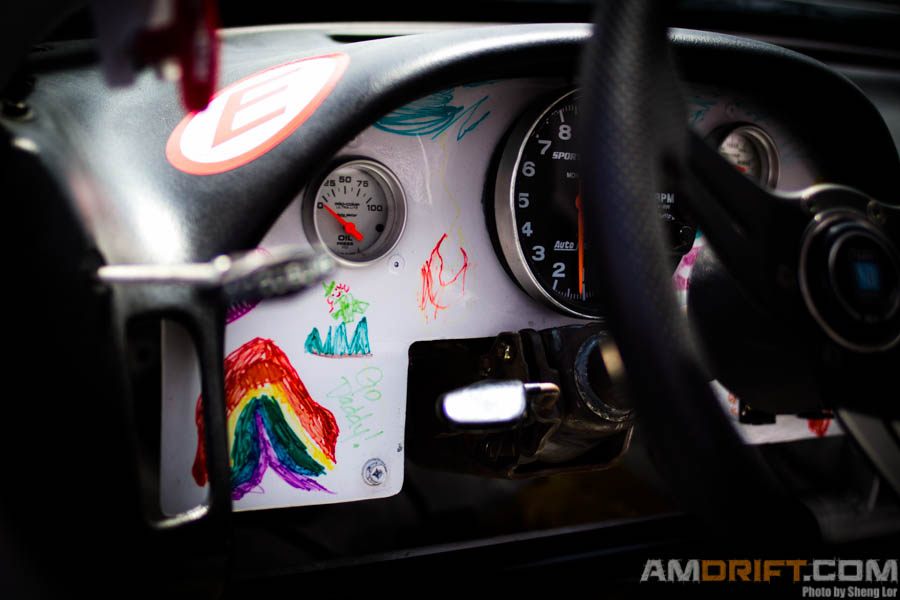 Does your car happen to have a name? If so, what is it? Also, how did it come upon that your daughters amazing art became your dashboard?
"Ha ha, she does have a name actually, its Betty. We call her the blue Betty lol. The art on my dash was done by my wife and daughter. The idea for it came from my spotter and Garage 45 teammate, Cody Gadth. We were trying to figure out a color for the dash that would flow with the interior, and he brilliantly thought "hey why not paint it white and have your daughter and wife draw on it ? " So we did it, and I love it ! If I ever get nervous, all I have to do is look at that dash and I'll know that I have nothing to worry about."

Sheng's Fun Facts!
What would be the most memorable or craziest thing that's happened to you during an event?
"It would have to be finishing first at Thunder Drift pro am round 1 last year. We just finished the car at midnight the night before and I had zero seat time in it. I had no idea how the car would feel since the build, I really just hoped to qualify, and get some tandem time in! Halfway through the event I ran out of tires, and ran the from top 8 all the way to the final on bald Falken Azenis!"
Do you have a ritual you do before a drifting event?
"Usually my ritual consist of late sleepless nights working on the car, lots of coffee and cigarettes and Wu Tang !!! lol"
What super power would you like to have?
"Oh man that's a tough one…. I'd like to be able to beat Daigo lol. Is that a super power ?? Seriously though, Beat Daigo."
Who's your man crush?
Will Ferrell
Name something you can't live without.
"Tires"
What's your favorite chick flick?
"Drift Alliance Stay Hungry (lol that's a chick flick right?…)"
Good enough for me!
Who would you like to thank?
"I'd like to first off thank my wife and daughter for all their support to keep me going. Thank you to my sponsors A5.com, Falken Tire, Mishimoto, Battle Version, Fortune Auto, Keepemlit, Vex Motorsports, Garage 45, Andy's Auto Sport, and Synergy motorsports ! Thank you to my team at Garage 45, you guys rock!"
Thank you Eugene!