The 2013 Top Drift season is now over. On this past Saturday the 24th, drift enthusiasts and FD Rookie hopefuls ascended on Willow Springs to compete in round 4 of the Formula Drift ProAm licensing series, Top Drift. Many of  the drivers that earned their licenses have been locked in since round 3, but there were still a few drivers out to take it all, and they didn't come to mess around.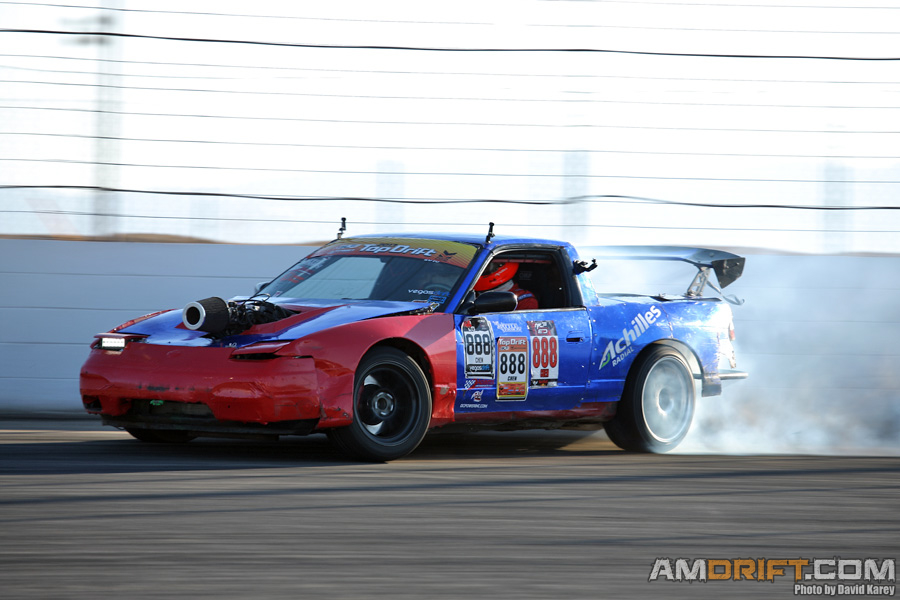 Spike Chen was able to hold the fort and consistently run lines up against the wall that no other driver could replicate, earning him a first place podium spot as winner of round 4.
Ryan Litteral charged hard as hell on the heels of every driver he was matched against, coming in 2nd behind Spike Chen after some super intense runs.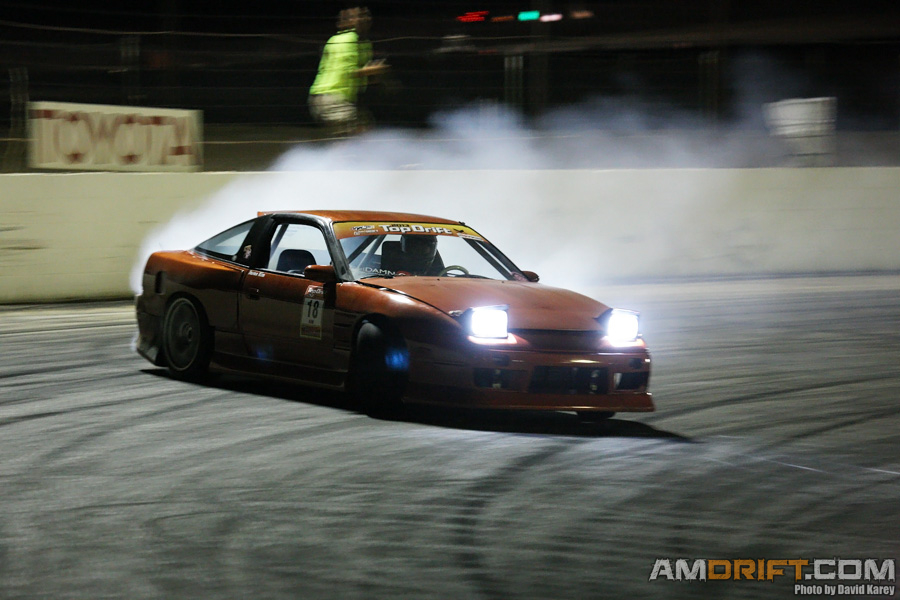 In 3rd place, Jason Kim has become one of the most consistent drivers of the series over the past few years.
Congratulations to the Top Drift round 4 podium. 1st place – Spike Chen, 2nd place – Ryan Litteral, 3rd place – Jason Kim.
Adam Knapik received the Stealth Custom Fab Insane Entry Award and cash prize for his performance in qualifying. Adam also crunched his car on the wall several times during Top 16 during intense and impressive tandem battles.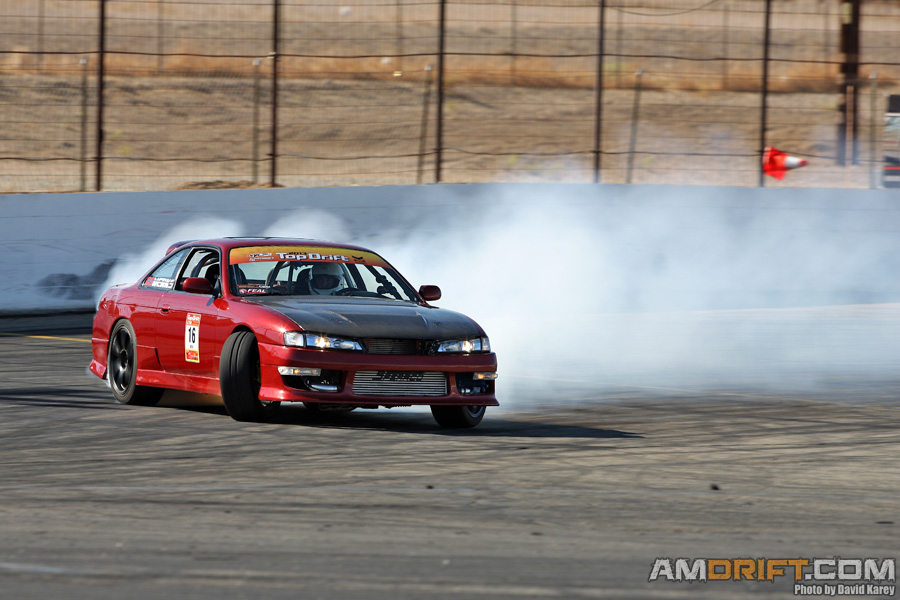 Round 4 also marked the beginning of our very own Tyler Deal's drifting career. Tyler stripped a show/street car and turned it into a full on track car, in hopes that he will someday run door to door with some of Top Drift's most amazing drivers.
2013 Top Drift season champions and Formula Drift license recipients!


Coming into round 4, Tony Cisneros was leading in points and 1st in running for the championship.
Close behind Tony and recently back home after a trip to Colorado for Drift Week, was Eric Hill. Eric suffered mechanical failure in the form of a differential in Colorado, so he was out to win the championship at Willow Springs.
After going late into the competition and being defeated by Adam Knapik, Eric was able to nudge past Tony Cisneros in points and become the 2013 Top Drift champion and take home a Formula Drift pro license.
Danny Giraldo moved up in points to become second place season champion, and also earn an FD pro license.
After qualifying issues and not making the Top 16 group, Tony Cisneros had held enough points from the 3 previous rounds to secure a commendable 3rd place finish for the season and earn his Formula Drift license.
Jason Kim, pictured with Taka Aono, finishes 4th with an FD license.
Ryan Litteral completes the season in 5th with an FD license, which is impressive after missing round 1!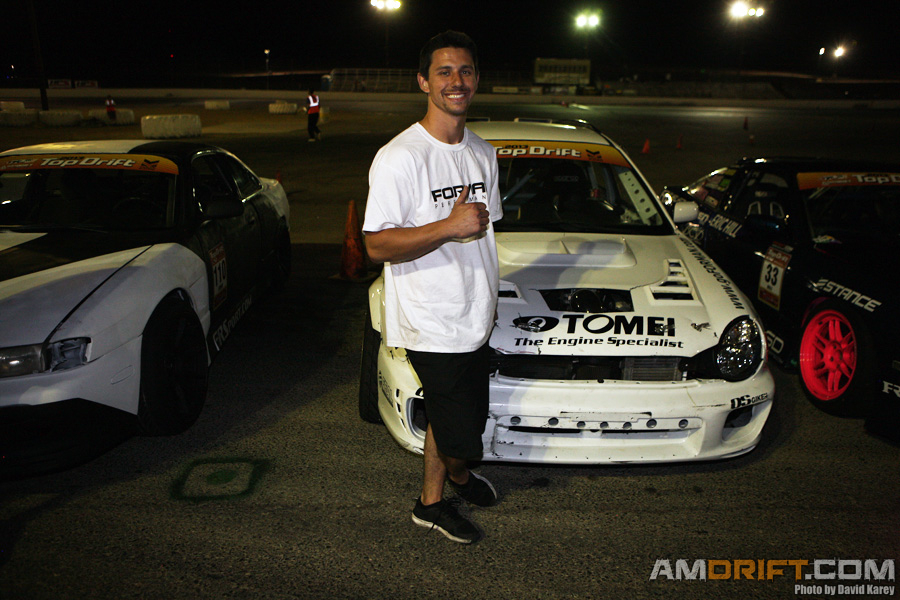 Dave Forman developed and dialed in his LS swapped Subaru wagon into a winning machine this season, earning him an FD license.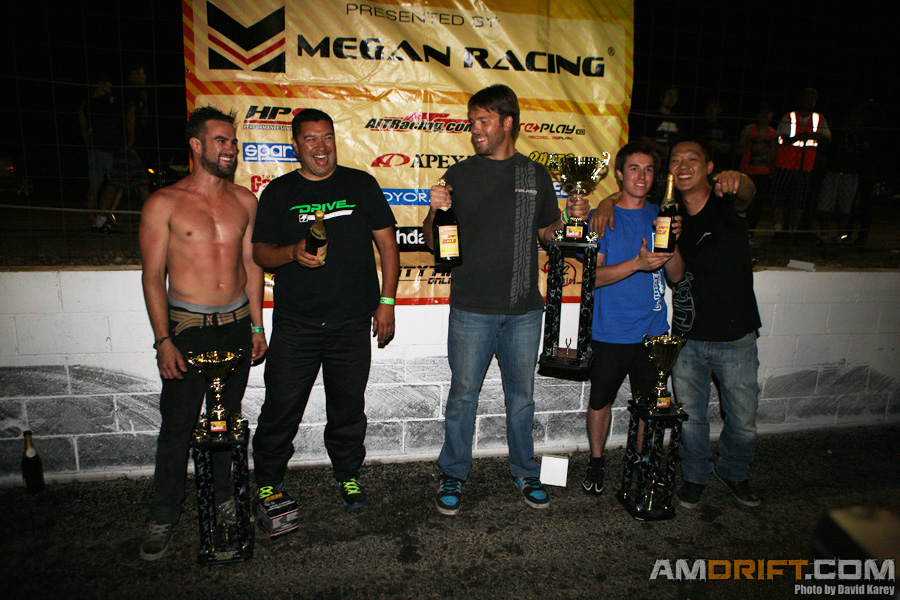 The 2013 Top Drift ProAm series has produced some great drivers that we hope to see do well in Formula Drift, if they chose to move on. No doubt some will be back to hone their skills and earn reputation that sponsors look for, which is an excellent way to plan a career in drifting. Just look at how Chelsea Denofa ran ProAm and XDC for several years before jumping into Formula Drift and kicking ass. Whatever our license recipients plan on doing, we offer our full support next season and plan to be with them all the way.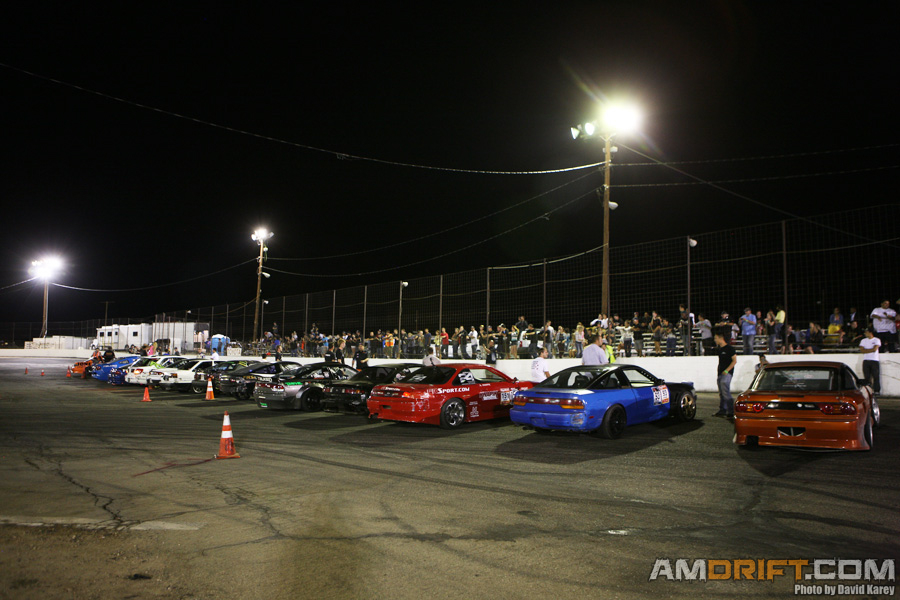 We've had an excellent season, meeting new people, hanging out with friends, and watching some awesome driving. Big thanks to the ENTIRE Just Drift staff and also to the drivers for hanging it out there. You make this a great experience for the spectators and media. Until All Star Bash or whatever event we see you all next, good luck and enjoy the gallery.