Last weekend in Texas was amazing, as we got to join Formula Drift at Texas Motor Speedway for its 6th round of the season. 4 rookies qualified in Top 32, with one moving on to Top 16. Mike Essa podiumed 1st, Matt Field got his first podium finish ever with a second place finish, Chris Forsberg maintained a dominant lead for the championship finishing in 3rd, and an old friend who we grew up with, Pat Mordaunt, took down some behemoths to finish in 4th, which is his best performance in Formula Drift to date. Also worth mentioning, its the second time Pat has taken out Vaughn Gittin Jr., the first being at Irwindale in 2012.
Our trip to Texas was totally last minute, getting confirmation and booking our flight only days from the start of the event. Formula Drift round 6 at Texas Motor Speedway would be our first venture into America's Heartland for a professional drifting event, so we had no idea what to expect from the people, weather, and the track we were heading to. Texas Motor Speedway is a 1.5 mile banked oval with a huge infield track FD was running on, so it was promised to be a high speed drift course with entry speeds expected to be around 100mph, which resulted in some of the highest speed tandem we've ever seen.
The speedway also has a legit media center that Formula Drift took full advantage of, which was a nice break from the humid 90 degree heat and scorching sun outside. The media center would be used for everything from driver's meetings, media meetings, FD official operations, etc.
Many people who follow the FD circuit, take Mother Nature in stride. In Texas, it was important to take advantage of any form of refreshment you could find, as demonstrated by Bil "Santa" Baldwin. We are not joking when we say it was blazing hot!
We were interested to see how the cars would cope with the heat and see the already famous layout of Texas, so we headed over to check out the track only to be greeted by one of the most massive run up distances we have ever seen. The only course we can compare distance and speed wise before the first initiation, was Vegas which was taken over by Texas. We thought Vegas was cool, but we gotta admit that this is a way better facility and setup.
But enough of the track and everything. We've got some treats for all our fans reading this. You can find excellent competition breakdowns on other sites such as OMGDrift, MotoIQ, and Southrnfresh, but there were a ton of exciting events, drama, and controversy in Texas, and we got with some of the drivers involved in some of these incidents that we will be sharing later this week in one of our 3 article coverage of Formula Drift Round 6. Lets start our coverage with a qualifying rundown, complete with scores and photos, even of the drivers who did not make Top 32. Then we will top it off with photos and results from every run of Top 32, Top 16, Great 8, Final 4, and the final battles all the way to podium and the drivers conference in the media center after the event! Lets go!
QUALIFYING
1st – Vaughn Gittin Jr. – 92.6
2nd – Fredric Aasbo – 90.4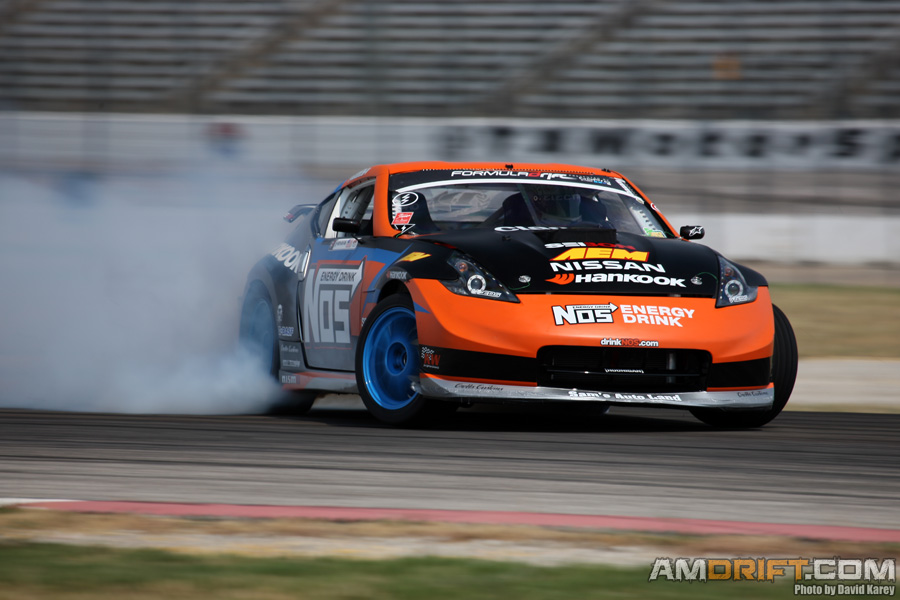 3rd – Chris Forsberg – 86.8
4th – Forrest Wang – 86.3
5th – Aurimas Odi Bakchis – 84.3
6th – Dai Yoshihara – 84.2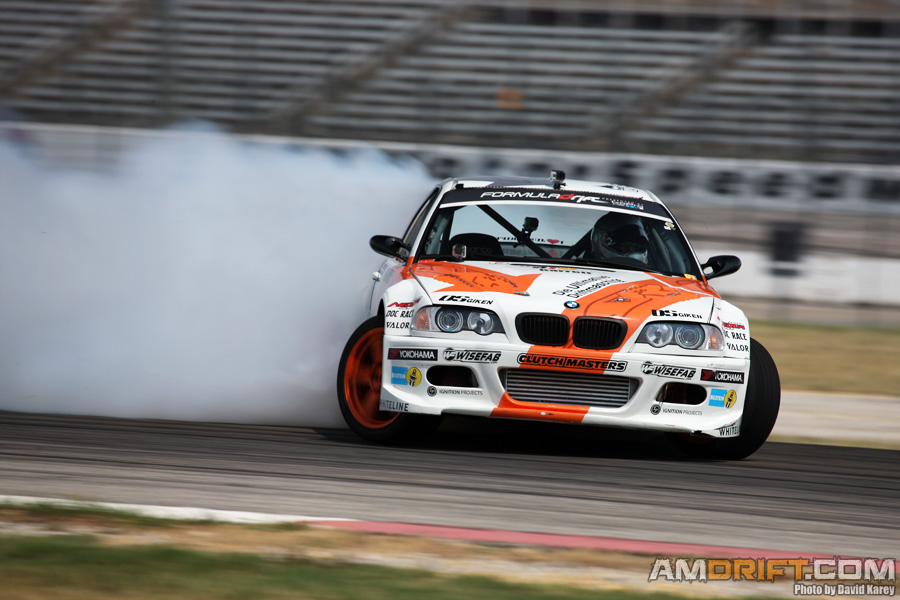 7th – Mike Essa – 83.9
8th- Pat Mordaunt – 83.1
9th – Chelsea Denofa – 82.8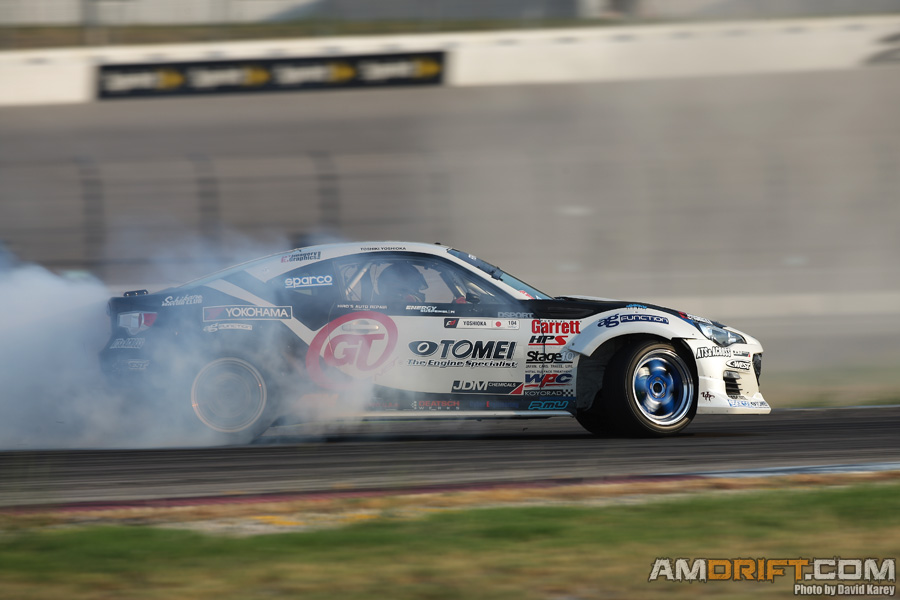 10th – Toshiki Yoshioka – 82.4
11th – Matt Powers – 82.1
12th – Ken Gushi – 81.9
13th – Matt Field – 81.8
14th – Justin Pawlak – 81.6
15th – Mats Baribeau – 80.3
16th – Taka Aono – 78.7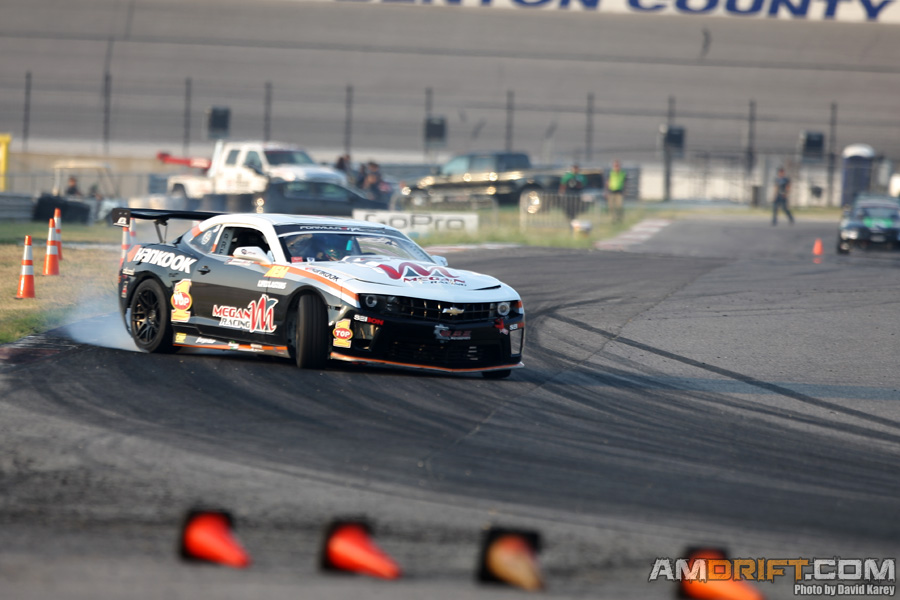 17th – Conrad Grunewald – 86.2
18th – Miro Ovcharik – 85.8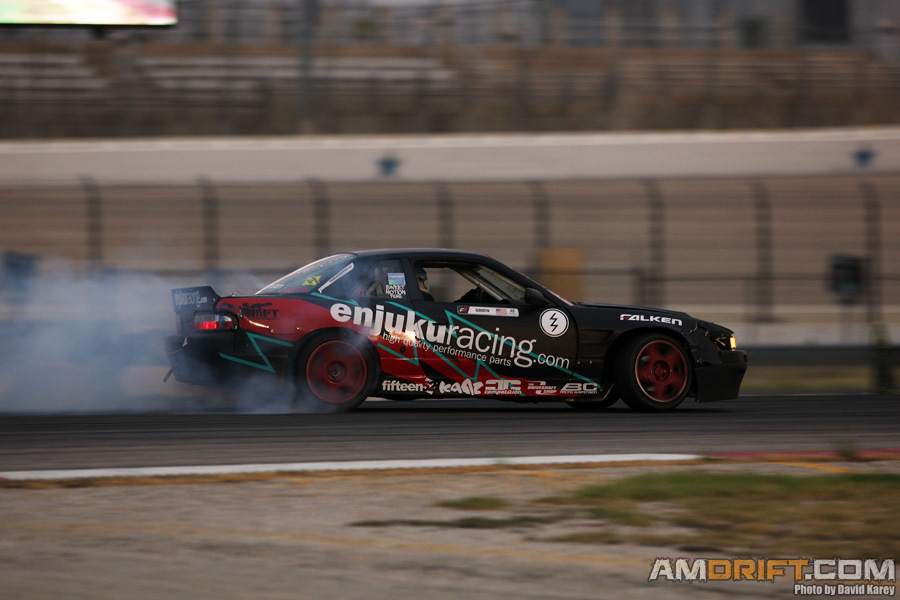 19th – Pat Goodin – 82.8
20th – Will Parsons – 81.4
21st – Danny George – 80.7
22nd – Daigo Saito – 80.5
23rd – Rob Primo – 80.4
24th – Ryan Kado – 79.6
25th – Dean Kearney – 79.4
26th – Joon Maeng – 79.1
27th – Kenny Moen – 79.1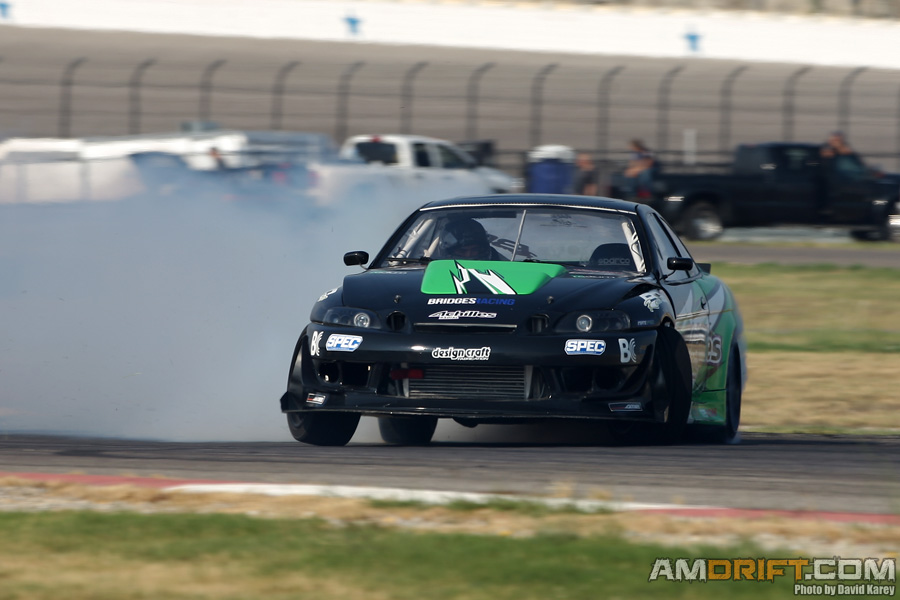 28th – Robbie Nishida – 79
29th – Tony Angelo – 78.8
30th – Jeremy Lowe – 78.6
31st – Chris Jeanneret – 78.3
32nd – Gabe Stone – 77.8
33rd – Dave Briggs – 76.9
34th – Ryan Tuerck – 76.8
35th – Jeff Jones – 76.1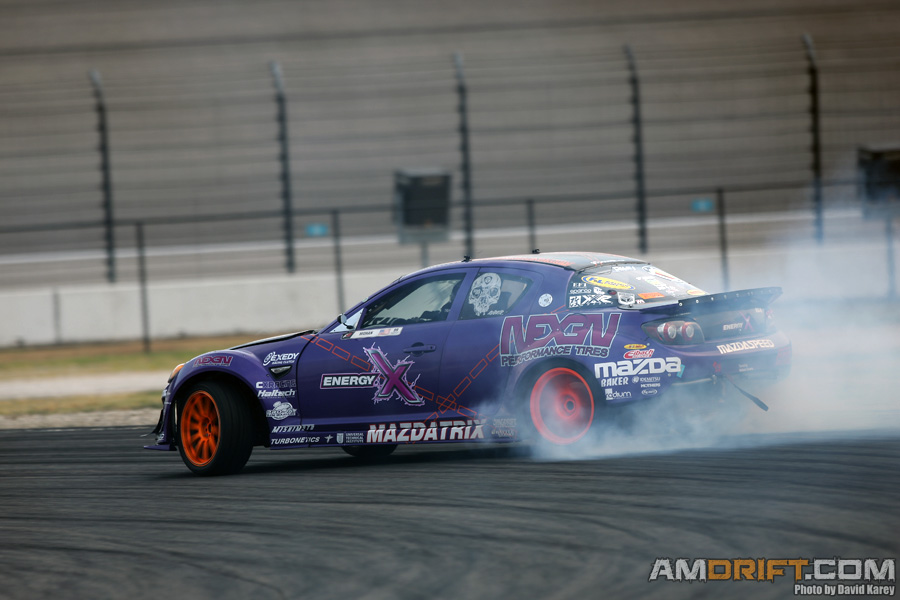 36th – Kyle Mohan – 75.3
37th – Tyler McQuarrie – 73.1
38th – Carl Rydquist – 72.1
39th – Josh Steele – 70.4
40th – Jhonnattan Castro – 70.4
41st – Dennis Mertzanis – 70.1
42nd – Darren McNamara – 65.9
43rd – J.R. Hildebrand – 64.5
44th – Victor Moore – 62.1
45th – Brandon Wicknick – 61.5
46th – Nick Thomas – 60.5
47th – Corey Hosford – 58.6
48th – Enrique Mendoza – 57.5
49th – Luke Pakula – 54.5
50th – Chris Ward – 0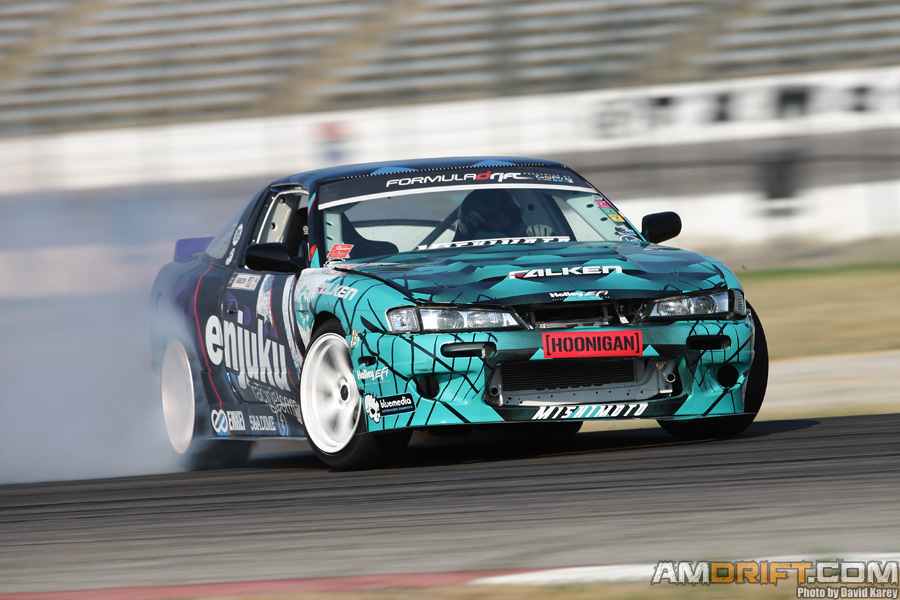 51st – Nate Hamilton – 0
---
TOP 32
Vaughn Gittin Jr. vs Gabe Stone: Vaughn Gittin Jr.
Conrad Grunewald vs Taka Aono: Conrad Grunewald
Pat Mordaunt vs Dean Kearney: Pat Mordaunt
Ryan Kado vs Chelsea Denofa: Chelsea Denofa
Tony Angelo vs Forrest Wang: Forrest Wang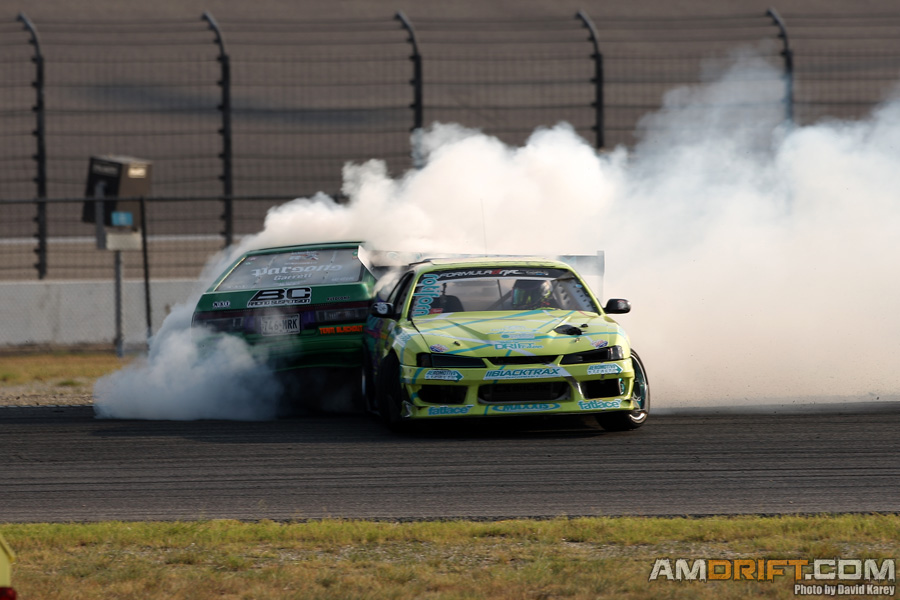 Matt Field vs Will Parsons: Matt Field
Robbie Nishida vs Odi Bakchis: Robbie Nishida (battle resumed in Top 16 due to protest)
Danny George vs Ken Gushi: Danny George
Fredric Aasbo vs Chris Jeanneret: Fredric Aasbo
Mats Baribeau vs Miro Ovcharik: Mats Baribeau
Mike Essa vs Joon Maeng: Mike Essa
Toshiki Yoshioka vs Rob Primo: Toshiki Yoshioka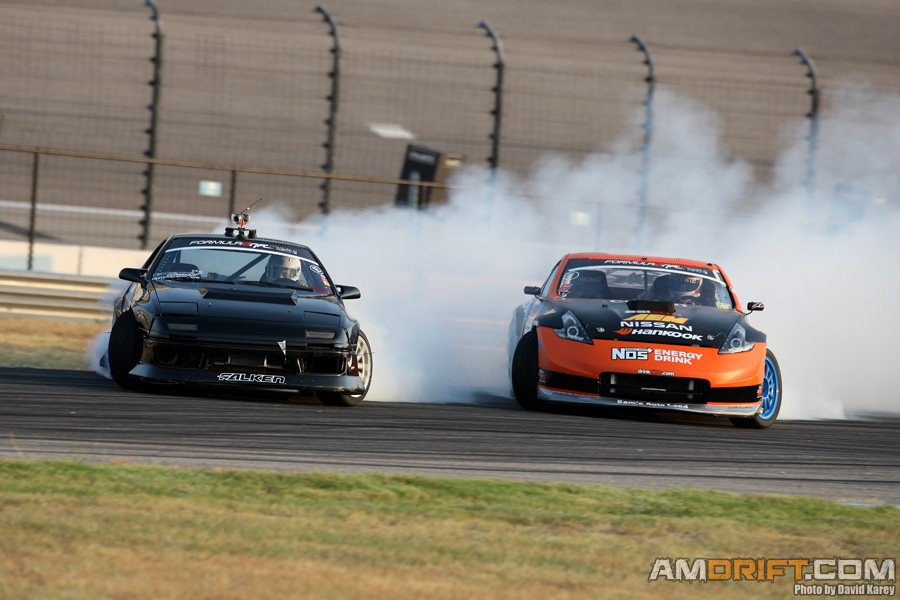 Chris Forsberg vs Jeremy Lowe: Chris Forsberg
Justin Pawlak vs Pat Goodin: Justin Pawlak
Dai Yoshihara vs Kenny Moen: Dai Yoshihara
Matt Powers vs Daigo Saito: Matt Powers
---
TOP 16
Vaughn Gittin Jr. vs Conrad Grunewald: Vaughn Gittin Jr.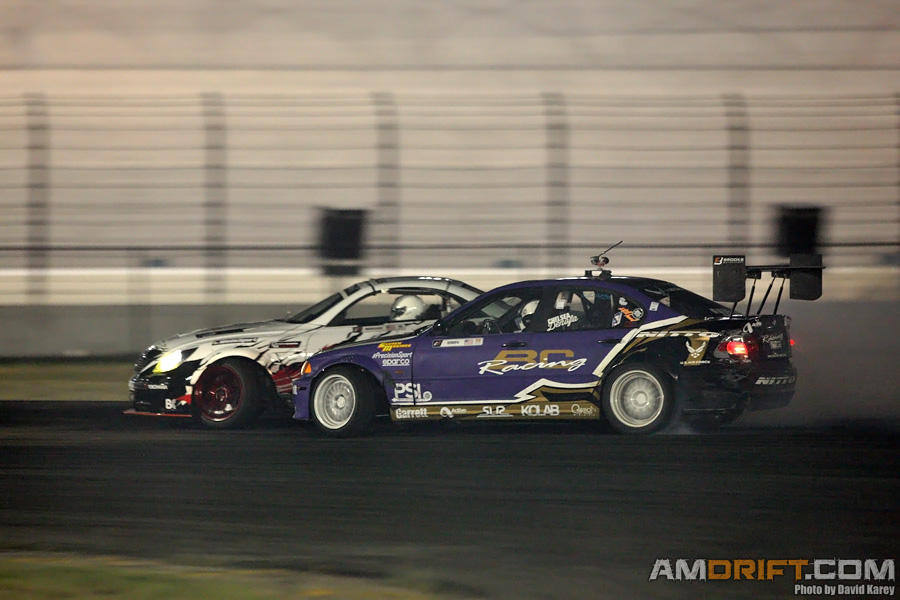 Pat Mordaunt vs Chelsea Denofa: Pat Mordaunt
Matt Field vs Forrest Wang: Matt Field
Robbie Nishida vs Danny George: Robbie Nishida
Fredric Aasbo vs mats Baribeau: Fredric Aasbo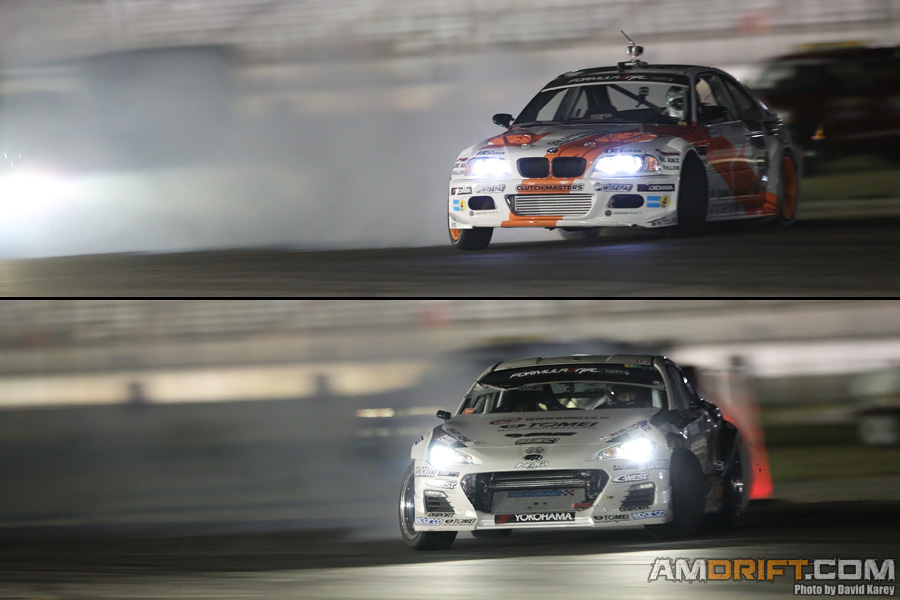 Mike Essa vs Toshiki Yoshioka: Mike Essa
Chris Forsberg vs Justin Pawlak: Chris Forsberg
Dai Yoshihara vs Matt Powers: Dai Yoshihara
---
GREAT 8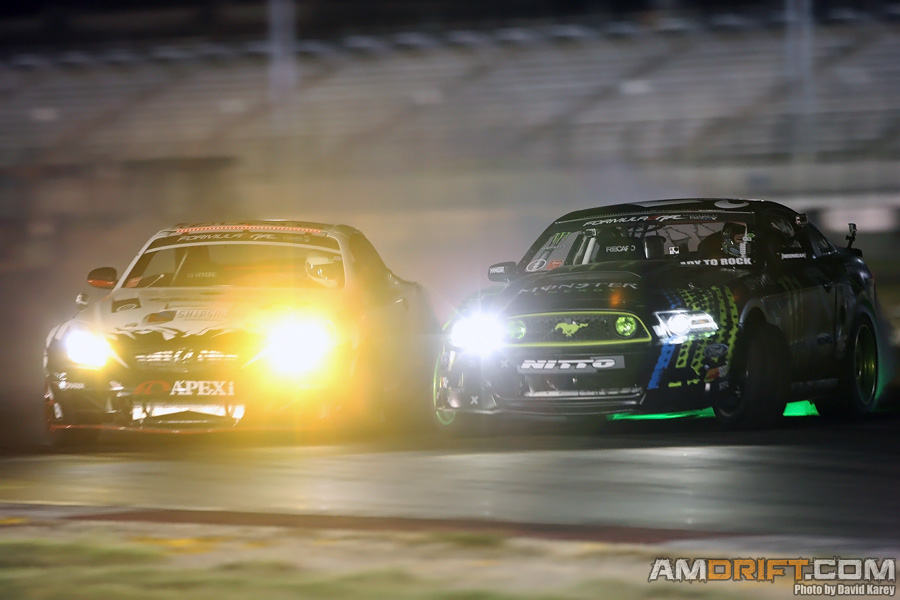 Pat Mordaunt vs Vaughn Gittin Jr.: Pat Mordaunt (Pat's team protests and judges find Jr straightened.)
Matt Field vs Robbie Nishida: Matt Field
Mike Essa vs Fredric Aasbo: Mike Essa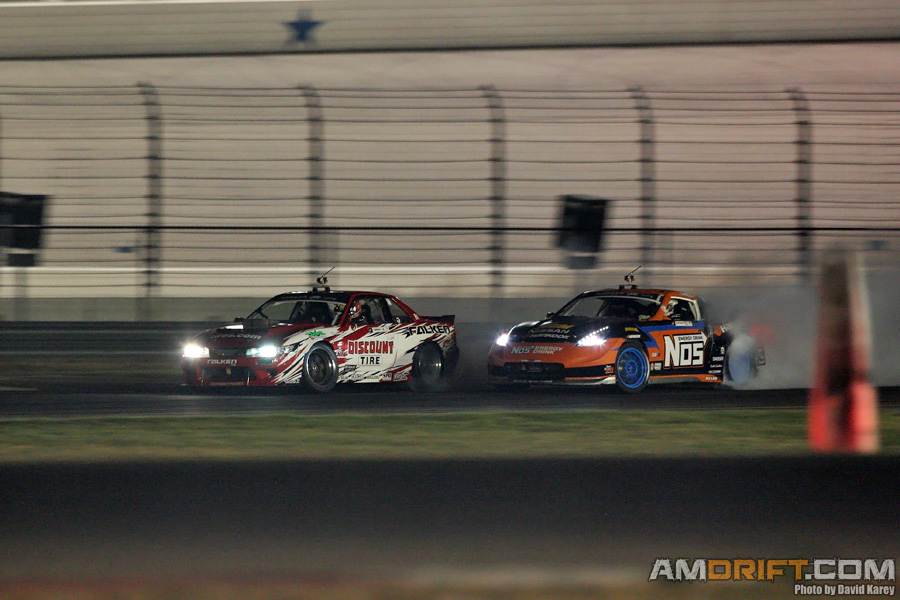 Chris Forsberg vs Dai Yoshihara: Chris Forsberg
---
FINAL 4
Matt Field vs Pat Mordaunt: Matt Field
Mike Essa vs Chris Forsberg: Mike Essa
---
CONSOLATION – 3RD PLACE BATTLE
Chris Forsberg vs Pat Mordaunt: Chris Forsberg
---
FINAL BATTLE FOR 1ST PLACE
Mike Essa vs Matt Field: Mike Essa
---
THE RESULTS
Mike Essa takes down a field of behemoths to win the first ever Formula Drift round of competition at Texas Motor Speedway.
Before Texas, Mike Essa had podiumed twice; first place in Palm Beach, and second place in Seattle. This win in Texas puts Essa in the first place spot for the 2013 Formula Drift championship. Forsberg, Aasbo, Gittin, Saito, and Pawlak will be gunning for him at Round 7 in Irwindale.
1st) Mike Essa – 489.50 points, 2nd) Chris Forsberg – 474 points, 3rd) Matt Field – 425.50 points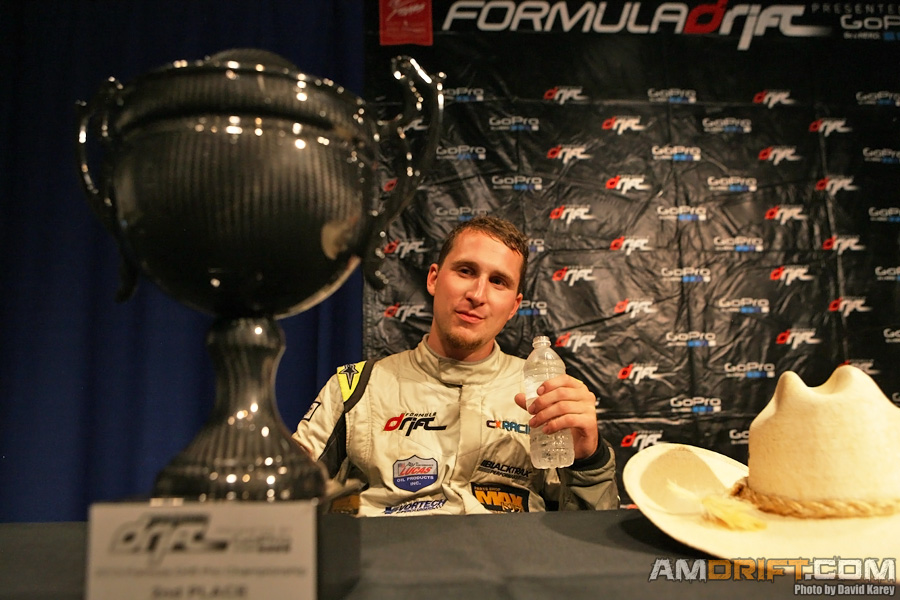 Round 6 in Texas also marked a milestone in Matt Field's career, being his first podium finish in Formula Drift.
After the podium ceremony, reporters and photographers were invited to a press conference in the media center, which quickly filled up with a panel of whatever Formula Drift stars walked in the door. Things got interesting when a couple of drivers were asked about some of the incidents of the competition, such as overturned calls due to protest, etc. Check out the video below by our friends at Wrecked Magazine.
That wraps up our run by run event coverage of Formula Drift round 6, Showdown at Texas Motor Speedway. Stay tuned for our rookie article, our FD Texas ProAm article, and our next article coming in a few days. We speak with the drivers of all the crazy happenings that you want to hear about! Thanks for visiting AmDrift.com….where we mostly cover amateur grassroots drift events, but dont hesitate at the chance to catch some Formula Drift!