No Coast Drift Party
no [noh] coast [kohst] drift [drift] par·ty [pahr-tee]
1. A drift party in Albuquerque, New Mexico.
2. A drift party where nobody gives a f###.
3. The craziest drift party in the desert.
We headed out to Albuquerque, New Mexico for the 2013 No Coast Drift Party, which is organized by Dan Brockett at Napa Speedway. Our intentions were to show up and kick back for the entire event, drink some brews, and have a good time with everybody….but we naturally slipped into media mode when we arrived. Warning: this is quite possibly the worst writeup you've ever seen in the history of the internet, but at least we had a good time haha.
We drive into town late Friday night, just in time to catch Dan Brockett and Tyler Wolfson at Albuquerque's hot street racing and cruise scene at the Sonic drive in on Montgomery, which is notorious for illegal drags and shenanigans. What is great and totally entertaining to us, is that the cops didn't seem to give a crap until a certain time, and then rolled hard on everyone. It reminded me of back in the day in SoCal before F&F came out, and huge groups of street racers used to own the streets. After catching some of that, we headed to Motiva with Dan and Tyler to watch Dan's car roll the dyno a few times before heading for the room to get some sleep.
We arrived at the track on Saturday looking for something interesting to cover. We had a $100 point and shoot in our pocket and came up with a plan to make the jankiest off track drift video in existence. After a few minutes of carefully crafting a mic out of electrical tape, toilet paper roll, and a GoPro, Jonathan Velasquez and I hit the pits looking for whatever. Check out the video.
Jonathan Velasquez everybody. Contact his agent for private massages with happy endings.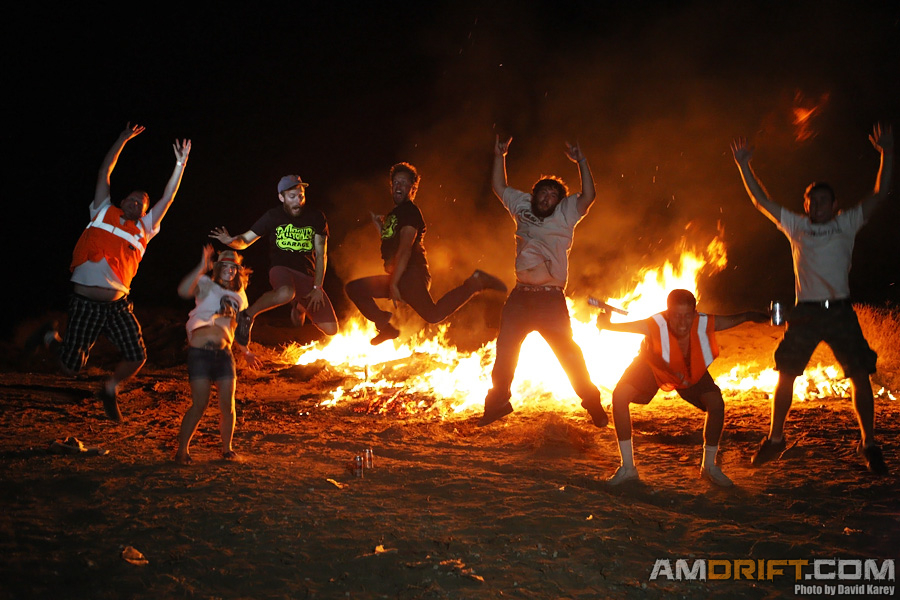 Some crazy f### lit a fire Saturday night 50 feet from a metal band. All hell broke loose and we cant remember much after that.
Tyler Wolfson really wanted me to draw a penis with the light behind him. You know, I'm not that great drawing male body parts, but I tried my best.
William Nourse from SoCal was kind enough to drive us to New Mexico, so we clapped our hands and summoned a few hotties to return the favor. What happened after this is classified.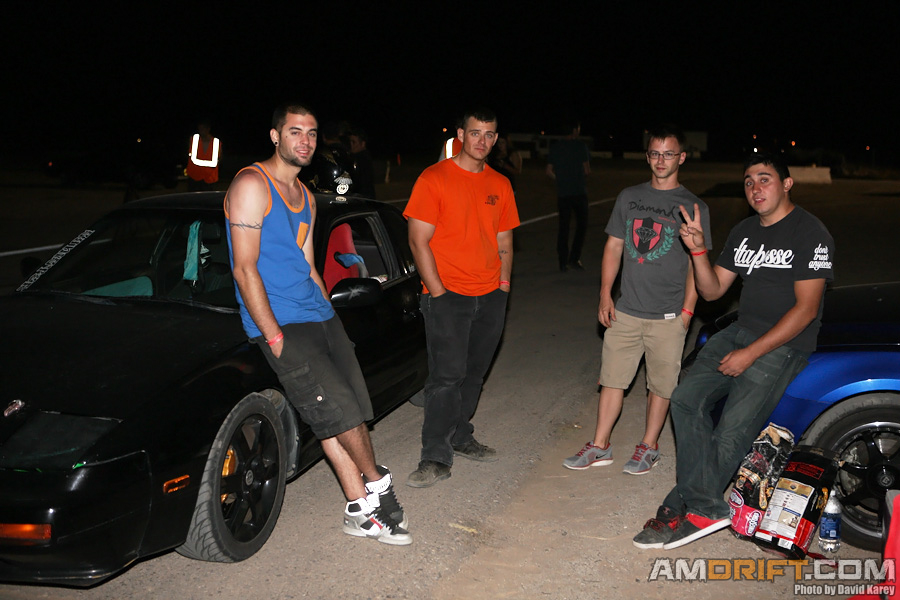 Day one was awesome. The NM drift scene is pretty kick ass with some great dudes. After we packed up to head back to the hotel to rest, we walked through the camps one more time to make sure nobody was getting in too much trouble. Nope, not a problem here. These guys were clearly behaving. Dont party too hard, guys.
After a quick walk of the track in the dark to get some shots of what would be everyone's playground when the sun came up, we headed on back to the hotel and called it a night.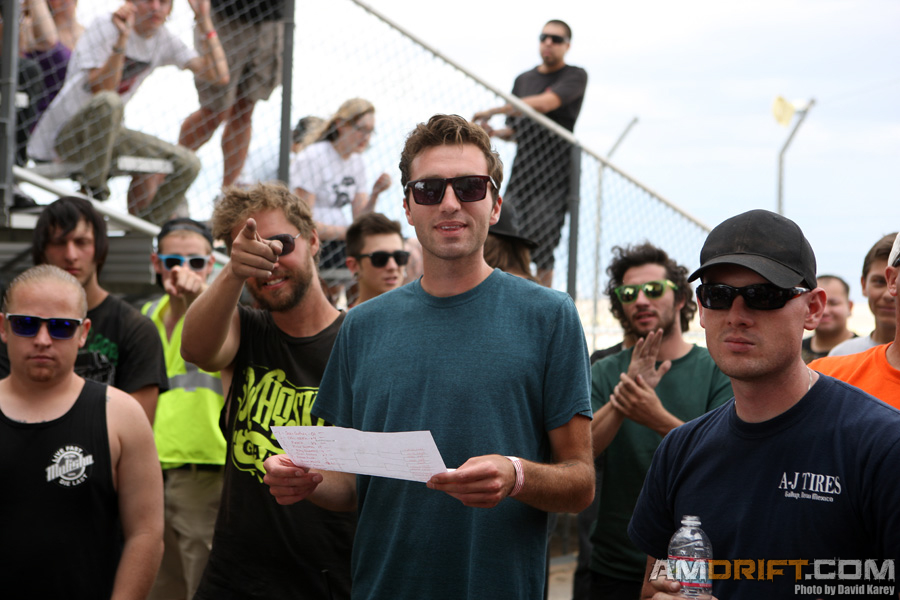 On Sunday, competition started after a short practice and a long qualifying session. Tyler Wolfson was one of the judges for the No Coast Drift Party competition, seen here announcing the Top 16.
2013 No Coast Drift Party Top 16 drivers and a wild Brockett.
In the end, Frank Cundari narrowly missed a finish in the top 3, finishing in 4th place.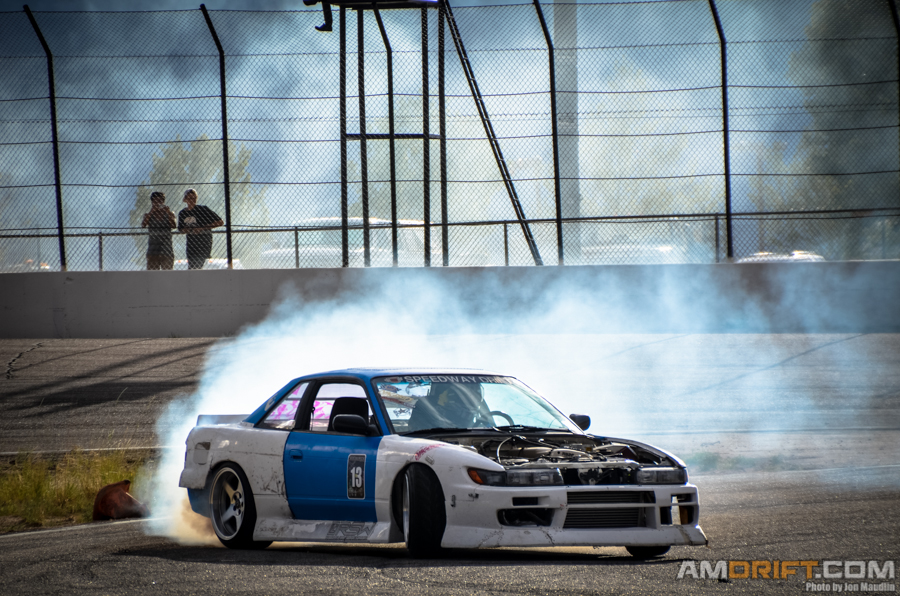 Trevor Koontz, quite possible the nicest man in the southwest, finished in 3rd.
16 year old Riley Fremont from South Dakota, held on to a 2nd place finish after battling Sean Guthrie.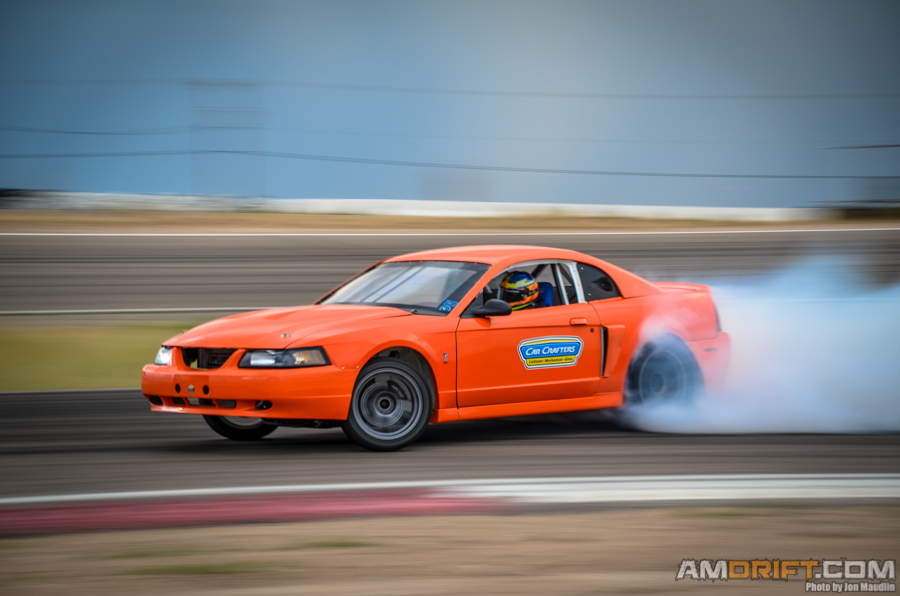 Sean Guthrie took it all with a 1st place finish. Sean has shown interest in not drifting anymore, but we don't like when good drivers stop short of their potential. We hope he continues his drifting career.
Left to right, Riley Fremont (2nd place), Sean Guthrie (1st place), Frank Cundari (4th place), Trevor Koontz (3rd place).
No Coast Drift party was rad. Yeah we know, this writeup sucks, lol. We don't care. Nobody at No Coast Drift Party cared about anything other than having a good time. That's what we came to do. Thats what we did….while bringing home a massive collection of photos for you to enjoy. So, check out all the photos…….
….but not until you check out Dan's crack! Suckers!
SEE YOU ALL NEXT YEAR!!!