The official start of the 2014 Formula Drift season is finally upon us! After half a year of preparation, teams and beastly cars are converging on Downtown Long Beach this weekend for Formula Drift Round 1, "The Streets of Long Beach". We hit up media day to get a taste of what to expect this year, and catch up with news and friends we haven't had the pleasure to enjoy since the end of the 2013 season.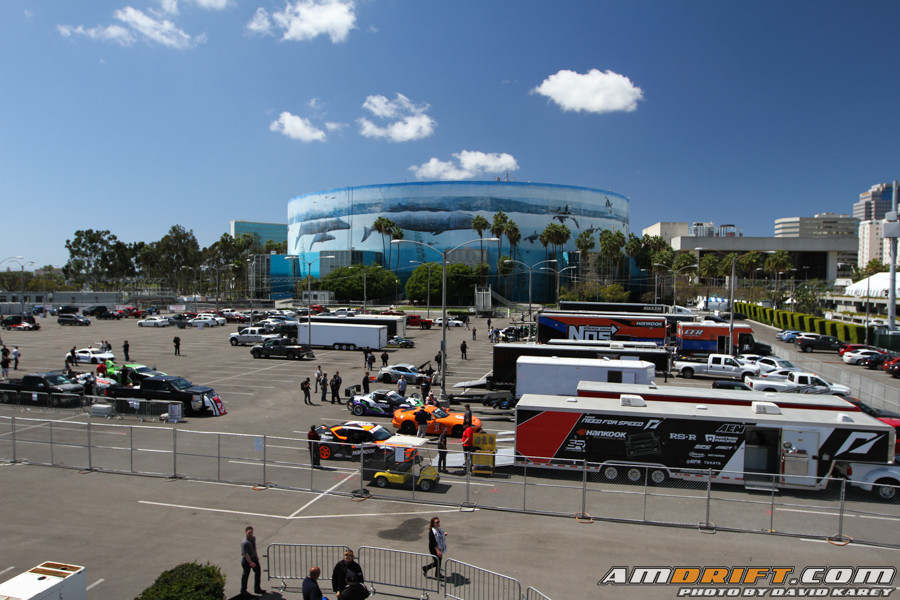 The weather was great, which is a good sign for this weekend. Long Beach is usually sunny and warm, sometimes on the hot side this time of year, but media day gives hope that the weather will be perfect come the 2 day event, which is good because there are a lot of boosted cars this year as everyone knows.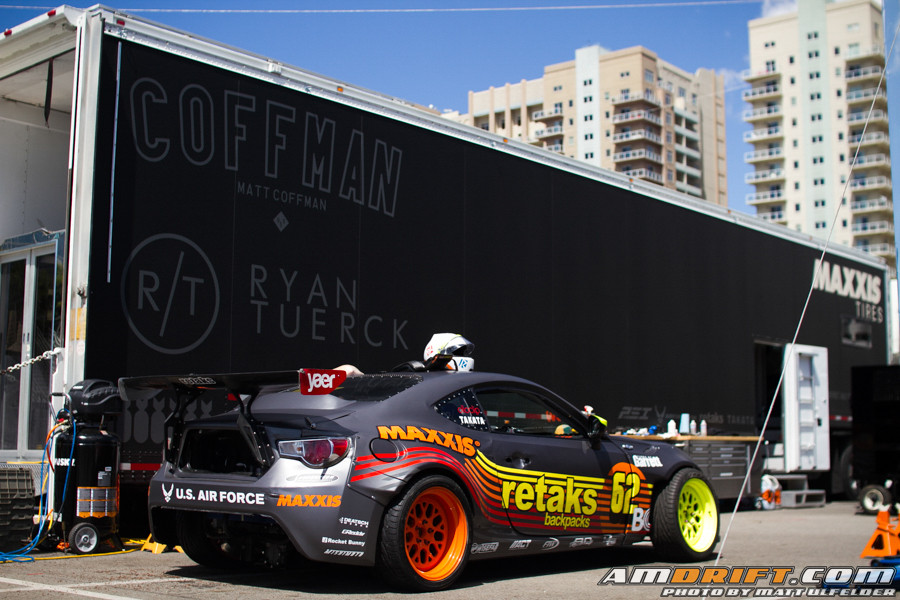 Lots of teams wait until the first day of the event to unveil designs and release special news, but we were especially surprised to see one of our favorite rookies, Matt Coffman, has teamed up with Ryan Tuerck to make a Formula Drift "dream team" in our opinion. Ryan's car was just one of the few new liveries on display at media day while Coffman was out testing at a private location. Excellent!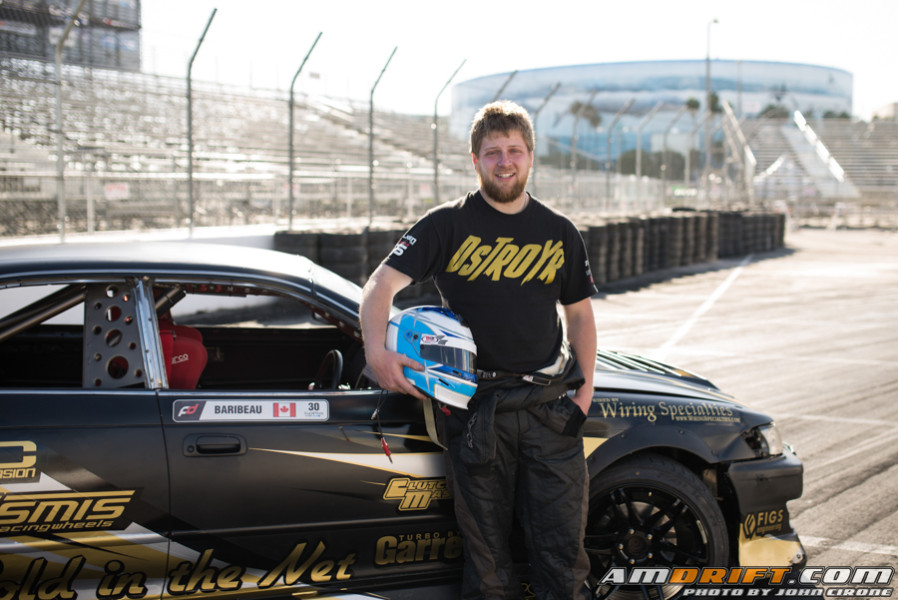 Mats Baribeau, the 2013 Rookie of the Year, is back for his second season, and the car is looking kick ass, and so is the team's attitude and outlook. Here is to a great season for the Mats Baribeau – Gold in the Net drift team! *raises glass*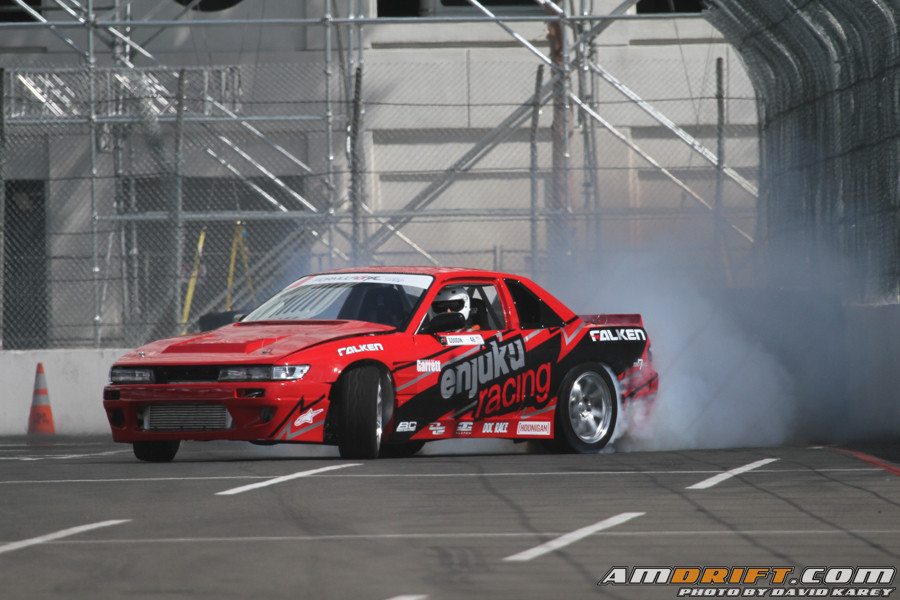 Pat Goodin was the first driver to hit the streets. The first car to roar around turn 9 and under the Firestone bridge gives us great joy, chills, and smiles that Long Beach is finally here.
What an absolute pleasure it was to witness the first stripes of rubber being laid down on the track. Its amazing how in one year, mother nature manages to remove all traces of competition, and we have to repaint our mark of the most awesome driving sport on asphalt every single season.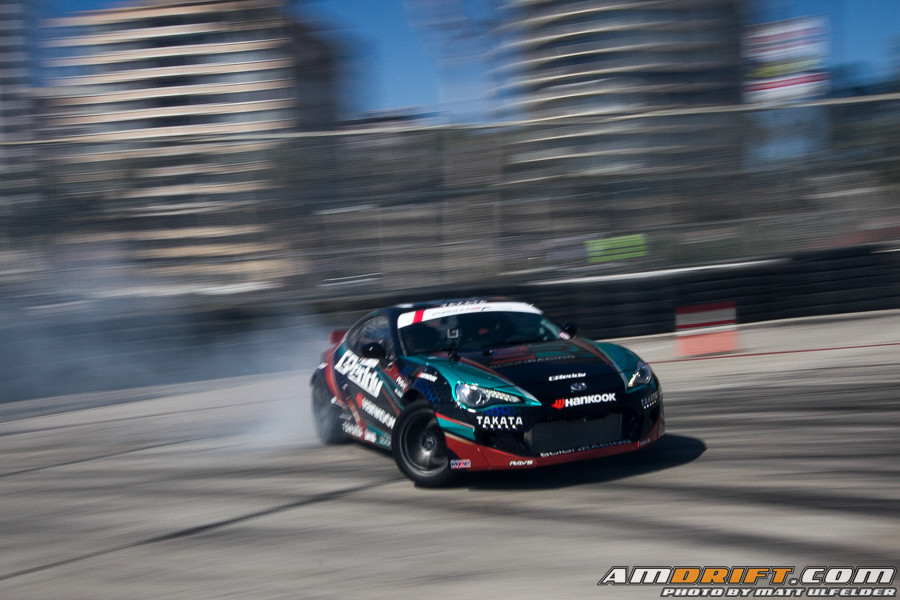 Ken Gushi was looking particularly hot in his new livery. We like a lot, and he was also driving boss in media day, which means he will most likely be kicking ass come qualifying and competition. Never a guy who lets his fans down!
Forrest is back with his typical sexy creation that makes everyone wanna rethink they way they fabricate track cars. The guys at Get Nuts Lab prove that you can have form and function in the same package.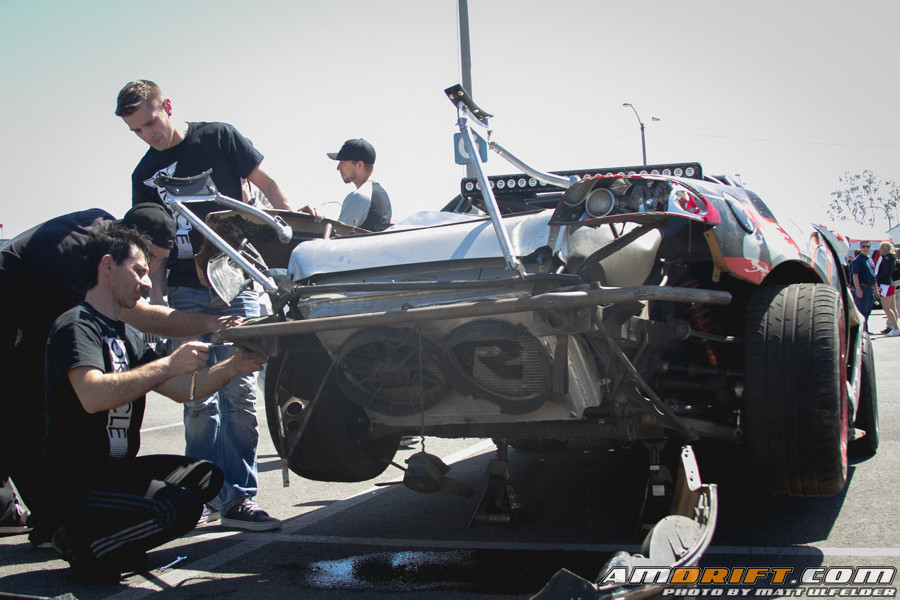 It doesn't matter if its just media day, or competition day, things can go bad anytime if you are constantly driving past the limits of what a car was originally designed for. Dean Kearney put his Viper into the tires at turn 10. With 3 days to work from the time of impact to roll call on Friday, we are sure the team will get it back together.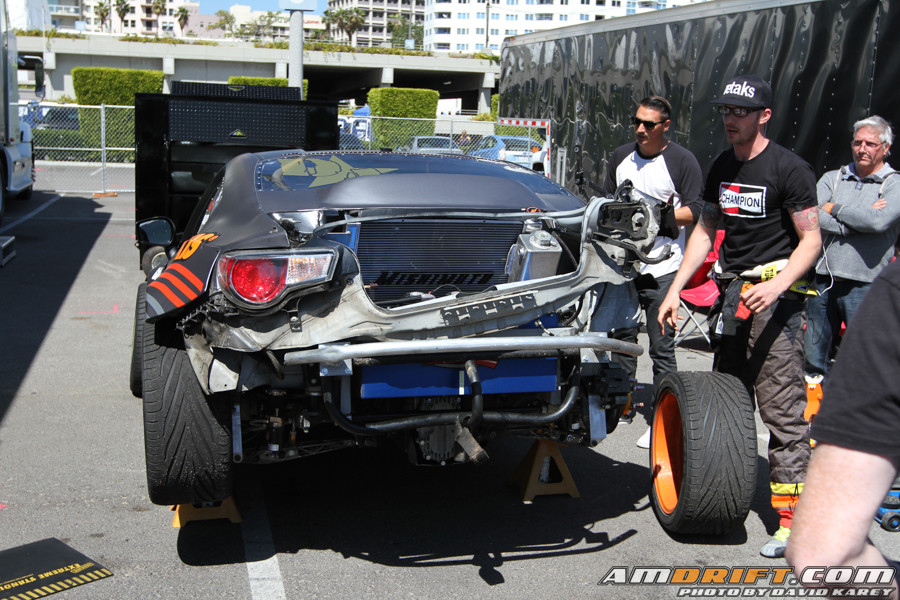 Carnage sucks, but its all part of the game and expected in this form of motorsport. Odi Bakchis and Ryan Tuerck had a little kisser, and Ryan's car wouldn't even fit in the trailer to go to the body shop because it was too wide from the damage. The car was removed from the event on a flatbed tow truck. Surely like Dean's car, we are sure the team will get it sorted out before the start on Friday.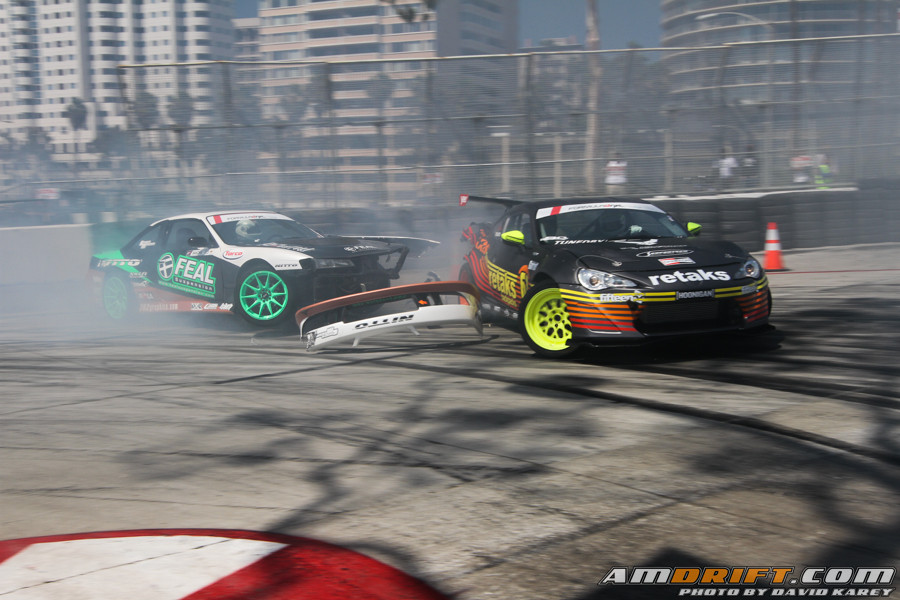 This is the photo that has gone crazy on social media. We don't know the details, but we know there was a serpentine belt on the ground amongst various body parts. Odi is a stand up world class gentleman, as we witnessed him offering his hand and resources to Ryan in the pits, and he seemed genuinely concerned to help his fellow competitor get back on the track. Unfortunate stuff happens, and it doesn't necessarily mean guys are bad drivers….shit just happens. That's it.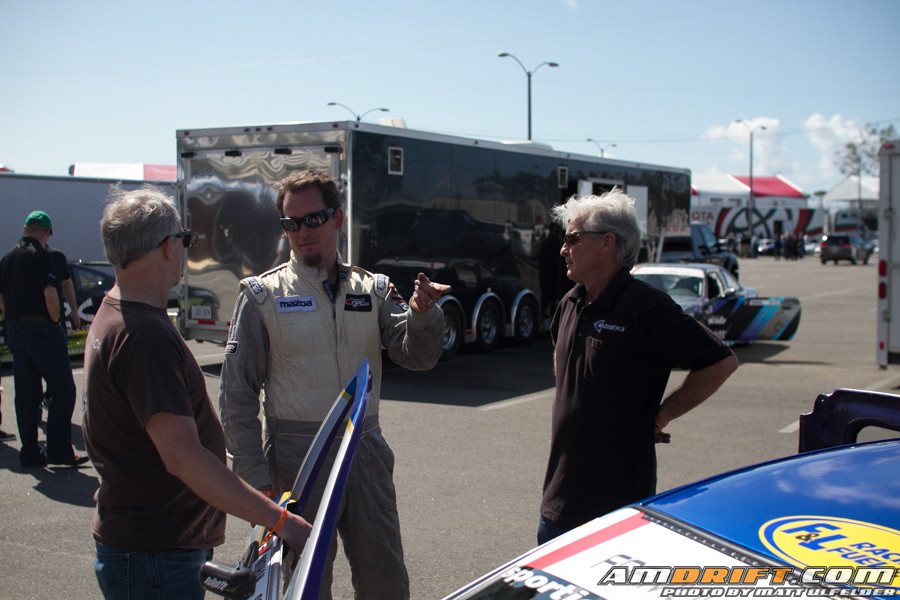 There was plenty of time in between sessions to catch up with friends and meet new faces and partners. Its funny how many of us wait half a year to see our friends, LOL!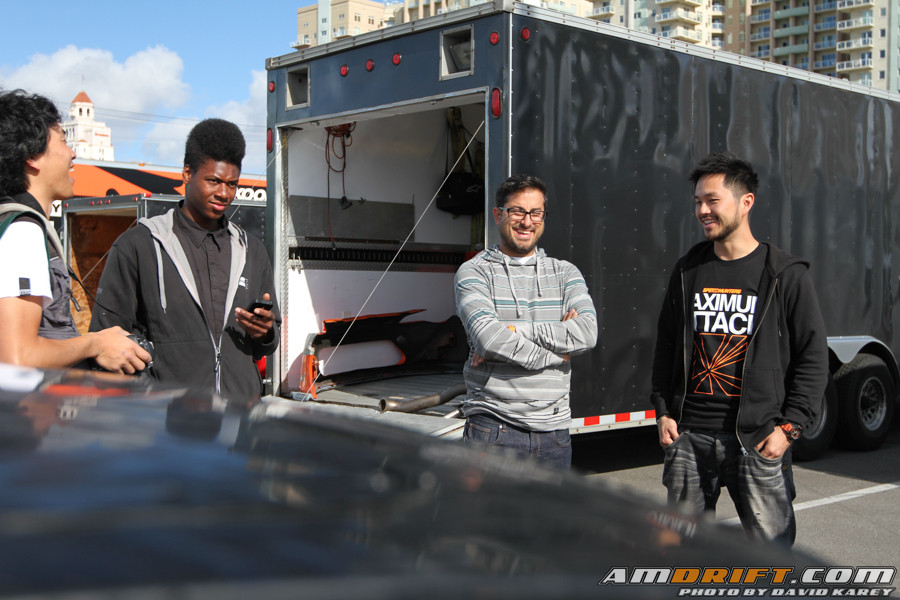 Photographers, guys on cell phones, and drivers are all tense going in to the beginning of the season, but media day….its that one day where you can get to know the faces of Formula Drift without the stresses that come with competition.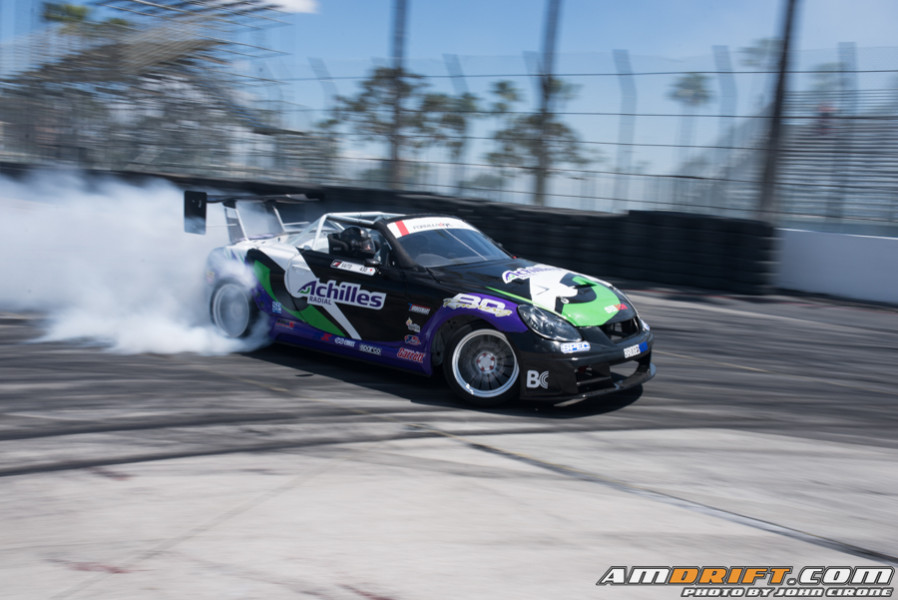 Game faces are now on. On Friday April 4th, we will witness the highest horsepower drift cars that Formula Drift has ever seen, hitting the streets of Long Beach before packing up and making their way to the east coast for 3 rounds.
Come watch FD legends and rookies kill it at round 1. It's promised to be an event full of jaw dropping moments, victorious accomplishments, and carnage…if you are into that sort of thing…hey, we just take photos and report hahaha.
Be there, because these drivers and teams promise to put on a show that will blow your minds!
FORMULA DRIFT ROUND 1, "THE STREETS OF LONG BEACH"
April 4-5, 2014
Long Beach, CA
Enjoy our Formula Drift Round 1 media day gallery!