When you come to Vegas for Vegas Drift, you expect it to be hot. While the weather wasn't all that hot, it didn't mean the drifting wasn't! Spike Chen was looking for another podium, while Brandon Patterson was looking for another win.
Here is the AmDrift Coverage of Vegas ProAm Round 3 at Las Vegas Motor Speedway.
Qualifying threw some interesting drivers into the top five seeds. Faruk Kugay, the importer for Wisefab Suspensions, took 5th place in his S14. Blake Olsen of Exotics Racing would take the 4th place seed, showing that he was more than just your average racing school teacher. Rob Carlson would take 3rd place, while Matthew Dale was 2nd. The number one seed was Josh Mcquire, who set up a blazing qualifying run. However, all but Blake Olsen would be knocked out in the Top 16.
Top 16 started off with George Kiriakopoulos in his STR Racing S13, against Josh McGuire. George had blown his 2JZ engine the day before, and was up until 4 am replacing it with a 1JZ and tuning it. That late tune did the trick, as he was able to go one more time against McGuire. The second pass was enough for George Kiriakopoulos to move on.
Eric Costen, who traveled in with the Triple Crown Drift crew from Colorado, had to get past Cameron Moore, but Moore would get the nod into the Great 8.
Waylon Deno would have to face Blake Olsen next and, despite Waylon being in such an older chassis, they would face off again in a one more time battle! It appeared that Waylon's tires gave up as he drifted into the dirt with two wheels off, and that gave Olsen the win.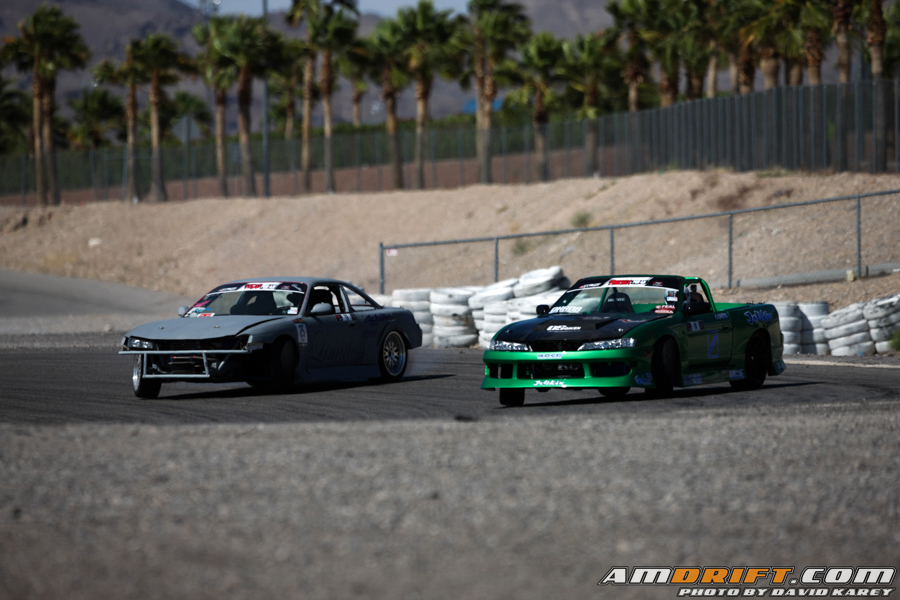 Faruk Kugay and Gary Ganotisi would battle it out after that OMT. Faruk's high angle S14 couldn't wow the judges and Ganotisi would move on.
Matthew Dale and Frank Cundari were next and started the second half of the Top 16. Frank would dominate the favor of the 5 judge panel and get his Great 8 appearance.
The youngest man in the Vegas Drift field, Riley Fremont, would face Mikey Stark. Stark would spin to give the win to Fremont.
Spike Chen dominated this run against Rob Carlson with all five judges giving Spike favor and entry into the Great 8.
Round 2's winner, Brandon Patterson, would drive against Dylan Hummel and would be the final pair in the Top 16. The momentum of Round 2 was still with Brandon, and he would have a dominating run against Hummel. All five judges favored Brandon and he was on his way to try and repeat his win. Much like others, his tire supply for the weekend was going to come into play. The track had been chewing up tires like it were sand paper, and this would affect more people as the day went on.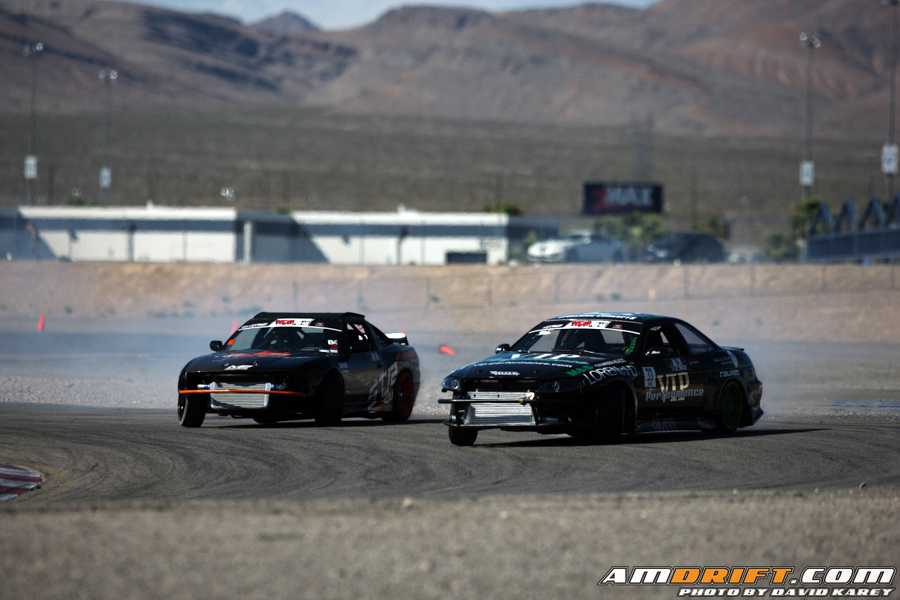 Before the start of the first half of the Great 8, George Kiriakopoulos would call for a competition time out for a fuel supply issue. With that fixed, George and Cameron Moore would battle but, a turbo boost hose came off on George's car during his follow run, and ended his day as it completely lost drift. Cameron was in the Final Four.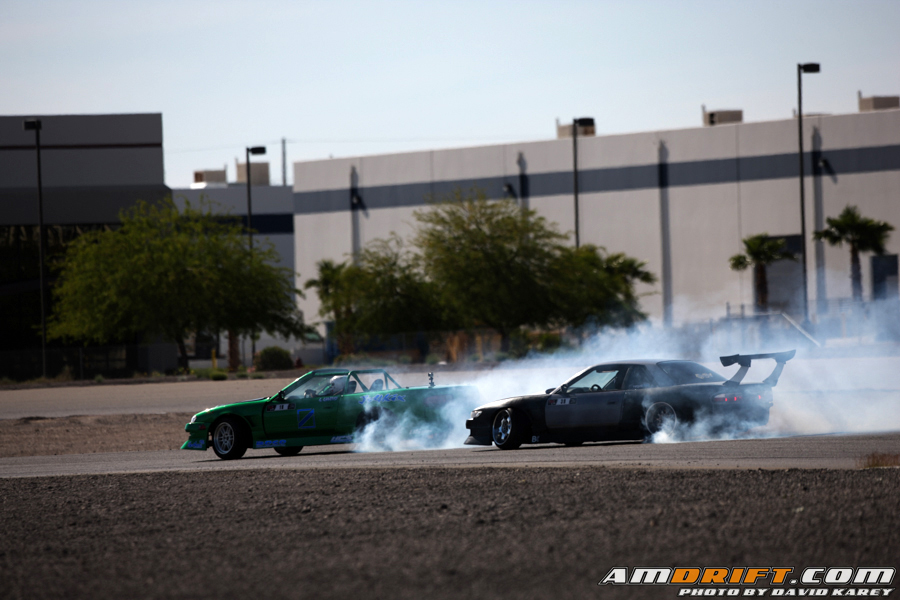 Blake Olsen and Gary Ganotisi would face off next, and we would see a one more time. There was a cheer of Blake's Exotics Racing crew with the call of 3 to 2, which granted Blake the win from the OMT.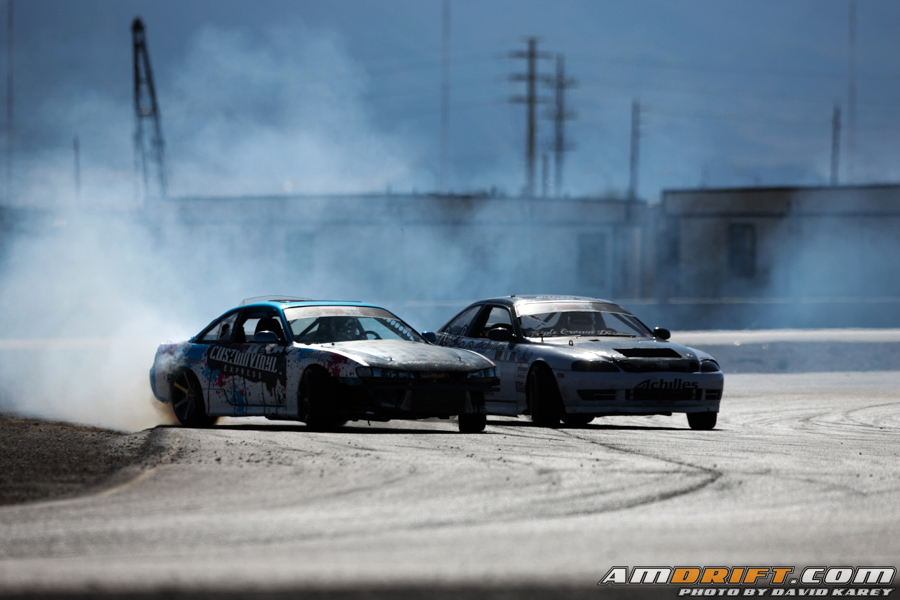 Frank Cundari and Riley Fremont were next, and Riley kept his momentum going with all five judges giving him the win. Frank, the last representative of the Triple Crown Drift drivers would have to watch on from the TCD three-car trailer.
The final battle of the Great 8 was a rematch battle from Round 2 between Spike Chen and Brandon Patterson. While Brandon came out on top that round, Spike and his S13 were back with a vengeance! It would end after a one more time battle, but the tire attrition would ruin Patterson's wave of momentum, while Spike would enter into the final four.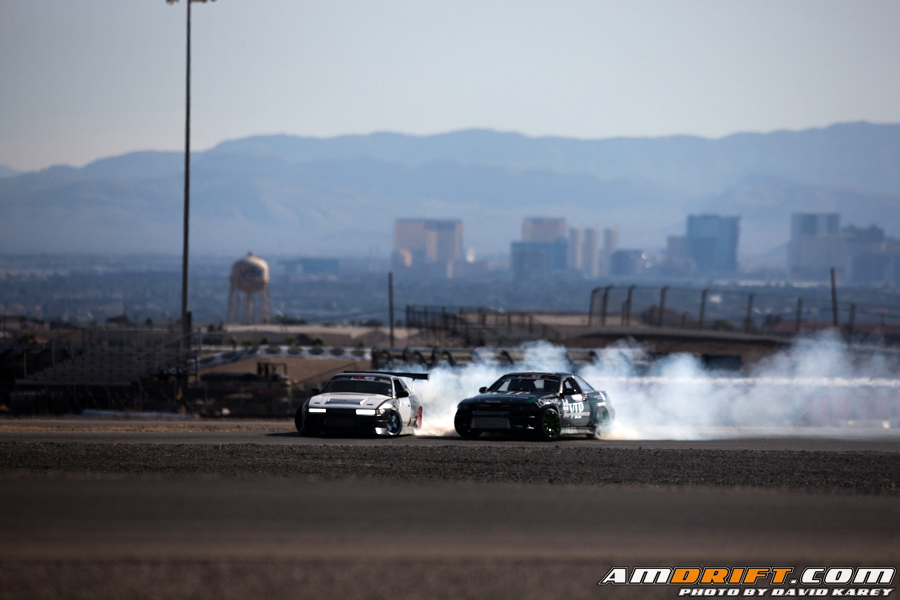 The first run of the final four would be the longest of the entire event, as the judges would need all three allowable one more time runs to see who would go on for first, and who would have to battle for third! Blake Olsen and Cameron Moore brought their best, and each time neither driver had favor. Finally, in the last OMT, three of the five judges would just favor Moore as the better driver. Had another OMT had been allowed by the rules, they would have granted it.
Spike Chen and Riley Fremont would also go to three one more times! Each time, one driver would bobble while the other drove perfect, then they would swap. It would happen again and again until the last allowed OMT, where Spike Chen would get a three to two favor against Fremont. Chen would face Moore in the finals.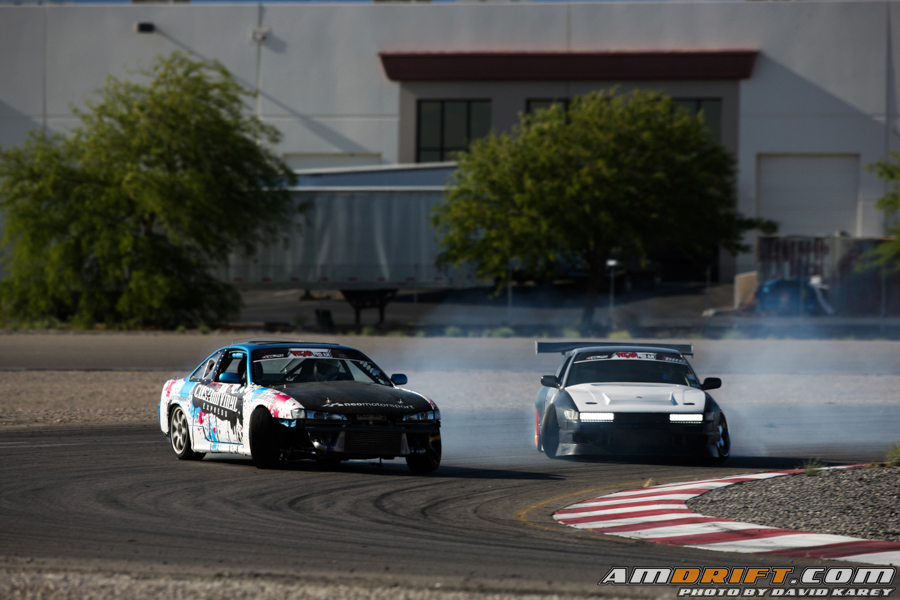 As if two full OMT runs weren't enough, the battle for third would bring another! The first run, two judges were for Riley Fremont, two were for a one more time, and only one judge was for Blake Olsen. However, because only two judges favored Riley, it was not the majority needed for him to be declared winner of third place. In the OMT, Blake's grip went away at the wrong time and allowed Riley Fremont to get his first ever Vegas Drift ProAm podium.
The finals were more cut and dry between Spike Chen and Cameron Moore. With a four to one decision, with four to the victor and one for a one more time, Spike Chen would finally get a win! Cameron Moore would settle for second place.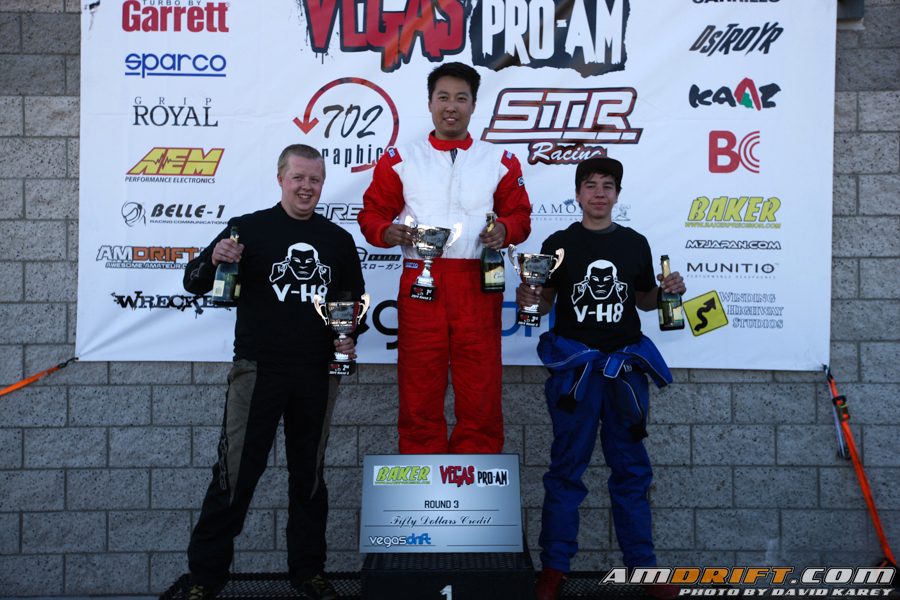 Vegas ProAm Round 3 podium! 1st place, Spike Chen. 2nd place, Cameron Moore. 3rd place, Riley Fremont.
Come join us for Vegas ProAm Round 4 on May 31st, 2014, the day of Formula Drift Miami. How are they gonna pull it off? Show up and find out! For now, enjoy our photo gallery of Vegas ProAm Round 3!