Formula Drift Seattle was very cool. It was personally my first time working media for an FD event, and Seattle was an awesome place to experience it. Competition day is hard for everybody, drivers and media alike. Let's go back to last weekend and break down all the runs that happened from Top 32 all the way to podium!
Top 32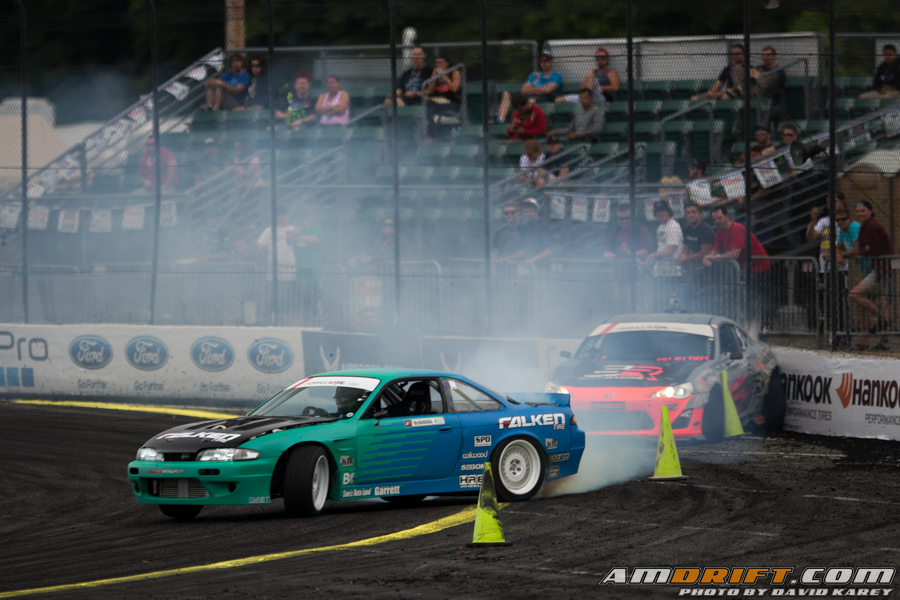 Darren McNamara vs Tony Angelo
Starting off the competition was a pretty much one sided battle. It's been an uphill climb for Tony all year and he can't catch a break. After going off course and hitting the wall against Darren, it was decided. Darren moves on.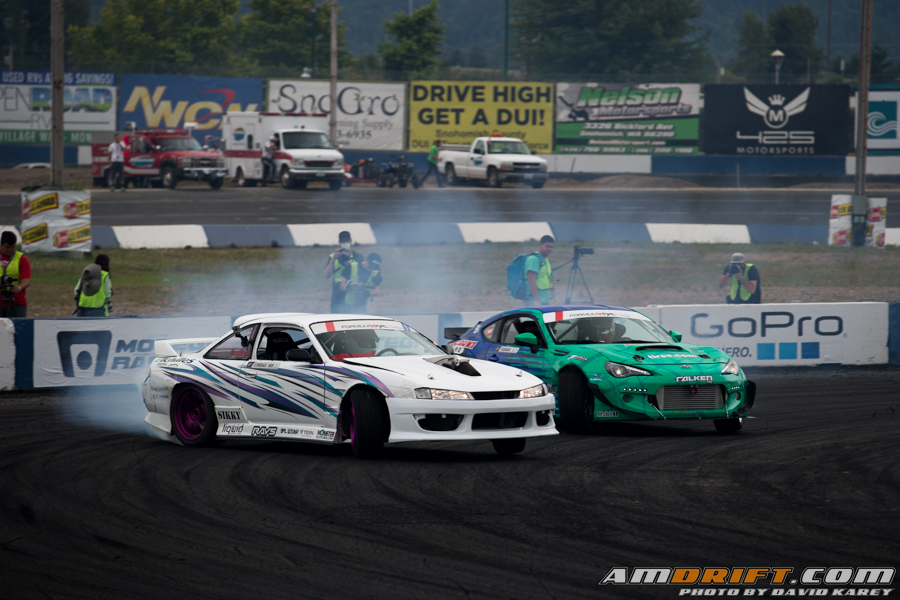 Daijiro Yoshihara vs Geoff Stoneback
2011 champion vs current ROTY leader, the stage for a great battle. Dai and his team look to be figuring out the BRZ; it just gets better every round. It really showed in this battle. Although Geoff put up a great fight, he lost drift and the win was handed to Dai and the "Frog".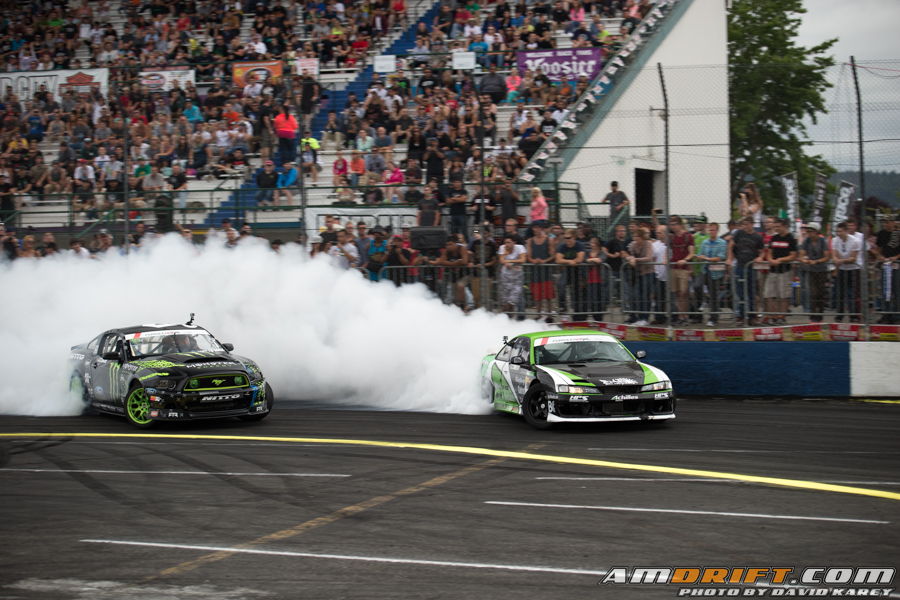 Vaughn Gittin Jr. vs Kenneth Moen
Two drivers that never disappoint in competition are these guys! Very straight forward battle that ended up seeing the Norwegian move on into the Top 16.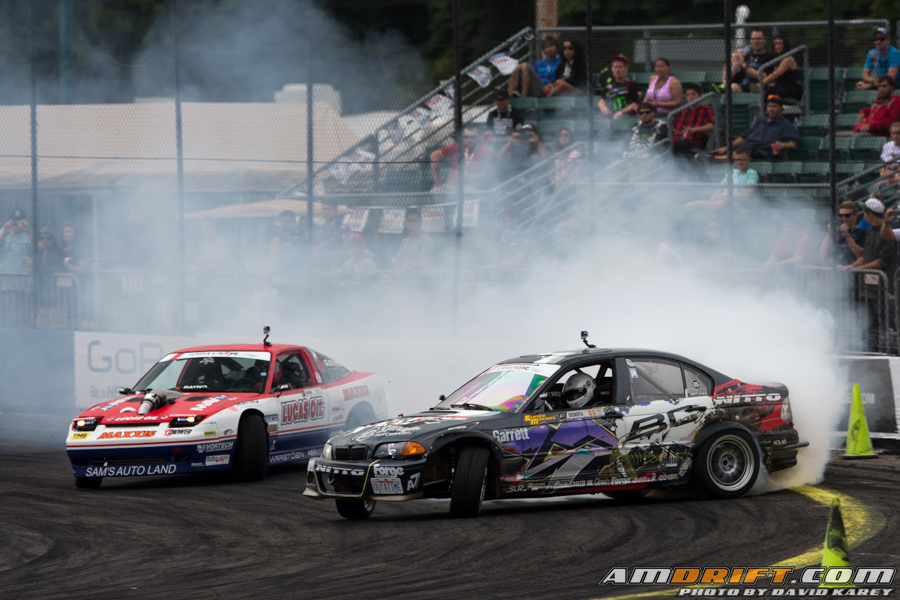 Chelsea DeNofa vs Joon Maeng
For the 4th battle we saw two guys that we'd love to see go deep in competition. Chelsea suffered from mechanical issues and didn't have enough left in the car to overpower Joon.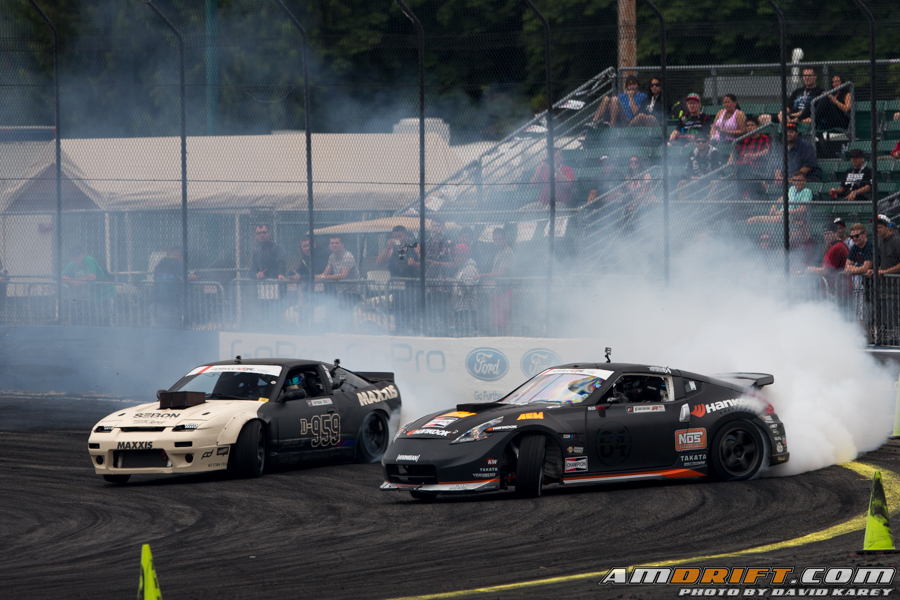 Chris Forsberg vs Matt Coffman
Current points leader, Forsberg, had a great battle against Matt Coffman who is no slouch. Both pilot pretty powerful vehicles. After a great fight, Matt just could not edge out Forsberg.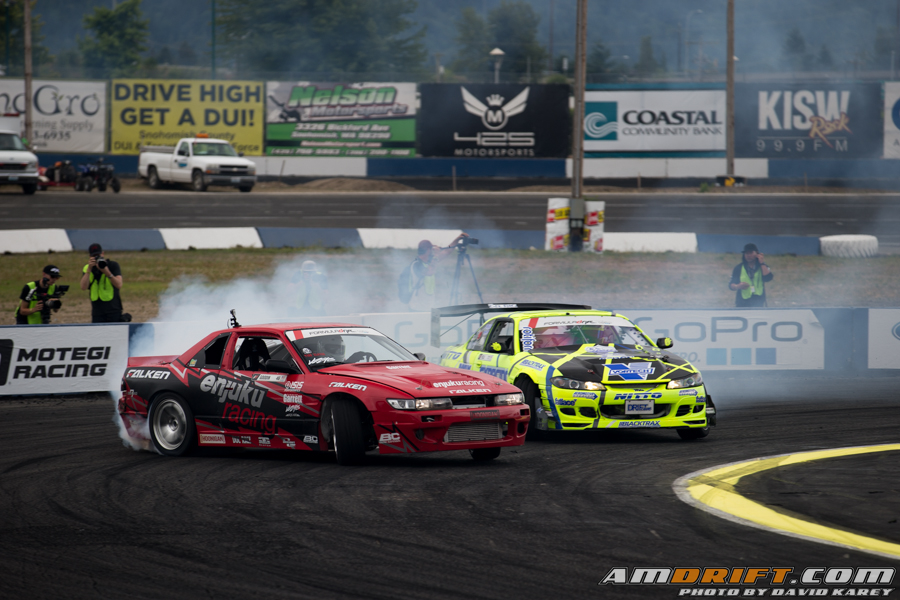 Pat Goodin vs Matt Field
This was an exciting battle to look forward to. 2 boosted V8's with gobs of power, turbocharger vs supercharger. During the first run, Pat had to shut it down. Turns out that he broke some suspension components, giving the supercharged Field the win.
Ryan Tuerck vs Mike Pollard
After having problems and having to shut it down in Pro 2 the day before, Pollard seemed to get everything together to run Tuerck. After Ryan put down 2 superb runs and Pollard straightening, it went unanimously to Ryan "Hampsha" Tuerck. Oh, we're not using that nickname anymore? Okay.
Tyler McQuarrie vs Ken Gushi
The halfway point saw 2 Hankook drivers pitted against each other. It was a good bout that looked like it would go OMT, if not in favor of the bowtie. The problem is that Tyler dropped a tire coming off the bank. The judges saw it and allowed Kenshiro to move on.
Robbie Nishida vs Taka Aono
In the second half of the Top 32, Robbie was set to go against Taka in this all Japanese battle. Unfortunately Taka was broken so Robbie took a bye run.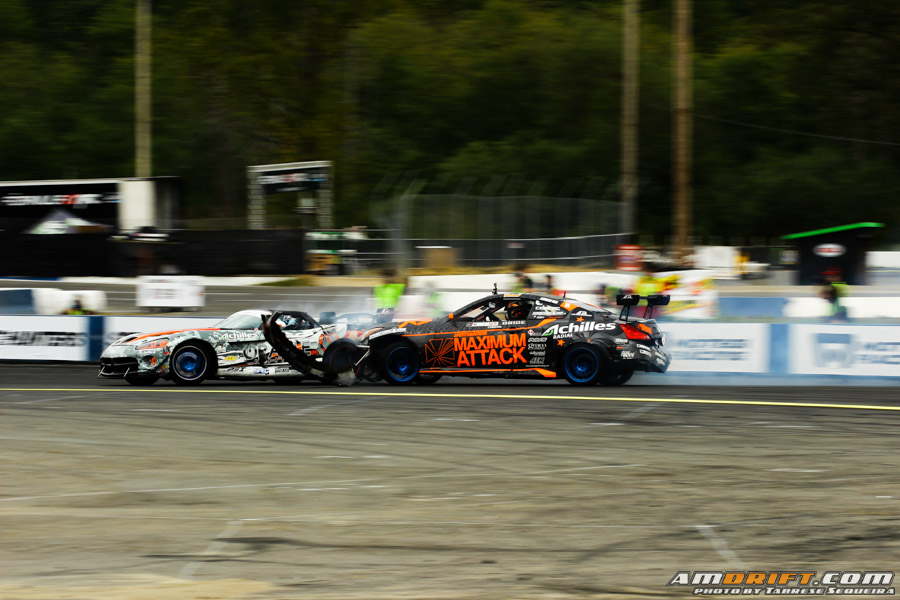 Charles Ng vs Dean Kearney
This was the best bout in Top 32 in my opinion. These guys were pushing so hard and it was only their first battle of the day, but one guy had to win and one had to lose. On the first run, Charles put on a great lead and Dean actually dropped two tires and took out a cone. 5 minutes were called and when the pair resumed, Charles pushed a little too hard through the power alley and hit Dean which removed the front bumper on the G37. After some deliberation, the Irishman moves on.
Justin Pawlak vs Karl Osaki
Karl Osaki did a gear swap the night before in preparation for this battle. As hard as Osaki tried, the Roush powered Pawlak was too much. JTP advances after performing a pass on the second run.
Conrad Grunewald vs Ryan Kado
After his DNA teammate went down to the Ford of Justin Pawlak, Kado set out to try and prove that Chevy ranks last among the Dodge contenders in his Mopar powered 350Z. Unfortunately, Conrad got the better of him and the bowtie rolls on through to Top 16.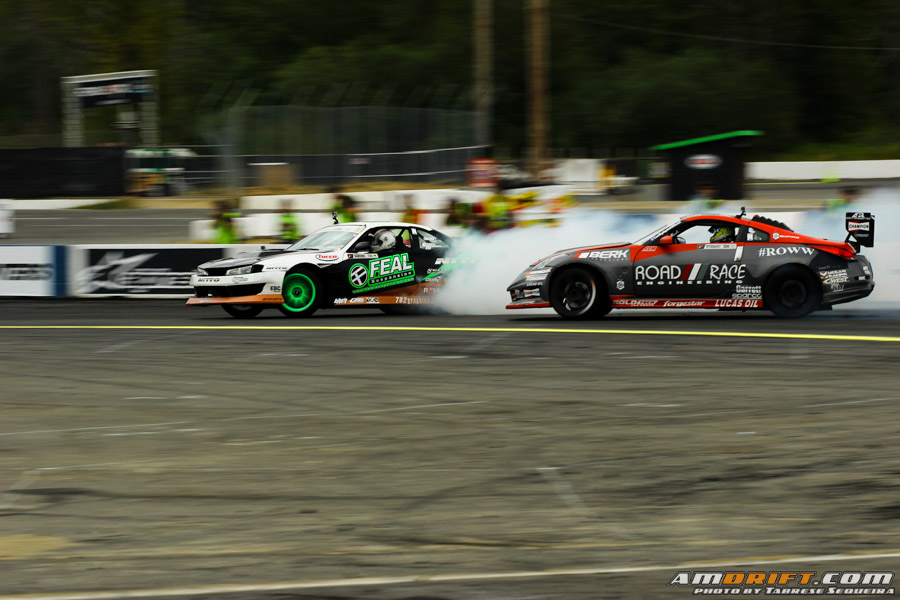 Aurimas Bakchis vs Carl Rydquist
After having a pretty bizarre collision with Nate Hamilton on Thursday, Rydquist and his team easily got the car back on track for Pro 2 and Carl kept it together to get into Pro. Unfortunately he put it in the wall on his lead, trying to outdo Odi's awesome lead run just one pass before. Odi advances.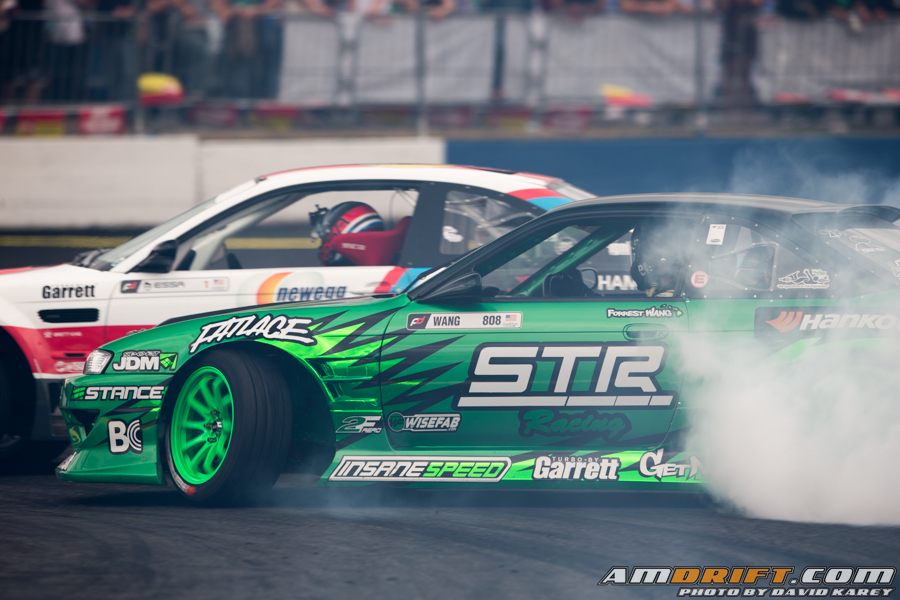 Forrest Wang vs Michael Essa
This round was another in which the defending champion was having issues with his vehicle. Having a misfiring issue, Essa had to run against Forrest down on power. The Get Nuts driver tagged the wall, which sent Essa through to Top 16.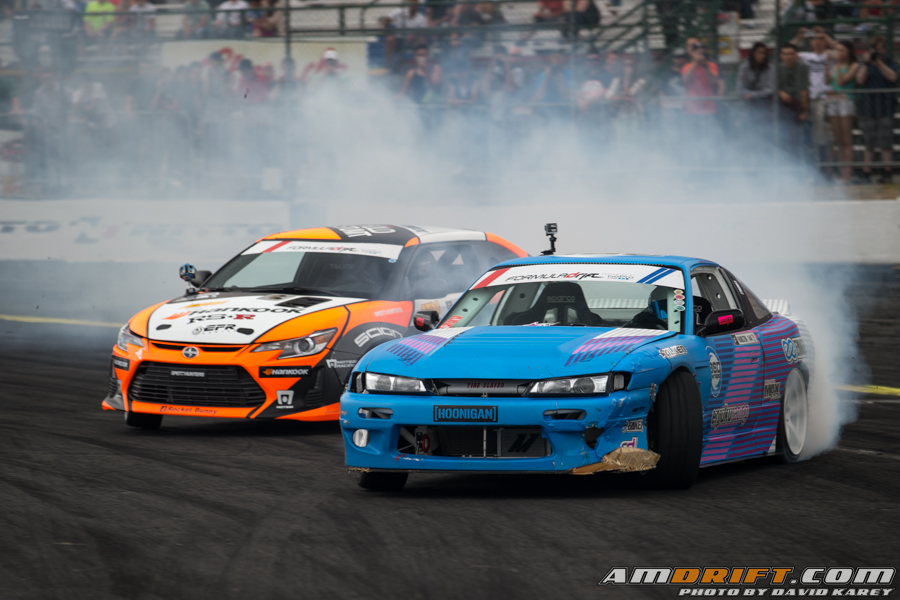 Fredric Aasbo vs Nate Hamilton
Fredric was coming off the high of winning his first event, making him even tougher to beat than he already is. Nate tried his best, but the Norwegian Hammer slid into the Top 16.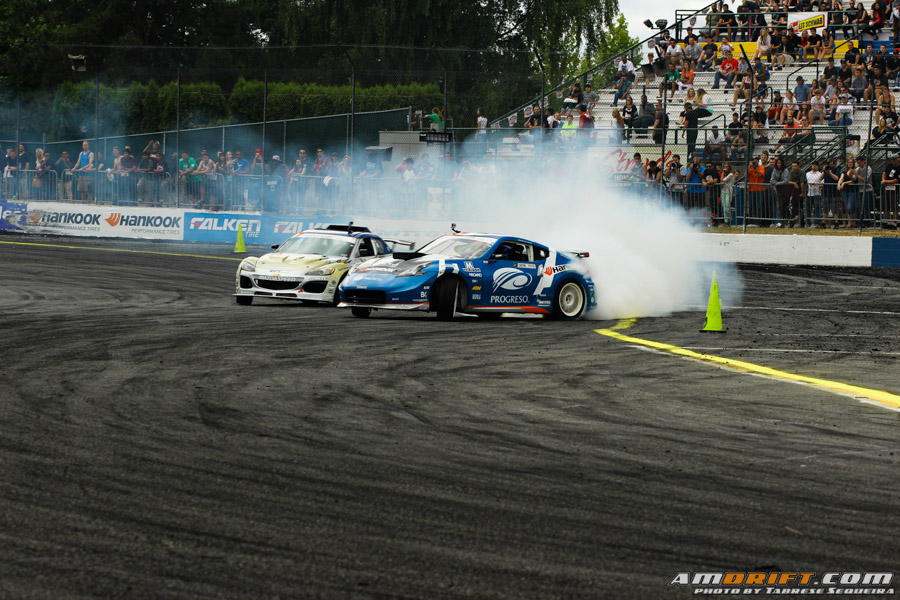 Jhonnathan Castro vs Kyle Mohan
Rounding out the Top 32 saw rotary vs V8—small displacement vs huge displacement. These two guys are improving in their vehicles every round, and it showed. Good driving from both, but it's the rotary that takes the cake in this battle. Mohan to the 16.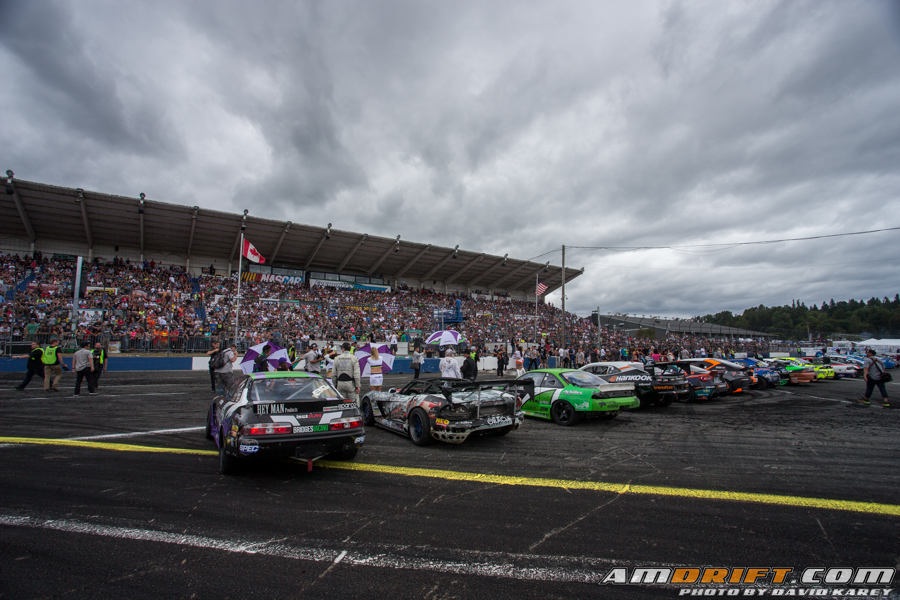 Top 16
Darren McNamara vs Dai Yoshihara
All teal and blue Falken tire standoff to start the Top 16. 16 cylinders, 3 turbos, and somewhere in the ballpark of 2000 horsepower on track. Try as he might against his teammate, Dai and the "Frog" could not beat Darren after a close battle. D-Mac is the first driver in the Great 8.
Joon Maeng vs Kenneth Moen
Another battle of fast cars came with the one between Kenny and Joon. Both sporting Wisefab kits (the best thing to happen to drifting), these guys do battle hard. Kenny does battle a little too hard as he hits Joon coming off the bank, sending Joon into the Great 8.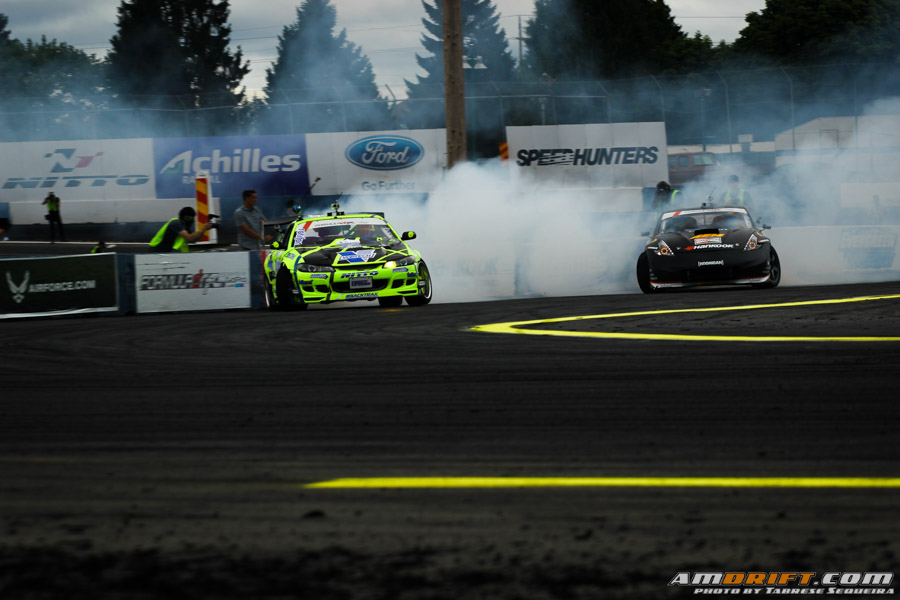 Chris Forsberg vs Matt Field
For the second time this year, Matt Field faces Chris Forsberg. Matt was looking for redemption from Florida and unfortunately for him, Chris got the upper hand again.
Ryan Tuerck vs Ken Gushi
Scion vs Scion. 2JZ vs 2JZ. Rocket Bunny V1 vs Rocket Bunny V2. Seemed like every drifting fan's wet dream. What could be better than seeing battle between these two? How about seeing it twice? After a One More Time decision, Gushi bests Tuerck and gets into the Great 8.
Robbie Nishida vs Dean Kearney
Battle of the awesome headlights. Unfortunately Robbie had his off for this battle much to the dismay of every photographer on track (I polled the results using only myself as a sample). I bet if he had them on, he would have beaten Dean in that Viper. Kearney advances.
Justin Pawlak vs Conrad Grunewald
I feel like this is the most iconic battle of Formula D (probably just America in general): Ford vs Chevy, Oval vs Bowtie. Well it looked like the bowties just couldn't do it today, as Justin takes out Conrad in a close fight.
Aurimas Bakchis vs Michael Essa
Essa decided to call it quits to save his motor, wise decision as a privateer. Odi gets the bye run into the Great 8.
Fredric Aasbo vs Kyle Mohan
Four banger vs Rotary. A battle that all the old school drift fans want to see because they hate V8s. Can't blame them, because this was one of the best, if not the best sounding battles of day. A very interesting scenario arose as well. Kyle debeaded a tire at some point during the run so they deemed it unsafe for him to go. However, he does a burnout and gets the tire back on, but because he used his 5 minutes in qualifying the day before, he isn't allowed to put air in his tire. Aasbo gets to advance, leaving the rotary of Mohan to return to the paddock.
Great 8
Darren McNamara vs Joon Maeng
Both of these guys came out to compete and only one was to come out the victor. Well, it seemed that D-Mac was on a mission because he sent Joon packing with no hesitation. He also guaranteed himself a podium spot as he qualified 1st.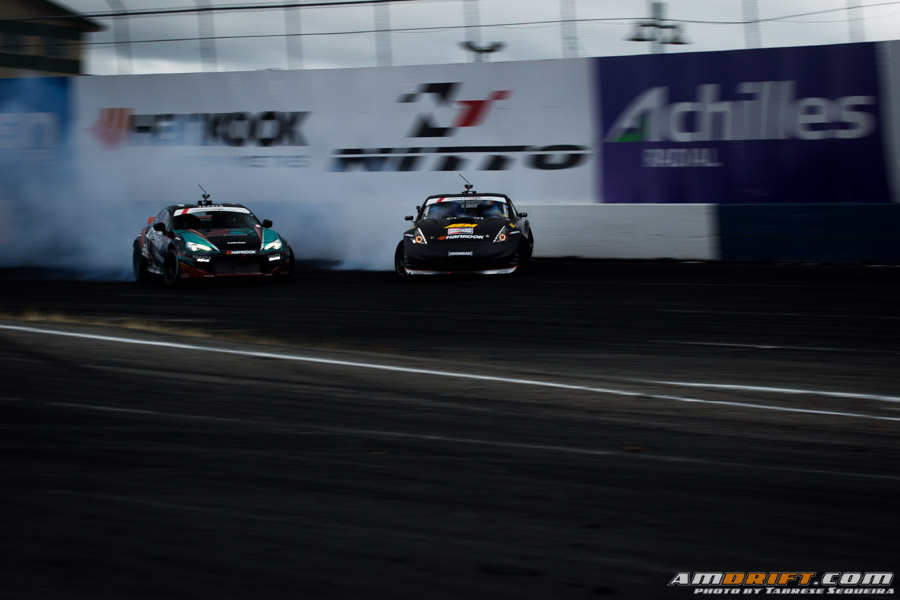 Chris Forsberg vs Ken Gushi
Another Hankook on Hankook battle. Hankook cannot keep their drivers away from each other, maybe because they are good buddies or something, I don't know. I digress. Forsberg and Gushi have a quick and straight forward battle. Once everything was settled, Chris was in the Final Four.
Justin Pawlak vs Dean Kearney
So we have Falken and Hankook in the Final 4, can Achilles get there on the back on Dean Kearney? Well in a very uncharacteristic battle, JTP spun on both runs pushing too hard. Dean brings some purple into the mix of teal & blue and orange.
Aurimas Bakchis vs Fredric Aasbo
Three different tires in the Final 4, will we see a fourth!? Well these men did battle and boy did they go hard. Odi, with about 200-300 less horsepower, takes Aasbo to a One More Time. Unfortunately for the Nitto driver, Hankook gets a double berth in the final four as Odi drops a tire and gives Aasbo the win. A win for Odi, as he didn't debead a bunch of tires this year.
Final 4
Darren McNamara vs Chris Forsberg
Falken vs Hankook, no matter what, these guys are on the podium. So, why not take it easy and bring the cars home, right? Wrong! These guys didn't let up an inch, and when the smoke cleared, it was Darren McNamara going to the final! Chris Forsberg makes it onto the podium and makes it an FD record 5 out of 5 podiums this year!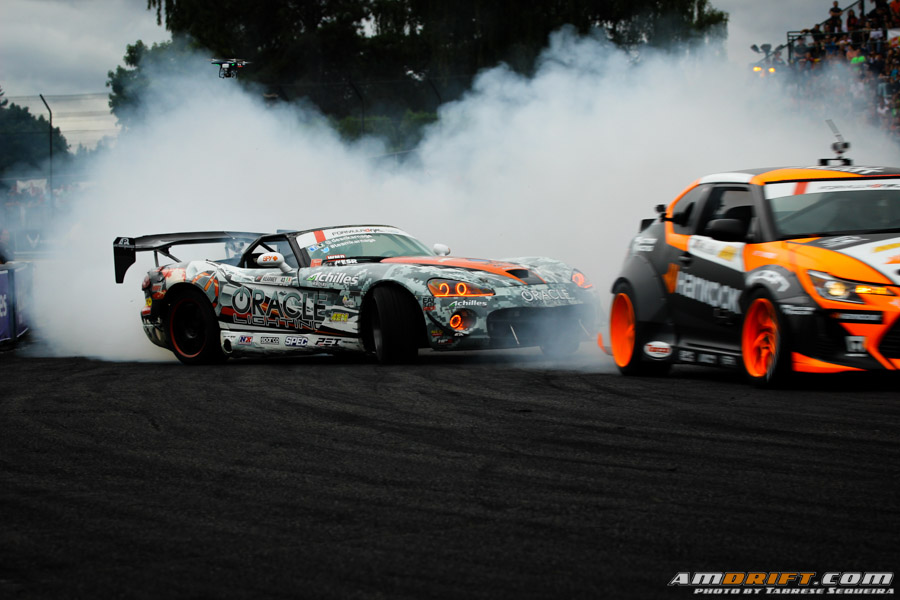 Fredric Aasbo vs Dean Kearney
The second of two Irishmen to do battle, and it's against the Norwegian who had just won his first event. Both of these guys ripped through the first run until the power alley where Fredric shut it down and then called 5 minutes. After a delay, Fredric was able to continue, but losing drift was too much to overcome and we saw ourselves with an all Irish final!
Darren McNamara vs Dean Kearney
Both of these guys come from the land of potatoes and could more likely than not outdrink anyone in America. But right now, it's about driving. After the first run, it looked even if not in slight favor of the Irish driver (Get it? Because they're—nevermind). On the second run though, there was contact BEFORE the entry. Something never seen in FD competition. Judges rule both drivers had equal parts in it and rerun it. After 2 hard fought runs, the Irish driver takes the top step on the podium! Okay, I get it, it isn't funnier with repetition.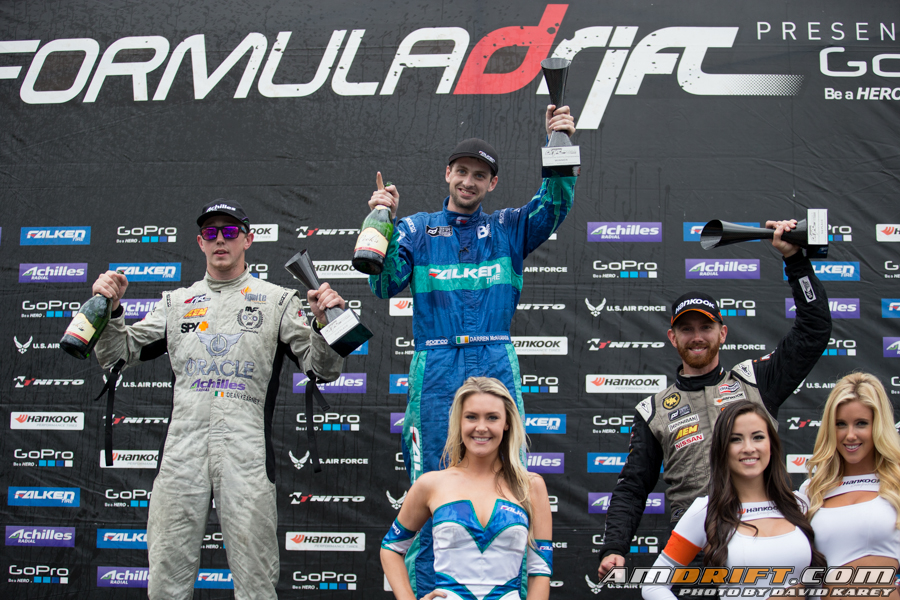 Podium
1st: Darren McNamara
2nd: Dean Kearney
3rd: Chris Forsberg
I would like to thank Formula Drift for giving me an opportunity to cover this event. Also, thank you to all the readers who enjoyed (or didnt), this article. Keep stopping by to check out our content on AmDrift.com! – Tabrese Sequeira