With a vision of expanding their Formula Drift Pro Am licensing program, Vegas Drift has created the Southwest Drift Series, which gives many inspiring grassroots drivers across the Southwest the opportunity experience what competition is all about. With future events scheduled in Colorado, Vegas, and New Mexico, Round 1 of the Southwest Drift Series came to a successful conclusion this past Valentine's Day at Wild Horse Motorsports Park in Chandler, Arizona.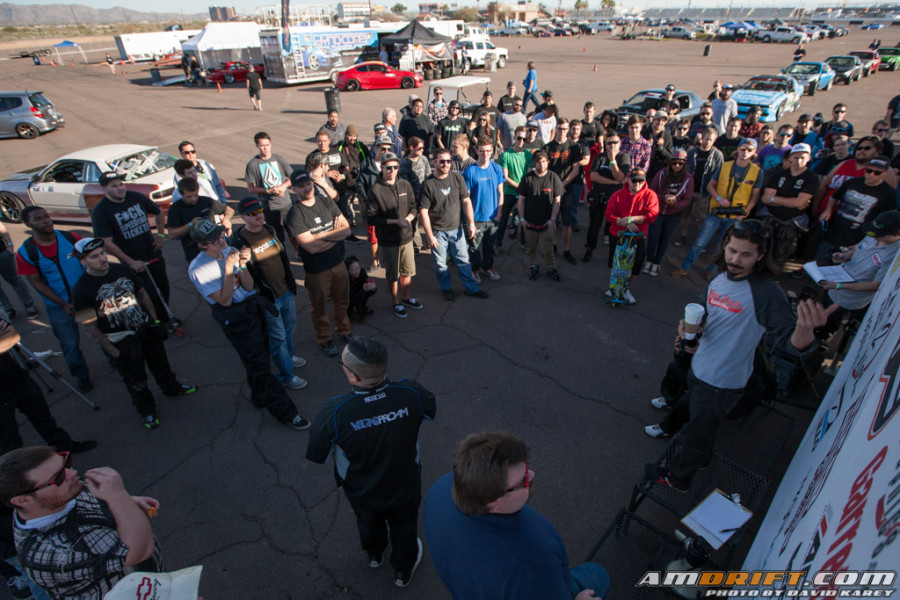 40 drivers arrived to drive their hearts out on the Bob Bondurant West Road Course located at Wild Horse, 18 miles south of Phoenix. Along with the drivers, approximately 750 spectators made it out to cheer them on, and 28 hard working media individuals came out to document it all.
Drivers and spectators weren't the only ones able to witness the action. The Southwest Drift Series beta tested a livestream broadcast available to the masses via YouTube. At its peak, 132 viewers had tuned in to watch the event, which was available from qualifying all the way to podium! Feedback throughout social media has been terrific. The livestream recording currently has 2100 views, and you can view it by clicking the video above.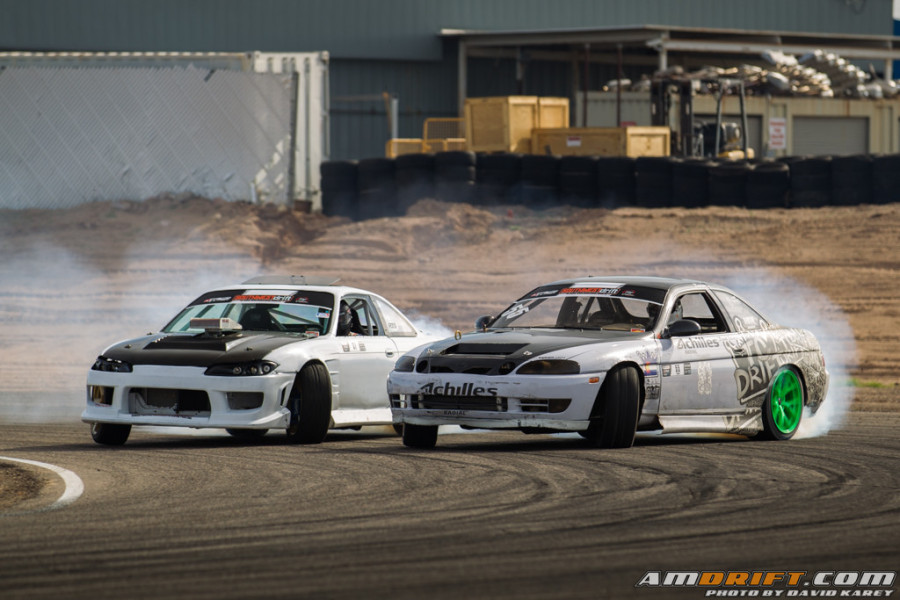 With nearly 3 hours of open practice, drivers had the chance learn the course before qualifying, and most important of all, have a great time in the seat. The course started with drivers racing toward turn 1 between 50-70mph, clutch kicking or ripping the hand brake to initiate and scrub speed into a tight left turn, transitioning into a long right sweeper, hitting a long straight with a quick snapping manji to the left, quickly transitioning to the right into another long right sweeper, transitioning left and carefully sliding around the last turn, and full throttling it through the finish.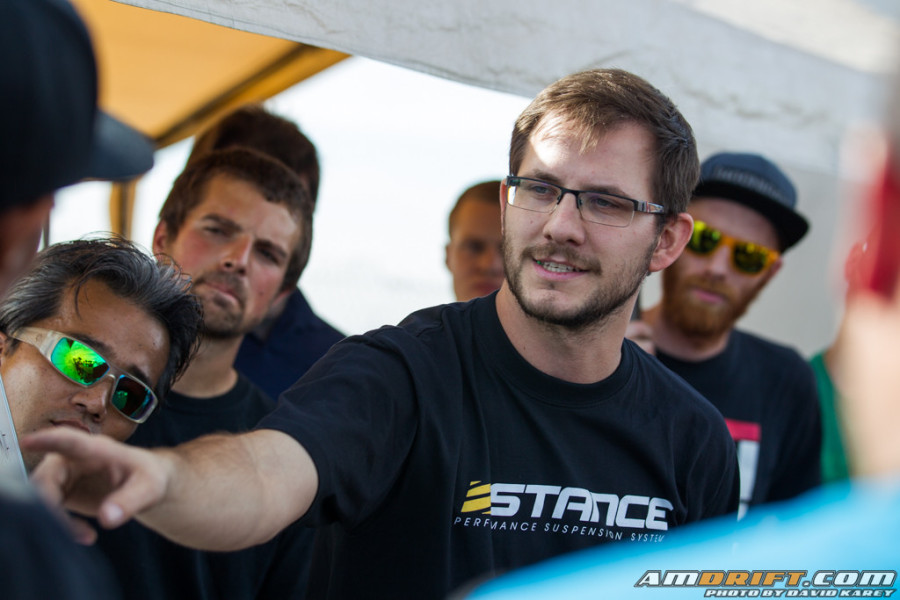 The judges for Round 1 consisted of 4 judges with years of pro and pro-am drifting experience, and 1 guest media judge. Taka Aono, Tommy Suell, and George Marstanovic kept an eye on the action from the judging tower, while Brandon Wicknick and guest media judge, Drew Fishbien of OMGDrift.com, kept tabs on the finishing portion of the track.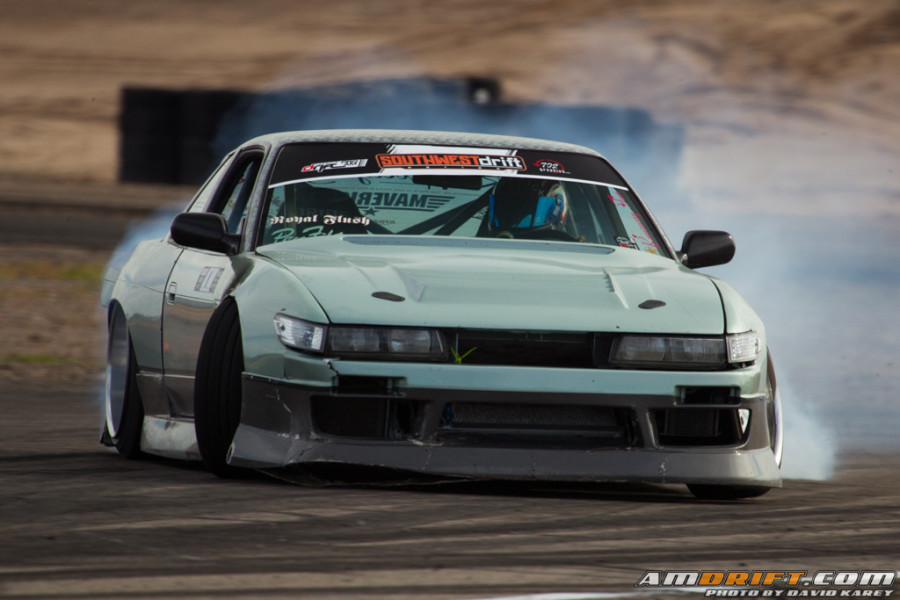 With drivers having a full understanding of judging criteria and the judges in their spots, qualifying began. A few cars dropped out early with mechanical issues, but the remaining drivers gave it their all with hopes of making Top 16. With 20 drivers logging qualifying points, the results were in and it was time to announce Top 16 and the battle lineup.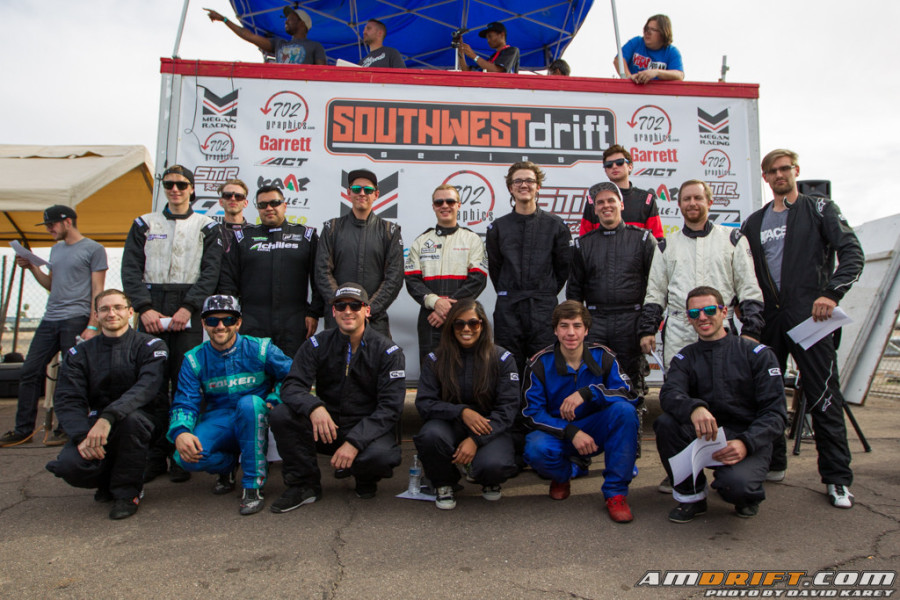 1st place qualifier with 88 points, Ethan Hunter. 2nd with 86 points, Joe Tardiff. 3rd with 74 points, Josh Lind. 4th – Travis Avery. 5th – David Curtis. 6th – Riley Fremont. 7th – Vitaly Sopkin. 8th – Joe Haven. 9th – Alex Heilbrunn. 10th – Andrew Schulte. 11th – Tony Cisneros. 12th – Blake Olsen. 13th – Matthew Haugen. 14th – Trenton Beechum. 15th – Rathyna Gomer. 16th – David Lloyd.
TOP 16
Ethan Hunter vs. David Lloyd


The first battle of Top 16 was Ethan Hunter in his 700hp V8 S14 vs. David Lloyd and his 2JZ powered Subaru. Ethan Hunter was out front leading first, coming into the first turn and intitiating at fast speed, but the follow run was quickly over for David Lloyd as he spun behind Hunter, spinning off track as Hunter completed the course. On Lloyd's lead, Hunter committed to the same follow line as previously Lloyd had, and spun off track. Right off the bat at the start of the competition, we had a "one more time" decision, which would be run immediately.
Ethan Hunter vs. David Lloyd (OMT)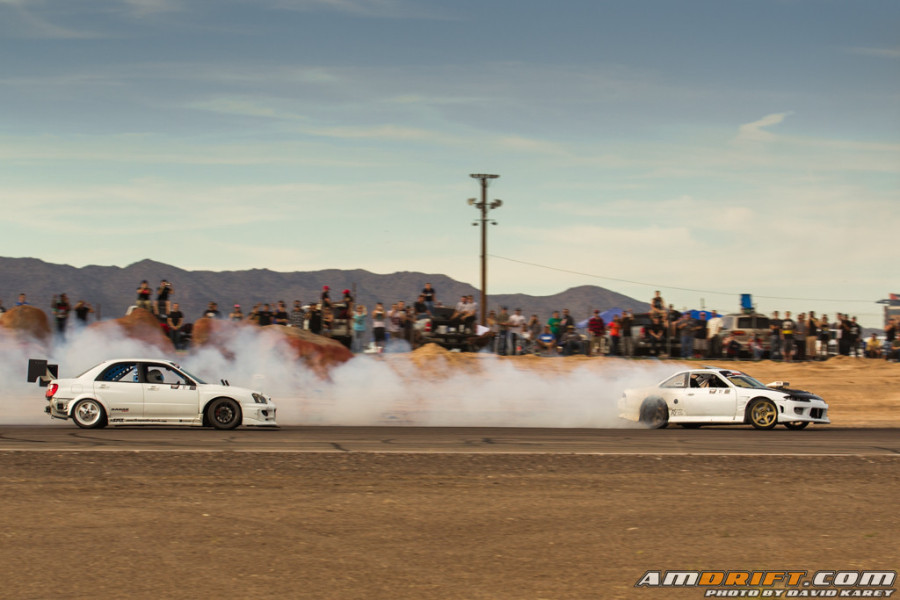 Hunter leads first and makes a safe, conservative run. Lloyd falls behind a couple of car lengths, straightens a few times. Both drivers complete the course, and would both call 5 minutes and go after the next battle, Joe Haven vs. Alex Heilbrunn.
Joe Haven vs. Alex Heilbrunn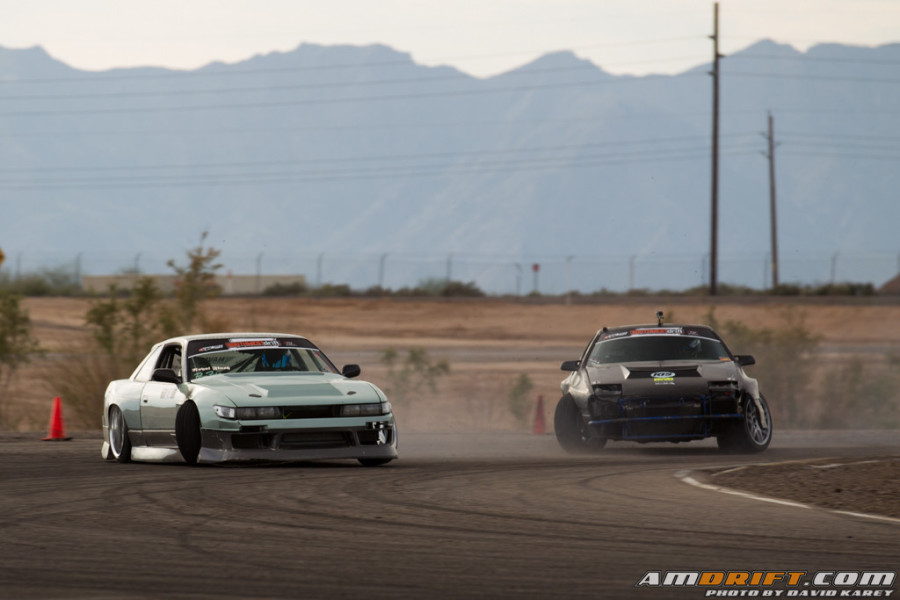 Joe Haven would lead first in this battle, but would spin out on first turn. Alex Heilbrunn passed Haven, but spun himself at second turn. Alex Heilbrunn took his lead run, but spun at the third turn as Joe Haven shut it down and cruised to the finish. Joe Haven was awarded the win.
Ethan Hunter vs. David Lloyd (OMT continued)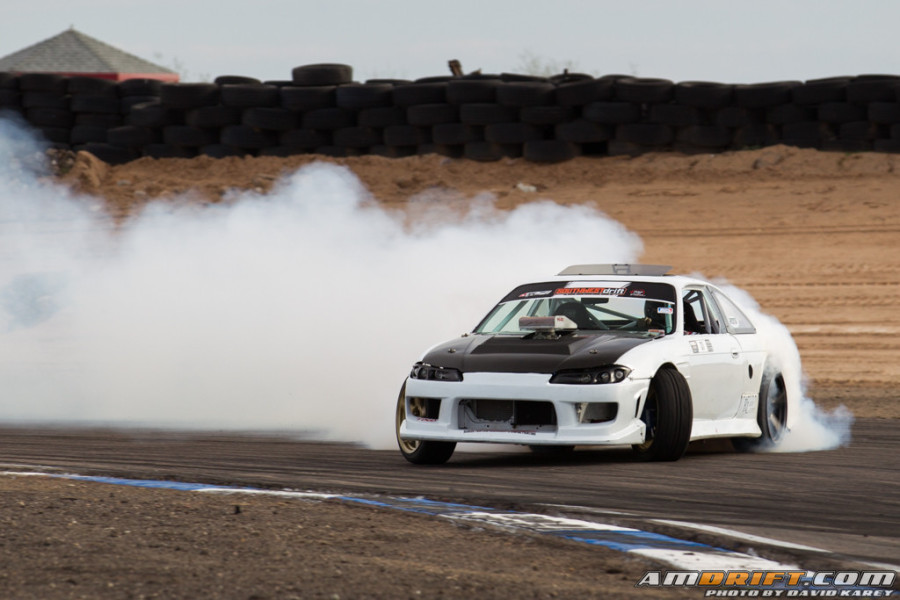 David Lloyd takes his lead run, and spins in the first turn while Hunter avoids and finishes the course. Judges award Ethan Hunter the win.
Travis Avery vs. Matthew Haugen


Leading first, Travis Avery makes a good run, while Matthew Haugen falls behind. Flipping it around, Haugen runs lead, but has a hard time shaking Avery, who rides Haugen's tail the entire run. Travis Avery gets the win.
David Curtis vs. Blake Olsen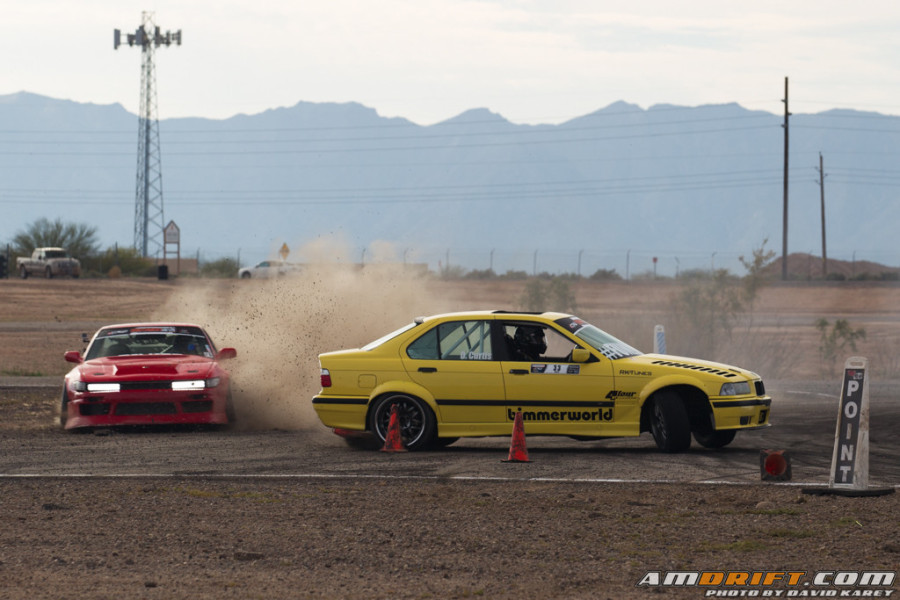 David Curtis taking the lead on the first run of this battle, enters the first turn a little too hot and nearly spins all the way around, causing Blake Olsen to avoid and go off track behind him. David Curtis regains control, and finishes the course while Olsen shuts it down. Blake Olsen takes his lead run, committing to excellent angle while using his power to pull into the coming turns. Curtis falls behind, straightening several times to catch up to Olsen. Both cars finish apart from each other, and Olsen takes the win.
Joe Tardiff vs. Rathyna Gomer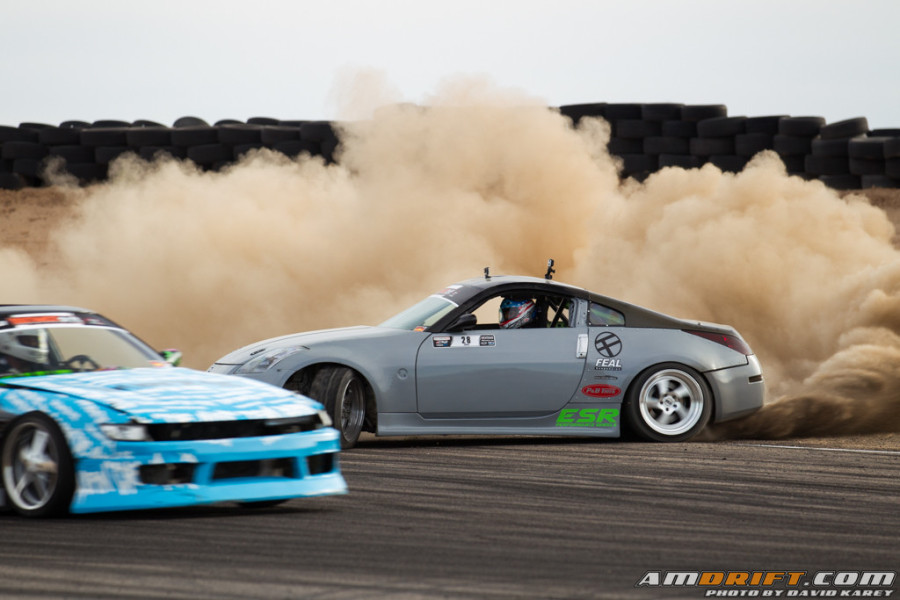 Joe Tardiff rockets down the straight on his lead run, leaving girl driver, Rathyna Gomer playing catch up and sacrificing angle to do so. Tardiff drives a near flawless run. Rathyna Gomer leading, she puts down a pretty decent run with Tardiff right on her tail, until the last right sweeper where she spins off course. Tardiff passes, finishing the run, and taking the win.
Vitaly Sopkin vs. Andrew Schulte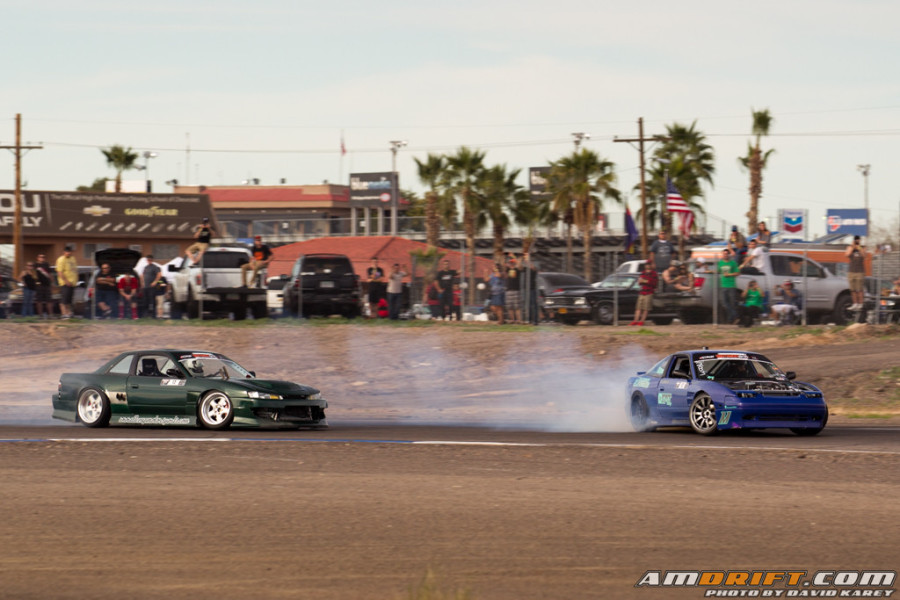 Vitaly Sopkin leads on the first run, creating 2-3 car length gap, leaving Schulte the task of playing catch up without sacrificing angle. On Andrew Schulte's lead, Sopkin spins out right after the manji section, leaving Schulte all by himself out front and taking the win.
Joshua Lind vs. Trenton Beechum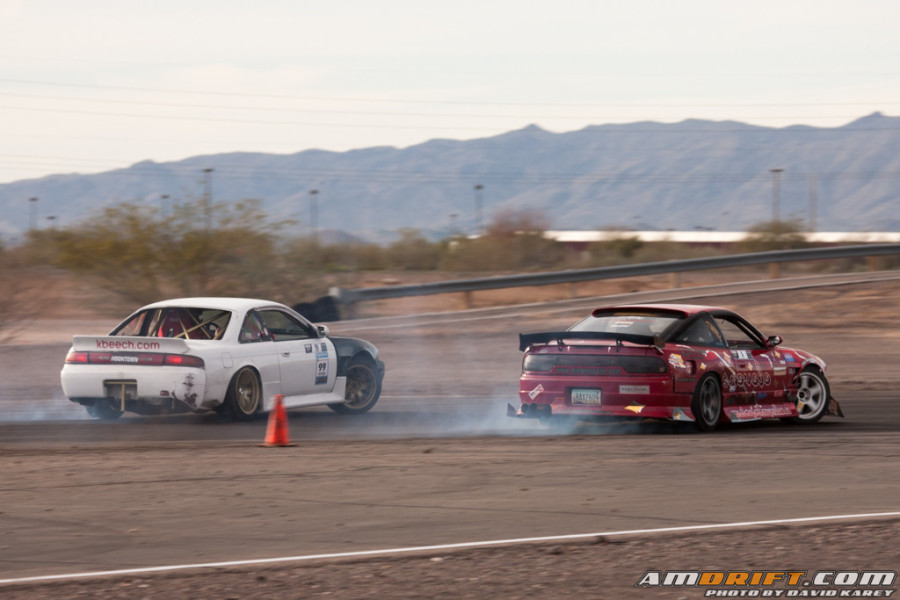 Joshua Lind leading, Trenton Beechum has a good follow run until the end where he spins before the finish. Beechum leading, Lind straightens out of the second turn, both cars still finishing. Judges award Joshua Lind with the win.
Riley Fremont vs. Tony Cisneros


Riley Fremont is the first leader in this battle, with Tony Cisneros behind him fighting to maintain good angle the entire run. Both drivers cross the finish line together. Cisneros takes lead on the next run with a great entry. Unfortunately, Fremont goes off track behind Cisneros on the first turn. Tony Cisneros makes a good run, and the judges award him the win.
GREAT 8
Ethan Hunter vs. Joe Haven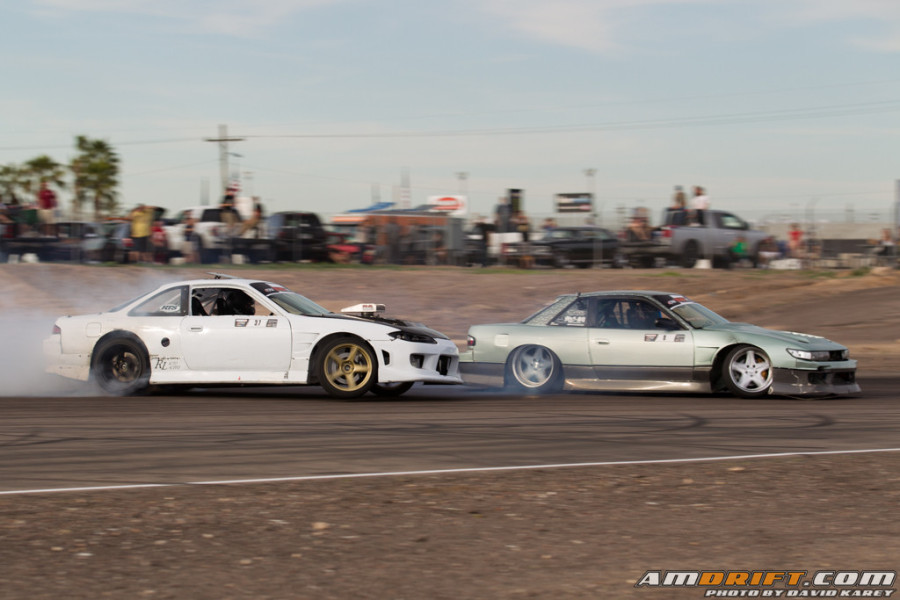 Ethan Hunter leading, he charges fast down the straight into the first turn, goes a little too wide, hits the dirty edge of the track, and spins with Joe Haven coming to a complete stop to avoid him. Both drivers make their way back to the start, where Haven takes his lead. On the second run of this battle, Haven takes the first turn where Hunter taps his rear. Haven continues to drive, but Hunter stays on his tail the remainder of the run until the last turn where Hunter again taps Haven. Both drivers cross the finish where Haven has some words with Hunter. Judges give Haven the win due to Hunter's lead spin, and contact on his follow.
Travis Avery vs. Blake Olsen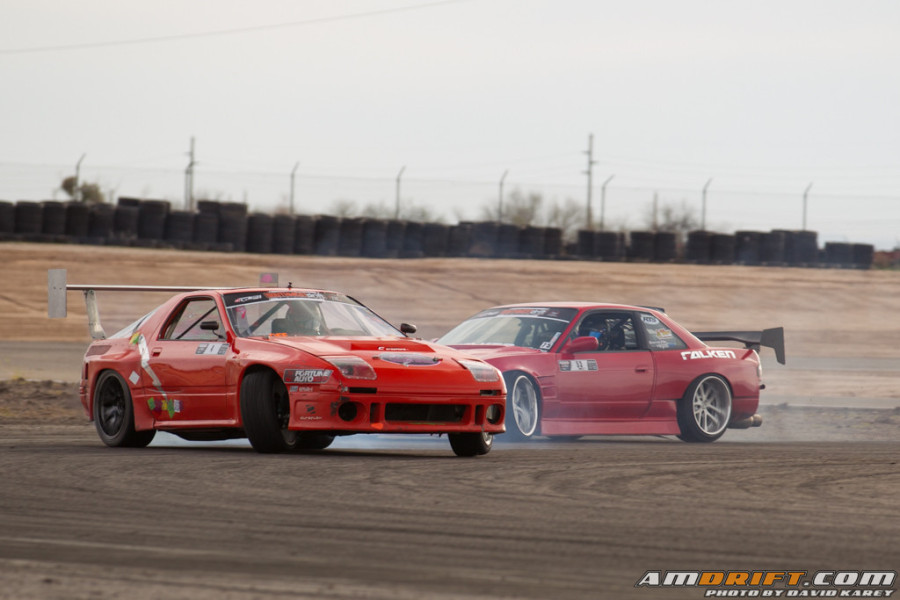 Travis Avery leading, Blake Olsen bobbles on entry while following. Avery continues driving well, creating a large gap. Both cars finish, Avery having the advantage. Olsen takes lead, driving a nice line throughout the course with Avery hanging on his tail all the way to the last right hand sweeper, where he falls slightly behind, but rockets back up to Olsen on the last turn. The judges give the win to Travis Avery, no doubt in part to the comparison of distance between the follow cars on each run.
Joe Tardiff vs. Andrew Schulte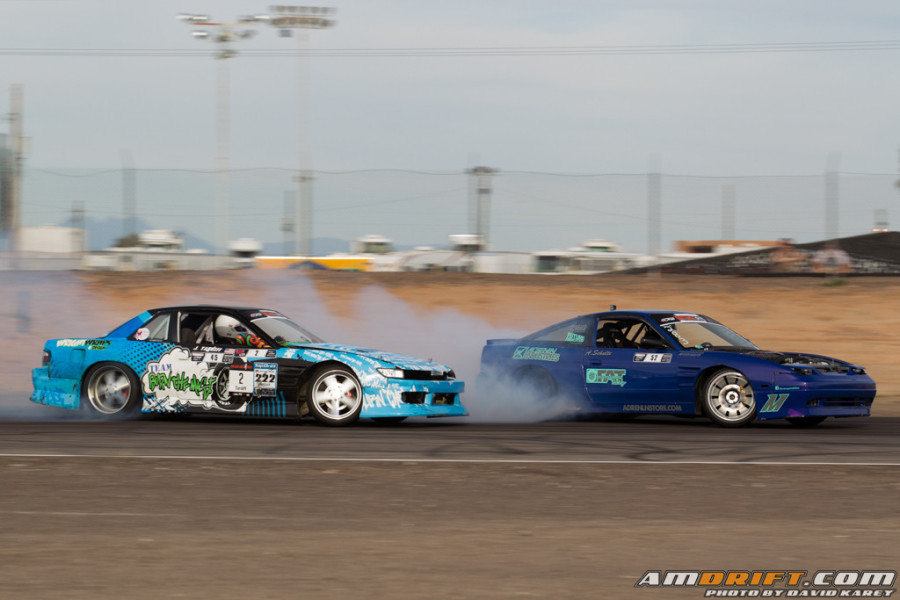 Joe Tardiff up front on this run, he runs a great line the entire way, with Andrew Schulte falling behind 3-4 car lengths at the first turn, and taking shallower turns the rest of the course to keep from falling behind any further. When Schulte took lead, Tardiff had a few mistakes on the follow, but maintained good proximity. 2 judges call for One More Time, and 3 rule in favor of Tardiff, giving him the win over Schulte.
Tony Cisneros vs. Joshua Lind

With Joshua Lind leading, he straightens and takes out the clipping point between turns 3 and 4, which interrupts his line coming into the right sweeper afterward. Tony Cisneros keeps close the entire time, crossing the line with Lind. Cisneros then takes his lead, charging down the straight with a large gap between he and Lind. Tony drive an impressive line bordering on excellent, with Lind fighting to close the gap and going shallow on a few turns. Judges rule in Tony Cisneros' favor, giving him the win.
FINAL 4
Travis Avery vs. Joe Haven

Travis Avery leads, comes into the first turn and slightly bobbles almost spinning. Avery then creates a gap between he and Haven. Haven does not sacrifice angle and line to catch up, both cars finishing slightly apart from one another. Haven leading Avery, Avery doesn't have the same amount of angle as Haven and takes a different line every turn, almost going off the track at the finish. Judges feel they need to see more, so they call One More Time.
Travis Avery vs. Joe Haven (OMT)

Travis Avery leading again, he speeds away from Haven on all turns creating a large gap all the way to the last right hand sweeper, where he loses a little speed, allowing Haven to slightly close the gap. Despite Haven running a great line on his lead, Avery plays it safe and follows with no mistakes and decent proximity. Judges consider the gaps on both runs, and decide the Avery would get the win against Haven.
Joe Tardiff vs. Tony Cisneros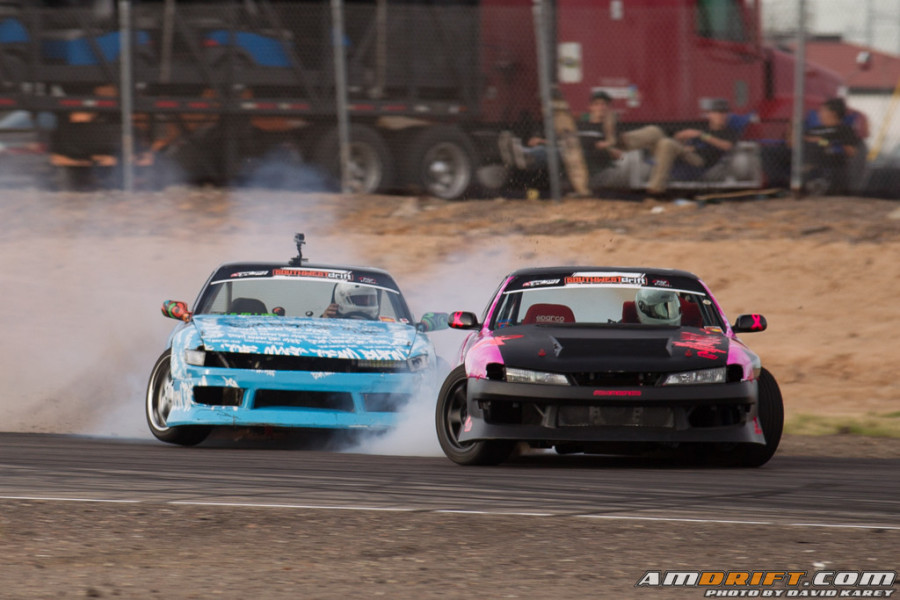 Tardiff taking the lead first, he runs a typical awesome Tardiff style line, but Tony Cisneros stays on his tail the entire time with a near flawless follow up until the end where Tardiff puts a 2 car gap on him. Cisneros takes his turn leading, coming into the first turn and slowing a little, allowing Tardiff to get really close and eliminate any sort of gap. Coming out of the third turn into the manji section, Tardiff goes too wide and dips off track, rips his own rear bumper off, and straightens while Cisneros walks away. Judges award Cisneros with the win.
BATTLE FOR 3RD
Joe Tardiff vs. Joe Haven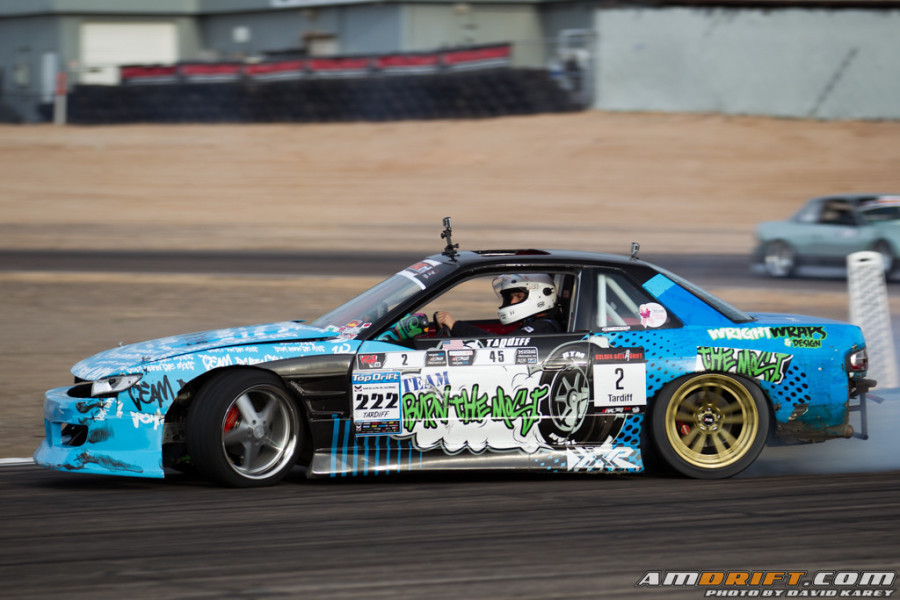 In a battle that announcer Justin Banner dubbed "Battle of the Joes", Joe Tardiff leads due to his higher qualifying position over Joe Haven. Tardiff rockets out of the first turn on the lead, leaving Haven to catch up on the follow. Haven loses drift after the first turn while Tardiff walks away. Haven shuts it down, cruises to the finish line, and calls 5 minute time out. Joe Haven is unable to make repairs, and Joe Tardiff makes a celebratory run securing a 3rd place podium finish.
BATTLE FOR 1ST
Travis Avery vs. Tony Cisneros

Travis Avery leads, determined to put a gap between him and Tony Cisneros. Cisneros drives hard to maintain proximity between himself and leader Avery. Both cars cross the finish line. In the final run of the entire competition, Tony Cisneros takes the lead charging like a bull down the straight, but Travis Avery has a little something something planned out, coming in super aggressive on Cisneros' tail at the first turn, but ends up hitting Cisneros and ripping his rear bumper off, causing both cars to go off track. Both drivers make their way to the podium where the winner of the Southwest Drift Series would be announced.
PODIUM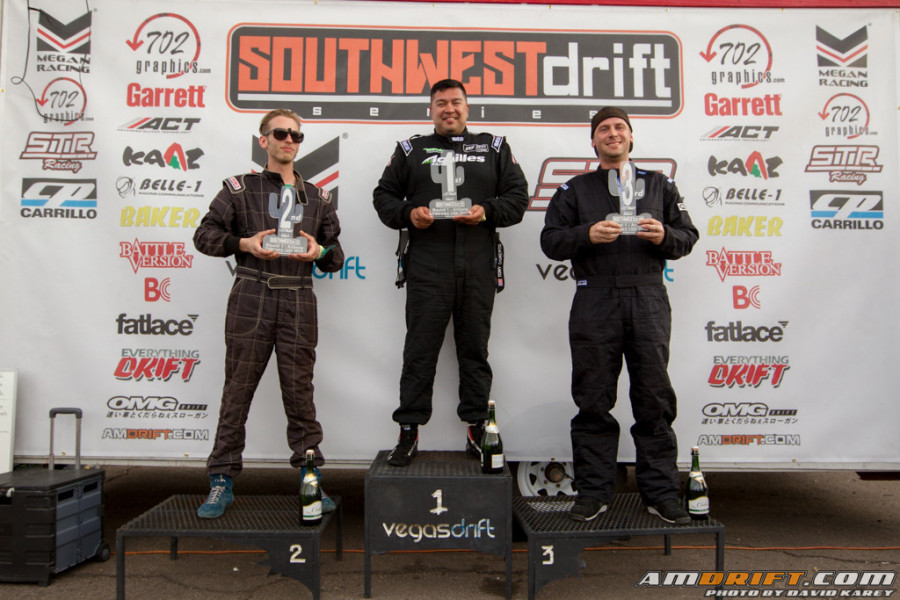 Tony Cisneros takes first place in the first round of the Southwest Drift Series! Travis Avery takes second place, and Joe Tardiff wins 3rd!
Tony Cisneros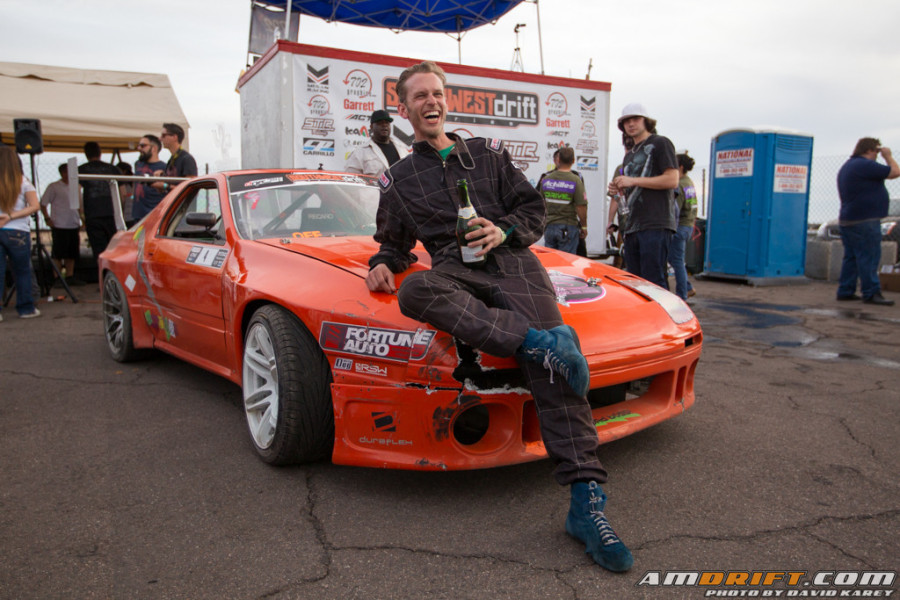 Travis Avery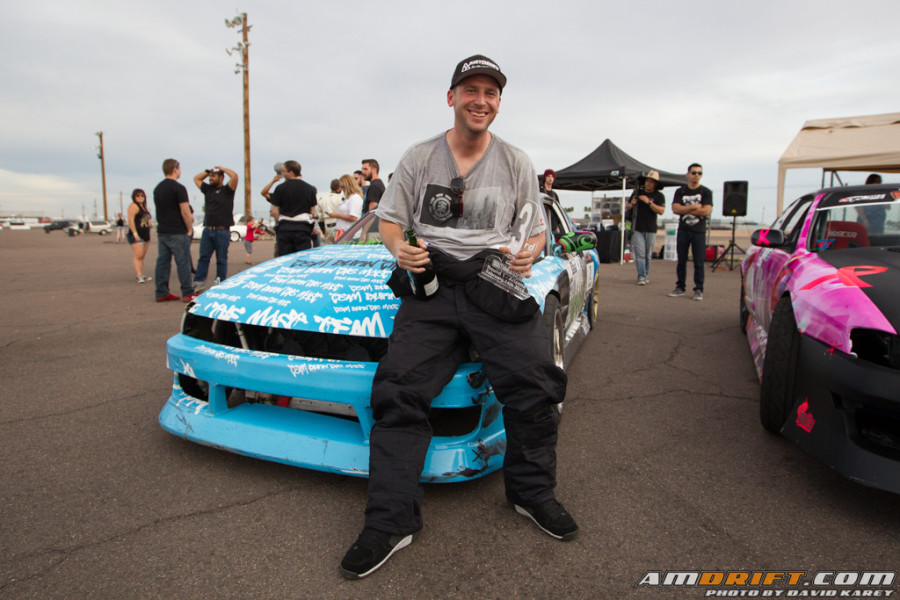 Joe Tardiff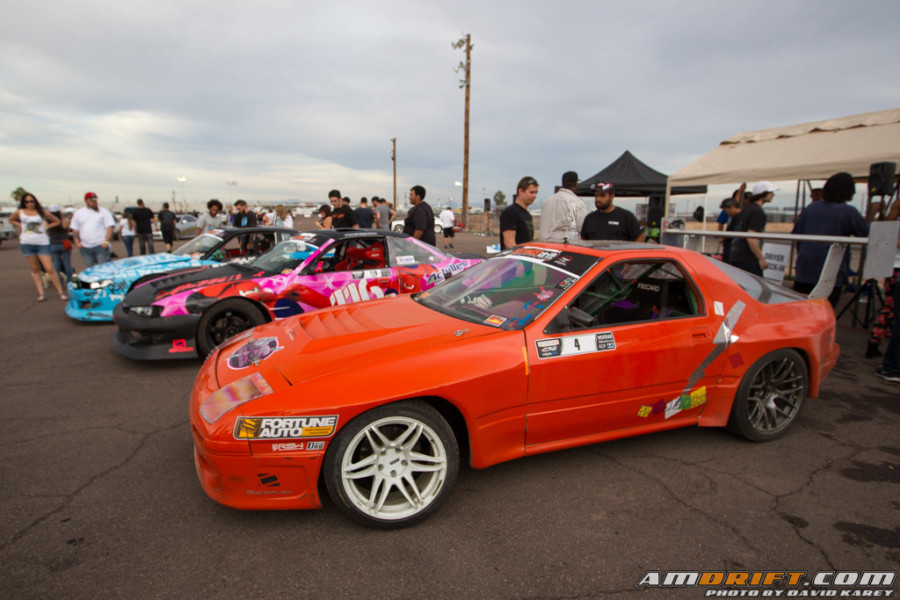 After a long day of exciting drifting, the Vegas Drift crew wraps up the event and moves on to planning the next. Thank you to all the sponsors, drivers, spectators, and livestream viewers for being a part of Southwest Drift Series Round 1!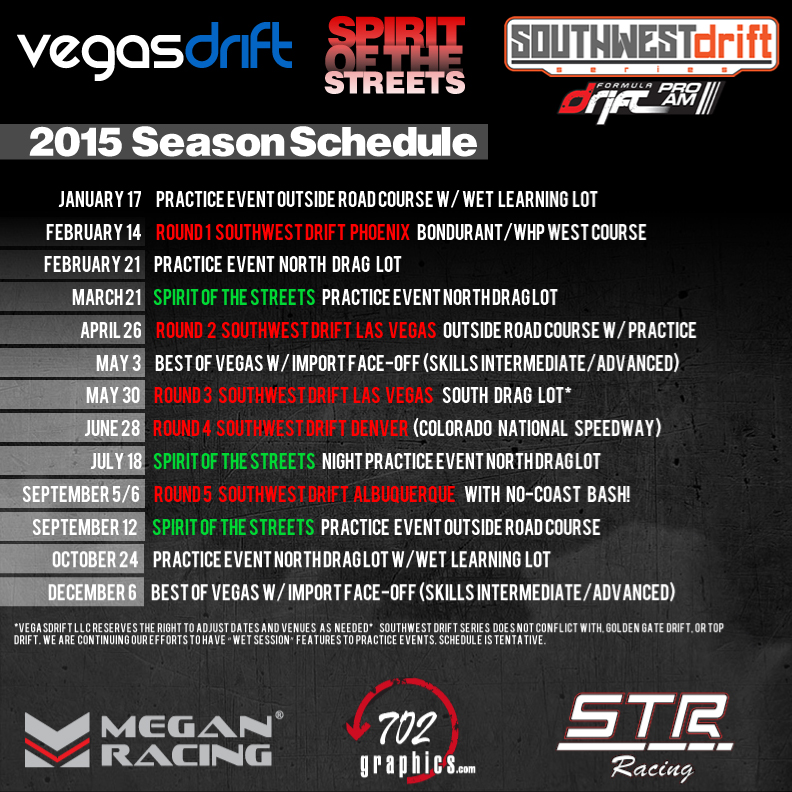 Round 2 of the Southwest Drift Series will be held on April 26, 2015 on the outside road course at Las Vegas Motor Speedway. Get your cars ready, register early, and bring your family and friends to be a part of the action!