It was mid 2000 something, and I was cruising to Lake Arrowhead and Big Bear with my Z club. We would take the 91 east until it turned into the 215, and then pull off at Inland Center Drive to get something to eat at Jack in the Box. At that time, a lot of my friends had become interested in drifting, something I admittedly knew nothing about, and they always talked about drifting at National Orange Show. On this particular day, I could hear a bunch of cars revving and tires screeching around a parking lot right across the street from Jack in the Box, so I gathered a couple of old Z guys to walk over and check it out from outside the fence. I remember thinking it was pretty dumb, but I remained interested in learning more about what the cars were doing. Shortly after this day, the organization called Drift Buffet who was responsible for the event, stopped running.
Drift Buffet was created by Terry Henderson and Brian Rielly. In its prime, Drift Buffet attracted popular drivers such as Pat Mordaunt, Jeff Jones, Ryan Litteral, Matt Powers, Tommy Roberts, Cody Parkhouse, and Cyrus Martinez…just to name a few. Forrest Wang even came to one of the events. So what killed such a great organization that provided a safe place for drivers to have a lot of fun? Support started lacking, spectator count was down, and driver count started dropping too low to have competitions at the time. August 2007 was the last competition.
Fast forward to February 1, 2015. Drift Buffet makes a strong comeback with Bryan Rogers leading the charge and Formula Drift pro drivers such as Jeff Jones, Eric Hill, and Karl Osaki coming out for support. With drifting becoming extremely commercialized and changed from the sport, Bryan felt the time was right for Drift Buffet to rise again. The Drift Buffet crew feels that a lot of today's drift events seem to be more focused on making money, and less on furthering the sport. They want to throw an event for drivers with high excitement and involvement of the spectators. "We wanted to do something where everyone who attended could come, have fun, and leave happy".
Drift Buffet could not have made a better choice of track for the return of the legendary organization. Grange Motor Circuit is a kart track located way out in Apple Valley, in the California Desert. Over the past few years, Grange has opened its arms to drifting, and it quickly became a favorite track of Southern California locals. Why did Drift Buffet choose Grange? "Bryan had driven the track in 2013, and liked the feel of it. It is reminiscent of Japanese tracks like Meihan where its very technical, fun, and makes for close tandem. Spectators are up close to the track where they can get a great view of the cars and the whole track, unlike Horsethief Mile and other tracks".
I asked Drift Buffet staff what their goals and future plans are, and where do they plan on going from here? "2015 will be a growing year, building on the success of the first event. The events will be spaced out because we want to keep improving and building each time". The big question is, is there a chance Drift Buffet could make it back to Orange Show? "Anything is possible and we are interested in checking into that particular possibility. It would be really great to bring it home again".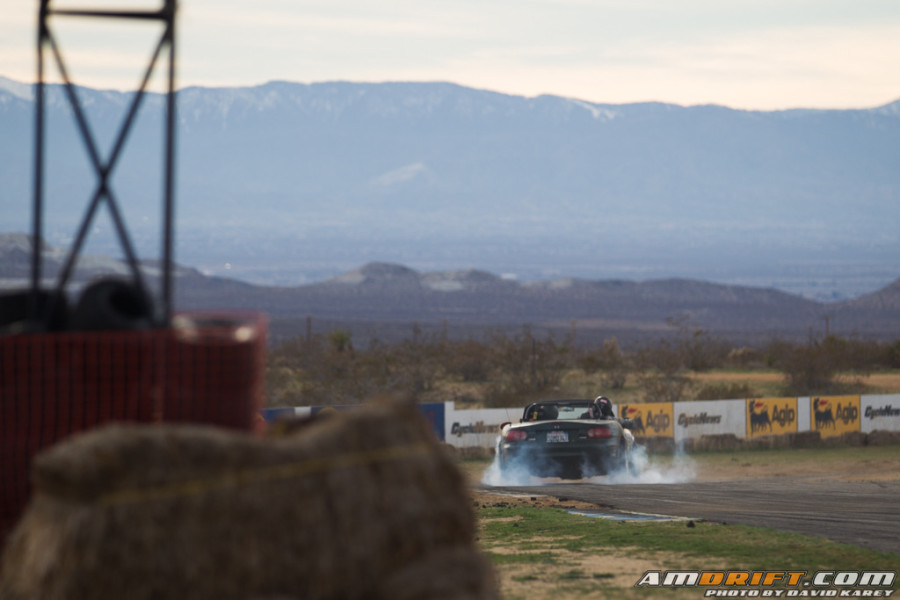 I want to thank Bryan Rogers, Nicole Lerma, and Terry Henderson for providing such great feedback and history on Drift Buffet for this article. Before checking out the gallery from Drift Buffet's 2015 return, check out some history sent to us by Terry Henderson himself.
"The story behind Drift Buffet starts back in the early 2000's with a group of guys that worked in the tuner industry and liked drifting. We had a cheesy little drift team called Land Ho, and we looked up to guys like Benson Hsu and Brian Norris. We began to go to Drift Day events put on by Club4AG.com, and we all embraced drifting with love and craptastic skills. We had good teachers and leaders in the drift community like Ernie Fixmer, Moto Miwa, Taka Aono, and a bunch more. That bred more good things, and Just Drift was born from the need to supply more seat time because Drift Day had become terribly overcrowded.
The same thing actually happened and Just Drift began to draw more participants than ever before. Charlie from Just Drift offered to help me do a few "private practice" days with my drift team Land Ho!!. Those practice events eventually turned into the Land Ho amateur drift competitions at WSIR balcony. Pat Mordaunt drove for the first time. He wasn't even old enough to have a license yet, maybe 14 or so. We had celebrity friends and guests, and a ton of good friends helping out. We were kicking ass at the time. I had a talk with another team member of Land Ho!! who made a lot of this shit possible – Brian Rielly aka Lunchbox, and we decided to make it legit and be safe with our personal responsibilities and also those of the drivers, so we decided to create DRIFT BUFFET LLC. in 2004.
We did this with 3 partners – Brian Rielly, Matt Monaco and myself. The Land Ho!! series was popular and known for quality and fun driving along with professional management that was on point, but still fun and friendly. At the same time, D1 was being managed event wise by Club4AG for USA events, and it seemed there was "drama".
Some weird shit happened that I really can't explain, and BAM, Drift Buffet was now managing D1 events for on track support instead of Club4AG. I was like" holy shit this is weird", and was amazed to be leading a team of 30 plus friends to run a big giant circus of a show for D1 USA. All the people that worked with Drift Buffet have become dear friends in my heart, and some have gone on to become practically family. We did amazing things with D1, and made a reputation for being on time and well organized with minimal bullshit. We were control for D1 for events from 2005-2006 or some shit like that. During that time some other shit amazing DRAMA type shit happened where a controlling member of the corporation had used his influence to secure work that was detrimental to the good of Drift Buffet LLC, and he had been voted off the board of shareholders. This person was removed from all association with Drift Buffet LLC in all ways.
I went on with Brian Rielly to continue Drift Buffet and move on after losing the D1 contract to insider poaching. For real. For fucking real. Drift Buffet came out pissed off and angry; located a new home in the N.O.S. center, found a ridiculously talented former Formula Drift pro Bryan Rogers (to be the head of course management and tech. along with being the lead instructor for all practice days), and the 3 guys proceeded to create new practice events in the parking lots of NOS center, sometimes having 3 or 4 separate courses.
The Drift Buffet amateur drift series kicked off with Bryan Rogers and Brian Reilly running all feet on the ground, and I was the eye in the sky with the judges/commentators/and other people up in the box on the course at the NOS oval. We made a great team. We had a crazy series at the time and some of the names that competed in that series have gone on to be well known to say the least. Here's to you drivers! Pat Mordaunt, Matt Powers, Warren Gardner, Jeff Abbot, Jeff Jones, Mark Snatches Sanchez, Bob F'n McCoy, Cody Parkhouse, Riley Cahil, Tommy Roberts, and my soulchild Ryan Litteral SD9K.
Producing such a great crop of amateur and soon to be pros gave Drift Buffet a great reputation, and Drift Buffet had the opportunity to manage the World Drift Series and travel to China with many Drift Buffet fam. Awesome stuff.
Shit Happens – I stayed in China to continue my driving career, Lunchbox retired, grew a beard, moved to a cabin on the plains, and Bryan Rogers went on to work at JIC suspension and Banks Power proving to be a well rounded and capable automotive pro. I think it's time for DB and what it means to the grassroots society to be reborn, and I am so happy.
I am Terry Henderson"