If Formula Drift Round 1 – Streets of Long Beach could be summed up in one word, that word would simply be "crazy". Over the off-season, several teams went to work adding more power to their current chassis, and even building entirely new cars for 2015. The results of drivers piloting such unfamiliar setups are what gave Long Beach its exciting vibe, with several unexpected drivers rising to the top and taking out heavily favored veterans of the series.
With every passing year, Formula Drift continues to grow and triumph as the premier professional drift series of the world. Along with growing as competitive series, attendance and internet viewership skyrockets. One could hardly attend an event and not have to thread their way through a crowd of fans, which is a black and white comparison to what Formula Drift was in the mid 2000's. The term "sold out" is commonly heard and seen by fans, some who opt to stay home and view the action live on the internet with thousands of other viewers. But still, the crowd was massive in Long Beach, and the fans were having a spectacular time.
After a wild Top 32 full of super unexpected happenings (read about that here), fans hit the pits and vendor booths to get close to their favorite drivers and cars, and to collect memories and swag to sport at future FD and local grassroots drift events. Halftime, driver's autograph session, and other times in between hot track competition, are our favorite moments of the event. For fans, getting to know the icons they idolize and sharing a chat for a moment or two, solidifies their love for the sport of drifting and makes a fan forever.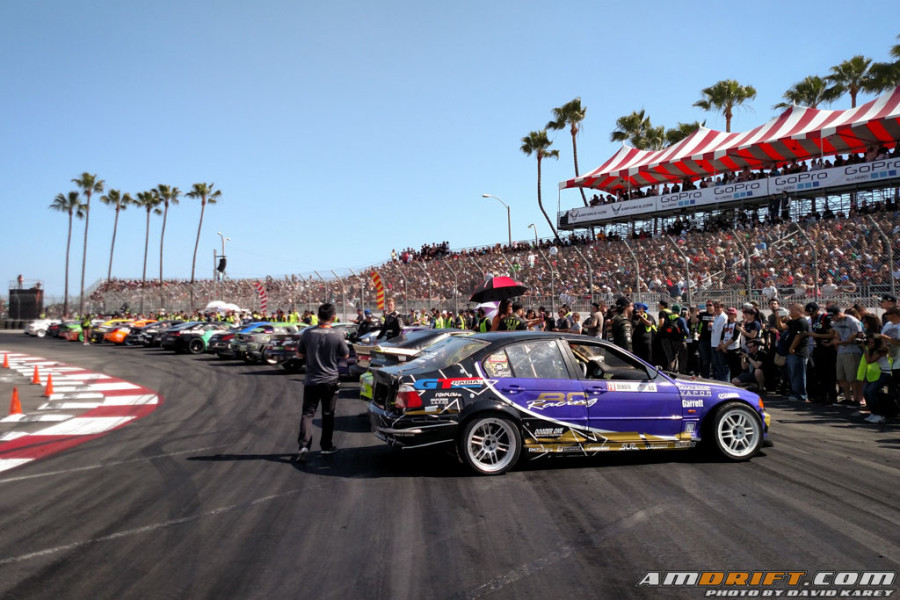 32 drivers went head to head in some of the most crazy battles we've seen in Long Beach, and the remaining 16 lined up for recognition for making it to the big show. Those guys were Chelsea Denofa, Matt Field, Matt Coffman, Geoff Stoneback, Robbie Nishida, Dan Savage, Pat Mordaunt, Tyler McQuarrie, Dai Yoshihara, Justin Pawlak, Charles Ng, Fredric Aasbo, Odi Bakchis, Vaughn Gittin Jr., Chris Forsberg, and Ryan Tuerck. These men were ready for battle.
TOP 16
Matt Coffman vs. Robbie Nishida
Matt Field vs. Dai Yoshihara
Vaughn Gittin Jr. vs. Charles Ng
Justin Pawlak vs. Odi Bakchis
Chris Forsberg vs. Pat Mordaunt
Ryan Tuerck vs. Dan Savage
Fredric Aasbo vs. Geoff Stoneback
Chelsea Denofa vs. Tyler McQuarrie
Matt Coffman vs. Robbie Nishida

After taking the win from first place qualifier, Forrest Wang, Matt Coffman sets out to continue to take down giants and lines up against Robbie Nishida. Coffman stays close to Nishida on entry, but quickly falls behind and takes a shallower line as Nishida jams ahead. Nishida swings his rear close to the walls and effortlessly rounds the hairpin clipping point, but Coffman comes in hot on a shallower line and flicks it too hard, spinning out. Taking his lead, Coffman runs a great line, but Nishida is right on his quarter and follows close all the way through the finish. Robbie Nishida gets the win.
Matt Field vs. Dai Yoshihara

In an expected battle of brute strength and style versus experience and finesse, Matt Field takes on Dai Yoshihara. Field lead first, creating a small gap between himself and Dai before initiating. Dai struggling, straightens and corrects coming into view of the judges around the first turn, and drives a not so impressive line with several corrections in an attempt to hang with Field. Dai leading and running a great line a little too late, can't shake a shadowing Field through the entire course. All 3 judges rule in favor of Matt Field.
Vaughn Gittin Jr. vs. Charles Ng

Vaughn Gittin Jr. rockets down the back straight, initiates, and that's where Charles Ng starts having issues with proximity. Jr. goes wall to wall and Ng throws more angle causing him to fall far behind. Jr. runs the rest of the course in sideways drag race fashion, and Ng loses control and slides to a sideways stop right before the hairpin while trying to catch up. Having a considerable disadvantage, Ng comes around the first turn and slaps the wall, ripping his rear bumper off. Continuing with the do or die driving style, Ng swings under the bridge and sets up for the wall below the judges, and plows his rear into the clipping point causing significant damage to the fuel system. Jr. keeps close proximity until around the hairpin, where Ng's Infiniti dies. Vaughn Gittin Jr. gets the win.
Justin Pawlak vs. Odi Bakchis

In two freshly re-engineered machines, Justin Pawlak lines up against Odi Bakchis. JTP runs a near perfect line, but Odi plays hardball and stays right on his quarter through the entire run that Jarod DeAnda calls "a textbook head to head battle". Odi takes his lead with Pawlak applying too much pressure on the entry and having to back off, allowing him to run freely. What could have been an amazing battle with a potential One More Time, was cut short with Odi Bakchis getting the win.
Chris Forsberg vs. Pat Mordaunt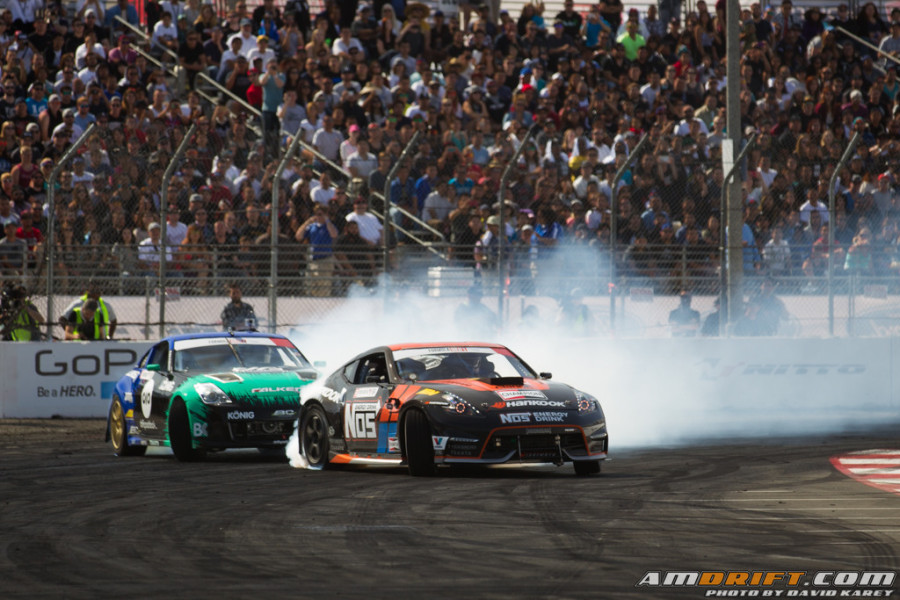 Forsberg being heavily favored to win this battle, takes his lead run against Mordaunt, but throws it all away coming out from under the bridge on a super shallow line, which allows Mordaunt to nearly hit all the clipping points without anything in his way. Forsberg following, he leaves no room for Mordaunt to make any mistakes the entire duration of the run, even tapping him going around the hairpin. Having a huge disadvantage due to the shallow line on his lead, Forsberg would be done for the evening while Mordaunt moves on.
Ryan Tuerck vs. Dan Savage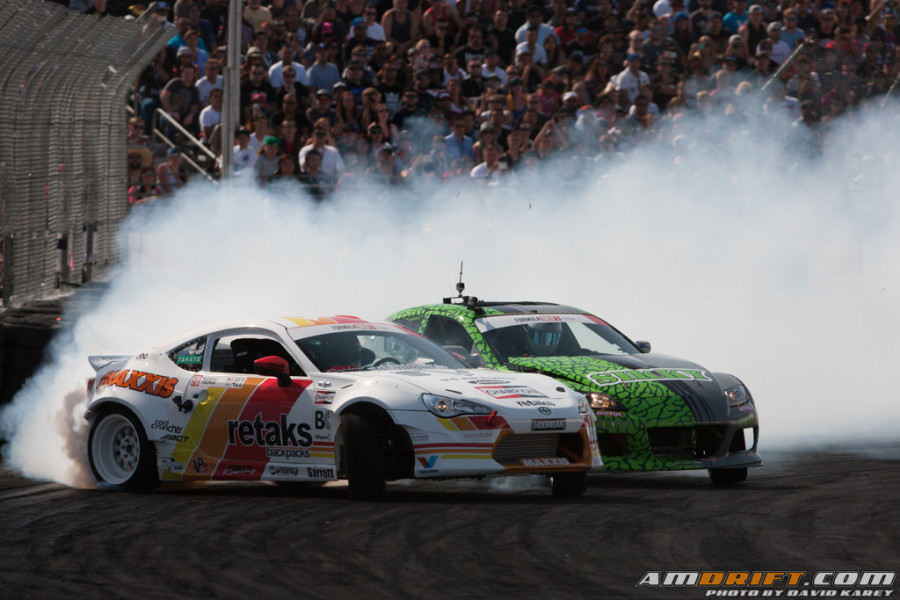 Ryan Tuerk leads his East Coast colleague Dan Savage through the course, lots of smoke pouring off the Maxxis skins. Savage clearly has trouble following Tuerck's line, until slightly after the bridge where he dives in and keeps it close the rest of the run. Savage knows he needs to go big, so in an attempt to run the walls, he comes in the entry a little too fast and nearly clips the tires on the outer portion of turn 1. Ryan Tuerck keeps his distance, but closes the gap and both cars finish close. Ryan Tuerck gets the win.
Fredric Aasbo vs. Geoff Stoneback

After an exhausting week of caring for a best friend in need, Geoff Stoneback faces yet another pressuring situation, lining up against Fredric Aasbo. Fredric up front, Geoff applies too much pressure and falls behind while Aasbo runs away. Aasbo did not falter on his follow run, and judges award him the win.
Chelsea Denofa vs. Tyler McQuarrie

Tyler McQuarrie is left no room for error as Chelsea Denofa hangs on his rear like a magnet. The pair swings around the hairpin, but Denofa slows to avoid contact and slightly straightens, giving McQuarrie the advantage mid battle. Denofa leads McQuarrie through the course filling all the zones, but moves the hairpin clipping point on exit. Tyler McQuarrie's follow earned him advancement into the Great 8 with the win.
Great 8
Robbie Nishida vs. Matt Field

Starting off the Great 8, Matt Field leads Robbie Nishida into the entry, but Nishida gets too close and taps Field, sending him into the tire wall. After both drivers make their way back to the start line, Nishida retires, giving Matt Field the win.
Vaughn Gittin Jr. vs. Odi Bakchis

Vaughn Gittin Jr. wastes no time getting rowdy, tapping the first wall with a slight correction, sliding under the bridge and rubbing the wall, giving Odi Bakchis a really aggressive line to follow. Jr. has a major correction and straighten right before the hairpin, allowing Odi to suck in even closer and lean the judges in his favor. Bakchis out front, he runs a very safe line, slightly shallow on all points, but with no noticeable errors in comparison to Jr.'s lead. Judges give Odi the win.
Pat Mordaunt vs. Ryan Tuerck

Ryan Tuerck comes out swinging on his lead lap, keeping it insanely close to all the walls while Mordaunt runs shallow through the middle portion of the track to keep up. Both cars finish close, as Mordaunt dives in fast and closes the gap through the hairpin. Mordaunt takes lead and flicks it sideways fairly early on the entry, but manages to stay smooth through the course, and drags his bumper on the wall under the bridge. Mordaunt may have leaned the judges slightly in his favor by mid run, but he over rotates at the apex of the hairpin clipping point. Judges sent Tuerck through to the Final 4, and Mordaunt packs it up.
Fredric Aasbo vs. Tyler McQuarrie

Fredric takes lead car on the first run of this battle, Tyler keeps it close until he straightens while transitioning from the first point to the second under the bridge. Tyler pedals hard to catch up to Fredric, but goes slightly wide around the hairpin while Fredric keeps it where the judges want. Needing to redeem himself, McQuarrie does his best to run deep along the walls, but Fredric rides within inches of trading paint, actually going deeper along the walls than Tyler. All 3 judges send Aasbo through to the finals.
Final 4
Matt Field vs. Odi Bakchis

Matt Field leads Odi Bakchis through a shallow entry through the second zone under the bridge, but Odi sticks just feet off his side with an amazing follow, noted by Ryan Sage on the live feed. Odi takes his lead, but also runs shallow in similar fashion to Field's lead. Judges need more, and send them both back to the line with a One More Time decision.
Ryan Tuerck vs. Fredric Aasbo

Ryan Tuerck follows Fredric Aasbo on the first run, but Tuerck goes too deep on the first outer zone and plays catch up, slightly tapping Aasbo around the hairpin. Flipping the order, Tuerck enters fast with Aasbo right on his tail. Tuerck rubs the wall in front of the judges, and Aasbo straightens around the hairpin. Judges say One More Time.
Battle for 3rd
Matt Field vs. Odi Bakchis (OMT)

Getting back to the Field vs Odi match-up, Field charges down the road on his lead. Field doesn't fill the zones as much as the judges want to see, but Odi follows him wherever he goes. Jarod DeAnda says "not as aggressively as we've seen in the past with some of these guys". Odi takes his turn leading, running wider than Field, but Field keeping proximity to a minimal distance. Field can't match Odi's performance, and judges grant Odi the win.
Ryan Tuerck vs. Fredric Aasbo (OMT)

This battle gets crazy. Aasbo leading, Tuerck is right on his rear through the entry, but falls behind going under the bridge and turns his chase into a catch up battle. Coming into the hairpin, Aasbo sputters and slows and Tuerck nearly plows into him, but Tuerck keeps it cool and narrowly avoids contact. Aasbo swings wide before the hairpin point, and removes his bumper on the outside wall nowhere near where the judges want him to be. Swinging around the hairpin, Aasbo slows and straightens, causing Tuerck to make contact resulting in both cars coming to a stop. Ryan Tuerck takes his lead run with a huge advantage over Aasbo. Tuerck does an amazing job running deep lines almost rubbing the walls, but Fredric is right on him the entire run. Coming around the hairpin, Tuerck hits rev limiter and shuts it down, and Aasbo makes contact. Judges call One More Time, but Ryan Tuerck calls 5 minutes to swap a diff, and the team is unable to complete the repairs with the entire crowd watching on the big screens cheering them on. After a valiant effort, Ryan Tuerck is done, and Fredric Aasbo moves on to the final battle with Odi Bakchis.
Battle for 1st
Odi Bakchis vs. Fredric Aasbo

This is the final battle of the Streets of Long Beach. Fredric Aasbo comes right out of the gate and runs a near perfect line with Odi following right behind him, impressing the judges and prompting Jarod DeAnda to rave over the mic. Odi driving anxiously, dives in to Aasbo's passenger side at the hairpin making contact, and both drivers opt to shut it down. Odi having a disadvantage, takes his lead run going all out in an attempt to outperform Aasbo's follow run. Aasbo makes no mistakes on the follow, and the decision is taken to the podium.
1st place – Fredric Aasbo, 2nd place – Odi Bakchis. 3rd – Ryan Tuerck. For the first time in his career, Fredric Aasbo stands tall on the first place platform of podium. After coming close to first place several times in the past couple of years, Aasbo puts Jarod DeAnda's term "Always a bridesmaid, never a bride" to rest forever. Odi Bakchis continues to make dramatic improvements by each event, and Ryan Tuerck is showing his might in the fight for the championship title.
Didn't get enough drifting in Long Beach this past weekend? Don't be down, join us for the KMC Wheels Super Drift Challenge the nights of Friday 17th through Saturday 18th on the very same FD layout during the Grand Prix of Long Beach. See you there, and then off to Atlanta for Formula Drift – Road to the Championship.
-David Karey
Mark Lenardon – February 8th, 1989 – April 14, 2015