A lot of hype has been surrounding a young man out of San Jose, California ever since October 13th, 2012. That was the night Matt Field made a lasting impression on Formula Drift. After 4 intense runs against one of the world's most widely known drifters, Daigo Saito, Matt was defeated. But, the crowd at Irwindale Speedway and the internet went wild for days, even weeks after. It still gets brought up to this day how the privateer out of Nor-Cal almost took out one of the toughest competitors Formula Drift has ever seen.
I've been keeping a close eye on Matt ever since I heard people talk about him coming up through the ranks. Hearing things like, "That kid Matt Field rips!" before he entered Formula Drift was enough to put him on my radar. But when he first came into the series in 2010, that's when I first got to know him. Back then he was just some guy with a purple KA 240sx hatch that was beat to shit who dreamed of being something bigger.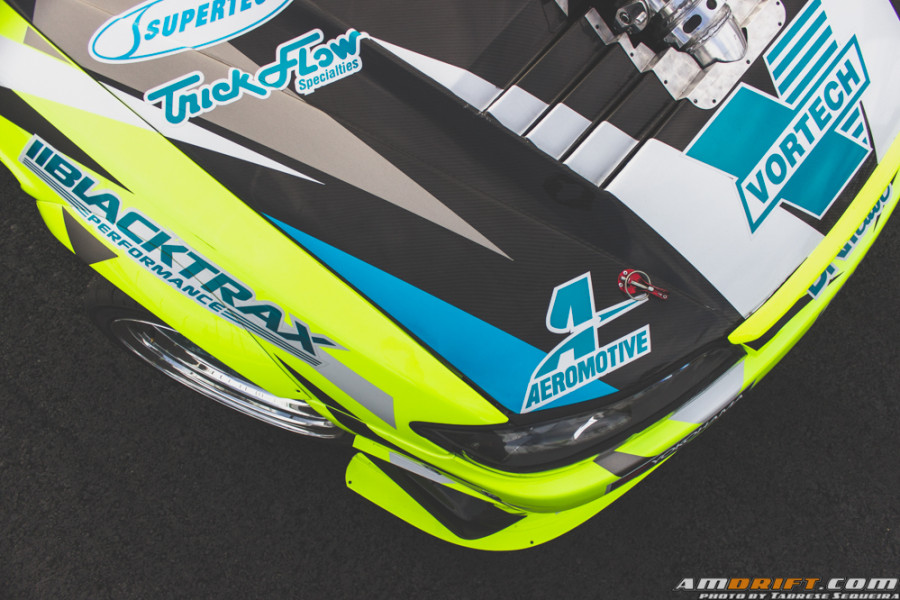 I liked his style, that was the first thing I noticed. Bright colors, extremely easy to see, but even more so, it's even easier to remember. From the purple S13 hatch with neon yellow stripes, to the first rendition on his S14 of his S13 hatch flipped around with neon yellow and purple stripes, to the S14.5 you see today. From his car, to his sunglasses, Matt always had a thing for neon yellow. I can't blame him, because it's a pretty dope color.
His driving changed tremendously over the years, but also remained the same as well. Before Long Beach this year, he looked like he was always a mere second away from a wreck. He was always loud, fast and in your face, but now he's refined it. What looked like chaos, is now controlled chaos. When filling out a bracket, it's hard not to choose Matt because he's a wild card, a person who can shake things up at any moment. however, at the end of last year, there was always an air of uncertainty. There was always that ever looming feeling that he would take himself out by going too hard.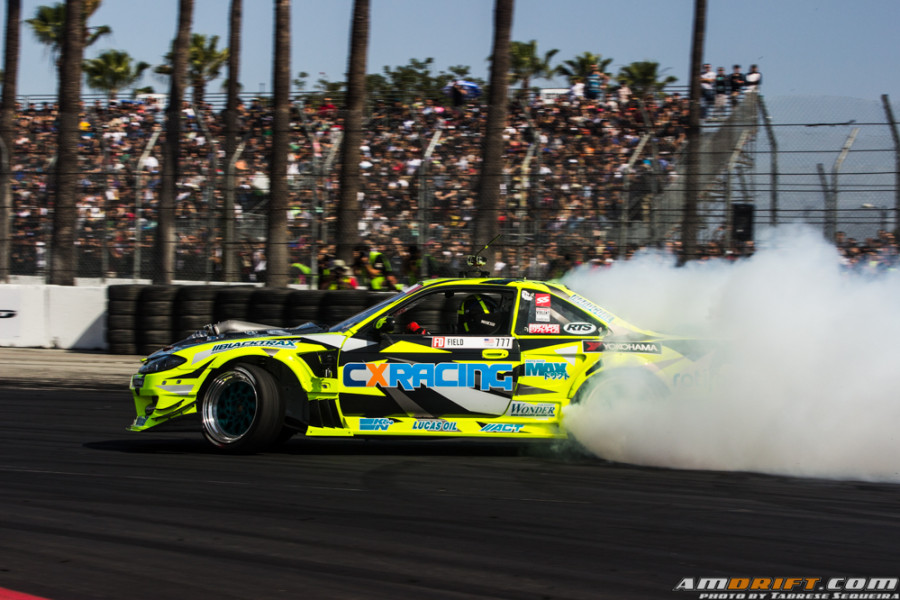 Along with better driving comes better results. His first Top 16 came from Dai Yoshihara spinning, Matt charging hard, and Dai breaking. That was back in his rookie year of 2010. Now, it's surprising if he goes down in the Top 32, and not qualifying has been out of the question since 2013. In 2013, he finished 7th overall, including a 2nd place finish in Texas. Moving on to 2014, he had a bunch of mechanical issues, and it was an uphill battle all year. Now in 2015, it seems the team is back to form and head hunting for another podium, and even the championship.
Along with his driving, Matt and his team have been working hard at the development of the Formula D car. Starting in 2011, Matt switched from a KA S13 hatch to an LS1 S14. From there, they developed it into what they have now, which is a Vortech supercharged LS3 topped off with some nitrous. The team changed out the LS3 block for the iron LQ9 block to handle the amount of boost they planned to force through it. The supercharger was fitted with a billet wheel for more efficiency and boost. After years of abuse, the FAST LSXR intake manifold cracked in testing, so they switched to a Holley EFI Hi-Ram intake manifold as a replacement, giving the car more personality.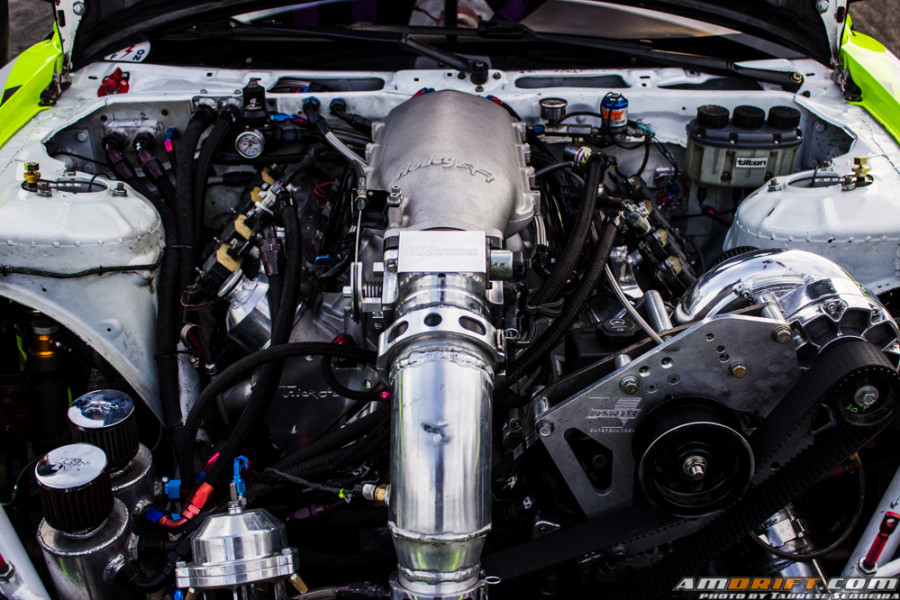 In 2013, Matt added a supercharger into the mix. The added power meant the need for more grip, so he runs a 295 tire in the rear wrapped around some very stylish Rotiform Wheels to get the maximum amount of grip out of his machine. To go along with his aggressive setup, Matt brought over some Car Modify Wonder aero to infuse some Japanese style when he goes to battle.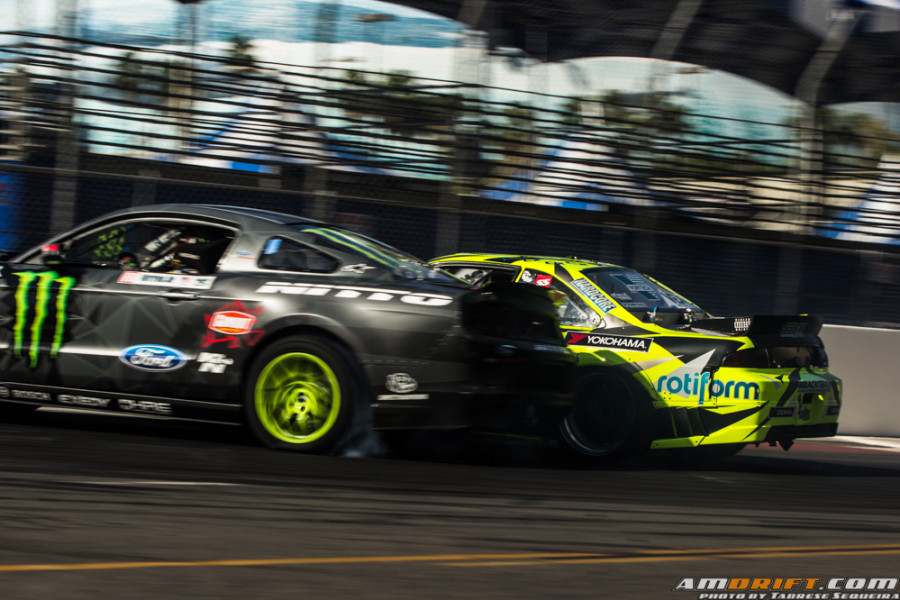 You can say this about a lot of drivers in the series, but Matt has the makings of a real championship contender. What separates a championship contender from the rest of the field, is the willingness to break things. You have to put it all on the line and go 135% when you're the underdog. He does this without batting an eye, and when you ask him about it, he gives a little nod of the head, a nonchalant smile, and either tells you it went to plan or it wasn't enough. Nothing surprises the guy.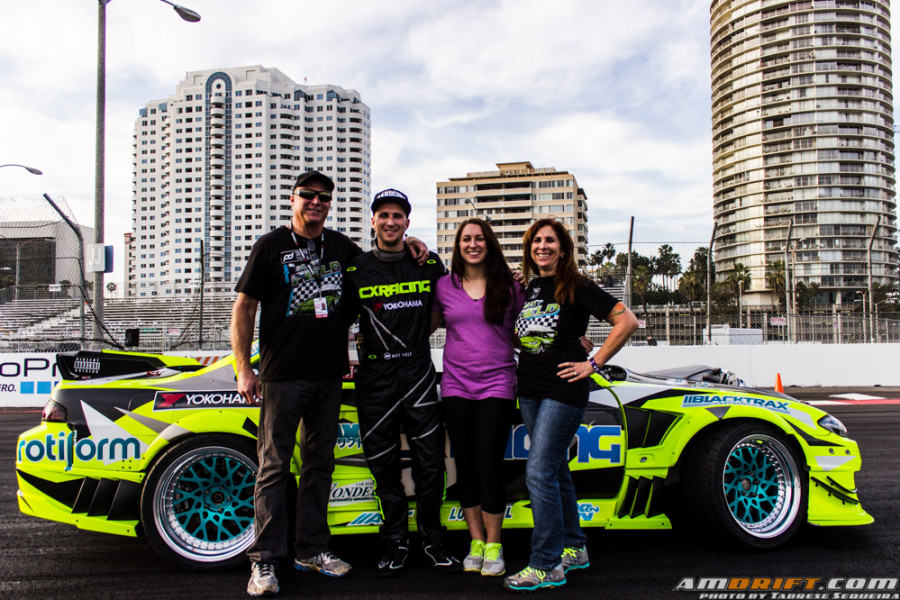 Matt Field. From David swinging a little KA powered s13, to Goliath wielding an LS14 that's twice as powerful.
– Tabrese Sequeria