Formula Drift is back, which means that tire smoke, race fuel, and various ear shattering engines are back too! Entering it's 12th season after an amazing finish to 2014, which saw Chris Forsberg take the title, Formula Drift kicked off the first round of the 2015 season on the Streets of Long Beach.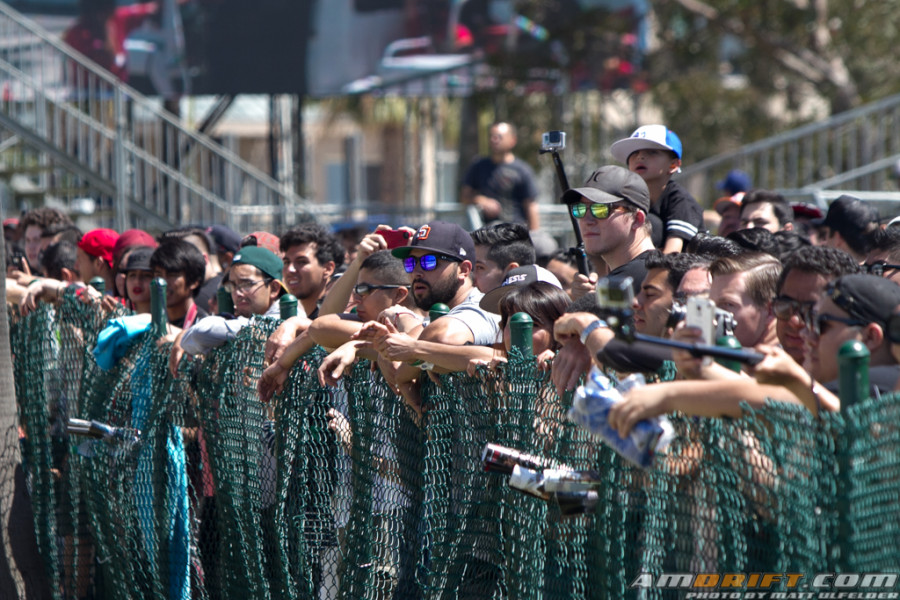 Fans eagerly packed the stands and then looked for standing room when there was no place to sit when it came time for competition. The venue was jam packed, which just showed how excited everyone was for the big show. Anyone who filled out a bracket before hand, was probably a little surprised, and maybe even a little upset. There were some surprising upsets to say the least.
TOP 32
Forrest Wang vs Matt Coffman – Wang

Let's start the Top 32 with a battle of redemption. Last year we saw the exact same matchup at Irwindale, #1 Forrest Wang vs #32 Matt Coffman. Forrest Wang qualified 1st with a 97 and was consistently throwing down 90 point runs in practice, making him a tough draw for Matt Coffman who was looking for redemption from Irwindale. But, luck was on Coffman's side, and he killed it in the chase. Forrest took his chase position, but allowed a gap and bobbled right behind the kid from Oregon. What a crazy upset to start off the year! Top 16 awaits you Matt Coffman!
Robbie Nishida vs Daigo Saito – Nishida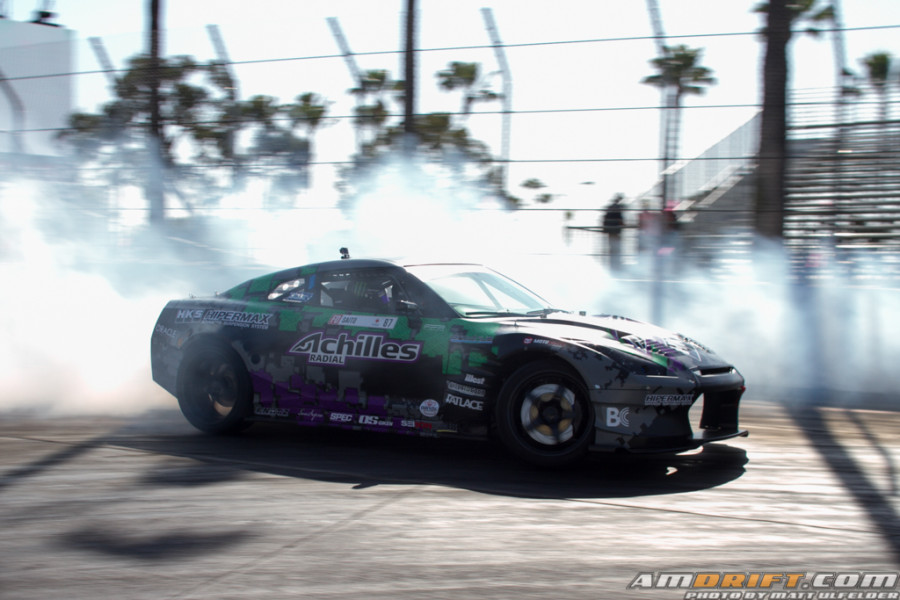 Best friends Robbie and Daigo lined up against each other, but just because they're friends doesn't mean they'll go easy on each other! All weekend it looked like these guys were working out some bugs, but that didn't stop them from going hard in the paint! It seems that Daigo went a little too hard, and made contact with Robbie in the first corner. It also appeared Daigo broke something, and that sent Robbie into the Top 16. Could you say upset? Although Robbie is an excellent driver, I know a few people who had Daigo listed as the victor. Nishida enjoys the spoils of victory.
Matt Field vs Kenny Moen – Field

The new age of drifting is upon us. Matt Field enters his 6th year of Formula Drift, and his progress and driving style has impressed a lot of people. Matt was on fire all weekend while Kenny Moen worked his way back from, in my eyes, a shaky start compared to his usual form of killing it. Both of these guys are known to put on a good show, but one had to win, and one had to lose. Well, it just so happens that after a good chase, Fast Kenny killed it a little too much and tagged the wall, giving Matt a spot in the Top 16. Keep a lookout for a feature spotlighting the driver hailing from San Jose, California!
Dai Yoshihara vs Kyle Mohan – Yoshihara

Hometown hero, Kyle Mohan, drew the 2011 champion in the first round. On the first run, Dai Yoshihara pulled a huge gap, leaving Kyle to play catch up. When they switched it up, Kyle wowed the judges with style, but with Dai on his heels, couldn't overcome his deficit. Dai moves on, but Kyle wasn't too down though. He is always a favorite with the crowd, and gave them a nice little taste of some high rpm 3 rotor accompanied with some backfires back in the paddock.
Vaughn Gittin Jr. vs  Nate Hamilton – Gittin Jr.

Lil Tex is back this year with a new setup; he slapped a turbo on that LS motor. It seems he was still getting used to the new setup this weekend. Going against Vaughn is no easy task, especially after overcoming mechanical issues earlier in the week.  But, Nate was in the show and had the tough task of taking on the Ford driver. After establishing a big gap on his lead, Vaughn moves on against Nate in that tried and true Ford Mustang.
Pat Goodin vs Charles Ng – Ng

The King of Spring Break was out in full force this weekend! He was looking oh so good in that turbo LS S13, but when you go up against a bull wearing something red, you may get the horns. After putting a on a great lead, Pat dropped back a little bit on the chase, and that was enough to give the Charles the win.
Justin Pawlak vs Tanner Foust – Pawlak

Returning after 5 years hiatus, Tanner Foust steps up to the plate against JTP. Justin had no intentions of making Tanner's transition back to Formula D easy. They went head to head, but Justin came away with the win after Tanner broke beyond repair after the first run. JTP gets his berth in the Top 16.
Odi Bakchis vs Conrad Grunewald – Bakchis

There were a few questions surrounding this battle. How would Odi do in that new Genesis? Would Conrad's active aero wing help him in battle? Well they went at it, Odi tagging the wall a little on his lead and then chasing like a mad man, sent them at it One More Time. This time, Odi stays off the wall and gets into the Top 16.
Chris Forsberg vs Jeff Jones – Forsberg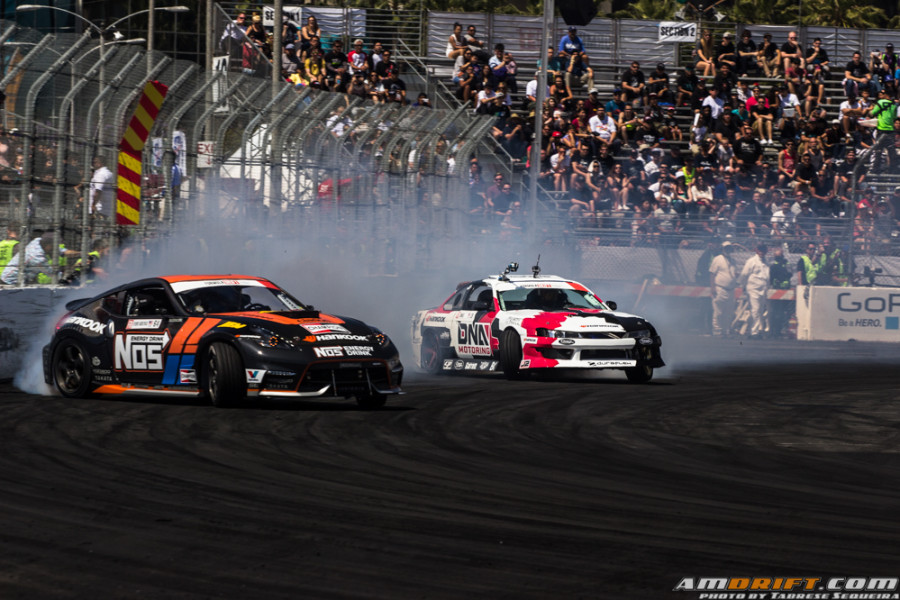 Jeff Jones in his refreshed turbo LS14, drew a tough competitor in the form of Chris Forsberg. We've been following Jeff for a while, and when we say he looks like vintage Jeff Jones, it's definitely a compliment. Jeff was looking really good all weekend long putting it on the walls, but he had the misfortune of going against the 2014 champion. Chris showed why he qualified second with a flawless lead, while Jeff played catch up. But, in typical Jeff Jones fashion, he puts down a gangster lead run. However, it just wasn't enough, as Chris stacks up right behind him. Forsberg to Top 16.
Dave Briggs vs Pat Mordaunt

Dave Briggs is trying to prove that 4 cylinders are still competitive in this day and age. He proves to be right by giving Pat Mordaunt a good fight, but the Toronto driver is a bit outmatched in this one. Not only does he have issues with the car, he's going against a veteran FD Driver in a veteran car! Unfortunately for the Canadian, Tyler McQuarrie's old vehicle gets into the Top 16 with Pat at the helm.
Ryan Tuerck vs Dean Kearney

Ryan Tuerck had his birthday the day before, and was looking so fresh and so clean in his white car & suit. On the other hand, Dean Kearney looked extremely menacing in his Dodge Viper. After a good looking chase, Dean couldn't match it with his lead and gets Tuerck'd. Happy birthday to Ryan Tuerck as he moves on to the Top 16.
Dan Savage vs Kristaps Bluss – Savage

Kristaps Bluss looked like he had been drifting this course for years. Coming all the way from Latvia to compete in the HGK Racing BMW, he showed us how they get down over there. That car looks really good too. However, the Sikky RX-8 also looks good. Rapper Dan dropped some dope rhymes, and freestyles his way into the Top 16.
Fredric Aasbo vs Masashi Yokoi – Aasbo

Fredric Aasbo is now fueled by Rockstar Energy, which gives him a bunch of energy for sure. Masashi Yokoi looked to be having a difficult time pushing it on this track, Freddy doesn't make it easy on anyone either. After some weird contact on the second run which the judges deemed Yokoi at fault for, the Norwegian Hammer moves on into the Top 16.
Geoff Stoneback vs Ken Gushi – Stoneback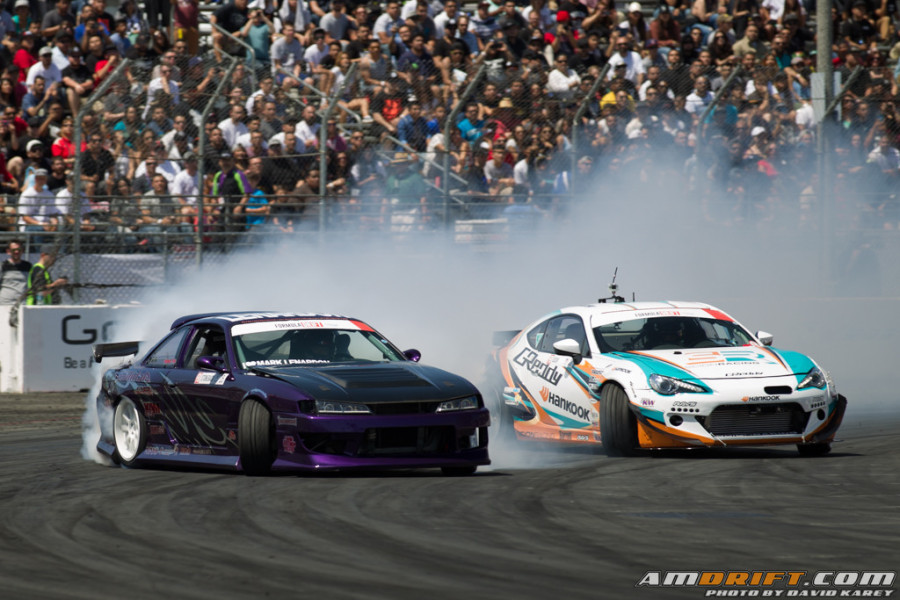 Qualifying in Long Beach is no easy feat. Doing it with no practice is probably a hundred times harder. Geoff Stoneback must have ice in his veins because he did it 2 years in a row! But, he is up against veteran driver Ken Gushi, so it's an uphill climb for him. After a few mistakes on both sides, the judges decide to run them again. With the spirit of Mark Lenardon riding shotgun, Geoff powered his way through Ken and into the Top 16.
Alec Hohnadell vs Chelsea Denofa – Denofa

Alec Hohnadell surprised everyone when he qualified 6th. Well, it should come as no surprise, because he has the skills. Meanwhile, Chelsea Denofa literally rolled in the morning of qualifying and got into the show with the ice cold veins of a snowman. An exciting battle was expected, but much to the dismay of the fans, Alec had to shut it down with a fuel pump issue on the first run, and then a broken supercharger belt on the second, giving Chelsea the win.
Tyler McQuarrie vs Marc Landreville

The final battle of the Top 32 was a good one. Marc Landreville switched his powerplant from a V8 to a 2JZ, and McQuarrie is back on Falken Tires. It seemed like all was well for Tyler as he put down a solid lead, with Landreville putting on a pretty good chase. But when they switched it up, Landreville seemed to have a magnet on his car, and McQuarrie moved on after a spectacular chase.
That concludes the Top 32. As everyone knows it goes into the halftime break where fans can walk around to vendor booths, check out the cars in the paddock, and even get some photos with their favorite drivers.
Drivers will even take selfies with other drivers!
Tanner Foust was busy ever since he got off track, with a long line of people who have been waiting years for this moment to take a picture with him.
Be sure to continue the action in our Top 16 article, coming next! – Tabrese Sequeria