Formula Drift is like summer camp. Everybody sees and keeps up with each other for 6 months out of the year, and then its all over, and everybody to go back to their "normal" lives. There are hugs and high fives all around as everyone is reunited and gets to catch up with their friends. With that said, Formula Drift is the best summer camp around.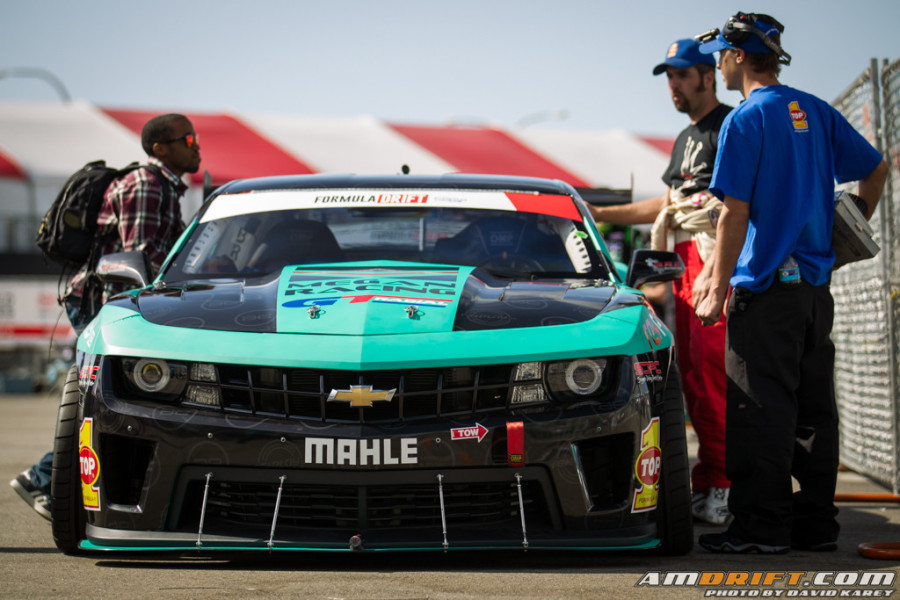 Media day on the streets of Long Beach is a huge spectacle. The anticipation leading up to this event is high, as everybody looks forward to seeing the new builds and liveries for the first time before the actual round of competition. It also goes without saying that the drivers are looking forward to it as well. All the long hours wrenching on the cars leads to very antsy drivers itching to get behind the wheel of their battle machines. For some, it's a refresh of the cars they drove the year before. For others, such as Forrest Wang in his new Get Nuts Lab S15, it's a chance to debut an entirely new car and get some practice on the track they will be running in only a few days' time.
Broken up into multiple short sessions, a select group of drivers see the track for the first time and give rides to members of the hard working media and track staff of the Long Beach Grand Prix. As rubber gets laid down and the track gets stickier, drivers start pushing more and get the confidence to get closer to the traditional clipping zones, and even tandem, treating their passengers to some wall scraping and door riding. Ryan Tuerck and Chris Forsberg, long time friends and tandem partners, were putting on quite the show and treating their competition cars like the beaters they use back home.
New liveries showed off new sponsors and a fresh look for the all new season. Conrad Grunewald sported the all new livery which highlighted his partnership with Always Evolving. Conrad seems to be evolving into a tougher competitor as he ripped his wing off before competition even starts.
We always hang out with Jeff Jones when he makes it to events. Jeff gets the award for the most gangster driver in FD. Check out the dash of his car when you can, and you will see how he rolls.
Forrest Wang and the Get Nuts crew added a new driver to the roster with Alec Hohnadell, a partnership that looks to have a bright future. Alec stands to learn a lot from the veteran driver, and Forrest's patience will be tested with that supercharged V8 under the hood of Alec's S14. Fun fact: Forrest hates V8s.
The Mustangs were out in force today with Vaughn Gittin Jr. and Justin Pawlak each sporting new liveries. Unfortunately, Justin was having issues with his Coyote under the hood and has a few bugs to work out in the coming days.
Matt Coffman is back, this time with our good friend Spike Chen as his spotter. Would you look at that…. Spike is full of surprises. Matt Coffman is bound to drive well with a spotter as experienced as FD license holder Spike Chen.
Chris Forsberg looked as solid as he always does in that naturally aspirated 370Z, and so did Jhonnathon Castro until he got a little too close to the wall. The CFR crew will surely have Castro's car ready for battle by Friday.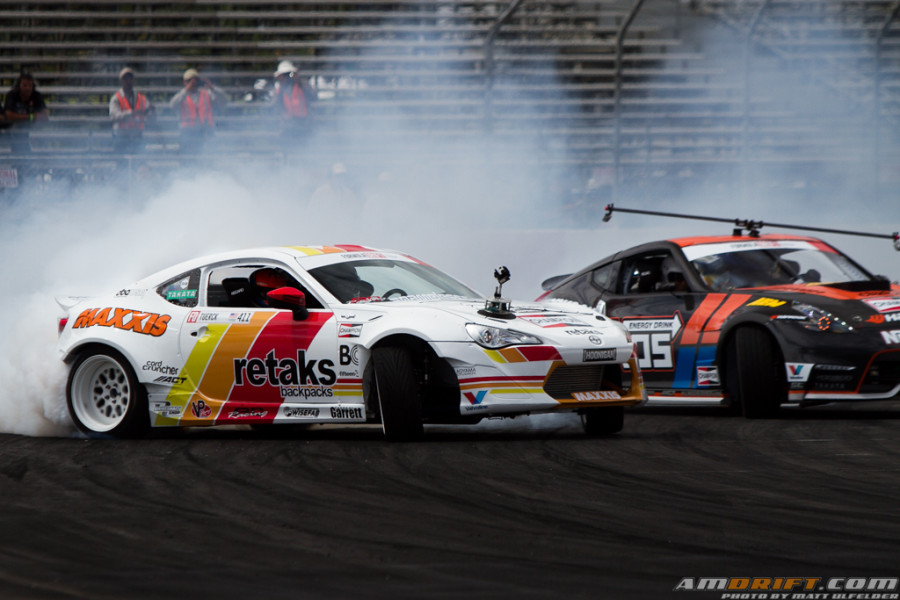 Ryan Tuerck and his new retro TRD livery really stood out, especially since his anti-lag system creates ear shattering explosions! He had some troubles early in the day on the course, but when the track got sticky, the track got Tuerck'd.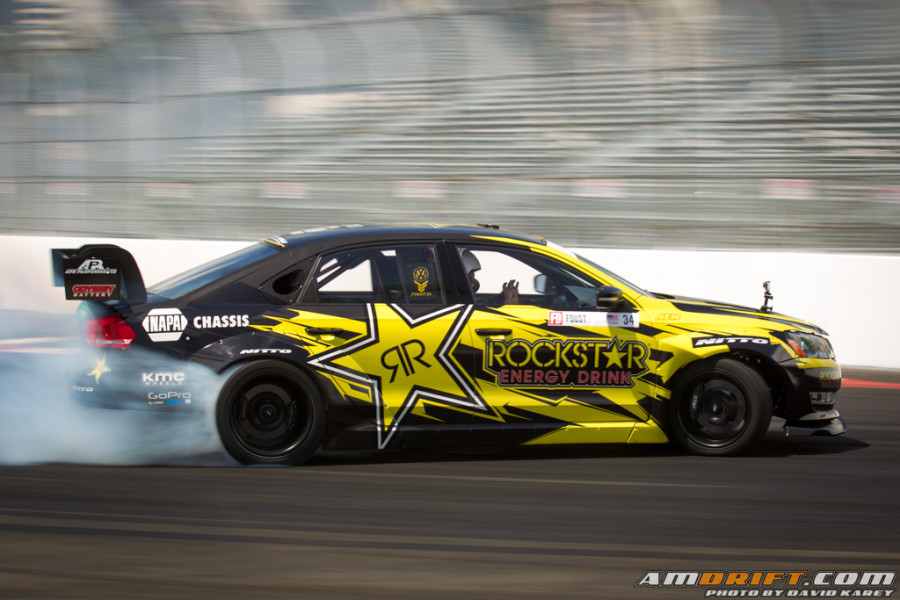 After 5 years, Tanner Foust is back and in an all new platform! The VW Passat is probably the most unorthodox car to hit the grid since Tanner brought the Scion tC into Formula Drift, but that didn't stop him from dialing in the car on a track that he hasn't seen in half a decade.
Fredric Aasbo was sporting new colors as well with his new Rockstar Energy sponsorship. He's back to contend for the championship in that super powerful Scion tC.
Matt Field, after missing Long Beach in 2014, is ready to show that he improved over the off season. Mechanical issues kept him out of the Long Beach show last year, so he's ready for a fresh start and hopefully a serious championship contention!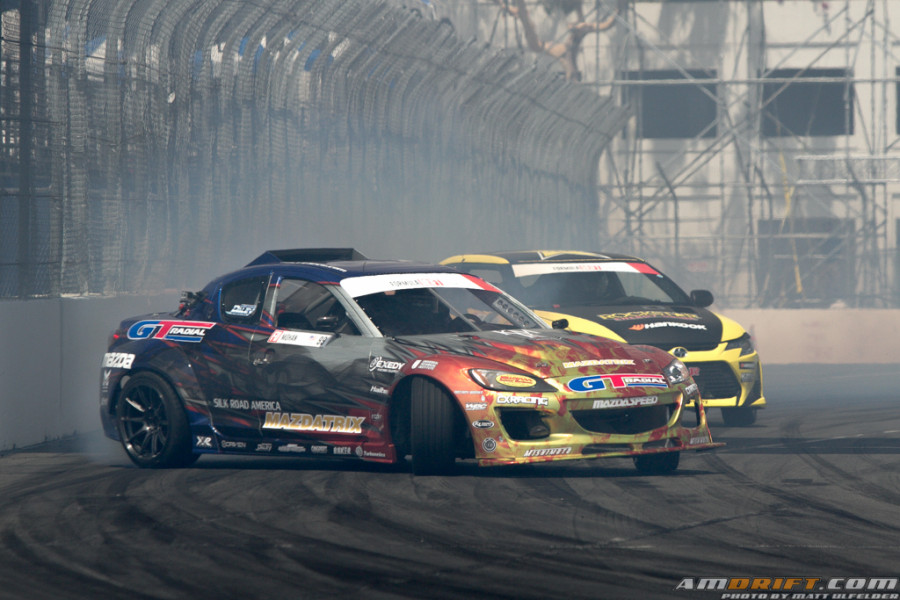 Kyle Mohan was putting down some ear ringing laps in his RX-8. The 20B powered Mazda is such a rare sight in drifting these days, but Kyle and his crew have proven that they can still go head to head with the responsiveness of a V8.
Enjuku drivers Pat Goodin and Nate Hamilton only did a few laps before parking it. Lil Tex had his radiator spring a leak and it is unknown why Pat had to park it, but he didn't seem too down after the event.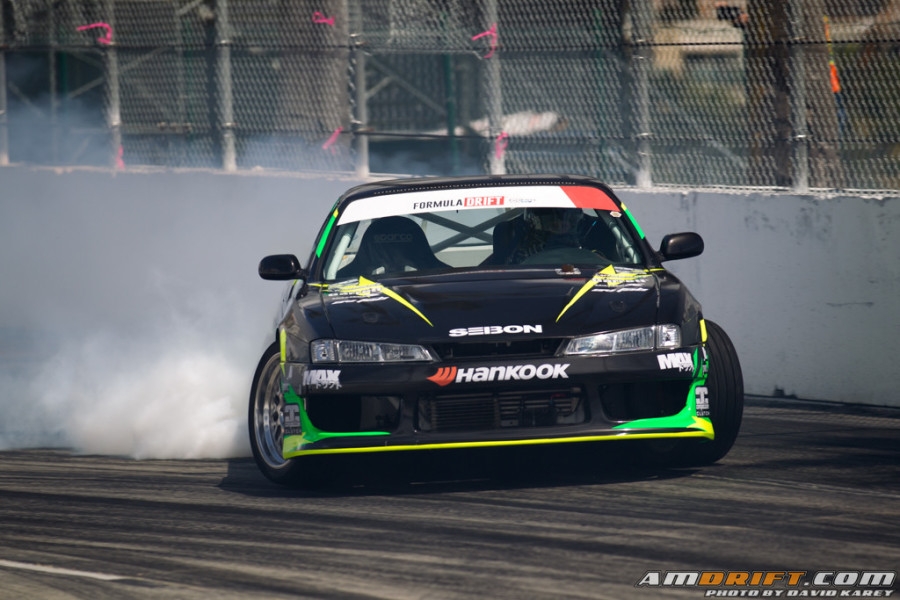 All the way from Canada, Dave Briggs and his SR powered S14 was making a name for 4 bangers everywhere. He was looking really good until his alternator went out. He will be one to watch out for this upcoming weekend.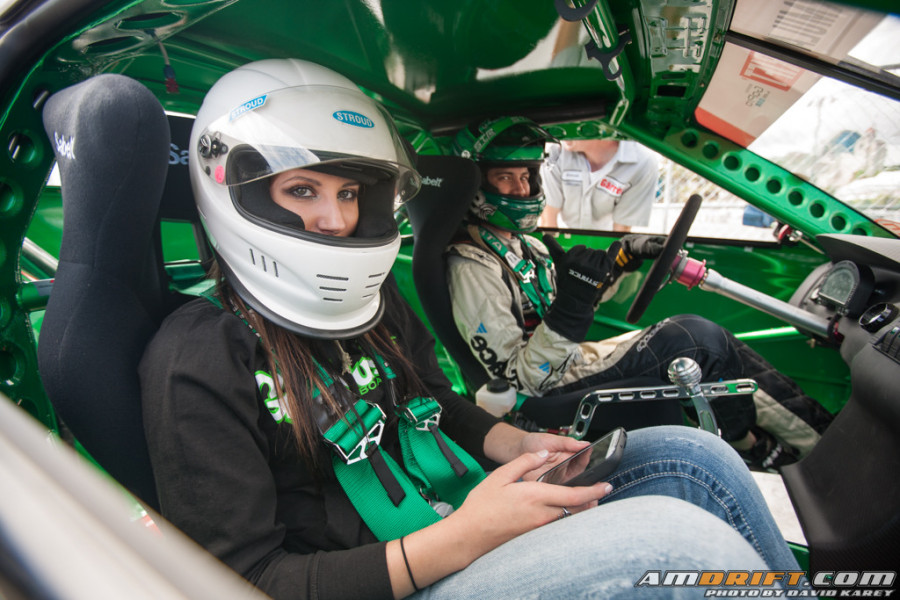 Media day is probably the best thing for the fans, drivers, and even the staff. The offseason has everyone anxious for the return of the season, and media day is like the blow-off valve to the turbo that is the offseason. All that pent up excitement gets released and everyone has a cool head coming into the start of the year!