The 2016 Top Drift season is officially over with Just Drift having wrapped up their final Formula Drift Pro-Am competition of the year. With that, we see 2 sets of victors at the conclusion of last Saturday's event: the winners of Round 4, and those who have earned a passport to move on to Formula Drift Pro 2. Check out the results and gallery from an exciting conclusion to a great year of Pro-Am drifting.
The weather and social atmosphere at Round 4 was amazing. With temps usually in the 100's out in the desert this time of year, drivers lucked out with extraordinary conditions which made everybody livelier and much more attentive to the driving task at hand. Evening events at Willow Springs are much, much better and more exciting than the daytime scorchers we are used to.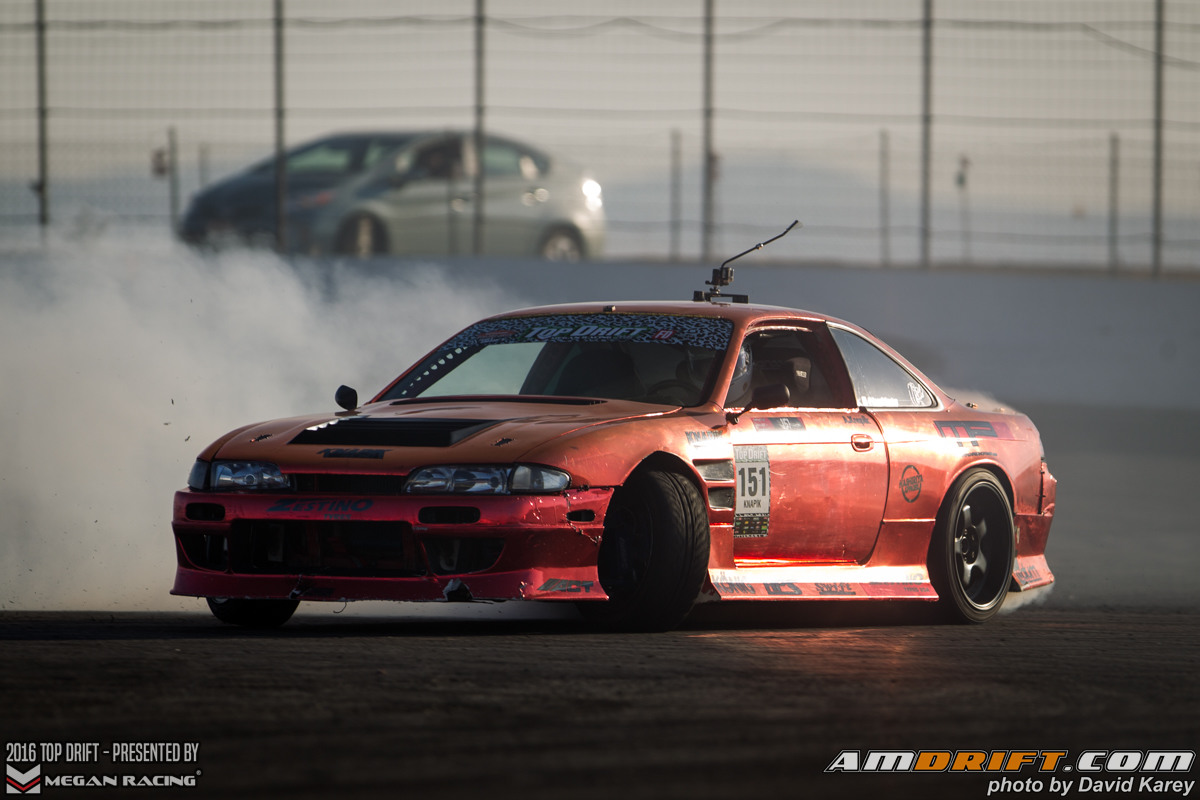 After practice, Adam Knapik came out swinging and put forth an amazing performance which landed him the top qualifying spot. Worth noting, Knapik was blistering fast throughout the course which could be attributed to the recent switch to Zestino tires.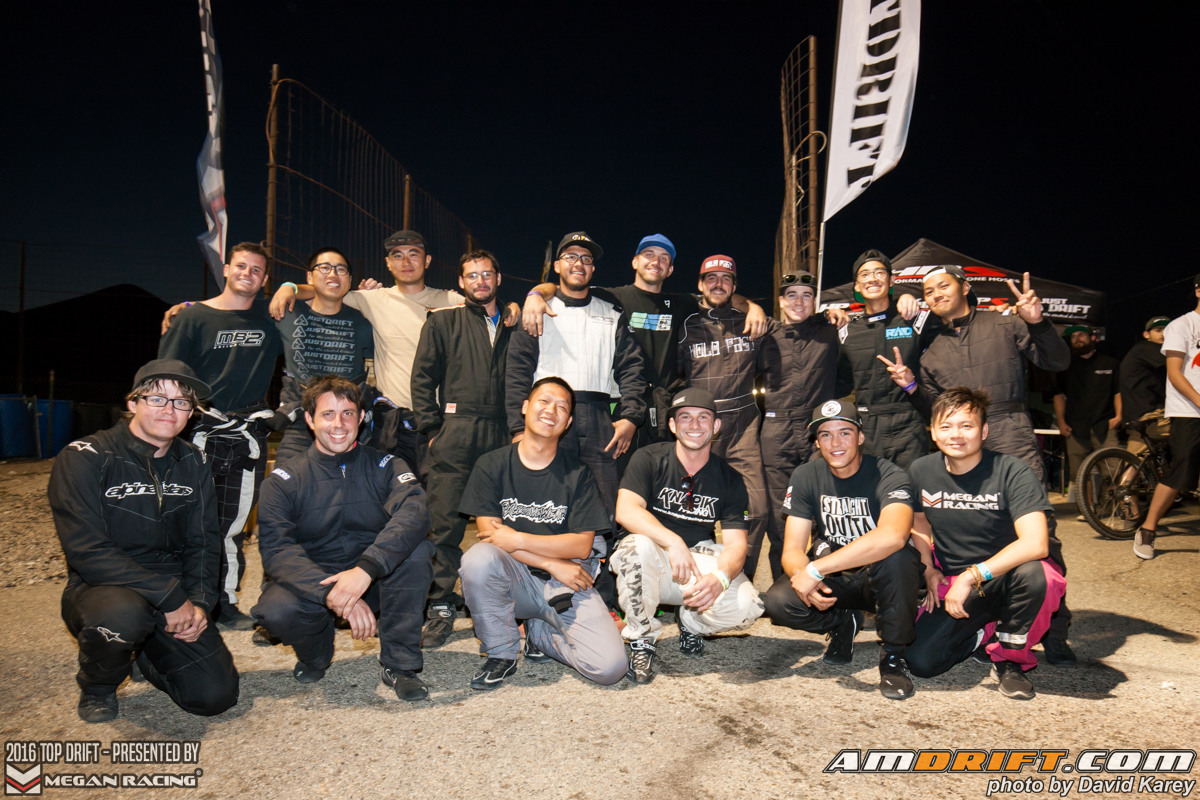 Top 16. Top row: Raz Naor, Kelvin Arreola, Derrick Cui, Alfa Ramirez, Pablo Cabrera, Rob Carlsen, Micah Diaz, Alex Grimm, Jeff Le, and Daryl Priyono. Bottom row: Kyle Cameron, Dominic Rotondo, Jason Kim, Adam Knapik, Sean Adriano, and Calvin Cheung.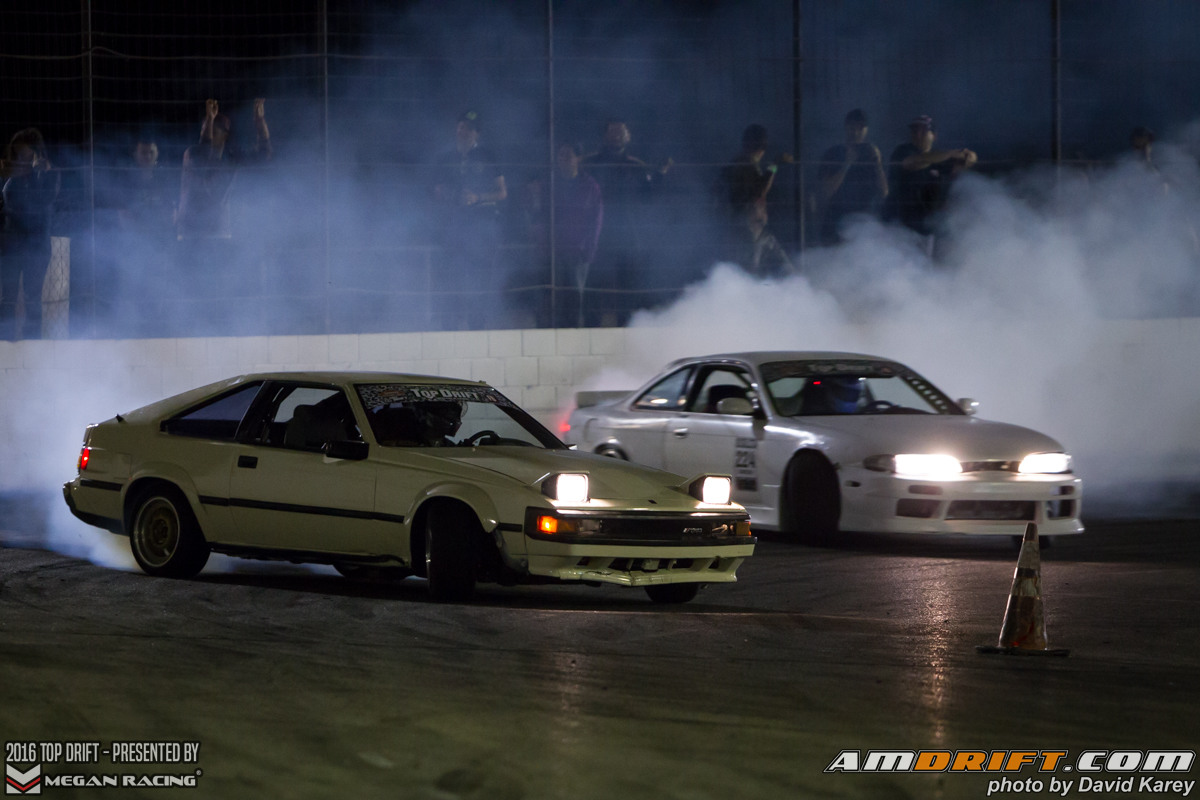 Skipping ahead to the finals, the battle for 3rd was intense between Kelvin Arreola in his old school Supra, and Kyle Cameron in a V8 powered S14. Kelvin had just switched from an old Corolla, but drives the wheels off both. Kyle Cameron gave up the win to Kelvin.
The battle for first was Sean Adriano, who had previously taken out his mentor Jason Kim, against none other than the first place qualifier, Adam Knapik. Both drivers ran deep to the walls, and brought it in nice and tight on the tandem, but Adam absolutely killed it on the lead and follow, earning him the first place win which put Sean in second for the event final.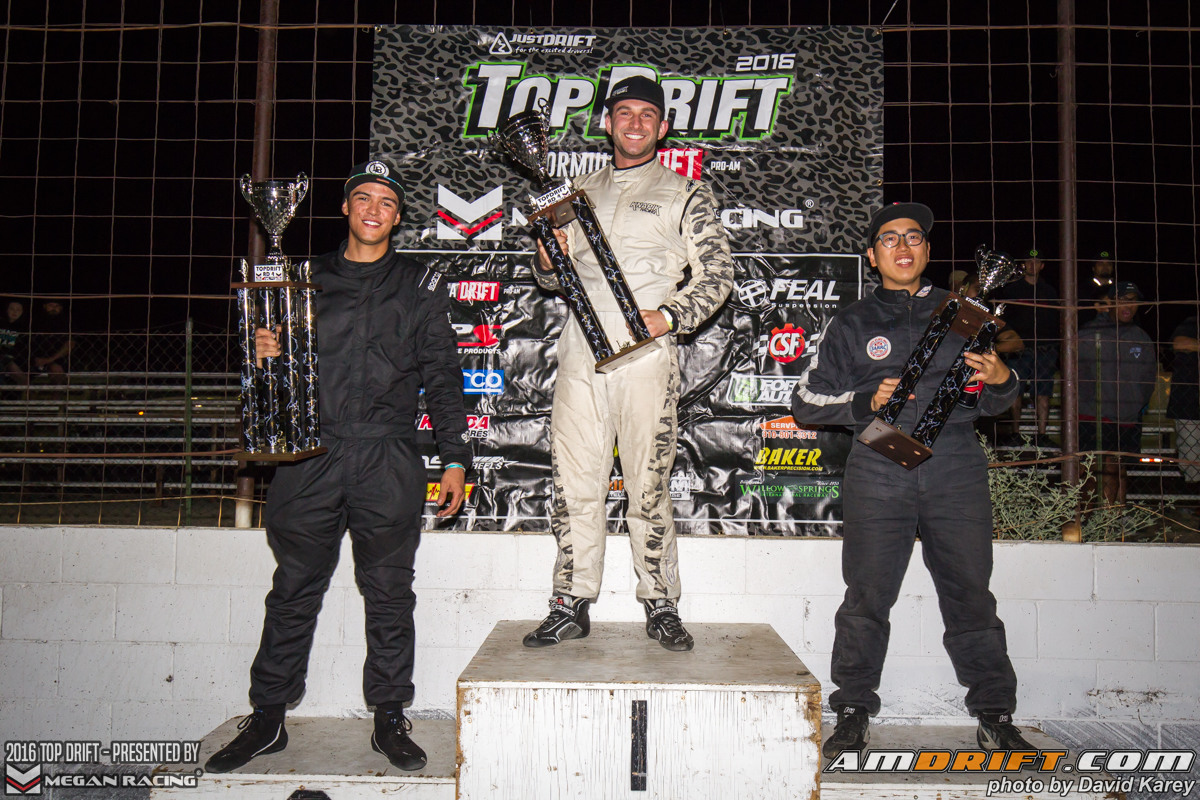 Top Drift Round 4 podium: 1st place, Adam Knapik. 2nd place, Sean Adriano. 3rd place, Kelvin Arreola.
2016 Top Drift Season finalists: 1st place, Adam Knapik. 2nd place, Jason Kim. 3rd place, Sean Adriano. Because this is a Formula Drift licensing series, these 3 guys earn a 2017 Formula Drift Pro 2 license! Congrats to all drivers for the spirited efforts placed forward during the 2016 season!
Thank you to the Just Drift staff for an amazing, smoothly ran series of drift events. Thank you to Megan Racing and HPS Performance Parts, and all sponsors for their support of grassroots and Pro-Am drifting.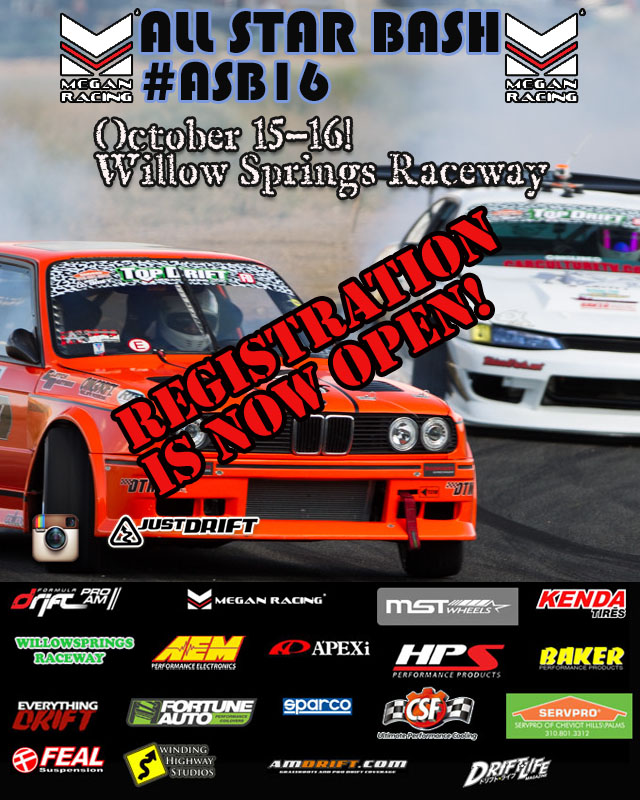 Registration for All Star Bash 16 is now up at http://justdrift.com Enjoy the Top Drift Round 4 gallery.