All in the name of fun, that's what Street Driven Tour is about. It's been a while since we've hit up a Street Driven event, September 2015 in Vegas to be exact, so when we were invited to join in on the fun at Atlanta Motor Speedway, we jumped on the opportunity to have a good time checking out cars and watching drivers kill tires. Street Driven Tour hooked up with the Southrnfresh Showcase to give spectators and participants a day inside NASCAR garages and under the sun filled with a car show, tandem drifting, drift games, and ride-alongs with well known professional drivers. Photos by David Karey and Dave Bell.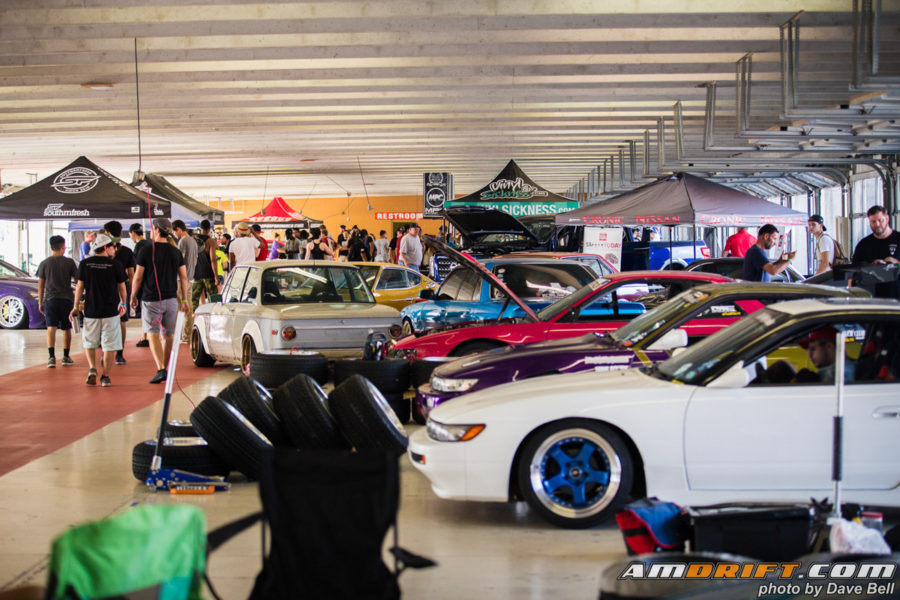 Tons of cars and lots of vendors were on hand giving attendees plenty to do while moving about. Everything from imports to domestics, lowered to slammed, flashy to functional, it's the epitome of what a car event should be. Nothing is discouraged, and all sorts of styles fill the show and spill out into the parking area.
Matt Powers, Geoff Stoneback, Kelsey Rowlings, and Dirk Stratton were on ride along duty all day long. Chris Forsberg was unable to attend, so he kicked down his white V8 powered Infiniti M35 to Matt Powers to drive fans around. Dubbed "La Flama Blanca", Forsberg's M35 is a 4 door drift car specifically designed for party of 4 ride alongs, perfect for events like Street Driven. We finally had a chance to get a ride inside the M, something we've been trying to do for years. Stoneback was on hand with his V8 S14, Rowlings brought her FD Pro 2 S14, and Stratton drove his FD Pro 2 Corvette. The fans get a kick out of these ride along opportunities!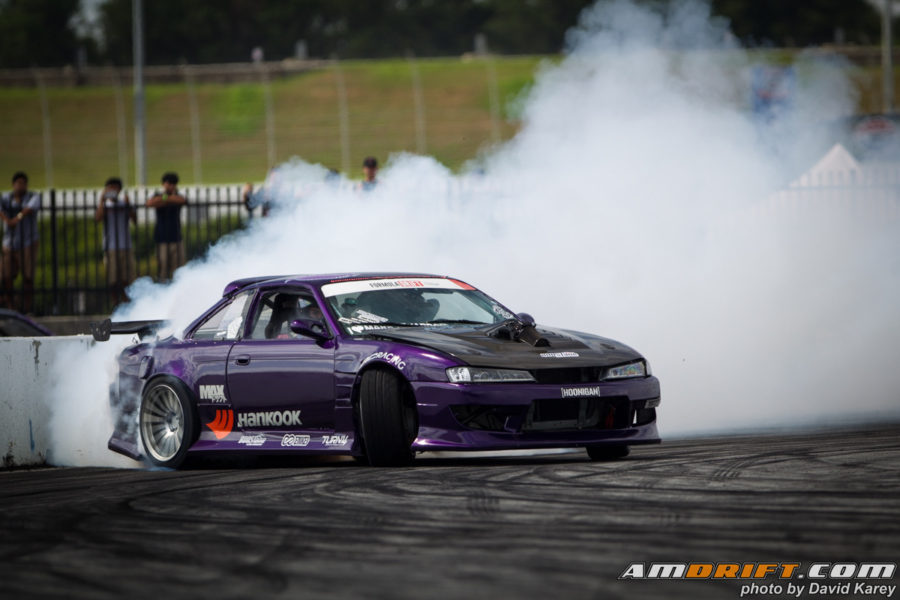 The drifting action was off the hook all day long. With hardly a break, run groups ran back to back, giving drivers more than enough time to kill every piece of equipment they brought to the event. That's the beauty of events like Street Driven. Come to drive, or come to hang… you have enough time to indulge in whatever you want, and still have time for more.
Whenever you get a bunch of tandem drivers together in a little to no pressure event, the party starts. Tandem action was hot all day long. There's nothing better than some door banging action, and then driving back to the pits to hang out and talk about how awesome it was. The tandem runs at this Street Driven Tour event were as fun to watch as the tandems at the 2015 Vegas event we hit. We should really get out to leisure drift events more often.
Street Driven Tour is one of the few events that run off the wall drift games designed to put drivers skills to the test for the delight of the spectators. Drift soccer, parking competition, burnout competition, those are just a few of the ideas the Street Driven Tour staff bring to the table. When an event is willing to try new things, it's what sets it apart from the usual arrive and drive gig, which makes it super fun at the end of the day.
Truth be told, we had a blast. The Street Driven Tour weekend was an epic one filled with cars and friends, drift action and hanging out. We'd like to thank all those responsible for having us out, and we are definitely looking forward to the Street Driven Tour/Stance Wars/Supras in Vegas event on September 24, 2016, in none other than party central, Las Vegas. Until then, enjoy the gallery below, download some pics, and use them anywhere to your heart's delight!