For a couple of years I've been going to Winterjam at Sonoma Raceway and having a blast to wrap up a great year of drifting. Winterjam is a regional year end event held in December that attracts all types of drivers from hard parkers, to weekend warriors, all the way to extremely competitive individuals with fully built cars. Sonoma Raceway is massive with several layouts running non stop the entire weekend, and drivers set up small towns around the premises with like minded colleagues, which makes Winterjam a super fun event to attend and cruise around.
One of Winterjam's most popular features is their very own Meihan replicated layout, which allows an uninterrupted flow of cars that are continuously making laps sideways. The constant stream of action is extremely entertaining for spectators to view, and catch drivers inching closer and closer to the walls each and every run.
For those looking for faster and more competitive seat time, there's the well known portion of Sonoma Raceway that Formula Drift used to run many moons ago. Here, depending on car, there's a fast downhill entry with a grassy area that drivers love to ride on the edge, finishing up with a nice long wall to ride.
There is so much to do and so many tracks to drive at Winterjam, that some of the most famous faces of drifting come up and have a good time with just about anybody who can run a good tandem. We know for sure that Forrest Wang had an amazing weekend from the amount of times he was spotted on track.
I for one don't enjoy drifting too much if there isn't a competitive edge to it. Thankfully there are 2 competitions throughout the weekend. Saturday the drivers get down with a team tandem comp right where you can see NASCAR and INDY on TV, and on Sunday, there's an entire Top 16 competition on the old FD course!
At this year's event, Travis Ragona, Kodi Rosado, and Julian Dumay challenged several teams and took it all the way to the end. Forrest Wang, Matt Field, and Odi Bakchis were on hand to throw down some killer pro tandem runs for the fans as well.
If you've never been to Sonoma Raceway, put the Summer Jam course on your "to drive" or "to watch" list. The view is amazing, looking out toward the bay and wine country at the same time, while a car crests full throttle over the hill. One of my favorite spots for sure.
Sunday's Top 16 competition is absolutely killer. Being the end of the day, end of the weekend last runs, drivers are willing to drive faster and trade more paint. The old FD course really flows well in a tandem format, especially with the level of today's built cars. This makes me wonder why there aren't more competitions on this course throughout the year. It would be nice to see a Pro-Am event, or even FD back at this amazing place.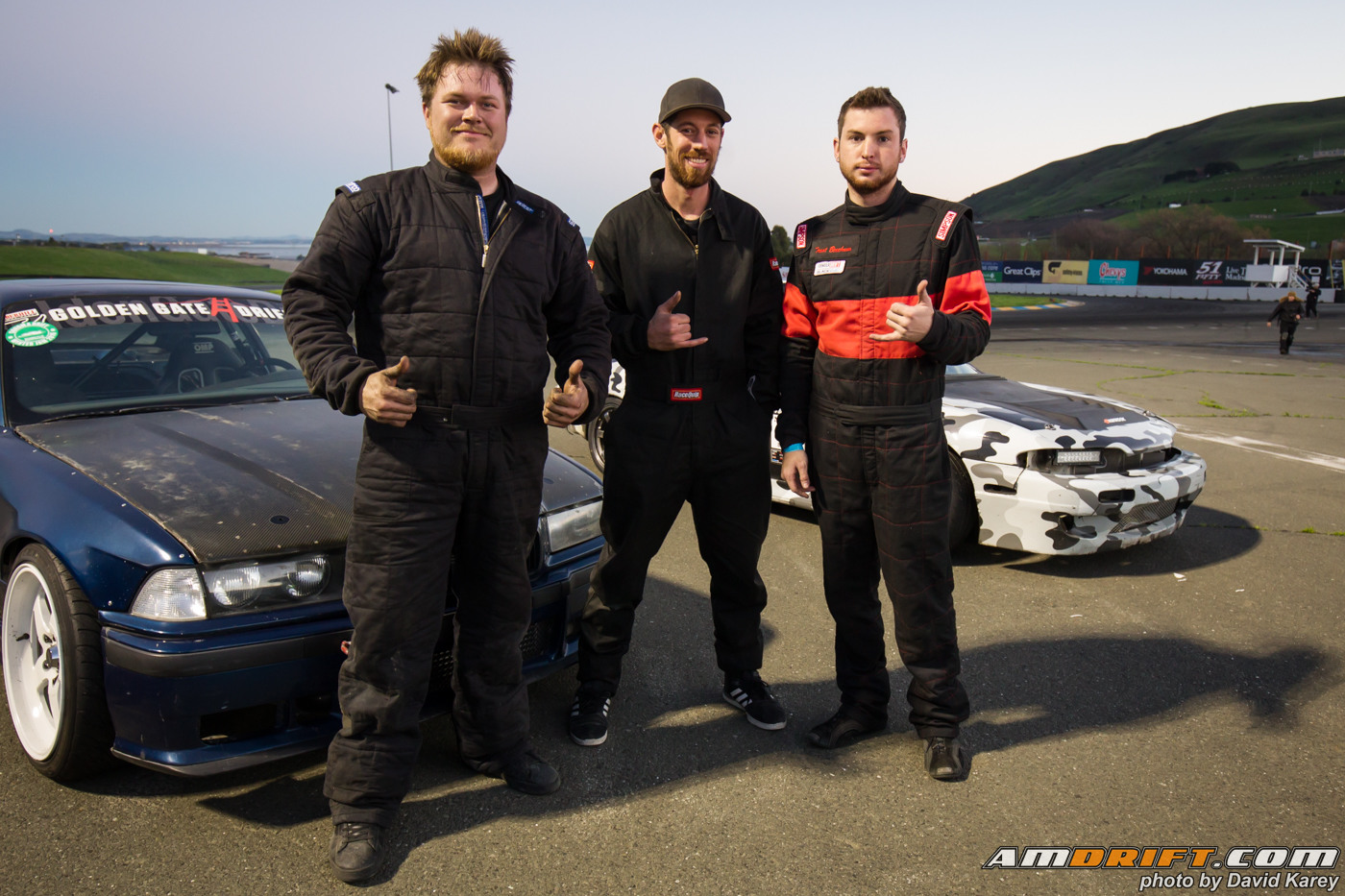 The 2016 Winterjam competition top drivers were 1st place Travis Ragona, 2nd place Julian Dumay, and 3rd place Trent Beechum. It was a cold, exciting couple of runs in the finals. Well done to these boys.
It's difficult to come home and continue with life after a weekend filled with drifting, hanging with good friends, and enjoying beverages and constant food offerings. The only relief to the depression is eventually getting to do it over again in a year. Enjoy the gallery!