VegasDrift started off the ProAm series a month early this year, and most people will agree it was for the better.  The series usually kicks off in the middle of February, which made the final stretch of the season linger into July, August, and September. The new schedule is experimental, but it brings good reason. By starting a month earlier, drivers are not miserable under the harsh Vegas sun. Don't get me wrong, the sun was still out and about, but ambient temperatures never reached higher than 75F.
For the past 4 years, Vegas ProAm has held rounds during the Summer. Race Operator Nicholas Dizon says, "It's really hard to work in those conditions…and it's not building better drivers. The heat outside may be 110F, but in car temperatures reach up to 130F and heat casualties are never fun.". This brings an experimental change to the schedule which creates about a 3 month gap between Round 4 (May 31, 2014) and Round 5 (September 20th, 2014). The exclusion of LVMS events during the Summer months lets everyone cool off for a change.
The AmDrift team arrived on site around 8:00am, and there was already a long line of cars waiting for technical inspection.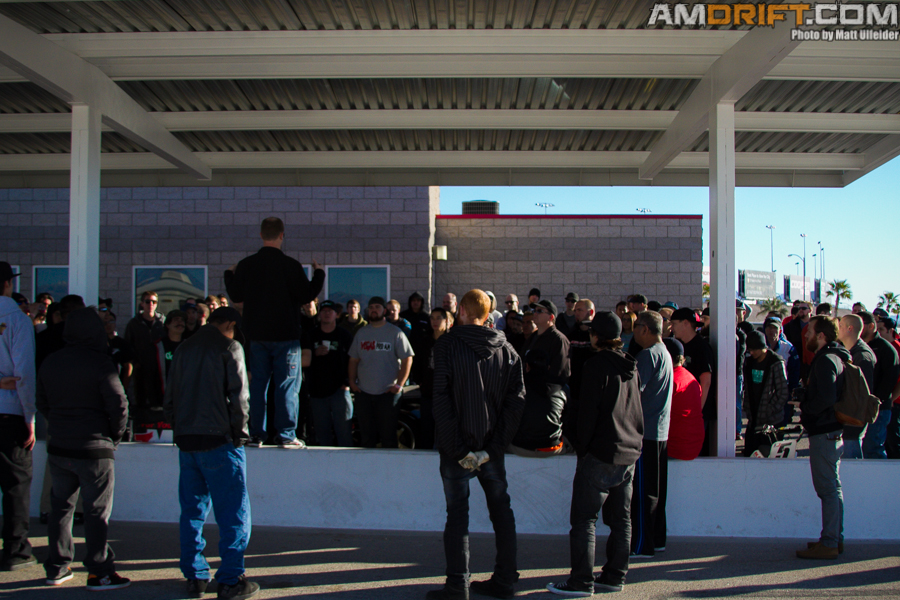 Some 50 drivers were registered for the event, which is a huge outcome for being only the first round.
Fellow AMDrift photographer John Cirone showed up with driver Brandon Patterson and his crew. Throughout the day, John was on track shooting, or in the pits helping Brandon with wheel and tire changes.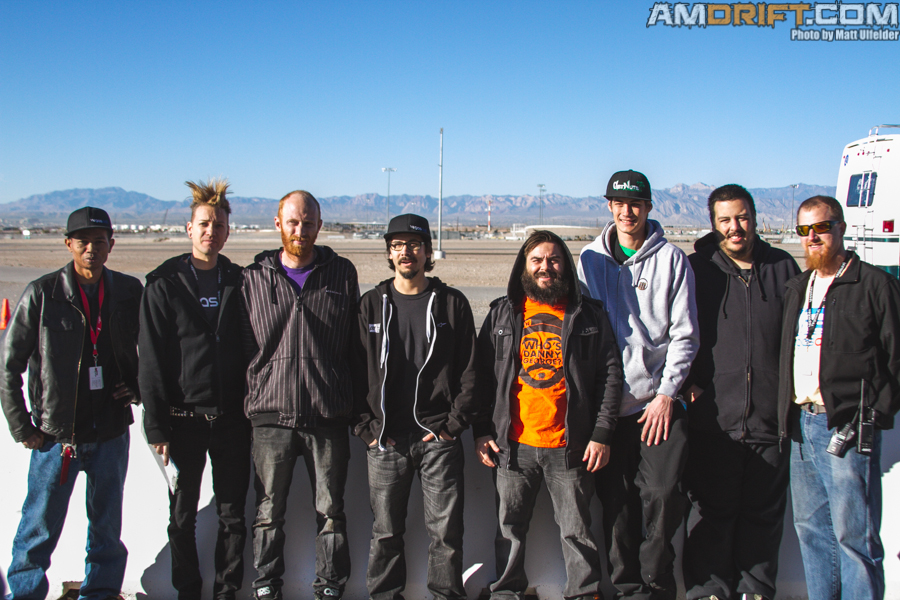 The driver's meeting was short and to the point. This round's judges were Former Formula Drift driver Tommy Suell, and current Formula Drift drivers Danny George and Forrest Wang. This season Vegas Drift will incorporate guest judging. This round was Formula Drift driver Brandon Wicknick and our very own David Karey!
The guest judging was brought in to get a second opinion and a different perspective of what the judges couldn't see. The judge's stand was an RV placed right at the initiation zone, and from that vantage point there was trouble seeing errors or corrections leading up to the finish line. That's where Dave and Brandon came in. When the judges couldn't decide, the final say was on the guest judges.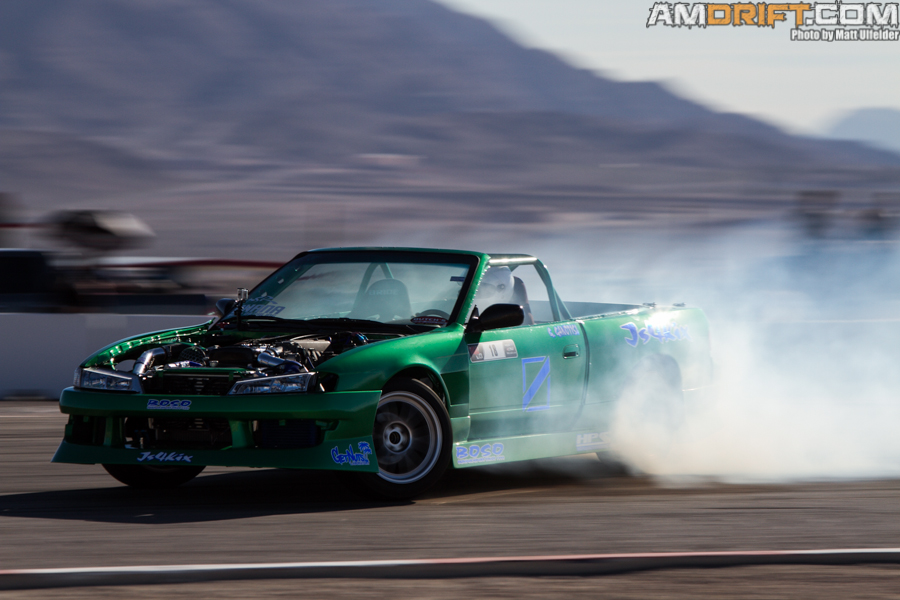 After the drivers meeting, came a practice session, lunch, and then another practice session.
Driver George Kiriakopoulos, and many others, had some nasty off-tracks. George broke wheels, tie rods and spacers. Thanks to STR Racing, George's car was back on track to qualify 10th that day.
Qualifying seemed to go on and on, having 50 drivers each running twice. Judging was based off of professional Formula Drift standards. You start with 100 points and are deducted based on the judging criteria.
Out of 50+ drivers, only 24 put points on the board. The Top 16 qualifiers were:
While the Top 16 drivers were announced smiles, high fives and hugs went all around.
The best part about the event was that if you didn't qualify, your day wasn't over. There were two practice courses open for the entire event. One wet course and one dry course!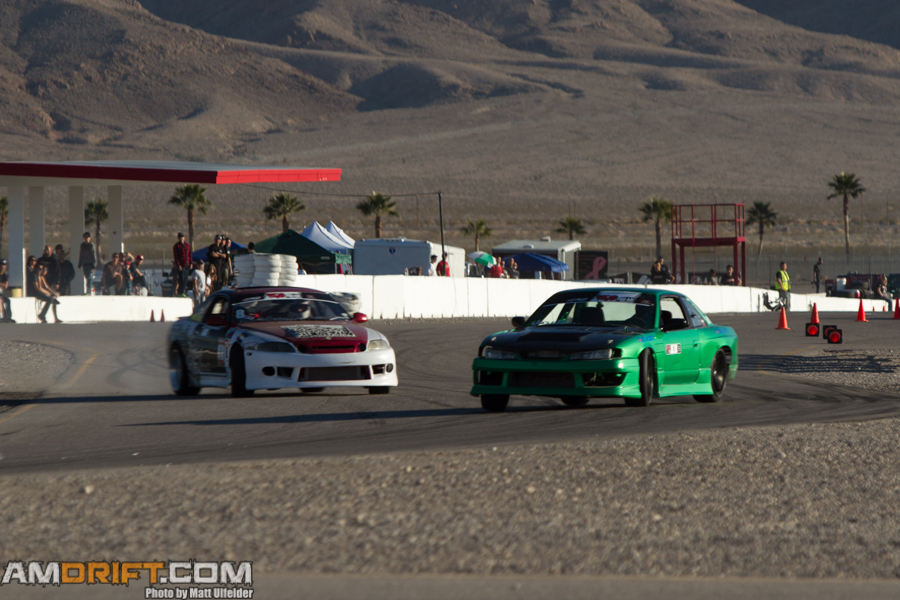 After a short break, we were shuttled out on track while the Top 16 drivers set off to grid. Up first was Alex Heilbrunn (S13) vs. Kasey King (BMW E30). Kasey moved onto the Great 8.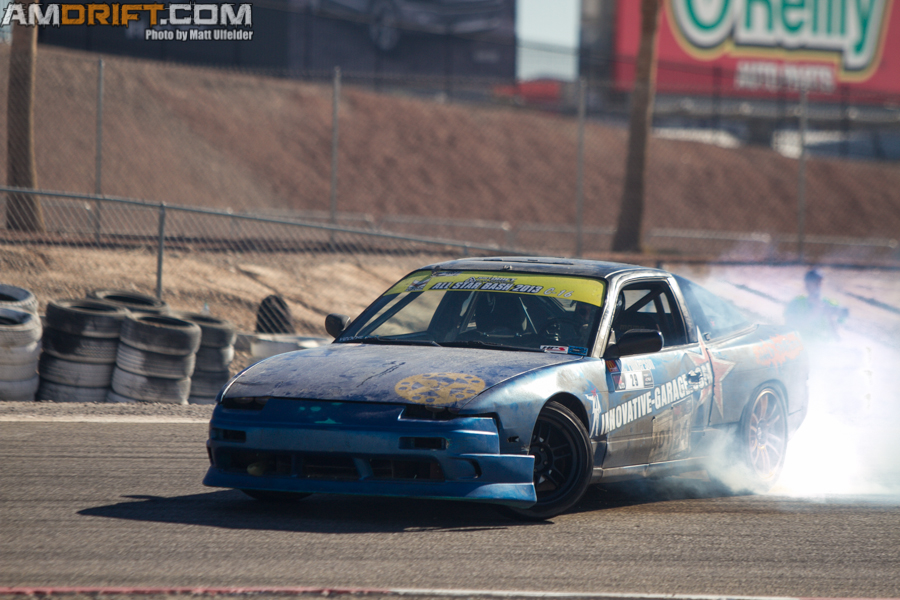 Next up was Mike Fulkerson vs. Joe Tardiff, both running S13s. Fulkerson moved onto the Top 8.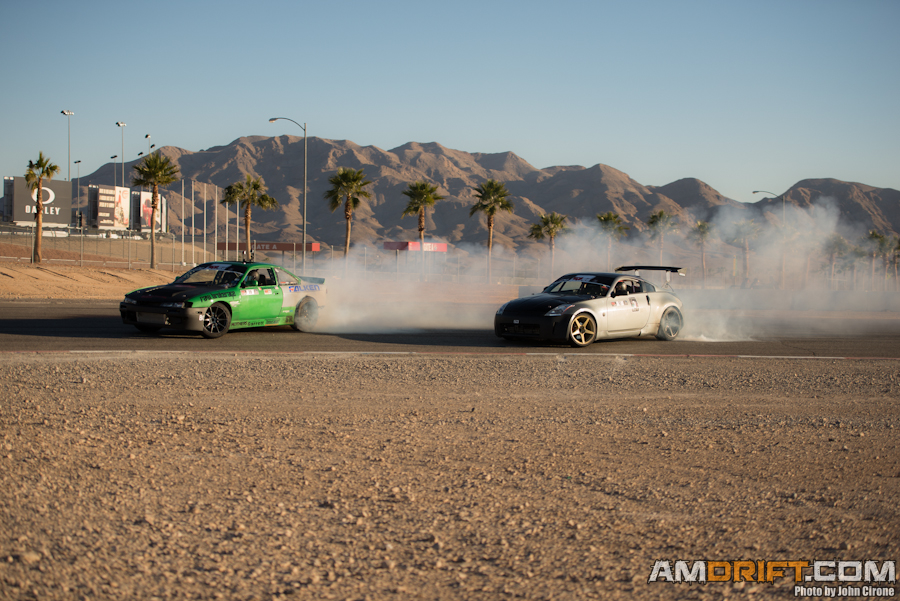 Former Formula Drift Pro driver Mauricio Ornelas and Ethan Hunter had some intense battles, and went into a OMT. Ethan Hunter came out on top and moved on.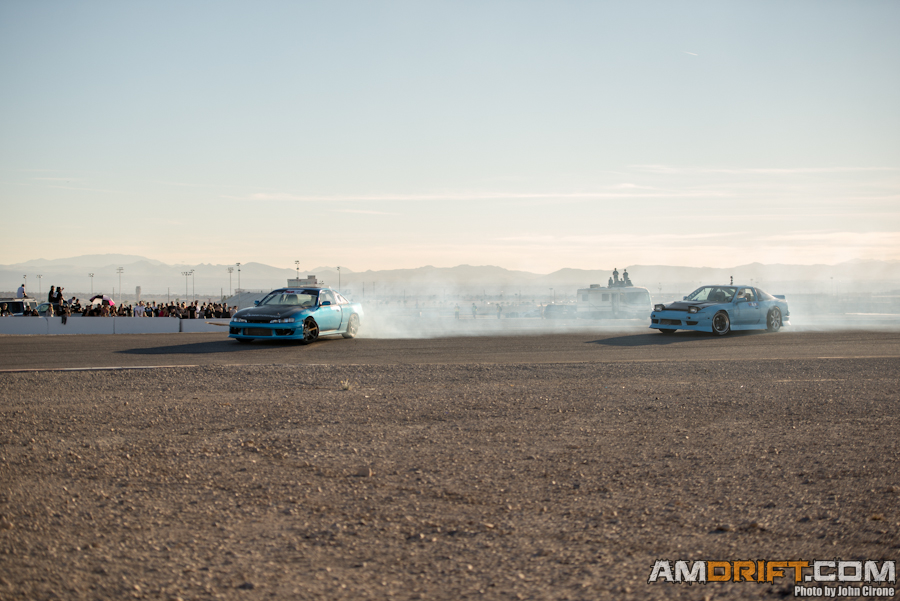 Next was Riley Fremont (S14) and Brian Saip in their blue S chassis'. Fremont moved on.
Brandon Patterson battled AJ Galant. Patterson moved on.
George Kiriakopoulos went against Faruk Kugay. Unfortunately George's turbo broke on his lead run, costing him the victory.
Cameron Moore battled Mikey Stark. Judges voted Moore to move onto the Great 8 after 3 OMTs!
The final Top 16 battle was 2013 VegasProAm champion Spike Chen, in his supercharged V8 S13 Dolphin Killer vs. Josh McGuire. Chen slayed dolphins and moved to the Great 8.
Losing sunlight, the Top 8 immediately followed the Top 16 battles. Up first was Kasey King vs. Mike Fulkerson. Fulkerson advanced to the Final 4.
The next battle featured Ethan Hunter vs Riley Fremont. Hunter and his Z33 advanced.
Brandon Patterson battled Faruk Kugay. Patterson was found victorious.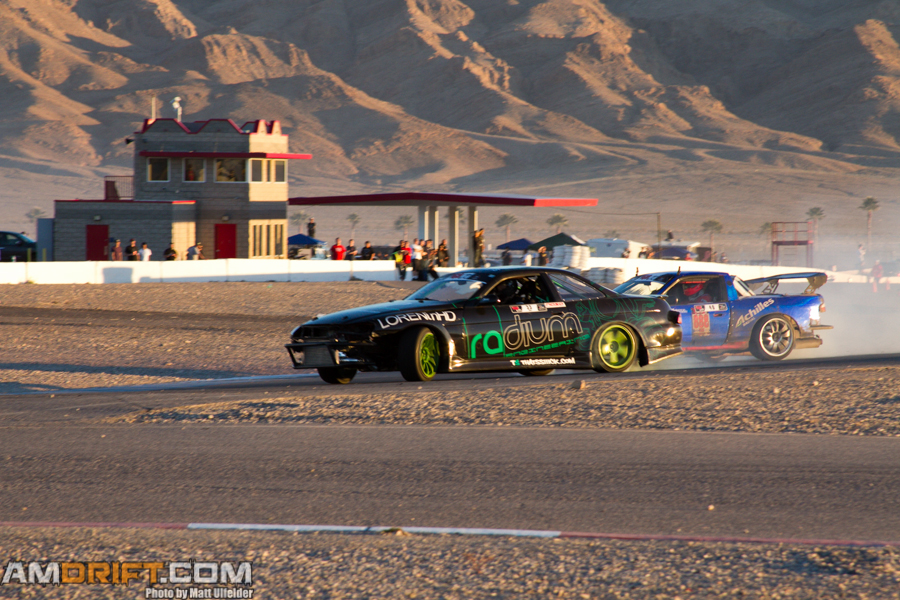 Cameron Moore went up against Spike Chen and left the judges indecisive. They voted OMT. On Chen's lead run, Moore miscalculated his speed as Chen transitioned after initiation. Moore's driver front side slid right into Chen's rear passenger wheel, damaging many suspension components. The crash was deemed Moore's fault by the judges, and Chen received a competition time-out while the bracket commenced. The next run ended quickly as Moore pulled to the side shortly after initiation, letting Chen pass on the inside. Moore forfeited and Chen was to move onto the Final 4
Mike Fulkerson and Ethan Hunter kicked off the Final 4 with a OMT from the judges. Fulkerson and his snazzy blue Nissan was now on the podium and shooting for 1st. Hunter moved to the consolation round to battle for a spot on the podium.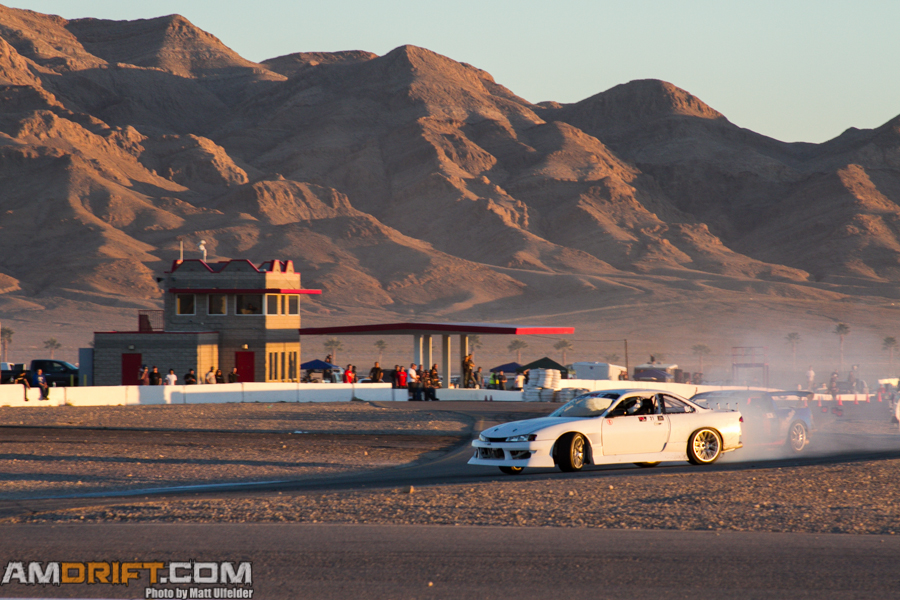 Spike Chen vs.Brandon Patterson in their V8 S-Chassis was like watching an FD practice. Chen went off on his follow run costing him a 1st or 2nd place finish, and would move onto battle Ethan Hunter for 3rd, and that's exactly what he got. Spike Chen defeated Ethan Hunter and managed to work his way onto the podium.
The final battle of the night was Mike Fulkerson vs. Brandon Patterson.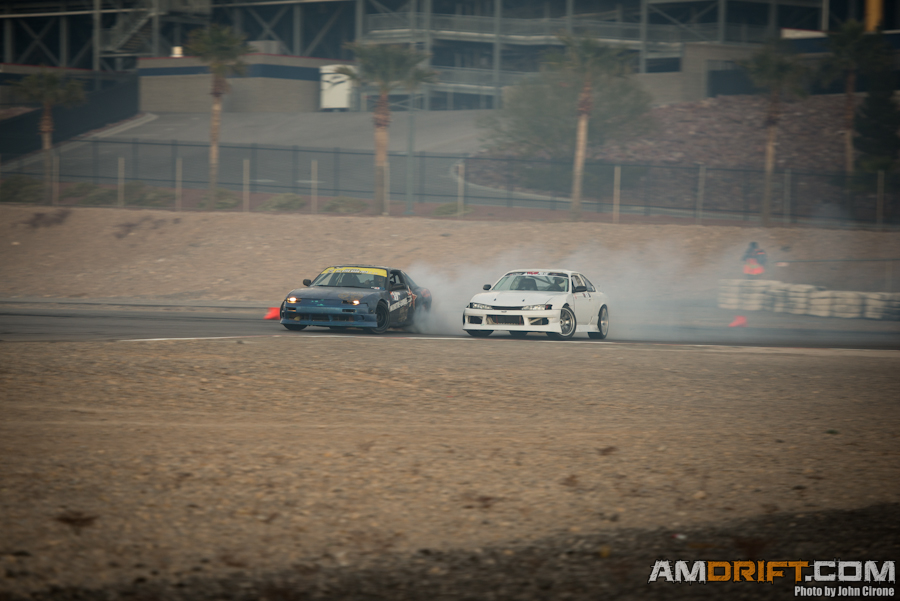 Patterson lead first and pulled a huge gap on Fulkerson throughout the course. Fulkerson's lead run pulled a gap from the starting grid, but Patterson's V8 quickly caught up and was right alongside the blue s13 for the remainder of the course.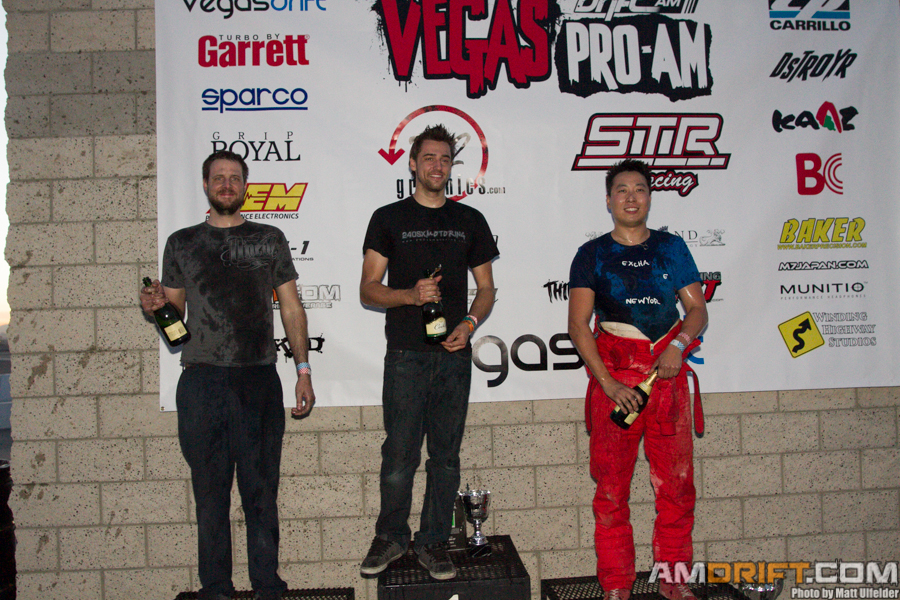 Patterson was crowned winner of the opening round of Vegas ProAm 2014.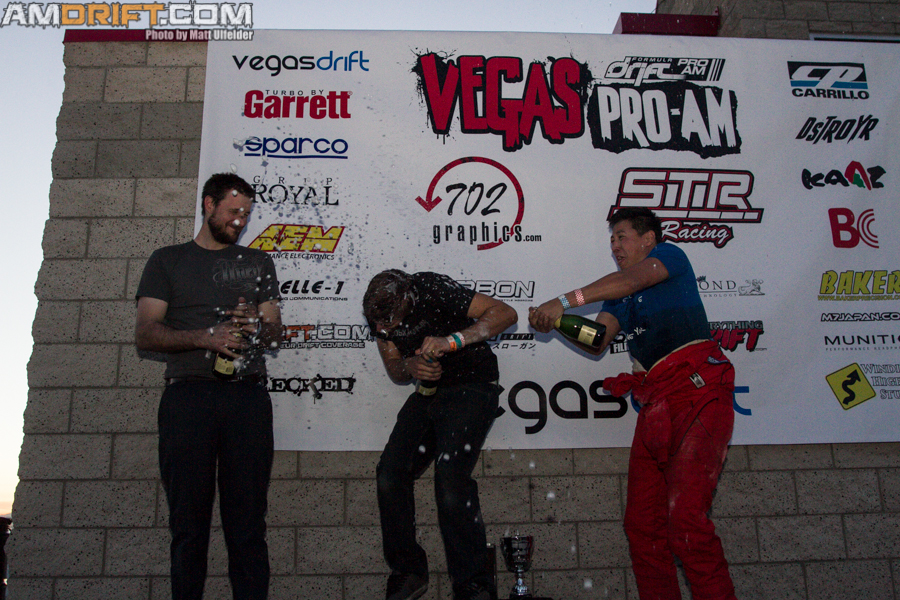 Vegas ProAm Round 1 was an event to remember. Bearable temperatures, intense battles, guest judging, a burrito truck, and a huge turnout were great ways to kick off the 2014 season.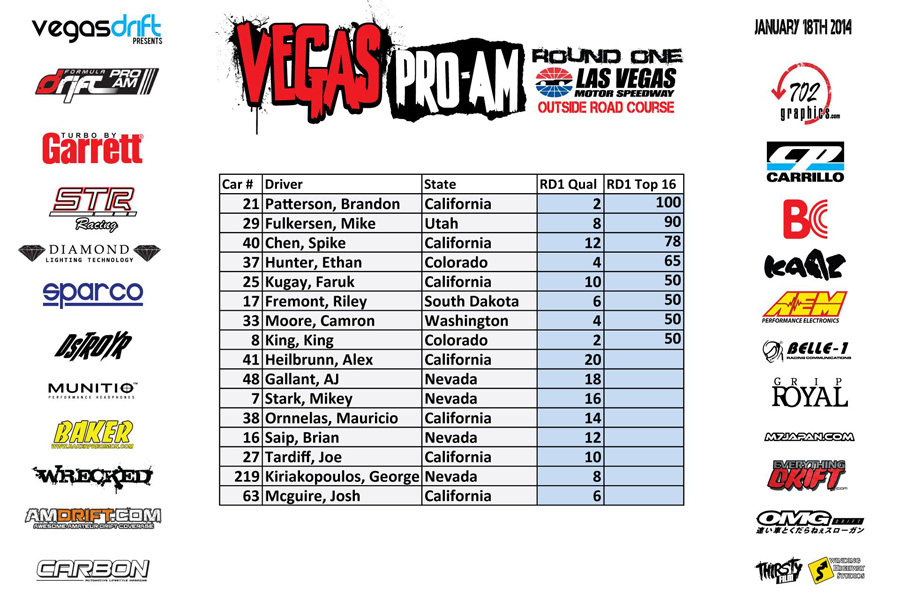 The next round will be held in March at Wild Horse Pass Raceway in Chandler just south of Phoenix, AZ.We hope to see you all there! If not, turn to us for more awesome coverage!
http://www.vegasdrift.com/2014-vegasdrift-vegasproam-schedule