Drifting is about making your mark. You have to find a way to set yourself apart from all the other drivers and cars. 2 guys that manage to do just that, are Rapper Dan Savage and James Evans from the Sikky Manufacturing camp, who both came into Formula Drift this year with 2 cars that you definitely cannot miss. These guys saw success in the Pro 2 series with James taking a podium in Texas, and Dan taking home the Pro 2 overall championship. Besides the setup, which would obviously be tailored to either Dan or James, the cars are extremely similar.
How are they similar? I'm glad you asked! For one, they both sport the same livery… super menacing and extremely well thought out. These cars look amazing going sideways and the contrast is quite exquisite, so I'm sure every photographer out here has sharp photos from these two. Big thank you to the designer, Brandon Fugitt, who works alongside John Burning from Speed Design, who does all Jr. and Forsberg's stuff! Both cars sport Extreme Dimensions kits to liven up the party outside.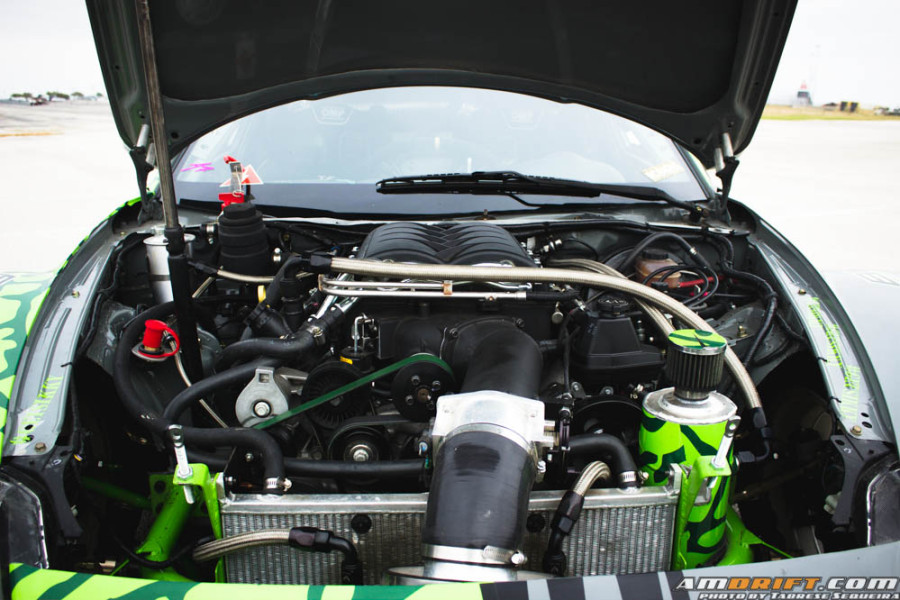 Pop open the hood (or bonnet, as our European friends say), and you'll find America's pride and joy. Chevy LS2 crate engines boosted by Magnuson superchargers, 1 7/8" headers, and Vibrant Performance oval exhausts, put out around 800 WHP/TQ.
Now, with all of that power, how do they put it to the ground? Well, you'd need some heavy duty equipment. Bolted to these powerhouses, are Magnum T56 transmissions, Exedy twin disc clutches, Driveshaft Shop driveshafts, and Winters Performance quick change differentials. Word around the paddock is that Achilles makes some good tires, and that's what is equipped to these machines. The Achilles 123s tires provide the grip needed to push these guys onto the doors of their opponents, or even to slide that booty on the walls. The Achilles Tires are sized at 235/40R18 in front, 265/35R18 in the rear, and wrapped around Cosmis Racing Xt206R wheels. If you need to tell them apart, James has green wheels, and Dan has white. Driveshaft Shop also stepped in to provide beefy axles to be able to put up with all the stress of drifting with that much power and torque. To assist in downforce as well as making the car look that much more amazing, Rapper Dan has a HUGE wing fitted to the rear of his RX8.
If you're one of the many people who run LS S13/4 cars, chances are you have a Sikky part on it. These guys make LS mounts for S13s, S14s, Z33s and more. But like any other shop that builds their own cars, they fabricate a lot of stuff on these things. The LS mounts, diff mounting brackets, subframe bushings, front upper & lower control arms, and hydraulic e-brake setup were all made in house at the shop.
With any race car, safety is key. When you're pushing a car to its limits, it's always nice to know that you are as safe as possible. That's why Alexander Fabrication did the roll cages in both cars, with anti-intrusion bars and gusseted A-pillars for increased rigidity. OMP seats with Sparco 6 point harnesses keep both guys strapped in as they throw these cars all over the place.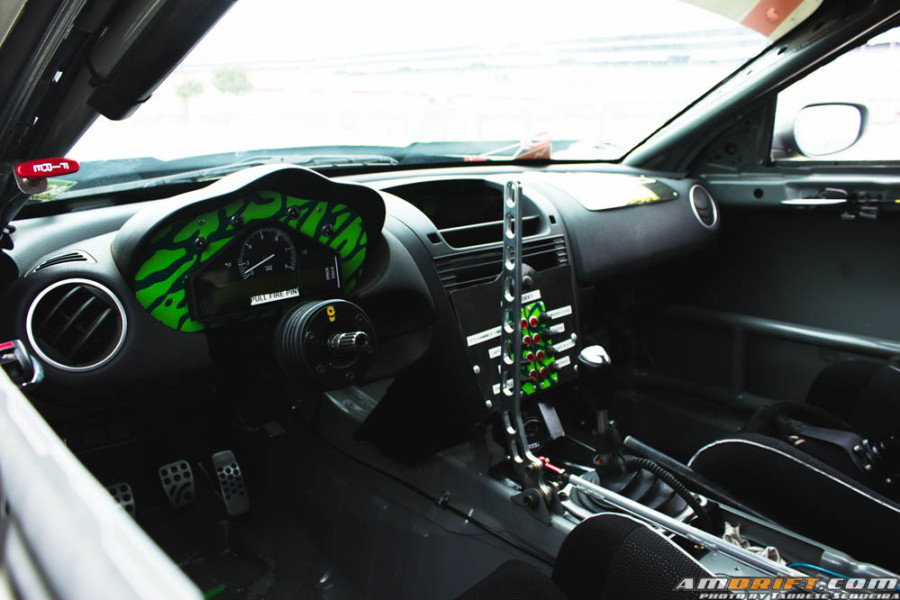 Alright let's get back to the visual stuff, continuing with the interior. Both cars have custom switch panels, shift knobs, and e-brakes. Inside the engine bay you'll see some fancy green accents to match the livery as well.
As this was my first photo shoot, I'd have to say that it was truly an awesome experience, and I'm glad to have done it with some great guys and great cars. Be sure to visit the Sikky pit space at their next event and take some pics!
Thank you to Dan Savage, James Evans, and the Sikky team for taking time out of their day during Formula Drift Round 6 at Texas Motor Speedway for a photo shoot.
Sikky.com – Facebook – Instagram
Rapper Dan Savage – Facebook – Instagram
James Evans – Facebook – Instagram
-Tabrese Sequeria