I'm just gonna be honest and say Round 1 of Formula Drift in Long Beach, California was good, but many fans and media had predictions and expectations that never happened, and many walked away feeling that drivers could have went a little faster, ran the wall closer, and changed the entire outcome of their battles with just one shift or wall tap.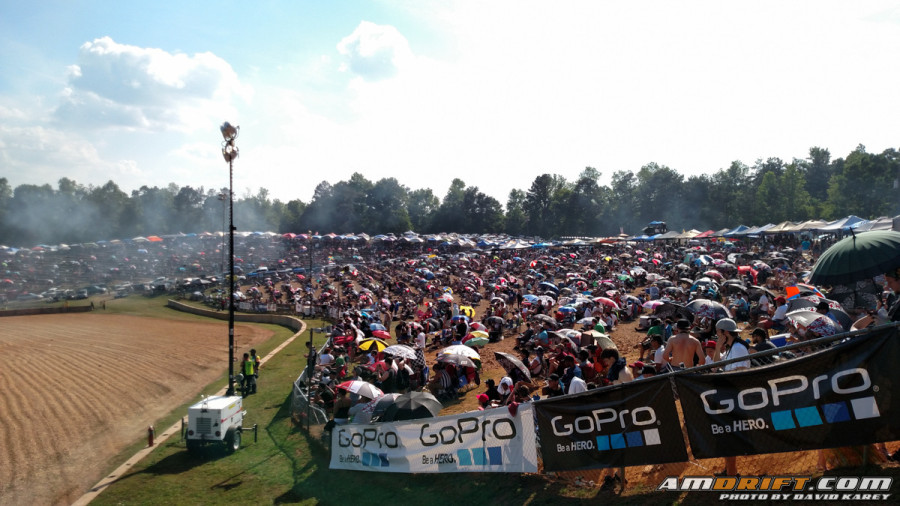 This is where Formula Drift Round 2 came in and made Round 1 a thing of the past. You wanna talk about upsets, exciting runs, and an event wrapped up into one big rowdy trackside party? Well, that's what Formula Drift at Road Atlanta this past weekend was all about. Sit back as we recap the Top 32 battles of Formula Drift Round 2 – Road to the Championship.
TOP 32
Justin Pawlak vs. Chelsea Denofa – Pawlak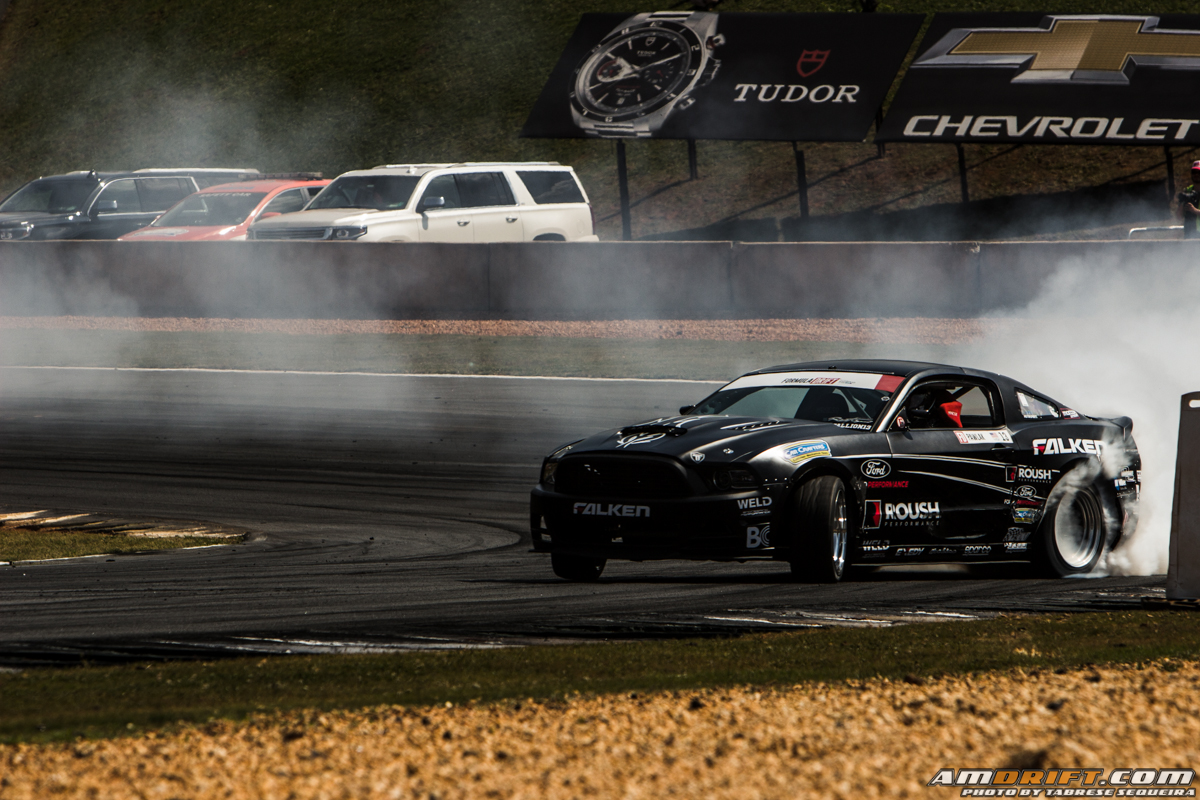 Chelsea had one hell of a weekend, but not in a good way. After the engine seized in his BMW, he borrowed Tommy Van Cleef's MKIII Supra. Unfortunately after breaking the car twice that weekend, Chelsea had to bow out before Top 32. JTP gets the bye.
Tyler McQuarrie vs. Pat Goodin – Goodin

In a good stand up battle between these two competitors, Tyler McQuarrie and Pat Goodin both put it down, leading them to a One More Time. They both ran hard sticking it to the door of each other, but Tyler made a mistake coming out of the keyhole on his chase, and that was enough to send Goodin to the next round.
Mike Whiddett vs. DanSavage – Whiddett

Atlanta marked the return of Mad Mike after 5 years, and he was back in spectacular fashion. The quad rotor twin turbo Miata was looking fast all weekend, and he'd need it against Dan Savage who was the Pro 2 champion last year. The call was questionable with the fans as Mad Mike went off course, but Dan's mistakes proved to be too much and the win went to Whiddett.
Forrest Wang vs. Marc Landreville – Wang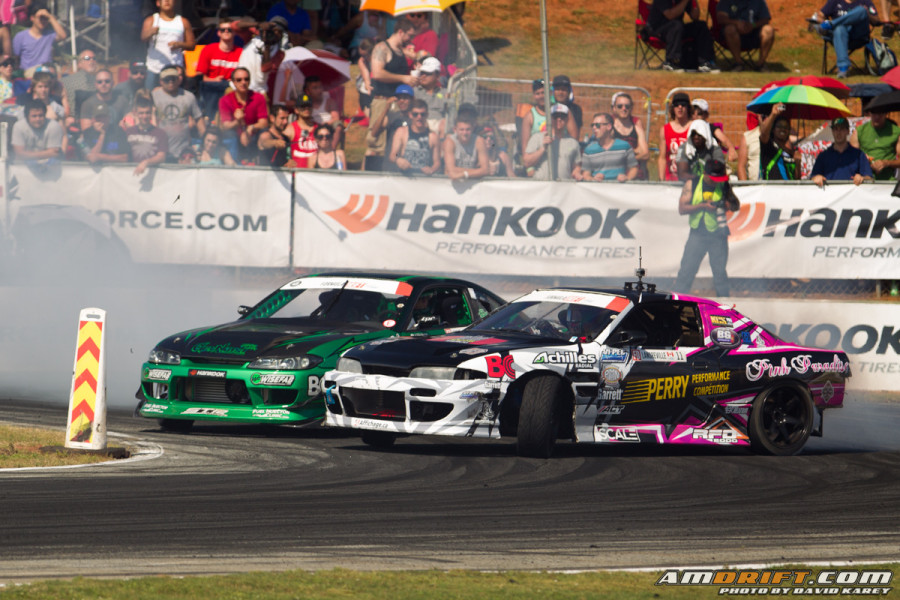 Forrest Wang in the Get Nuts S15 was looking crazy good. He was fast, consistent, and had that deep angle style that he's known for. A solid 2JZ vs. 2JZ battle, but as Marc leads, he drops a tire, and that gives Forrest the win. Wang into the Top 16.
Vaughn Gittin Jr. vs. Jeff Jones – Gittin Jr.

I swear Jeff Jones gets the toughest matchups in Top 32, which isn't saying too much seeing as the field is stacked. Going against Vaughn is tough in itself, but Vaughn was giving little room to breathe on Thursday! Jeff fought tough, but the Monster Energy driver was the one who takes this battle. Gittin in the Top 16.
Kenny Moen vs. Mike Essa – Moen

Fast Kenny was just that, fast. All weekend he was blazing the track in that banana yellow S14. Michael Essa is still trying to get that behemoth of a Camaro (compared to the E46 he used previously) dialed in. He had the smoke, he had the angle, but the speed he was lacking along with a big mistake on his chase run, allowed Kenny to move on into the Top 16.
Odi Bakchis vs. Jhonnattan Castro – Bakchis

Both of these guys were looking good all weekend, but for some reason, Castro had some issues and could not run against Odi. Odi takes the cake on the bye run and is in the Top 16.
Masashi Yokoi vs. Matt Coffman – Yokoi

The troubles Masashi Yokoi had during Long Beach were gone. Everyone who wondered how he would do can rest assured that he can keep up with competition, as he had this track dialed. Going against the speed of Matt Coffman, he had to put it down, and put it down he did. Matt Coffman put down 2 solid runs, but Yokoi threw it in sticking like glue to Matt's door. That was the nail in the Coffman. Yokoi with the win.
Fredric Aasbo vs. Daigo Saito – Aasbo

The battle between two titans. Daigo worked out the bugs in the GTR, and he looked good on initiation of the first run. He was right on Fredric Aasbo until he went off course before going up the hill. When they switch it up, Daigo puts down a great lead run, but too little too late. Aasbo is in the Top 16.
Tanner Foust vs. Geoff Stoneback – Stoneback

Tanner is getting more used to his Passat, but with this being the last round he's driving until Irwindale, who knows how well he'll fare. But, we'll climb that hill when we get there. Right now it's about J-Wang vs. the Golden Child. A solid run with Tanner in the lead and Geoff in the chase starts off this battle, but when they switch it up, Tanner makes a mistake and goes off track going into the keyhole. Geoff Stoneback moves into the Top 16 with Mark Lenardon riding shotgun!
Chris Forsberg vs. Kyle Mohan – Forsberg

This was a pretty stand up battle between two guys who are not new to the competition of Formula Drift. Both cars push 1000 horsepower, but in different ways. There was a pretty big gap off the start with Chris running off to the races, but Kyle makes up some ground going into the keyhole. The grip of Chris Forsberg was superior as he pulled away again, and then stuck to Kyle in the chase position. Chris Forsberg is in the Top 16.
Ryan Tuerck vs. Pat Mordaunt – Tuerck

Ryan Tuerck was a fireball all weekend, not to mention he was spitting fireballs. Pat was looking pretty good as well but he had some issues and couldn't get them sorted before Top 32. Ryan Tuerck gets the bye to the Top 16.
Conrad Grunewald vs. Dean Kearney – Grunewald

Both of these guys definitely can throw down and are wildcards when it comes to competition. When you have two tough competitors, you'll get sparks. Sparks almost flew as Dean charged too hard going into the keyhole. Conrad puts down two solid runs and gets into the Top 16.
Charles Ng vs. Matt Field – Ng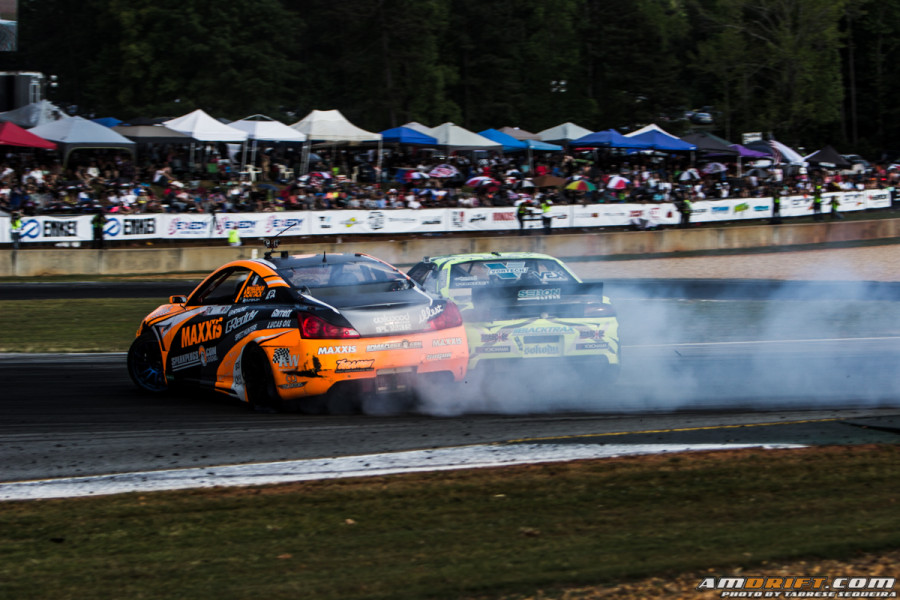 Charles in the same G37 as 2014, but a new powerplant this year with a VR38 up against the ever hard charging Matt Field. Field looked to be struggling this weekend and it showed a little in this battle. He charged hard as he usually does, but this time he made a mistake and goes into Charles a little bit. Matt put down a solid lead,but it wasn't enough as Charles put down an equally solid chase. Ng into the Top 16.
Alec Hohnadell vs. Nate Hamilton

This battle ended the Top 32 in a supercharged LS vs turbocharged LS match. Both young guns, but the 19 year old out of Florida goes out in front as Nate goes off course in his chase. When they switch it up, they both put down solid runs but Alec dropped a tire on his chase run in the keyhole. With Nate's mistake on the first run, Alec advances on to the Top 16.
Ken Gushi vs. Mats Baribeau – Gushi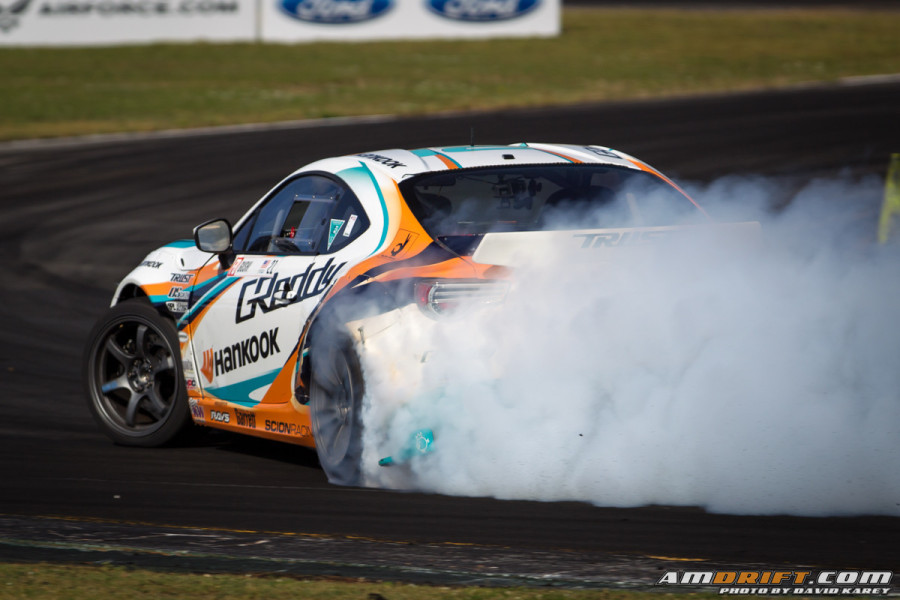 Ken Gushi was on fire from the first time he spun wheels on Thursday,but Mats Baribeau is no slouch. It would have been a great 2JZ vs 2JZ battle, but Mats couldn't get his car fixed after a 5 minute call. Ken Gushi gets the bye, ending the Top 32 and taking us into a long intermission break before Top 16.
Top 16 is up next, stay tuned.
– Tabrese Sequeria